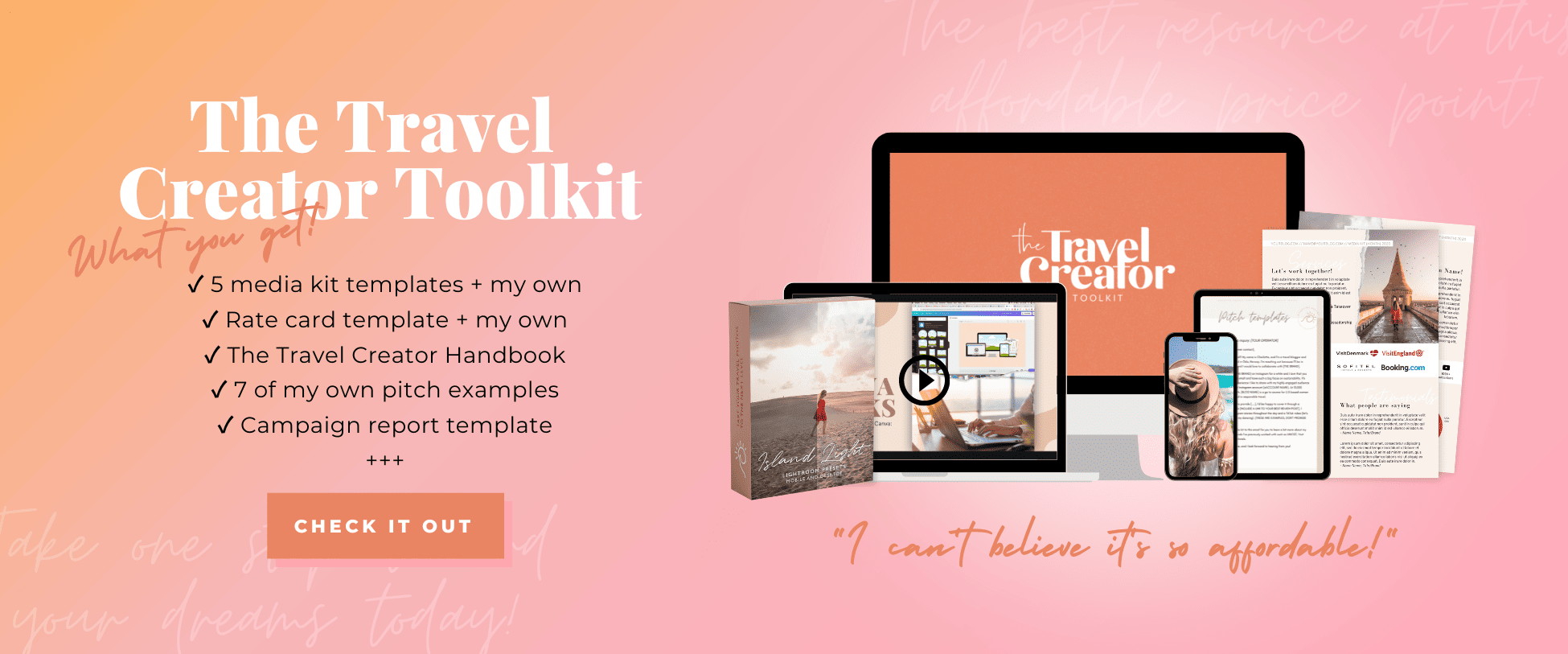 This post may contain affiliate links. I will earn a small commission if you purchase through them, at no extra cost to you.
When we realized Ulrik had one week off work this month we knew we had to take advantage of it. It's not often we get to travel together for more than a weekend these days. So we threw a lot of different ideas and destinations around, but couldn't really decide on one.
Should we go to Marrakesh and shop for our new house? Should we go to Kraków where we haven't been since we moved back to Norway over two years ago? Or should we go to my family holiday apartment in Spain so we could save money on accommodation?
After a while, we decided to let someone else choose the destination for us. In an effort to be a little spontaneous, we gave the job to Google Earth's "I'm feeling lucky" feature. Since we only had one week our criteria were that the flight had to be six hours or less and it had to be a new destination to both of us.
When I first pushed the button and a destination popped up on the screen I couldn't help but burst into laughter. Google Earth wanted us to visit Moss, Norway. For most of you that might not say much, but my fellow Norwegians probably get my amusement. Moss used to be a stopover ferry port city that had a reputation for smelling really bad.
Now I don't want to be mean, Moss has come a long way in recent years, but let's just say it was not the spontaneous adventure I had in mind. And I had been there many times before to catch the ferry which meant Moss was out of the running.
So I pressed the button again and our destination was set. One week later we were on our way to…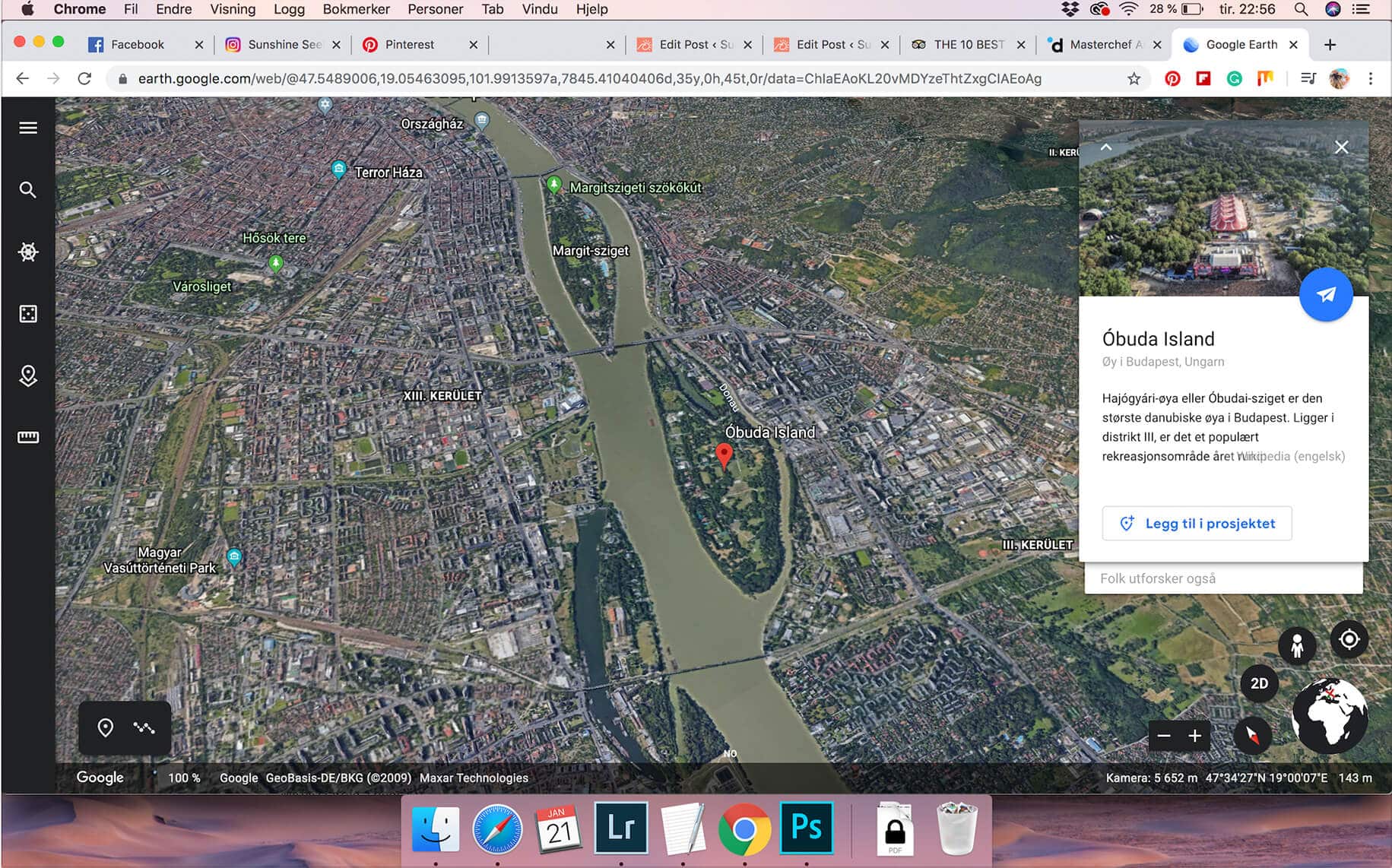 Hajógyári / Óbuda Island
So it turns out Google Earth got a lot more specific than I was expecting. It didn't just suggest we go to Budapest but actually Hajógyári Island, or Óbudai-sziget, the largest of the Danubian islands. It's located in District III and is a popular recreational area all year-round. But it really comes to life in summer during the Sziget Festival, one of the largest music festivals in Europe.
Getting to Óbudai Island was super easy using the suburban railway. K-Bridge, which is also the entrance to the festival, was only a two-minute walk from the Filatorigát train station. It's a great place to go for a hike on a warm sunny day and the bridge itself turned out to be quite photogenic as you can see above.
The residents of Budapest are lucky to have such a beautiful green space so close to the city center. We spent about an hour on the island before we continued to Aquincum Museum Archaeological Park.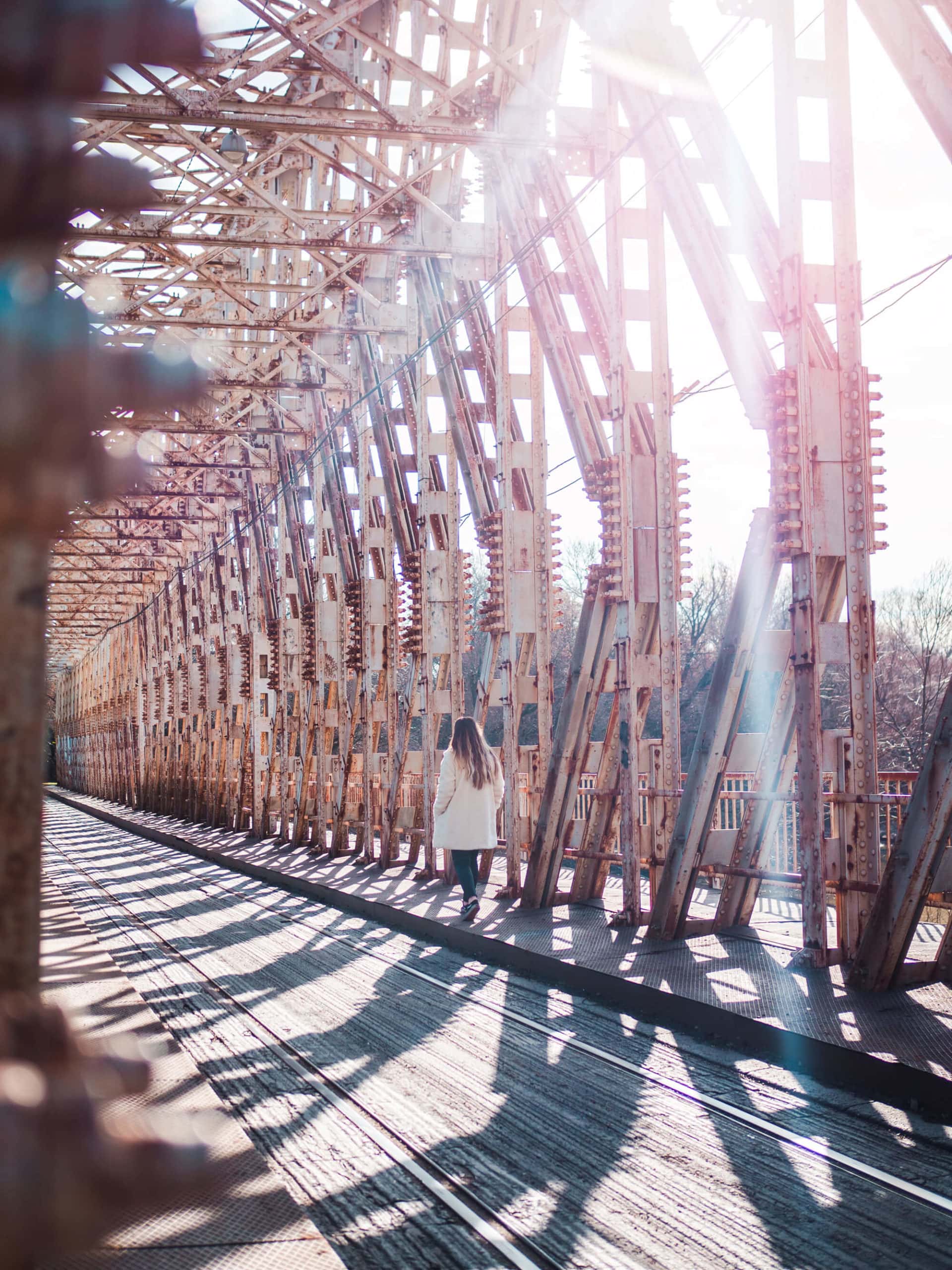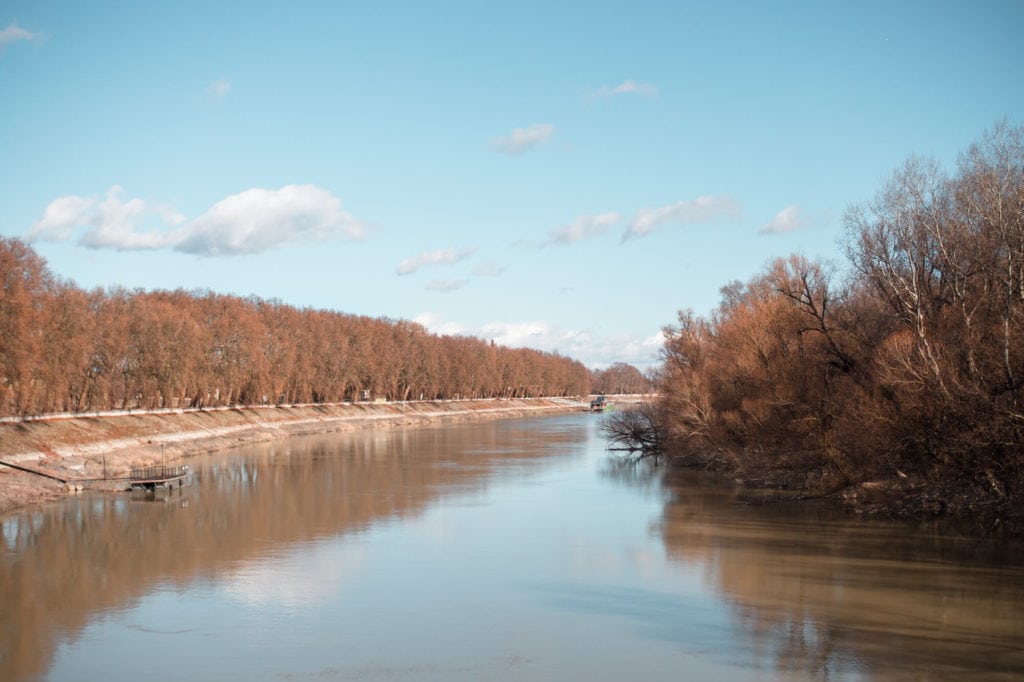 You might also like: The best travel insurance for long term travel
The Budapest Card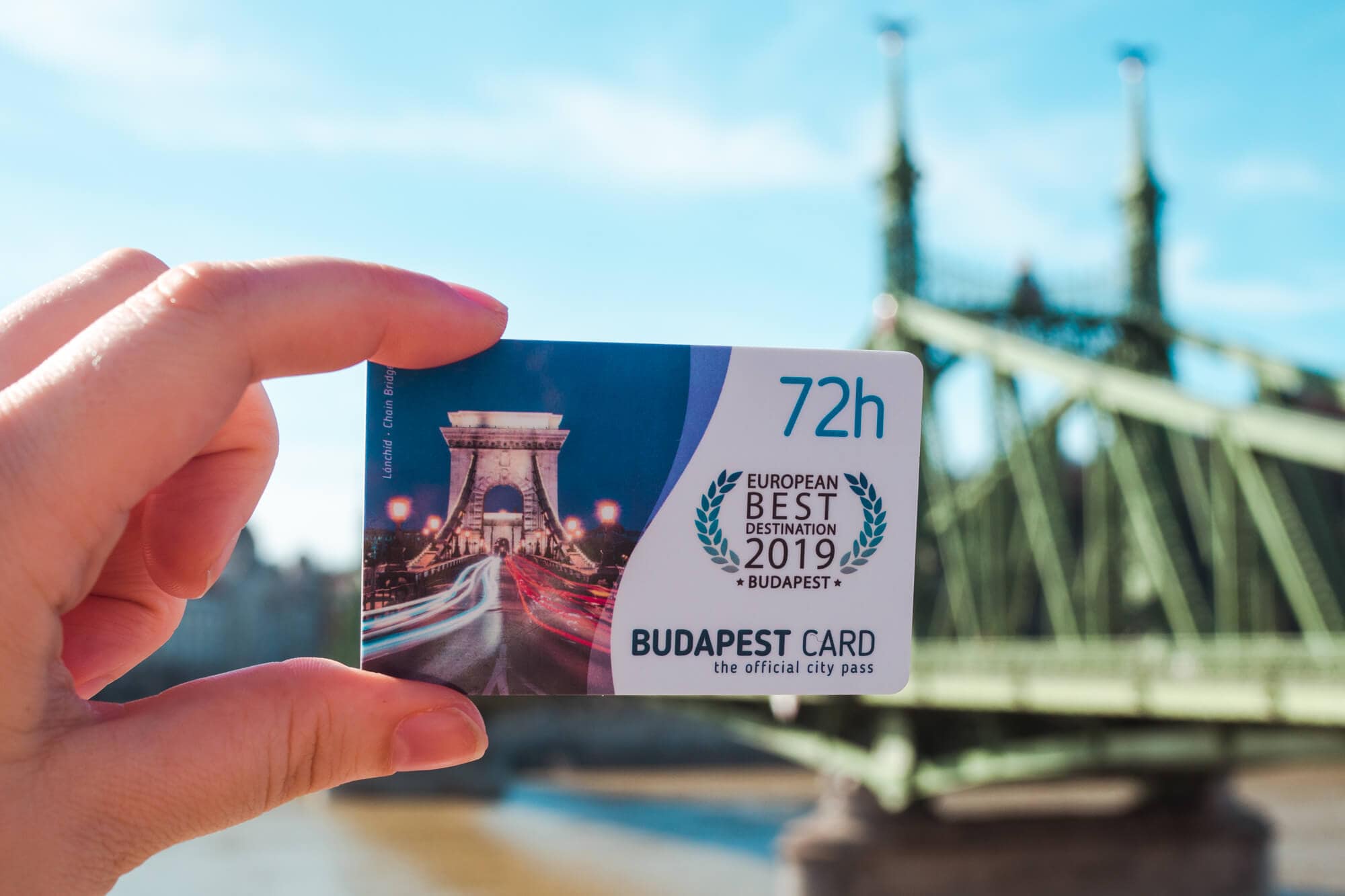 I love it when the place I'm visiting has a city card and I'm always excited to find out whether or not it is worth the price. We were lucky enough to receive two 72-hour Budapest cards courtesy of Visit Budapest. However, all thoughts and opinions are my own as always.
As a Budapest cardholder, you get unlimited use of public transportation within the city limits, free entry to 19 museums and discounted entry to many others. You also get free access to the Lukács Thermal Baths and discounted entry to Palatinus Thermal Bath and Wave Pools and Széchenyi Bath, just to name a few.
In addition, you can also join two free guided walking tours in English, go on a free tour of the Palvolgyi Cave, get discounted access to luggage storage services and discounts at many other major Budapest city attractions and restaurants. And, if you want, you can download an app that includes 15 self-guided tours and more than 500 points of interest.
We would never have seen as much of the city as we did without the Budapest card. Being able to jump on and off the bus, tram and metro without having to worry about buying and validating tickets made the cost of the card seem worth it to us. Everything else was just a big bonus! The public transport system is very efficient and we never waited for more than five minutes for a bus, tram or metro.
We will definitely purchase the cards when we go back to Budapest, which will hopefully be very soon.
Related post: Budapest photography guide: 23 awesome things to see & do
3 days in Budapest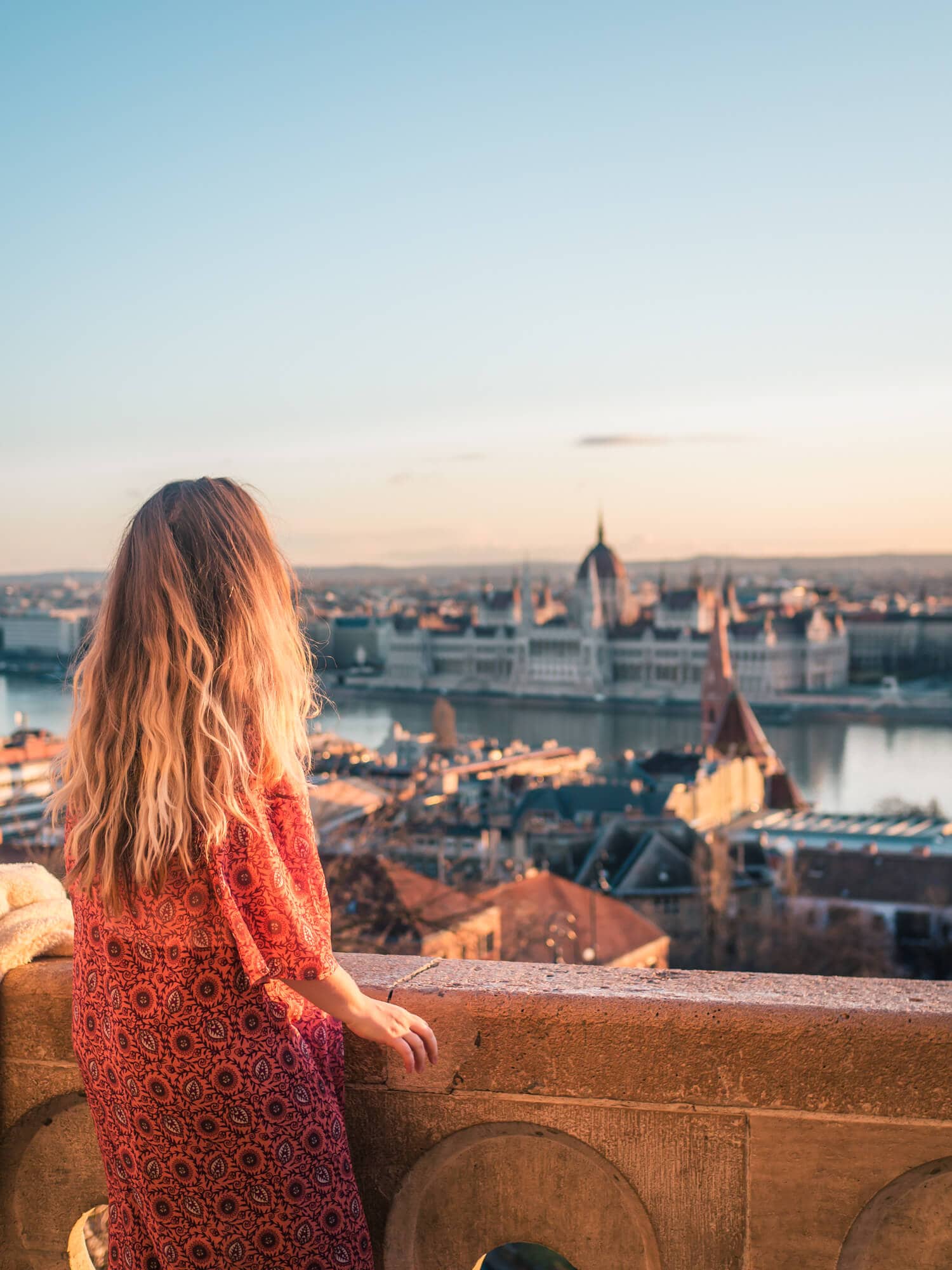 We spent three and a half beautiful days in Budapest. The sun was shining and it felt more like spring than the middle of February. We managed to cover a lot of ground and got to experience everything from museums and castles to incredible views and fantastic restaurants. The only things we missed out on were Gellert Hill, Pálvölgyi Cave and the thermal baths. But I guess that just means we have to go back soon!
One of the things I had been looking forward to the most was watching the sunrise from Fisherman's Bastion. Despite both Ulrik and I being night owls, we managed to wake up at 5:45 am to make it in time for golden hour. I was so proud of us and thought we would have the place mostly to ourselves. I was wrong.
To my surprise, there were already so many people wandering around taking in the beautiful views. How do people wake up this early just to go for a casual stroll? Haha, I wish I was a morning person! We did, however, manage to get some great shots. We just needed some patience. It was one of the most beautiful sunrises I've ever witnessed and without a doubt the highlight of our time in Budapest.
I can't wait to show you more photos in my next post which will be a Budapest photography guide.
Budapest Restaurants, Cafés and Bars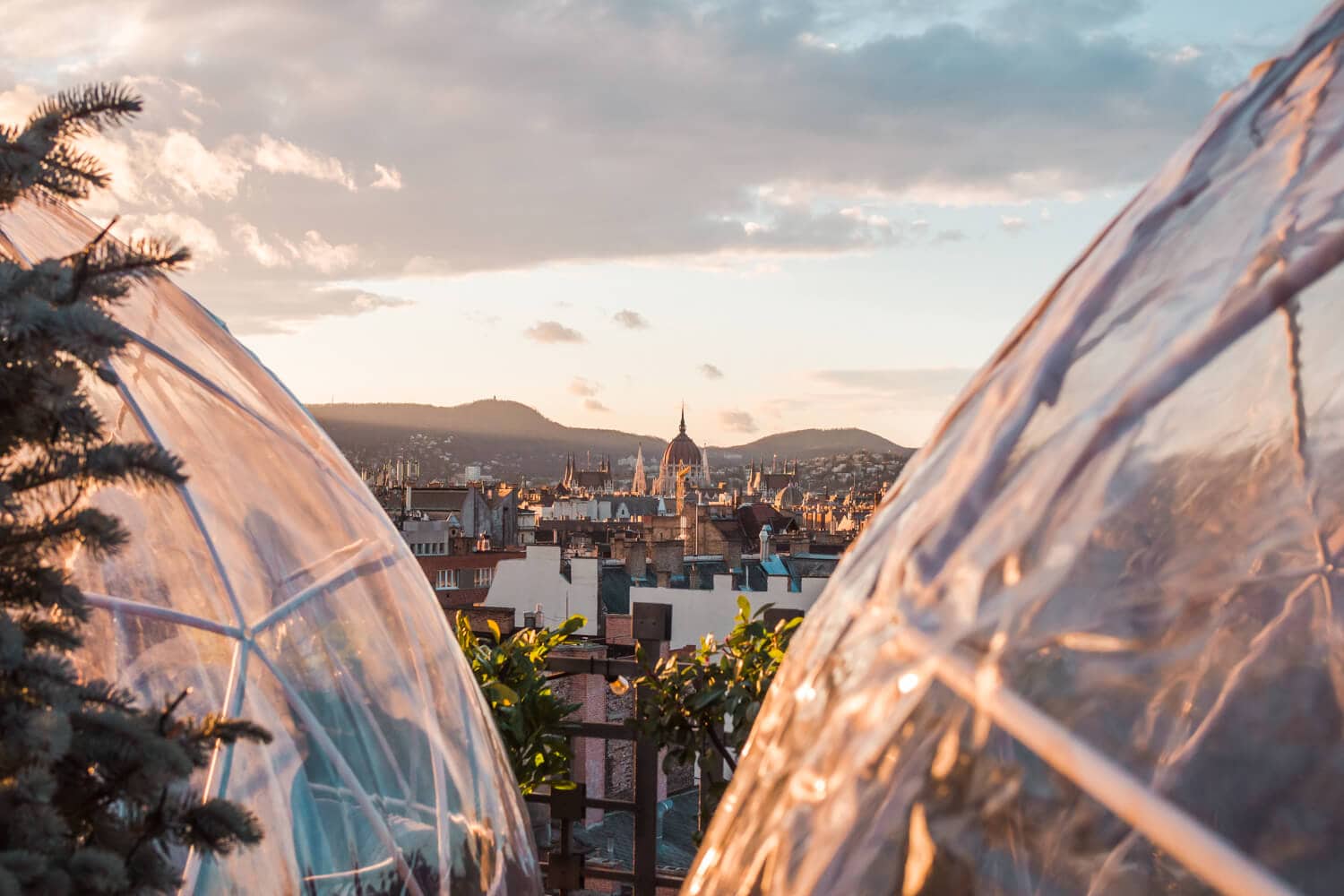 For me, food is one of the best things about travel and a great way to get to know a new destination. So we spent a lot of time in different cafés, bars and restaurants all over Budapest.
We never made it to the Igloo bar in London so when I discovered that Budapest has its very own Igloo Garden we had to check it out. 360 Bar sits on top of a tall building on the Pest side and boasts stunning panoramic views of the city. From May through October 360 is a regular rooftop bar. However, during the colder months, igloos are set up so guests can still enjoy their cocktails outside.
Booking a table ahead is a good idea. When we arrived about an hour before sunset it was already incredibly busy. We managed to get one of the last tables right before the masses started pouring in. Crowded places like this are not usually my thing. To be honest, I went there mostly for the photo ops, so we only had one drink and then headed out. But the gorgeous sunset views and delicious cocktails definitely made it worth a visit.
Related post: How I edit my travel photos + free preset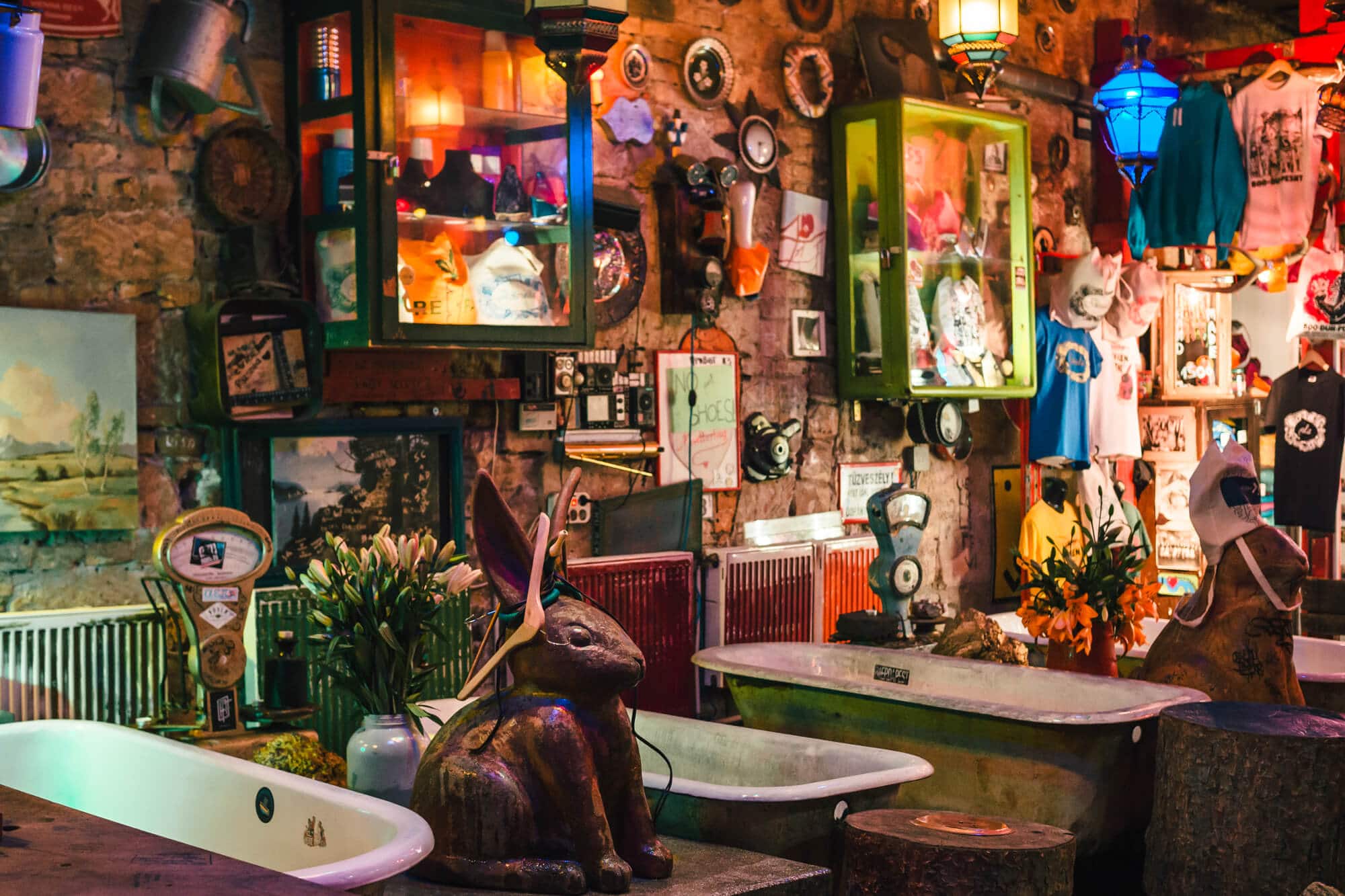 Ruin bars are a phenomenon I hadn't heard about prior to researching for this trip. But it turns out these derelict buildings turned eclectic hangout spot/nightclub are one of the absolute must-dos while in Budapest. Szimpla Kert, which literally means Simple Garden, was the first one to open its doors back in 2002.
It is probably the most touristy ruin bar in Budapest but also the largest and most unique. It was so fun to wander around and explore every nook and cranny of this maze of different rooms. Just take a look at the cool and interesting decor above!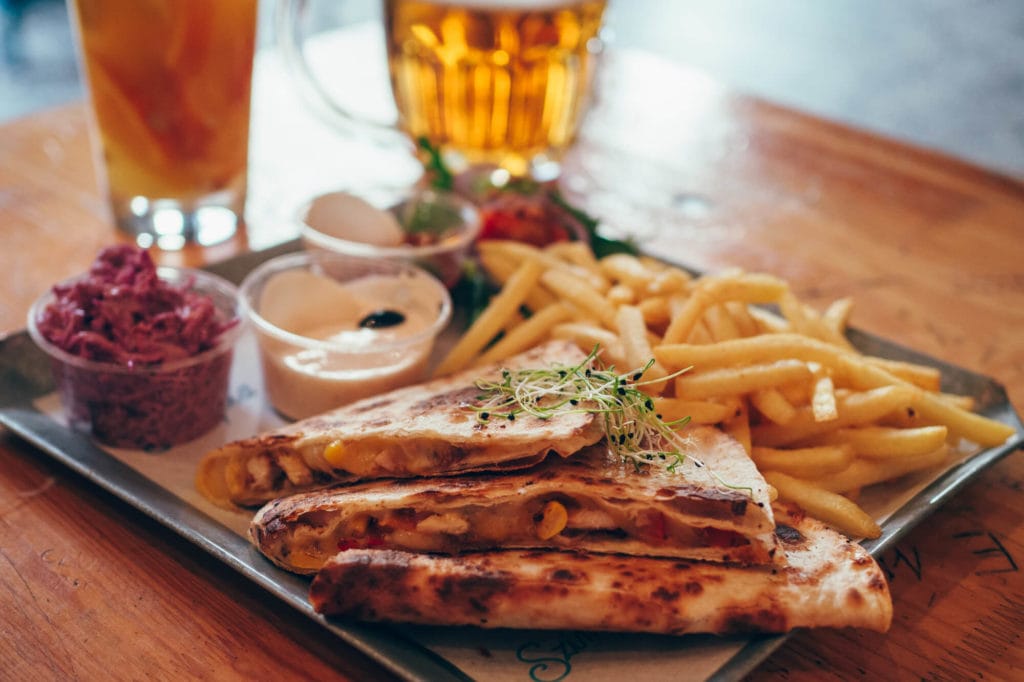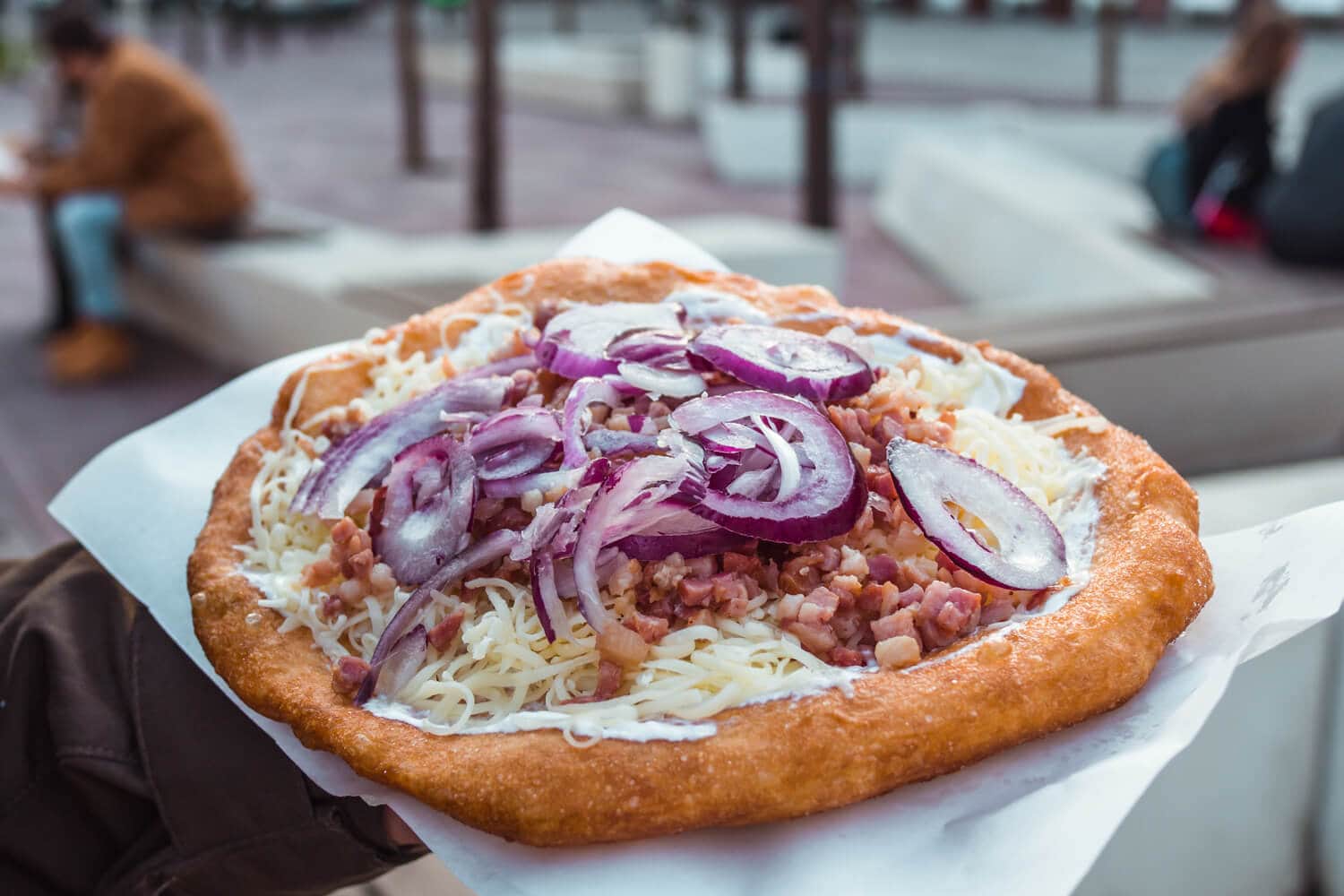 And we, of course, had to try the famous Hungarian street food called Langos. It is kind of like a pizza with a fried yeast dough, made with mashed potatoes and flour.
The delicious snack became part of the country's cuisine centuries ago during the Turkish occupation. And it has been a favorite amongst both Hungarians and tourists ever since. So yummy!
You might also like >> 15 "ready to post" Budapest Instagram captions & quotes
Super tasty tacos and cocktails at Tereza, our favorite of all the restaurants we visited.
Dining in fancy places like the New York Cafe is usually not my thing. I'm much more of a street food person. But when I read that this is supposed to be "the world's most beautiful café", I had to check it out for myself. There was a line at the door when we got there but luckily we had booked a table through their website the night before. So we were seated right away.
After a quick glance at the menu, we opted for the afternoon tea for two which set us back €60. 10 minutes later our sandwiches, pastries, tea and orange juice were on the table. In my mind, the food, unfortunately, was mediocre. However, the overall experience with the beautiful interior, impeccable service and live band made the time and money spent worth it.
---
I hope this little travel tale has inspired you to visit Budapest. It truly is one of the most beautiful cities I've visited so far. Check back in a few days for my Budapest photography guide where I'll talk about 23 of the most Instagrammable places in the city.
---
Remember to save this for later 😉