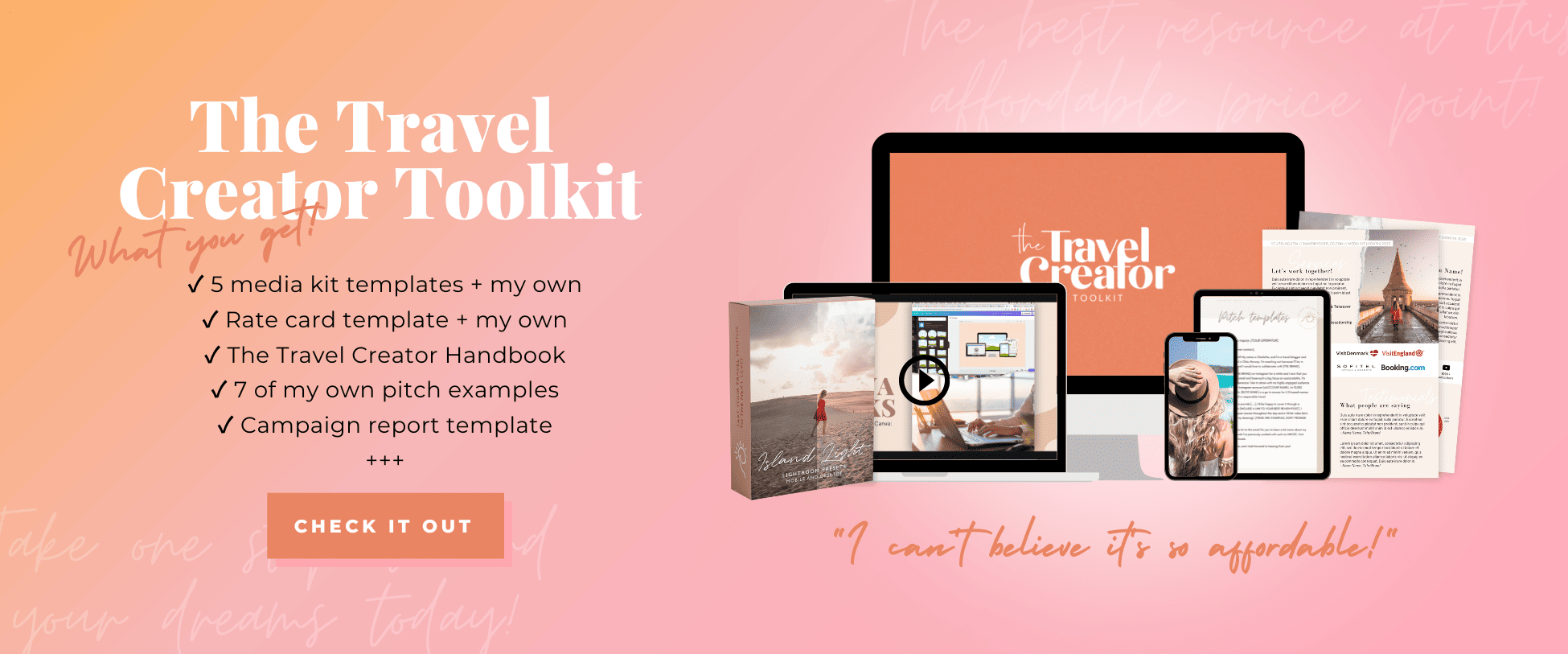 This post contains affiliate links. I will earn a small commission if you purchase through them, at no extra cost to you.
Most people coming to Bali for the first time think the island is covered in dreamy white-sand beaches lined with palm trees and crystal-clear turquoise water. But sadly that's not the case. Most of Bali's beaches are grey or black in color because of volcanic ash from the island's still active volcanos. Which of course can be gorgeous as well, but I have to admit that I do prefer lighter-colored sand. If it's those picture-perfect beaches you're after I highly suggest you go to the south of Lombok, one of my favorite places in the world.
Even though many are disappointed by the beaches on the Island of Gods, some that take the time to explore will say they are magical. And I have to agree. Maybe it's the monkeys trying to steal your things, the hunky surfers, the smiling locals selling coconuts in their makeshift shacks or the majestic temples. I don't know how to put the magic of Bali into words, so you better go see for yourself!
🌟 If you don't feel comfortable driving by yourself, you can book this very affordable half-day tour with a driver and ask him to take you to the beaches you want to see or anywhere else on the island you want to explore!
The most beautiful white sand beaches in Bali
Pro tip: Remember that with all 5 beaches it's important to get there at high tide if you want to swim, on low tide all that's left is moss-covered reef and rocks.
1. Balangan Beach
Balangan Beach, a 550m stretch of golden sand bordered by a tall limestone cliff, isn't just one of Bali's prettiest beaches it's also home to one of the islands longest left-hander surf breaks. This little slice of paradise attracts surfer and sunbathers from all over the world, but somehow it doesn't feel crowded.
Getting to Balangan is easy thanks to clearly marked signs. When you reach a small intersection keep right and you'll get to the main entrance where parking fees range between 2000 and 5000 Rp for motorbikes and cars. The sand is only a dozen steps away, but before you go down you should check out the incredible view from the cliff at the end of the beach (second photo below). This is the swimmable part of the beach with calmer water and minimal reef.
Keep left at the intersection and you'll reach the surfing part of the beach. Not great for swimming but it's where you'll find most of the warungs and sunbeds. Remember to bargain if you want to rent a sunbed as they will often quote you double what they expect you to pay. Parking on this side is free.
On my first visit to Bali back in early 2010, Balangan was the first beach I visited after Kuta. And what a difference it was, laidback surfer heaven vs. noisy tourist mayhem. We stayed in one of the warungs/homestays at the beach for only $3 a night and encountered maybe ten other people. Ah, the good "old" days. Balangan has been one of my favorite beaches in Bali ever since.
Best hotels at Balangan Beach
Balangan is also a great place to call home for a couple of days, with accommodation options in all price ranges. Stay in Sea View Bungalows on top of the cliff for the best view of the amazing Balangan sunsets. Or Flower Bud Bungalows for a lush, tropical setting (pictured below) just a minute from the beach. Both hotels offer great value for money!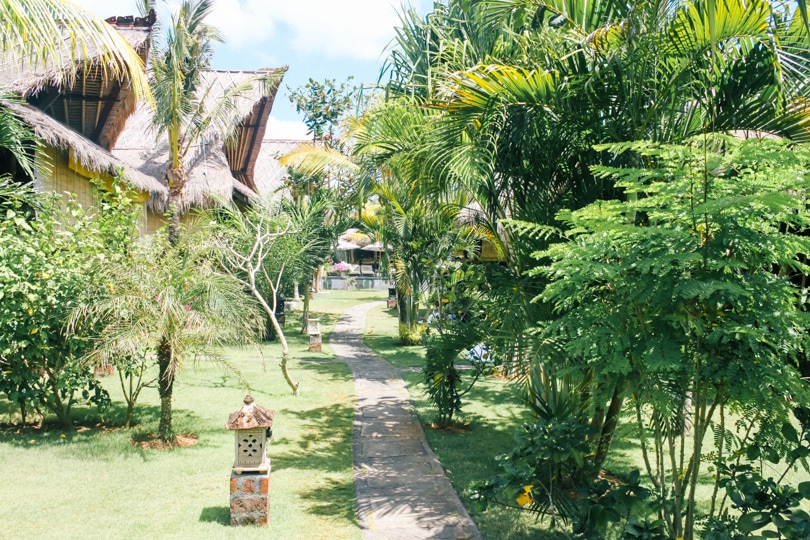 Related post >> The ultimate 2-week Bali itinerary + Nusa Lembongan & Penida
2. Padang Padang (Thomas Beach)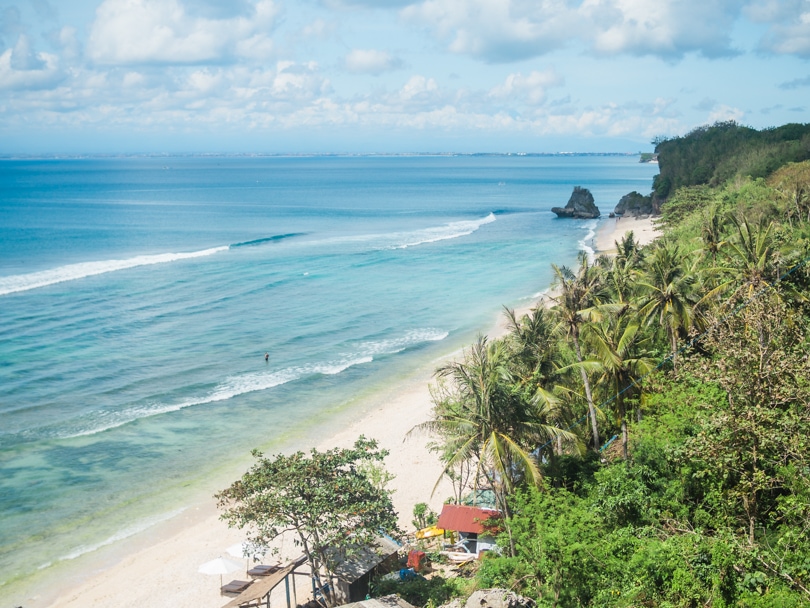 The first few times I went to Bali we usually spent all our time at the small and crowded Padang Padang Beach (Pantai Labuan Sait), which is definitely also worth a visit, it just gets so crowded that I didn't want to include it in this post. Driving back and forth from Uluwatu we always talked about and wondered how to get to the large, deserted white beach we passed by every day. But unfortunately, we never made a real effort to find out. I so wish we did! With only a handful visitors today, I can only imagine we would've had it all to ourselves back then.
This mysterious stretch of sand is according to locals the real Padang Padang Beach, also known as Thomas Beach because of the old homestay set against the cliff wall. These days it's much easier to reach the beach thanks to a newly made gravel road through the bush. You'll see the Padang Padang Beach sign from the main road just opposite Suka Espresso. Which by the way is one of the best cafés in Uluwatu.
To get your feet in the sand you have to make your way down a steep set of stairs. At high tide, the turquoise water covers the reef so you can swim and frolic in the water. At low tide, however, the water disappears out to sea, exposing the reef and green moss-covered rocks.
Down on the beach, there are several warungs where you can buy coconuts, colds drinks and enjoy both Indonesian and western dishes. There are also sun loungers for rent, but I usually opt to just lay on the sand. The best place to swim is the area closest to the entrance where there is little reef in the water.
In addition to the older Thomas Homestay, you can also stay in Ari Homestay, the orange building you see below. But one of the best value places to stay in the area is Kutuh Manak Guest House, just a short walk away from both Padang Padang beaches.
3. Nyang Nyang Beach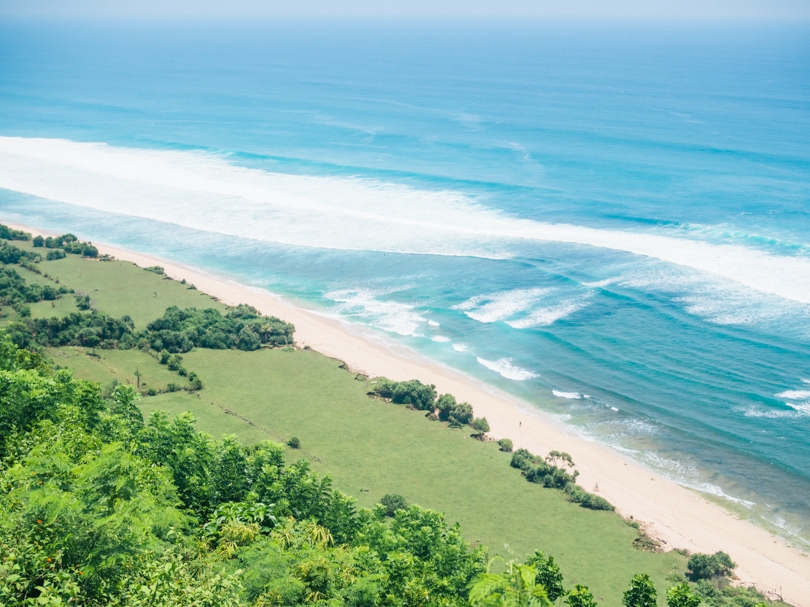 Nyang Nyang Beach is easy to reach by motorbike. Drive south to the Uluwatu temple, take a left and follow the road until you see a large and faded sign on your right that says Nyang Nyang surfing beach. Follow the signs until you get to a warung and a large paved parking area.
The lower parking area is for the beach and the upper is for the paragliders. Take in the incredible view from the top while you mentally prepare for the long hike down to the beach. Of all the beaches I have visited in Bali, Nyang Nyang is the least accessible.
There is one warung next to the parking area on top of the cliff but often nothing to buy at beach level. So bring a lot of food and cold drinks and be sure to have enough for the hike back up. I almost passed out of the strenuous walk after a hot and humid day in the sun.
Once down on the beach, you'll see more cows than people and set up camp wherever you want. Nyang Nyang is the perfect place for a "Cast Away" day out when you want to escape the Bali craziness. There are many shacks along the beach made of driftwood and other materials washed ashore by the tide. The coolest part about Nyang Nyang is all the seashell art hanging from the trees as you can see below.
Nyang Nyang isn't only a beautiful stretch of sand, it's also popular with surfers. Uncrowded rides of up to 150m can be had when conditions are good. But keep in mind that the wave is best suited for advanced surfers.
Remember to check the tide to pick the ideal time to visit Nyang Nyang, high tide is best for swimming.
Related post: Bali Budget Breakdown: How much do two weeks in Bali cost?
4. Green Bowl Beach
Green Bowl is a small white-sand beach also located on the southern coast, next to the abandoned Bali Cliff Resort. It is known as one of the best surf spots on the island and is not suitable for beginners.
To enter the parking area there is a fee of 5000 Rp, which all goes straight back into the local community. Access to the beach is from a long stairway through the jungle. So, unfortunately, this beach is not accessible for people with mobility issues either. Be aware of the monkeys, they will try to steal anything they can get their hands on if you get too close.
Next, to the parking area, there are three warungs selling the usual cold drinks, snacks and coconuts. If you're in bad shape like me you'll probably collapse at one of their tables after climbing back up all those stairs in the scorching heat.
Green Bowl Beach is known for its resident bats living in the caves at the beach. During the day you can often see hundreds of them sleeping in the ceiling and if you're not scared you can some cool shots from the inside the cave. Which I somehow forgot!
The only bad thing I can say about Green Bowl is all the hawkers selling bracelets, drinks and sarongs. I know they're only trying to make a living, but when you are alone at the beach and have five people in a circle around you, it can be a bit much. But don't let this discourage you, Green Bowl is definitely worth a visit.
Related post >> The 11 most common scams in Bali + How to avoid them!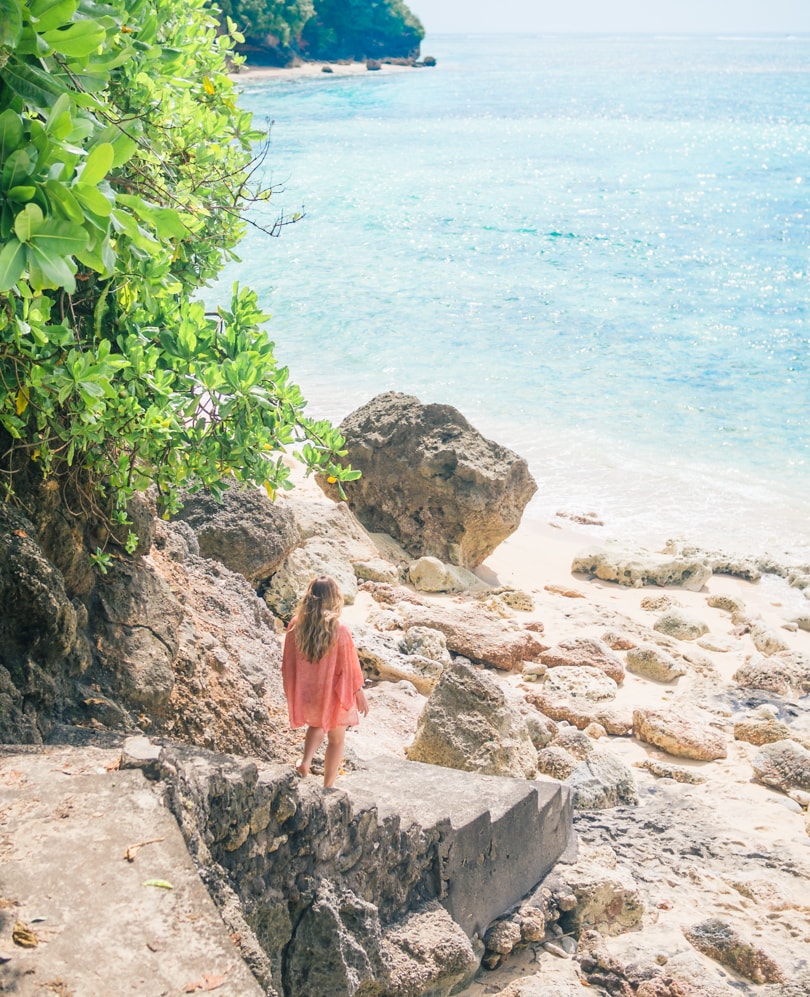 Related post: The ultimate Bali bucket list: 101+ awesome things to do
5. Melasti Beach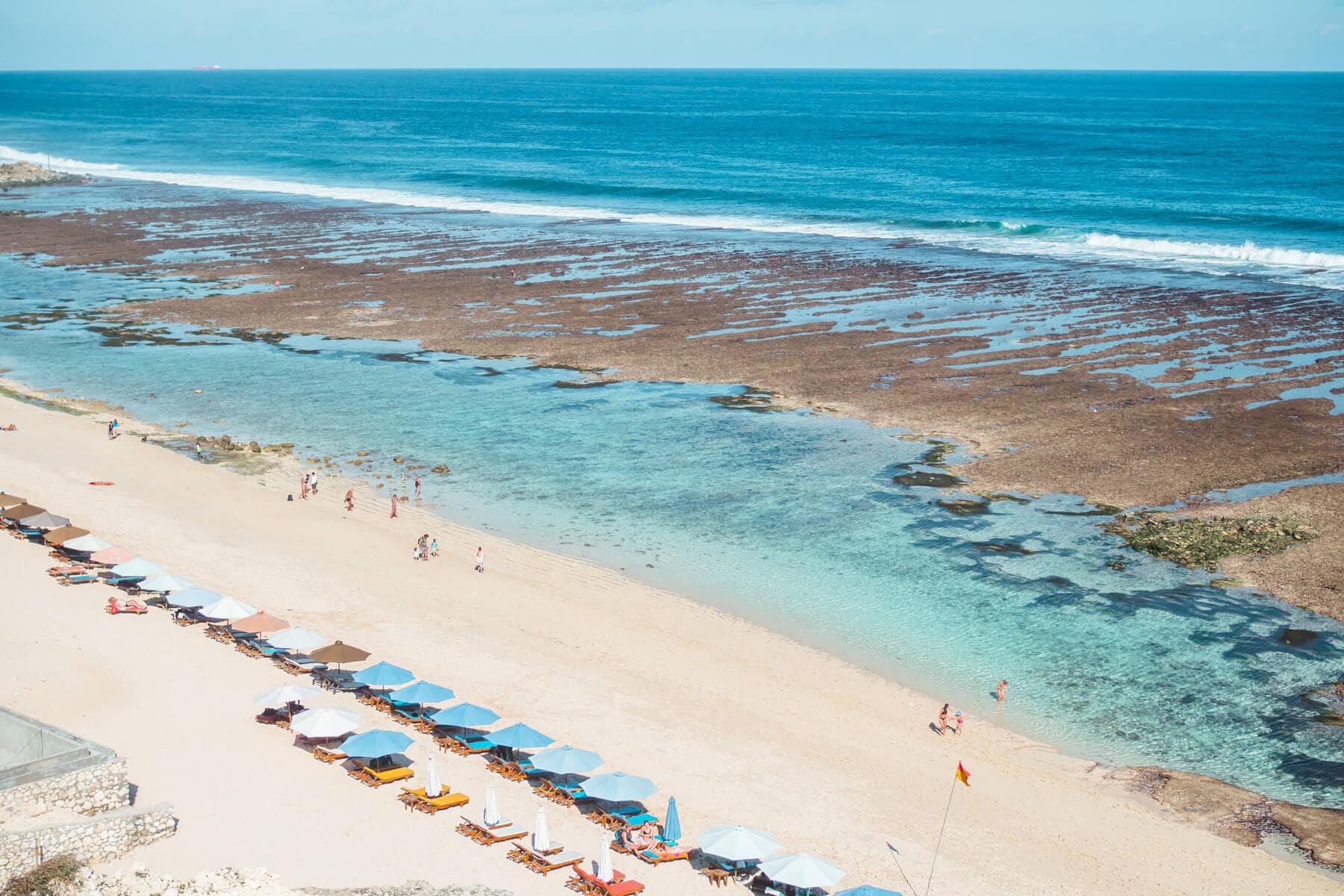 Melasti Beach, located on the southernmost point in Bali, has recently become one of my favorite beaches on the island. The sand is clean, the water is crystal clear and there are several areas without reef which makes it the perfect spot for swimming, especially at high tide.
A couple of small warungs serve the usual noodles and cold drinks and you can rent the usual sun loungers and umbrellas. Remember to bargain, they quoted me 50k per hour but I ended up paying 100k half the day! There is also a large paved area with toilets, though I did not check those out. At the moment both entrance and parking at Melasti are free.
If you're staying on the Bukit you can easily rent a motorbike/scooter and drive here yourself. You'll find the exact location on Google maps, so if you don't have internet on your phone make sure to download the map before you go. Melasti and Green Bowl beach are located within just 10 minutes of each other, so you should check out both while you are there!
The winding road travels along the cliff's edge, providing incredible views of rolling waves and small white sand beaches below. There are several viewpoints along the way that you will definitely want to stop at, so have your camera ready.
With so many beautiful beaches in close proximity, you should definitely consider staying in the area. Adila Bali is the most amazing villa located just a stone throw from both Green Bowl and Melasti. It offers incredible views, the kindest staff and it is so affordable for what you get. So check it out!
Related post >> Sekumpul waterfall tour – One of Bali's most beautiful waterfalls
Popular Bali Tours
Here's a selection of tours that includes some of Bali's most beautiful beaches and one tour you can customize to your liking. Joining a tour is a great way to see Bali's highlights, especially if you're short on time.
---
So do you agree that these are the best beaches in Bali? Or do you have a different favorite?
Pin me 😀