This post may contain affiliate links. I will earn a small commission if you purchase through them, at no extra cost to you.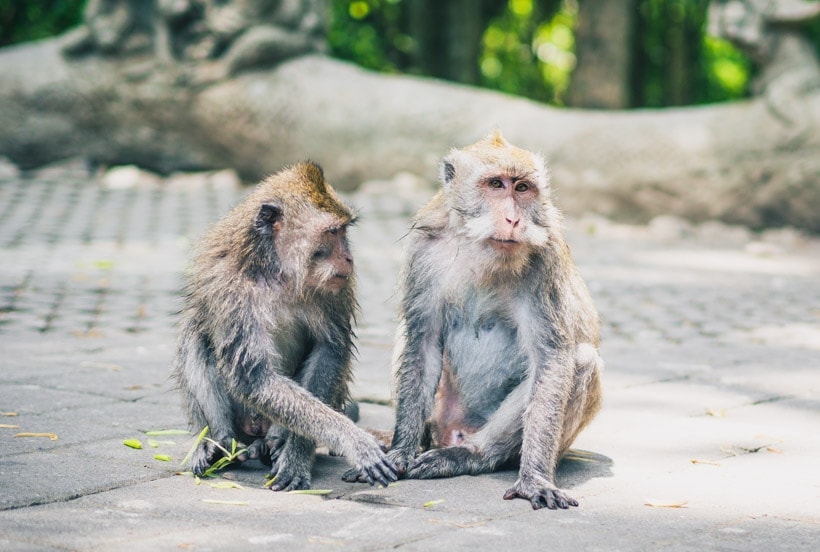 I get a lot of questions about whether or not I think it's safe and worth it to visit the Sacred Monkey Forest in Ubud and Uluwatu Monkey Temple, so I thought it was about time a made a post on the subject. And of course, I wanted a chance to share some of the hundreds of photos I've shot of these cheeky creatures over the last seven years.
Ubud Sacred Monkey Forest Sanctuary
As I've had my share of monkey encounters at the monkey temple down in Uluwatu, I didn't expect that much when we headed to the Sacred Monkey Forest Sanctuary in Ubud.
I already had countless photos of me feeding the monkeys, me next to the monkeys and I've had monkeys try to undress me to find food. More on that further down. But wow was I in for a surprise, this place is so much more than just the monkeys. It really felt like we stepped into a magical forest, as the low sun made the leaves of the huge trees sparkle.
Even though there were crowds of people (over 10 000 visitors a month), the atmosphere was calm and quiet. With 115 different species of trees and three temples dating back to the 14th century, the complex is huge, so be sure to explore every nook and cranny to get the most out of your visit.
Opening hours: daily from 8:30 AM – 6 PM Entrance fee: 40k Rp adult and 30k Rp children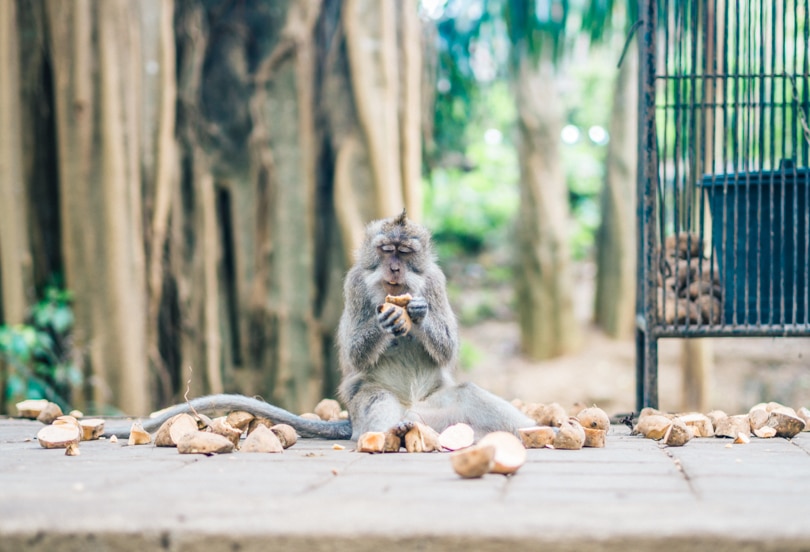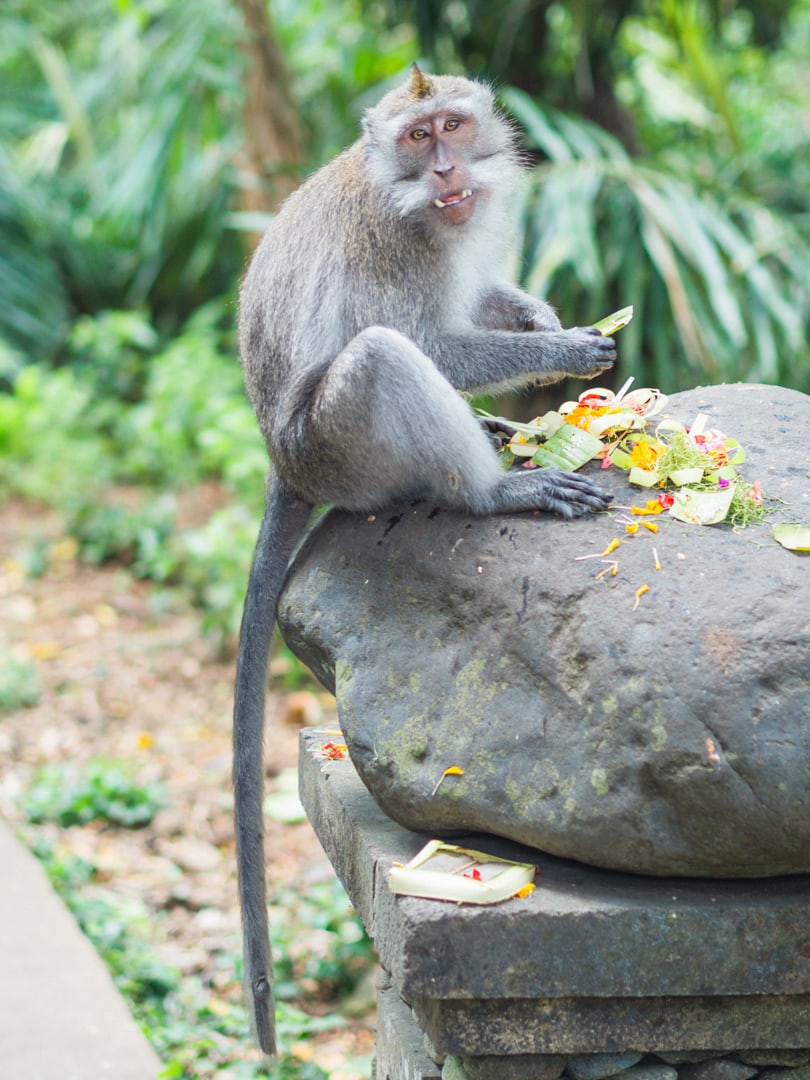 This cheeky guy didn't care for the food provided by the groundskeepers, so he helped himself to a couple of offerings instead.
The forest isn't only home to monkeys, we saw many beautiful butterflies and different kinds of lizards. Some small cute ones and some were pretty large and intimidating like the one above.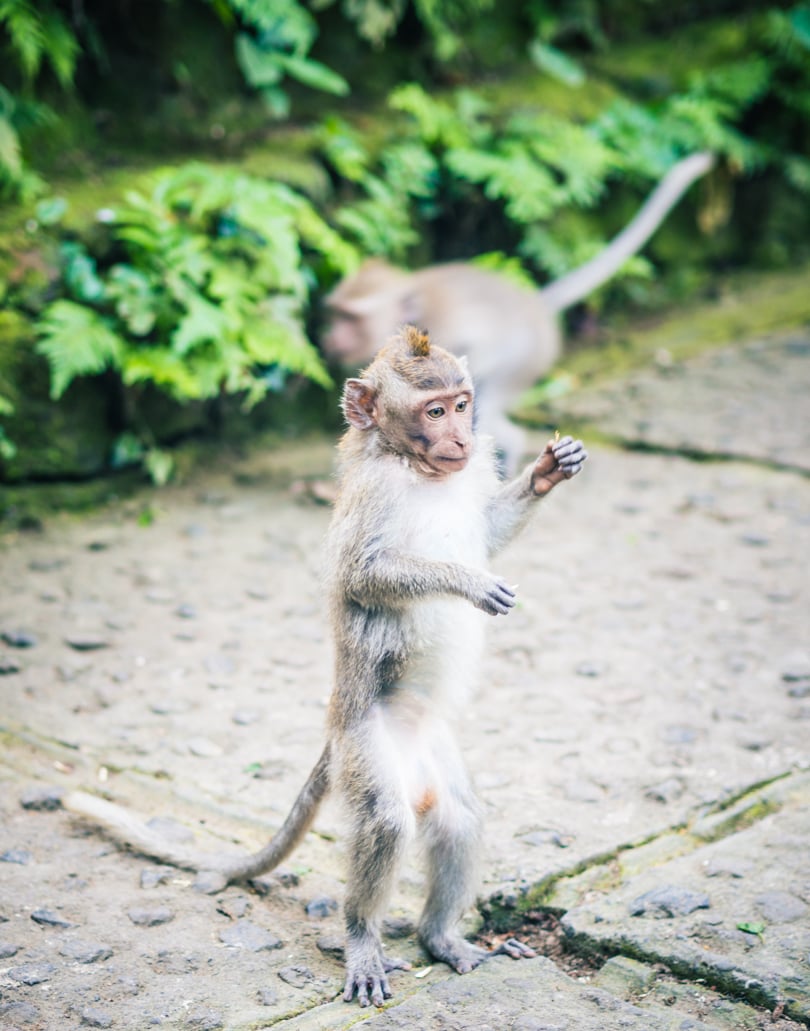 Pura Luhur Uluwatu (Uluwatu Monkey Temple)
Perched on top of a 70-meter-high cliff protruding above the great Indian Ocean, Pura Luhur Uluwatu is a spectacular sight. It is one of the nine "directional temples" of Bali, thought to protect the island from evil spirits.
The name Luhur means "something of divine origin" and ulu the "land's end" and watu means "rock" if I remember correctly. Just like Ubud Monkey Forest, this temple is worth a visit even if it wasn't for the monkeys.
Visitors must wear a sarong and a sash, which is included in the entrance fee. There are guides that will try to convince you that you need protection from the monkeys, but don't feel obligated to go with them. As long as you use common sense, you'll be fine. I have seen people get bitten and attacked by the monkeys, but only when they tried to grab or hold one of them. Keep your distance and if a monkey jumps you, just stand still and it will soon lose interest.
The best time to visit is right when they open in the morning to avoid the crowds or just before sunset. Uluwatu sunsets are incredibly beautiful! Kecak Dance is performed every day at the adjacent cliff-top stage from 6 PM to 7 PM (gate opens at 5 PM). Visitors are charged a fee of 100k Rs per person.
Entrance fee: 30k Rp adult and 20k Rp children.
Visitor opening hours: daily from 09 AM – 6 PM. For people who want to pray, it's open 24 hours.
This girl was not as patient as I would have liked. She smelled the fruit I had hidden underneath my sarong and grabbed it before I understood what was happening.
Related post: 17 things you need to know before you go to Bali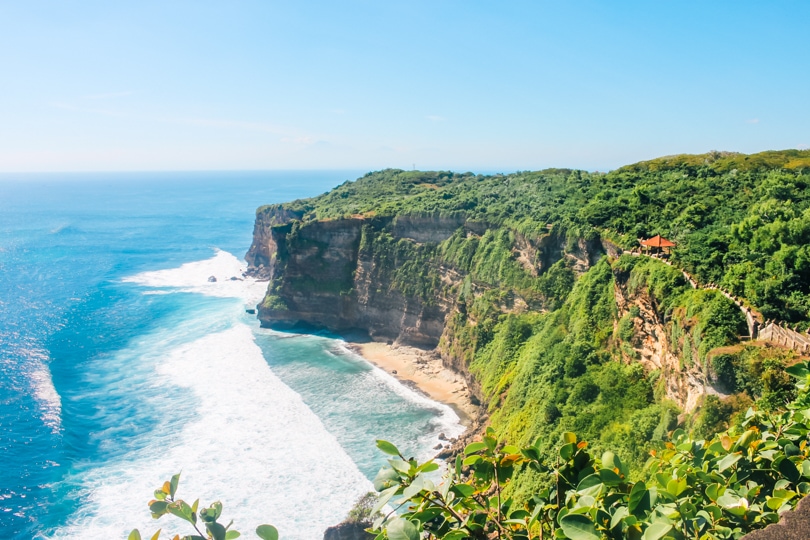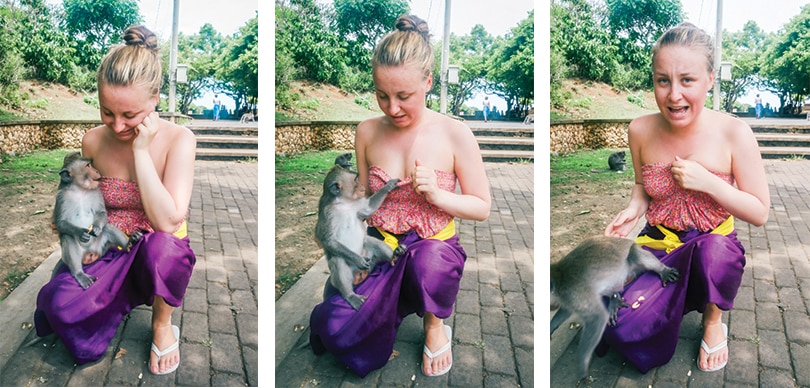 Note to self: don't wear a strapless dress without a bra when going to see monkeys! And no I don't know why I wore a strapless dress to the temple in the first place, I guess I didn't know better at the time. This was way back in 2010.
Isn't she just the cutest? She was totally relaxed and waited patiently for us to hand her peanuts. One of my favorite animal encounters ever! Though I haven't experienced this since 2010, as the numbers of tourists increase so does the aggressive behavior of the monkeys. At least that's my impression after my most recent visits.
Safety at the monkey temples in Bali
These cheeky little creatures are very clever and quick on their feet. I always see them playing with items they've stolen, like the sunnies above, jewelry, hats and even shoes. During my first ever visit to Pura Uluwatu in 2010, I saw one large monkey steal a sandal off a man's foot. You know, one of those velcro sandals that one would think is pretty secure. The monkey was so quick I don't think the man realized what was happening before the monkey ran into the forest with his sandal.
Having witnessed these clever thieves in action you'd think I would be smarter than to bring my sunglasses into the temple.
A couple of years later I wanted to introduce my friend to the monkeys. About 30 minutes into our visit I was surprised by a large monkey that jumped onto my leg and climbed up my back. Before I was able to react I saw a small, hairy hand grab my sunglasses and take off into the bushes. One of the guards ran in after it and you could hear screams and noises from the jungle just like you would in a movie.
This all went on for like 10 minutes and just when I was starting to lose hope, the guard appeared from the jungle all sweaty and out of breath. But, to my surprise, with my sunnies in his hand. He had successfully traded them for a whole lot of bananas. I gave the guard a tip and could happily continue on with my day. All the chew marks are now a funny reminder.
So I guess the moral of the story is, DO NOT bring anything other than your clothes and camera(with a strap) into the temple. Hide your motorbike/hotel keys in deep pockets or under a lot of stuff in your backpack, because the monkey will try to open them! And again, do not try to hold on to the monkeys or approach them using sudden movements. Especially if it is a mother with a child. Stay calm and you should be fine!
Related post: Gunung Kawi – My favorite temple in Bali
This is my favorite animal photo I've shot so far. He got a little shy as I disturbed him during bath time. It was so fun to see the monkey swim just like we do. Some floated on their backs with their hands behind their head and some were practicing their diving skills.
---
Have you had any fun experiences in Ubud Monkey Forest or the Uluwatu Monkey Temple?