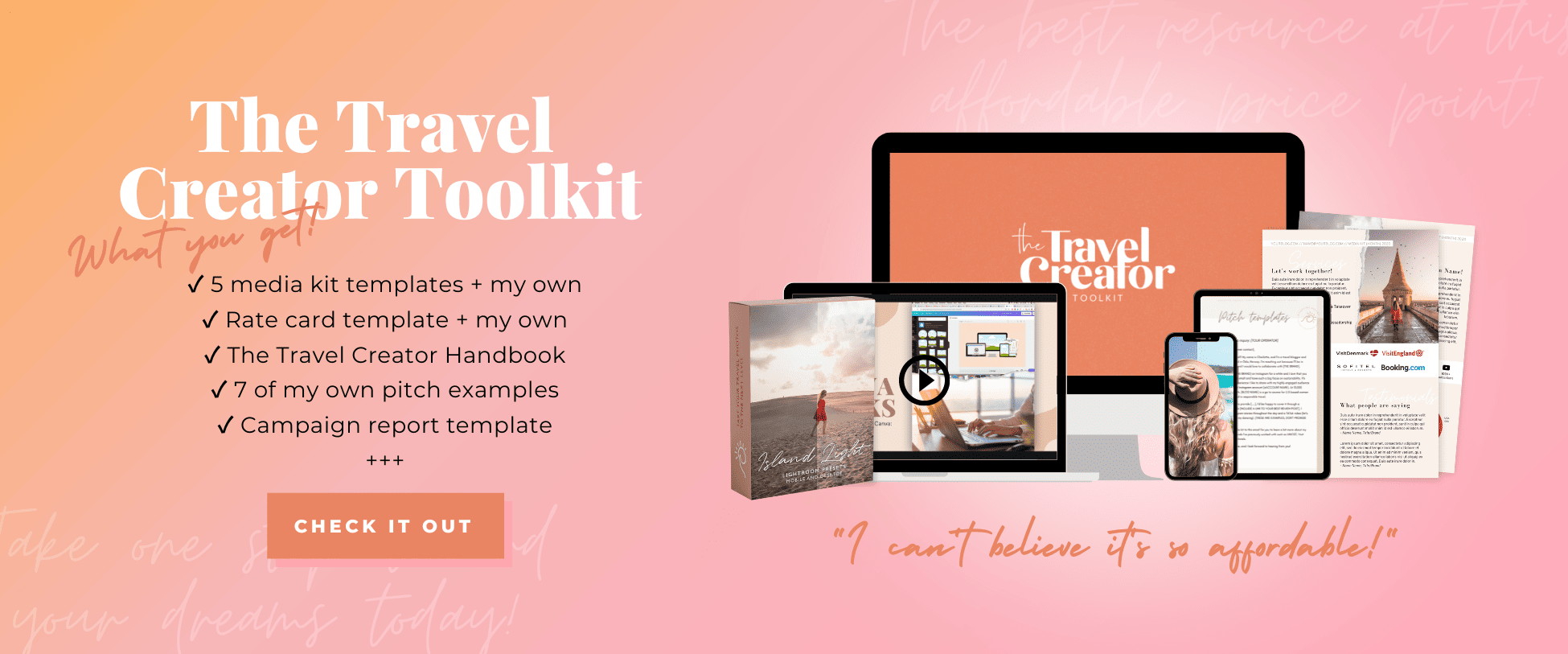 This post may contain affiliate links. I will earn a small commission if you purchase through them, at no extra cost to you.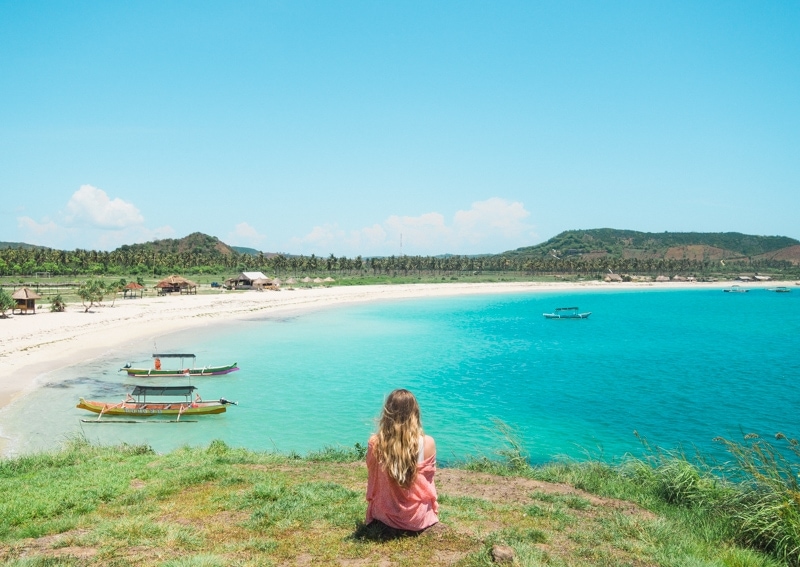 BIG CHANGES ARE HAPPENING IN KUTA AT THE MOMENT, THERE'S NEW PLACES EVERYWHERE. I WILL UPDATE THIS ARTICLE IN APRIL 2019 WHEN I'M MOVING TO LOMBOK FOR A COUPLE OF MONTHS.
The most affordable destination I've visited so far also happens to be my favorite destination in the whole wide world. And that is Lombok, Indonesia. Here are in my mind the best restaurants and budget hotels on the island.
As prices in Bali are on a rise, just like the number of visitors, I've had to look elsewhere for the $20 hotels, $3 meals and secret beaches. That's where Lombok comes in. Ahh.. Incredible Lombok. Keep reading to see why you should visit this awesome island, now!
// Contains affiliate links
Southern Lombok's majestic coastline consisting of cliffs and bays framed by massive headlands, is still mostly untouched and undeniably beautiful. The water is warm and turquoise with waves rolling in from left and right. The sand powdery white with colorful seashells scattered all over. It just doesn't get much better. I bet this is what Bali's Bukit Peninsula looked like some 30 years ago.
Despite its beauty, the region has historically been the island's poorest, as its parched soil isn't useful for much other than growing loads and loads of palm trees and tobacco leaves. The area is still sparsely populated, with limited roads and almost non-excitant public transport. And that's probably why major development hasn't taken off in these part, until now. As more and more people are discovering the area, I fear that dramatic changes are coming in the near future.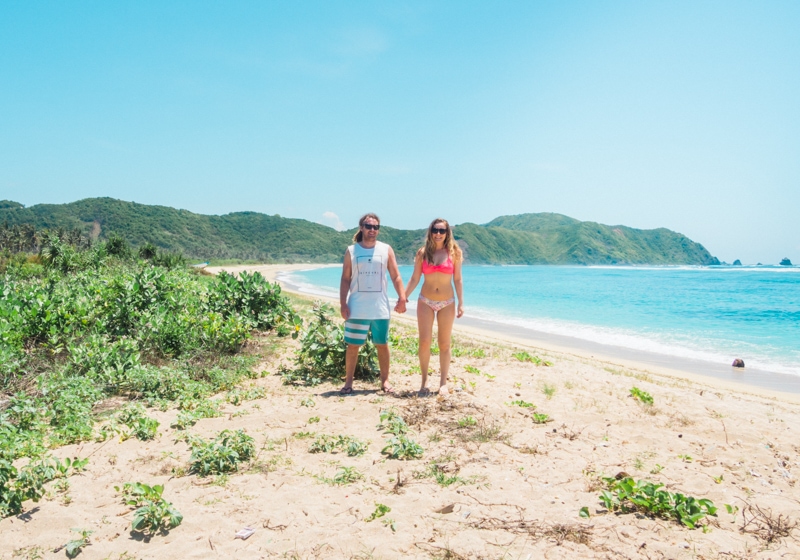 Don't mind us, we're just casually holding hands at the gorgeous beach we had all to ourselves.
So now is definitely the time to visit south Lombok as many of the hotels and homestays are built during the last couple of years, but the demand is still on the low side. So you get fresh hotels in gorgeous locations for a fraction of the price compared to Bali. And if you are like me, prefer to stay away from crowded beaches and places in general, this will be a dream come true.
I've talked about Lombok in several posts before, but mostly just about how much I love the south coast and which beaches to explore. So I thought it was about time I gave you some options regarding the kind of important stuff, like where you should sleep and especially what to eat. Most of the hotels on the south coast are scattered around Kuta beach, but that isn't really the jewel of the area.
Kuta beach is full of hawkers and children selling bracelets, you won't be left alone for a second. Of course, it's important to support the locals, and I always do, but it's also nice to have five minutes without being asked to buy something. Don't worry though as there are plenty of other beaches close by that are much more peaceful.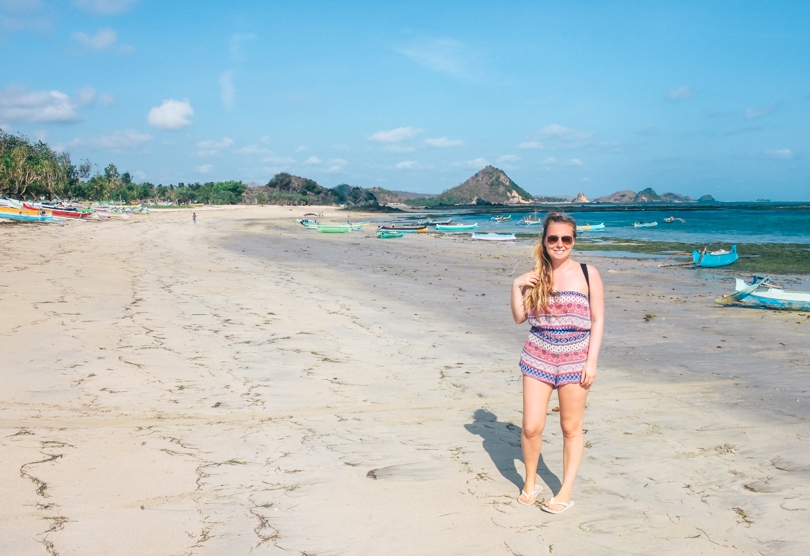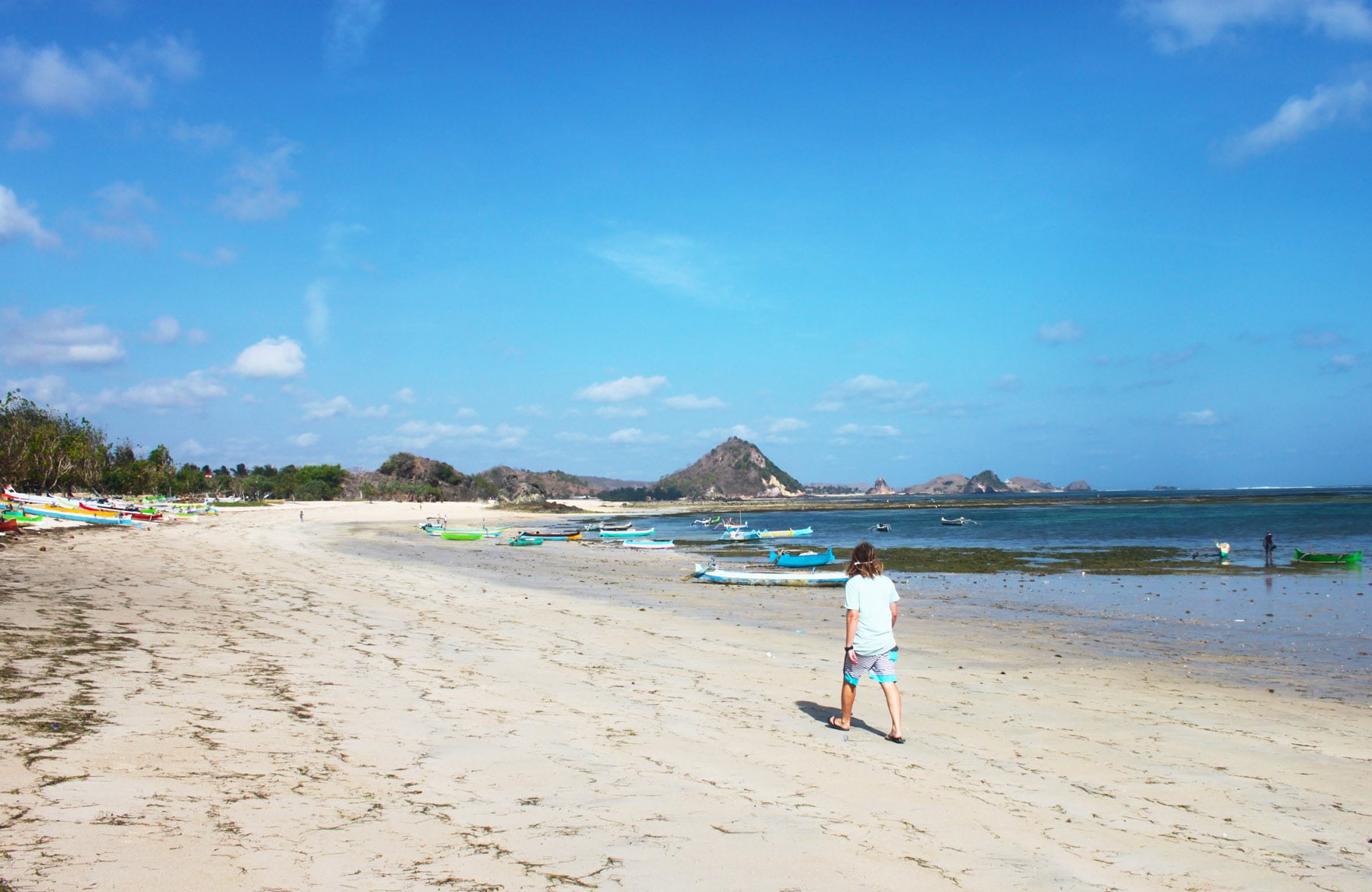 Related post: Top 5 things to do in Lombok
Lombok's best budget hotels
Family House Lombok (above) isn't the cheapest you can get, but I wanted to include it because I really enjoyed my stay there. The rooms are spacious with large beds, ac, tv and a balcony. What made me book it in the first place were the great pool area and all the greenery surrounding the hotel, and it didn't disappoint. The only thing I would say they should improve is the wifi, which only worked out on the balcony, by the pool and in the restaurant. The cheapest rooms start at just under $40.
Dream Hotel Kuta Lombok is a new bungalow style hotel located right in the center of Kuta. All the 15 rooms have air conditioning, garden/pool view and a patio with seating outside. The budget rooms start at just over $30, that includes wifi and free cancellation.
Banyu Urip Homestay is the most affordable of the bunch! The cheapest fan room is around $15, and that includes breakfast. It's nothing fancy, but a great location within walking distance to most restaurants and bars. They even have a pool in the middle of the building, which isn't too common in this price range. A great place for young travelers to meet fellow backpackers.
Drop in Surf Lodge This isn't really a budget place at just under $60 a night, but it's just so gorgeous that I couldn't help myself. The main building is kind of my dream house. Mint green, surrounded by palm trees, pink flowers and surfboards. They even have a few rescue dogs, ah I want to move in now! My favorite beach, Tanjung Aan as well as the Surf spots Seger and Gerupuk Bay are only a short motorbike ride away. The bungalows are located in the backyard together with a shared swimming pool. You're also able to use the living area inside the Drop In House. There are no restaurants in the direct neighborhood and they don't serve dinner, so motorbikes are needed to get to Kuta in the evening.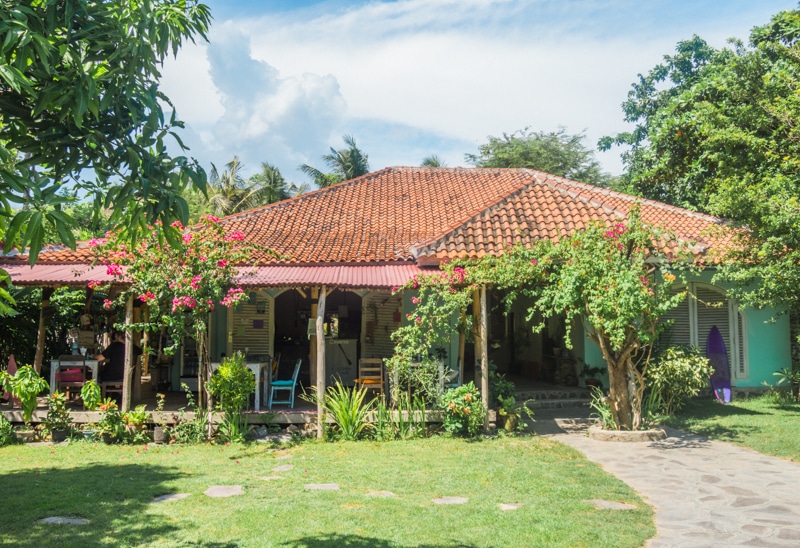 La Bangkat Homestay is gorgeously located in the rice fields, a couple of minutes on a motorbike from the hustle and bustle of Kuta. The huge pool area surrounded by greenery is what makes this hotel so special for the area. And I have to mention the staff as well, they'll do whatever they can to make your stay a great one. The cheapest fan room will set you back about $25 a night. Don't worry about it not being right on the beach as you'll need a motorbike anyway. And secondly, Kuta beach isn't where you'll want to spend all your time, trust me!
Family Beach Hotel is also located right on Kuta beach. You get a sea view, air conditioning, balcony, breakfast and free wifi for under $35! That's a good deal if you ask me. I think this place is fairly new, as the rooms are light, bright and quite clean. Keep reading to see what I mean by that. Definitely one of my favorites in Lombok.
Keep in mind that cleanliness won't be up to western standards, that's just how it is in this part of the world. I see so many give bad reviews because of this, but it really isn't hotel-specific, just the norm. Even some of the more expensive resorts I've stayed at have black stuff in the shower, some missing tiles and dust under the bed. So don't pay too much attention to this when choosing accommodation. Unless the reviews start mentioning cockroaches, rats or black mold, then I would probably think twice about it.
As always the prices I mention are subject to change depending on availability and the time of your stay. I include them so you can get an idea of the price point of each hotel.
On our way out to the surf breaks of Gerupuk.
Lombok's best restaurants
To save money on food, eat where the locals do, always. The traditional Sasak and Indonesia food served at roadside stalls and beach warungs, isn't just cheap but incredibly flavorful and delicious. The picture above is from a lunch at Mawun beach, I think we only paid 40k / $3 for this lemon ice tea and Nasi Goreng. As good as it gets in my mind!
Try Warung Turtle over at Tanjung Aan Beach and Nugget's Corner right in the middle of Kuta. If you want to step it up a notch, here are some of my favorite restaurants in the area that still won't break the bank.
Milk Espresso Café & Spa is the new cool kid on the block. In typical Aussie fashion, you can expect a sleek, modern interior and beautifully presented Instagram worthy food. Think colorful smoothie bowls, fluffy pancakes, avo on toast, fresh juices and so much more. And not to mention the food tastes pretty good too haha. On Wednesday and Friday nights during Happy Hour Milk usually draws a huge crowd as the front terrace turns into a music venue and drinks are only 35k. Love this place!
The Summit Dine and Lounge Restaurant offer some fun dishes you most likely won't find anywhere else on the island. Like chili poppers and the best fish tacos I've had in a long time. In addition, they also have a great selection of cakes and cocktails. All accompanied by the most spectacular view, and monkeys playing in the trees below. The restaurant is located on a steep hill, about a 10-minute drive from Kuta beach.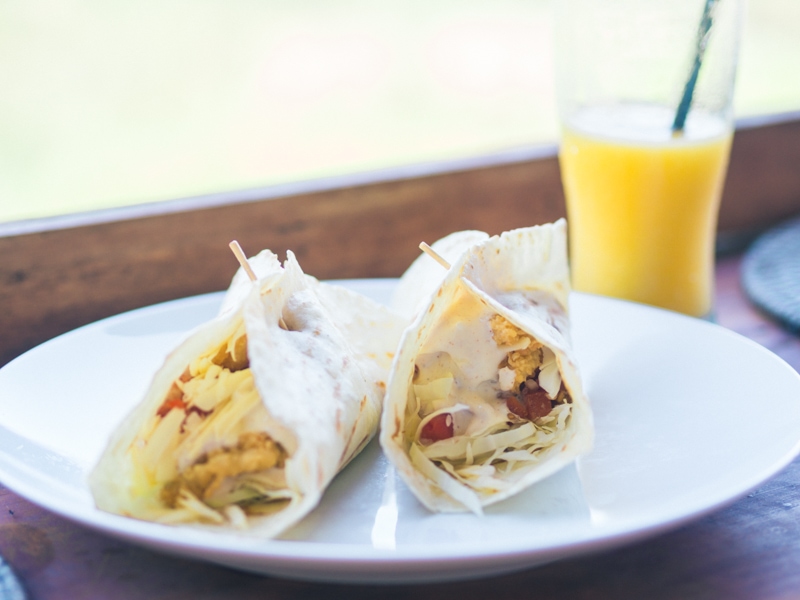 El Bazar Cafe & Restaurant is where you can get your Mediterranean fix. I love that they have so many healthy options, like this Mediterranean platter and vegetable juices. If you're working during your stay, this is a great spot to get a lot done as they offer free wifi to paying customers.
Warung Drifters is a cool warung style restaurant serving up some delicious burgers, wraps, falafel, hand cut fries and homemade ice cream!! The produce they use is mostly local and the staff super friendly. And best of all, their buns are made in-house every morning, so you'll never encounter stale bread in this joint. As you can see we got some juicy burgers, the best one I've had so far in Indonesia!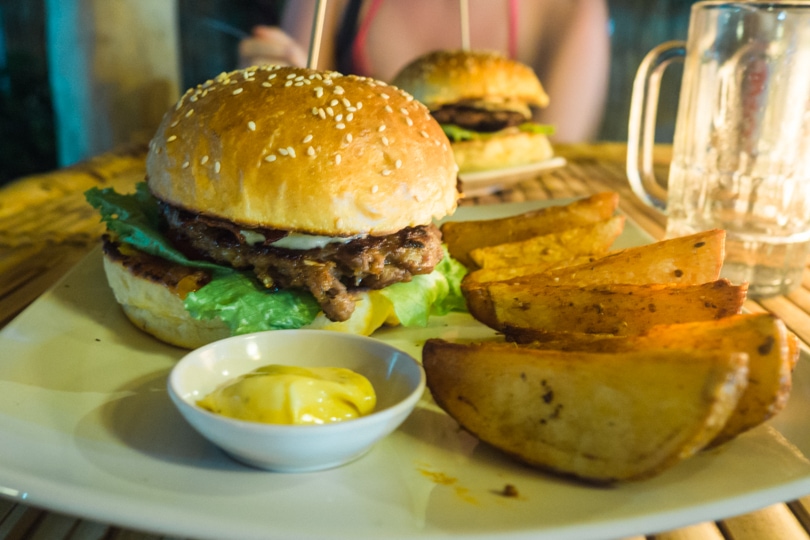 Cafe' in is located on Jl. Pariwisata opposite Kuta beach. Keep in mind that it looks a lot different these days, as they've toned down the color scheme quite a bit. The chicken and cashew dish I had was delicious with lots of fresh vegetables. Great value, though I can't remember the exact price either. On select evenings they have some sort of music/karaoke nights with drinking games etc. We didn't have time to check it out ourselves, but the waiter had no voice and looked super tired from the night before so it probably was a lot of fun.
I hope you found this guide to Lombok's best budget hotels and restaurants useful. Be sure to pin this or bookmark for later. I'll keep updating it when I find more great spots I think you guys will like!
Have you ever been to Lombok?
Some of the links above are affiliate links and I will earn a small percentage of the sale if you purchase through them, at no extra cost to you. This helps me cover the costs of running my site – so thank you in advance! I only ever link to products and services I use and love myself!