This post may contain affiliate links. I will earn a small commission if you purchase through them, at no extra cost to you.
One and a half hour northwest of Ubud at the foot of Mount Batukaru you'll find the incredible Jatiluwih Rice Terraces. Situated at a height of over 700m above sea level, Jatiluwih is a cool and calm place to escape the heat and crowds of south Bali. The UNESCO World Heritage Site covers almost all of its namesake village, so it goes without saying, it's a pretty spectacular sight.
// Contains affiliate links
We asked our hotel in Seminyak to arrange for a driver to take us to Jatiluwih. By the way, our hotel, Lotus Tirta, is the best value accommodation I've ever experienced in Seminyak. Most hotels in the area are fancy and a tad overpriced, so it's not easy to come by something of such great value. Lotus Tirta Hotel only set us back $25 a night, and that included breakfast in our room every morning. The staff was always smiling and we were within walking distance of many of my favorite restaurants and Kayu Aya.
The next morning we left Seminyak at 7 am to make sure we got to Jatiluwih before everyone else.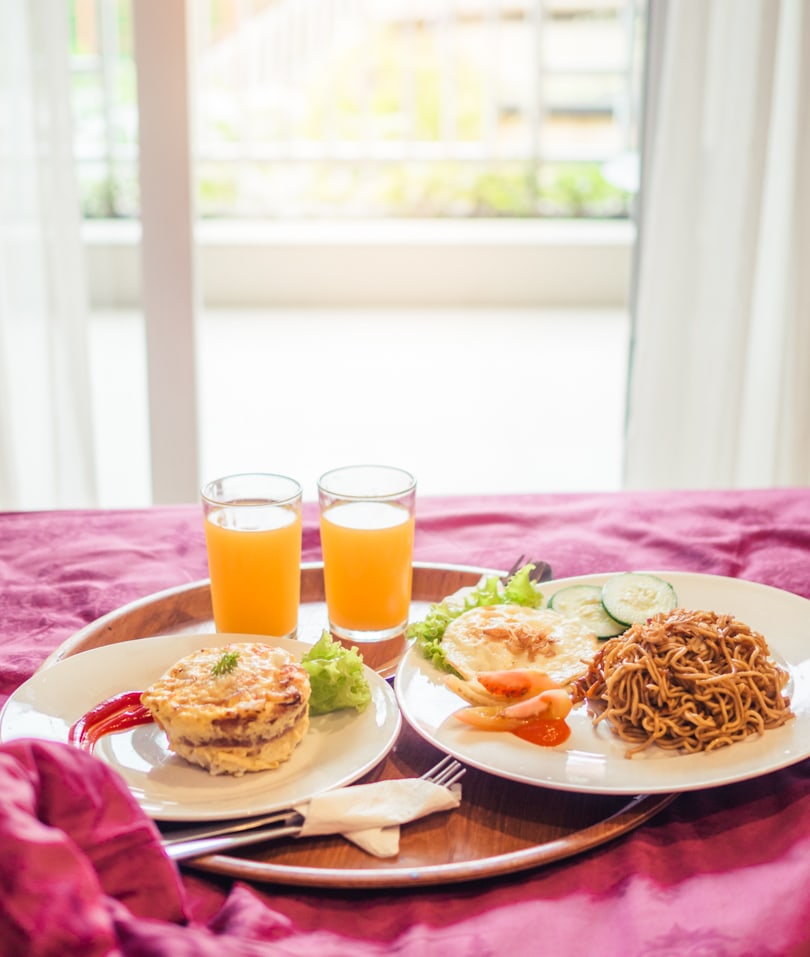 Two hours later we started seeing green. Lots of it! Lush green rolling hills covered with rice plants. After paying an entrance fee of 20k per person, our driver asked us if we wanted to see a waterfall. Ehm… YES! We were totally surprised as we didn't know there were any waterfalls anywhere close to Jatiluwih.
The walk down from the parking area was like something out of a fairytale. Like so many times in Bali before, I felt like we were in the middle of an enchanted forest. To the right of the stairs, there is a small waterfall with benches at different levels where you can sit down and take in the beautiful scenery. At the bottom, you'll see a small creek leading all the way to the larger waterfall called Air Tenjun Yeh Hoo. Love that name!
We were lucky and had the place all to ourselves, probably because we got there so early. And best of all, the sun was shining! Rippling sounds from the creek, birds chirping in the trees, butterflies in all colors of the rainbow. What a setting. So serene. I think this place was even more special than the actual ricefields. Below you can see the lovely little temple area located right next to the waterfall. Keep in mind that only the ones who are there to pray are allowed to enter the temple grounds.
Don't mind me. I'm just casually posing whit a rainbow shooting out of my behind. Not one of the largest or most impressive waterfalls on the island, but because of its surroundings, it definitely makes my top three list of experiences I've had in Bali so far.
After about an hour of posing and shooting photos, we headed for the main part of Jatiluwih. And wow, the views did not disappoint. By far the largest area of rice terraces I've ever seen. And with no other tourists around! There are different pathways that will take you through the rice terraces and small warungs all along the main road serving up some delicious juices and traditional food. As you can probably tell I can't recommend Jatiluwih Rice Terraces enough. A must while in Bali!
---
This full-day tour will take you to some of Bali's most beautiful attractions like Bedugul Village, Jatiluwih Rice Terraces, Ulun Danu Floating Temple, Batukaru Temple, Bali Butterfly Park and a coffee plantation. All for only $60!
---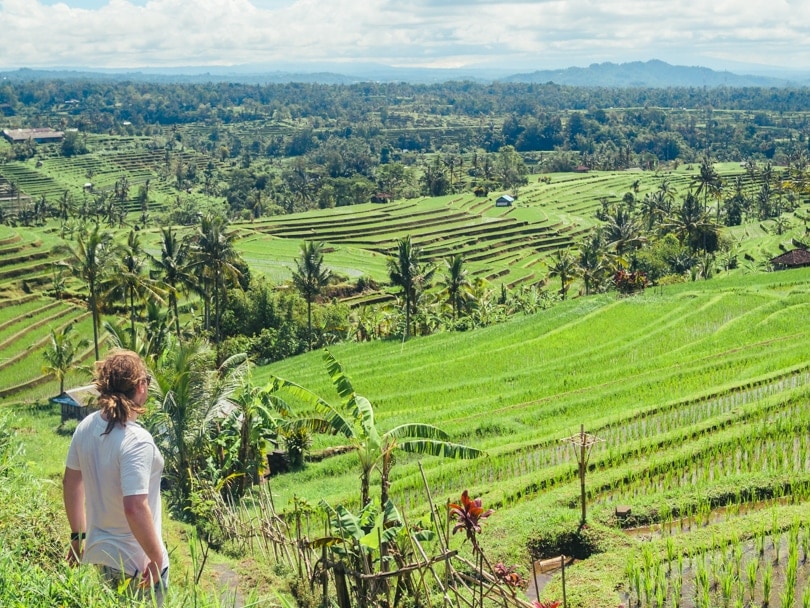 Have you ever visited the Jatiluwih Rice Terraces? What did you think?
Some of the links above are affiliate links and I will earn a small percentage of the sale if you purchase through them, at no extra cost to you. This helps me cover the costs of running my site – so thank you in advance! I only ever link to products and services I use and love myself!