This post may contain affiliate links. I will earn a small commission if you purchase through them, at no extra cost to you.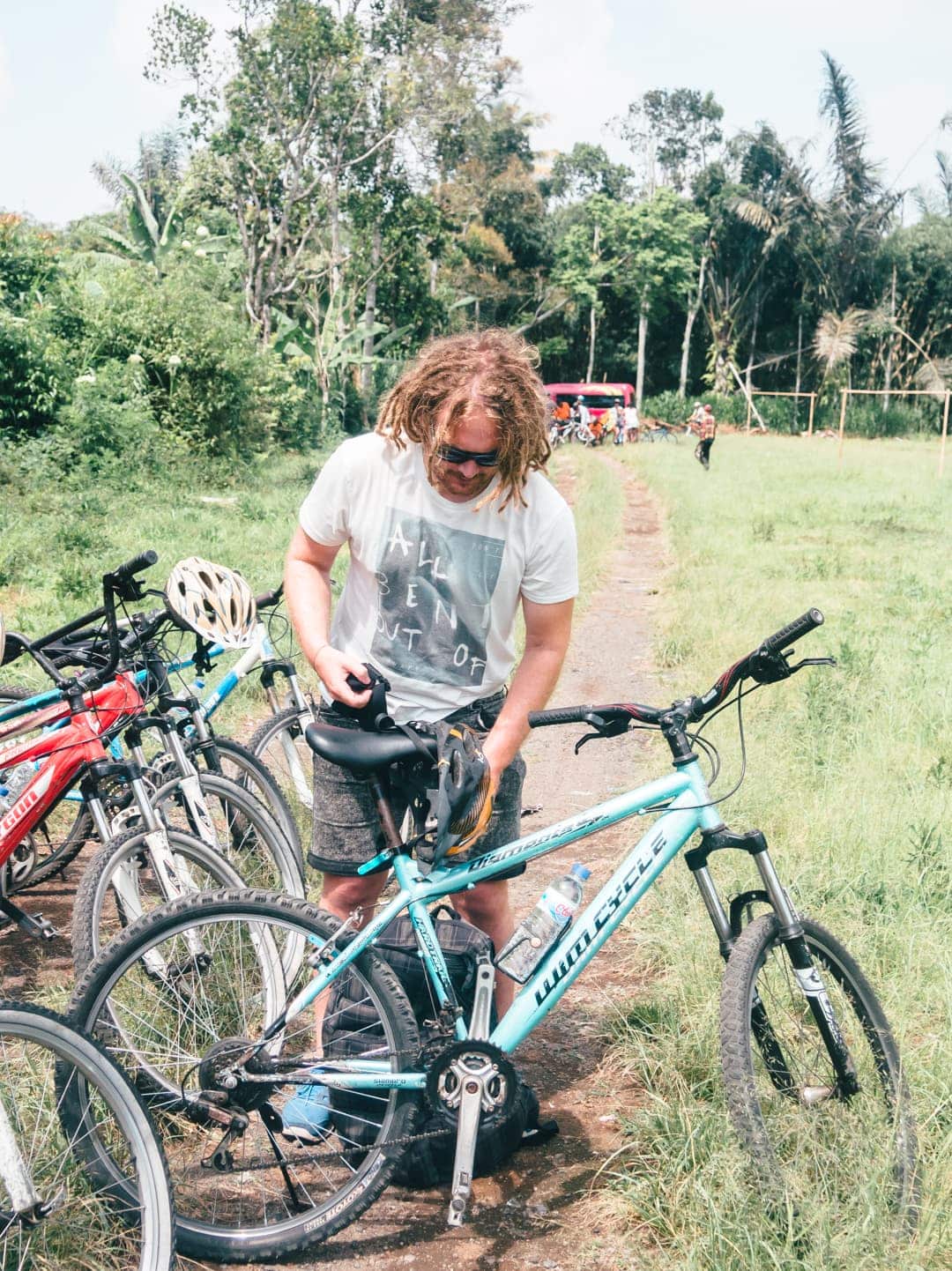 Are you looking for some activities to do in Bali other than sunbathing, eating and surfing? Then a bike tour on the lush backroads of Ubud might be the thing for you. I have already talked about this tour as one of the 10 best things to do in Ubud, but it was such a fun experience that I thought I should review it in more detail as well.
Let me start by stating that I'm not an organized tour fan by any means. In fact, I usually can't stand them. I'm kind of a loner and tend to stay away from any places or situations that involve lots of people. The reason why I decided to do this tour was that I love exploring non-touristy areas to truly get to know a country and its people. And I knew I wouldn't be able to do that on my own in the short amount of time I had in Bali during this trip. I also think that riding a bike gets you so much closer to your surroundings and more often than not in Bali, the most beautiful places aren't accessible by car.
You might also like: Bali island guide – Which area is right for you?
Choosing the right tour company
There are many cycling tour companies to choose from in Bali, so I did a lot of research a read quite a few reviews before deciding to book with Jegeg Bali Cycling. Mostly because of their promise of small groups, lunch in their family compound and the affordable price of $45. Yes that's right, I bought and paid for this myself and I'm not affiliated with them in any way. Just a very happy customer!
If you would rather book through Get Your Guide, the Ubud bike tour below, with Friends in Bali, also comes highly recommended!
The Ubud cycling tour
Our English-speaking guide Putu and his uncle picked us up bright and early from our homestay in Ubud. By the way, I couldn't recommend Jawi House & Painter more, our host, also named Putu, made our stay unforgettable. She provided us with motorbikes, free meals, so much knowledge about the area and the right temple attire. So you should definitely consider her homestay for your next trip to Ubud.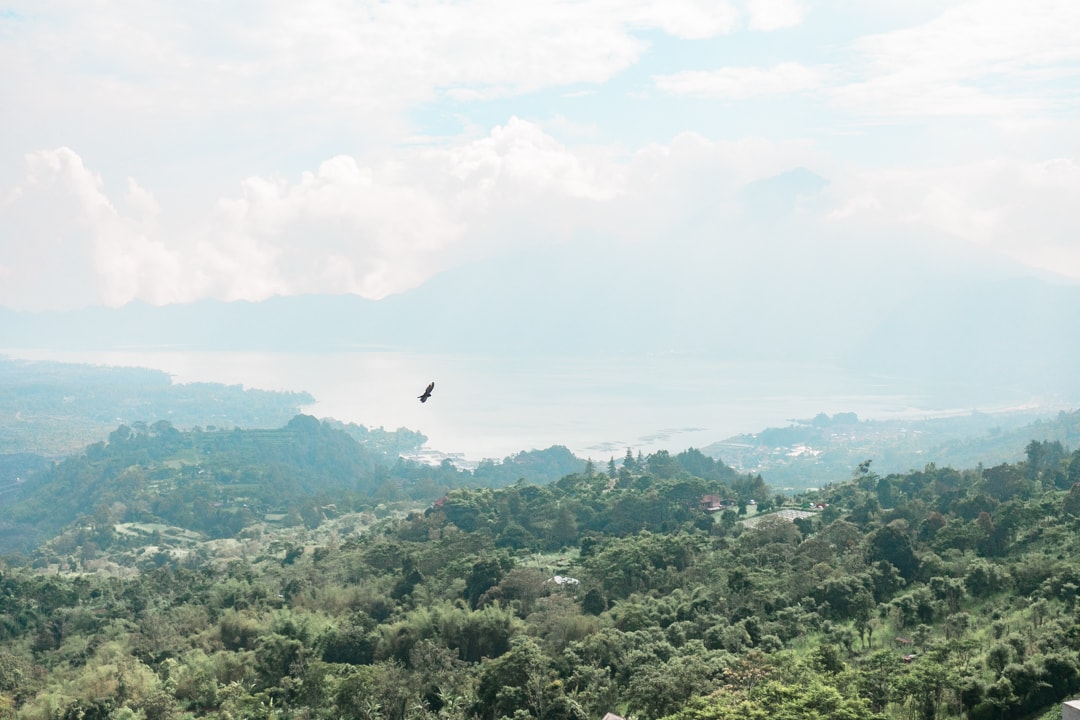 After picking up the two others joining us for the day we went by car to Kintamani where we had breakfast overlooking the spectacular volcanic caldera of Mt. Batur with its deep crater lake. The bright morning light made it hard to photograph the stunning view, but I guess you can see. Munching on some tasty pancakes to this view was such a great start to the day. It gets a bit chilly so high up in the mountains so be sure to bring a light jacket or cardigan if you tend to get cold.
Our next stop was a coffee plantation located a bit further down the mountain. We walked through the magnificent hillside plantation and learned about the history, development and how coffee is made from start to finish. Ulrik even got to roast some coffee beans of his own.
Then it was time to do some tasting. As I'm not a warm beverage drinker (excessive sweater here) I only sipped on the teas after they had cooled down a bit. And boy were they delicious, especially the lemongrass one. I wish I could have had it with ice though.
Towards the end of the plantation tour, we were encouraged to have a look in their gift shop. As I like to buy things during my travels that I can actually use or even better, eat/drink, I picked up a bag of lemongrass tea powder.
I recommend you use the facilities as this is the last toilet you'll see until the end of the tour.
Related post: The 11 most common scams in Bali + How to avoid them!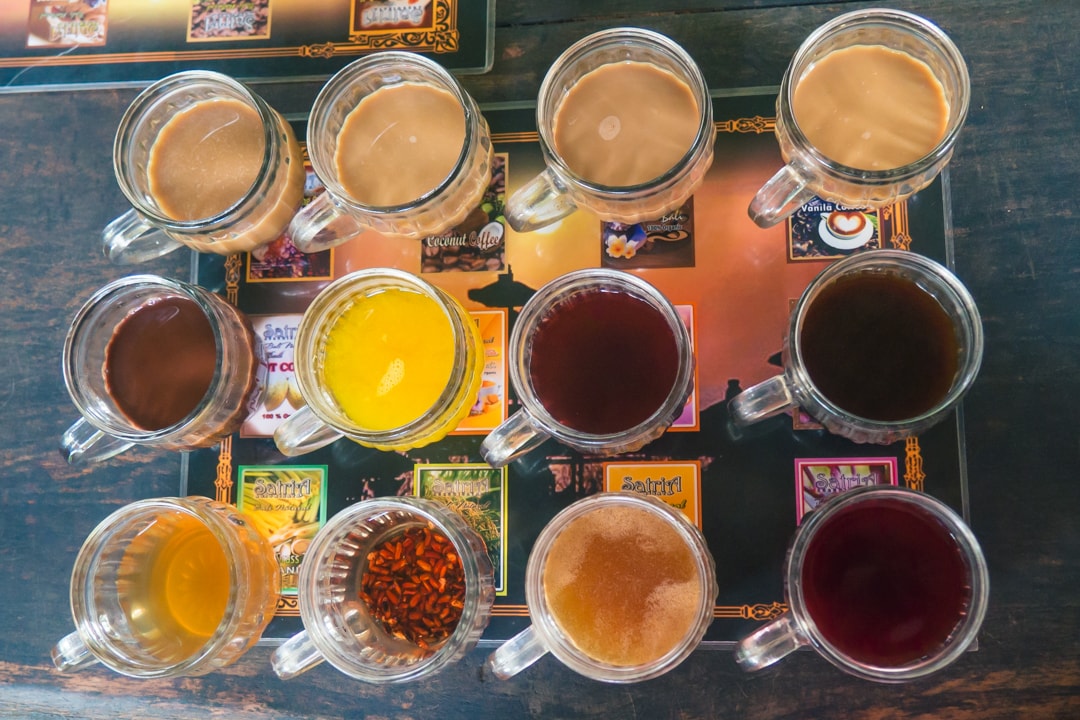 Next on the agenda was the actual cycling part of the day. We drove back down from the mountain to a grass field where a sea of bikes was lined up. Be sure to get a helmet and bike you feel comfortable on to fully be able to enjoy the 3-hour bike ride. Putu took his time and made sure all four of us were ready to go before he gave us a bottle of water and off we went.
We biked down picturesque palm tree-lined lanes, through traditional villages, past smiling people and more colorful temples than my eager photo-snapping self could handle. After a while, we stopped in a small town square where Putu talked about the Balinese culture, their many different ceremonies and other important traditions. I found it super interesting and asked probably a few too many questions.
The next stop was not as appealing to me and you might understand why if you take a look at the next two photos. Yes, that's right, we stopped at a large spider web with hundreds of spiders!!! My boyfriend, however, thought it was fun and let one of the huge spiders walk on his arm. Yikes!
Related post: 100+ Bali quotes & captions for Instagram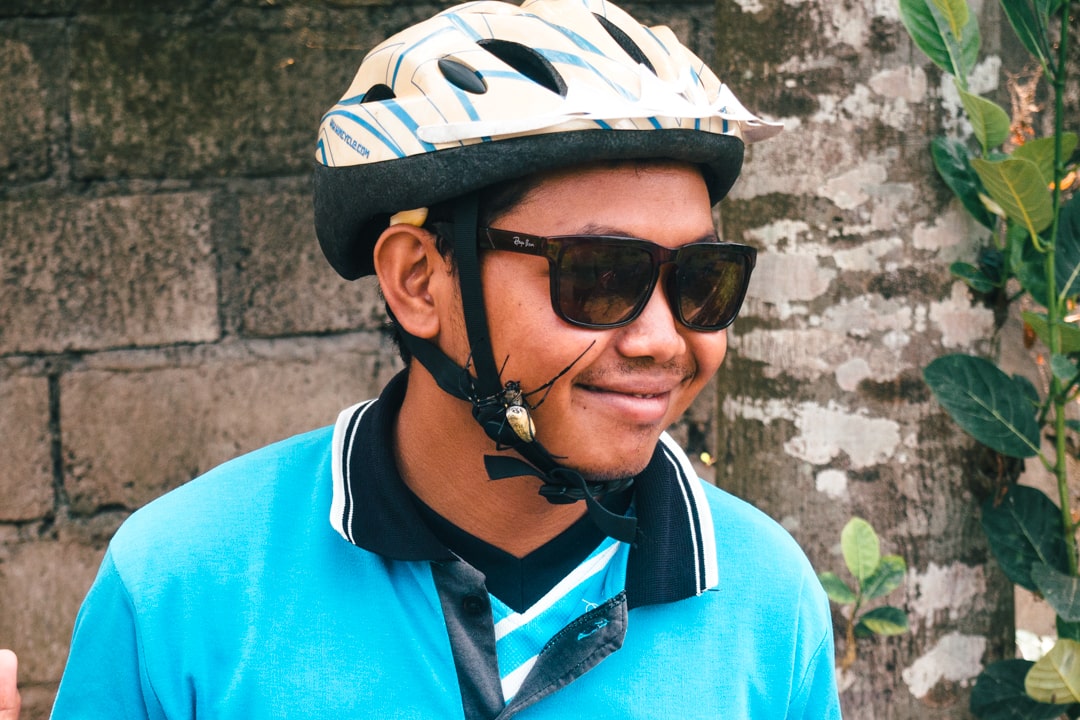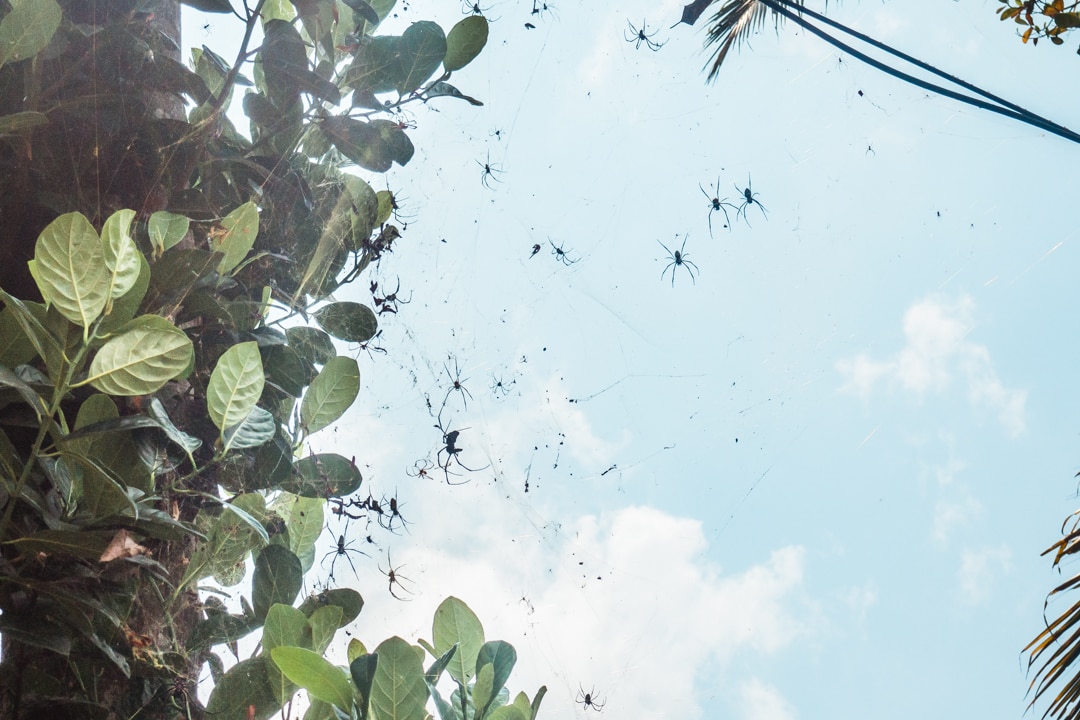 Another fun experience was when we stopped at a rice field and Putu told us the entire process of growing rice. I don't want to sound ignorant but I did not know growing rice was such a lengthy process. At first, I felt a bit uncomfortable because I wouldn't want some foreigners to stand around staring at me while I was working hard. But Putu assured us that it was okay and after a while, the ladies even encouraged us to take pictures.
They explained that most of the workers you see in the rice fields don't get paid but work for four months to get a cut of the rice they harvest. That's why you won't see many young people in the rice fields anymore. Since Bali has skyrocketed in popularity, more profitable jobs are available so the young generation doesn't want to do such hard work for almost no reward.
After this experience, I will never take a grain of rice for granted again.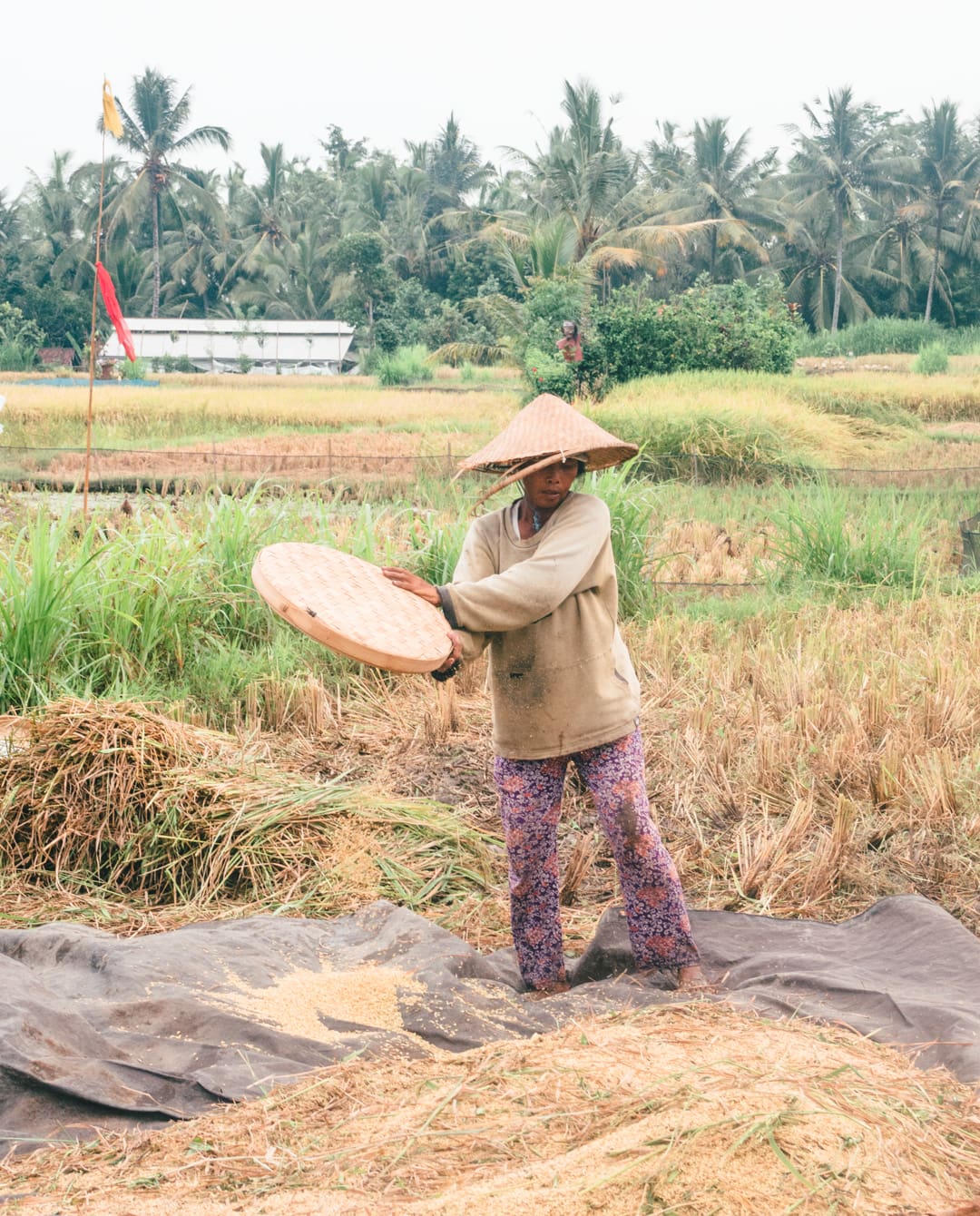 And don't worry, you will be able to complete the bike ride even if you're not in the best shape. The route is mostly downhill apart from a couple of small hills towards the end. You can get off the bike and walk up if you want to, everyone will stop for a water and banana break after the last hill. We felt safe the whole time as Putu's uncle would drive ahead and stop traffic for us if necessary. So if something were to happen to one of us or we couldn't finish the tour, I'm sure we could just catch a ride back with him.
You might also like: Discover the 14 Best Waterfalls in Ubud Bali (including map)
After three hours of exploring Ubud's backcountry, we finished the day off at Putu's family home. Getting to come inside their compound to enjoy a traditional Balinese meal was the best part of the whole day. Putu's mother and aunts really went all out and served over 10 mouthwatering dishes. Ulrik and I looked at each other and said at the same time: this is one of the best meals I've ever had! I wish I could come back again just for the food. Yum!
I thought I already was quite knowledgeable about Balinese culture, but we learned so much from Putu and his family. Like the tooth-filing ceremony which marks the transition from childhood to adulthood. I first thought he was kidding and was shocked to learn that most Balinese people actually get their front teeth (canines and incisors) filed down to smooth away the savage aspects of the soul. Travelsfish has a great article about the ceremony if you would like to know more.
Just before we were about to leave, we received a gift. A beautiful shirt made in the neighboring village. I was surprised that after that amazing day and the most delicious meal, they wanted to give us even more. Putu explained that since they earned a lot of money from us, they wanted to pay it forward to their neighbors and then give something back to us as a thank you for choosing them. Gotta love the Balinese people.
Although I haven't tried all the different cycling tours in Ubud, I call it "the best Bali experience" because I can't possibly see how the day could have turned out any better. It was undoubtedly one of my best days in Bali so far!
Other popular Bali tours
---
Let me know in the comments if you have any questions!
…and remember to pin for later 😉