This post may contain affiliate links. I will earn a small commission if you purchase through them, at no extra cost to you.
Just off the southeast coast of Bali, you'll find the laid-back island paradise of Nusa Lembongan. The island is only 8km² in size and is one of three neighboring islands, the others being much larger Nusa Penida and tiny Nusa Ceningan.
If you're used to the craziness of Kuta and Seminyak or even Gili T, you'll be surprised by the quiet atmosphere on Lembongan. Almost no hawkers and very few cars. The main mode of transportation is scooter and bicycle, or pushbikes as the locals call them.
Seaweed farming is the island's biggest source of income, so everywhere you go you'll see bundles of it drying on tarps in the sun.
Remember to always get insurance before you travel to Bali or anywhere else. I recommend Safetywing, an affordable subscription travel insurance that you can purchase even after departure. Read my full review here.
How to get to Nusa Lembongan
Easily reached by speedboat in only 25 minutes from one of Bali's ports like Sanur or Padang Bai, Nusa Lembongan should be included in your itinerary while visiting Indonesia. The boat ticket is usually 600k Rp / 400 nok / $50 for a round-trip and can be bought online or at one of the many tour operators.
I think I've used every speedboat company available and Rocky Lembongan Fast Cruises is the one I would recommend. Operating only between Bali and Lembongan, they're reliable and have clean comfortable boats with safety gear. They'll pick you up at your hotel in Bali and drop you off at the doorstep of your accommodation on Lembongan.
I don't really want to throw around the word favorite any more than I already have, but I think I have to just once more. Nusa Lembongan is one of my favorite places in the whole wide world and has always been my little haven for peace and quiet in Indonesia.
However, on my last visit in January, it was clear that mass development has caught up to the little island, which I had feared for many years. With construction going on everywhere and new establishments popping up left, right and center, you should visit now so you get to experience the beauty in somewhat peace and quiet.
Must read >> Top 9 best beaches Nusa Lembongan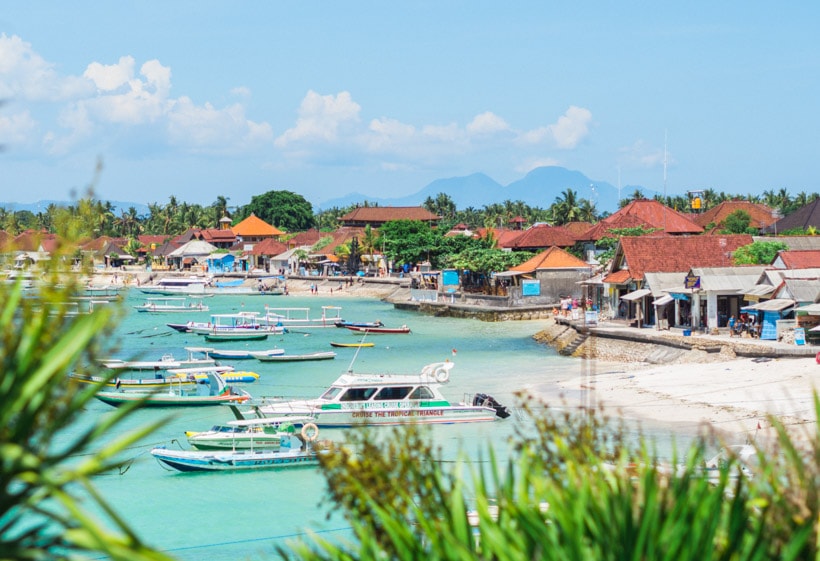 Where to stay on Nusa Lembongan
The two main tourist areas are Jungut Batu in the northwest and Mushroom Bay to the southwest. Jungut Batu Beach is the longest stretch of sand on the island and is where I always choose to stay. It's so nice to wake up in the morning and have breakfast on the beach while watching the turquoise water glittering in the sun.
Even though there are hotels and restaurants all along the beach, it doesn't feel like a touristy area. There are fishing boats coming in, seaweed farmers working, local kids playing and the odd surfer paddling out.
Oka 7 Bungalows
During our last visit, we wanted to change things up so we took the big step of booking a hotel on the hillside overlooking Jungut Batu beach, instead of our usual hotel on the beach. I know, we're wild. While not quite new and with a bathroom, many would run away from Oka 7 Bungalows offered the most spectacular views and great value for money to us.
The bungalow was only 250k Rp / 170 nok / $20 a night, including an egg, toast and fruit breakfast. Of course, the price depends on the time of your visit. We got it super cheap as we visited during low season, late January. It's located right on the boardwalk which leads from the beach to restaurants and hotels along the cliff.
You'd think since it's such a small beautiful island that they would charge ridiculous amounts for accommodation like this, but the prices are among the best value I've encountered anywhere in Indonesia so far.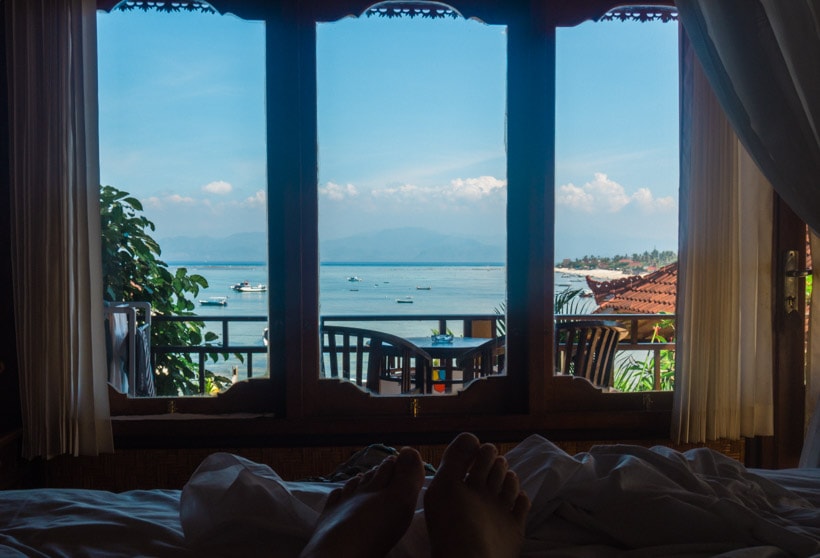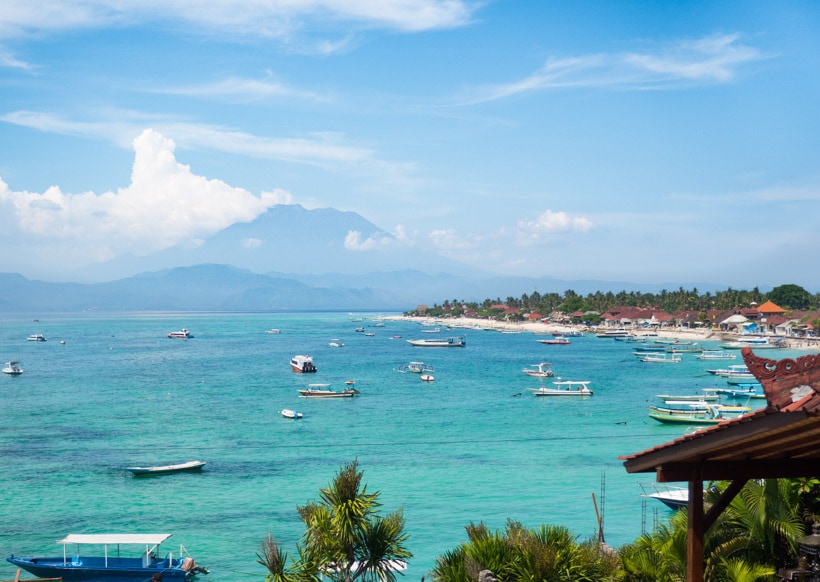 Must read >> The ultimate two-week Bali itinerary
Tarci Bungalows
And by the way, our 'usual' hotel is Tarci Bungalow, which I highly recommend. Their staff is amazing, the food delicious and to top it off they have super fun live music and BBQ nights! The Bungalows sit right on the beach and you can go from the pool to the ocean in like 10 seconds.
We usually pay between 400-500k a night depending on the season.
Tigerlilly's
If you have a bit more money to spend you should check out Tigerlilly's Boutique Hotel. Their lush, tropical garden and pool area are just gorgeous! Even if you don't end up staying there, be sure to have dinner in their beautifully decorated restaurant one night.
Well, that was a quick overview of a place I could've talked about for days. I'll write in more detail about some of the spots around the island in the next few posts.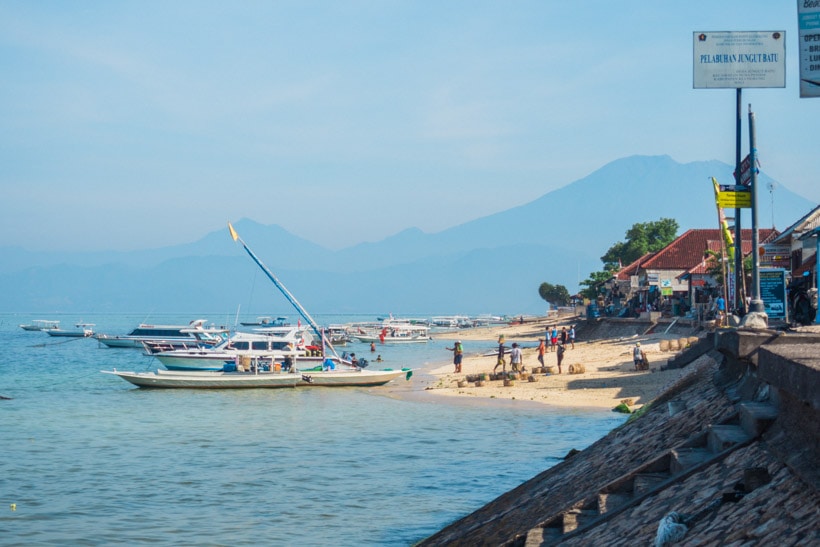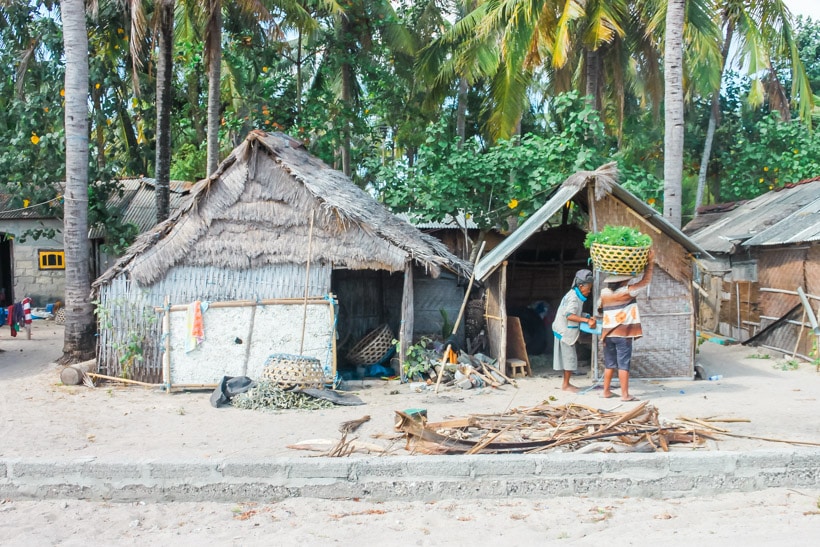 ---
Remember to Pin for later! 😀