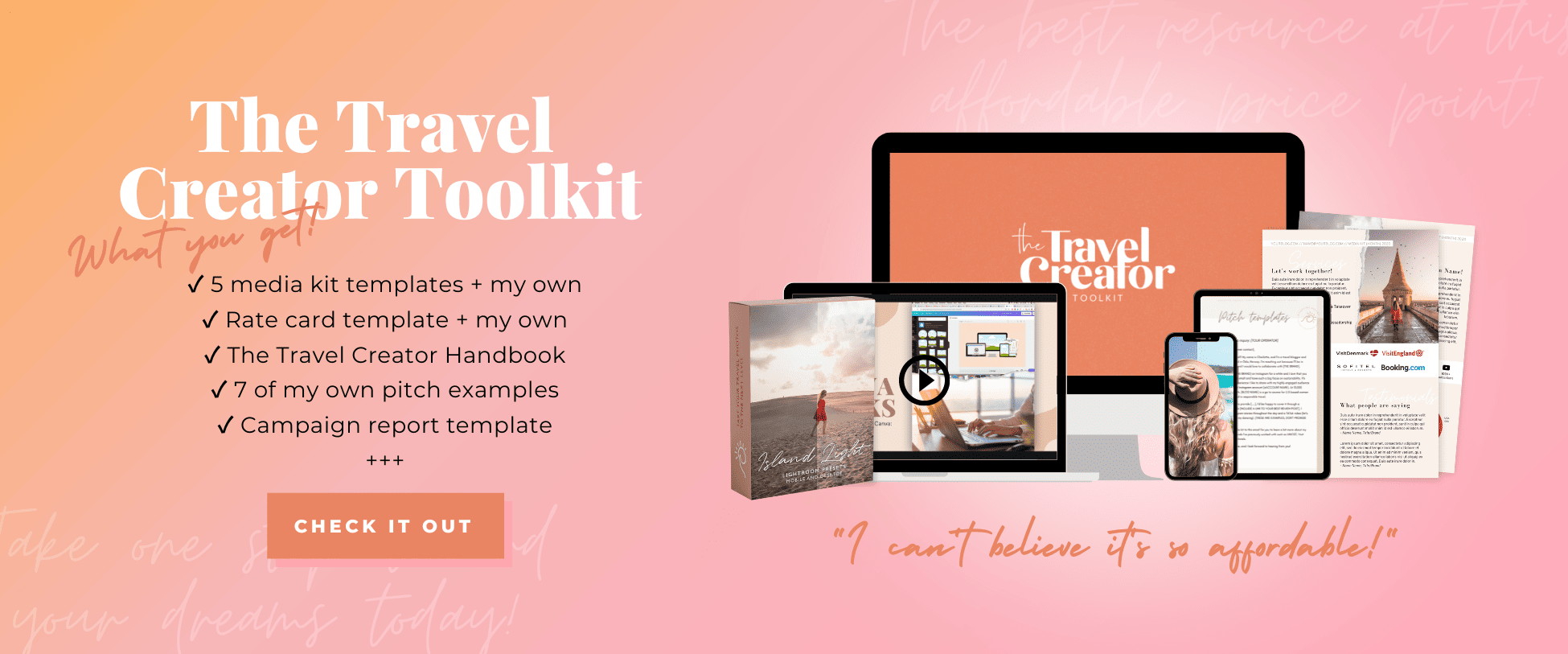 This post may contain affiliate links. I will earn a small commission if you purchase through them, at no extra cost to you.
In the last post, I talked about how to get to Nusa Penida, where to stay and a little about Crystal Bay. So while I'm finishing up the Nusa Penida guide, I thought I would share some of my favorite photos from the trip. I'm a very visual person and often get obsessed with one photo I see on Instagram or Pinterest and just have to go there myself.
So I hope these photos can tempt you to visit this beautiful island the next time you are in Indonesia. It's such a nice break from the craziness of Bali, only 30 minutes away by boat. Arriving in Nusa Penida is like stepping back in time!
After posting some of these photos on social media I got a lot of emails from you asking about my camera gear. I have tried to answer all of you, but just in case I missed some I have written a little overview of my camera and lenses at the bottom of this post.
🌟 If you don't want to plan the trip yourself, check out this amazing full-day tour departing from Bali. Experience Instagram highlights such as Kelingking Beach and Angel's Billabong, snorkel and swim with the mantas. So much fun!
Instagrammable places west Nusa Penida
1. Kelingking Beach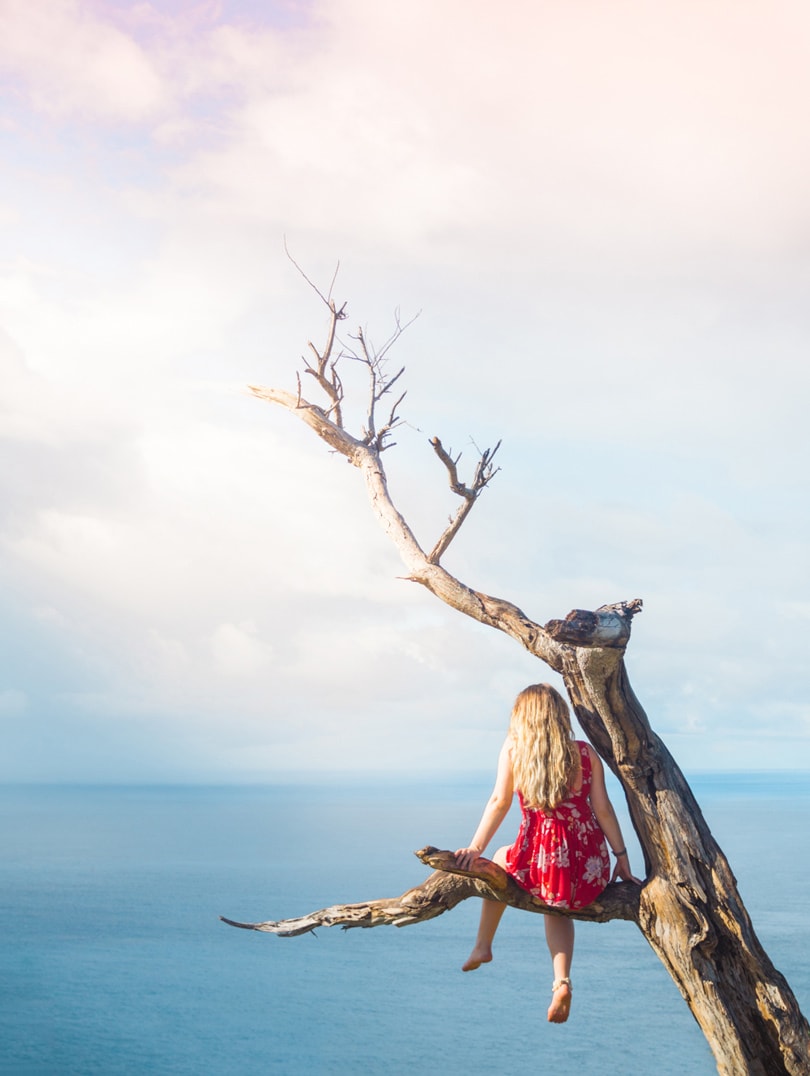 Above you see me enjoying the sunrise from the best seat in the house at Kelingking. This old tree sits right in front of the parking area and there is usually a queue to climb it. So get there early in the morning like we did, about 8, to have it all to yourself. And yes, I was about as comfortable as I look trying to strike a pose on that branch haha.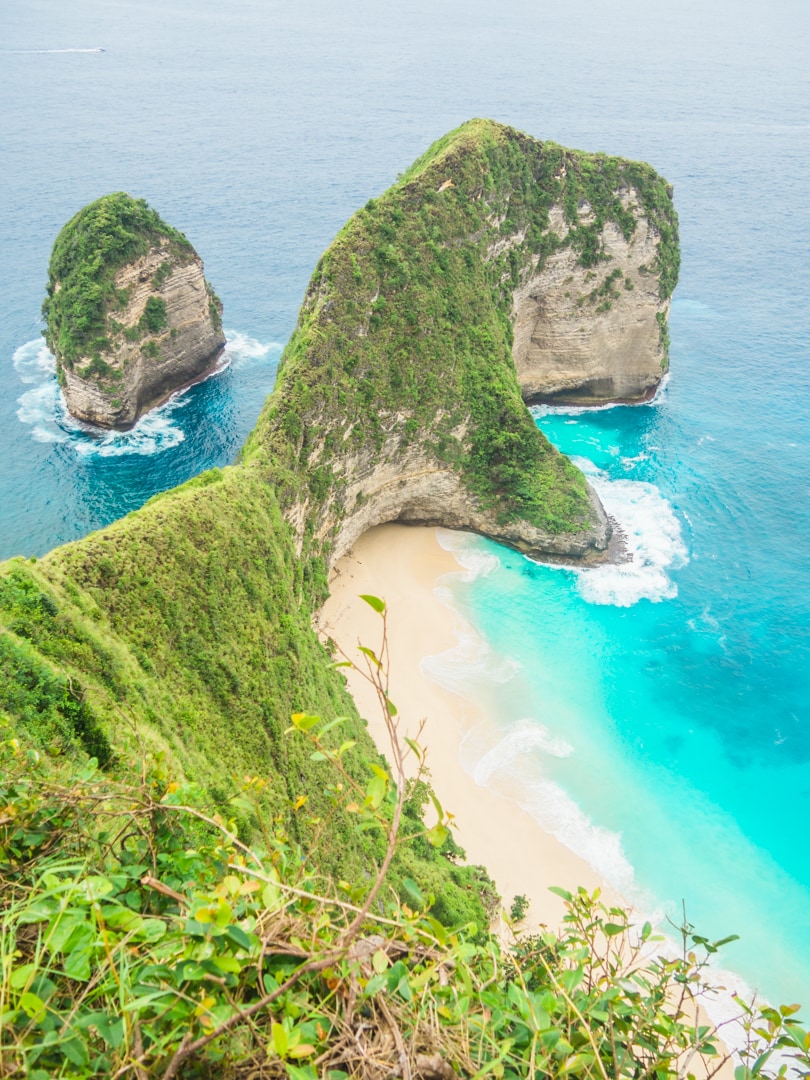 Kelingking Beach looks incredible even in gloomy weather. I was so frustrated about the bad weather and didn't expect much when we got there. But when I looked over the edge I was amazed by the incredible color of the water. Even with little light coming through the clouds, the turquoise color was so intense! And by the way, do you see the T-Rex with foam around its mouth?
2. Angel's Billabong
Previous to our visit I had seen so many photos on Instagram of people frolicking in turquoise water at Angel's Billabong, so I was so excited to experience it for myself. But when we finally got there I was very disappointed because the water kind of looked like old urine. Yellow water with green areas and lots of dead bugs.
However, after a couple of minutes, the disappointment went away and I realized that it looked kind of cool anyway. And the photos turned out much better than I thought. So even though I didn't feel like going in the water as I had planned, it was fun to see Angel's Billabong in real life. Keep in mind when climbing down to the water that the rock is super sharp.
Must read >> The ultimate 2-week Bali itinerary (including Nusa Lembongan & Penida)
3. Broken Beach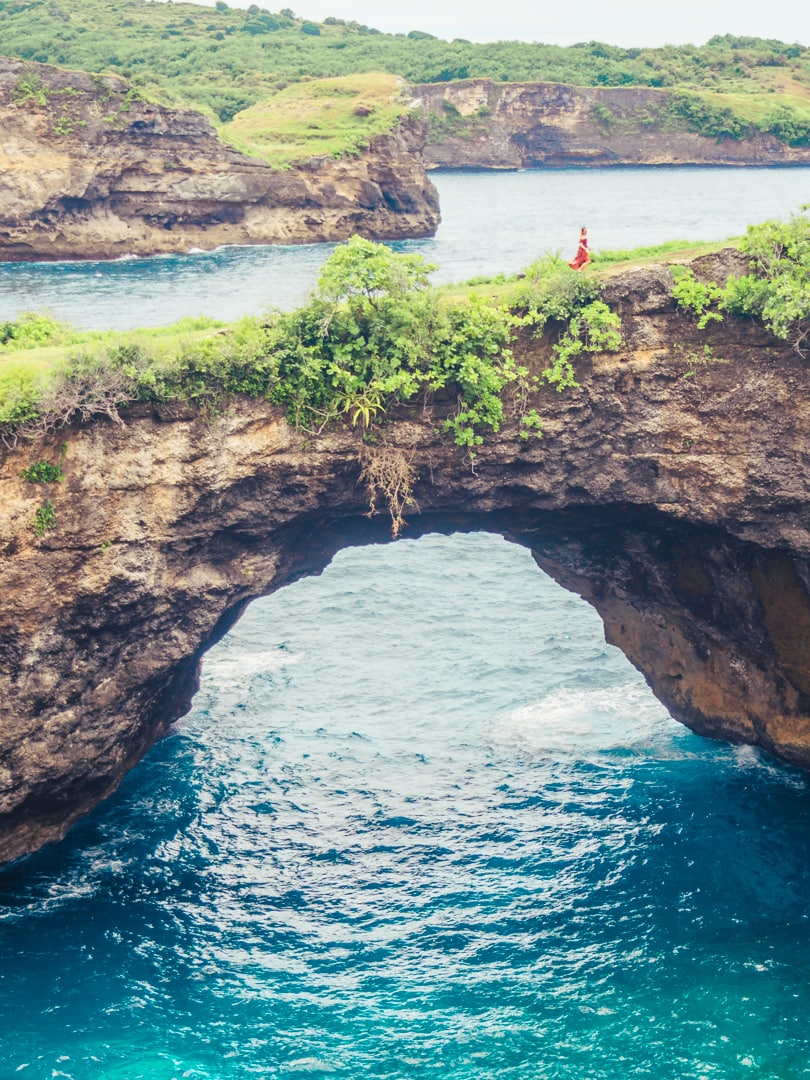 Angel's Billabong and Broken beach are located within a couple of minutes of each other. We had the area almost all to ourselves due to rain, which of course started just as we got there. But I'm pretty happy with this shot we got after hours of waiting for the rain to subside.
The road out to Broken Beach is so bad that we didn't have the option to leave and come back. It's mostly rocks and mud so it goes without saying that motorbikes are not the best mode of transportation. It took forever to get there and I almost gave up. But that's an entire story in itself, I'll talk more about it in the Nusa Penida guide coming up next.
4. Bintang Bungalows
Oh my, what a gorgeous place! This is me chilling in the pool at Bintang Bungalows. Definitely one of the most charming hotels I've ever stayed in. Four nights were not enough, I didn't want to leave.
5. Palm Alley (road to Crystal Bay)
This is a shot from our very first day on the island going back to Bintang Bungalows after a day at Crystal Bay. There's no secret that I love palm trees, so Nuda Penida was like paradise to me. Lush green nature and rows of majestic palm trees everywhere.
6. Crystal Bay
We didn't quite get the focus right on this one, but you still get a sense of Nusa Penida's beauty. Green and blue for as long as the eye can see. Just how I like it!
I will talk about all these places in more detail along with how to get there in a complete Nusa Penida guide soon.
7. White Temple
On our way to Atuh Beach on the other side of the island, I suddenly spotted this gorgeous white and orange temple and of course, had to stop and shoot some photos. I can't find the name but it's located along the main road east on the island.
My camera gear
And lastly, here is a little overview of my camera gear. To be honest it's nothing that fancy. I spent quite some time researching mirrorless cameras before I decided on the Olympus om-d e-m10 mark ii, and I couldn't be happier with my choice! It's so easy to use and the Olympus app connects the camera to your phone so you can use it as a remote. So helpful if it's only you and your tripod trying to get the shot! And it doesn't hurt that it is so pretty to look at, a black and silver retro design.
For lenses, I sometimes use the 14-42mm that came with the camera, but for the most part, I use my fixed f1.8 25mm which creates the most stunning photos with blurry backgrounds. And if you're a solo traveler you should definitely get yourself this Gorillapod. You don't want to drag around a large tripod everywhere, so a Gorillapod is your best friend!
---
So, have I convinced you to visit this beautiful island yet?