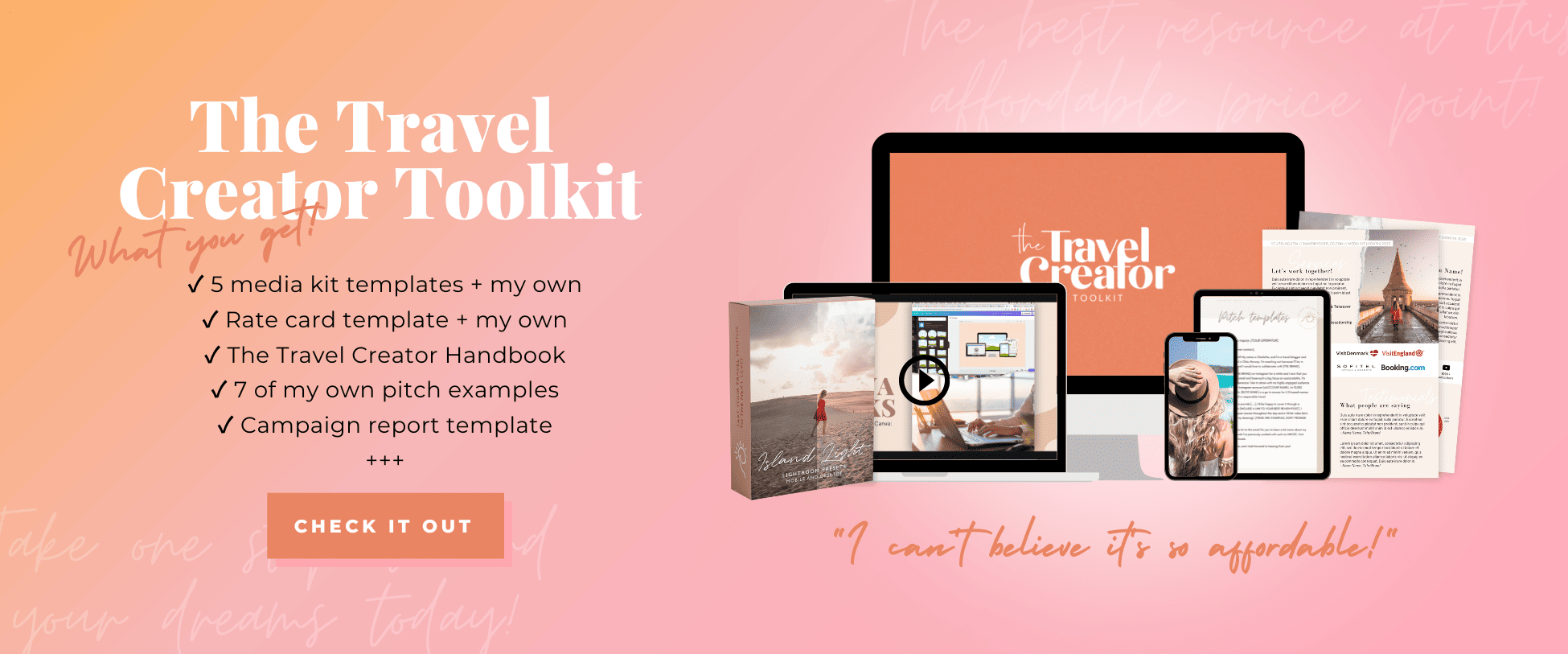 This post contains affiliate links. I will earn a small commission if you purchase through them, at no extra cost to you.
Yaaay we're finally back in Bali. It's been almost a year since I was last here so as you can probably imagine, I was experiencing some major Indo withdrawals. This trip also marks my 10th Bali anniversary. 9 years ago almost to the day, I came to Bali for the first time. And I have been back once or twice a year ever since.
The island has changed so much in those 9 years, almost to the point where I can't recognize it from that first trip. But I do still love it. The beautiful Balinese people and their colorful culture. And of course the warm weather, all the delicious food and the abundance of palm trees. Last time I "moved" to Bali I got really sick after just a few weeks and ended up spending over two weeks in bed thinking I had malaria. So hopefully this time things will run more smoothly.
Remember to always get travel insurance before you go to Bali or anywhere else. I recommend Safetywing, an affordable subscription travel insurance that you can purchase even after departure.
For the last six months we've been living in Dalen, a quaint little town tucked away in the Norwegian mountains. I've been working on my business and hosted a photography course while Ulrik was finishing his medical residency. After 9 years of studies and hard work, he is finally a real doctor. Woho! And I'm super proud.
So now it's time to focus on my job for a little while. Ulrik is taking a well-deserved break from medicine and will be stepping into the role as my video editor/photography assistant. Lucky me!
Since we're living in Indonesia for the next few months I wanted to start a little series I'm calling «Island Life», where I'll talk about daily life here in addition to my usual travel guides. So hopefully some of you would like to follow along!
Related post: The 11 most common scams in Bali + How to avoid them!
We have rented a villa in Lombok where we'll be staying for almost two months to escape the crowds in Bali. But first, we are spending a few nights in Legian/Seminyak, then East Bali and Ubud. Now, if you've read my Bali Island guide you know that I don't recommend staying in the Legian/Seminyak area for too long. This is not where you're going to experience the «real» Bali, but it is great for shopping and enjoying a few meals at some fancy restaurants. So I usually spend around three nights here at the beginning of each trip.
This time we're staying in a little oasis in the middle of Legian's best shopping area called Adys Inn. For only $30 a night you get a double room in a brand new building set within a tropical garden with a pool.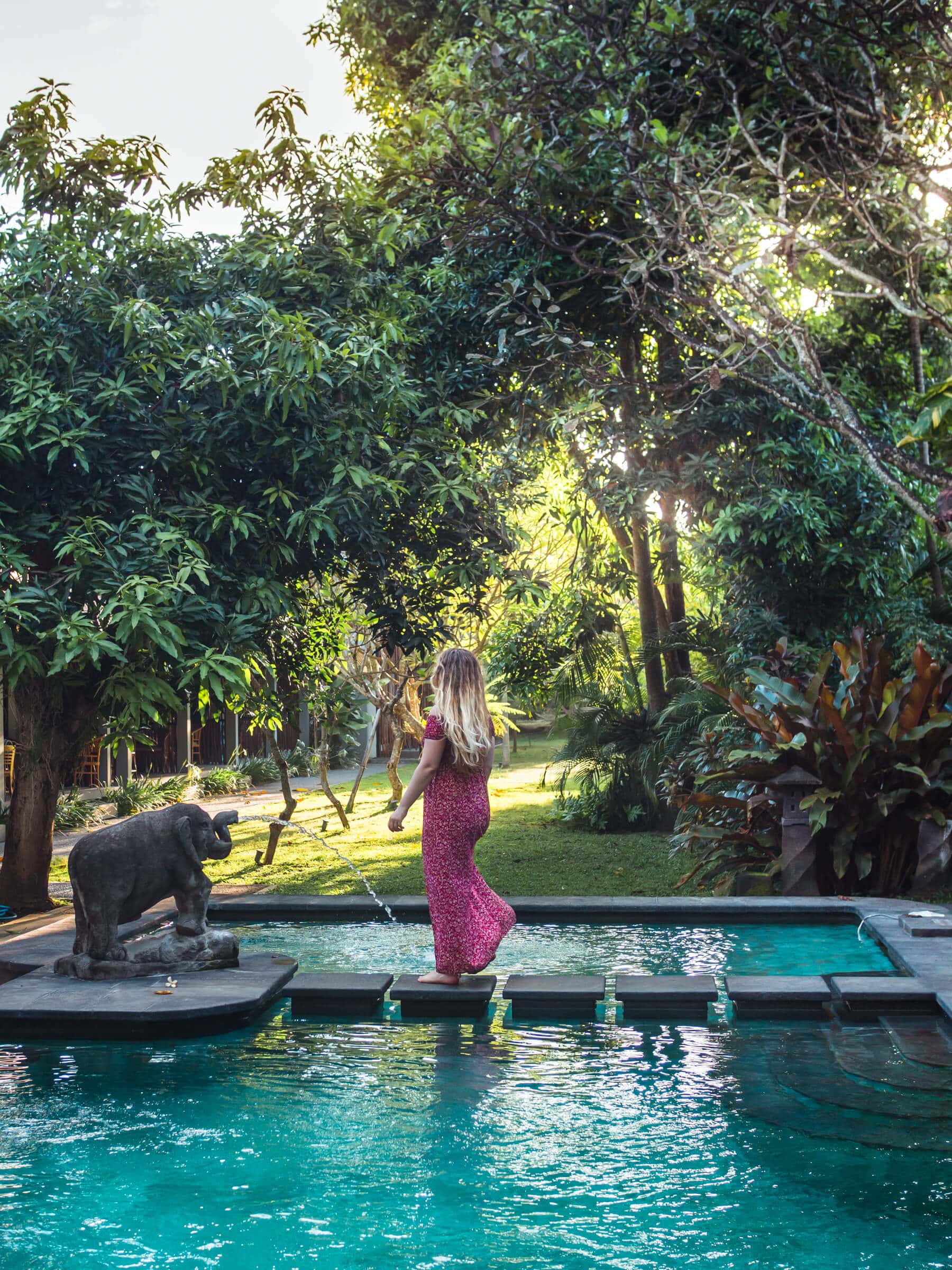 If you prefer a bit more upscale accommodation, Seminyak might be the right area for you. The streets up there are lined with spas, colorful restaurants and trendy bars. However, I do prefer Legian for shopping where you'll find large surf brand stores like Rip Curl and Billabong in addition to smaller boutiques, lots of stalls selling everything from straw bags to wooden penis bottle openers and my favorite store, Surfer Girl. But wherever you end up staying you can easily go back and forth using Gojek or by just grabbing a Blue Bird taxi.
Related post: 9 of Bali's absolute best budget hotels, villas & Airbnbs!
Since we are living here now we're trying to not go all out on every meal. It's easy to spend several hundred thousand Rupiahs on the Instagram-friendly restaurants we usually frequent on shorter trips. Luckily tho, Indonesian is one of my favorite cuisines so I'm always on the lookout for great warungs (small local restaurants). I can very much recommend Warung Anka where we had lunch today. Only 65k Rp. / $4.5 for one Dragonfruit Nasi Goreng, Mie Goreng and a Dragonfruit juice. Isn't the color pretty?
Okay, I caved. Despite my best efforts I didn't manage to stay away from the Instagrammable restaurants altogether. I had to stop by Benih Cafe on Jl. Benesari for this delicious avocado salad and my usual celery and carrot juice.
Related post: Bali Budget Breakdown: How much do two weeks in Bali cost?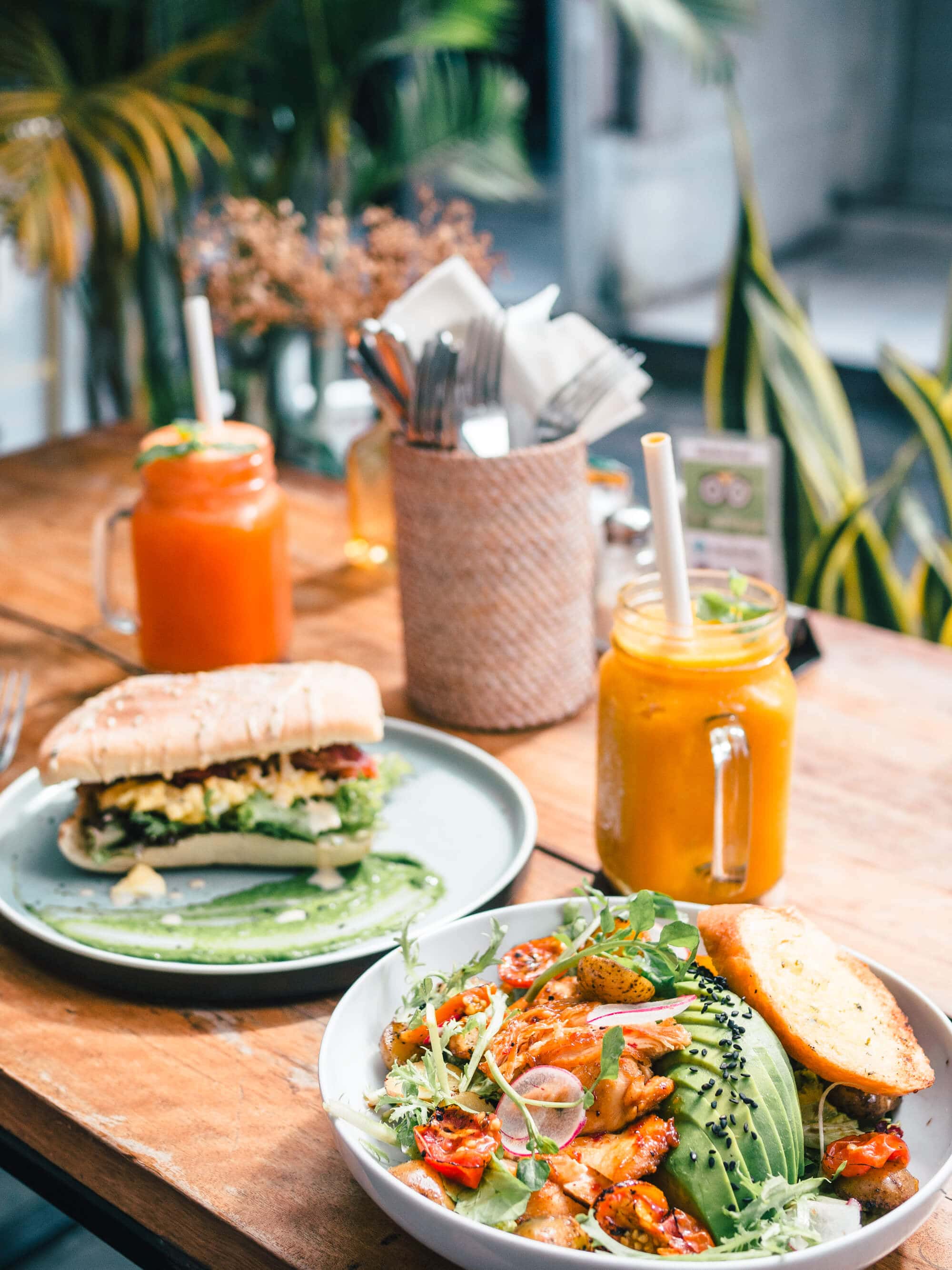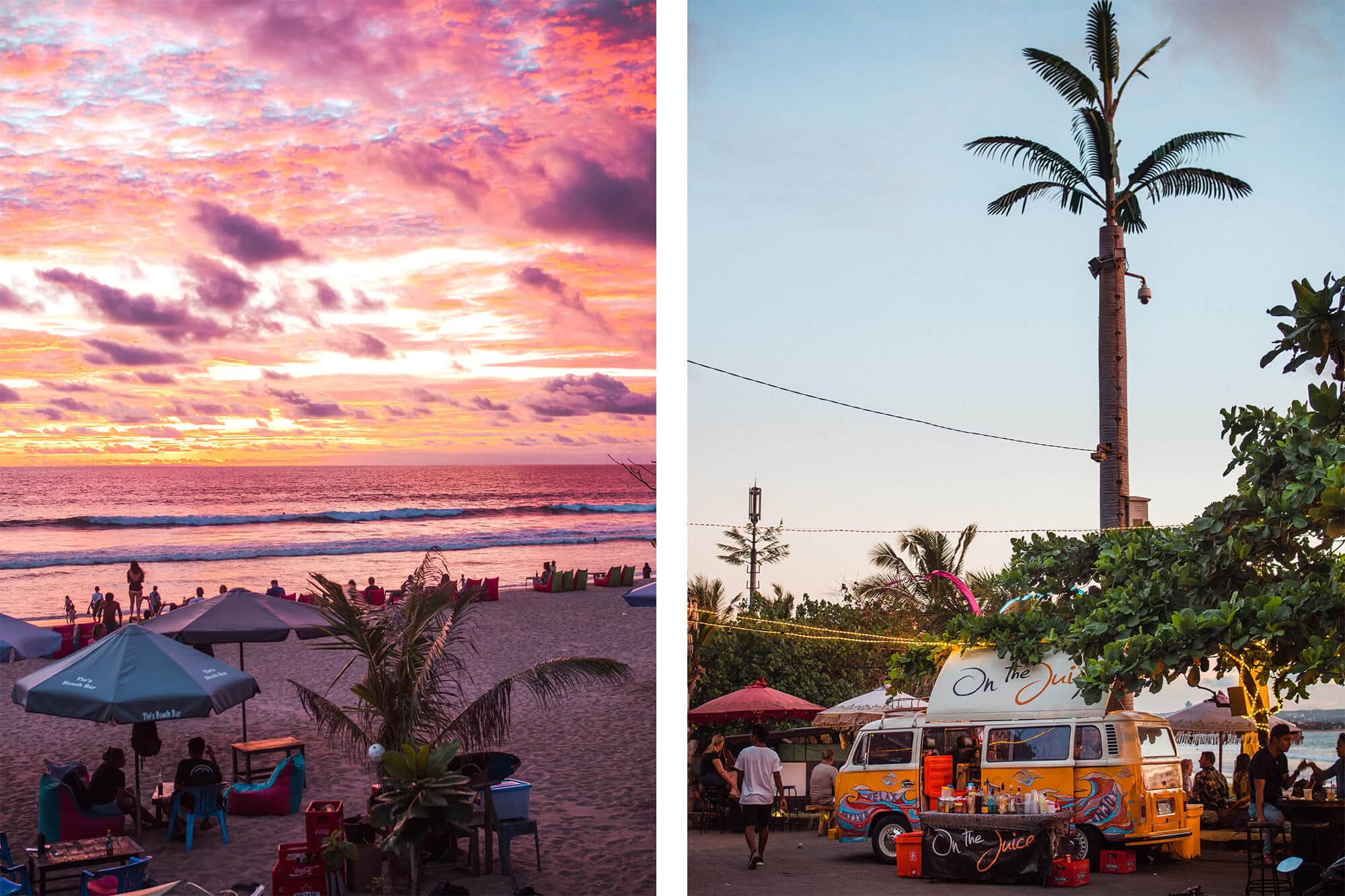 Bali has to be one of the best places in the world to watch the sunset, almost every evening looks like this. If you ever find yourself in Legian you have to stop by On the Juice. They serve up some delicious healthy drinks during the day and step it up with lots of alcohol for sunset. I'll have a frozen Lychee Martini, please. Yuuum!
Now I'm off to the pool! Have a good day 😉
You can find my other Island Life posts here:
Island Life #2 – Exploring East Bali
Island Life #3 – Markets & magical moments in Ubud
Island Life 04: Living in Lombok + House tour
---
And remember, comment below if you have any questions about travel in Bali and Lombok!