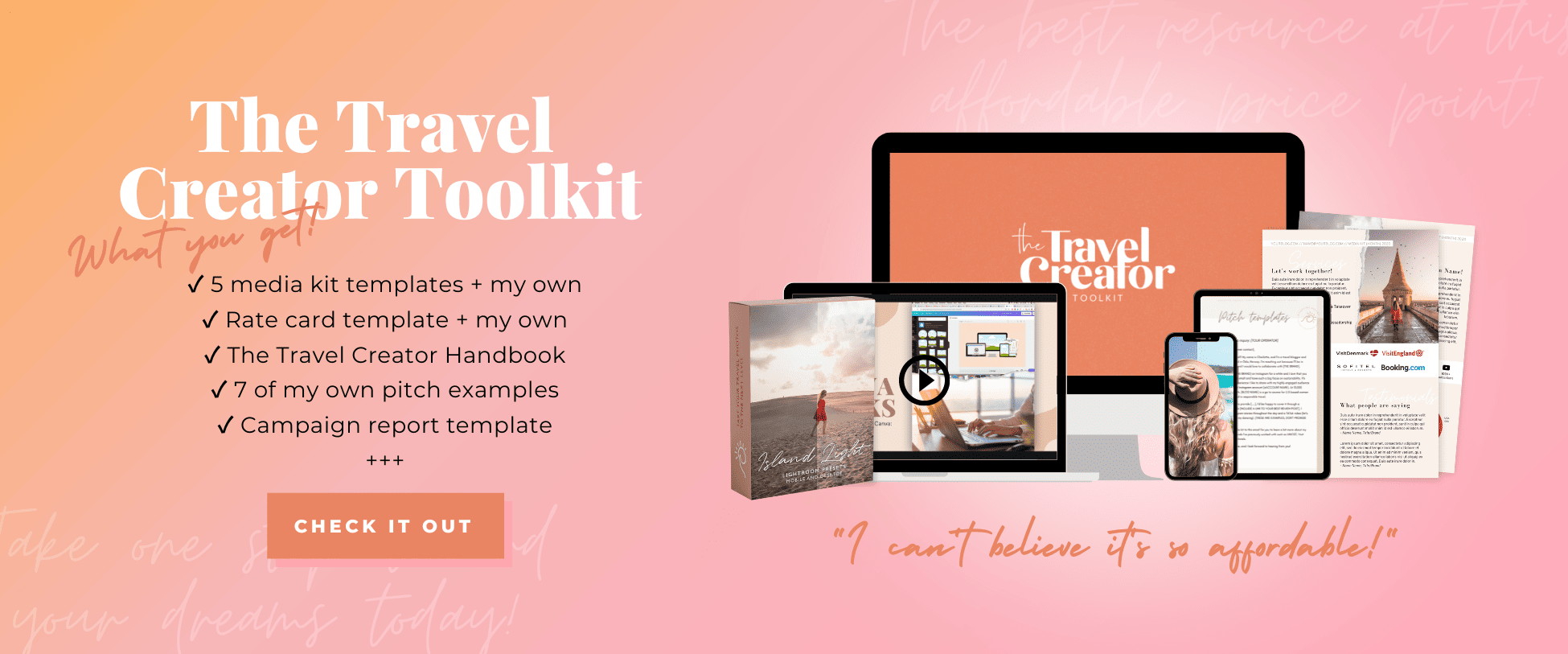 This post may contain affiliate links. I will earn a small commission if you purchase through them, at no extra cost to you.

Are you struggling to find the perfect gift? Don't worry, here are 11 gifts most travel girls will love!
// Contains affiliate links
So I decided to do a different kind of post today. I made this gift guide with the traveling girl in mind, but I see now that most of these gifts can be great for any stylish woman. So don't expect any survival gear or freeze dried 1-minute meals here. That I'll save for another time, or probably never! Anyways…
My birthday is fast approaching and I'm constantly hearing from friends and family "you're so hard to buy for". I always respond that a gift doesn't have to cost a lot, just use your imagination. I would rather get a $10 item with a lot thought behind it, than some expensive earrings you picked up on your way home from work the day of my birthday.
I love buying gifts for others. Sometimes I plan ahead for months, researching and comparing different products and experiences. The best part is the look on the recipients face when he or she opens it. To make it more special I always try to find gifts with a deeper meaning, like a bracelet with special coordinates, a personalized camera strap or gifts that give back. So here are 11 gift ideas, that at least I would be super happy to receive (hint hint boyfriend).
Bohemian Aztec backpack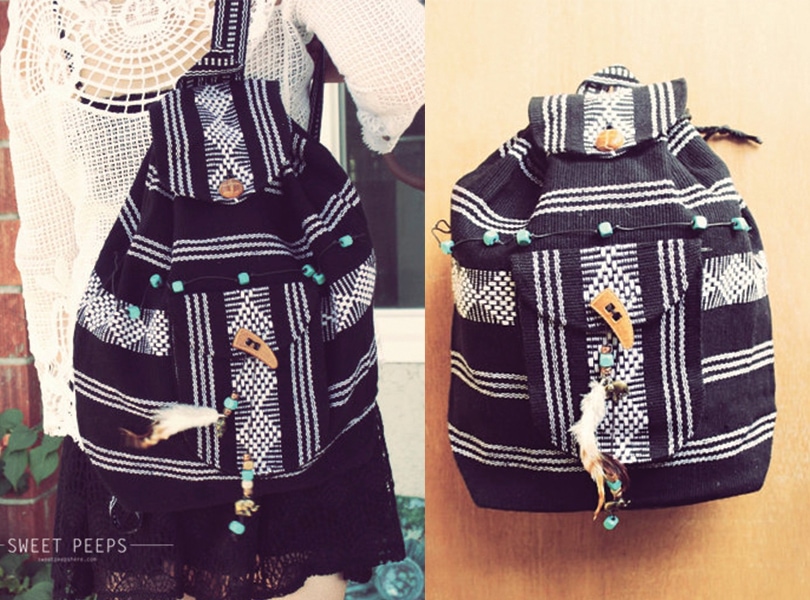 I've come to love using backpacks instead of regular bags. I can't believe I didn't realize sooner how much more handy they are, it could have saved me a lot of bruised and sore shoulders. Especially when traveling in southeast Asia, where scooters are the main mode of transportation. This super cool backpack is perfect for a day at the beach or as a way to spice up your outfit. Aztec pattern, turquoise beads and feather details, need I say more? I also love this one with leather details! Or you check out all these other options for different colors, patterns etc.
Gold personalized wanderlust bracelet
One of the most precious gifts I've ever received is this gold bracelet I got from my sister for my last birthday. It says "wanderlust" on a hammered gold filled plate, but you can get the text personalized. What really set this gift apart was the awesome gift wrapping, like you see above. It came in a tiny glass bottle with gold foil, like a super fun message in a bottle. I love it! The seller also offers a lot of other gorgeous items like this gold cowrie shell necklace. All the jewelry is handmade in Hawaii!
Leather passport wallet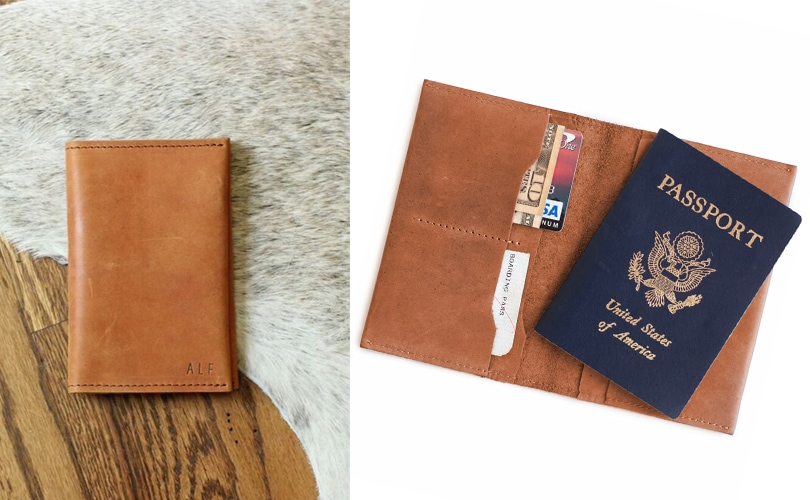 One thing I always bring with me on my travels is my passport wallet. It holds everything from documents, different currencies, credit cards and of course my passport, so I guard it with my life. FASHIONABLE works globally with women coming from many diverse backgrounds, all looking for opportunity. They seek to "give" an opportunity to those living in poverty by purchasing goods from them, and helping those businesses grow and employ more. This gorgeous passport wallet is handcrafted in Ethiopia using 100% Ethiopian leather. Dimensions are 4″ x 6″ when closed. It's available in 7 colors: Cognac, Chocolate Brown, Black, Navy, Merlot, Pewter, and Moss. For only $8 you can personalize it with a short name or initials.
Personalized floral leather camera strap
If there's one thing I love, it's one of a kind items. Or at least, a few of a kind. These vintage inspired floral camera straps are just that. I always have my camera around my neck when traveling, so it's nice to have a strap that's not only comfortable but also an accessory in itself. Personalize the strap by adding a custom leather piece, stamped with the name of the lucky recipient!
Pura Vida Bracelets Discount code below!!
Pura Vida bracelets are wax-coated so they're 100% waterproof. That's perfect for a traveler, a simple but cute accessory that you never have to take off. And best of all is that the company is all about giving back. Every bracelet is carefully handcrafted by artisans in Costa Rica, where they now employ 100+ people that were living in poverty. I addition they have partnered with over 190 charities over the years and are a member of 1% for the Planet. So buy these bracelets in good continence. Now you can also give away a membership to the Pura Vida monthly club, where the recipient receives 3 bracelets a month, for as long as you want to pay for it!
Get 10% off your entire Pura Vida purchase by using code PVSAVE10
Travel journal
I always bring a notebook with me on my travels, in case I suddenly get a bright idea or feel like scribbling something down. This is a journal for all the goals, dreams, accomplishments and life moments you want to remember forever! Every journal is special because the maps included are all cut from different world atlases. So it's the perfect inspiration to think outside of one's comfort zone and explore parts of the world you hadn't even thought of before. Or maybe this mermaid journal could be the thing if your loved one is a lover of the ocean.
Floral feather kimono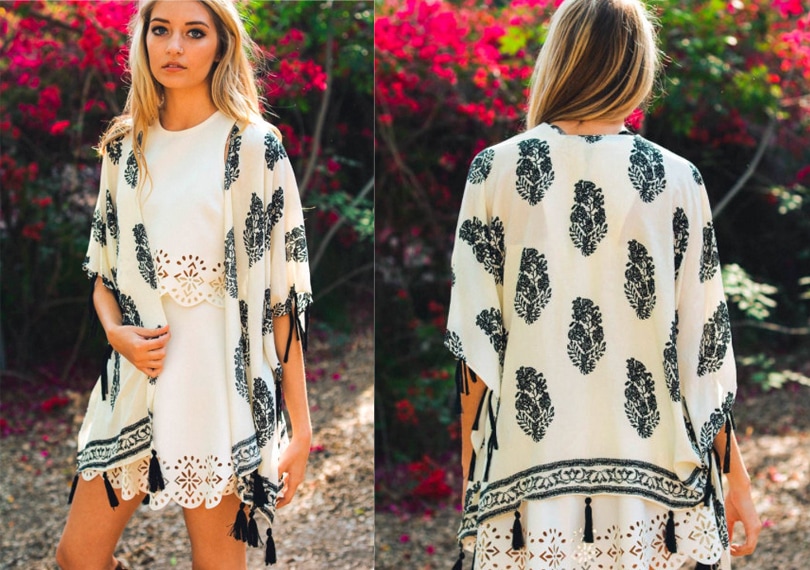 I often get compliments on my outfits when I'm traveling, which I can't believe. I only bring a couple of pieces and most of it is just basic stuff. My trick is to bring a few denim shorts, lots of white/gray tops and then a couple of kimonos. A kimono with a cute pattern or lots of colors is my travel accessory number one. They are perfect for dressing up an outfit, to cover up for temple visits, as a bikini cover-up or just as a seat cover. I especially love this one because of the floral/feather pattern and the tassels. It's also available in navy!
World scratch map
This high-quality scratch off world map is a great way to remember all your adventures, but it can also act as a reminder of how much of the world you have yet to see! With over 10,000 different cities and places to mark, this poster size map will look awesome hanging on any wall, so friends and family can get a glimpse of all your travels. Dimensions – 88 x 63 cm (34.6 x 25.2 inches).
Sleek stainless steel water bottle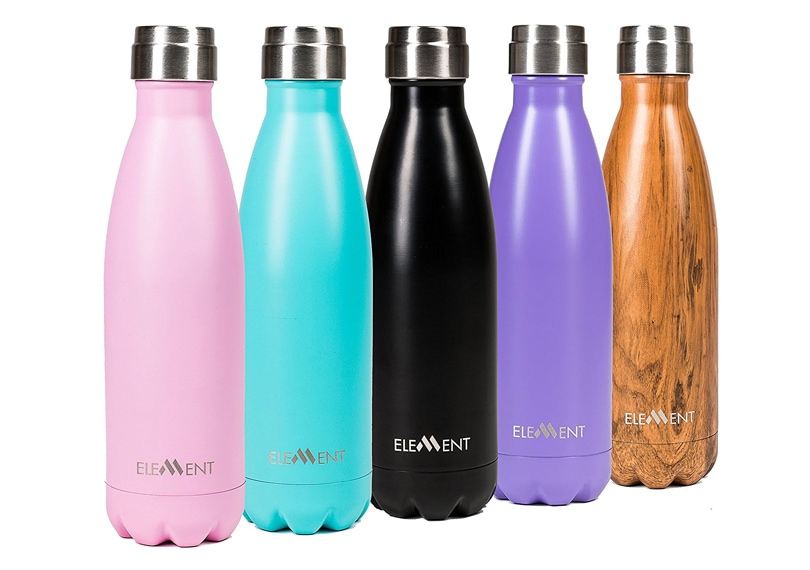 Last month I was swimming in Bali and had to remove plastic from myself when I got up from the water. It's so sad to see how much plastic waste are laying around everywhere, especially in Asia. So people please bring reusable water bottles on your next trip! These Element bottles are not only super sleek and cool to look at, they will also keep your drinks cold for 24 hours or hot for 12 hours. I love all the colors but I think I would get the wood one. It looks so real!
Mandala boho beach towel
I love large beach towels, especially those with gorgeous designs that look great in photos! This super soft 100% cotton round beach towel features a feather mandala design, white tassels around the edge. It's large enough to share with friends, perfect for a day at the beach or maybe a picnic in the park!
Gold world map necklace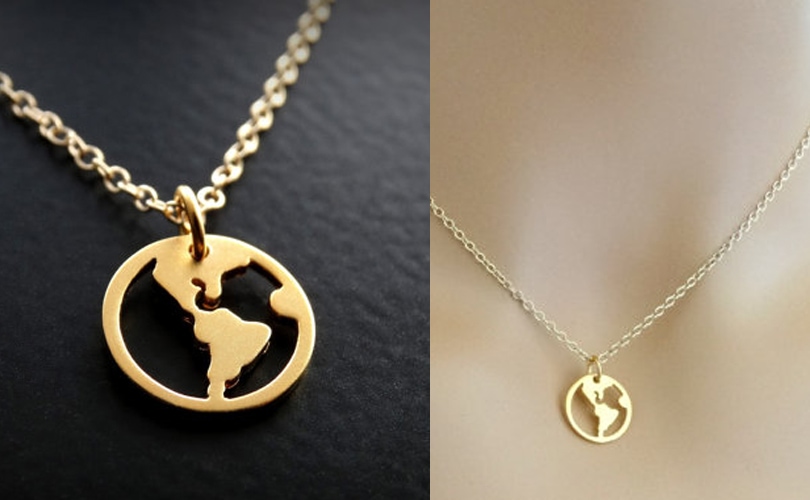 I'm a bit lazy, so I love simple gold necklaces that I can wear with everything and never have to take off. This stunning charm pictures the Western Hemisphere and its surrounding ocean, on a 14k gold filled chain. You can even customize it by adding more charms. Maybe a little plate with the recipient's initials would look cute?
I hope you can put these 11 gift ideas to good use! And let me know, what's the best gift you've ever given or received?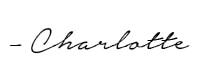 Some of the links above are affiliate links and I will earn a small percentage of the sale if you purchase through them, at no extra cost to you. This helps me cover the costs of running my site – so thank you in advance! I only ever link to products and services I use and love myself!