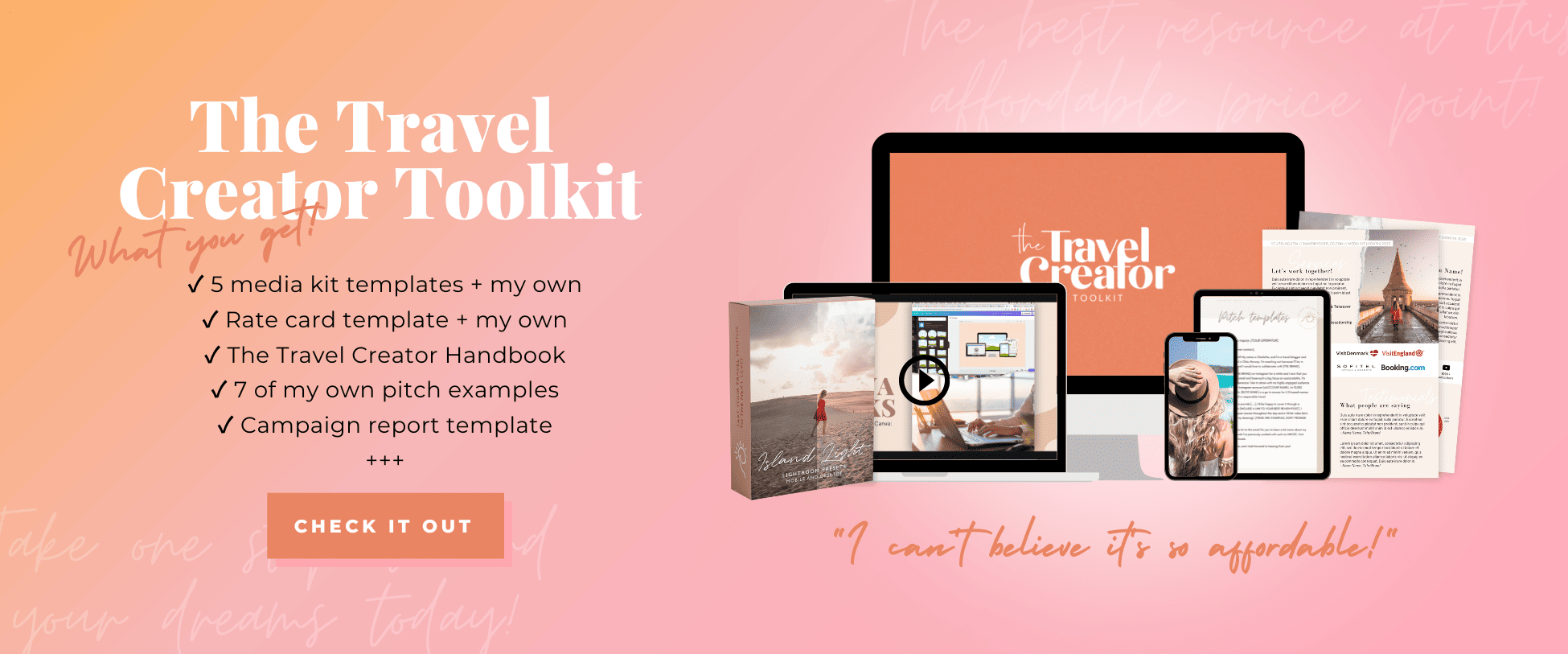 This post contains affiliate links. I will earn a small commission if you purchase through them, at no extra cost to you.
Are you looking for a guide to the Crystal Castle in Byron Bay? Then you've come to the right place. As a crystal lover the incredible Crystal Castle had been on my bucket list for years. So when it was finally time to head back to Byron Bay, it felt like a dream come true.
And the Crystal Castle did not disappoint!
Although located only 20 kilometers away from Byron, the estate is like a world of its own and I immediately felt a calmness come over me as I entered the gate. Definitely one of the top things to do while in Byron Bay.
How to get to the Crystal Castle
Tucked away deep in the Byron Bay Hinterland of Mullumbimby lies the incredible Crystal Castle & Shambhala Gardens.
I highly recommend renting a car to get the most out of your day. Driving through the lush hinterlands was a beautiful experience in itself.
The Crystal Castle was easy to find using Google Maps and the drive took only 25 minutes. I always rent cars through Discover Cars, my favorite car comparison site that covers more than 10,000 destinations.
🚘 Check price & availability >> Rental cars in Australia
Tip: A day trip to the Crystal Castle is also one of the top things to do while in Lennox Head, a charming beachside town that is a lot calmer than Byron and only 35 minutes away.
Byron Bay to Crystal Castle shuttle
Alternatively, you can sit back and relax on your way to the Crystal Castle with the package option below, including transport to and from your accommodation in Byron Bay and the entrance fee.
The tour is timed so that you can experience the daily workshops and meditations.
Crystal Castle & Byron Bay Tour
Take a break from the beach and discover two of Byron Bay's most popular attractions, Cape Bryon Lighthouse and Crystal Castle on this highly-rated half-day tour.
It also includes a tour of the sustainable farming and food experience The Farm and lunch in one of my favorite places, the charming town of Bangalow.
"I can't recommend this tour enough, it's a fantastic opportunity to experience all the best of Byron Bay and the hinterlands in one day!"
Crystal Castle entrance fee
Are you wondering how much it costs to visit the Crystal Castle? Adults: $49 AUD, Children: $35 AUD, Family (2A+2C): $119 AUD.
I've seen a lot of people complaining about the entrance fee, however, I'm used to Norwegian prices so I didn't really think twice about it.
Of course, I can see it becoming expensive if you're bringing several children or a group of people. In my mind though, my day at Crystal Castle was totally worth the price.
🌟 Check price & availability >> Get your skip-the-line Crystal Castle tickets here!
Crystal Castle opening hours
Crystal Castle is open 7 days a week from 10:00 am to 5:00 pm, with the last entry at 4:00 pm. They only close on Christmas Day, Boxing Day and Good Friday.
We got there at 10:00 am on a weekday in May and had the place almost all to ourselves for the first hour which was so nice.
How long to spend at the Crystal Castle?
I recommend getting there as early as possible because you will more than likely want to spend at least half a day wandering around the beautiful grounds.
3 hours is recommended by the Crystal Castle themselves, however, I would say more like 4 to 5 hours if you're a crystal lover like me and would like to partake in the daily experiences.
Things to see & do at Crystal Castle
"Our vision for the future is to keep creating a place to enrich the spirit, where people can find some peace from the world, and be touched by nature's beauty."
A lifetime of passion and over 30 years of hard work have seen this unique property transformed into a tranquil and breathtakingly beautiful landscape full of lush tropical rainforest, colorful flowers, deities and of course, many many gorgeous crystals.
Lotus Cafe
Crystal Castle is set up as an open-air house surrounded by lush rainforest and tropical gardens. There's a large veranda overlooking two of the tallest crystals in the world where you can sit down, relax and enjoy vegetarian food made with local produce.
We had the vegetarian lasagna and it was pretty good! In addition to an array of green dishes, they also serve cakes baked on the premises, a selection of fresh juices and smoothies and sugar-free ice cream.
To lower its carbon footprint and expand its range of organic produce, Crystal Castle has created their own garden from which they harvest fresh seasonal produce daily. They also use naturally occurring sugars and unprocessed sugar alternatives in all their fresh treats.
Shambhala Gardens
The enchanting Shambhala Gardens are exquisite landscaped subtropical gardens filled with some amazing treasures and surprises around every corner. In the garden, you will encounter enormous statues, ancient geodes, fossils and rare crystals, some as old as 500 million years.
You can literally walk around for hours and still discover some new treasures hidden in the lush foliage. Spending some time in this healing sanctuary will make you feel recharged and serene. Make sure you keep your eyes open for any koalas that might be hanging around in one of the treetops.
If you want a more in-depth experience you can take the Shambhala Gardens Tour.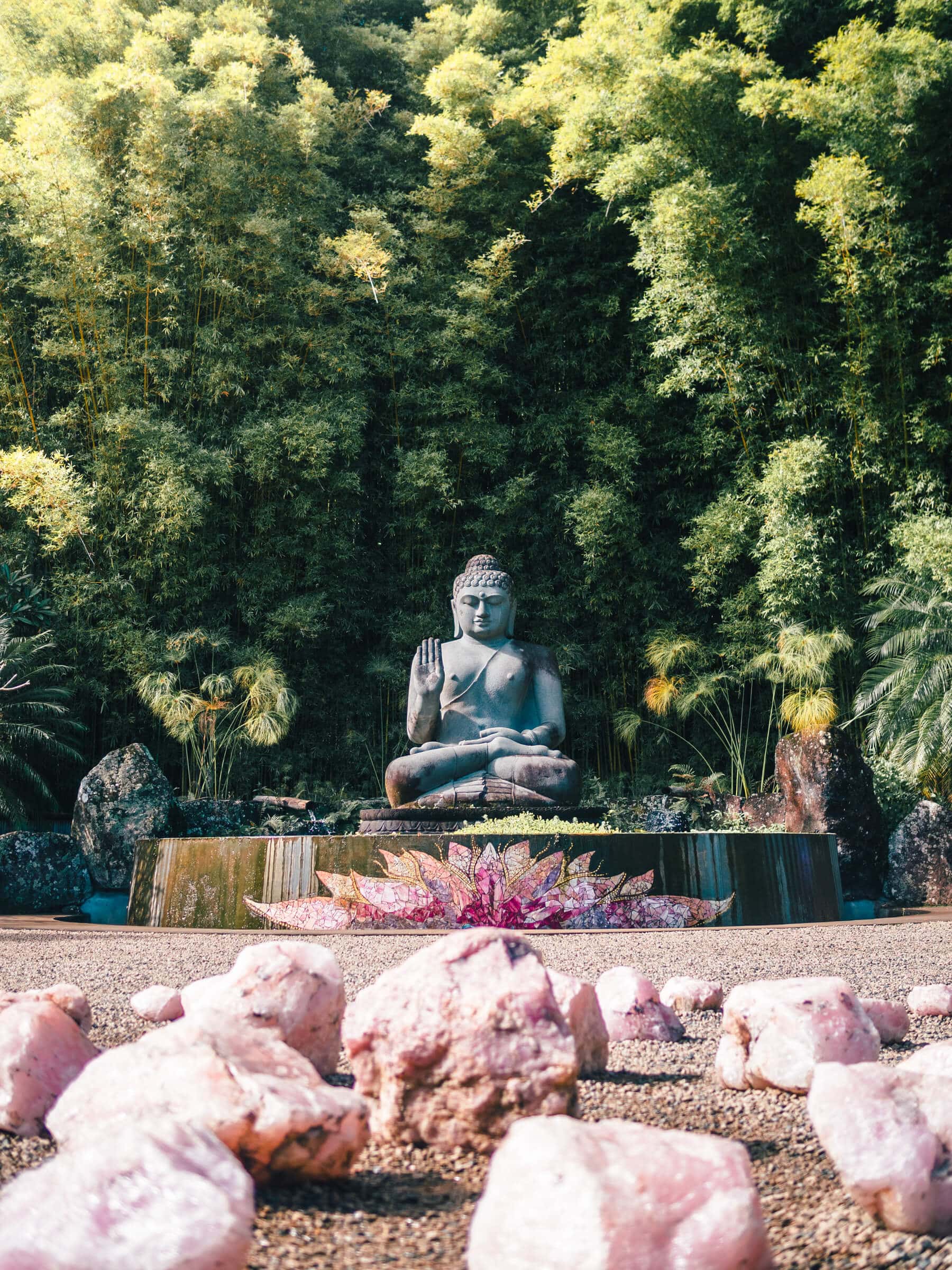 Buddha Walk
The "Buddha Walk" is a unique half-kilometer-long path offering spectacular views of the lush countryside. The almost 4 meter high Buddha statue, surrounded by rose quartz and a stunning mosaic art piece, is one of the most awe-inspiring parts of the property!
All the large statues in the garden are hand-carved from volcanic rock from Gunung Merapi (mountain of fire), the same stone used to carve the famous Borobudur Buddhist temple in Java, Indonesia. In addition to the Buddha, there are also statues depicting different Gods like Lakshmi, Ganesh, Garuda and Vishnu.
When walking through the garden you will see that people have started making coin offerings on the statues. The offerings are sent to a Tibetan Kindergarten in Northern India to help preserve the Tibetan culture. While I don't believe in making offerings to the Gods I was more than happy to make a donation to the children.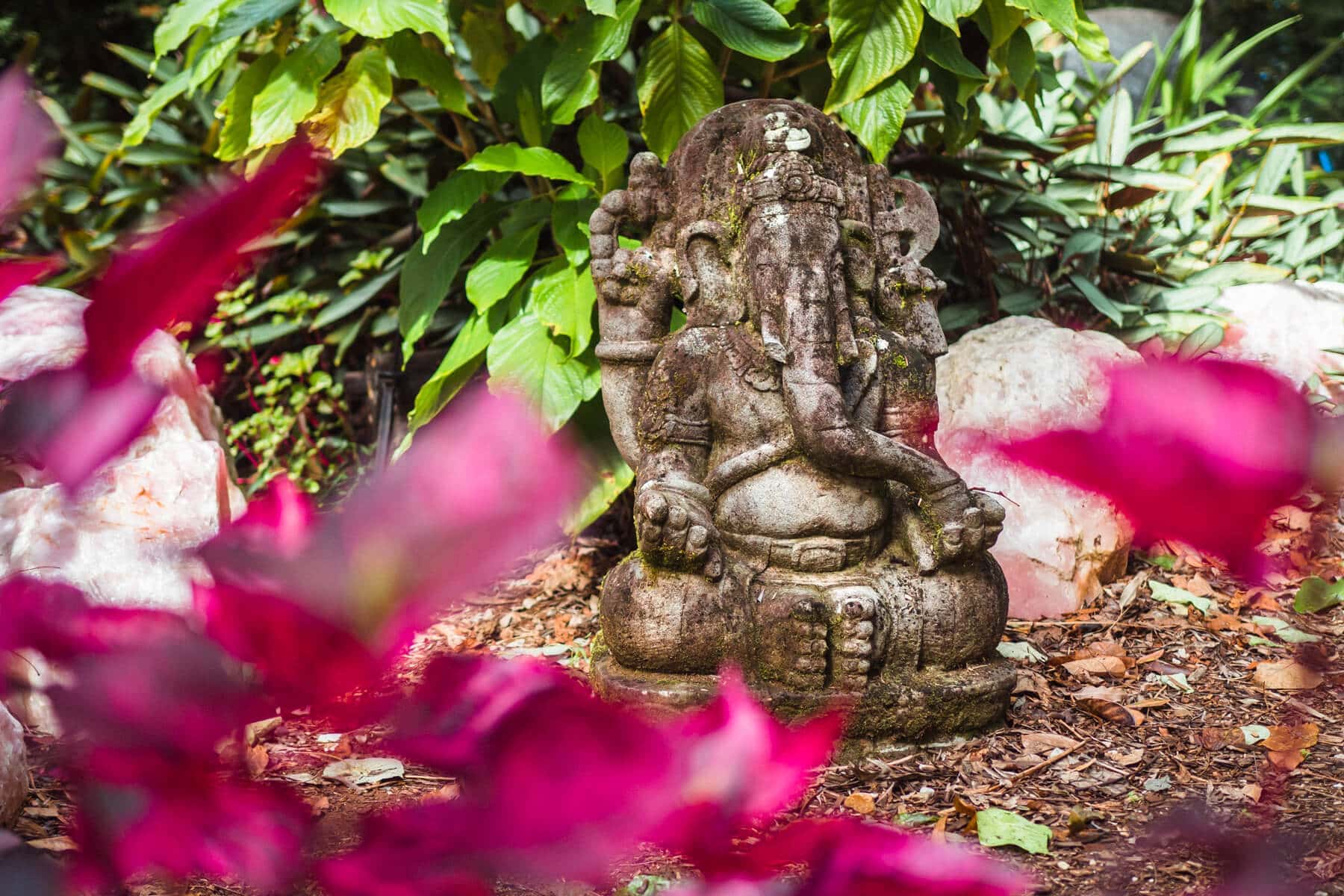 The Labyrinth
If you need insight you can walk the labyrinth, also referred to as the "walk of spiritual reflection", which allows you to quietly reflect. You can start off holding a specific question and while walking the path towards the center, be open-minded for guidance and the answer is supposed to come to you.
In the center of the labyrinth created in 2000, there is a flower of life design made up of rose quartz. Here you can stop to contemplate, wait and receive. The design is based on the same design as the famous labyrinth in Chartres Cathedral near Paris, which was built around 1200.
The World Peace Stupa
Walking towards the Kalachakra Stupa I have to admit I felt a sudden calmness come over me. The imposing structure and all the beautiful colors left me in awe. It is said that the mere sight of a stupa will inspire compassion, kindness and ultimately good karma.
A Kalachakra Stupa is a rare monument not connected to events in the Buddha's life but instead created to protect against negative energies and to restore balance to the earth during turbulent times. This is the only stupa in the southern hemisphere and one of only seven in the world. Tibetans believe that you can gain great benefits from walking clockwise around the Stupa.
In several places on the property, you'll see these Tibetan prayer flags made of rectangular cloth in different colors. They originated in the Himalayas where they are often found strung along trails and high peaks to bless the surrounding countryside.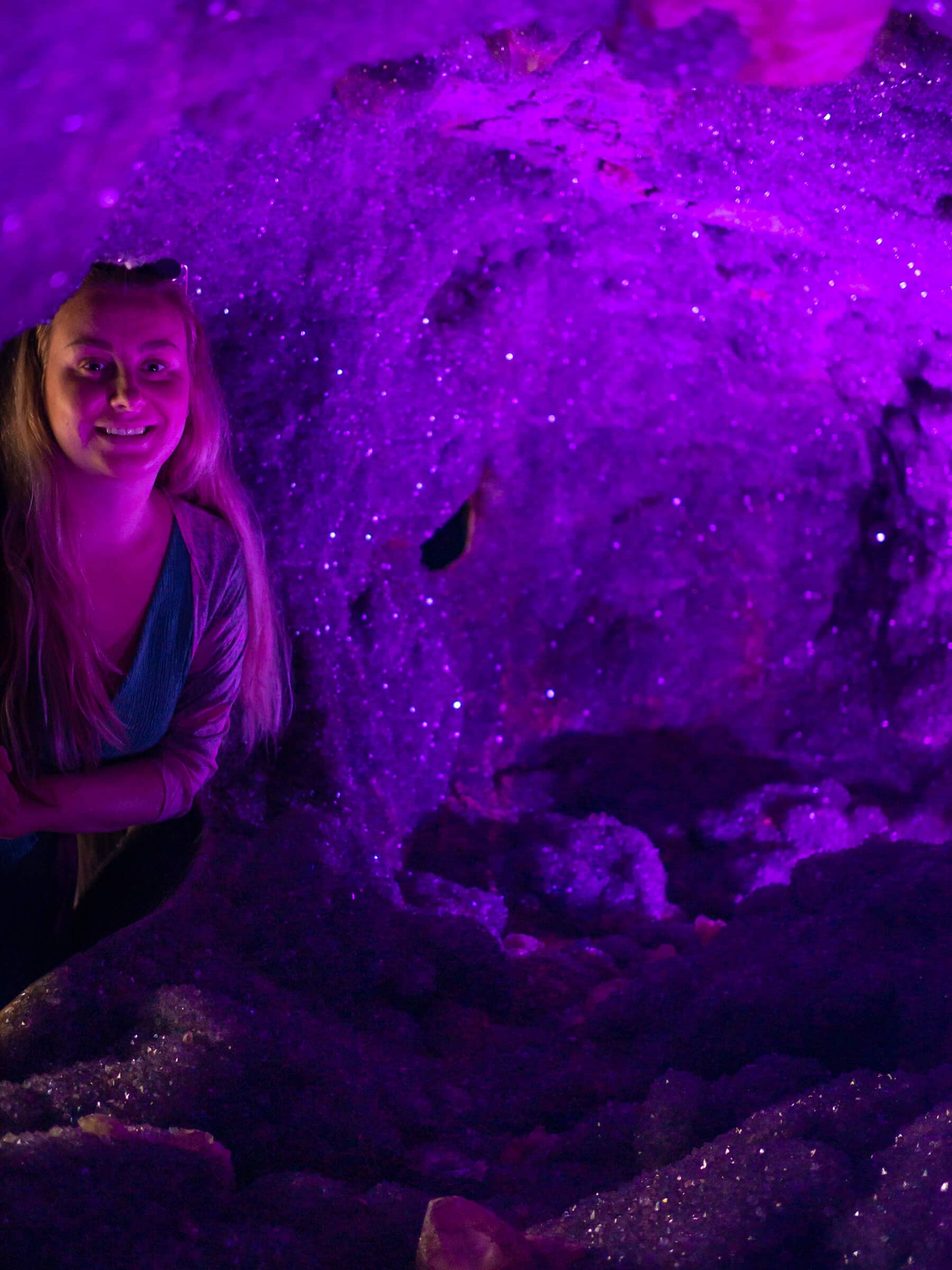 Enchanted Cave
The "Enchanted Cave", a massive amethyst geode, has to be the most spectacular sight on the property. It's approximately 5.5 meters wide, weighs in at over 20,000 kilograms and the purple color is just breathtaking.
It was created in northern Uruguay over 120 million years ago through intense pressure, heat and the presence of iron. Naren, the Crystal Castle founder, and his daughter brought it to Australia to celebrate the Crystal Castle's 30th anniversary. It's the largest amethyst cave ever found in the world.
If you feel the need to clear your aura and mind you can book a guided meditation inside the cave for up to four people. It will set you back $80 per person and you need to book the meditation experience in advance before you arrive at the castle.
The Dragon Egg
Don't worry if you can't splurge on the meditation experience in the Enchanted Cave, you will still have the opportunity to sit inside an amethyst cave. Crystal Castle's second massive geode, also known as the "Dragon Egg", weighs about 10 tonnes and the perfect deep purple color makes it extremely rare.
You might have to stand in line and wait for your turn to sit in it, but it will definitely be worth it and it is free of charge.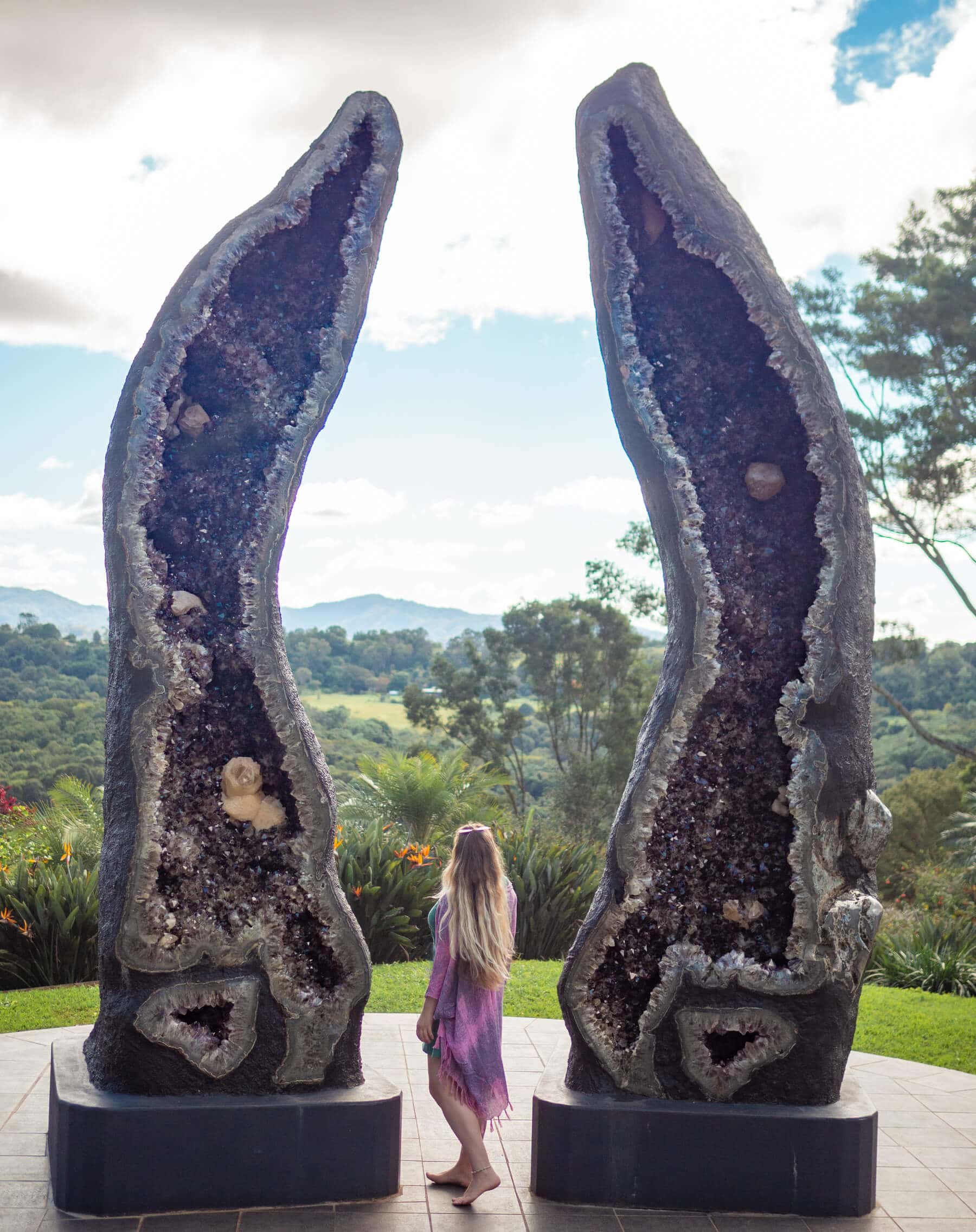 The Crystal Guardians
A pair of the world's tallest geodes called the "Crystal Guardians" are displayed in a prime position right in front of the Lotus Café. Standing proud at 5.5 meters, the two natural wonders watch over the property and frame the view of rolling hills beautifully. It's almost like looking at a painting.
The geodes, which are exquisite specimens of smoky quartz with a touch of amethyst and calcite crystal flowers, have traveled all the way from a remote location in Uruguay just like the two amethyst caves.
Reflexology path
The circular Reflexology Path has been created using pebbles that massage your feet as you walk on them. In the middle, there is a large Rose Quartz crystal that opens up the heart chakras to unconditional love and positive energy. It is one of the most important gemstones for relaxation and healing and it has been used in love rituals and ceremonies for centuries.
Reflexology is a therapy that reduces stress and induces deep relaxation while balancing the body's systems by stimulating different points on the feet that correspond to specific parts of the body.
Stepping on the pebbles felt really good after walking around 15000 steps in flip flops every day for the last two weeks. Sitting on them, on the other hand, was not very nice, but I just couldn't resist a photo with the beautiful rose quartz.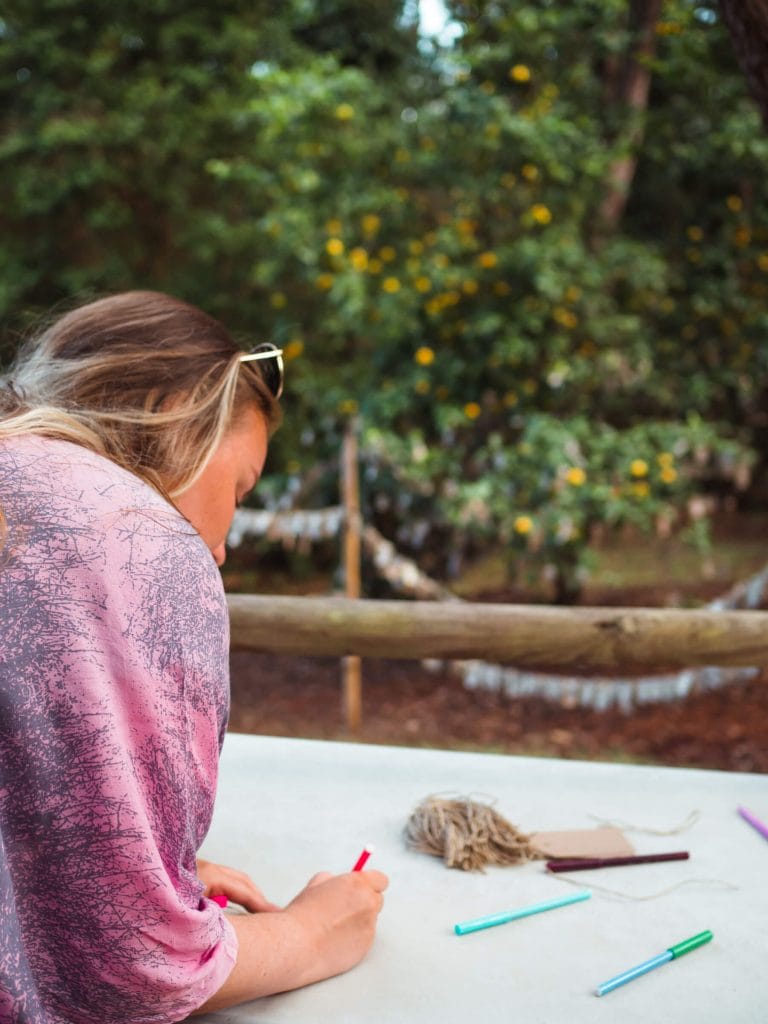 The wishing tree
Making a wish at the wishing tree is a beautiful and interactive thing to do. Just before the World Peace Stupa, you will see the tree full of wishes made by people from all over the world.
Write your wish down on one side of the card provided and on the other side write what you're grateful for. Then you walk down to the tree and find a part of it that resonates with you and attach your wish for the world to see. It's a great way to feel connected to the universe and to the people around you.
This is my simple religion. There is no need for temples, no need for complicated philosophy. Our own brain, our own heart is our temple. The philosophy is kindness. — Tenzin Gyatso, The 14th Dalai Lama.
Aura Photos
Ever wondered what your aura looks like? I know I have! Unlike the monochromatic negatives of a camera film, your aura projects different colors each with a different meaning.
For $60 the professional photographers in the castle will click your aura's photograph and provide you with a print-out along with the insights into colors of your aura and a tumbled stone.
This was one of the things I had been looking forward to the most but somehow I managed to forget it!? I guess I was so blinded by all the crystal goodness that I completely spaced out.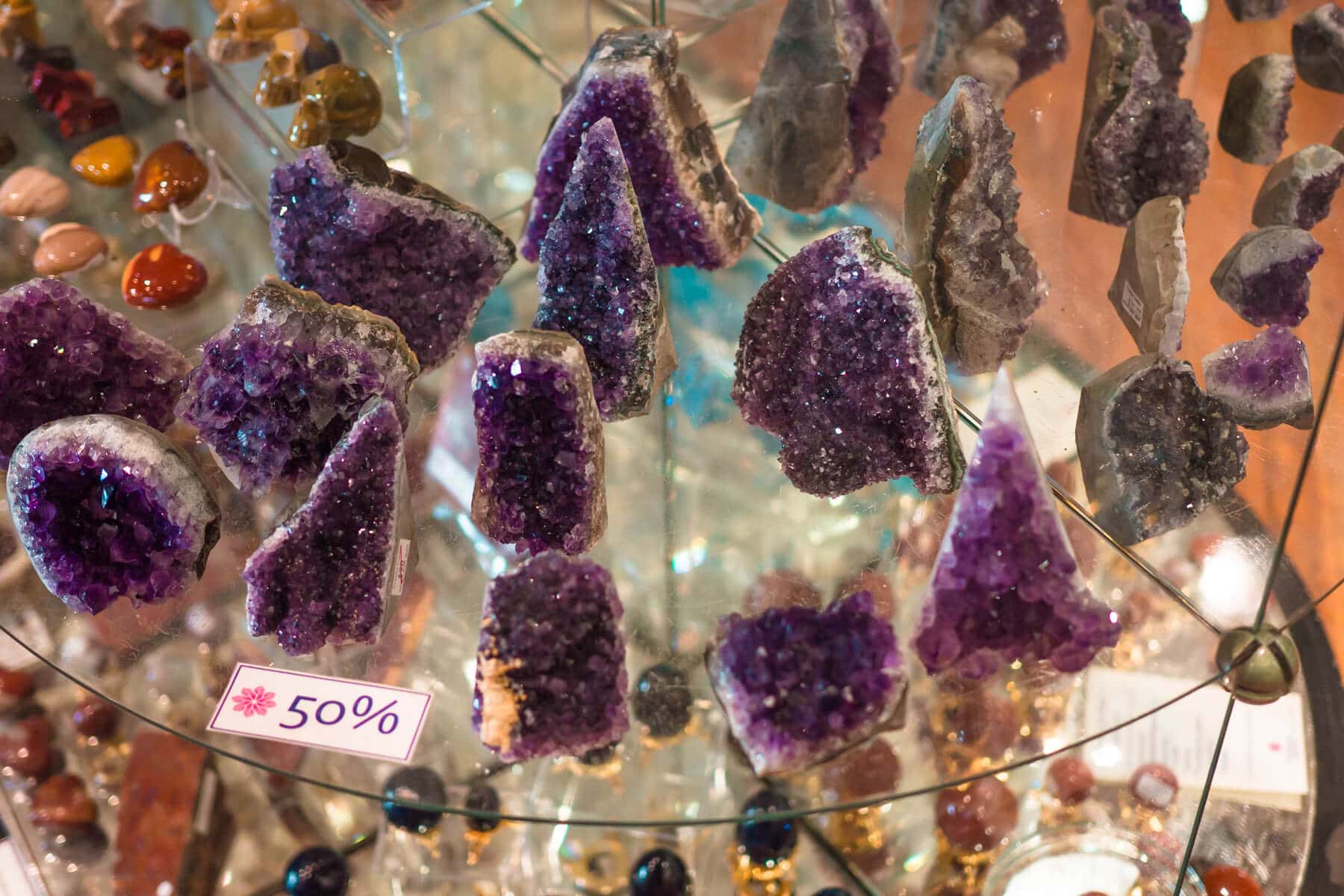 Shop for crystals & souvenirs
I go kind of crazy when I see crystals for sale. I just can't resist the sparkle, the beautiful colors and the interesting shapes. So before entering the gift shop, I gave myself a $50 budget that I had to stick to.
I was so excited but for some reason, I just couldn't decide on what I wanted. They have all the crystals you could possibly think of in all shapes and sizes. Raw, polished, carved figurines, jewelry and even crystal stands.
Usually, indecisive people annoy the crap out of me. But there was just too much awesomeness to choose from. So I ended up with three small geodes that were $2 each. Wait what!?! I think this was the first time ever I haven't been able to make a decision. Haha.
Daily experiences
Every day there is a free experience offered to visitors. Shambala Gardens Tour, Music of the Plants, The Crystal Castle Peace Experience held at The World Peace Stupa and the Crystal Experience are all held on selected days throughout the week.
Taking part in these experiences is a great way to learn and immerse yourself in all that the Crystal Castle has to offer.
Crystal Experience
The Crystal Experience is a workshop held every Monday, Wednesday, Friday, Saturday & Sunday which offers an introduction to the use of crystals in ancient traditions and work consciously with crystals today.
You'll also learn about the history of the Crystal Castle and how crystals form. The experience will guide and empower you to start your own journey with crystals.
🌟 Book in advance >> Get your skip-the-line Crystal Castle tickets here!
Looking for more Australia guides?
---
Remember to pin for later 😉