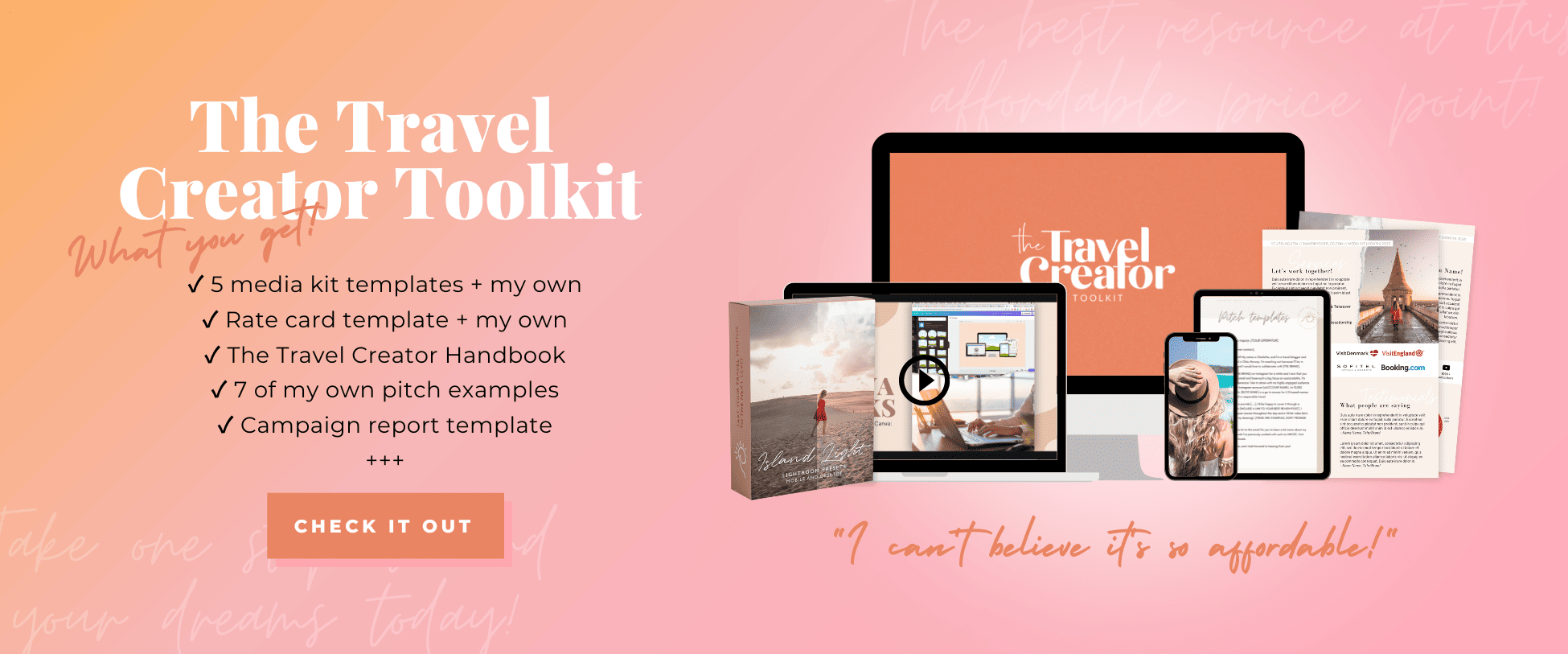 This post contains affiliate links. I will earn a small commission if you purchase through them, at no extra cost to you.
Bangkok welcomes more visitors a year than any other city in the world, and it's not hard to understand why. Thailand's capital is a city of contrasts with exciting things to do for everyone.
Luxury malls and skyscrapers lie side by side with colorful temples, markets and roadside stalls where you can treat yourself without breaking the bank. One thing is for certain, you can never be bored in Bangkok!
But all this excitement might be overwhelming for some first-time visitors. That's why I decided to put together a guide to the top things to do in Bangkok.
🌟 Bangkok airport transfer >> Take the worry out of your arrival or departure from Suvarnabhumi Airport by booking a private driver here. I was so relieved that we had booked this affordable airport transfer in advance, so we didn't have to spend much time in the chaotic arrivals hall.
Tips for first-timers in Bangkok
If you're going to Bangkok and haven't booked a room yet, do it now! Even during low season hotels in the best locations tend to get booked out.
Tuk-tuk drivers or anyone who tells you that sights are "closed" or who wants to give you a free ride are most likely just out to scam you. The same goes for random people on the street offering you guided tours. They tend to promise to show you the main attractions but will often take you to souvenir shops instead.
Always ask for the price before you get in a tuk-tuk and don't be afraid to haggle. If you need to take a taxi, be sure to ask the driver to turn on the meter, if he refuses, don't get in.
Bargaining is common in markets and street vendors, so don't be afraid to negotiate prices. But be fair!
Although I love exploring most destinations on my own, I highly recommend joining a guided tour for your first day in Bangkok to get the lay of the land. That way you can get all your questions answered by a knowledgeable local guide and be ready to head out on your own.
This tour is fully customizable so you choose what you want to see. So easy and we loved it!
🌟 Click here for current prices >> Private guide in and around Bangkok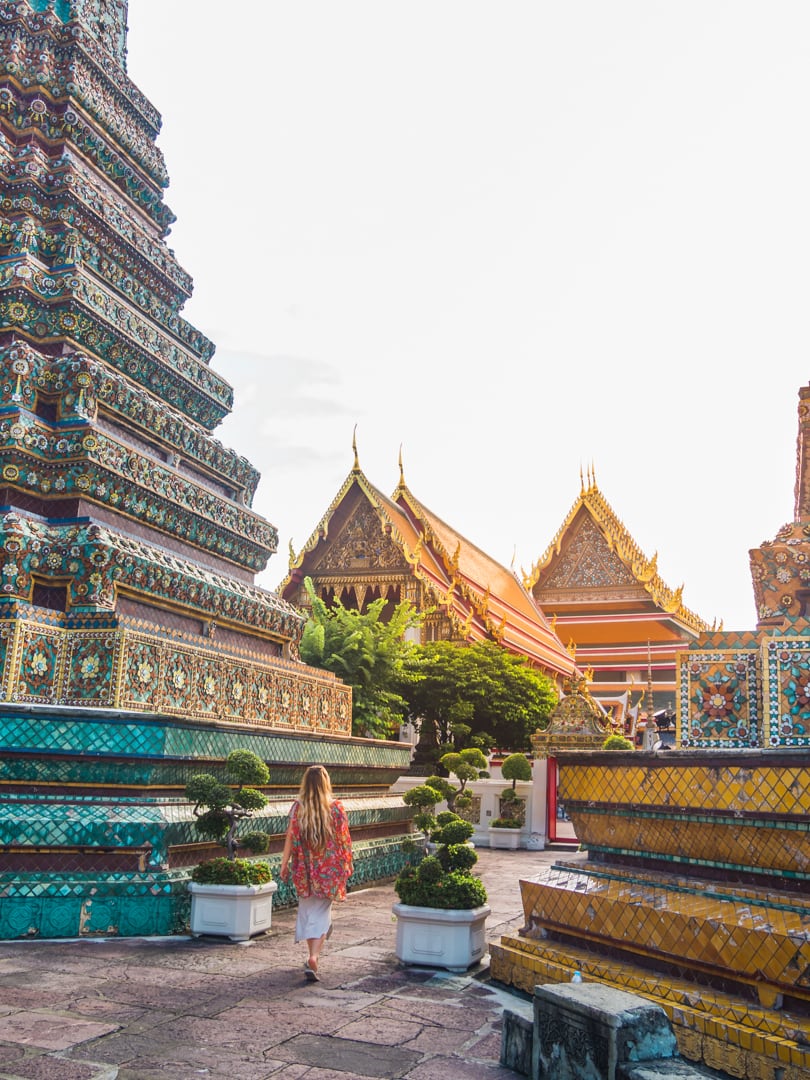 20 attractions not to miss in Bangkok
Bangkok is a must on any Thailand itinerary. It is a city that never sleeps, so there's always something to do at any time of day or night. Here are my favorite things to do in Bangkok:
1. Wat Pho
Wat Pho (above) is one of Bangkok's largest and oldest temples, most known for the huge reclining gold Buddha. The intricate details and vibrant colors make this place an absolute must while in the city.
Be sure to get there early in the morning to escape the heat and the crowds. We got there around 8:00 AM and had it all to ourselves for a little while as the sun was rising. So magical and definitely one of the places you can't miss in Bangkok!
2. The Grand Palace
The Grand Palace and Temple of the Emerald Buddha, dating back to 1782, is Thailand's most sacred site and undoubtedly Bangkok's most visited.
You must be properly dressed before being allowed to enter the temple, and the dress code is rather strict. You must wear long pants/maxi dress and show no cleavage or shoulders and you can't wear open shoes or sandals. But don't worry if you turn up without the appropriate clothing, you will be able to rent for just a small fee.
🌟 BANGKOK TEMPLE TOUR
Immerse yourself in the cultural and historical heritage of Bangkok by exploring the Grand Palace, the Emerald Buddha Temple and the options for Wat Pho, local markets and Wat Arun on this walking tour.
3. Floating markets
Even though Bangkok's floating markets are more geared towards tourists rather than locals these days, it's still a must while in the city. Beautiful colors and delicious scents from flowers, fruits and freshly made traditional dishes, make these markets a feast for the senses.
The three floating markets closest to central Bangkok are Damnoen Saduak, Amphawa and Khlong Lat Mayom.
4. Chatuchak Weekend Market
Chatuchak Weekend Market is the largest and most exciting market I've ever been to. So much fun! On average, more than 200,000 visitors come here to sift through over 8,000 market stalls every weekend. This is a place where you can literally shop until you drop.
We were there from 9 to 12 in the morning and it was perfect timing, after 12 it got super hot and way too crowded. The prices were also lower when we first got there in the morning. You can read more about Chatuchak Weekend Market here!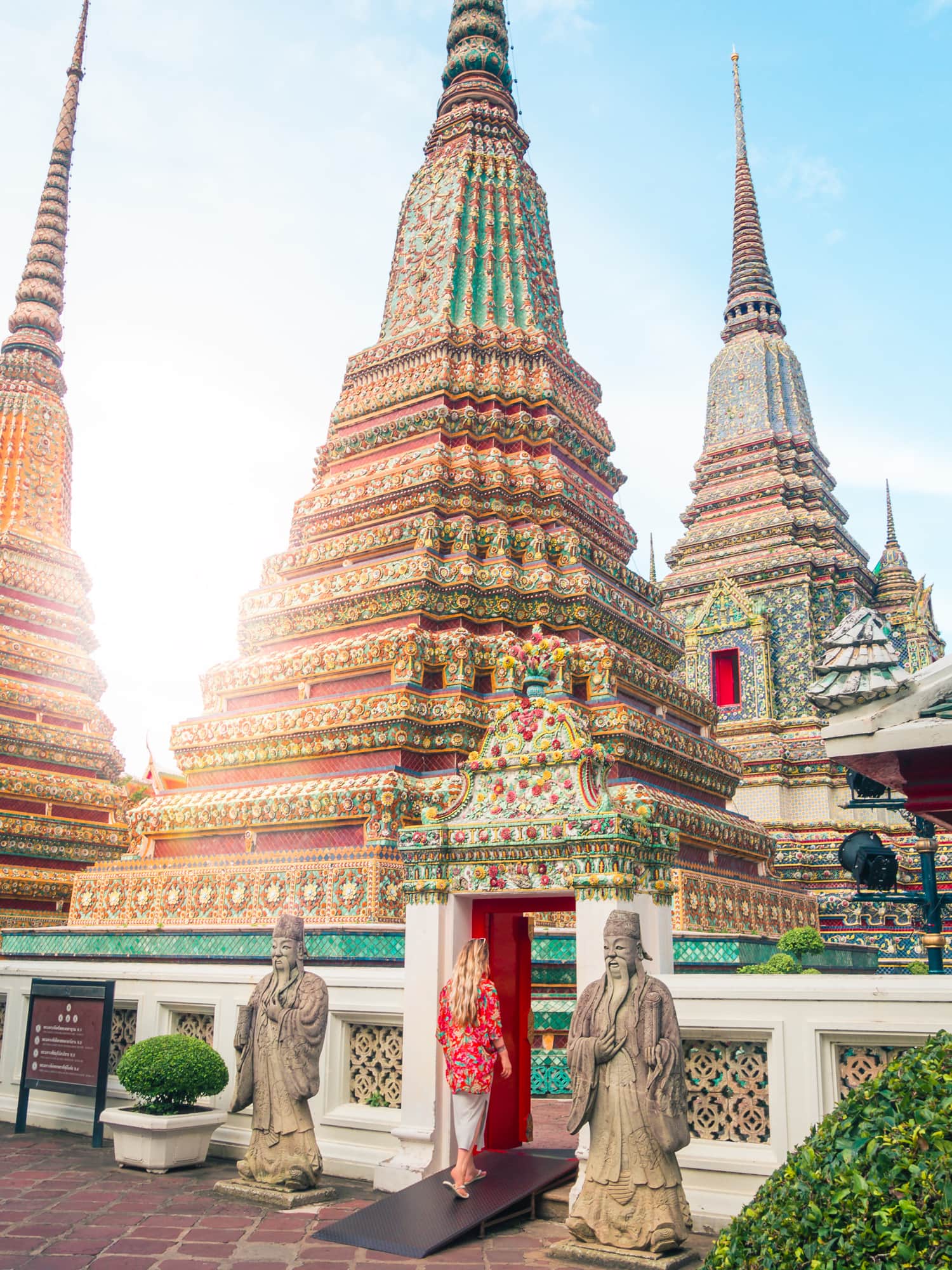 5. Explore the khlongs
Go on a khlong (canals) tour to get a sense of how people in Bangkok used to live, in stilted shacks, old wooden townhouses. Many tourist itineraries feature a cruise along the Chao Phraya River, but for a more authentic view of local life, venture into the city's network of khlongs.
If you choose to not go on an organized tour and hire a colorful long-tail boat by yourself, ask to explore Khlong Mon, Klong Bangkok Noi and Klong Bangkok Yai. And remember to agree on a price before you get in the boat.
6. Chinatown
Bangkok's vibrant Chinatown is all about food, fabrics and gold. In fact, Chinatown has more gold shops per square meter than anywhere else in Bangkok, so if you're in the market for some jewelry head to one of the many shops lining Yaowarat Road.
At night Chinatown transforms into what feels like a huge food market where both locals and tourists flock to enjoy some cheap eats. I always go for a papaya salad and mango sticky rice, two of the best dishes to try in Thailand.
Discover the history of Bangkok's sprawling Chinatown as you make your way through the area's best cultural, culinary and photographable hotspots on this 4-hour guided walking tour.
7. Rooftop bars
Made even more famous by the Hangover II movie, the 63-story high Sky Bar at Lebua State Tower offers one of the best views in the city and is a must-see while in Bangkok.
Although quite expensive, if you are celebrating a special occasion it might be worth considering dinner at Sirocco as well. It's not every day you can say you've had dinner at one of the world's highest rooftop restaurants.
You can also spend the night in one of their luxurious rooms, I've seen so many stunning photos on Instagram from the balconies of this hotel. Other great bars are Above Eleven on Sukhumvit Soi 11 and Moon Bar on the 61st floor of the Banyan Tree Hotel.
8. Asiatique The Riverfront
Asiatique The Riverfront successfully combines two of the most popular experiences in the city; a night market and a shopping mall.
With over 1,500 boutiques, 40 restaurants and a ferris wheel housed within the same complex, there is something to do for everyone. The easiest and fastest way to get there is via boat.
Take the BTS to Saphan Taksin and jump on the free shuttle at the end of the pier. It's open from 5:00 pm until midnight.
9. Khao San Road
Khao San Road is the name of a 1km long strip packed with budget guesthouses, mid-range hotels, questionable bars, hole-in-the-wall restaurants, massage and tattoo parlors, market stalls and much more. In other words, it is one of the hubs for backpackers in Thailand on a budget.
You don't have to walk more than 20 meters to find food on and around Khao San Road. Street vendors are selling everything from fried insects to fiery curries and greasy pizza and burgers. Such a fun experience!
10. Street food
No Bangkok experience is complete without going on a street food tour. Enjoy 16+ truly magical food tastings, carefully curated by a Bangkok chef. Explore the backstreets and alleys of Old Bangkok and discover hidden gems you'd simply never find on your own.
Benefit from a professional foodie guide and small groups of max 8 people. If you're a foodie like me, this is one of the experiences you can't miss in Bangkok!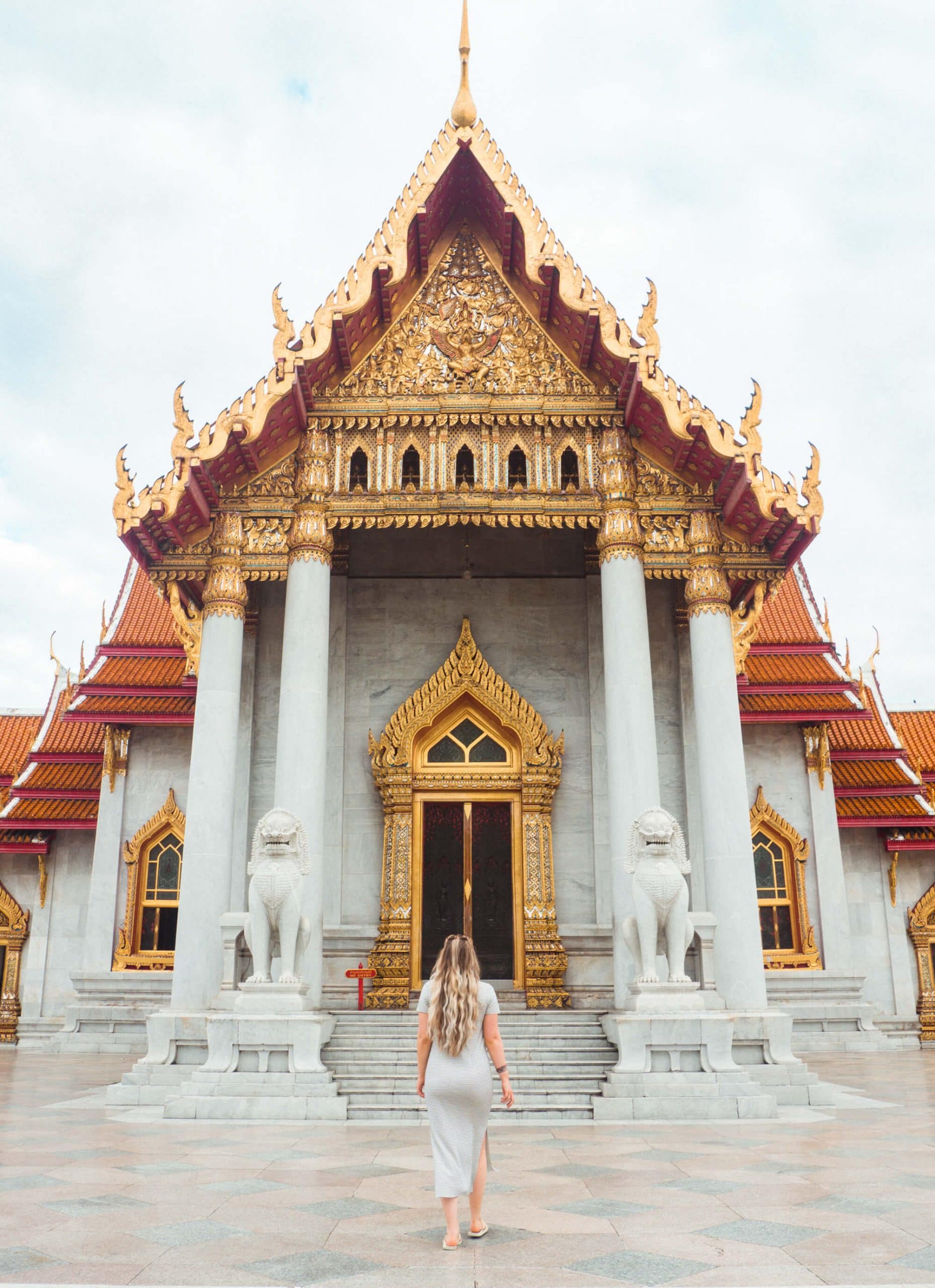 11. Wat Ben
Wat Ben (above) is another gorgeous Buddhist temple, also known as the Marble Temple. The crisp white marble imported from Italy stands in beautiful contrast to all the gold and orange tones. So stunning! The temple grounds open at 6 am so my advice is to go there before you visit Was Pho and the Grand Palace.
12. Bangkok bike tour
Experience a different side of Bangkok. This 4-hour bicycle tour takes you through back roads and small lanes, past ancient temples and canals, all the way to the heart and soul of Bangkok. Discover a part of Bangkok that you'll never see from the sky train, tuk-tuk or taxi. An experience you'll remember forever!
13. Pak Klong Talad
Pak Klong Talad is the name of Bangkok's largest flower market, where the majority of the capital's flowers are brought to be sold. In addition to flowers, there are also large sections of the market selling vegetables and exotic fruits.
Although the market is open 24 hours, the best time to visit is after midnight when most of the fresh flowers arrive in boats and trucks. Despite being mentioned in most Bangkok guides, you won't find too many tourists here.
14. Bangkok National Museum
The National Museum in Bangkok, which houses the largest collection of Thai art and historical artifacts in the country, was opened back in 1874. The eclectic collection includes pieces such as traditional musical instruments, gold treasures, weaponry, centuries-old royal artifacts and impressive wooden carvings.
On Wednesdays and Thursdays at 9:30 am there are free guided tours in English.
15. Unicorn Café
A visit to one of Bangkok's Unicorn cafés is a must if you enjoy pastel colors, glitter, sweet treats, ponies and all things girly. Although I only went for the decor, the food turned out to be surprisingly tasty. We had the rainbow spaghetti carbonara, unicorn waffles, cotton candy and a fruit punch with glitter. Haha, so much fun!
There are two separate cafes right down the street from each other. I would recommend Zone B as it seemed a little newer and more spacious than Zone A.
16. Maeklong Railway Market
Maeklong Railway Market, about 60km from the city center, is another fun place to visit to get off the main tourist trail. Eight times a day, seven days a week, a train passes through the market so vendors have to quickly remove their stalls from the tracks and then minutes after resume as if nothing has happened. Such an interesting experience!
🌟 You could hire a private driver to take you to the market, but the easiest way to get there is to book this half-day tour, which usually also includes the infamous Damnoen Saduak floating market I mentioned above.
17. Wat Arun
Wat Arun (below) also known as the Temple of Dawn is located on the west bank of the Chao Phraya River directly opposite Wat Pho. Shuttle boats will take you across the river for only about 5 baht.
A tip is to visit Wat Arun in the early evening and go back across the river to wait for sunset when the whole temple lights up.
You can have a drink at the perfectly situated Arun Residence bar while you wait or check into one of their beautifully decorated rooms as we did for a night or two night. Check out the view from our balcony below.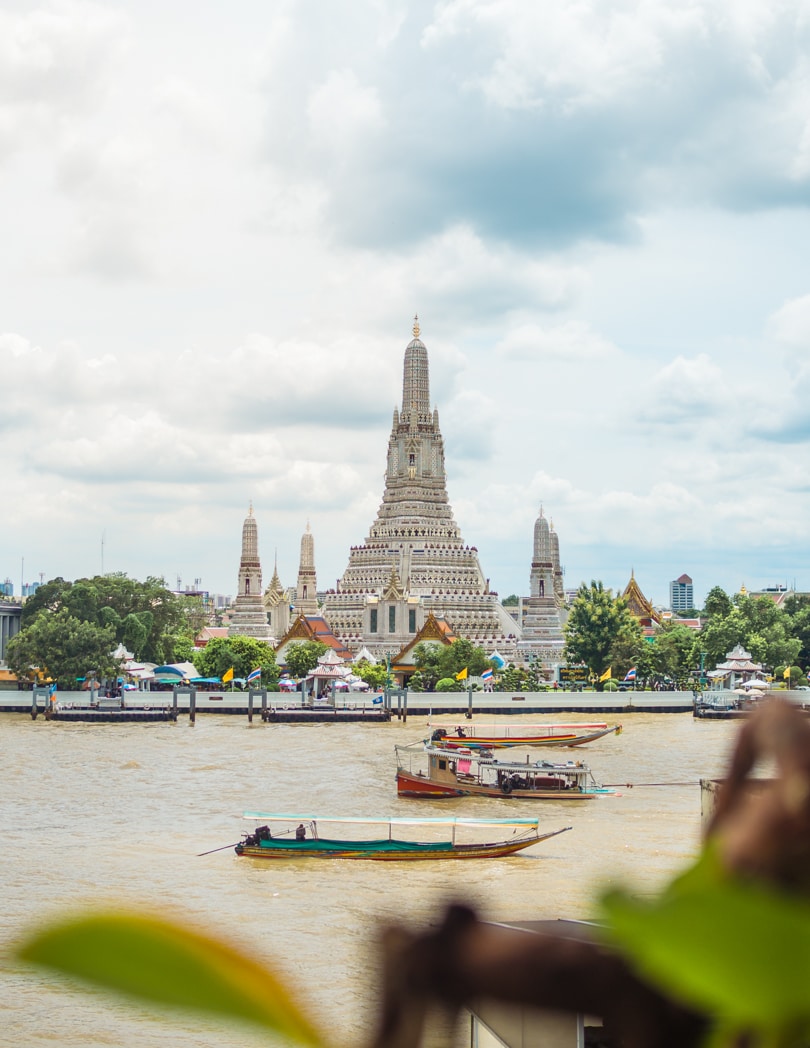 18. Cooking class
Thai food is one of my favorite cuisines in the world and I'm sure I'm not alone. So why not learn to make it at home? This cooking class will teach you how to prepare traditional dishes using ingredients you've gathered from a nearby market.
Ride a Tuk Tuk from the produce market to the immaculate teaching kitchen, where you'll spend the 4-hour class cooking a multi-course feast.
19. Lumpini Park
Lumpini Park is an urban oasis, one of the city's largest parks located right in the middle of central Bangkok. Besides being the perfect place for a picnic and a great escape from the city chaos and heat, there are also free aerobic classes held around sunset and jogging and bicycle paths.
You can also rent paddleboats to head out on the lake which is in the center of the park.
20. Go shopping
Shopping was one of the things I had been looking forward to most as we don't have stores like Forever 21 and Brandy Melville in Norway. And it did not disappoint! Two of my favorite shopping malls in Bangkok are Central Worlds and Siam Center, both within walking distance of the Courtyard by Marriott Hotel.
Enhance your shopping experience in Bangkok with a private driver and an air-conditioned car. This customized tour allows you to visit the shops and malls of your choice.
Bangkok is a vast city so if you can't decide on where to stay, check out this awesome post for an overview of all the best places to stay in Bangkok for every type of traveler.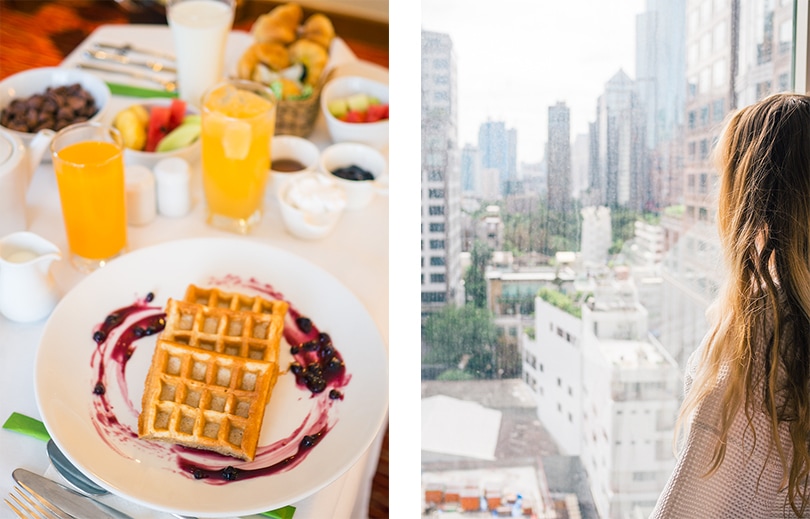 Where to stay in Bangkok
My mom and I visited Thailand in late August, which is in the middle of rainy season. But we got super lucky and only had one rainy day out of the ten we were there.
For the first leg of the trip, we stayed three nights at the gorgeous Courtyard by Marriott Hotel. I usually wouldn't splurge on a hotel like that, but I wanted to treat my mom since it was her first time in Asia. I used Agoda and got an insane deal on the Grand Deluxe corner room for only $110 a night.
The hotel is located right in the center of Bangkok's shopping district where you have several huge malls right on your doorstep. But the best part is the incredible breakfast buffet which offers every breakfast dish you could possibly think of. Yum! A dream for a foodie like me.
Our last two nights in Bangkok we spent in the unique boutique hotel Arun Residence, located directly across the river from the mighty Wat Arun. We enjoyed cocktails on the terrace while marveling at the spectacular view. You have to check it out!
A great budget option is the highly-rated Noursabah Boutique Bed-Bangkok.
Popular Thailand guides
---
Remember to pin for later 😀