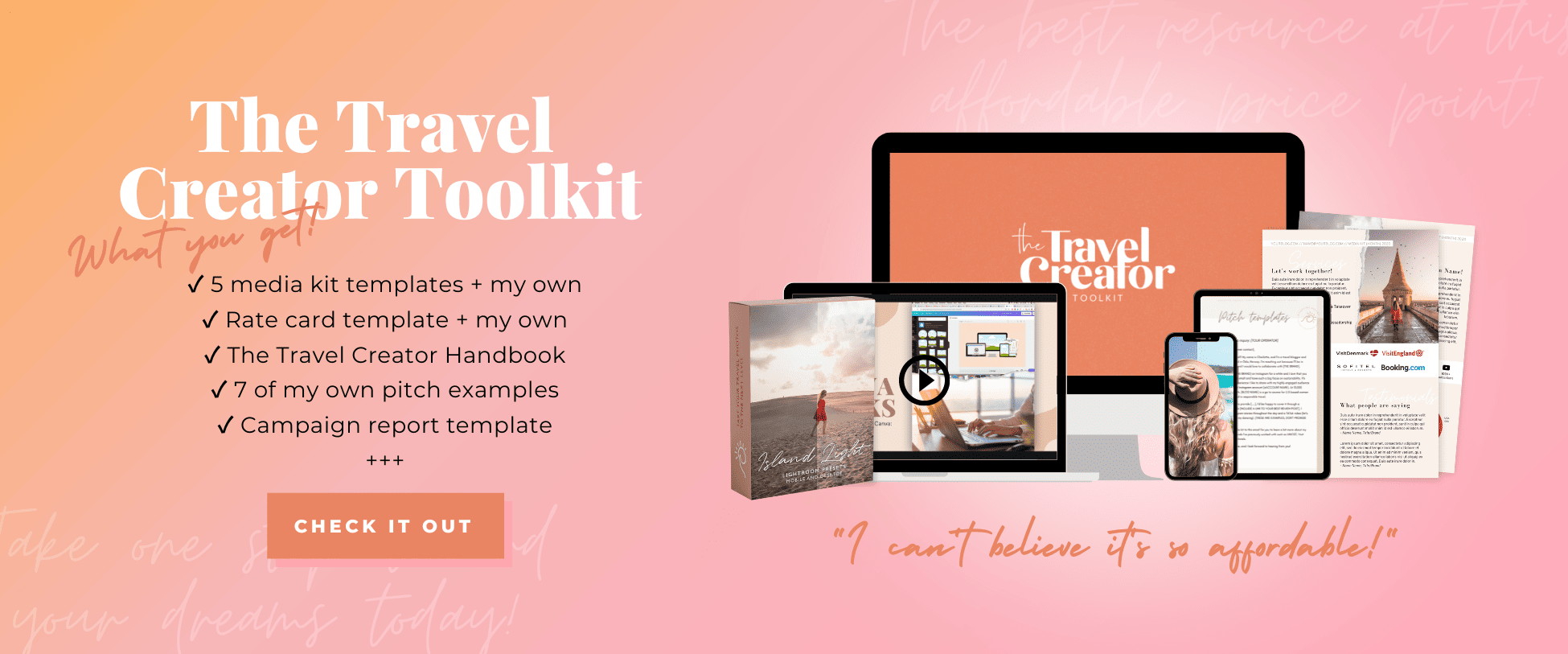 This post may contain affiliate links. I will earn a small commission if you purchase through them, at no extra cost to you.
Mojácar, located in Almeria on the southeast coast of Andalucía in Spain, consists of two distinctly different areas, just two kilometers apart. Mojácar Pueblo, one of Spain's most beautiful white villages (also known as Pueblos Blancos) nestled in the Sierra Cabrera hills, and Mojácar Playa, a contemporary beach resort.
Mojácar Pueblo has been inhabited since around 2000 BC by several different groups, including the Greeks and Romans, however, the North African Moors were the ones to leave a lasting mark and helped the town flourish. It has been the site of everything from pirate attacks to severe droughts, and traces of this rich history can still be seen throughout the windy cobblestone streets and white-washed houses.
In contrast to the historic Old Town, the urbanized area of Mojácar Playa is home to several sandy beaches, bars and shops. It is a popular vacation destination amongst Spanish tourists and there are lots of fun water sports to take part in. But for now, let's take a closer look at the beautiful Mojácar Pueblo.
🌟 Remember to always get insurance before you travel to Spain or anywhere else. SafetyWing is an affordable subscription travel insurance that you can purchase even after departure. Read my complete SafetyWing review here.
How to get to Mojácar Pueblo
The nearest airport to Mojácar is around an hour's drive away in Almeria. The fastest way to reach Mojácar from Almeria is by rental car but there are bus and shuttle services available as well, they just may take longer due to multiple stops.
Mojácar makes for an excellent day trip if you plan on exploring Spain's southeastern coast. It is small enough that you will be able to experience most of its popular attractions and landscapes within a short time frame.
If you are traveling by car, it is best to find a parking lot to park at for the day and to navigate Mojácar Pueblo on foot. While there are driveable roads within Mojácar Pueblo, they tend to be narrow and busy with pedestrians, therefore for peace of mind, it's recommended to park at one of the free parking lots on the outskirts of the Old Town. Just search for "free parking Mojacar" on Google Maps and you'll find the large gravel lot we parked at.
🚘 You can check price & availability here >> Murcia rental cars
Mojácar Pueblo Tour from Almeria
Limited on time? Join a guided tour to get the most out of your day! Discover the untouched nature of Cabo de Gata Natural Park and visit Mojácar Pueblo on this full-day guided tour departing from Almeria.
Marvel at the majestic cliffs and unique rock formations at Mermaids Riff, explore Playa de los Muertos, considered one of the most beautiful beaches in Spain, and learn about the history of Andalucia. It's a tour you don't want to miss!
🎫 Mojácar Pueblo Tour >> Learn more and book here
Andalucia white villages tours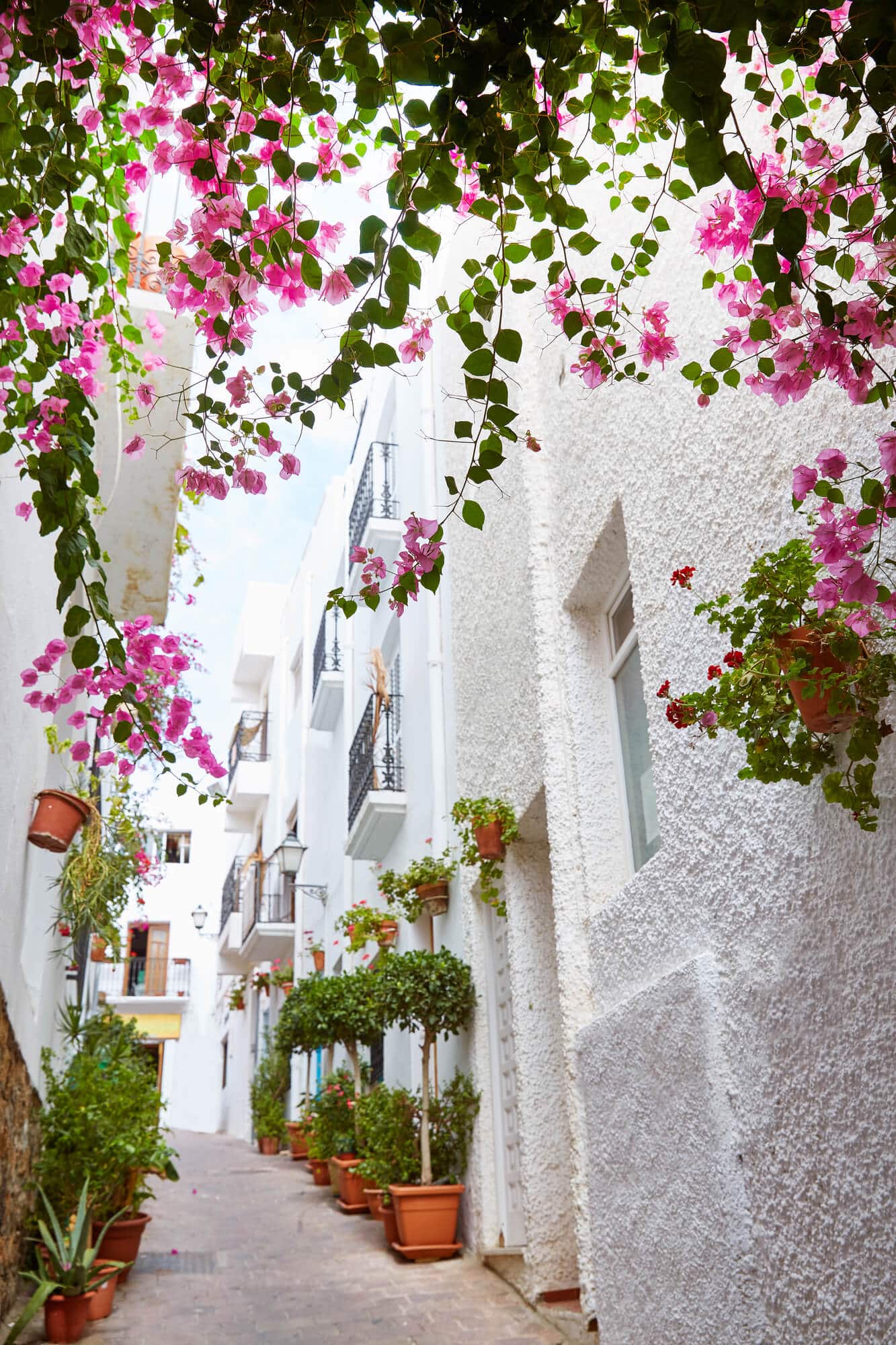 Best time to visit Mojácar Pueblo
The best time to visit Mojácar Pueblo (and the rest of southern Spain) is in May/June and October.
Mojácar Pueblo experiences a Mediterranean climate year-round, meaning dry summers with wet and mild winters.
If you love to soak up the sun, then the ultimate time to visit Mojácar is during the summer or late fall. During these months you can expect up to 13 hours of sunshine per day and temperatures as high as 40°C. The only downfall to visiting during the summer is of course its peak tourism season, which means lots of crowds and high accommodation prices.
If you're not a fan of the heat, Mojácar Pueblo is cooler in the wintertime, with highs of 18°C and minimal crowds.
Must read >> Discover Spain's stunning pink lake – Laguna Salada de Torrevieja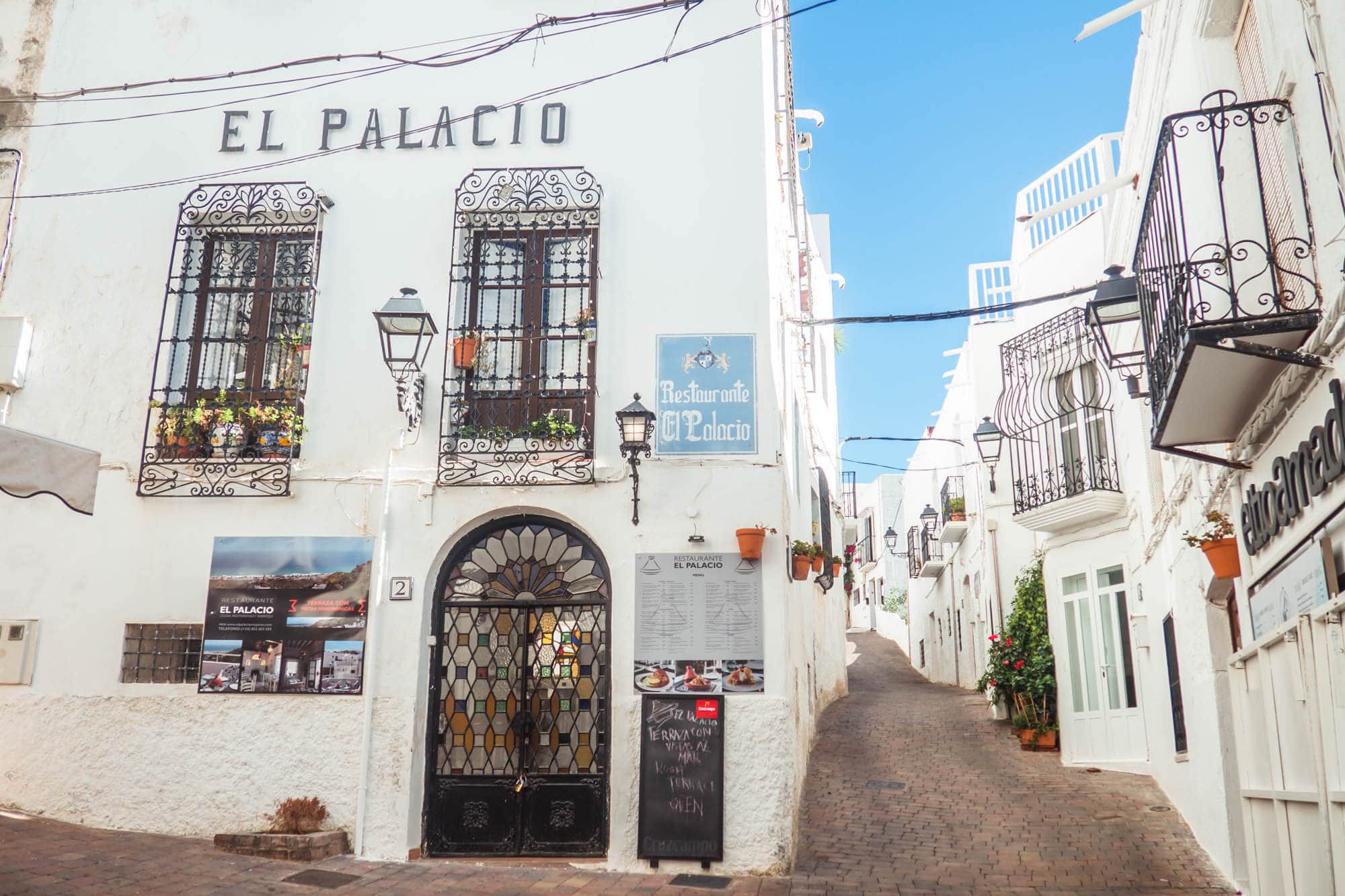 Top things to do in Mojácar Pueblo
Mojácar Pueblo is the perfect little town to wander around with lots to see and do. It really is a must on any Spain Bucket List. As you make your way through the maze-like streets, be prepared to be in awe of the colorful and intricately detailed tiles that line doorframes, along with flowering vines that drape delicately from the buildings.
Plaza Nueva
At the center of Mojácar Pueblo, you will find the Plaza Nueva, a small elevated square that boasts gorgeous views of surrounding hills and plains. It makes for a great photo opportunity and there are also several shops and cafés where you can sit down and enjoy a cold drink.
Town Hall Square
Another plaza worth mentioning is the quaint Town Hall Square. It is mostly known for the old large tree, Fiscus Benjamin, that was brought to Mojácar by an American immigrant. The floor of the hall is decorated with beautiful Indalo mosaic and a couple of cafés serve up refreshments.
Fuente Mora
One of the town's most famous landmarks is the Fuente Mora, a Moorish fountain, also called the Fuente de los Trece Caños (Fountain of the dozen spouts). This natural spring water fountain was where for centuries women would go to wash their clothes. Nowadays, it's primarily a tourist attraction and its water is used for drinking and watering plants.
El Mirador del Castillo
If you don't mind a bit of a climb, you won't want to miss walking up to the El Mirador del Castillo, a lovely guesthouse that was built on the ruins of a sixteenth-century castle. The property overlooks the Old Town and offers stunning views, especially at sunset.
It is a quick 4-minute walk from Plaza Nueva and even if you aren't a guest of El Mirador del Castillo, you can still enjoy a refreshing drink or snack at their cozy café bar.
Iglesia De Santa María
For a different experience, make a stop at Iglesia De Santa María, a small but beautiful fortress-style Catholic Church that was built at the end of the sixteenth century over the remains of a mosque. It features a collection of religious artwork, including an incredibly vibrant mural.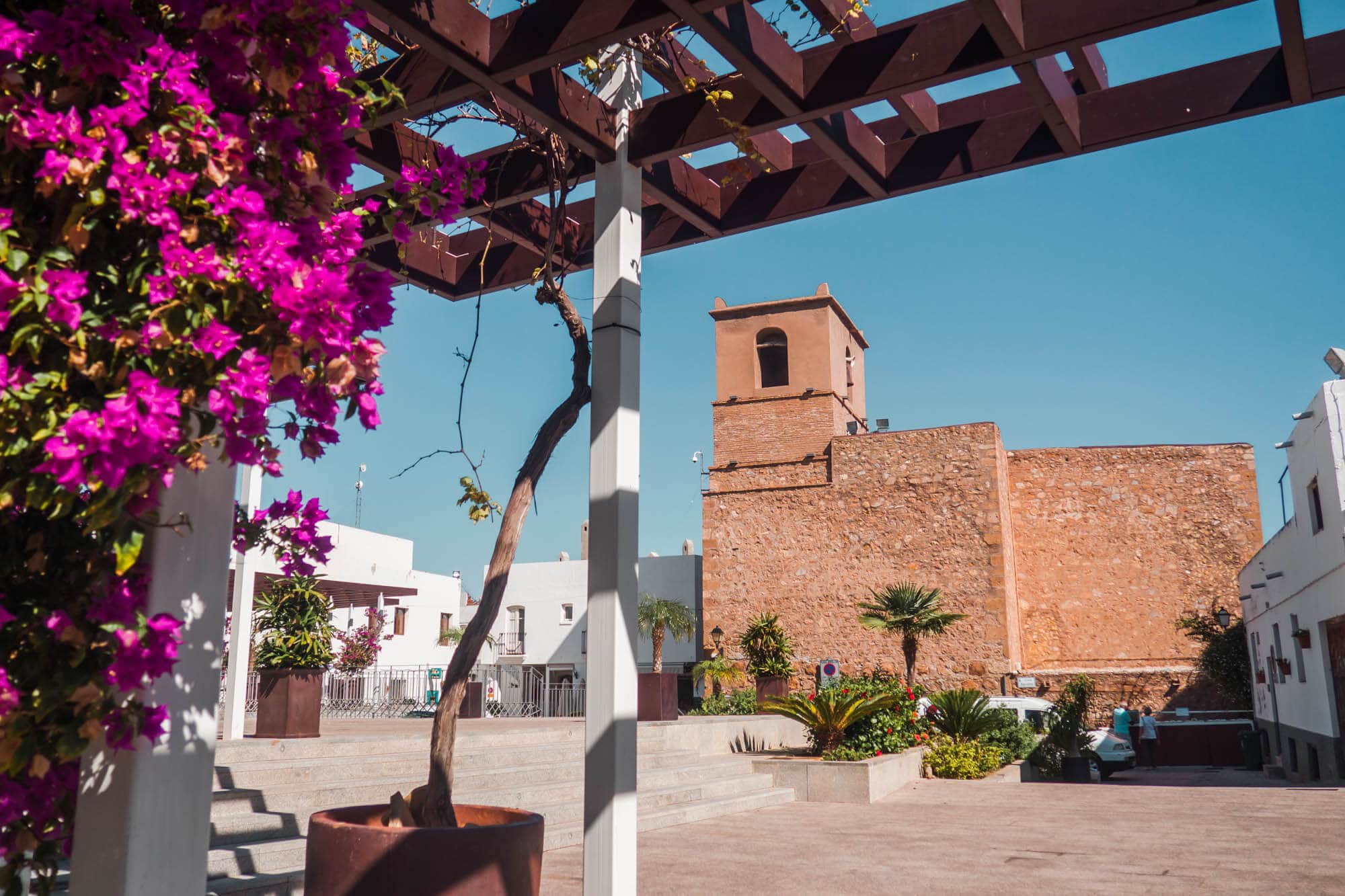 Statue of Mojaquera
Outside in the church square, stands the iconic white marble Statue of Mojaquera, which depicts a woman dressed in traditional attire, holding an Arab scarf with her teeth as she carries a water vessel. Due to the small size of Iglesia De Santa María, you won't have to spend much time here, and it can easily fit into a busy schedule.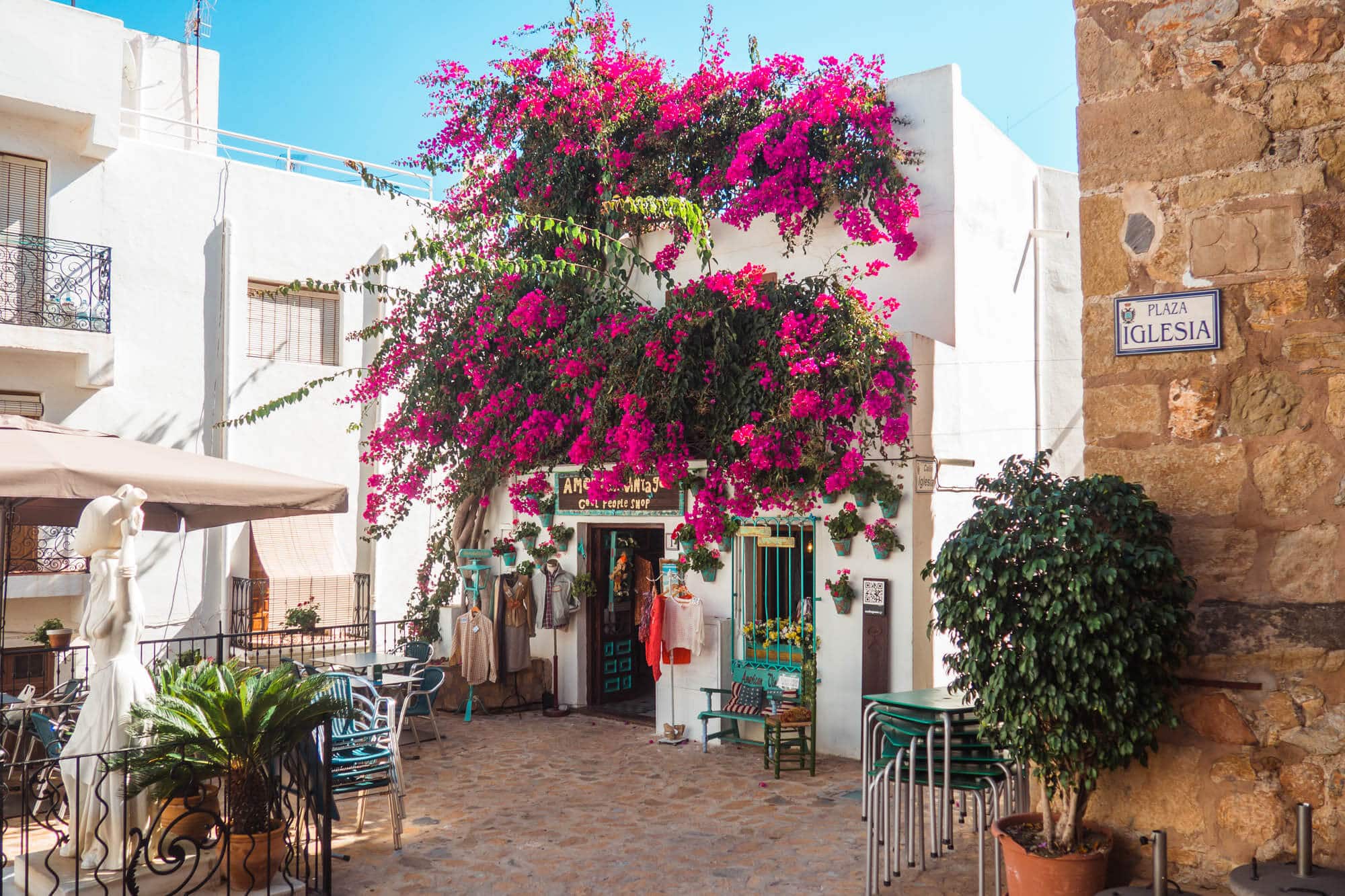 The most beautiful street corner in Spain
I had never heard of Mojácar before this trip and I actually discovered it by accident while researching something completely different. It was a photo of the street corner below that caught my attention. I bet you can see why!
The rest of that day was spent on Google Maps trying to locate this exact spot. It wasn't easy but after going through almost all the streets in Mojácar, I finally found it. I wish I was that determined in general, not only when it comes to finding Instagram photo locations.
It turns out the house, which dates back to the 18th century, is called El Torreón and used to be a toll house where taxes were collected. Today the quaint white building, adorned by Bougainvillea and Hibiscus flowers, has been turned into a guest house. Just search for Pension El Torreon on Google maps for the exact location.
Read next >> Region of Murcia Spain: 17 awesome things to see and do
Mojácar Pueblo Accommodation
You can easily see most of what Mojácar Pueblo has to offer in a day. However, if you would like to spend some more time in one of the most beautiful white villages in Andalucía, here are a few affordable accommodation options.
Hostal Arco Plaza
Overlooking Plaza Nueva, Hostal Arco Plaza, is a great budget option for those who like to be in the midst of things with bars and restaurants on your doorstep. Featuring traditional rustic-style décor, the rooms at the Arco Plaza come with a flat-screen TV and en-suite bathrooms. Most of the rooms are exterior-facing with views of the vast valley below.
El Mirador del Castillo
The traditionally decorated El Mirador del Castillo is located at the highest point in the village, boasting 360-degree views (as I mentioned above). This air-conditioned house has 5 bedrooms and 5 bathrooms with a bath or shower. Other features include a bar, a shared terrace, an outdoor swimming pool and barbecue facilities.
Hostal El Olivar
Hostal El Olivar, set in front of Arbollón Square, is one of the most modern accommodation options in Mojácar. Each air-conditioned room comes with a mini-fridge, TV, a private bathroom, free Wi-Fi and tea/coffee facilities. A homemade breakfast consisting of pastries, toast and fruit juices is included in the price. The guesthouse also features a sun terrace with hammocks, a cafeteria and a lounge, as well as a Finnish sauna.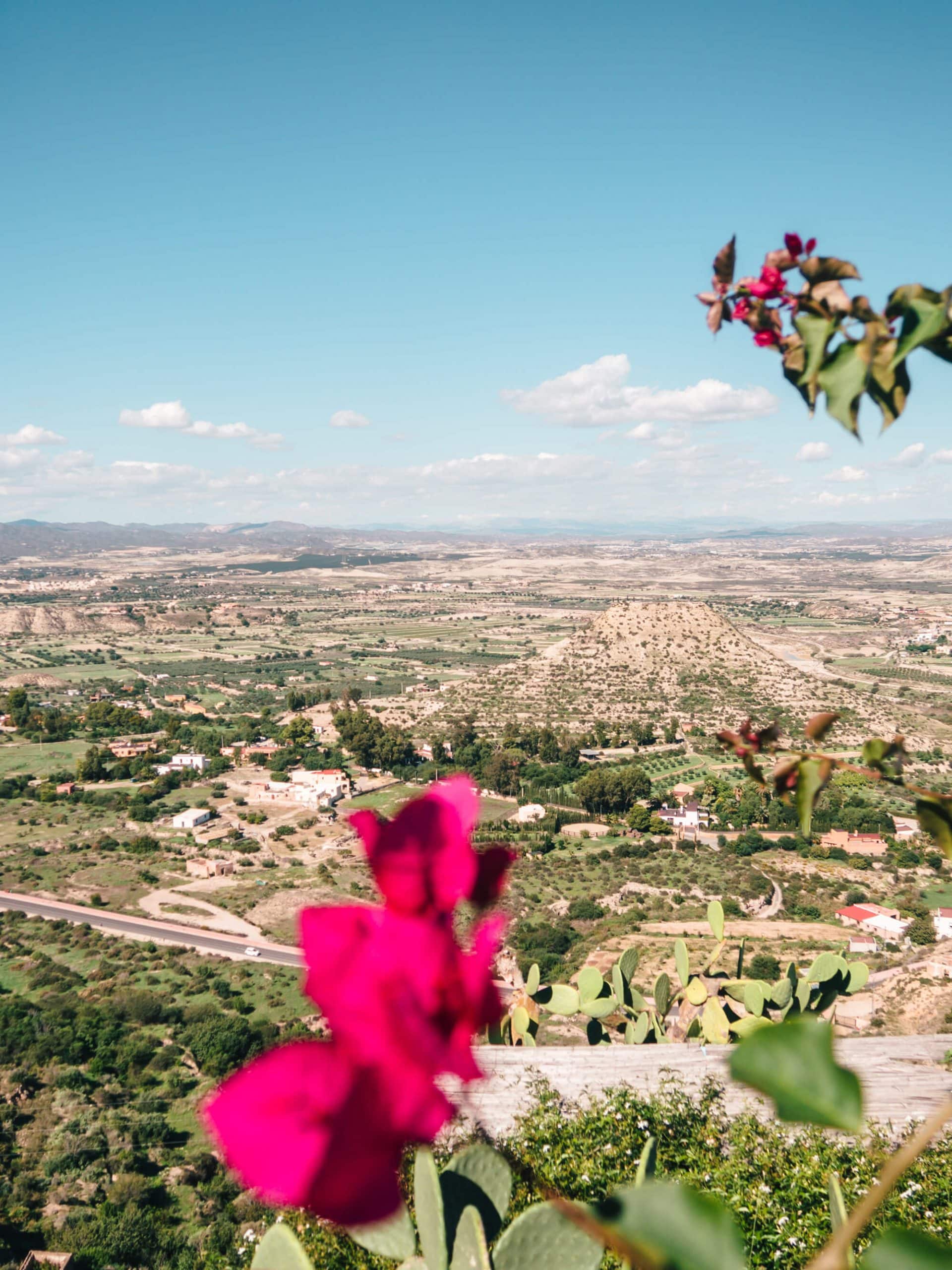 Best restaurants in Mojácar Pueblo
While it would be fair to assume that Mojácar cuisine would mostly consist of seafood, as it is on the coast, this is not the case. Although there is lots of fresh seafood available, including the popular cuttlefish in salsa and grilled squid, Mojácar offers a more diverse palate. Its cuisine mixes a variety of flavors that include Arabic and Spanish influences, thanks to its history, allowing for a wide range of dishes.
Calima
For lunch, consider enjoying a meal at Calima, where they serve a selection of Middle Eastern and African fare. With an emphasis on vegetables and exotic spices, you can rest assured that your meal will have an authentic taste that reflects the cultures it was inspired by. Restaurante Calima is located across the street from a quaint plaza and is known for its excellent service.
Ristorante Pizzeria Napoli
Alternatively, if you're in the mood for Italian, I can highly recommend Ristorante Pizzeria Napoli. Located on the edge of town, literally on the wall, the views from their balcony are spectacular. We shot the two photos above right next to the restaurant.
Arlequino
To finish off your day of exploring Mojácar Pueblo, sit down for a relaxing dinner at the boho Moroccan-inspired Arlequino. This restaurant is tucked away but has an amazing menu with dishes like roasted beef and tuna tataki.
The large terrace with spectacular views provides a magical ambiance as you take in the surroundings while sipping on a glass of wine. Restaurante Arelquino is one of the most popular dining establishments in the Old Town, therefore it's recommended to book a table in advance.
FAQs: Mojácar Pueblo
What is Mojácar Pueblo?
Mojácar Pueblo is a charming hilltop village located in the province of Almería, in the southeast of Spain. It is known for its whitewashed houses, narrow streets, and stunning views of the Mediterranean Sea.
Is there anything to see in Mojácar Pueblo?
Yes, there are several attractions in Mojácar Pueblo, including the Church of Santa Maria, the Mirador Plaza Nueva, and the Casa Museo del Poeta Antonio Torres.
How do I get to Mojácar Pueblo?
The easiest way to get to Mojácar Pueblo is by car. However, there are also buses that run from nearby cities such as Almería and Murcia.
Is it possible to stay in Mojácar Pueblo?
Yes, there are several hotels and guesthouses in Mojácar Pueblo, as well as vacation rentals and apartments. Take a look at my recommendations for accommodation in Mojácar Pueblo above.
What is the historic significance of Mojácar Pueblo?
Mojácar Pueblo has a rich history that dates back to the Bronze Age. The village was once a thriving center of trade and commerce, and it played a significant role in the region's history.
During the 15th and 16th centuries, the village was under Moorish rule, and it was an important stronghold for the Moors during the Reconquista. The village was eventually conquered by the Catholic Monarchs in 1488, and it became part of the Kingdom of Spain.
Popular Spain travel guides
---
I hope this guide has inspired you to visit Mojácar Pueblo!
Remember to pin for later 😉