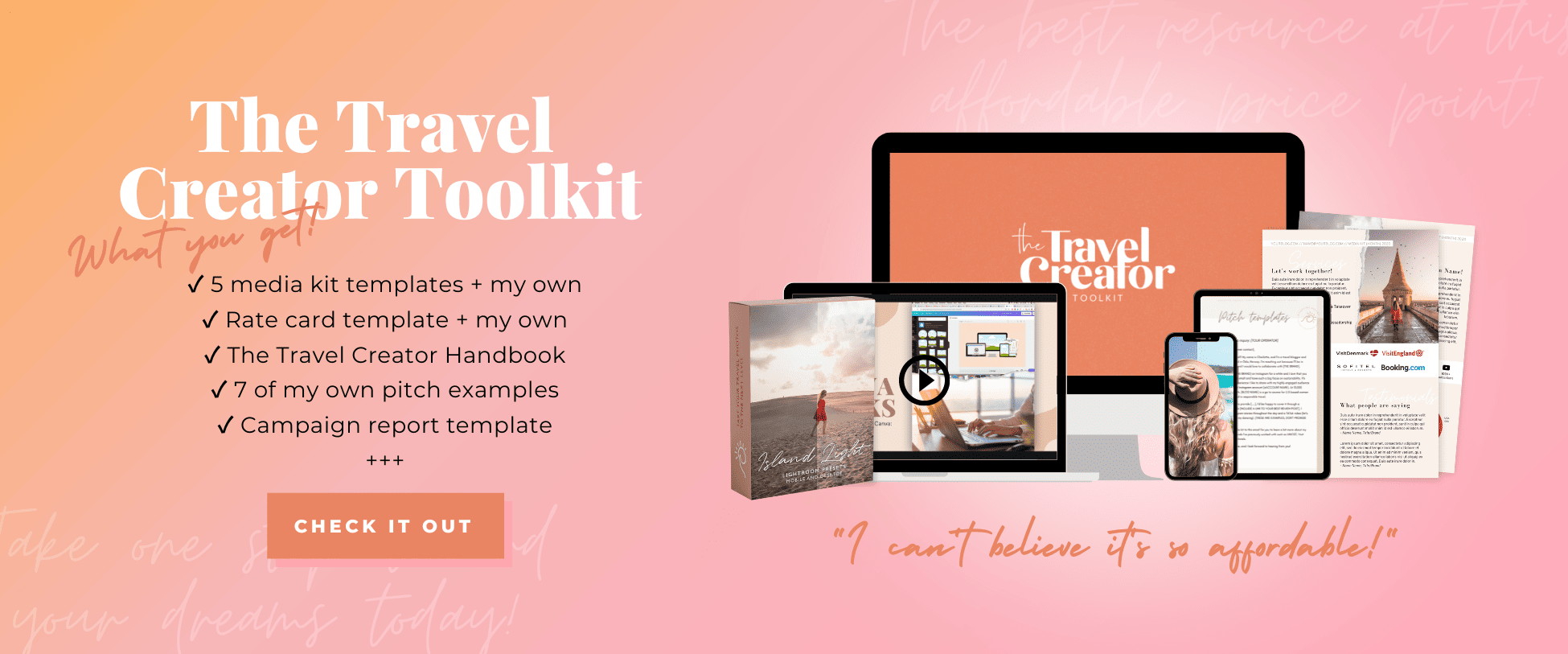 This post may contain affiliate links. I will earn a small commission if you purchase through them, at no extra cost to you.
LOOKING TO VISIT MORITZBURG CASTLE ON A DAY TRIP FROM DRESDEN? Then you're in the right place!
Nestled in the heart of the picturesque Saxony countryside, Moritzburg Castle is a stunning Baroque palace that is a must-visit destination for anyone traveling to Dresden.
This magnificent castle, which was built in the 18th century, has been the backdrop for several movies, including the beloved classic, Three Wishes for Cinderella.
A day trip to Moritzburg Castle from Dresden is the perfect way to escape the hustle and bustle of the city and immerse yourself in the beauty and history of this enchanting palace.
In this post, we will take a closer look at what makes Moritzburg Castle such a special place to visit, how to get there and what to expect.
🌟 Remember to always get insurance before you travel to Germany or anywhere else. SafetyWing is an affordable subscription travel insurance that you can purchase even after departure. Read my complete SafetyWing review here.
Once upon a time, there was a little girl in a small town in Norway that loved Christmas. She would dream for months about decorations, food, treats and all the gifts she would give and receive. But most of all she was looking forward to watching Cinderella get her prince on tv, Christmas morning.
So the build-up to this trip started over 15 years ago with the 1973 Czech/German movie, "Three Hazelnuts for Cinderella" also known as "Three Wishes for Cinderella" and "Tre Nøtter til Askepott" in Norwegian.
In Norway and several other European countries, watching this movie on Christmas morning has become an important holiday tradition. Even though my fantasy future home has changed from a castle to a beach shack since then, I'm still pretty obsessed with the movie. It doesn't feel like Christmas without it!
Fast forward 15 years to my boyfriend and I's six-year anniversary. He promised me a surprise and we had been talking about visiting the castle from the movie for years, so I secretly hoped it was finally going to happen. We were living in Kraków at the time and got a rental car delivered to our door in the morning.
Luckily for me, Ulrik is not good at keeping secrets so after asking once where we were headed it was written all over his face. We were going to Cinderella's castle!
Visiting Moritzburg Castle from Dresden
Five hours and a romantic stop at McDonald's later, we arrived in Dresden, Germany. Wow, what a beautiful city spilling with history and architectural treasures! The Dresden skyline is one of the most memorable ones I've ever seen. Unfortunately, we only had that one night to explore, so I will definitely have to go back soon!
Ulrik went all out on this trip and booked us in at Pullman Dresden Newa Hotel. Our room had floor-to-ceiling windows looking straight down at the Christmas market. It couldn't have been more perfect.
I'm a sucker for a good Christmas market! The smell of burnt sugar, cinnamon and pine trees, the twinkling lights and shiny ornaments and all the delicious holiday treats. What's not to love?
I ended up spending €70 on Belgian chocolate shaped like a hammer, screwdriver and screws for my father and grandfather. Haha, what can I say, I get overly excited about Christmas.
For a more affordable hotel option right next door to the Pullman, check out Ibis Dresden Zentrum. I always use booking.com when booking accommodation in Europe. They have such a great selection of different properties and there's often some sort of discount code available.
How to get to Moritzburg Castle
Moritzburg Castle is the perfect day trip from Berlin or Dresden, located respectively just 2 hours and 30 minutes away.
Having a car made the trip to Moritzburg Castle from Dresden super smooth, and conveniently there is a large parking lot right outside the castle entrance. I always rent cars through DisocverCars, a comparison site that covers more than 10,000 locations worldwide.
🚘 Check price and availability here >> Rental cars in Germany
By bus or train
But you can also get to Moritzburg by public transport. Take the tram to Dresden Neustadt Station, then bus line 477 towards Radeburg.
Catching the Lößnitzgrundbahn steam train which runs from Radebeul to Radeburg via Moritzburg, is also a great way to make the trip out from Dresden an experience in itself. The train passes through an idyllic woodland and pond landscape, past rolling hills and vineyards before making a stop at Moritzburg Station.
Find the timetable and ticket information for the Dresden Steam Train here. From Moritzburg Station head towards the main street, named Schloßallee, which runs through the town center, directly to the castle gates.
Popular Moritzburg Tours
What to expect at Moritzburg Castle
Moritzburg Castle or Schloss Moritzburg is a Baroque palace in the German state of Saxony. It was originally built as a hunting lodge back in 1542 but has been added to and remodeled extensively over the years.
Today the yellow and orange/red castle with over 200 rooms, stands majestically within a manicured garden on a rectangular artificial island. We visited in late November so I can only imagine how beautiful the grounds are during summer when everything is lushly green. If you don't get enough of the castle experience during the day, you can stay the night in one of the little yellow houses in the garden.
The year we decided to visit was, of course, the year Moritzburg chose to take a break from the Cinderella exhibition. Haha so typical my luck.
Pro tip: Explore Moritzburg on this Scavenger Hunt Self-Guided Walking Tour!
About 2 km from the Castle entrance you'll find Wildgehege Moritzburg, a gaming reserve/zoo, home to a number of forest-dwelling animals that would be hard to spot in the wild.
The over 30 different species of animals include owls, lynx, wolves, deer, elk and many more. You can purchase grains for feeding the animals from the ticket booth which would be a fun experience for children and grown-ups alike. A raised wooden pavilion allows visitors to view the wolf enclosures from above.
Unfortunately, this was before I got interested in photography, so all these photos were shot with my old phone. But I wanted to share this trip with you anyway, as it is one of my favorite travel memories to date. You don't always have to travel far, go far or somewhere exotic to have an awesome time!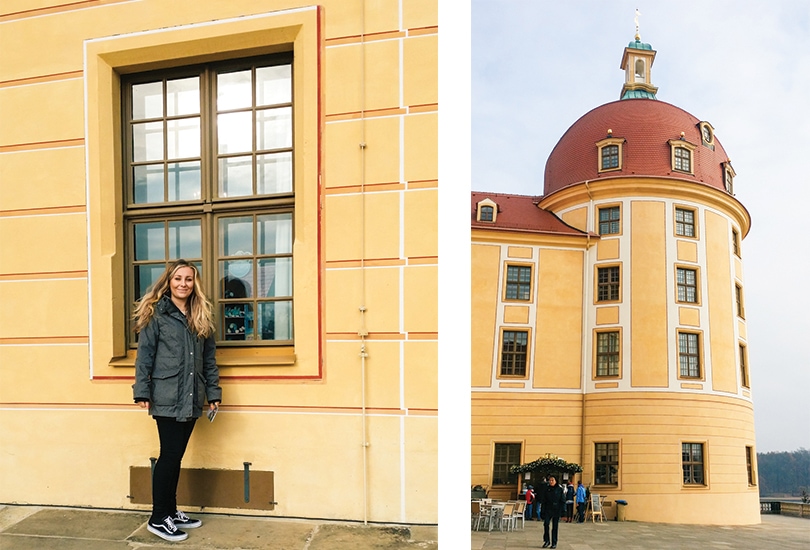 Here I am slightly excited after looking in the same window Cinderella did in the movie during the ball. Unfortunately, these days there is a gift shop inside and no prince dancing in tights.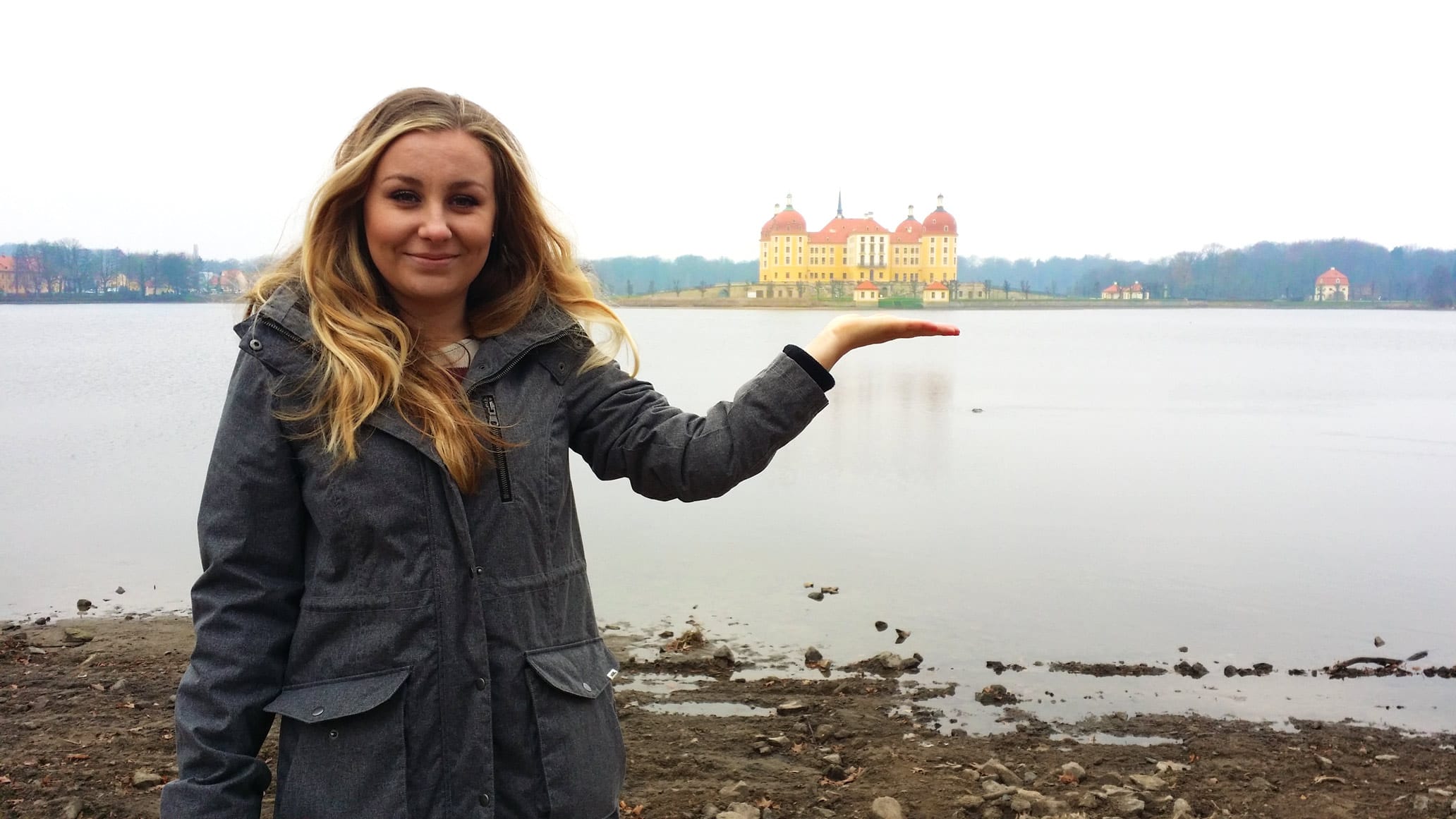 ---
Remember to pin this 😀