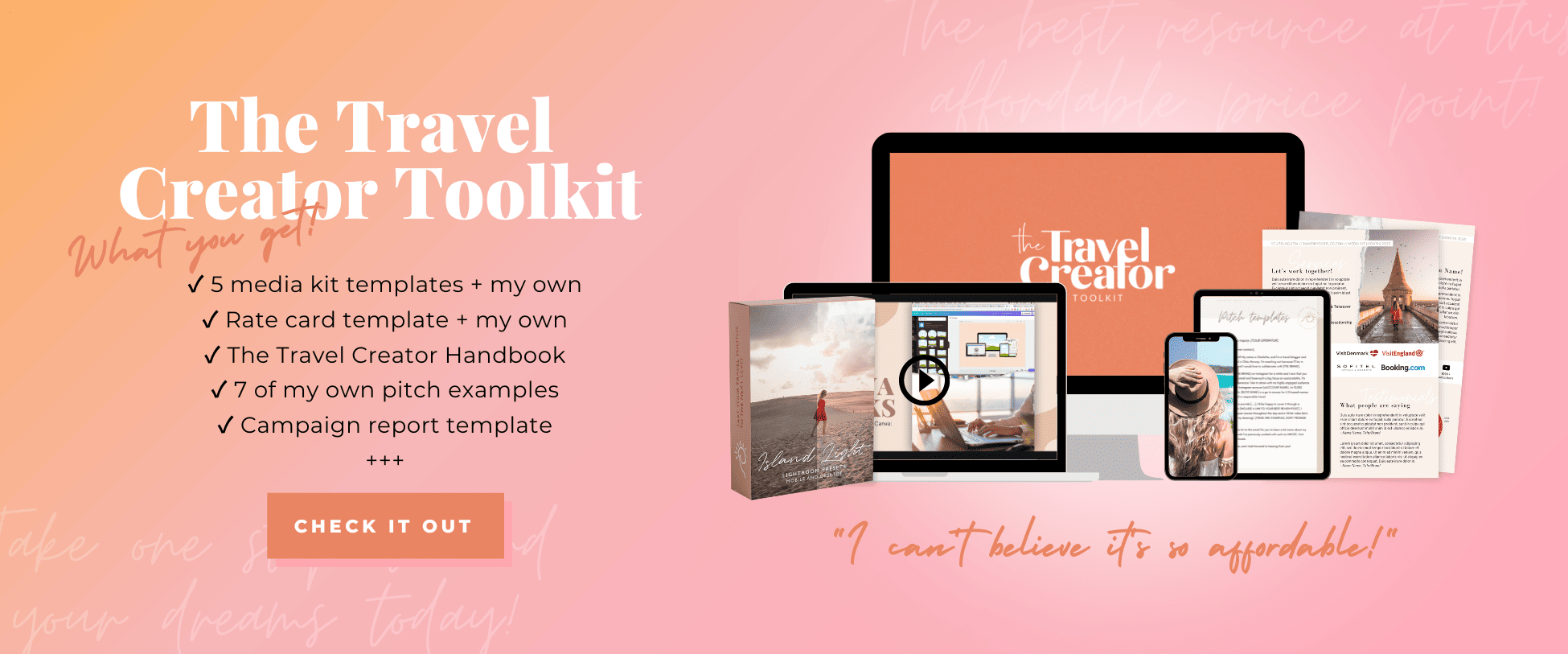 This post contains affiliate links. I will earn a small commission if you purchase through them, at no extra cost to you.
I'm constantly dreaming of new and exotic places to visit far, far away. So I sometimes forget how lucky I am to be Norwegian and that I'm able to call a place like this home. Every time I get out and explore Norway I'm amazed by how incredibly beautiful this country is!
Norway is best known for its dramatic fjords, mountains, the Northern Lights and winter sports. But Norway has much more to offer and that's why I decided to put together this list of the best things to do in Norway.
Whether you're looking for ideas for your first visit to Norway or you live here and want to experience something new this summer, I hope this article will inspire you to create your own Norway bucket list!
🌟 Remember to always get insurance before you travel to Bali or anywhere else. SafetyWing is an affordable subscription travel insurance that you can purchase even after departure. Read my complete SafetyWing review here.
Top things to do in Norway:
General
1. Camp in the wild. Norway's freedom to roam law (allemannsretten) gives you the right to hike and camp on uncultivated land as long as you leave no trace. Your tent has to be at least 150 meters from the landowner's house or cabin. If you want to camp in the same place for more than 2 days, you have to get permission from the landowner. This does not apply when you camp in the mountains and remote areas.
‍
2. A holiday at the hytte (cabin) is a part of the Norwegian national soul. On the weekends and school holidays, many people flock to the forests, mountains, sea or lakes for some relaxing family time. These days many cabins are as modern as our houses, but for a truly Norwegian experience, spend the night in a traditional hytte with an utedo (outhouse).
3. Pick up a disposable or portable grill and some hotdogs and grill in a park or at the beach (as long as there isn't a fire ban).
4. Join a vors or nach. Alcohol is so expensive at the bars and clubs in Norway that we do most of our drinking at pre and after-parties. And for some reason, we decided to adopt the German words vorspiel and nachspiel.
5. Go hiking in the rain. We have a popular saying here in Norway; there's no such thing as bad weather, only bad clothing. (I don't completely agree, but it's a very Norwegian thing to do.)
6. Taste brunost, fårikål, sour cream porridge and licorice. I know you get licorice many places in the world, but we Norwegians love our licorice. Both sweet and salty. And the same goes for waffles. Be sure to try my favorite, a traditional Norwegian waffle shaped like hearts.
7. For a different culinary experience, pop over to Sweden for some cheap grocery shopping. Everything is so expensive in Norway that we often stock up on meat, candy, soda and alcohol in Sweden.
Read next >> 50+ popular Instagram hashtags & feature accounts for travel in Norway
Agder bucket list
8. Hike to the Instagrammable Brufjellhålene at the foot of Brufjell. Be careful though, the path is very steep.
9. Spend a day at Dyreparken in Kristiansand, a zoo and amusement park home to over 100 species of animals from around the world.
10. Enjoy an 18-course tasting menu at Under, an underwater restaurant awarded its first Michelin star this year.
11. Are you interested in geology or maybe just obsessed with crystals like I am? Then you should visit Mineralparken på Evje, a mineral park with activities for the whole family. You'll also find Norway's largest rock shop there.
12. Visit Risør, one of the best-preserved wooden towns in Europe, and walk the nature trail from the city center out to Randvik.
13. Explore Norway's largest rainforest at Den Lille Dyrehage, the little zoo, in Gjerstad.
14. Visit Lindesnes Fyr, a beautiful lighthouse standing on the southernmost tip of Norway.
15. Sit down for a fresh seafood dinner at Fiskebrygga in Kristiansand and a concert if you're there on a Tuesday during the summer months.
16. Spend an active day at Høyt og Lavt Kristiansand, a climbing park boasting more than 122 obstacles in the treetops.
17. Go see a concert, theatre or opera in Kilden Performing Arts Center, one of the coolest buildings in the country.
18. Visit Aquarama Bad, a waterpark situated on the city beach in Kristiansand. They even have a wave where you can try to surf.
19. Take the ferry to Merdø, a car-free island just outside Arendal that is super popular among the locals during the summer months.
20. Spend the night in a super fun cocoon-tent at Canvas Hove, located in Raet National Park.
21. Join a rail biking tour on the Flekkefjord railway line.
You might also like: Subscription travel insurance for long-term travel and digital nomads
Innlandet bucket list
22. Climb Norway's highest mountain, Galdhøpiggen. Standing tall at 2469 meters above sea level, it is also the highest peak in Scandinavia and northern Europe.
23. Go white-water rafting between idyllic farms and lush fields at the Sjoa River.
24. Step back in time at Maihaugen, an open-air museum boasting more than 200 houses dating as far back as the 12th century, including the Garmo stave church.
25. Get close to nature and wildlife in the 12-meter-high Espedalen moose observation tower. You can even spend the night there!
26. Visit Lillehammer Art Museum, which houses a collection consisting of around 1400 works by Norwegian artists dating from the 1800s up until today.
27. Ride down Lillehammer's Olympic bobsled track, if you dare.
28. and stop by the Norwegian Olympic Museum where you can travel through years of Olympic Games history.
29. Go ice skating in Gjøvik Olympic Cavern Hall, the world's largest subterranean auditorium built 120 meters underground.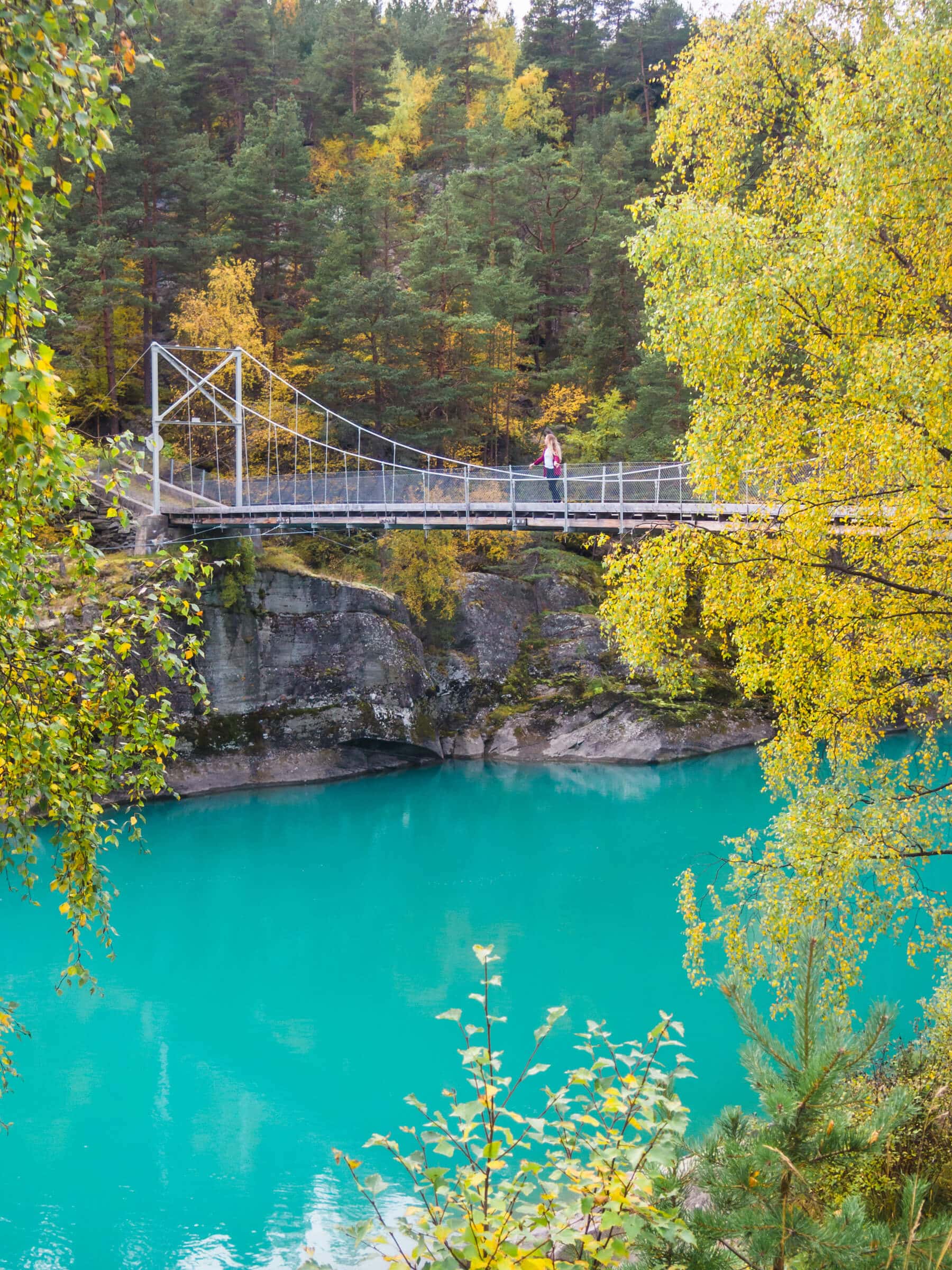 30. Marvel at the turquoise Finna river from Neset Bridge (Neset bru on Google maps)
31. Stop by Hunderfossen Eventyrpark, an amusement park where Norwegian fairytales come to life.
32. Explore the idyllic Gudbrandsdalen Valley, rich in cultural history and local food traditions. Maybe the most Norwegian place in the country (it will make sense when you get there).
33. Visit the idyllic village of Ringebu home to Ringebu Stave Church with its distinctive red spire.
34. Stay the night in one of Norway's oldest wooden hotels, Sygard Grytting, which has been owned by the same family for over 700 years.
35. Hike to the top of Rondeslottet, the highest peak in Norway's oldest national park, Rondane.
36. Have fun in the snow at Hafjell or Kvitfjell, two of Norway's most popular ski resorts.
37. Go see the beautiful glass cathedral built over the ruins of the old Hamar Cathedral and explore the rest of Domkirkeodden.
38. Take a photo with the world's largest moose on route 3 between Oslo and Trondheim.
39. Learn about astronomy at the largest astronomical facility in Northern Europe, Harestua Solar Observatory.
Check out these popular tours!
---
Møre and Romsdal bucket list
40. Go for a stroll and enjoy the gorgeous Art Nouveau architecture in Ålesund.
41. Spend Sankthans (June 23rd) in Ålesund where they celebrate Midsummer with the world's largest (or tallest) bonfire.
42. Visit Åndalsnes and hike up to Rampestreken viewpoint, 537 meters above sea level. I know I say "most beautiful" a lot but this view truly is one of the most spectacular in the country.
43. Or if you want an even more strenuous activity you can hike the 10-kilometer-long Romsdalseggen ridge.
44. Go for a ride on Raumabanen, one of the many incredible train journeys we have here in Norway.
45. Marvel at the incredible view of the UNESCO-listed Geirangerfjorden from Flydalsjuvet viewpoint.
46. Travel the Troll's Road, Trollstigen which translates to "the Trolls Ladder", a road that snakes and climbs its way up along steep mountainside.
47. Book a fjord cruise to see the Seven Sisters Waterfall, maybe the most picturesque waterfall in Norway.
48. Watch Gudbrandsjuvet, a 20–25 meters high ravine that the Valldøla River runs through, from a viewpoint above.
49. Drive across an archipelago of small islands and skerries on Atlanterhavsveien, the Atlantic Ocean Road, between Molde and Kristiansund.
50. Join the fun at the annual Molde International Jazz Festival.
51. Check out the 407-meter tall Varden viewpoint to experience Molde Panorama, with its remarkable view of 222 partially snow-clad peaks.
52. Taste Klipfish, dried and salted cod, in Norway's klipfish capital, Kristiansund.
53. See an opera by Norway's oldest opera company in Kristiansund. And every February you can even attend an opera festival.
54. Base yourself in the gorgeous Hjørundfjord and hike the Sunnmøre Alps.
Related post: 47 fun & fascinating facts about Norway: I bet you didn't know that…
Nordland bucket list
55. If you're after an active holiday, cycle Helgelandskysten, the Helgeland coast.
56. Explore Vegaøyene, an archipelago inscribed on the UNESCO List of World Natural and Cultural Heritage.
57. Stay in a traditional rorbu or fisherman's cabin in Lofoten or on the Helgeland coast.
58. Go on a road trip in Lofoten, arguably the most beautiful part of Norway.
59. Climb Svolværgeita, "The Goat", a popular rock climbing spot in Lofoten.
60. Try arctic surfing at Unstad in Lofoten. Even if you don't surf the stunning Unstad beach is worth a visit!
61. And while you might not want to go for a swim there are many other beaches in Lofoten you should visit as well such as Uttakleiva, Ramberg and Haukland. I call Lofoten the Caribbean of the north because of the white sand and turquoise water.
62. Get the postcard view of Hamnøy with its picturesque collection of red fishing cabins on the water.
63. Visit Gallery Lofoten in Henningsvær, home to Norway's largest collection of North Norwegian paintings.
64. Go on a midnight sun safari in the Lofoten Archipelago.
65. or go on a killer whale safari and snorkel with the whales.
Read next >> 20+ useful words & phrases in Norwegian for travelers
66. Hike Reinebringen and enjoy another one of the most spectacular views in Norway.
67. Attend Træna Festivalen, one of the most remote music festivals in the world.
68. Hike to Marmorslottet, the Marble Castle, a unique landscape of rock formations carved out over thousands of years by the river Glomåga.
69. Stand on the Arctic Circle at the Arctic Circle Center.
---
---
Oslo bucket list
70. See the Royal Palace at the top of Oslo's main street, Karl Johans Gate. What's unique about this royal residence is that there are no tall fences or gates, you can walk almost all the way up to the front door.
71. Stock up on milk chocolate and Kvikk Lunsj at the Freia Store on Karl Johan's Gate. It is the best chocolate in the world, trust me! You can also visit their factory at Rodeløkka.
72. Enjoy a 3-hour buffet on a wooden boat sailing through Oslofjorden, or go island hopping and explore the six main Oslo Fjord Islands.
73. Walk among over 200 interesting sculptures by Gustav Vigeland in the Vigeland Sculpture Park.
74. Spend a sunny day in Frognerparken, central Oslo's largest park.
75. Wander through history at Akershus Fortress, a medieval castle and previous royal residence dating back to the 1300s.
76. Feast on Norwegian/Japanese fusion food at Hrimnir.
77. Rent a floating sauna and spend a sweaty day on the Oslo fjord in front of the Opera House.
78. Watch the sunset from the roof of Oslo Opera House.
79. Visit the Munch Museum featuring more than 42000 pieces by Edvard Munch himself as well as some collections by other Norwegian artists. The new and impressive Munch Museum opened in the fall of 2020.
80. Find the hill depicted in Edvard Munch's most famous painting, Scream. The real Scream Hill where Munch is thought to have had a panic attack is located close to Ekebergparken.
81. Check out Damstredet and Telthusbakken, a charming part of central Oslo with well-preserved and inhabited wooden houses from the late 1700s and the 1800s.
82. Get up close to a real Viking ship and learn about Viking history at the Viking Ship Museum.
83. Enjoy different cuisines from around the world at Vippa, a food court situated on the edge of the Oslo fjord.
84. Learn about the incredible journeys and discoveries of Thor Heyerdahl at the Kon-Tiki Museum. He grew up in Larvik where I'm from and was actually a childhood friend of my grandfather.
85. Go for a stroll along Akerselva through my favorite neighborhood in Oslo, Grünerløkka.
86. Watch a ski jumping competition in Holmenkollen, my favorite winter sport (to watch).
87. Hike parts of Pilegrimsleden, or The Pilgrim's Way, a trail that stretches 643 km from the ruins of Mariakirken in Oslo's old town to Nidaros Cathedral in Trondheim.
check out these Popular Oslo tours!
---
Rogaland bucket list
88. Peek over the edge at Preikestolen (Pulpit Rock) featured in the most recent Mission Impossible movie. Just be very careful!
89. Hike to Månafossen, a 90-meter tall free-fall waterfall.
90. Check out the prehistoric rock carvings at Solbakk. They were discovered in 1923 and are thought to date to around 500 BC.
91. Learn to surf at Jæren, one of the best places to surf in Norway. Read more about the beaches of Jæren and some of the other best beaches in Norway.
92. Visit Jernaldergården at Ullandhaug, a reconstructed Iron Age farm built on ruins dating back to between 350 and 550 AD.
93. And if you're a history nerd like me, stop by the Museum of Archaeology in Stavanger where you can see a Viking longhouse, weapons, jewelry and other Viking artifacts.
94. Go for a stroll in Old Stavanger, an area consisting of 173 quaint white cottages, built around the turn of the 18th century.
95. Learn how oil and gas were created millions of years ago, how petroleum is found and how it is used as well as how Norway became an oil nation at the interactive Norwegian Petroleum Museum.
96. Hike Trollpikken (the Troll Dick) in Egersund, a good alternative to the more popular Trolltunga.
97. Go kayaking on Lysefjorden and explore Lysebotn and the popular Lysevegen tourist road with 27 hairpin turns.
98. Take a photo on Kjerragbolten, a boulder lodged between two mountains over 1000 meters above sea level. Just be careful!
99. Spend the night at Sogndalstrand Kulturhotell, a unique hotel consisting of 10 different restored wooden houses from the 1800s.
100. Go for a walk along the harbor and enjoy the beautiful architecture of Haugesund. Then sit down and relax with a cold beer from Garasjebryggeriet.
101. Walk in the footsteps of Viking kings in Avaldsnes, Norway's oldest royal residence. King Harald Fairhair built his main house here around 870 A.D and Avaldsnes remained a royal residence until around 1450.
102. Visit the idyllic islands of Utsira and Røvær outside Karmøy.
103. Stop by Old Skudeneshavn, a picturesque town of white wooden houses situated at the southern tip of Karmøy.
You might also like: Two unforgettable days in Aarhus: Denmark's happiest city!
Troms & Finnmark bucket list
104. Relax on Sommarøy, a hidden paradise in Northern Norway complete with turquoise water and white sand beaches.
105. Watch the midnight sun from Nordkapp (71° north), one of the most iconic tourist destinations in Norway.
106. Go hiking on Senja, home to one of Norway's most striking peaks, Segla.
107. Experience Sami Week in Tromsø, a festival celebrating the indigenous people of Sápmi (the Arctic regions of Scandinavia).
108. Unwind in a hot tub on the deck of an old Norwegian fishing boat transformed into an arctic spa.
109. Visit the gorgeous Arctic Cathedral in Tromsø or even get married there.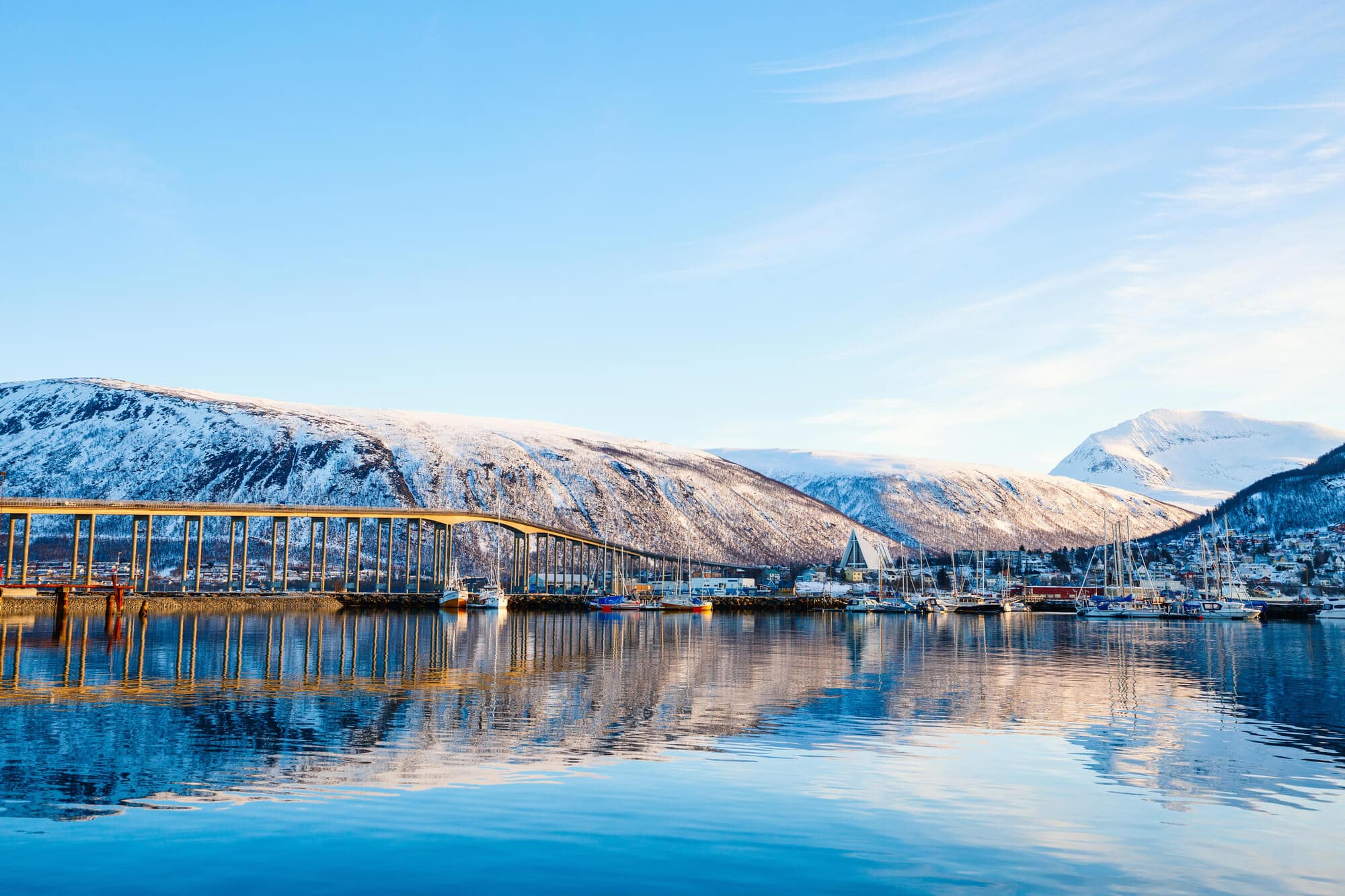 110. Take the cable car up to Storsteienen at 421 meters above sea level and enjoy the panoramic view of Tromsø.
111. Visit Polaria, an Arctic experience center and the northernmost aquarium in the world.
112. Spend a day at Tromsøbadet, a brand new wellness and waterpark in Tromsø.
113. Go ice climbing in the Lyngen Alps outside Tromsø.
114. Stay the night in a glass igloo at Lyngen North.
115. Explore a frozen world inside an ice cave. Join a tour with snowmobiles or dog sleds as your transport.
116. Go reindeer sledding under the Northern Lights. I highly recommend this one if you visit Tromsø with kids.
117. Spend a night in a lavvu (traditional Sami tipi tent) and learn about Sami culture from a reindeer herder.
118. Go see Norway's only prehistoric UNESCO World Heritage Site, the Rock Art of Alta which consists of more than 6,000 carvings dating back to 4,200 B.C and 500 B.C.
119. Watch the Northern Lights from your bed in this Arctic Dome in Narvik.
Popular tours!
---
Trøndelag bucket list
120. Watch out for UFOs in Hessdalen where unexplained lights are still seen today.
121. Spend a day at Stiklestad National Cultural Center, the location of one of the most famous battles in Norwegian history. I can also recommend staying a night at Scandic Stiklestad, one of my favorite hotels in Norway.
122. Explore the quaint Røros Mining Town, it's especially charming during the Christmas season. Røros was together with its surrounding industrial-rural cultural landscapes listed as a UNESCO World Heritage site in 1980.
123. Go for a walk in Bakklandet, an old area of Trondheim complete with colorful wooden houses, cobbled streets and cute cafés.
124. Rent a bike and go for a ride through the city. And if you're brave enough try the bike lift at Bakklandet.
125. Shoot some photos from Gamle Bybro, the Old Town Bridge, one of the most iconic places in the city.
126. Go for a walk along the river, one of my favorite things to do in Trondheim.
127. Marvel at the incredible Nidarosdomen, Nidaros Cathedral.
128. See the crown jewels at the Archbishop's Palace next to the Nidaros Cathedral.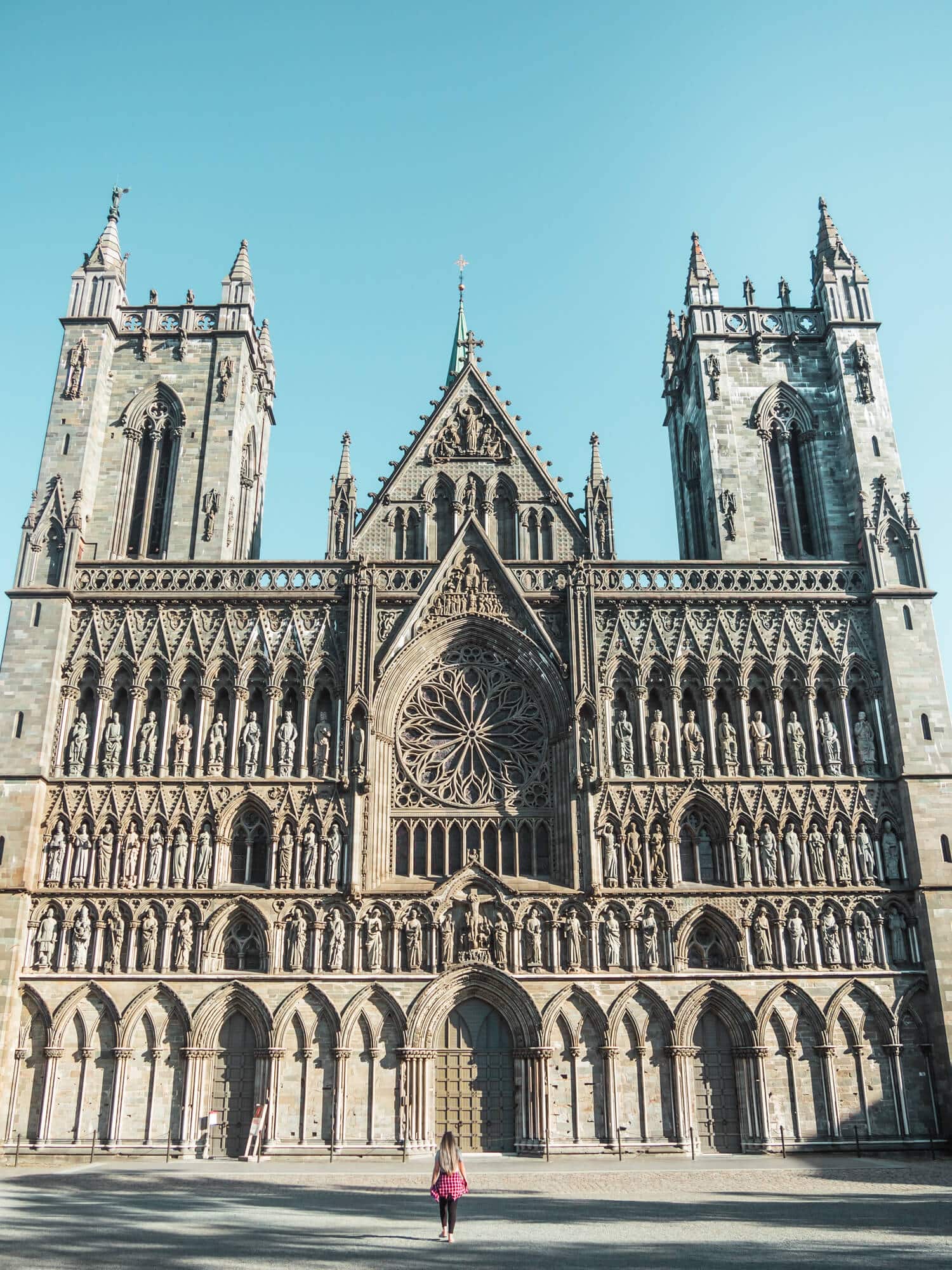 129. Take the tram up to Lian, a beautiful nature area boasting incredible views and a lake.
130. Have a picnic at Kristiansten Fortress, or better yet bring a disposable (or portable) grill and some hot dogs like I mentioned above. A super Norwegian thing to do!
131. Enjoy as much sushi as you can eat at Sabrura. No really, this sushi buffet is actually super fresh and delicious! The name is a play on the "that's what she said" joke. It literally means: the bride said.
132. Take the ferry to Munkholmen, an island that was used as an execution site by the Vikings, then as a monastery and a prison.
133. Go to Hell, a small village outside Trondheim, just so you can say you've been to hell.
134. Travel green along the Golden Road at Inderøy, where sustainability is a way of life.
---
Vestfold & Telemark bucket list
135. Go for a walk along the cultural path and visit the Ironwork Museum in Eidsfoss outside Holmestrand.
136. Stay in a two-story treetop cabin, 100 meters above sea level and 8 meters above the ground, in Horten.
137. Visit an art gallery in Åsgårstrand, a town frequented by well-known painters for over 100 years.
138. Learn about the Vikings and visit the set of season 3 of Norsemen (on Netflix) at Midgard Vikingcenter.
139. Hike to the top of Slottsfjellet for beautiful views across Tønsberg and visit Slottsfjellsmuseet.
140. Have dinner on Brygga in Tønsberg (below) and watch the boats go by.
141. Go for a walk in beautiful Bøkeskogen (above), The Beech Tree Forest, which is Norway's largest and the world's most northerly beech tree forest.
142. Explore Mølen, Norway's largest pebble beach. The terrain was left behind after the end of the most recent Ice Age 10,000 years ago.
143. Visit Kaupang, Norway's first town founded in 800 A.D, located in Larvik just av few kilometers from where I grew up. During the summer months, you can learn about the Vikings and get an insight into how archaeologists worked when they excavated Kaupang.
144. Have an ice cream and go for a stroll along the quaint harbor in Nevlunghavn.
145. Spend a day in Stavern, the best summer city in Norway (I might be a bit biased, I grew up close by).
146. Have fun at Sommarland in Bø, Scandinavia's largest water park. No, Norway is not too cold to have an outdoor waterpark (at least not for like two months a year)!
147. Try to spot Selma in Seljord. You've probably heard of Nessie in Loch Ness. But did you know Norway has it's very own sea monster?
148. Visit the fairytale-esque Heddal Stavkirke, Norway's largest stave church.
149. Splurge on a night at the historic Dalen Hotel (below). I was lucky enough to live in Dalen for six months right next to this beautiful old structure.
150. Explore the rest of Dalen and walk up to Rui Farm, the former home of the tiny sisters Ingrine and Gurine, who became famous across the country as the "Rui girls who visited the King".
151. Combine your stay in Dalen with a boat trip on Telemarkskanalen. The canal connects the coast of Telemark with the interior through eight locks at a distance of 105 km from Skien to Dalen.
152. Walk in the footsteps of the saboteurs who blew up the heavy water plant at Vemork during World War II.
153. Join a tour of Rjukan-Notodden Industrial Heritage, a UNESCO World Heritage Site since 2015.
154. Go skiing or snowboarding at one of the many ski resorts in the region.
155. Try to save Peer's heart at the enigmatic escape-room "Peer Gynt Escape Room" at the Henrik Ibsen Museum in Skien.
You might also like: The ultimate Denmark bucket list – 101+ awesome things to do
Vestland bucket list
156. Ride the Bergen railway line from Oslo to Bergen, which together with a few other Norwegian railways, has been voted one of the world's best train journeys by several newspapers and magazines.
157. Drive over Låtefossen, an impressive 165-meter-high twin waterfall.
158. Hike Hardangerjøkulen glacier where scenes from Star Wars Episode V were shot.
159. Go hiking or snowmobiling on Hardangervidda.
160. Take the ferry to the medieval Urnes Stave Church, a UNESCO World Heritage Site and Norway's oldest stave church.
161. Hike to Trolltunga, the troll's tongue, which stands 700 meters above Ringedalsvatnet.
162. Meet producers, buy high-quality local produce and get inspired by great food experiences at Bergen Matfestival, Norway's largest local food festival.
163. Walk along Bryggen in Bergen (below), a UNESCO World Heritage Site dating back to the 1300s.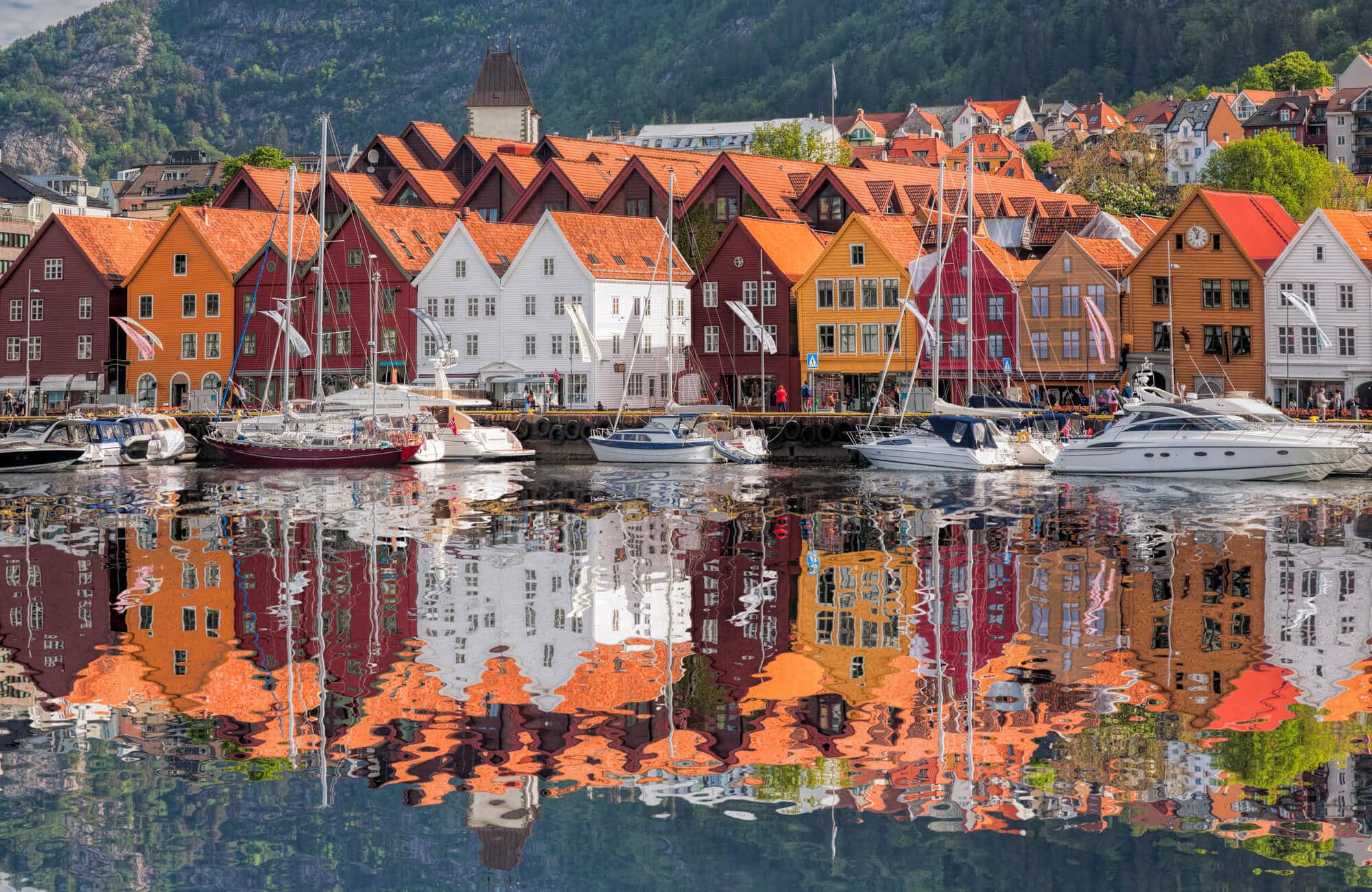 164. Feel lost in the vastness of Sognefjorden and its most famous arm, the UNESCO World Heritage Listed Nærøyfjorden.
165. Drive Stalheimskleiva, one of the steepest roads in Northern Europe which boasts incredible views of two waterfalls
166. Experience the stunning scenery and dark history of Lovatnet, in my eyes the most beautiful lake in Norway.
167. Take the skylift up to Mount Hoven and enjoy a good meal accompanied by the most incredible views.
168. Join a guided hike at Jostedalsbreen, the largest glacier in continental Europe.
169. Visit a blue ice cave at Nigardsbreen, one of the most accessible parts of Jostedalsbreen.
170. Drive over Aurlandsfjellet where tall snow walls line the road even during the summer months.
171. Drive through the world's longest road tunnel, Lærdalstunnelen 24,5 km long.
172. Take a ride on the Flåm Railway, one of the world's steepest railway lines.
173. You can also hike or bike the Flom Valley, or combine it with a train ride.
174. Hike to Vettisfossen, which with its single drop of 275 meters, is the tallest unregulated free-falling single-drop waterfall in Norway and Northern Europe.
175. Go for a walk to Bondhusvatnet/lake (below). On a calm day, this place is a photographer's dream!
176. Explore Folgefonna National Park and the southernmost glacier in Norway, Folgefonna Glacier.
177. Marvel at the gorgeous view of Hoddevik, a lush green valley with a white sand beach and turquoise water. This is also a great place to go surfing!
Viken bucket list
178. Go on a guided tour of the King's Mine in Kongsberg, 342 meters below the surface and 2,3 km into the mountain.
179. Rent a boat or canoe from Utvika Camping and enjoy a day on Tyrifjorden.
180. Learn about the region's culture and history at Oscarsborg fortress in the Oslofjord.
181. If you're obsessed with Christmas like I am, visit Drøbak, home to Norway's only all-year Christmas House (Tregaarden's Julehus) and the Christmas House official post office.
182. Spend a day of thrills and fun at Tusenfryd, Norway's largest amusement park.
183. Go for a cruise on the Halden Canal, Norway's oldest canal, and experience Northern Europe's highest locks, the Brekke Locks.
184. Stopp by Hadeland Glassverk, Norway's oldest industrial company and buy some handmade candy or glassware. Something I used to do with my grandparents every summer when I was younger.
185. See the historical light show at Fredriksten Festning in Halden (below) created for the fortress' 350-year anniversary in 2011.
186. Go for a stroll through the Old town of Fredrikstad, one of the best-preserved fortified towns in the Nordic region.
187. Rent a cabin and spend a relaxing few days at Hvaler, the sunniest area in Norway.
188. Hike Veslehødn in Hemsedal and see the 140-meter-high waterfall Hydnefossen along the way.
189. Hit the slopes in Hemsedal or Geilo, two of Norway's most popular ski resorts.
190. Try high-speed sledding at the toboggan trail in Dagalifjell Park. The custom-built sleds can reach a speed of 70 km/h.
191. Go rafting! The upper part of Numedalslågen, Dagalifallene (the Dagali Falls), is one of the best rafting rivers in Europe.
192. If you're an avid angler, head for the famous trout river Hallingdalselva or one of the 50 fishing lakes in the valley.
193. Hallingdal is also a mountain biker's paradise. There are six different destinations in the valley offering trails suitable for everyone from beginners to experts.
Svalbard bucket list
194. Visit Svalbard, the world's northernmost permanently inhabited place.
195. Explore one of Longyearbyen's coal mines and get an insight into a miner's life with this highly-rated tour.
196. Go Whale watching. Svalbard is the perfect place to see a wide range of whales including blue whales, beluga whales, and humpback whales.
197. Join a dog sledding tour through Bolterdalen under the Northern Lights.
198. Check out Pyramiden, a Soviet-era coal-mining town that was abandoned in 1998. According to National Geographic, it is one of the world's 10 best ghost towns to visit.
199. Go kayaking among seals and icebergs to the magnificent Svea Glacier.
200. Enjoy a beer at Svalbard Bryggeri, the northernmost craft brewery in the world.
Popular Svalbard tours
---
Disclaimer: I have bought some of the photos in this article from Depositphotos, my favorite stock photo site.
---
I hope this Norway bucket list has inspired you to visit my beautiful country!
Remember to pin this for later 😀