This post may contain affiliate links. I will earn a small commission if you purchase through them, at no extra cost to you.
Two hours off the coast of Bali lies three desert islets, called the Gili Islands. Consisting of white sand beaches, palms trees, seashells and pristine turquoise waters; the Gilis are the epitome of a tropical paradise.
30 years ago the Gilis were somewhat of a backpacker secret, but over the last decade they have skyrocketed in popularity. I guess the secret is out!
These days the little archipelago are booming like nowhere else in Indonesia, new hotels, restaurants and tour operators are popping up all over. But somehow they've managed to keep the development in line with the island's own esthetics, you won't see many concrete monstrosities here.
Remember to always get insurance before you travel to Bali or anywhere else. I recommend Safetywing, an affordable subscription travel insurance that you can purchase even after departure. Read my full review here.
Which Gili Island is the best?
What's so interesting is that all the islands have their own unique characters. Trawangan, or Gili T, is by far the most developed of the three. Once referred to by a fellow backpacker as "fist pump island", I don't think it needs any further explanation. Gili T is party central.
The middle and smallest island is called Gili Meno. In contrast to its big brother, Gili Meno is calm, cool and collected. A place of true peace and serenity. Gili Air is somewhere in between, not many all-night ragers but it still has a quite vibrant and fun atmosphere.
So it's not hard to understand why people are drawn to the allure of the Gilis. They are what most people think Bali is, all white sand beaches, palm trees and turquoise water. Let's take a closer look at all three islands!
How to get to the Gili Islands
I've used quite a few different fast boat companies over the years and one of my favorites has always been Gili Gateaway.
The boat departs daily from Serangan Harbor in Bali and stops at Gili T or Gili Air. Most of the fast boats don't stop at Gili Meno so you'll have to jump on a local boat from one of the two other islands. The additional 15-minute ride will cost you about 35k Rp. and departure is once in the morning and once in the afternoon.
Book your fast boat trasfer in advance!
The boat schedule depends on the weather, if it's windy and rough out at sea they will push the departure time or cancel it altogether. I haven't experienced this myself yet, but it's important to be flexible! Don't plan on heading back to Bali the same day as your flight, it can get expensive.
Be sure to organize your ticket at least 24 hours in advance to avoid extra late reservation charges. Always get a seat in the back if you get seasick easily, it's usually quite a bumpy ride. And if you opt to sit on the roof you will most likely get soaked, consider yourself warned. If you look closely you might spot a dolphin or two!
If crowded boats aren't your cup of tea, then you should charter a helicopter with Air Bali. They have over 20 years experience and a 100% safety rate, at least their website says so. The 45-minute flight from Bali to Gili T for a maximum of 5 people will run you about 41 million Rp / $3000 / 25500 nok.
Or you could fly commercial to Lombok, jump in a taxi for about an hour and a half to Senggigi and then a 15-30 minutes boat transfer. I wouldn't recommend this option if you're coming from Bali though, as a boat transfer is much quicker.
Popular Gili Island tours
How to get around
No cars, no motorbikes, no worries.
There are no motorized vehicles allowed on the island, which means bicycle time! Yay. Renting a bicycle has become a bit expensive though, or at least compared to what it used to be. I think I paid 70k a day on my last visit.
When you arrive on the island you'll see small horse-drawn carts wanting to give you a lift to your accommodation for about 50k per person. Please don't do it, as many of the horses are treated quite badly by their owners. Of course, this might not apply to everyone but the few I saw last time were very skinny and had open wounds.
Must read >> The 11 most common scams in Bali + How to avoid them!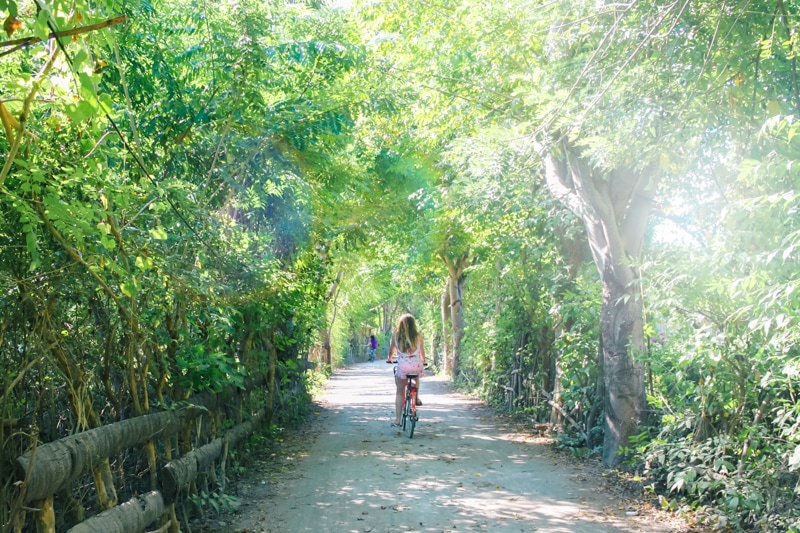 The best time to visit the Gili Islands
Peak season: August and December 20 to January 9.
High season: July, September 1 to September 15, Chinese New Year and Easter.
Low season: January 9 to June 30 and September 16 to December 2.
Rainy season: November – April
My favorite time to visit Bali, Lombok and the Gilis are February through May (except Easter) when it's still green from the rainy season and mostly nice weather in my experience.
---
---
Gili Trawangan
Gili T comes to life after sundown, especially the east coast where most of the bars are located. The "party strip" serves up all kinds of entertainment and music, so you can keep it going into the early hours. The west coast, also called the "sunset side", is where you can kick back and enjoy the sunset in a more relaxed atmosphere.
Gili Trawangan got its name from the word Terowongan which means "tunnel" in Indonesian, as the island has a cave tunnel constructed by the Japanese during WWII.
Must read >> The ultimate 2 week Bali itinerary (including Nusa Lembongan & Penida)
Where to stay
Even if you're going to Gili T with partying in mind, I would suggest getting a place to stay on the west coast away from all the mayhem. It's always nice to be hungover in peace and quiet you know! Though you'll find most of the budget accommodation on the east side.
Le Pirate Beach Club is the perfect tropical location, a little piece of the Caribbean in Indonesia. Think white beach huts with turquoise trim, a pool, hammocks, sun loungers and palm trees, all right at the beach. Their hut with bunk beds is the cheapest option at 850k a night, while the largest family house is 2.5 million a night. Of course like with any other place, the prices depend on the season. I've never stayed at their location on Gili T myself, but you can read my little review of Le Pirate Beach Club on Nusa Ceningan here.
Though incredibly stunning Le Pirate is quite expensive, so for a cheaper option check out Blue Moon Homestay. It's nothing fancy, but they offer clean and bright rooms where you can sleep off those hangovers. Located a bit inland on the east side of the island, it's an easy walk home after a night out. 250k Rp. will get you a room with a fan, private bathroom and free wifi.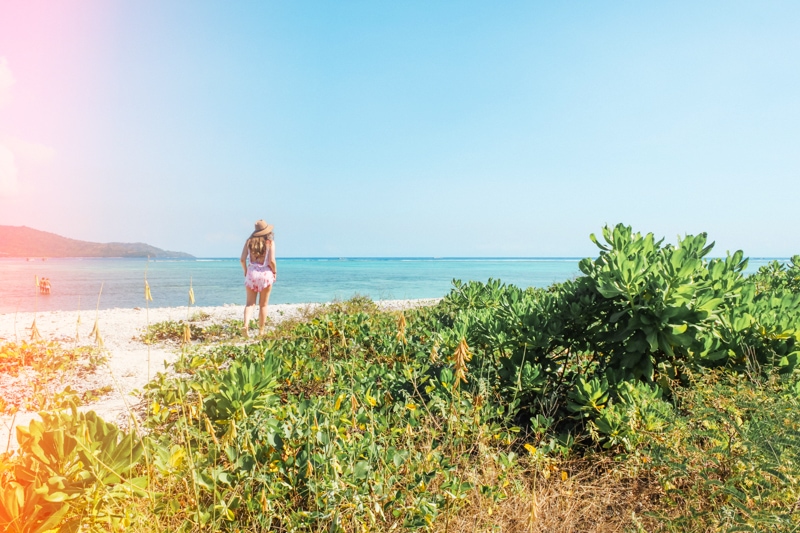 Where to eat
The Night Market is your best bet if you're on a budget or if you just love the local food like I do. My favorite is the "warung tegal" style meals where you choose either rice or noodles and then an array of different meat and vegetable items. It usually only comes out to around 40k for a huge portion, which can't be beaten in my eyes.
Other than that you can get everything from soups to lobster, so everyone should be able to find something to tickle their fancy. Sit down and enjoy the tasty food and the hustle and bustle at one of the makeshift seating areas scattered around the market.
Pituq Cafe is the no. 1 Gili T restaurant on TripAdvisor for a reason. Fresh and healthy deliciousness for a fraction of the price of other places you say? Yes please!! Located in the busy part of the east coast this is a fantastic place for breakfast, lunch and dinner, except for Thursday and Friday when they don't open until 4pm. Have a smoothie bowl for 35k or a veggie ball and avocado wrap for only 45k.
Casa Vintage is a bohemian paradise right on the beach west on the island. Think white reclaimed wood seating, driftwood, lanterns, pineapples and colorful pillows and flowers. It doesn't get much better than that. You'll get a delicious hummus dip platter for about 70k, a Caribbean beef chili for 90k and juices and smoothies range in price from 30-40k.
You should also check out Pearl of Trawangan, located just south of the mains strip. In addition to stunning accommodation, they offer a great restaurant and one of the nicest beach clubs on the island.
Must read >> Island Life 04: Living in Lombok + House tour
What To Do
If you enjoy exploring under water you should definitely go diving or snorkeling. The Gilis are one of the best places in the world to do both. There are a lot of different dive operators, so do your research and ask around for prices. Snorkeling gear is available throughout the island.
Rent a bike and go explore the island. Be sure to not only keep to the main roads, but also venture into the palm tree jungle and find hidden spots you can have all to yourself. Biking around the perimeter of the island will take you about 1.5 hours.
Go on a hike to the viewpoint, located on the southern end of the island. There you'll have the most breathtaking view of the other Gili Islands, Bali with it's majestic Mount Agung and Lombok with the even taller Mount Rinjani. places on the southern half of Gili Trawangan.
Lounging on the beach and frolicking in the water is what the Gilis are all about. There are beach clubs all along the coast of all three islands, so your hardest task will be to choose one. Sip on a fresh coconut, rent a paddle board and just have fun!
Go shopping! Even though the islands are small they have some great little boutiques, like the vintage store at Casa Vintage on Gili T.
Probably the most Instagrammed spot on the Gilis, the swing at Hotel Ombak Sunset is a must. Keep in mind that it's often pretty crowded and a line to get on the swing.
The Gilis aren't the best place in Indonesia to surf, but you can still catch quite a decent swell on the south coast of Gili T and Air.
Explore the island and ride into the sunset on horseback. Stud Horse Riding and Rescue is the only company offering horse riding on the Gili Islands..
Do some yoga at one of the many yoga studios like Soraya Yoga Wellness Centre or Gili Yoga.
And most importantly, be sure to watch the magical sunset every evening.
Gili Air
Where to stay
Gili Air Bungalows (pictured above) is set within a lush garden on the east coast, about 200 meters from the ocean. There you can enjoy a large pool and breakfast on the patio in the morning. Prices range from 700k for the Lumbung style bungalows up to 1.5 million Rp for the large family room.
When you arrive you can easily walk there on your own. Take the main road straight ahead from the harbor and then walk until you get to a dirt road leading to the right, it should only take about 10 minutes.
Si Pitung Village is a cheaper option with AC bungalows for 300k a night. They also have fan rooms which should be even cheaper. I never asked about the price as I can't live in Indonesia without an AC, but if you're on a tight budget this should be the spot for you. Don't worry about the location being in the middle of the island, as the beach is still only a five-minute walk away.
Must read >> Bukit Merese in south Lombok: The best sunset viewpoint
Where to eat
Beach club by day, sunset cocktail bar by night, Mowie's Bar is an all-day hangout spot. Enjoy fresh coconuts, healthy smoothies and salads during the day and indulge in their famous pizza and tuna burger at night. Dishes range from 40k-80k in price, so it really is gourmet on a budget. Located along the main road southwest on the island, it's an easy spot to find only about a five-minute walk from the harbor.
Pachamama Organic Cafe & Villa is a cool little bohemian spot northeast on the island. Whitewashed wood, seashell chandeliers, driftwood and lots of green plants, me like!! The food is fresh, tasty and all organic, so you can stuff your face in good conscience. My favorites are the eggplant wrap, the granola bowl and the colorful smoothies served in fun milk bottles.
For some cheap and tasty Indonesian food check out Eazy Gili Waroeng located on the main road just north of the harbor. With Mie Goreng, Nasi Campur and Gado-Gado for only 25k, they offer some of the greatest value for money on the island.
To get your sugar fix check out Scooperific, an Italian-inspired gelateria. In addition to gelato, they also have several non-dairy sorbet options. The waffle and the Nutella crepe are my favorites! And best of all, their products are 100% made in Gili's.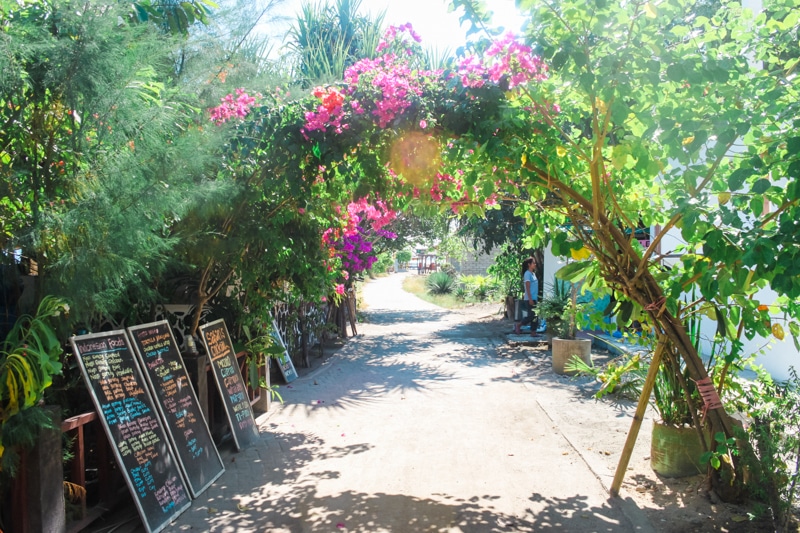 What To Do
Just like with Gili T, Air is all about lounging in the sun, snorkeling, diving and biking. So I'm not going to repeat all the suggestions above. You can go around the whole island on a bicycle in about an hour. One stretch of the road is only sand, so either you have to push your bike or get one of those "fat bikes".
For you divers I've heard a lot of great things about the 7 Seas Dive Gili, they offer many different packages and courses. But there are a lot of different dive operators, so do your research and ask around. As for snorkeling gear, you'll find it all over the island, and just ask anyone they will know someone who offers boat charters for snorkeling trips.
If you're a foodie like me you should also join a cooking class to learn how to make some delicious Indonesian food. Gili Cooking Classes offers 3 different courses, ranging in price from 275k to 385k. It's located on the corner of the main roads, just to the right of the harbor.
Must read >> The two absolute best beaches in Lombok
Gili Meno
Where to stay
Mahamaya Resort is a boutique eco-hotel on the northwest coast of the island, which blends perfectly in with its surroundings. The name Mahamaya means "ultimate paradise", and that it truly is. This is affordable luxury done in an understated kind of way. Stay in of the pool suites right off the beach for about 2.3 million Rp. / $170 a night. The vibe is super romantic, so it's the perfect place for honeymooners and other couples alike.
Seri Resort Gili Meno is a more affordable option located northeast on the island. With bright and cleans rooms, a huge pool and incredible views, this place offers good value for money. You can stay in a straw hut with a shared bathroom for 450k or in a suite with a garden view for 900k a night. Remember to check online to get some great discounts, especially during low season.
You should definitely book your accommodation in advance as the little island fills up quickly, especially during high season.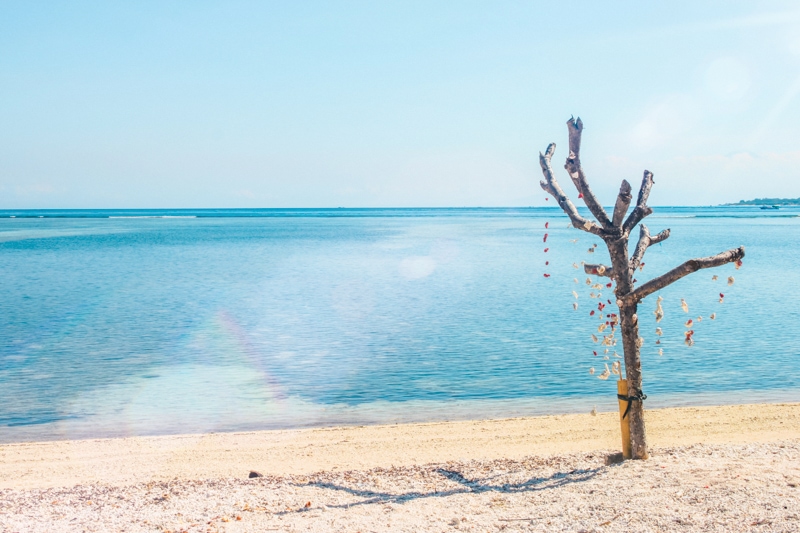 Where to eat
Sasak Cafe is situated right on the calmest part of Gili Meno's beach, northwest on the island. As you probably guessed, it's all about traditional Sasak food, which is characterized by fresh fish, vegetables and spicy sauces. Spend the whole day lounging at the beach and enjoy fresh fish and calamari, caught every morning by the father of the family. Even though heir chef has won awards for his cooking, it's still cheap.
Ya Ya Warung is cheap cheap cheap. As far as I can remember they're located on the north side. Don't be discouraged by the scruffy appearance of this place, they serve up some tasty Indonesian dishes. Fried noodles for only 20k, Gado-Gado for 25k and chicken satay for 50k! You're not going to do much better than that on Meno.
In the middle of the Mahamaya Hotel, there is an Asian-fusion restaurant and bar overlooking the beach and sea. What's so fun about this place is the open concept kitchen which means you can see the chef whipping up all sorts of fresh and organic yumminess. Come evening, the outside area turns into a haven for romantics with candles and lanterns hanging from the trees. Combine that with delicious, beautifully presented food and you have a winner. So be prepared to pay a premium.
Must read >> 5 incredible viewpoints in south Lombok you shouldn't miss
What To Do
Bolong's Turtle Sanctuary is doing a great job trying to save the turtle population of the waters around the Gilis. The baby turtles are raised in the small pools and after about 8 months they're released into the wild. Try to catch one of their releases and for a donation of 100k you can even choose a turtle and release it yourself. It's located on the east coast.
Another place you can see tropical birds is at the Gili Meno Bird Park, which is home to more than 300 birds. It's located in the middle of the island and the entrance fee is 50k per person. I haven't visited myself so I don't know the state of the park and the birds, but I thought I should include it anyway so you know it's an option.
Go on a walk to the salt lake located northwest on the island. The lake is surrounded by a lot of flowers and plants you won't see anywhere else on the islands. If you look up you should be able to see quite a few species of tropical birds. And if you're very lucky you could also get a glimpse of the huge Monitor lizard.
Gili Meno is home to the best dive sites and snorkeling reefs in the Gili Islands. Gili Meno Wall is the best spot, the reef drops to a sandy bottom at about 22m. In addition to large turtles, you could also encounter tropical fish like Spanish dancers, cuttlefish, scorpionfish and an array of other ocean critters. The dive is suitable for all levels.
Blue Marlin Dive and Divine Divers are the top dive centers on the island. They offer a lot of different packages and courses to suit every level. If you want to get your PADI certification, then Gili Meno's serene waters are the perfect place to do so.
Tips for visiting the Gili Islands
There are around ten ATMs on Gili T, two on Air and none on Meno as far as I know. Keep in mind that they're stocked irregularly and due to frequent power outs on all of the islands, I would suggest you bring some money with you. Especially if you're paying for your accommodation in cash, which many of the cheaper options require.
The same goes for the wifi! If you're dependent on an internet connection at certain times a day I wouldn't bother going to the Gilis at all.
I think that about sums up my knowledge of the Gili Islands. It might seem like I'm super excited about Gilis, but that's actually not the case. Although undeniably beautiful I get so easily bored when I'm there.
I'd much rather spend my time in the south of Lombok where you can drive around and explore for hours and hours. All with the same white-sand beaches, turquoise water, even more, palm trees and way fewer people. Anyways, I hope you enjoyed this Gili Islands travel guide and can put it to good use!
---
Have you been to the Gili Islands?
Remember to pin this guide for later 😉