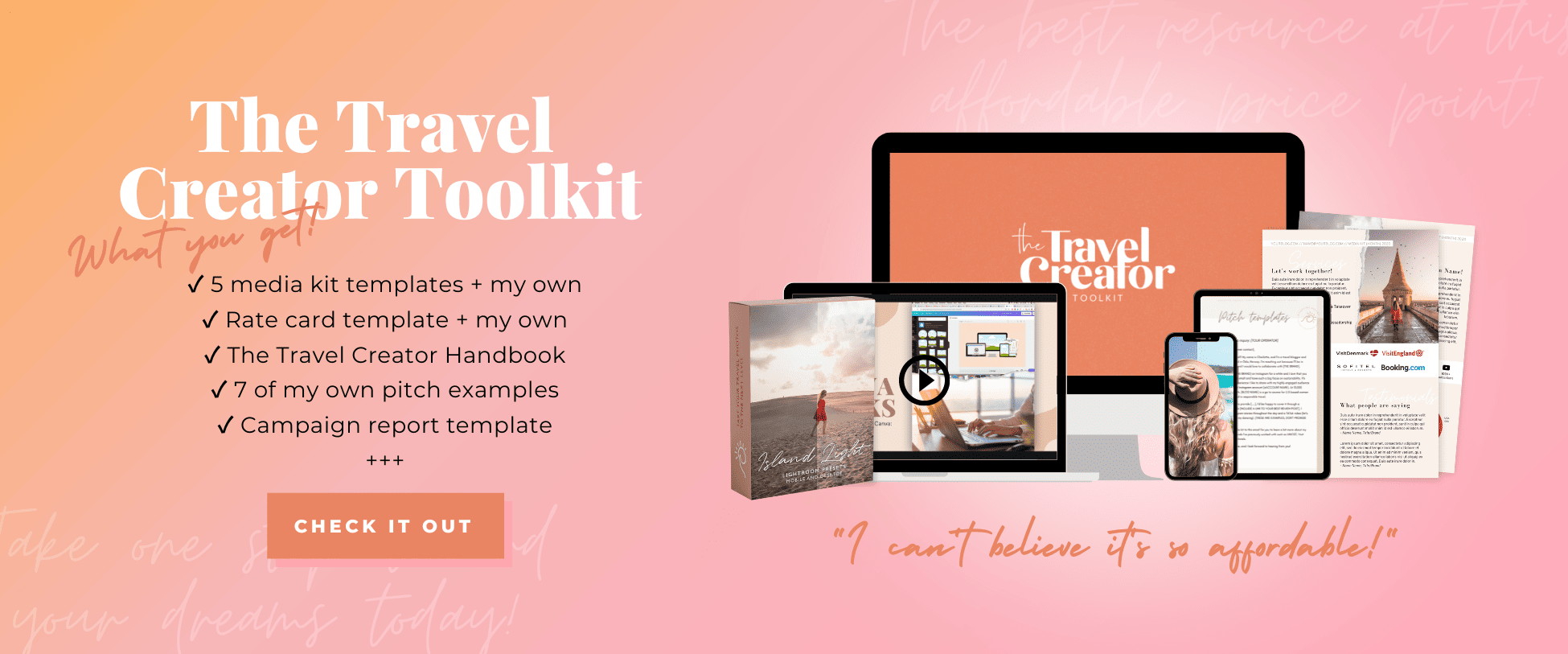 This post may contain affiliate links. I will earn a small commission if you purchase through them, at no extra cost to you.
"Let's go on a beach holiday to Norway", said no one ever.
We all know Norway is an incredibly beautiful country with our majestic fjords, charming wooden cities, hundreds of waterfalls, the midnight sun and northern lights. But have you ever thought to visit our beaches?
It's probably one of the last places on earth you'd think of for a beach holiday. Only beat by like Iceland, Finland and Antarctica. But what may surprise you is that Norway actually is home to some of the most beautiful beaches in the world. In fact, Lonely Planet just published a list of the 20 best beaches in Europe, with Hauklandstranda as number one.
With Norway's long and winding coastline (no one knows exactly how long it is) our beaches come in all shapes and sizes. Some you can drive up to, some can only be reached by boat and some you have to hike for hours to reach.
The most famous of all our beaches are those of the Lofoten Islands with their crystal clear turquoise water and picturesque mountain backdrops. And of course the mile-long surfing beaches of Jæren, south of Stavanger. But there are also bustling city beaches and totally remote coves and bays you can have all to yourself.
So since there literally are hundreds of beaches to choose from, I thought I would put together a list of what I consider to be Norway's best and most beautiful beaches!
Remember to always get insurance before you travel to Bali or anywhere else. I recommend Safetywing, an affordable subscription travel insurance that you can purchase even after departure. Read my full review here.
Here are 10 of Norway's best beaches
1. Hauklandstranda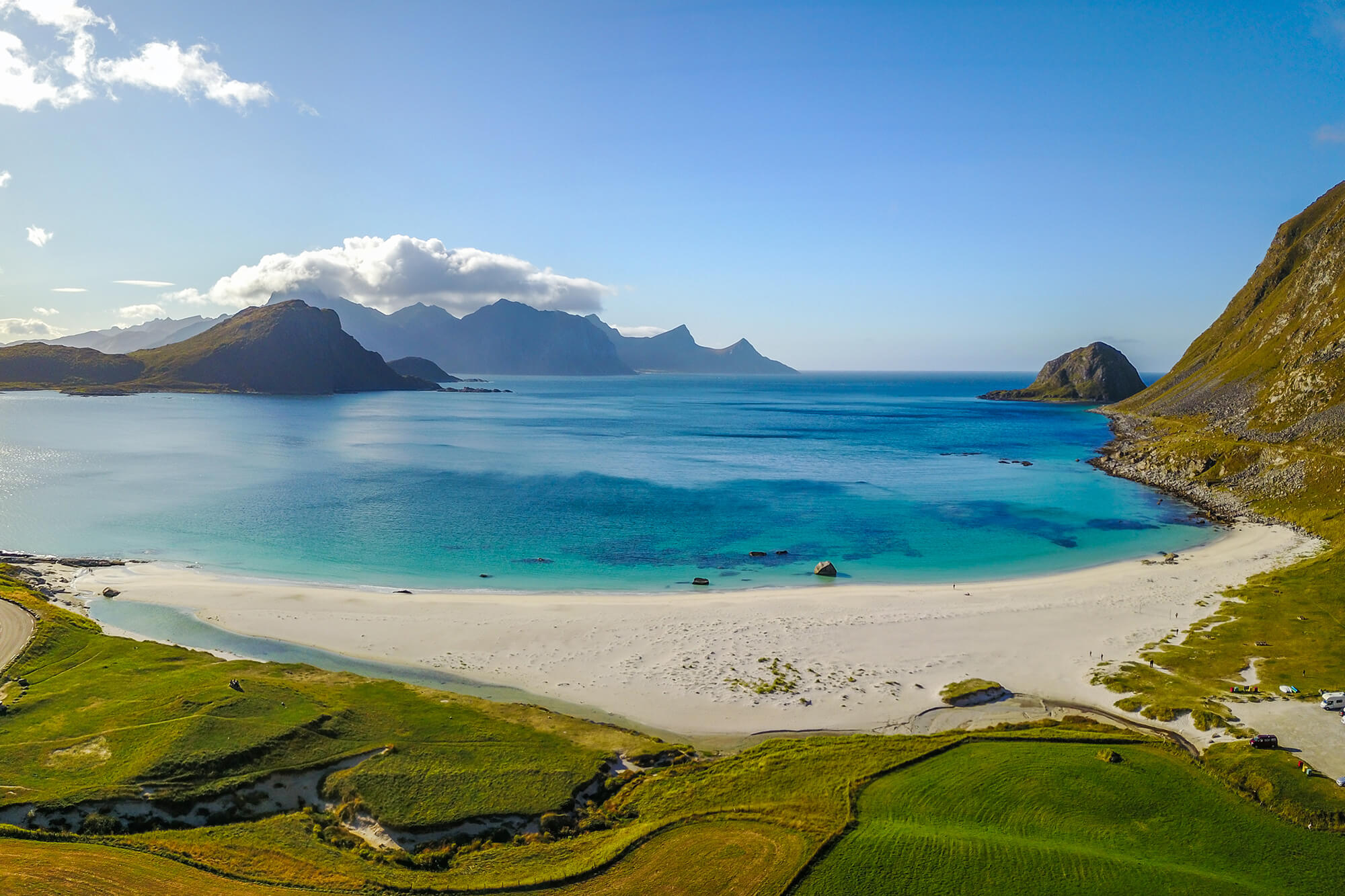 Just 10 minutes outside Leknes on Vestvågøy in Lofoten you'll find this stunning stretch of sand. Haukland Beach has many times been voted Norway's best beach by both national and international press. And it's easy to see why!
You might think you're in the Caribbean for a second there but don't let the crystal clear turquoise water and white sand fool you, the water temperature never reaches beyond 15 degrees celsius. So if you decide to go for a swim you'll be quickly reminded that you're in Norway and actually in the arctic circle.
Haukland Beach is very easily accessible as the road goes right past it and there's a parking area just off the sand. In addition, there's a simple toilet facility and a small café selling local art and food from June through September. And you can also rent kayaks, stand-up paddleboards and wetsuits.
If an even more active day out is what you're after, consider going for a walk to Uttakleiv Beach or hiking Mannen for panoramic views of Haukland and the smaller cove next to it called Vik. Haukland Beach House is a great accommodation option if you want to stay close to these two gorgeous beaches.
This popular Lofoten photography tour includes both Haukland beach and the famous Unstad surfing beach. So be sure to check it out!
2. Kvalvika
Kvalvika Beach is located in an isolated bay on Moskenesøy at the southern end of the Lofoten archipelago. The golden sand, which can only be reached on foot, is lined with turquoise water and surrounded by towering cliffs. The landscape truly shows Lofoten at its best and it's easy to see why Kvalvika has quickly become one of the most popular hiking and camping destinations in Lofoten.
The closest town to the starting point of the hike is Fredvang. Here you can stay the night in a traditional red rorbu or you can book this incredibly idyllic house by the fjord. From the Kvalvika and Ryten parking area, the hike down to the beach takes around an hour. The trail gets steep and rocky in places, and quite slippery if it's raining. But overall the hike is fairly easy.
The quick hike and the large grassy flats at the back of the beach make Kvalvika an excellent place for camping. But it gets crowded, especially during the summer months, so I suggest arriving early to secure a good spot.
Instead of ending your hike at the beach, you can continue to the top of Ryten for amazing views and a cool photo op. There's a large rock sticking out with Kvalvika Beach in the background. If you get the angle right, you can shoot a photo where it looks like you are standing or hanging from a rock with nothing underneath of you. While it's really only about a meter off the ground. Just be careful, it's still close to the edge of the cliff!
Related post: 47 fun & fascinating facts about Norway: I bet you didn't know that…
3. Rambergstranda
Ramberstranda is without a doubt one of Norway's most photographed beaches. Tucked in Jusnesvika på Flakstadøy in Lofoten, this crescent-shaped beach is as picturesque as can be. It is also very accessible seeing that the main road (E10) goes straight past it and continues all the way to Sweden.
When driving to Ramberg from the east you'll see a brown sign pointing to a viewpoint right next to the beach. From there you'll get a great view of the bay with all the majestic mountains in the background as you can see in the photo above.
While you might not feel like going for a swim in the freezing ocean, being so far north does have some advantages. Ramberg Beach is a great place to watch the sunset or bask under the midnight sun during the summer months. Whilst in the winter it's the perfect spot to watch the northern lights dance across the sky.
If you would like to spend a night close to the beach I suggest booking a cabin at Ramberg Gjestegård. Or just a few minutes away, next to another beautiful beach called Skagsanden, check out Lofoten Beach Camp.
This highly-rated south Lofoten photography tour includes Ramberg Beach as well as the picturesque towns of Reine, Nusfjord, Hamnøy. Your guide will tell you all about the local culture and traditions as well as teach you how to get the most out of your camera. So be sure to check it out!
4. Bunesstranda
Bunes is one of Lofoten's most scenic and isolated beaches. It is located on the northern side of Moskenesøy and is only reached by a local ferry, departing daily from Reine. You'll find the ferry terminal about 300 meters from the gas station in the center of town. (If you plan on spending a night or two in Reine, check out this modern apartment with the most amazing view!)
Exit the ferry in the small village of Vindstad and continue on the old carriage road. When the road ends, follow the narrow trail and soon you'll soon see vast expanses of white sand and turquoise water. From Vinstad you can also hike Helvetestinden (Hell Peak) for some incredible views of Bunes Beach from above.
Most people only visit for the day and as the afternoon comes around, the summer crowds head back to Reine. If you'd like to extend your stay at Bunes, bring camping gear and pitch a tent on the flat grassy dunes at the back of the beach. Just remember that there aren't any supplies available in Vindstad, so be sure to bring everything you might need. There are, however possible to get some fresh water from a couple of streams at the back of the beach.
If you plan to spend the night on the beach or hike Helvetestinden, remember to check the weather forecast. The beach and camping areas are completely exposed to weather coming from the northwest and once the afternoon ferry leaves, you are stuck there until the next morning.
Related post: 20+ useful words & phrases in Norwegian for travelers
5. Bleikstranda
Just north of Lofoten in Vesterålen, you'll find Bleikstranda. A nearly 3 km long chalk-white sandy beach on the northwest side of Andøya. Bleikstranda is easily accessible as you can drive all the way up to the sand. And since the beach is so long you'll have no trouble finding a place you can have all to yourself.
Bleik, an old fishing village, is idyllically situated at one end of the beach. The village is a popular stop on the national tourist road on Andøya, a 58-kilometer-long coastline between Andenes and Bjørnskinn. I Bleik you'll find a cafe, a pub, campsites and accommodation right next to the beach.
If you would like to get some exercise, hiking Måtinden is highly recommended. Here you also walk past beautiful waters and small secluded beaches and end up with the most amazing view. In winter, Bleikstranda is the perfect place to watch the northern lights. You will have the best chance of spotting this spectacular natural phenomenon between September and March. Although it can not be guaranteed.
6. Refviksanden
At the end of Refvik village, about 10 km north of Måløy on Vågsøy, you'll find beautiful Refviksanden. A chalk-white 1.5 km long sandy bay that many times has been voted to be the best beach in Norway.
Refviksanden is a shallow, child-friendly beach that is ideal for various kinds of activities like volleyball, beach ball etc. And out in the sheltered bay, you can go surfing and snorkeling or float around and enjoy life. Previously, you could drive your car completely onto the sand. These days you have to pay a small fee and park on a field right next to the beach.
Refviksanden Camping, which is run by locals from the village, is located right on the beach. Here you have the opportunity to stay in a tent, your car or motorhome. They also have a pod you can stay in that has all the amenities of a small hotel room. To get groceries, you have to drive to Raudeberg, about 5 minutes away. And in Måløy there's a pub, restaurant, post office and gas station.
Related post: 50+ popular Instagram hashtags & feature accounts for travel in Norway
7. Grotlesanden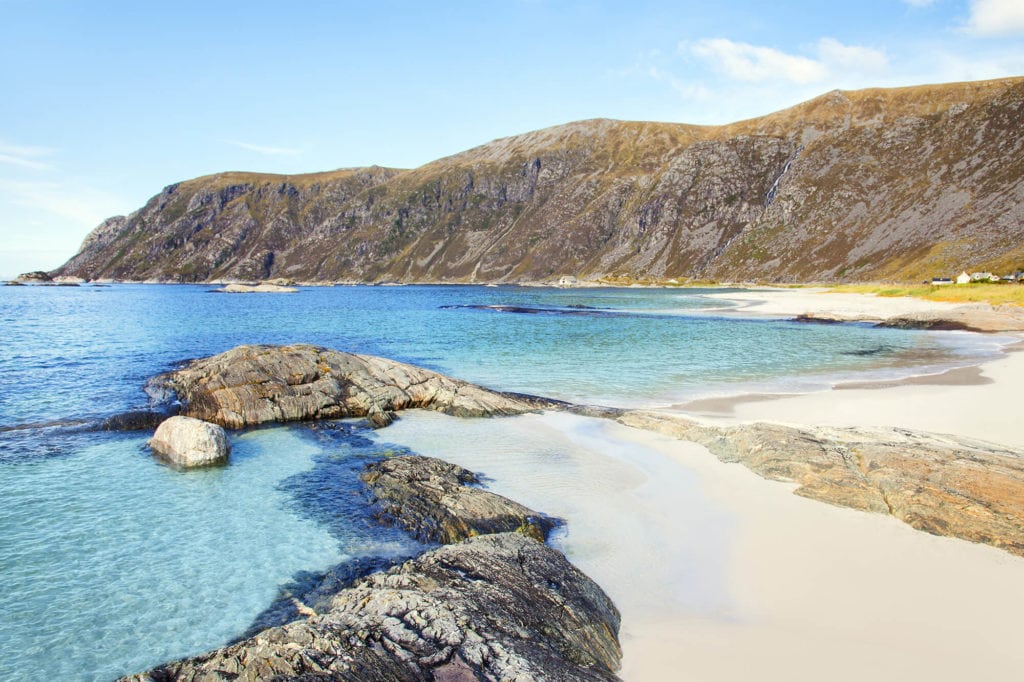 Grotlesanden is a powdery white sandy beach in Bremanger municipality just south of Vågsøy. Although there are many different coves and bays on the "Riviera" from Hauge out to Grotle, it's Grotlesanden that is the largest and most beautiful. Click here for an aerial photo of Grotlesanden, you won't believe how stunning this beach is!
Grotlesanden is free and open to the public. However, it's not allowed to camp on the sand due to the proximity of the houses next to the beach. There is a small parking lot accessible year-round, and during the summer months, you can also park on a field by the beach for a small fee (cash only). The nearest accommodation, guest harbor, café, restaurant and shop are in Iglandsvik, a little over 2km away.
Grotlesanden is also the start of the popular mountain hike to Veten, Norway's westernmost mountain plateau. And not far from Grotlesanden you'll find another gem of a white sandy beach called Vetvika. You can get there by boat, but for an even better nature experience, go hiking from Svarstad on Bremangerlandet and over the mountains.
You might also like: Norway budget breakdown – How much does 7 days in Norway cost?
8. Åkrasanden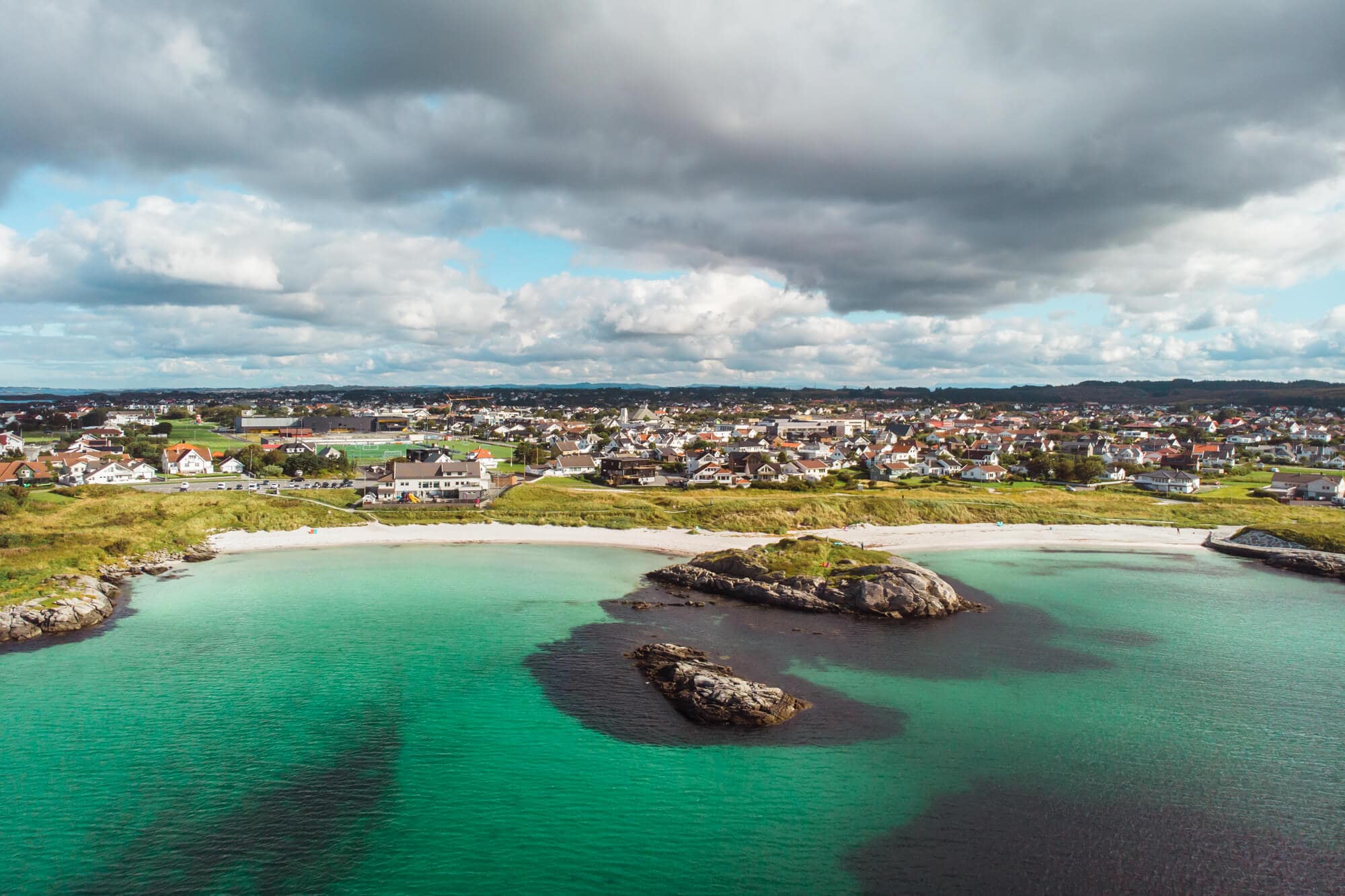 I could not believe my own eyes when I first got to Åkrasanden on Karmøy a few weeks ago. During the summer months, there's a Mediterranean atmosphere here. Bay after bay with super soft white sand. The photo above shows just part of the beach. I've never seen anything like it in Norway!
On a hot summer day, the beach gets crowded with people of all ages. Åkrasanden has a toilet and is wheelchair accessible during the summer season. There are also colorful wooden beach chairs and sun loungers scattered across the beach. So cute!
But Åkrasanden isn't only good for lazing around during the warmer months it's also a great starting point for hikers, all year round. There's a nature and culture trail that connects the beach with Stavasanden and Hop by Ferkingstad, 2-3 km further south.
9. Borestranda
Bore Beach is a long, fine-grained sandy beach on Jæren just south of Stavanger. It runs from Hodne in the south to the mouth of the river Figgjo in the north. The beach is popular amongst tourists and locals alike as it's a great place for both surfing and swimming. Just be careful, the currents are very strong.
When we first got to Borestranda I could not believe we were still in Norway. The flat landscape and miles and miles of white sandy beaches along the Jæren coast remind me a lot of Denmark. And the last place I visited with beaches like this was actually Australia. I was however quickly brought back when I saw people wearing wetsuits just to go for a swim.
In the parking lot of Borestranda, there's a new and modern public toilet facility that also contains an outdoor shower and dressing room. The toilets are closed from the end of October to the beginning of April. Right next to the beach there's a camping area on one side of the road and Boretunet apartments and hostel rooms on the other. If you want to learn to surf, this is the perfect place to do so. You can rent equipment for a reasonable price and book a class with an instructor.
Related post: The best and most affordable subscription-based travel insurance
10. Orrestranda
Continue south on the National Scenic Route from Bore and you'll soon reach Orrestranden. It is the longest beach in Norway (I think), soft white sand for as long as the eye can see.
There are food and drinks available for purchase at Orre Friluftshus, as well as toilets, barbecue facilities and parking for cars and bikes. The center also houses a permanent exhibition that provides information about the conservation efforts on Jæren in addition to hosting different art exhibitions, concerts and other cultural events throughout the year.
Orre Beach and some of the other beaches along the Jæren coast are part of a protected nature area, where both plants and birdlife are protected. This means that it's not allowed to surf, kite, camp, cycle or pick flowers in the area. Riding and motorized vehicles are also prohibited. And dogs must be on a leash at all times.
---
Disclaimer: I've bought some of the photos in this article from Depositphotos (my favorite stock photo site) and Adobe Stock.
---
I hope I have inspired you to book a beach vacay in Norway next summer.
Remember to pin this for later!