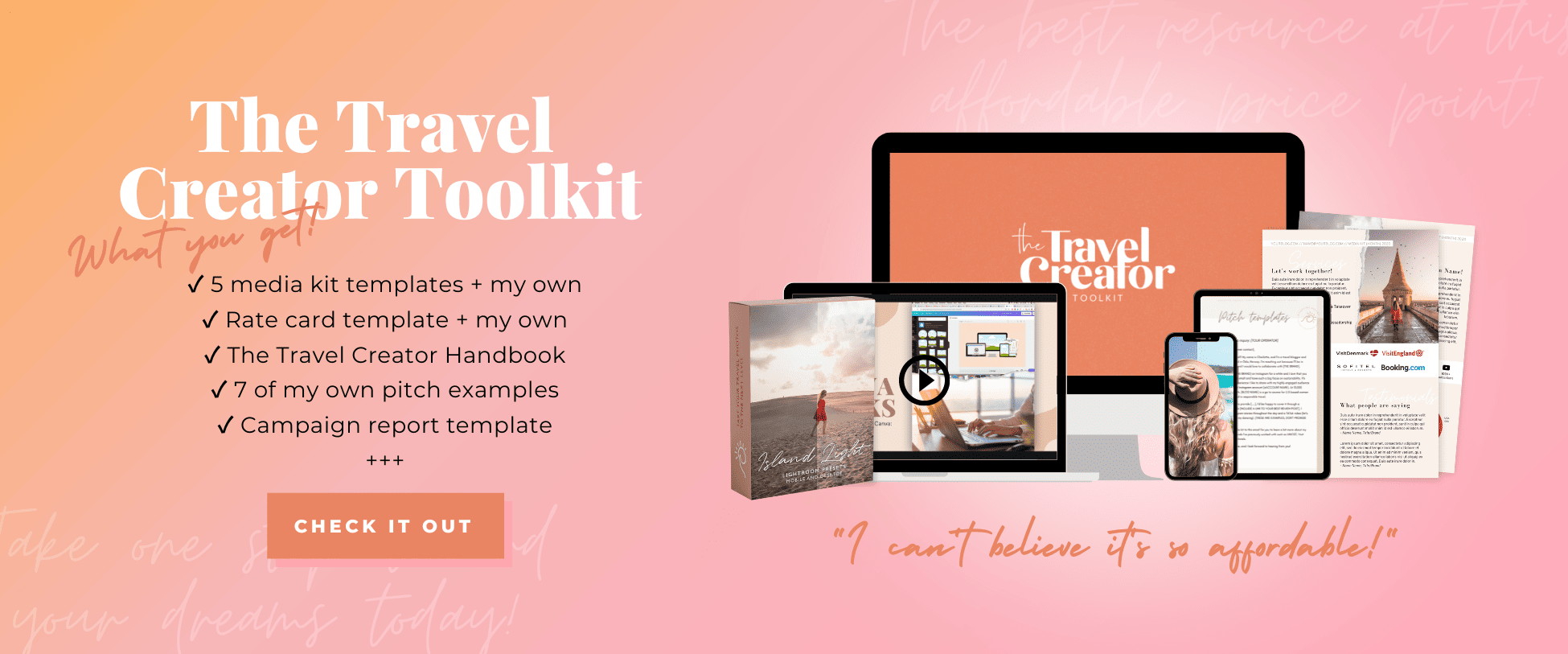 This post may contain affiliate links. I will earn a small commission if you purchase through them, at no extra cost to you.
This quick and easy Thai inspired vegan noodle bowl is one of my go-to recipes when I want something healthy yet super tasty. When I'm back home in Norway between trips I always miss Asian food the most, especially Indonesian and Thai. I mean, who doesn't love the exotic flavors and fresh ingredients of both those cuisines?
// This post contains affiliate links
All my recipes are inspired by a travel memory and this particular one is actually a healthier version of a dish I eat in one of my favorite restaurants every time I'm in Bali. It is made with cream and chicken originally so I switched out the cream with coconut milk and the chicken with eggplant. I love using eggplant instead of meat so I always have at least two in my fridge. Sometimes for dinner, I just add some oil, salt, pepper and garlic to sliced eggplant and bake it in the oven. So easy and soooo delicious!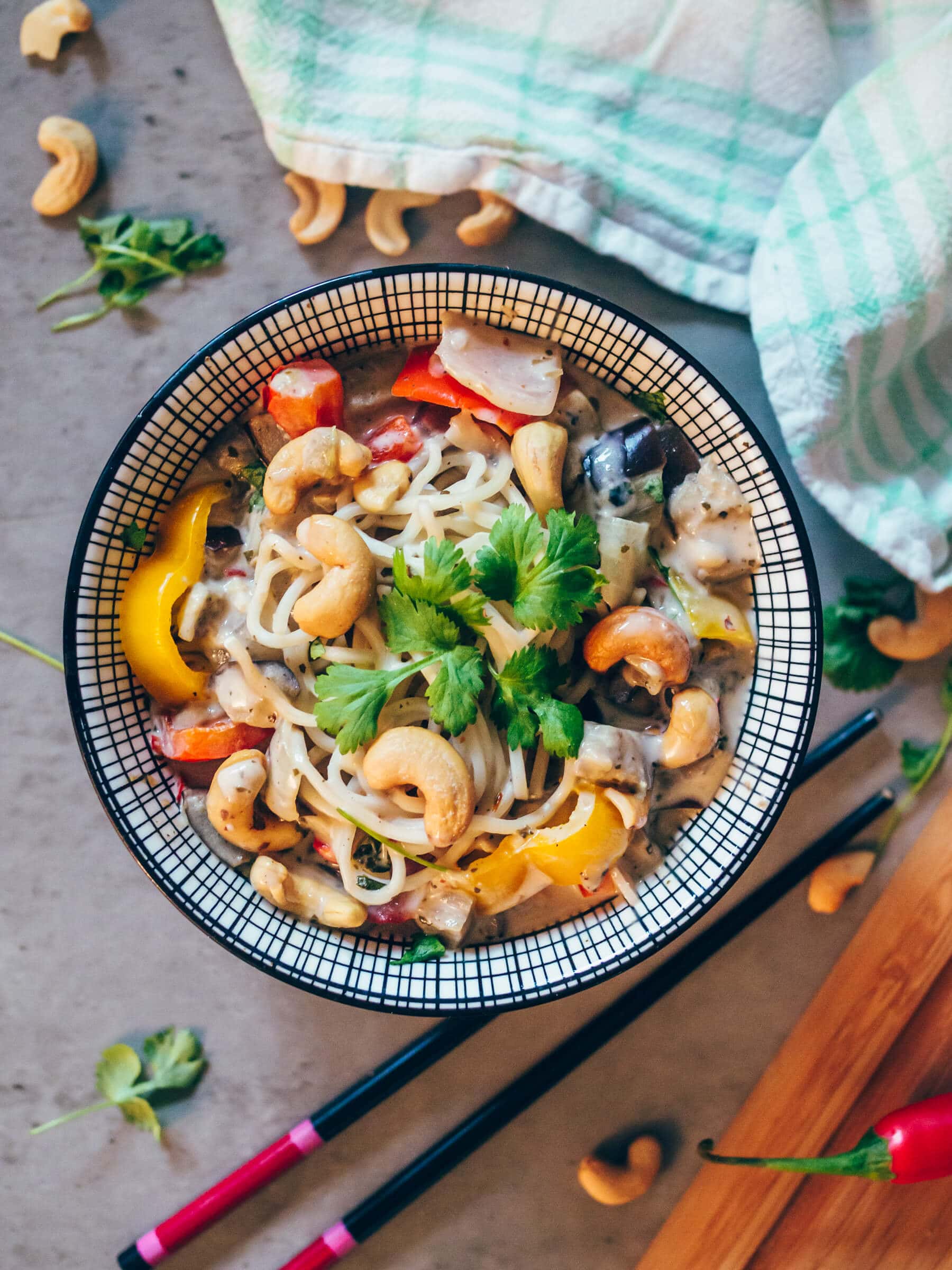 To make the coriander paste I used my old trusty friend, the Chef'n VeggiChop Hand-Powered Food Chopper. I absolutely love using it for stuff like pastes, dips, salsas, etc. It's much handier than a big food processor or blender and it's so easy to clean. And you get a little work out in at the same time. Win-win!
These aren't the correct quantities, I just wanted to show you how I cut the vegetables. I like the onion and bell pepper to be chunky and a few different sizes so I get a few different textures. Some soft and some with a bite to them. The recipe only calls for yellow onion but I had half a red onion laying around so I added that too. That is why I love this kind of food, it doesn't always have to be exact. It's more about what you have in the fridge and what's in season. So don't be afraid to add or switch out some of the ingredients if you think of a better combo. For example, Thai eggplant, zucchini and bean sprouts would be super tasty in this as well.
Vegan Thai inspired coconut & coriander noodle bowl
Equipment
Food processor or Hand-Powered Food Chopper

Wok
Ingredients
2 medium eggplants, diced or 1 large
1 yellow onion, chopped
1 red bell pepper, sliced
1 yellow or orange bell pepper, sliced
2 garlic cloves, sliced
1/2 red chili, seeded and thinly sliced more if you like it spicy
1 can coconut milk
1 can low-fat coconut milk
1 tsp kosher salt
1 tsp black peppercorns, crushed
1 tsp chili powder
1 tsp onion powder
3 tbsp oil
1 pack noodles of your choice about 300g
100 g cashew nuts
Instructions
Add the coriander paste ingredients to a blender or Hand-Powered Food Chopper and blend until it forms a paste. Set aside for later.

Heat half the oil in a wok on medium heat and add the eggplant. Cook for a few minutes then add 1 dl/half a cup of water to help soften the eggplant. Stir until the water is absorbed then add the rest of the oil and yellow onion.

After a few minutes, when the onion has started to soften, stir in the bell pepper, chili and garlic. Season with salt, pepper, onion powder and chili powder. Cook for about 3 more minutes.

Stir in the coriander paste. Then add the 2 cans of coconut milk. Increase heat and bring the mixture to a boil, then reduce the heat to low, cover and simmer for 5 minutes.

Cook the noodles according to the instructions on the package.

To serve, place a handful of the noodles in a bowl and cover with the coconut & vegetable sauce. Top with extra coriander and cashew nuts.
Remember to pin for later!