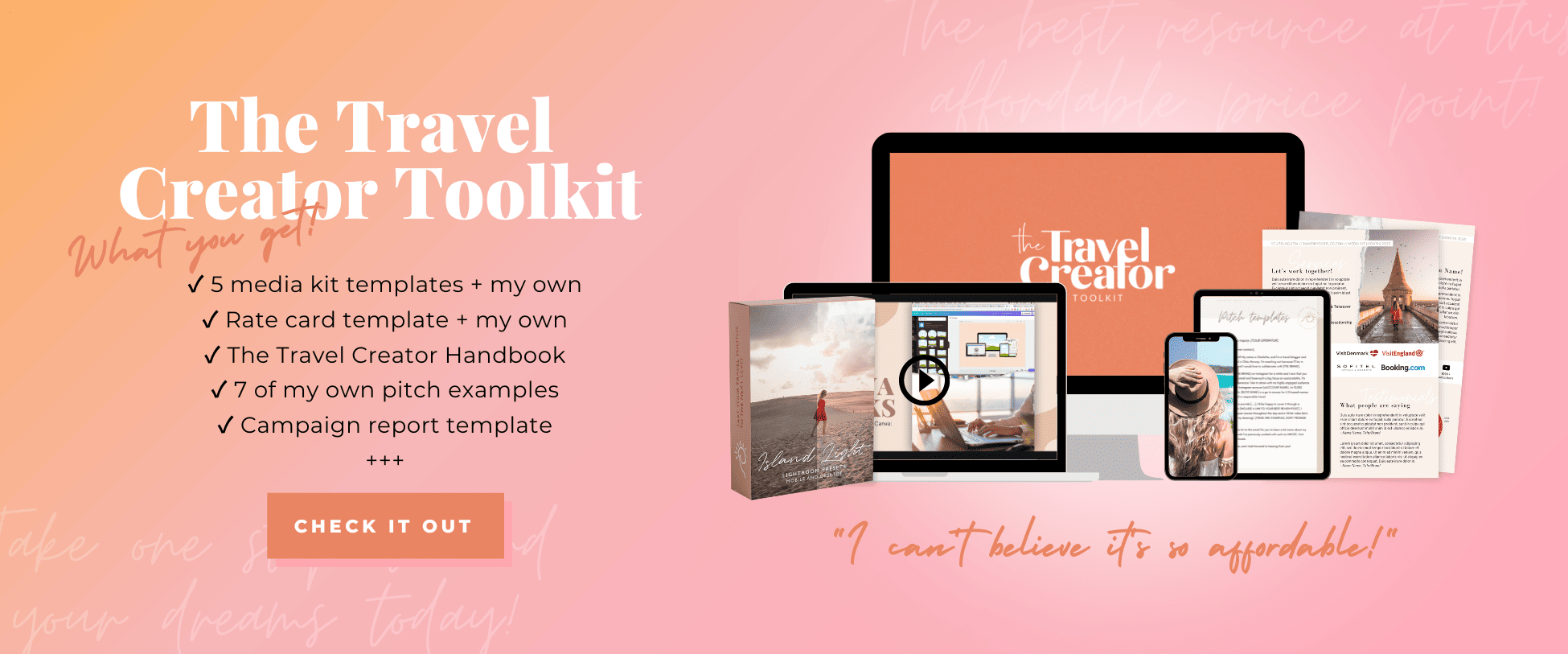 This post contains affiliate links. I will earn a small commission if you purchase through them, at no extra cost to you.
As I'm heading back to Bali in just a few weeks (yaaay) I came to think of all the things I wish I had known before my first trip to the island more than 13 years ago. Do I need shots before going to Bali? Do I need a visa to visit Indonesia? What can I wear in Bali?
So I decided to make a list of all the things I've learned over the years and what everyone should know before going to Bali for the first time.
I call Bali my third home and I love it today even though it has changed so much in recent years. It is still such a beautiful paradise, but it also has some dark sides you need to be aware of.
Some think they can come to Bali and forget about rules and act like complete tools. But the "Island of Gods" actually has some strict rules and there are many things you should know about. So let's take a look at everything I wish I had known before going to Bali for the first time.
🌟 Remember to always get travel insurance before you go to Bali or anywhere else. Safetywing is an affordable subscription travel insurance that you can purchase even after departure. Read my complete SafetyWing review here.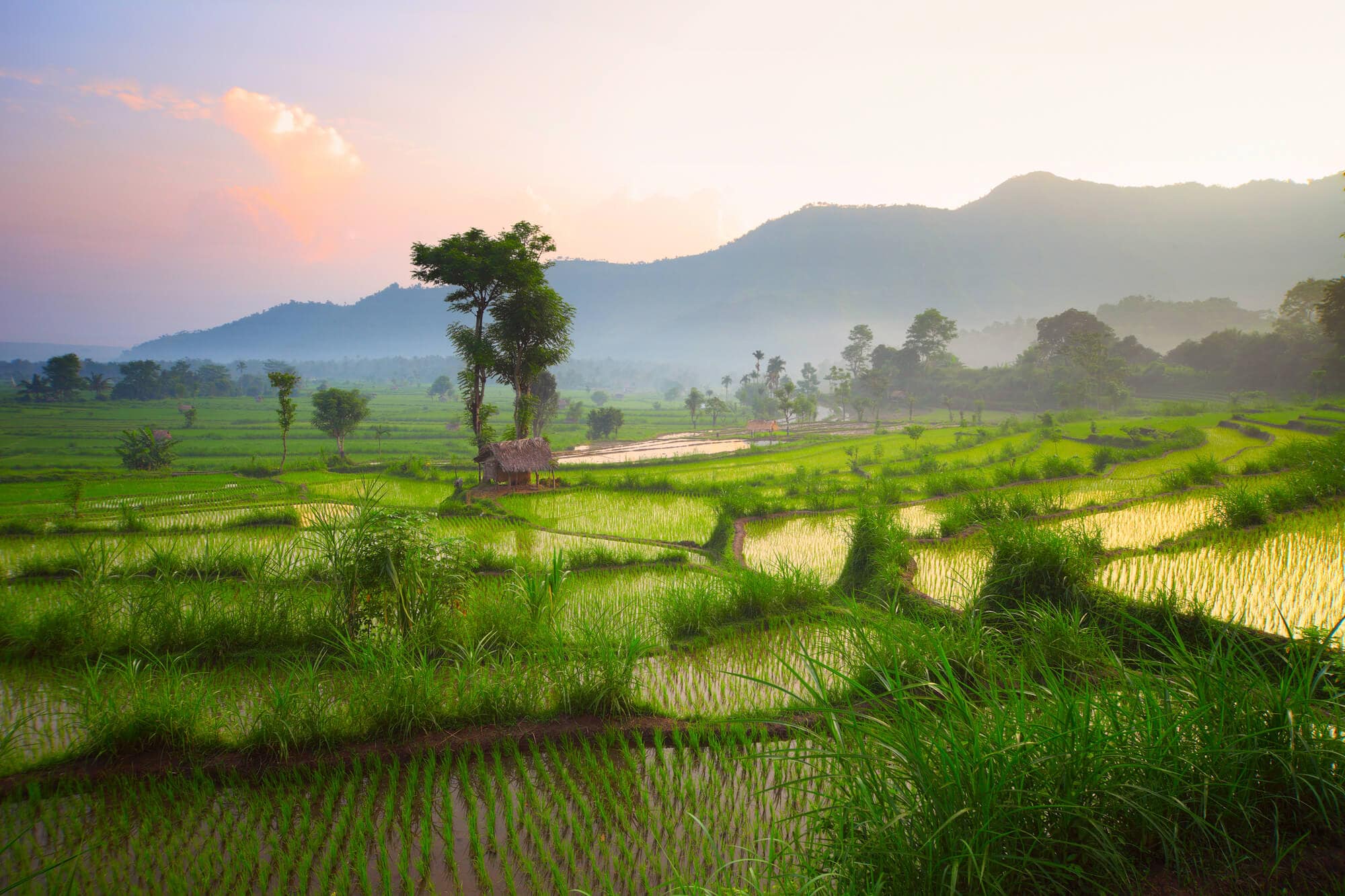 Things to know before going to Bali
1. Do I need a visa in Bali?
As of 2016 nationals of 169 countries can visit Indonesia visa-free for 30 days, while Visa on Arrival applies for others at USD 35. The paid Visa on Arrival can be extended once for 30 days while the free VoA can't be extended.
You can also apply for a 2-month visa at the Indonesian embassy in your country before you leave. The process was fairly easy and I got mine after just two weeks. Check whether or not you need a visa for Indonesia here.
2. Best time to visit Bali
Peak season: August and December 20 to January 9.
High/Dry season: July, September 1 to September 15, Chinese New Year and Easter.
Low season: January 9 to June 30 and September 16 to December 2.
Rainy season: Late October/November – March
In my mind, the best time to visit Bali, Lombok and the Gilis are February through May, except for Easter. Then it's still green from the rainy season and mostly nice weather in my experience.
3. Get a local sim card
You can easily pick up a local sim card from one of the shops located right after customs at the airport. Book in advance here to make sure everything is ready when you get there.
You also have the option to get an eSIM Mobile Data Plan so you don't have to keep changing between your sim cards. I'm excited to try it next time!
4. Book airport transfer in advance
I don't know about you but after traveling for 16+ hours I'm not in the mood to bargain with drivers. The arrivals hall at Ngurah Rai Airport can be overwhelming with lots of private drivers, taxi drivers and companies pushing their services on you.
🌟 Pro tip >> To make your arrival in Bali as smooth as possible, I recommend booking this driver in advance. They will wait for you with a sign in arrivals and they'll know exactly where to take you. You can also add a sim card to the booking at checkout. Super convenient!
5. How to get around Bali
Once you're in Bali, getting around is relatively easy. In the more touristy areas like Legian and Seminyak, taxis are everywhere and they'll honk at you to show you that they're free. If you don't want to bargain, only use Bluebird taxis and tell the driver to put on the meter before you get in.
In Canggu, Ubud, south on the Bukit Peninsula and on the Nusa Islands, I always rent a scooter/motorbike. Driving around by myself exploring is one of my favorite things to do on the island. Remember to drive on the left and that there are no gas stations in the countryside, only roadside stalls selling petrol out of old vodka bottles.
For some reason, I've never thought to get a photo of the crazy traffic in Bali so an overloaded motorbike will have to do. How are they able to balance all that on two wheels? I once saw four kids on one motorbike, one holding a baby and one holding a small ladder. So scary to watch!
6. Grab & Go-Jek
Uber is not available in Bali, instead, locals and tourists alike have turned to other apps such as Grab and Go-Jek.
The guys and girls driving around in green jackets and helmets will not only take you where you need to go but also do your shopping, get your food from one of the over 2000 registered restaurants and deliver stuff for you.
Basically, they'll do anything you need. Such a great service you should definitely check it out!
7. Nyepi
Remember that there is no travel allowed on Nyepi, the "Day of Silence" in March, the specific date varies every year based on the Saka lunar calendar. The airport closes, power is shut down and everyone has to stay inside in silence.
This is a different kind of New Year celebration that marks the turn of the Saka calendar in Hinduism. It is a day fully dedicated to prayers, fasting, meditation and self-introspection.
8. Bali is a cash island
Plan ahead and make sure to always have some cash on hand to pay drivers, local warungs, street vendors, etc. The more upscale boutiques, restaurants and hotels accept cards, usually adding a 3% credit card fee.
9. The ATMs can be moody
From Ubud and down to the Bukit Peninsula, ATMs are widely accessible. But in more rural areas and on the Nusa Islands, ATMs are few and far between and often run out of cash.
The ATMs dispense either IDR 50,000 or 100,000 bills. I usually withdraw 2,500,000 million from each to have smaller bills for street vendors and larger bills for fancier restaurants. I always get at least 5,000,000 at the airport when I arrive as I feel those are the safest ATMs. Though I've never actually been skimmed or anything like that.
My ex, however, screwed up once when he was rushing to withdraw cash to pay a driver. He forgot that in Indonesia they give you the cash first, then ask if you want to do another transaction.
After collecting the cash he left the card open so one lucky person managed to withdraw $900 before we noticed it. So people, remember to get your card before you leave the ATM!
10. Be aware of the police
Once my phone was stolen on a night out in Legian and I had to file a police report to be able to make an insurance claim. I went to the police station where I was met by four officers playing cards outside and a long line of people waiting inside.
When it finally was my turn, the officer was more interested in my religion than anything else. He didn't even glance at the form, just gave me a copy and put the original in a big pile. I was then ushered out.
If you head out on the road there's a big chance you will be stopped by the police. Tourists are often targeted and you will be asked to pay a "fine" on the spot for whatever offense they can come up with. You can read all about the police situation in my Bali Scams article.
11. Can I drink the water in Bali?
This probably goes without saying, but please don't drink tap water in Bali. You can, however, brush your teeth with it. But that doesn't mean you need to buy bottled water all the time, there are many issues with waste management!
Be sure to bring a reusable water bottle as many restaurants and cafés offer free refills, or even better, a filtered bottle. Ice in drinks at bars, hotels and restaurants is usually safe. Read more in my article about things not to do in Bali.
MY FAVORITE
🌟 LifeStraw Go Water Filter Bottle
My favorite bottle for travel, backpacking and hiking.
You can fill it up anywhere, LifeStraw filters bacteria, parasites, chemicals and microplastics.
For every Life Straw product purchased, a child in need receives safe water for an entire school year!
We earn a commission if you make a purchase, at no additional cost to you.
12. Vaccinations/shots
Hepatitis A vaccine is highly recommended for travel to Bali and Indonesia and there should not be more than 10 years since your last Tetanus shot.
The general risk of malaria is very small in Bali, however, if you plan on spending a lot of time mountain hiking or in rural areas, you might want to consider anti-malaria medication.
Keep in mind that I'm not a medical professional so you can read more about it here and always check with your local vaccination/travel clinic before you go.
13. Get out and explore
Bali is so much more than Kuta and Seminyak! So no matter what you do, don't get stuck in just that area. You'll find all the best beaches on the Bukit Peninsula (my favorite part of Bali) and the most beautiful natural and cultural areas in Ubud and further northeast.
Be sure to check my Bali island area guide before you book your accommodation!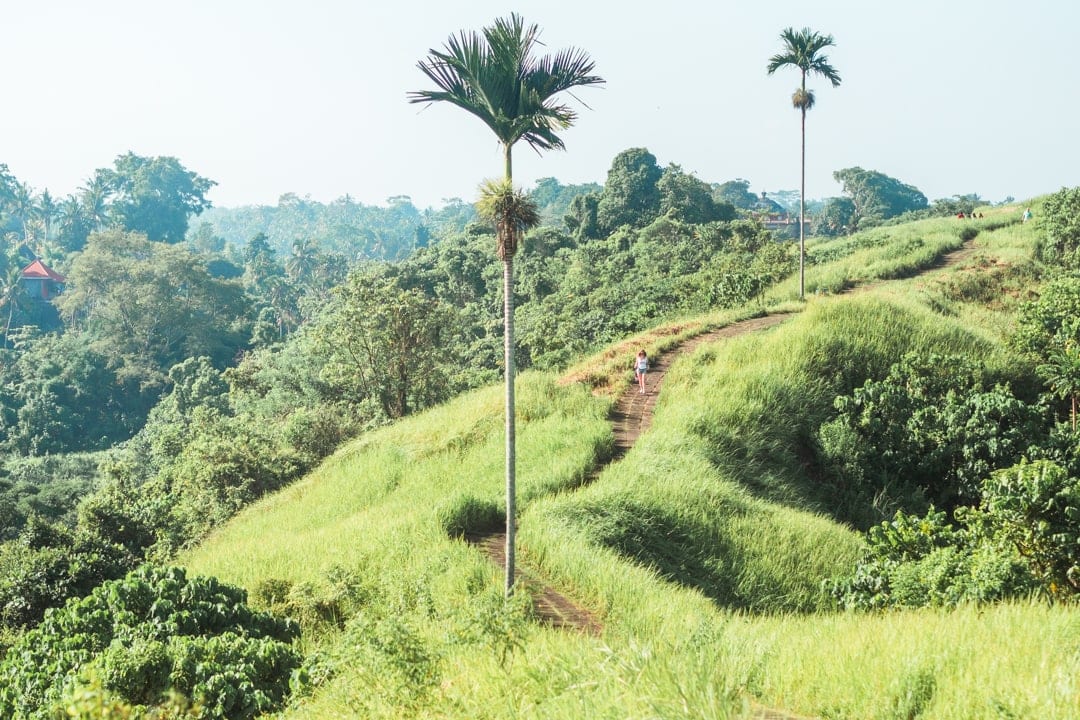 14. Don't forget the Nusa Island
30 minutes across the Badung Strait you'll find 3 paradise islands, Nusa Penida, Nusa Lembongan and Nusa Ceningan. I often say that my favorite, Nusa Lembongan, is like a vacation from your Bali holiday. So calm and relaxing, a definite must on any Bali itinerary.
🌟 Lembongan Instagram tour
Limited on time? >> This all-inclusive and private tour covers all the Lembongan highlights in one day. Dream Beach, Mahagiri Beach, the Yellow Bridge, and Devil's Tears are all included!
15. Don't do drugs
When you first arrive at Denpasar airport you're met by huge posters stating that drug trafficking is punishable by death. And when you're out and about, especially in Kuta and Legian, people will try to sell you different kinds of drugs, mostly magic mushrooms.
Get used to just ignoring the whispering sound of "majic muuusshhhrooms". I read somewhere that every third person offering magic mushrooms on the street is an undercover cop. So definitely take it seriously and don't mess with that stuff (not that I think any of my readers will anyway).
16. Methanol poisoning
If you hang out in Kuta and other backpacker areas like Gili T, please be aware of the super cheap drinks.
A 15k drink is too good to be true even in Bali, it's usually made with arak which is a local moonshine. And unfortunately, it's not uncommon for arak to contain dangerous amounts of methanol.
Many have lost their lives to methanol poisoning in Bali and as little as a teaspoon of methanol can cause blindness. So be careful!
17. Emergencies
In case of emergencies, dial 112 which is the new main emergency number. Make sure to use the right country and area code depending on what SIM card you are using. You can read more about emergency numbers here.
BIMC is one of the most recognized hospitals in Bali and caters mostly to foreigners so you can be sure all doctors and nurses speak English. They have a 24-hour medical center, a doctor service available on call that can come to your hotel or villa and an on-site pharmacy. There are two locations, one in Kuta and the newest one in Nusa Dua.
18. Remember to bargain
Besides boutiques, restaurants and convenience stores, the first price you're quoted is usually at least double what the seller will let the item go for, so don't be afraid to bargain. Some stall owners will even encourage you to do so by telling you the price they think you should come back with. Haha, it can actually be quite fun!
19. Tipping
In Bali, tipping is not expected but very much appreciated. The smallest amount will result in big smiles, so I always tip if the service is good. The only exception is restaurants geared toward tourists where a service charge is often added to your bill.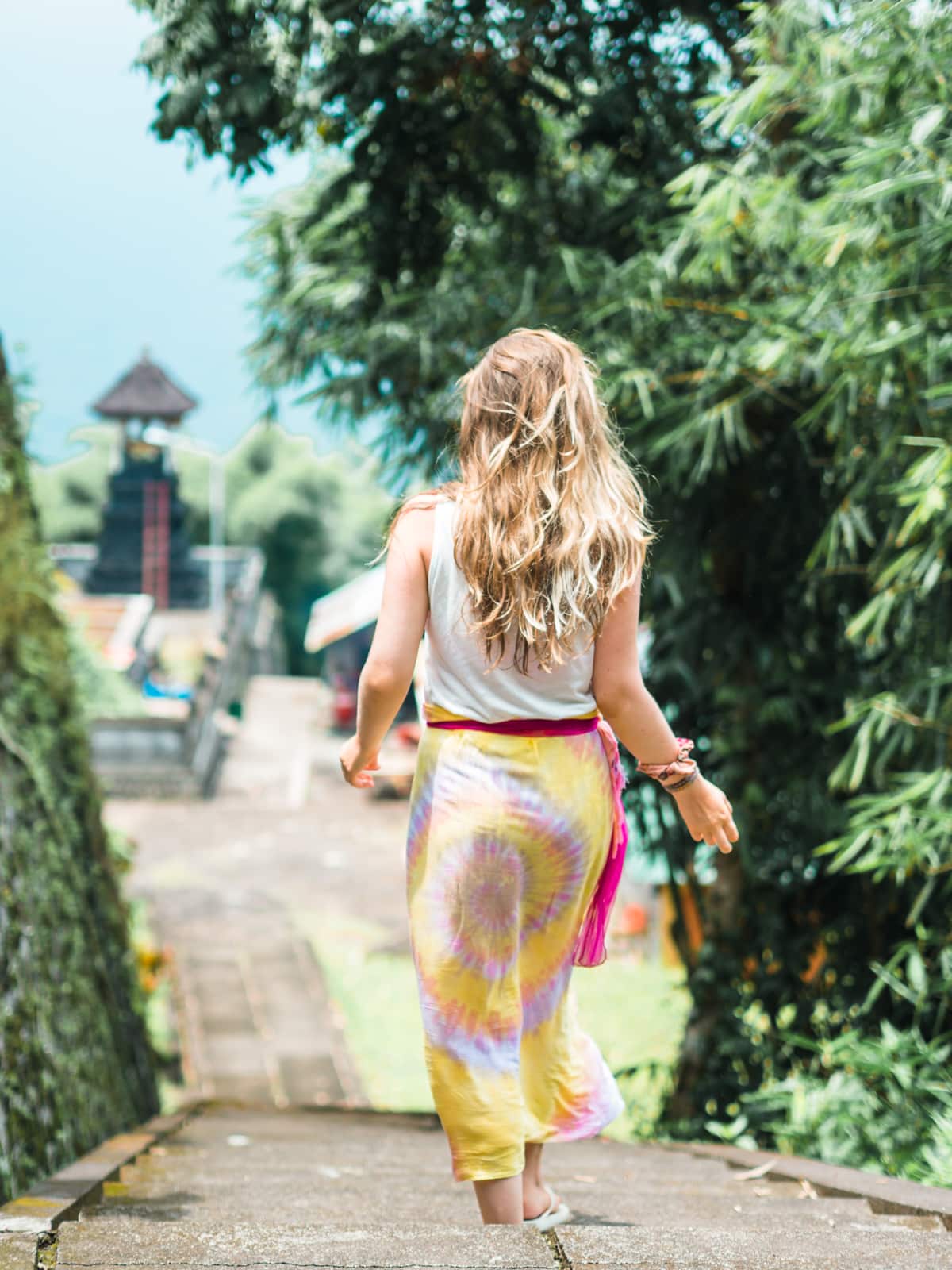 2o. How to dress
In Bali, you can wear whatever you'd normally wear on a beach holiday, like shorts and sundresses etc., especially in the south and along the beaches. But I always cover up with a maxi dress or a long kimono if I go to Denpasar or more remote areas.
In recent years I've seen more and more people walk through villages and into shops wearing only bathing suits. While most locals won't say anything, please show a bit more respect and at least put on a cover-up or sarong. Remember to also bring some appropriate hiking gear if you want to trek Mt. Batur.
I also always bring or buy a sarong, trust me you'll need one. When visiting temples you have to wear a sarong and often also a sash as I do in the photo above. But don't worry, if you forget to bring one you can usually rent appropriate attire at the temple for a small sum.
21. Laundry
You don't have to worry about how to clean your clothes in Bali, there are small laundries on literally every street. Most hotels also offer a laundry service for a slightly higher price. Expect to pay between 7-10k per kilo and a 24-hour turnaround.
22. Offerings & ceremonies
Despite the influx of tourism, Balinese culture and traditions still remain very strong. You can barely take a couple of steps along the street before you encounter a "canang sari", which are colorful daily offerings made by the Balinese Hindus.
Making the basket, filling it with gifts, and performing the ritual is a lengthy process so be respectful and don't interrupt someone during the offering or any other ceremonies.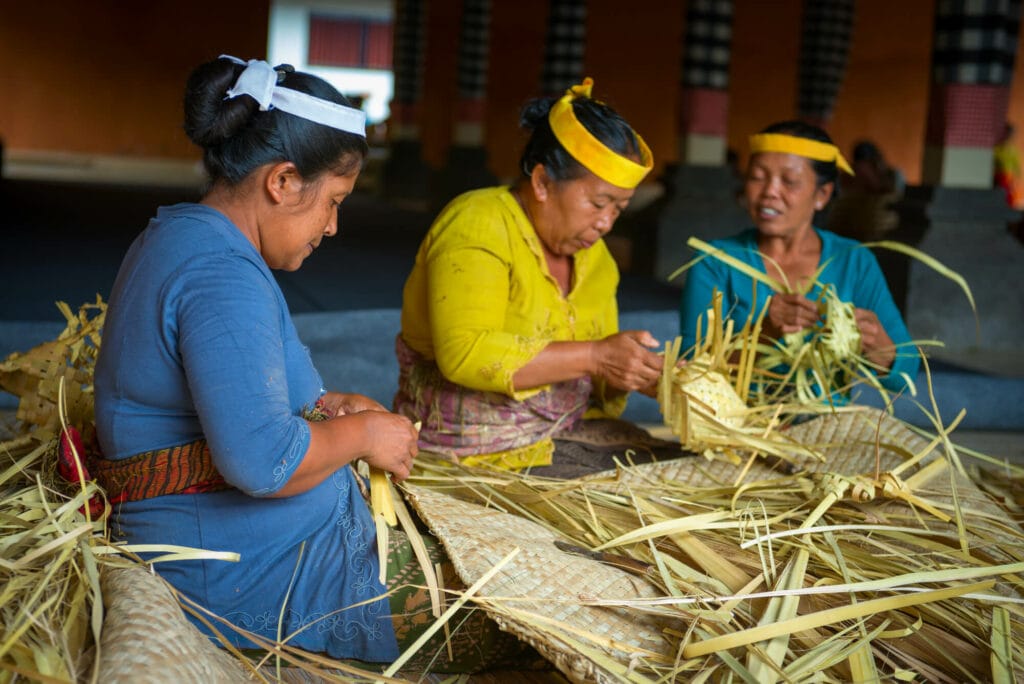 23. Are you on your period?
Speaking of Balinese culture, there are many temples and holy places that you're not allowed to visit if you're on your period. At popular Pura Lempuyang, they will even ask you before you are allowed to enter.
24. Beach Hawkers
Even on the smallest beaches across Bali, there will be at least a couple of people trying to sell you sarongs, bracelets, fresh fruit and drinks, as well as those offering massages. "Massaaaaass? Maybe laaataa?" haha you will soon get what I mean by that.
I usually go for the freshly cut baby pineapples and the mango and the dragon fruit… and the coconuts. Hey, I need to eat right? So in my mind, it's better to support the hawkers than all the fancy beach clubs.
At the end of the day, a very small amount could mean a world of difference to some of these people, but you shouldn't feel pressured into buying anything. And please, try to always be polite. Just smile, say no and shake your head if you're not interested.
25. Stray animals
The beautiful island of Bali is home to thousands of stray dogs and cats. There are a number of shelters on the island, but unfortunately, it's still a huge problem. If you want to help check out the amazing Mission Paws'ible.
Once many years ago my sister and I were staying in Echo Beach in Canggu and walked back to our hotel after dinner. This was not the Canggu you see today, there were only a couple of warungs down by the beach and a long gravel road with no street lights or anything. Suddenly we were surrounded by four stray dogs and remember it was pitch black so I have to admit it made me nervous.
One walked in front of us, one on each side and one behind us. For a few seconds were sure they were going to attack, but to our surprise, they just walked with us at our pace. When we reached our hotel they sat down and watched us until we went inside. In hindsight, it almost felt like they wanted to protect us. I love dogs!
None of the animals I have encountered over the years have been particularly aggressive, so don't be afraid, just exercise common sense. However, if you are unfortunate enough to get bitten, go and see a doctor immediately as there have been outbreaks of rabies on the island in the past.
26. Hide your valuables from the monkeys
Speaking of animals, if you plan on visiting Ubud Monkey Forest or the Monkey Temple in Uluwatu, be sure to hide all your valuables. Leave everything you don't need in the car or scooter as the monkey will open backpacks and even steal sandals off your feet. I'm not kidding! You can read more about the cheeky Bali monkeys here.
27. Surfing island
Bali is a paradise for surfers. It's probably why I love it so much because who doesn't like a day of low-key staring at longhaired, sun-kissed surfers, right? Though I haven't mastered the art of surfing yet, it's a fun way to get some exercise and meet other people.
Padang Padang, Kuta/Legian and Batu Bolong are some of the best breaks in Bali for beginners. You can just walk over to the racks of surfboards on the beach and someone will approach you about lessons. Or even better, you can book lessons in advance here.
🏄‍♀️ Check price and availability here >> Popular surf lesson in Canggu
28. Language
I love being able to communicate in the language of the place I'm visiting, even if it's just a few words. Whilst the vast majority of people in the main tourist areas in Bali will speak enough English to communicate with you, knowing a few phrases in Balinese or Indonesian will go a long way. The locals really appreciate the effort.
Start with some easy phrases like selamat pagi – good morning, apa kabar? – how are you?, tolong – please, suksma – thanks (Balinese) and terima kasih – thank you (Bahasa). And remember, Balinese is not the same as Bahasa Indonesia, the official language of Indonesia.
29. Foodie heaven
And last but not least, Bali is a foodie's dream. You might be wondering why I think it's important that you know that before you go to Bali. But if you're a foodie like me you might want to do extensive research on the restaurants and cafés you want to try.
I always go through TripAdvisor for hours prior to a trip. Reading reviews, looking at photos and making lists. I know I'm weird. I just can't help it, food excites me more than anything. You can read more about my two all-time favorite Bali restaurants here.
But although Bali has so many trendy restaurants don't forget to eat at the warungs and try some of the local delicacies. Indonesian and Balinese food is delish! My favorite dishes are Mie Goreng (fried noodles) and Rendang. Yuuuum!
More Bali travel guides
---
Remember to pin for later 😉