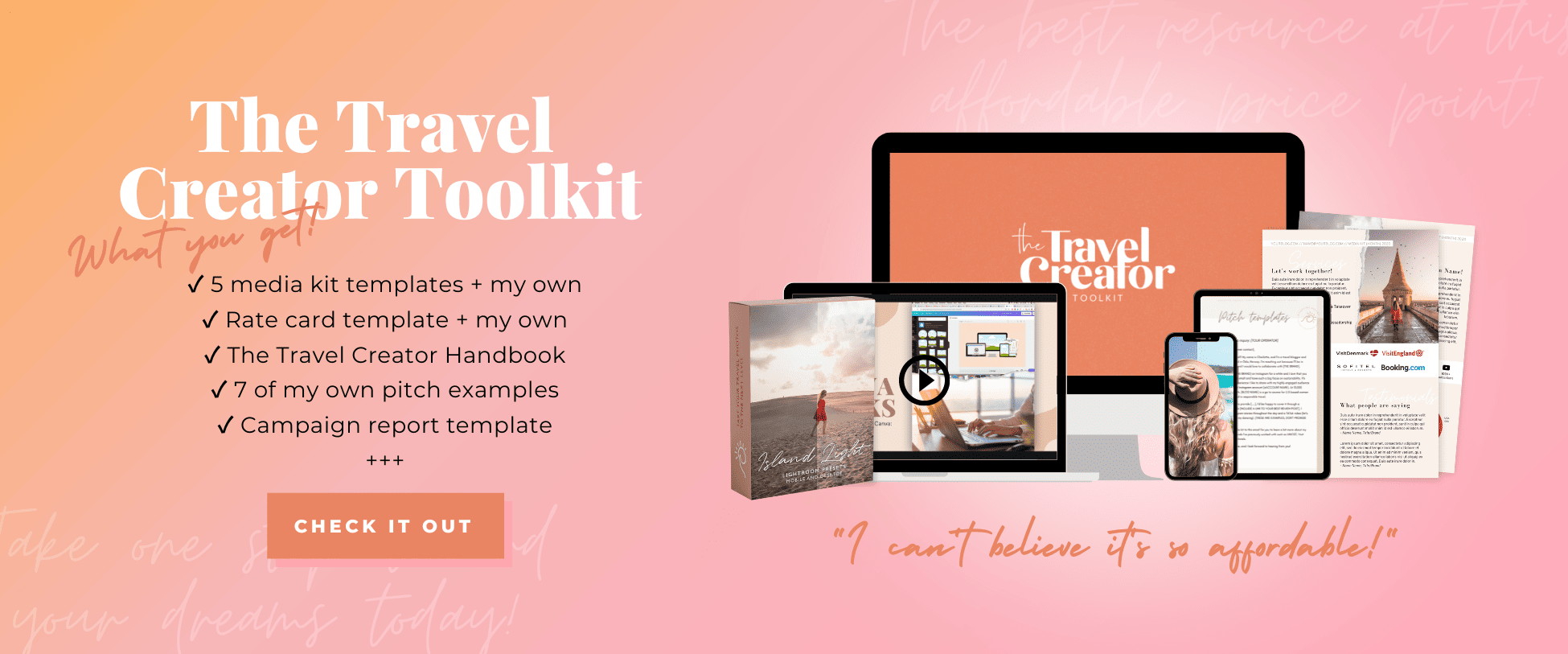 This post may contain affiliate links. I will earn a small commission if you purchase through them, at no extra cost to you.
Have you been dreaming of starting a blog and making money online to create a life of more freedom? Then you're in the right place. Let's review the best courses for bloggers, the Pro Blogger Bundle by Create and Go!
After going through 79 courses and ebooks, I know a thing or two about how you should spend your money as a new blogger. Reviews like this helped me so much when I was first getting started investing in myself and my business, so now I want to help you do the same.
If you are one of my regular readers, you know that I rarely recommend courses, except for this one by Create and Go. I only ever mention courses that have had a huge impact on my blogging business and that is exactly what Six-Figure Course Creator (previously Six-Figure Blogger) has done for me.
So here's an honest review of all Create and Go courses – the Pro Blogger Bundle!
Who are Create and Go?
A few years ago, Alex and Lauren were just where you are right now. Stuck in their 9-5 jobs as a personal trainer and CPA, living for the weekend and dreaming of a life with more flexibility.
After one failed blog, months of zeroes and more trial and error than you can imagine, they slowly started to figure some things out. $0 turned into $100, which turned into $1,000, which quickly turned into $10,000. During their first year of running a health and fitness blog, Avocadu, they earned $100,000 and were able to quit their jobs.
Out of this incredible success came Create and Go and within a year they had created another six-figure business. Since then they have been featured in places like Forbes and Entrepreneur and last year they made just under a million dollars. Check out their income reports for some major inspiration.
What I love most about Alex and Lauren is their commitment to honesty, transparency and authenticity. I never feel like they are just out to make a quick buck or take advantage of anyone. They truly want you to live the best life possible, so they also offer a lot of valuable content for free.
Create and Go course reviews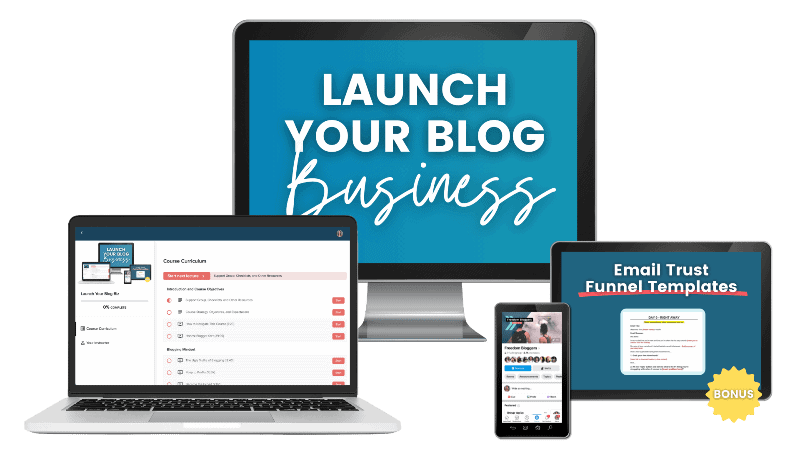 This is the course for those of you who have not yet set up your blog or are in the very beginning stages. If you already have your blog up and running you can still learn a thing or two, however, I would rather focus on the other three courses.
What you will learn
How to set up and launch your first website
How to design your website with a customizable theme
How to create great content that stands out
How to get tons of visitors to your content
How to build an audience and email list of raving fans
How to earn your first $1,000+ of income
+ Bonuses
Review
I don't have much to say other than if you are new to blogging or dream of starting a blog, you should invest in Launch your Blog Biz. You are given step-by-step instructions of what to do and don't have to wonder about a thing. And the email trust funnel templates you get as a bonus are worth their weight in gold, I still go back to them today when creating a new email sequence.
The only advice in the course I do not necessarily agree with is using Bluehost as your hosting provider. You'll see a lot of bloggers recommend Bluehost, often because of their generous affiliate payouts. I know one blogger who earns more than $50,000 a month in Bluehost commission alone.
I'm personally not a fan of Bluehost and have always hosted my websites on One.com and Lyrical Host. But as always, I encourage you to do your own research, read reviews and find the best solution for your needs.
I also think Convertkit, the email service provider they recommend, is a little bit too expensive for new bloggers. Yes, they do have a free basic plan up to 1000 subscribers, however, it does not allow automated email sequences which is a big part of why you want an email list in the first place.
I recently switched from MailerLite to Flodesk and I absolutely love it. You can get 50% off by signing up using my link.
Are you Confused about what the heck SEO even is? Or overwhelmed trying to navigate all the conflicting information by yourself? Then this course is for you. Anyone who wants to run a successful online business, blog or otherwise, needs to know SEO.
What you will learn
How to set up and optimize your website
How to take a deep dive into keywords
How to use SEO power tools to optimize
How to create top-notch blog content that ranks
How to master the outreach process
How to improve and scale your SEO efforts
+ Bonuses
Review
This is Create and Go's newest course and the third SEO course I've gone through. Yes, once I realized that you can never go wrong with investing in yourself, I went a little wild. Knowledge is power, right?
While all three courses are really good, mostly teaching the same things just with different strategies, I only recommend this one. And the reason is that the other two are twice the price. So while that would mean twice the affiliate commission for me, I don't want you to pay any more than you have to. I remember what it was like to invest money in my blog before it was making any.
One of my biggest lessons from SEO Blueprint for Bloggers is the difference between traffic keywords and buying keywords. I realized that I had spent a lot of time going after keywords that weren't really worth much other than a little ad income. By just changing focus to the RIGHT keywords I have seen some incredible results. This week I've woken up to sales notifications every day and it feels so good!

You don't have to spend any additional money to see great results from SEO Blueprint for Bloggers. However, the course does focus on Arefs which is a great SEO tool, just a little expensive. If you have the money, that's awesome. If not, I think you can go a long way with a tool such as Keysearch which is a lot cheaper. Or one of the free alternatives they mention in the course.
Five years ago, Pinterest was the big star in the online world with bloggers getting hundreds of thousands of clicks a month from Pinterest alone. Then a few years ago it suddenly halted when Pinterest made big changes to its algorithm. Some lost most of their traffic while mine was cut in half.
Although many bloggers have since abandoned Pinterest and started focusing solely on SEO, I still believe putting effort into Pinterest is a must. Pinterest is a search engine just like Google and can still produce good results. While SEO takes a long time to create results you can get lucky and have a pin take off right away.
I still receive about 15,000 pageviews a month from Pinterest and only spend a few hours creating pins and pinning. So that's a good ROI I would say.
What you will learn
How to build a successful Pinterest SEO strategy
How to create viral content that stands out
How to maximize clicks to your content
How to schedule content and automate traffic
How to track progress and analytics
How to grow your audience and email list
+ Bonuses
Review
In Pinterest Traffic Avalanche you'll learn everything from setting up your Pinterest profile correctly, to Pinterest SEO and how to better your chances of having a pin go viral. I have taken several Pinterest courses and this is the most in-depth so far.
One of the bonuses you get with the course is called "Ninja Secrets Bonus Lessons" and as with the email templates above, it is one of my favorite parts of the course. I got so many aha moments when Lauren talks about easy ways to get people to click on your pins that should be obvious but I never thought of myself.
It's not the first Create and Go course I would invest in, however, if you purchase the Pro Blogger Bundle you get one of the courses for free. So I would just see it as an awesome bonus!
This is the course for those of you who already have your blog set up, knowledge of SEO and affiliate marketing and are ready to scale your blog to $10,000 a month and beyond.
What you will learn
Business Mindset
How to build your Six-Figure Framework
How to generate ideas and plan out your course
How to build your course from scratch
How to create high-converting sales pages
How to get targeted visitors to your sales pages
How to scale sales with an email sales funnel
+ Bonuses
Review
This course, previously known as Six-Figure Blogger, is so much more than just a course about creating courses. It is really an email course that focuses on setting up automated sequences so you can earn money while you sleep. It also covers affiliate marketing, so even if you aren't ready to create your own products, it is still very valuable.
I have written a complete review of Six-Figure Course Creator here.
Create and Go course review conclusion
Is Create and Go worth it?
In my mind, yes definitely! Getting a behind-the-scenes look at such a profitable blogging business is invaluable to me. I only wish I had it from the start, it could have saved me so much time.
So now you have to decide whether you want to invest your time and try to figure everything out yourself or invest a sum of money to save time and start making money sooner.
I love the laid-back and down-to-earth teaching style of Alex, Lauren and Noah. The courses are easy to follow and fluff-free. You learn exactly what you should do every step of the way from bloggers who actually have a successful blog outside the "make money blogging niche". And they back everything up with proof.
You will see some of the material repeated, such as the email modules in Launch your Blog Biz and Six-figure Course Creator. They are not the same, as the latter is much more advanced, but share some similarities. That's of course because they also have to give value as stand-alone courses. And it never hurts to repeat things when learning.
How to use the Pro Blogger Bundle
If I had to start over, I would invest in the Pro Blogger Bundle to get everything I need to create a successful blog in one place. First I would go through the "Your Business Mindset" module in Six-Figure Course Creator because your mindset is the most important thing. I truly believe that success in any field comes down to 80% mindset and 20% strategy.
Then I would continue with SEO Blueprint for Bloggers and then the Launch your Blog Biz. That way you can follow the step-by-step guide in Launch your Blog Biz with the knowledge about what quality SEO articles and content silos look like. I started writing articles on a whim without any knowledge of SEO, let's just say I had to go through and more or less rewrite 150(!!) blog posts. I don't want that for you.
When you have your blog all set up and get in the flow of writing SEO blog posts, continue with Pinterest Avalanche. As mentioned above, Pinterest is still a great source of traffic for me. While Google provides more quality traffic, it is important to not have all your traffic eggs in one basket.
Lastly, I would get into the rest of the Six-Figure Course Creator to learn how to get the most out of your email list. First with affiliate marketing and then down the line to sell your own products.
Which course is best for blogging?
The best course for beginner bloggers is Launch Your Blog Business and the best course for bloggers that already have everything set up is Six-Figure Course Creator, both by Create and Go. Take it from someone who has completed 79 blogging courses and ebooks!
Create and Go free resources
If you would like to get a feel for Create and Go's teaching style, check out their YouTube channel where they share a lot of valuable information like this video below.
I highly recommend the Pro Blogger Bundle for all new bloggers aspiring to make a full-time income online. Especially if you have an interest in two or more of the courses. The price can't be beaten for all the value you get.
I WISH I had these courses when I first got started, it would have saved me years of struggle.
---
I hope you found this Create and Go course review helpful!
Remember to pin for later 😉