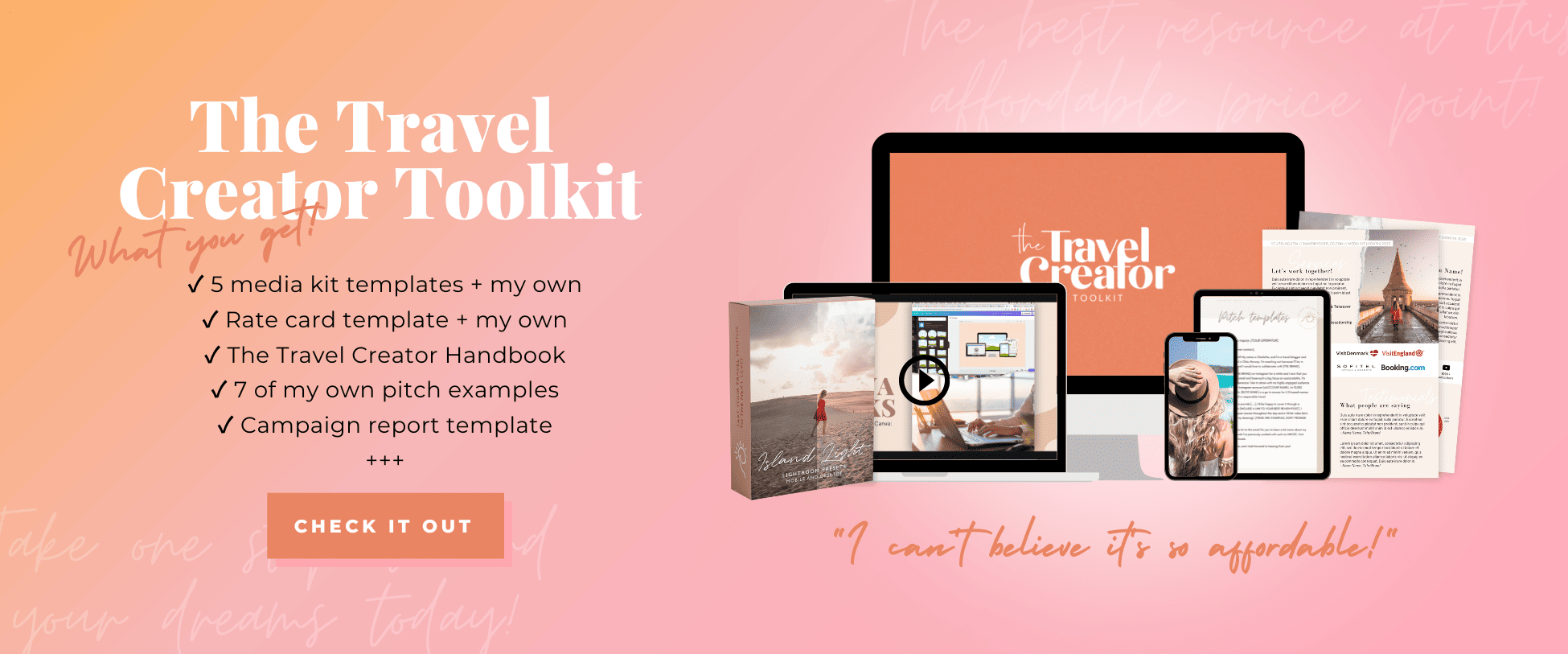 This post contains affiliate links. I will earn a small commission if you purchase through them, at no extra cost to you.
Are you wondering how to become a travel content creator? Then you're in the right place!
In 2012 I was on the waitlist for Instagram to become available for Android, and in 2015, I decided I needed to come up with a way to make money online to create more freedom to travel. I knew instantly that I wanted to become a travel content creator.
There weren't many professional Instagrammers to learn from at the time, nor were brands used to working with influencers, so I made a lot of mistakes in the beginning.
Since then, however, I have worked as a creator for 7+ years and on the other side, for a tourism board. And that means I know a thing or two about how to become a travel content creator and what brands and tourism boards look for when working with content creators.
🌟 Skip the guesswork and grab all my personal templates in the Travel Creator Toolkit!
What is a content creator?
A content creator is someone who produces creative and engaging content for various media platforms, such as Instagram, blogs, podcasts, YouTube, etc. And a travel content creator is, of course, a content creator who focuses on content in the travel niche.
The role of a content creator involves a range of tasks, including generating ideas, researching and writing content, creating videos and shooting photos, editing and proofreading, managing social media accounts, analyzing data to measure the success of our content and reporting results to brands.
Is a content creator and influencer the same?
A content creator is necessarily not the same as an influencer. These days you can create UGC content for brands that you don't post on your socials at all. You are also a content creator if you run an informative blog that people visit if they have a certain question.
An influencer, on the other hand, is a person who has built a large following on one or more platforms. They use their influence to promote products, services, or ideas to their followers and can have a significant impact on consumer behavior.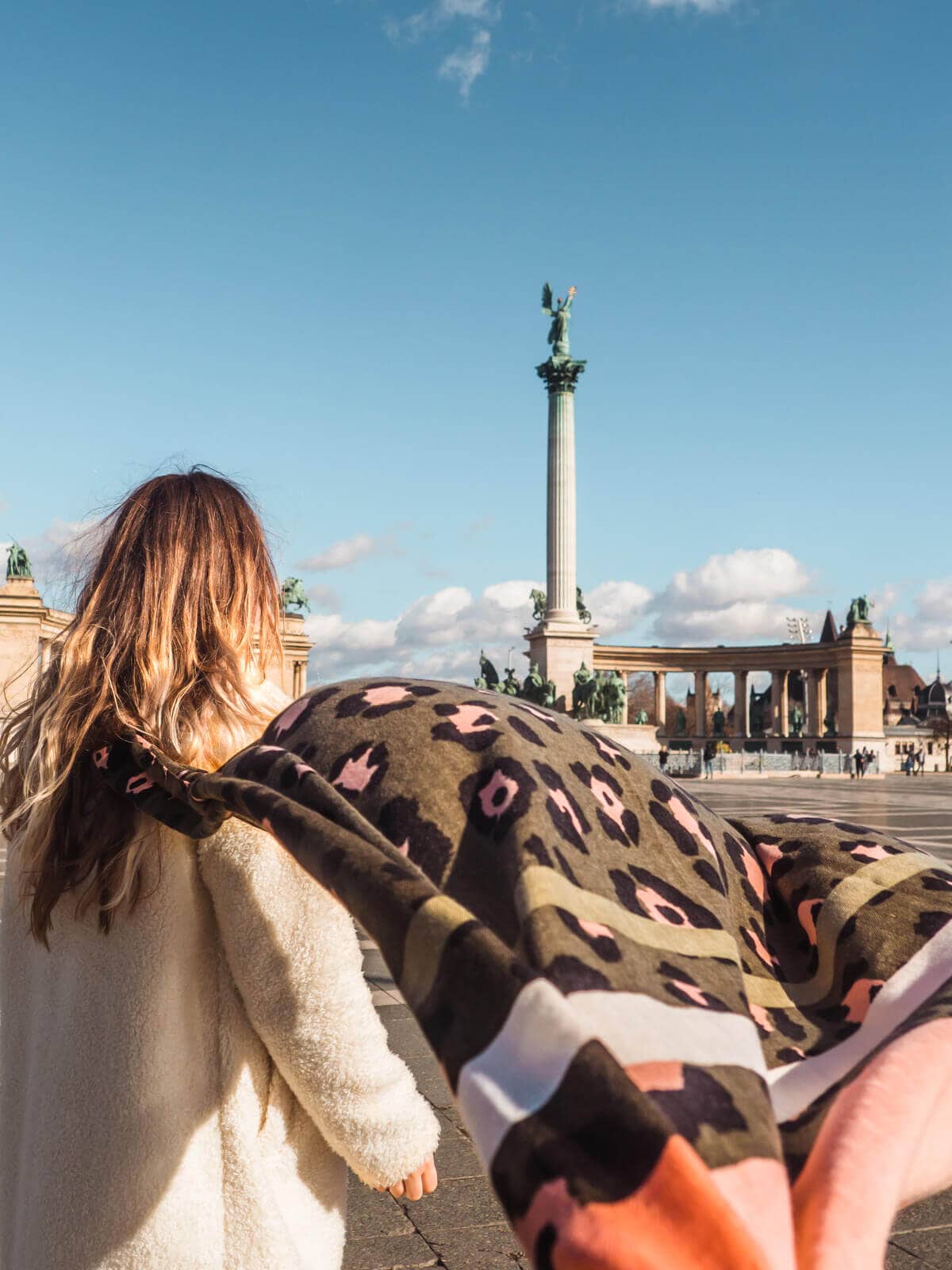 Why become a travel content creator?
Before we look at my step-by-step guide to becoming a travel content creator, I wanted to quickly touch on why. Because, while working and earning money online as a content creator is a lot of fun, it is also a lot of hard work.
Pitching, no responses, endless hours of editing, reporting on results, engaging, building relationships, getting up early and staying up late to catch the perfect light, etc. So you really have to want it to be able to stay with it when it gets hard.
Make sure this is something you really want to do, and that you have a passion for photography, video and/or writing. Try it out with some places close to home before you quit everything to head out on the road. Maybe a hotel in your hometown could use some fresh content?
Passive income as a creator
When you are sure this is for you and you play your cards right, you get to explore the most amazing places while receiving email notifications like this:

As you can see, in addition to brand partnerships, you can also set up passive income streams that more or less run on automation while you are sleeping or are out having fun.
And that's exactly what I want you to experience. The feeling of location and financial freedom. So your office also can look like this someday. It might look like I was in Japan…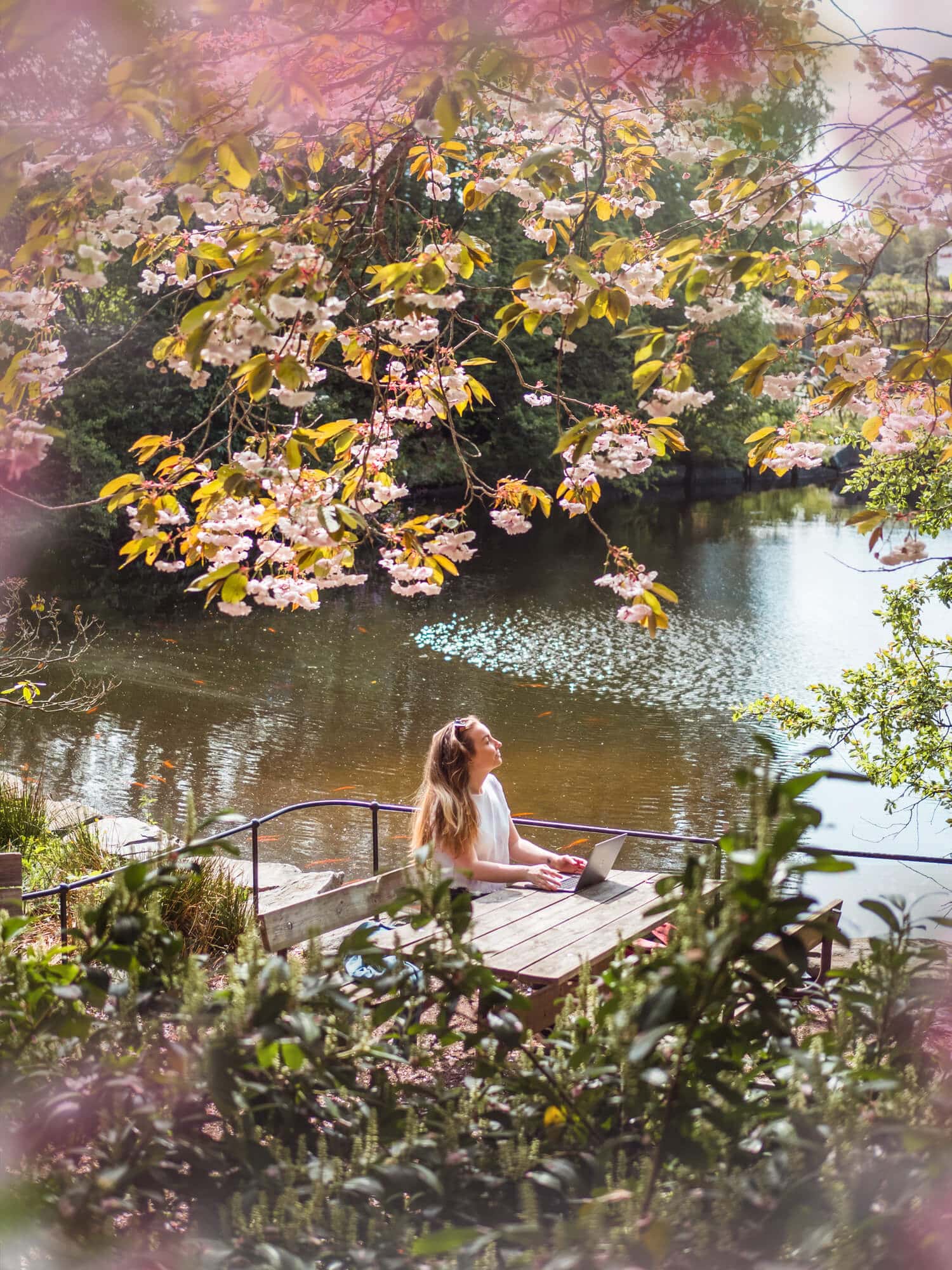 Or somewhere in Africa…
But this was actually my office in Norway yesterday. For the last couple of months, I've been traveling in my home country, learning to appreciate what I've taken for granted for so many years. The incredible beauty that Norway has to offer. So yesterday my mom came to see me south in Kristiansand, and we went to the zoo.
Normally I wouldn't recommend animal attractions, however, Kristiansand Zoo does incredible work with the conservation of some of the world's most endangered species. So I'm happy to promote it.
I still had a course update to finish, so I spent a couple of hours working in the most beautiful surroundings, then enjoyed the rest of the day with my mom. Something I would not have been able to do on a regular Wednesday if I was stuck in a 9-5.
Norwegian: Hvis du vil lære mer om passiv inntekt, sjekk ut min norske side her.
7 steps: Become a travel content creator
Now, let's get to the juicy part. If I had to start over as a travel content creator knowing what I now know, this is exactly what I would do.
1. Learn & plan
How do you plan on making money? Mainly through brand partnerships or are you thinking about additional income streams? Do you want to create a blog in addition to Instagram? Or are you focusing on TikTok? The first thing you should do is make a plan.
My number one tip is that you diversify your income from the very beginning. In addition to brand partnerships, think about how you can make money through affiliates and maybe selling digital products. When I started, I made money through affiliates before I made anything from brands. You can easily share affiliate links for products in your niche through stories or on your blog.
Learn as much as you can before you start so you can go straight for the money, don't fumble around like I did for so long. Take advantage of living in a time where we have all the knowledge in the world at our fingertips.
There's lots of free content around, however, I started seeing results when I invested in myself. I truly believe that the transformation is in the transaction. After completing 79 courses these are the very few I recommend:
Build an email list
Have you ever heard the saying, the money is in your list? That's true for travel content creators as well. And that's why I highly recommend you start growing an email list from the start.
You can get shut out of your social media and your website can get hacked at any time, your list of people who have chosen to interact with you is the only thing you truly own.
You can create a freebie to grow your list using my free Canva ebook template.
🌟 The reason why I am where I am today, able to travel wherever I want whenever I want, is because of this course (part of the Pro Blogger Bundle). And that's not an exaggeration! You literally get an email marketing course within the course about creating digital products. Remember that the more passive income you can create in addition to working with brands, the more freedom you'll have.
2. Find your secret sauce
What do you know/do better than 8 out of every 10 people? That is what's going to earn you a lot of money.
Do you draw or paint? Start an Instagram where you draw the destinations you visit. Film behind the scenes of you painting, the destination vs. the painting, etc. I can see so many pieces of content created out of one painting. Someone might already be doing this, I don't know, but you get my point, right?
Find your uniqueness and highlight it!
Do you love fashion and plan the perfect outfit to fit in with every destination? Do you have a unique photography or videography style that stands out? Do you dance your way through the world? Are you a history buff with a lot of knowledge of historic places?
Use what sets you apart from everyone else for everything it's worth!
3. Niche down
And when you find your secret sauce, niche down. This is something I regret not doing when I first started. You don't have to stick to one narrow niche forever, but it is so much easier to grow in the beginning when you focus on one thing. As I mention in my pitching guide, brands are more likely to work with micro-influencers with a clear niche.
Your niche can be a specific destination, weekend guides in Europe, ethical animal attractions, travel with a handicap, street food, you name it. When you create a presence or an audience within a specific niche, you have a much larger chance of getting a yes from brands in that niche.
Just think if a yoga brand was considering working with a general travel influencer with 100,000 followers or a yoga travel micro-influencer with 10,000 followers. They know that most of the followers of the yoga influencer are most likely interested in yoga. However, they have no clue how many of the followers of the larger influencer are interested in yoga.
And when you grow, you can broaden your niche.
Must read >> 23 amateur blogger mistakes you are probably making
4. Pitch & build relationships
Start looking for brands that you would like to work with and put together a list. You can use the pitch tracker in my Travel Creator Toolkit or just Google Sheets.
Pro tip: Whenever I see one of my fellow travel creators doing a paid collaboration with a brand, I always check it out to see if it's a good fit with my audience as well. Remember that it's easier to get a yes from brands who already see the value of partnering with creators.
Follow and engage with these brands on Instagram, only genuine engagement of course. If you already own one of the products or have used a service and have some great content, post it and tag them to show what you can offer.
Then start pitching. And this is a number game, when I first started I sent out 10 carefully tailored pitches every week. You can get one of my pitch templates for free when you sign up above or at the bottom of this page, or you can get all my pitch examples in the toolkit. Remember to also check out my complete pitching guide for micro-influencers.
And start building your audience as soon as possible. My number one advice is to let your followers get to know you through stories. People are more likely to buy from you and support you when they feel connected to you.
Remember that you don't have to be an influencer with a huge following to work as a travel content creator. You can create UGC content, you can reach out to brands, hotels and destinations to help with their overall online presence, you can take over their Instagram, etc.
It all comes down to how you can help the brand do something they can't easily do themselves. So think about it, how can you offer value to both the brand and your audience?
UGC content
User-generated content, UGC, is all the rage right now. Think of it as our digital age word-of-mouth marketing. It is original, brand-specific content created by customers and published on your or the brand's social media, website or used as ads.
I've seen a lot of smaller creators earn more money creating UGC than huge influencers with hundreds of thousands of followers.
I recommend pitching a package of videos for the brand to use as ads with a few different hooks so they can test to see what works best. That means you film one middle part of the video and maybe three different intros and outros with different hooks that will catch the attention of their different customers. Then the brand can edit the videos together as they please.
5. Build your portfolio
Before you leave home or quit your job, build up your portfolio. You can showcase your skills without having worked with any brands. Maybe you have taken some incredible photos or videos on a previous holiday? Maybe you have done some barter partnerships without getting paid? It doesn't matter as long as it shows what you can offer!
In the beginning, I put everything together in my media kit (you get five different templates in the Travel Creator Toolkit). From the media kit, you can link to any online portfolio like a travel blog, Instagram, TikTok, etc.
When I had a few paid partnerships under my belt I created a case study that I sent out together with my media kit. The case study outlined the brief, the content I created and the results I achieved. This is when I started to see some real traction and after a while brands started reaching out to me first.
Remember that all the people you pitch are different just like you and I, so they will be looking for different things. The best thing you can do is just to start somewhere to see what works in terms of pitch copy, media kit, case studies, etc. in your niche. Remember that clarity comes from action not thought!
Must read >> How to create a media kit as a travel blogger/influencer
6. Work on your mindset
I believe that success in any area of our lives comes down to 80% mindset and 20% strategy, so I work on mindset first with all my clients. Be sure to read about my 8 best strategies to cultivate a success mindset as a creator.
Because you will hear "no" more than you will hear "yes" in the beginning, don't take it personally. Sometimes the brands have spent their marketing budget for the quarter and sometimes it's just not a good fit. That's all part of being a travel creator.
You might also realize you have some money blocks when you have to ask about a campaign budget or send an invoice. So work on your money mindset from the very beginning. There are lots of free resources on YouTube, I also talk about it in the Travel Creator Handbook in the Travel Creator Toolkit.
For me, journaling also really helped to get to the bottom of why I felt resistance to pitching and asking for money. And I still use affirmations every day.
Ask yourself, is the fear greater than your desire for location and financial freedom? Would you regret not just going for it? What do you have to lose? Don't keep yourself from following your dreams just because you are embarrassed to be seen at level one. Remember that those who are now on level 100 once started exactly where you are. The only difference between you is that they went for it!
It also doesn't hurt to speed up the process by manifesting your dream brand partnerships. I manifested a campaign with the tourism board of one of my dream destinations. It's not a coincidence that my dream tourism board was one of the very first to reach out to me.
Also, prepare for some interesting experiences on the road. Travel doesn't always go to plan and that's just how it is. You can check out my take on the advantages and disadvantages of digital nomad life here.
7. Consistency is key
Consistency in your posting schedule, the value you provide and the look of your content are essential as a travel content creator.
You don't have to post several times a day on all the channels to grow. The most important thing is that your content offers some kind of value. Why should people care about what you post? Mini-travel guides in the caption have done really well for me recently.
Also, I have found the sweet spot for me, between growing and not getting burnt out, is to post 4 reels and 2 carousels a week on Instagram. Plus 4-7 stories six days a week. Then repurpose this on Facebook, TikTok, Pinterest and shorts if you're on YouTube.
The Travel Creator Toolkit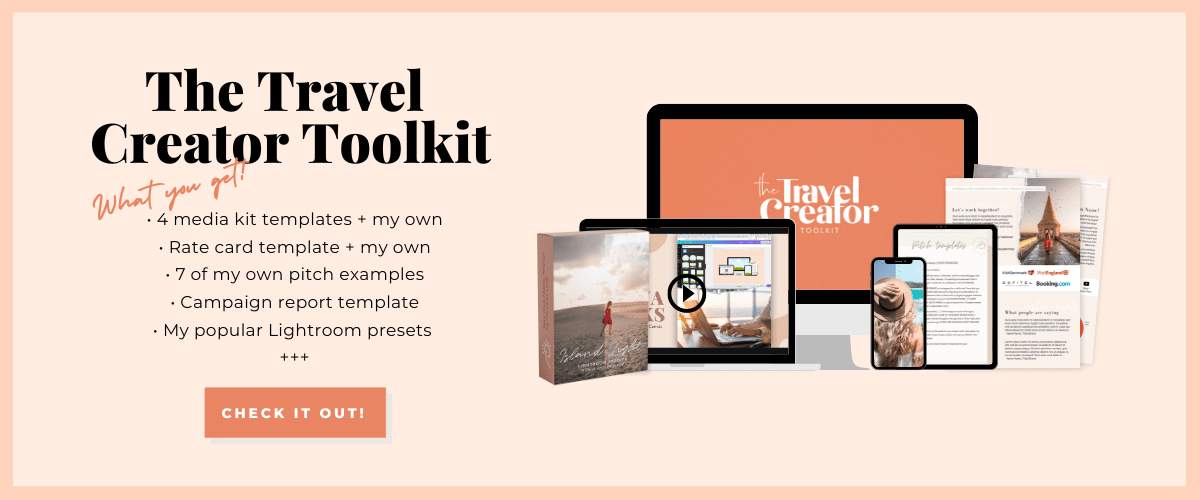 Want to skip months of trial and error? Get everything I have used to create my travel content creator business. In addition to everything you see above you also get a month's worth of captions, my pricing guide, case study template, best pitching practices checklist ++
You also get lifetime access to the toolkit and all updates for free (I update and add to it regularly).
Take it from someone who has been a travel content creator since before it even was a thing, and made a lot of mistakes; don't waste time. Time is the most valuable resource you have, just think where you could be a month or even a year from now if you get started today!
Safety as a content creator
One thing that's easy to forget on the quest to become a travel content creator is insurance. Remember that regular insurance often won't cover travel over longer periods of time. And if you decide to go all in as a creator you probably want to stay on the road for as long as possible, especially in the beginning.
Luckily there's a solution…
✈️ Introducing SafetyWing's Nomad Insurance, a travel medical insurance that was created for nomads by nomads.
🌴 The best part about SafetyWing is that you can purchase a policy even if your trip has already started. 185 countries are covered and you don't need to let them know about your itinerary in advance.
💸 And the second best part is that the insurance is subscription-based, you can pause and resume your coverage with flexibility. No more paying for expensive insurance year-round when you don't need it!
🤩 It's perfect for people like me, and maybe soon you, who don't know where we'll be next month. You'll find my complete review here.
Click here to learn more and get a quote!
---
Remember to pin for later 😉