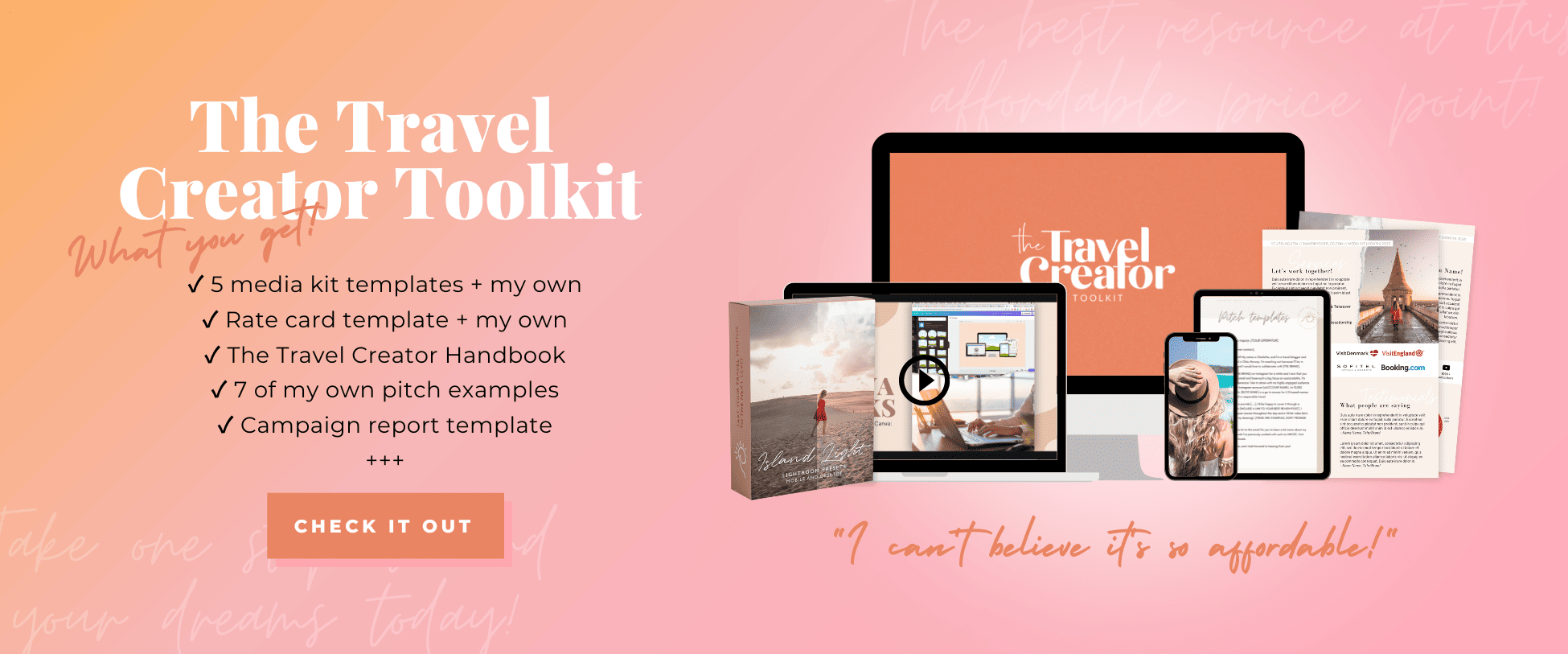 This post contains affiliate links. I will earn a small commission if you purchase through them, at no extra cost to you.
Are you looking for smile captions and quotes to brighten up your next Instagram post? I know how hard it can be to come up with captions that are "good enough to post". It's the one reason why I just can't seem to be consistent on Instagram. My mind always draws a blank when it comes to captions.
So to make it easier for you and myself, I decided to take some time and come up with some "ready to post" smile captions. I also compiled a list of inspirational smile quotes by famous people.
Smiling is the universal way to show excitement, joy and friendliness. If someone smiles at you, you're bound to smile back.
Remind yourself and others to smile more by posting your beautiful grin on Instagram and social media. Pair that with an inspiring smile caption that your followers will love.
Fun fact: Every year on the first Friday of October, World Smile Day devotes a day to smiles and spreading random acts of kindness. The perfect day to post your smile and do something nice for others!
Here are 60 smile captions and cute smile quotes for Instagram:
---
If you want my engaging caption blueprint and 30 days' worth of complete captions, check out the Travel Creator Toolkit. The toolkit also includes all my go-to documents and tools for working as a content creator. You can get a sneak peek at the toolkit by signing up below!
---
You're welcome to use these "ready to post" captions as they are or change them to fit your needs. Simply copy and paste a caption into Instagram or your favorite scheduling tool. I love Planoly!
---
Did you know?
Smiling more often, regardless of your mood, can improve your health and quality of life 🤩
Smiling releases endorphins, which help can help you feel happier and more positive.
Laughing or smiling more can result in lower blood pressure and boost your body's immune system.
A happy face can give the illusion that you look younger than you are.
So, let's make a pact to start every day with a smile. Who's with me? 🙋‍♀️
---
There's always a reason to smile. You just have to find it 😊
It can be a butterfly flying past your nose, it can be the first sign of spring, the feeling of sunshine on your face or the smell of freshly baked bread 🦋☀️
If I'm having a bad day, I make a conscious decision to smile. Actually, sometimes I force myself to smile, and it always makes me feel better.
What are some of the simple things in life that make you smile?
Related post: The course that helped me go full-time in my online business!
I have a question for you…
What was the last thing that made you smile? I mean like, grin from ear to ear 😁
For me, it was booking a hotel for the first time in so long. We're just going an hour away, but I couldn't be more excited!
---
Tell me, why are you smiling today? 😊
I smile because:
I just published a new blog post (link in bio)
The sun is shining
I bought myself a bouquet of roses 🌹
Let's celebrate the small things!
---
How do you get a mouse to smile? 🐭
By telling a cheesy joke 🧀 😄
Sorry, I just had to. Happy Friday everyone!
---
Before I met you…
I didn't know what it was like to look at someone and smile for no reason at all.
Happy birthday/anniversary @account 🎉 💗
Thank you for being your awesome self and always taking such good care of me!
Who are you thankful for today?
Related post: How to create a media kit as a travel blogger/influencer
Cute smile quotes for Instagram
When all else fails, smile.
Your smile brightens up my day.
A smile that lights up the world.
Your smile makes me smile.
You smile. I smile. We all smile!
You make my heart smile.
Don't forget to smile today.
Keep Smiling. Keep Shining.
Life is short, smile while you still have teeth.
Be the reason someone smiles today.
One smile can't change the world, but your smile changed mine.
Worry less, smile more. Don't regret, just learn and grow.
Use your smile to change the world; don't let the world change your smile.

Chinese Proverb
Smile quotes by famous people
"You should never regret something that made you smile." – Mei Maejor
"Her smile dared me to fall in love with her." – Atticus
"When I saw you, I fell in love. And you smiled because you knew." – William Shakespeare
"Don't cry because it's over, smile because it happened." – Dr. Seuss
"A smiling face is a beautiful face. A smiling heart is a happy heart." – Dr. T.P. Chia
"Smile, and let the world wonder why." – Minnie Mouse (Disney)
"A simple smile. That's the start of opening your heart and being compassionate to others." – Dalai Lama
"A smile is happiness you'll find right under your nose." – Tom Wilson
"Wrinkles should merely indicate where smiles have been." – Mark Twain
"Everyone smiles in the same language." – George Carlin
"It's hard not to feel happy when you make someone smile." – Roy T. Bennett
"If you smile when you are alone, then you really mean it." – Andy Rooney
"Sometimes your joy is the source of your smile, but sometimes your smile can be the source of your joy." – Thich Nhat Hanh
"Because of your smile, you make life more beautiful." – Thich Nhat Hanh
"It only takes a split second to smile and forget, yet to someone that needed it, it can last a lifetime." – Steve Maraboli
"Beauty if power. A smile is its sword" – John Ray
"Every time you smile at someone, it is an action of love, a gift to that person, a beautiful thing." – Mother Teresa
"Peace begins with a smile" – Mother Teresa
"Let us always meet each other with a smile, for the smile is the beginning of love." – Mother Teresa
"We shall never know all the good that a simple smile can do." – Mother Teresa
"Nothing you wear is more important than your smile." – Connie Stevens
"For a moment at least, be a smile on someone else's face." – Dejan Stojanovic
"Learn to smile at every situation. See it as an opportunity to prove your strength and ability." – Joe Brown
Related post: 15 tools & resources I use every day as a full-time travel creator
"A smile is a curve that sets everything straight." – Phyllis Diller
"The greatest self is a peaceful smile, that always sees the world smiling back." – Bryant H. McGill
"Strong people are ones who can smile for others' happiness." – Veronica Purcell
"I love those who can smile in trouble." – Leonardo da Vinci
"A gentle word, a kind look, a good-natured smile can work wonders and accomplish miracles." – William Hazlitt
"Smile, it is the key that fits the lock of everybody's heart." – Anthony J. D'Angelo
"Anyone can smile on their best day. I like to meet a man who can smile on his WORST." – Lauren Graham
"A smile is the best makeup any girl can wear." – Marilyn Monroe
"Lighten up, just enjoy life, smile more, laugh more, and don't get so worked up about things." – Kenneth Branagh
"Smile in the mirror. Do that every morning and you'll start to see a big difference in your life." – Yoko Ono
"Today, give a stranger one of your smiles. It might be the only sunshine he sees all day." – H. Jackson Brown Jr.
"Smiling is the best way to face every problem, to crush every fear and to hide every pain." – Will Smith
"You'll find that life is still worthwhile if you just smile." – Charlie Chaplin
"Share your smile with the world. It's a symbol of friendship and peace." – Christie Brinkley
"The world always looks brighter from behind a smile." – Unknown
"When life gives you a hundred reasons to cry, show life that you have a thousand reasons to smile." – Unknown
"Life is like a mirror, we get the best results when we smile at it." – Unknown
And in her smile, I see something more beautiful than the stars.

Beth Revis
If you want to boost your mood, feel more confident, improve your relationships, and even improve your health, smiling more is the way to go!
Want to work online as a creator?
Get all my templates, pitches and presets in the Travel Creator Toolkit!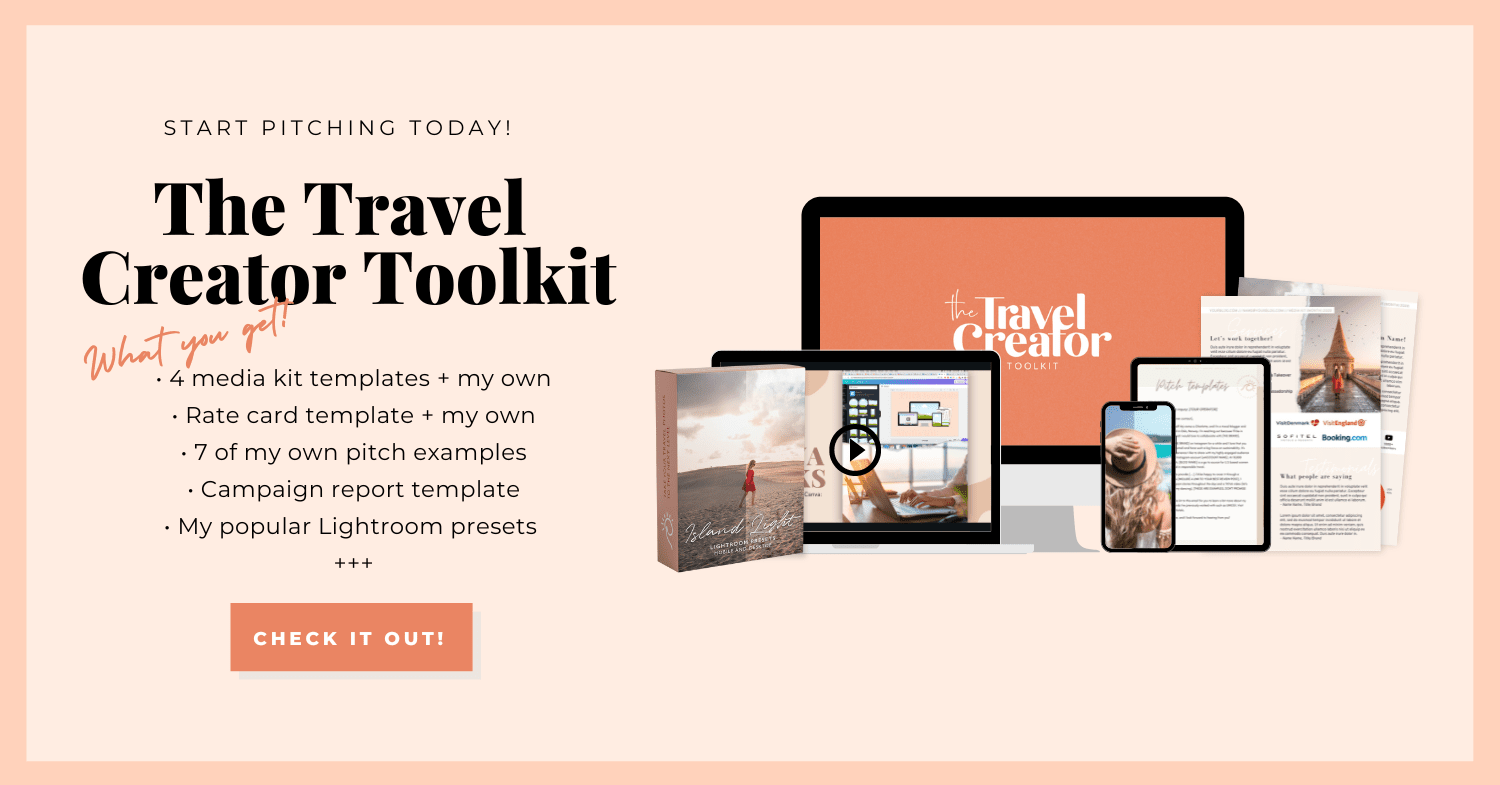 ---
Remember to pin for later 😉