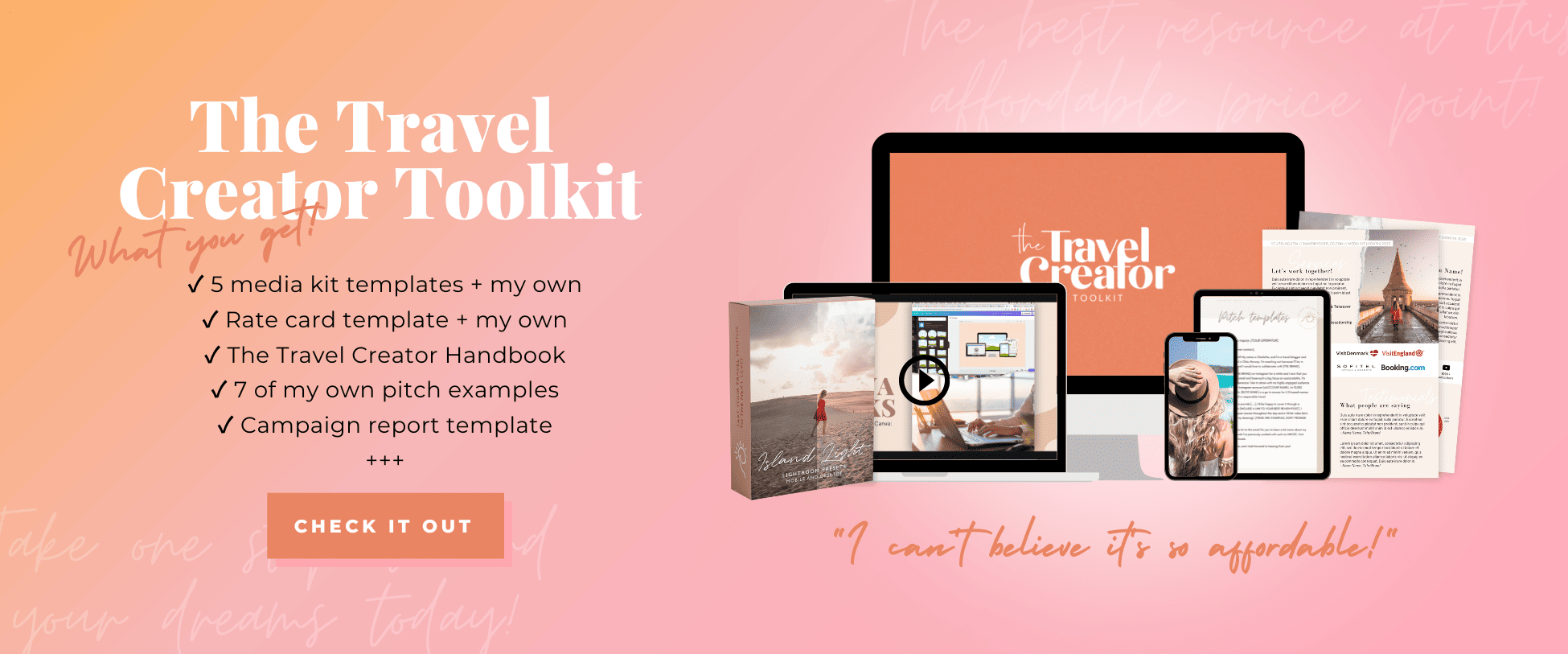 This post contains affiliate links. I will earn a small commission if you purchase through them, at no extra cost to you.
Here's a list of the free and paid blogging tools and resources I've used on my journey to becoming a full-time travel blogger and still use today. Although I'm mainly blogging about travel, these tools and resources will work for any blog in any niche. They are some of the best tools out there to help you grow and monetize your blog!
Over the years I've probably tried over 100+ blogging courses, software, apps, e-books and webinars. So I know blogging can feel overwhelming and that it can be hard to know where you should invest your time and money. Trust me, I've been there!
I've wasted so much of my hard-earned money on products that were hyped up by lots of people in the blogging world. And that's why I decided to only include the 15 blogging tools and resources I truly feel have made a difference for my business and helped me get to where I am today. So you can start your blogging journey the right way and grow much faster than I did.
Must read >> 15-page Canva lead magnet/workbook template (FREE for subscribers)
The best blogging tools & resources for travel bloggers
The ultimate blogging course for those of you who want to monetize your blogs with automated affiliate marketing and more importantly sell your own products. I went back and forth for months on whether or not to invest in this course.
Oh boy, what a mistake that was. I wish I had this course during the lockdown, I would have gotten so much done!
Nick and Lauren's teaching style is so down to earth and easy to follow. They literally give you templates on how to automate sales via email funnels and step-by-step instructions on how to do everything else. I just finished the course and I can't wait to get my products launched over the next couple of weeks. It's been a long time since I've felt so motivated and knew exactly where I wanted to take my business.
Here's my full review of the Six-Figure Blogger course!
If you're a total newbie in the blogging world, I highly recommend checking out the Pro Blogger Bundle where you literally get step-by-step guidance on how to set up your blog and take it full-time as I have done. The value is insanely good, you can save years of struggle compared to trying to find all this information for free. Take it from someone who's been there, that struggle is real. Haha.
---
The best thing about Flodesk is that you pay a flat rate no matter how many subscribers you have. With the drag-and-drop builder, it's super easy to create eye-catching newsletters people will be looking forward to reading. They also have a ton of beautiful and inspiring templates, which is why I chose them in the first place. After settling on Flodesk I managed to grow my email list from 3000 to 7000 in just months.
Sign up here to get 50% off your Flodesk subscription!
---
One.com is in my eyes the best value hosting service for beginner and intermediate bloggers! I think I spent around $25 to get my WordPress website up and running. And I've only had one small issue with my blog over the past five years which they fixed right away. I just asked for help in their chat and within minutes the issue was resolved.
For everyone who wants to use WordPress as their blogging platform, it literally couldn't be easier. One.com's 1-click WordPress set-up feature will launch the setup wizard where clients will be able to create their username and password. And you're ready to go.
What's weird is that I don't see One.com talked about anywhere (it might be due to the small affiliate commission). As you may know, some bloggers are earning a full-time income from recommending certain hosting services that really aren't that good. So I just wanted to make sure you all know that I never recommend anything I don't love and use myself.
---
Canva is a free, web-based tool that allows you to easily create and design images for your posts, social media, product images, media kits, etc.
When I first tried Canva back in 2016 I didn't like it at all. I had just finished graphic design school and felt like it didn't even come close to what Adobe InDesign and Photoshop could do. And it didn't.
So the years went on and I didn't give Canva another thought. It wasn't until one of my design clients requested a Canva template that I gave it another try just a few months ago. And wow how much it had changed over those years. Many of the features now work just like Photoshop so many of the keyboard shortcuts that I use on a daily basis work with Canva as well. And they have an incredible amount of vector graphics and photos available even for the free version.
So now I create all my animated pins in Canva. It's so much easier to just add an animated graphic in Canva rather than doing it myself in Photoshop. I just upgraded to their pro version so I would have access to all their graphics and photos and be able to resize my templates. Can't wait to create some templates for my shop!
---
I have compiled all the documents I use to pitch and land brand deals into one very affordable toolkit. This is my little baby that I've been working on for over a year now and I'm still adding to it regularly.
You get so many templates; media kits, rate card, campaign report, proposal, pricing packages++ In addition to my own media kit and rate card to use as a reference. You also get my popular Lightroom presets and 7 pitch examples. Check it out here!
---
My favorite blog traffic course of all time! It is the most affordable course I've ever purchased and the one I've gotten the most value from when it comes to Pinterest. You can read my full review of Pinteresting Strategies here. I wanted to include my favorite blogging courses in this post although I, of course, don't go through them every day. But I definitely use the strategies they teach on a daily basis.
Ps. Carly also has a great affiliate course for bloggers. It's one of the best value affiliate marketing courses out there, but as with One.com, I never see anyone talking about it. And that's a shame because I can't recommend it enough. Just like all of Carly's courses, it is underpriced and over-delivers.
Must read >> How to create a media kit as a travel blogger/influencer
If you're anything like me, you tend to frantically type out everything you have in your head before you lose your train of thought. Yup, it's safe to say that writing is not one of my strong points. So why did I decide to become a blogger again!? Anyway, that means that I often make spelling mistakes and grammatical errors. And it doesn't help that English is not my first language.
I even proofread my articles over and over, but I still miss mistakes all the time. You know when you've read your own writing so many times that you get blind to it because you already know what it says? That's where Grammarly comes in. It is a software that automatically checks your work for most spelling and grammatical mistakes and proposes changes to fix them. They have both a free and a paid version.
You can do this by uploading documents to their software to proof before adding your content to WordPress or you can use their browser extension and fix corrections right within WordPress. Which I highly recommend. Now, it's important to remember that this is not a complete substitute for double-checking your work. It's a computer we're talking about after all and they definitely make mistakes sometimes.
---
When I first started blogging I uploaded a ton of photos in each post without compressing or resizing them. And in turn, my blog took forever to load and we all know how important page speed is. Both for our readers and for SEO.
Resizing and compressing images can often be the easiest and highest-impact thing you can do to speed up your blog. To compress your images you can use a free tool such as Tinyjpg.com. It allows you to upload up to 20 (max 5 MB each) images at a time and from there you can export directly to Dropbox or download to your computer.
---
Adobe Lightroom is my all-time favorite photo editing software. I'm so glad I took the time to learn it back when I first got into blogging and Instagram. I hunkered down over a weekend with youtube tutorials on the tv and my mac in my lap. While it has a lot of awesome features, it did not take as long to learn as I had imagined.
For only $9.99 a month, I get access to Photoshop, Lightroom CC and Lightroom Classic + 20GB cloud storage.
I think one of the reasons why I was able to make an income with Instagram so quickly was because I found my own editing style and created custom presets. A cohesive look is so important on Instagram as people literally decide within seconds whether or not they want to follow you.
They might only see your top 3 or 6 photos before making a decision, so a beautifully curated feed will get you a long way. You can download one of my go-to Lightroom presets for free here. It works with mobile as well as the desktop version of Lightroom.
---
You can't just use any old image that you find in a Google search on your blog. Those images are owned and protected by the photographers and license owners. And while there are royalty-free stock photo sites out there, I've noticed that pins with free stock photos don't perform as well as my pins with premium stock photos.
Depositphotos is my absolute favorite stock photo site. It's super affordable (starting at only $9.99 a month) and they have over 181 million photos, vectors and videos in their database. I mean, I have found photos of a very little know rice field in Bali and a random beach in Norway on there.
I used to only write about topics that I was able to shoot my own photos for. And that's not a good idea as a blogger. To grow your blog you need to find a balance between what you're passionate about and what your readers are interested in.
Related post: From beginner to full-time travel blogger/content creator with $800 camera gear
When I first started blogging, I tried many different social media sharing plugins but none of them had the look I was after. I then found Social Warfare and although it didn't have the best reputation due to some issues with updating the plugin I decided to go with it.
One of the biggest reasons why I still use Social Warfare is because of how lightweight the plugin is. It doesn't slow down my site whatsoever. You can also change the look of the share bar to match your brand colors very easily, which I of course appreciate. And you can "designate" a particular image that you want your readers to pin. Just to name a few of the many features Social Warfare Pro offers. It costs $29 a year for a license but it's so worth it!
---
Keyword research is essential for search engine optimization (SEO) which is what helps your content get noticed on search engines like Google, Pinterest and YouTube. Unfortunately, it's no longer enough to just write amazing content. You also need to use the keywords that people are actually searching for to make sure that your content gets seen.
The first article I wrote after deciding to invest in Keysearch ended up on the 1 page of Google within record time (for me anyway). My mind was blown and I finally understood how important keyword research really is. These days I look up different keywords before even choosing a topic to write about.
---
My favorite marketplace for buying fonts and graphics from designers around the world. There are so many talented designers on there it's ridiculous. If you sign up for their newsletter you'll receive 6 products for free every Monday. AMAZING!
---
Have you ever posted something on Instagram and then regretted it because it didn't fit in with the rest of your feed? I know I have! And if you're lazy like me you might end up not posting altogether because you can't be bothered coming up with captions and hashtags every day.
Well, those days are over. With Planoly you can plan out your feed, save hashtags and schedule your posts in advance. Spend a few hours at the beginning of every week and then set it and forget it (almost :D). Planoly offers both free and paid plans depending on your needs.
---
Dropbox is a tool for storing files in the cloud so you'll always have access to them even if your computer crashes.
I was once in Bali during a rainstorm and I stupidly placed my mac on the floor next to a poorly isolated door. I was in the middle of a design project for a client and freaked out when it wouldn't turn on the next morning. But then I remembered that I could just access my design files from Dropbox on the hotel computer.
However, halfway down to the lobby, I realized that I had paused Dropbox from syncing because of my hundreds of photos and the very slow Bali internet. I felt like my world was crumbling around me. How would I explain this to my client?
Ten hours, six computer repair shops and 2.2 million Rp. later and I still hadn't recovered my files. You can read more about this very traumatizing event in this post. But I guess the moral of the story is to sign up for Dropbox and never hit pause on that sync button.
You have the option to store everything directly on Dropbox, which can free up space on your computer. Or you can sync Dropbox with your computer so that you can access your files easier and faster. I use Dropbox both to store my personal photos and files and to store and share the files I sell in my shop. Super affordable and hassle-free.
---
Remember to pin this 😉