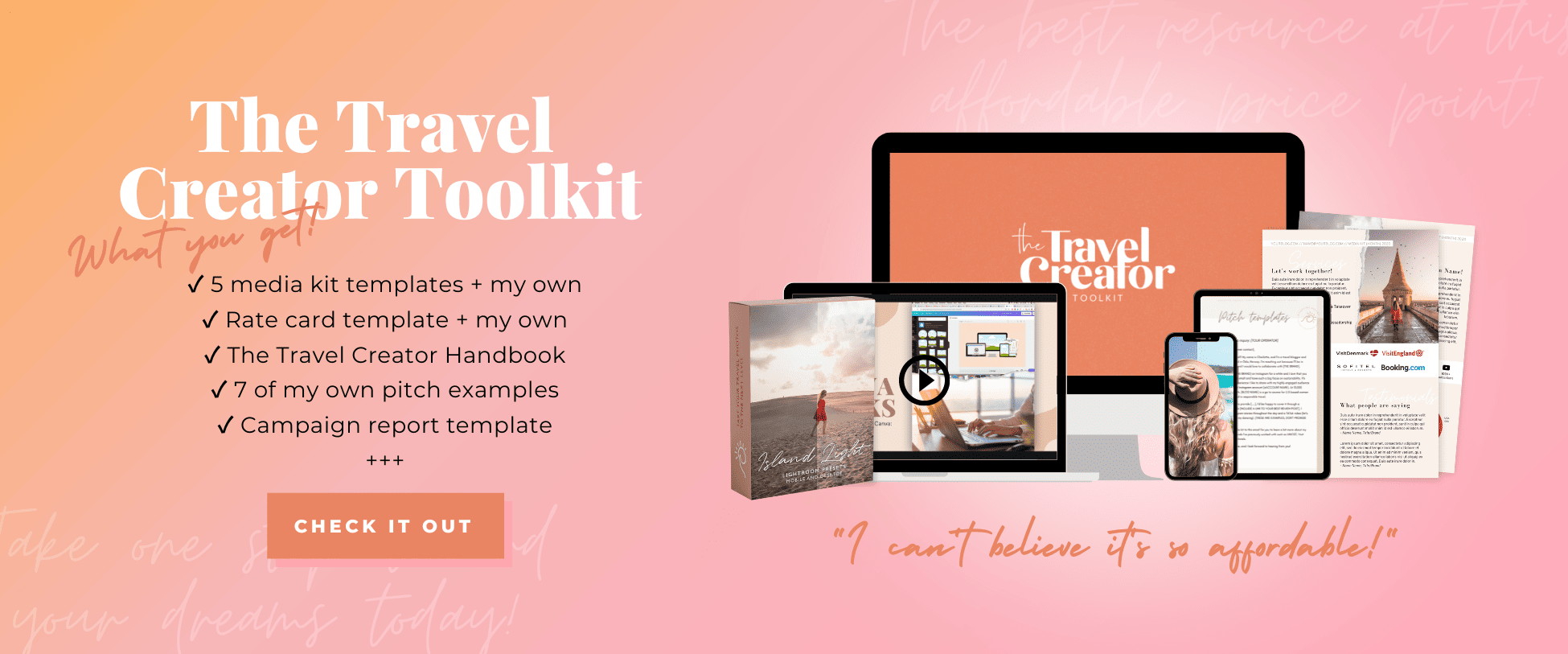 This post may contain affiliate links. I will earn a small commission if you purchase through them, at no extra cost to you.
Are you wondering whether or not Six-Figure Course Creator by Create and Go is worth the investment? Then you're in the right place!
Have you been feeling stuck in your business lately? Like your blog has plateaued but you're ready to take it to the next level? That was me over the past four years until I found a course that helped me change gears and finally create some results.
As you may have noticed, I very rarely recommend courses and e-books. I want to make sure that the resources will without a doubt be of value to my readers, and more importantly, be worth the price. Nothing is worse than wasting money on pricy blogging courses that promise the world but underdeliver.
But after completing Create and Go's most popular course, I just couldn't wait to share it with you all. So here's my honest review of Six-Figure Course Creator (previously Six-Figure Blogger) by Create and Go.
Six-Figure Course Creator
For years I was frustrated and searching for a strategy that would take my blog to the next level. My content was good but for some reason, I just couldn't seem to get much traffic. I was kind of hoping that my traffic would increase so that my affiliate sales and ad revenue would follow.
That was basically my strategy, which after taking this course I learned isn't really a strategy at all. So I knew I had to diversify my income through products and services, but I had no idea where to start.
I had landed on the sales page of the Six-Figure Course Creator before and was very tempted but didn't have the money at the time. So what made me finally pull the trigger this year?
Honesty is the most important thing for me when it comes to business. I want all my readers and customers to be able to trust me 100% and find value in my content and products. And that's what I love about Alex and Lauren, they're not perfect and they don't claim to be. Honesty and transparency are at the core of everything they do. And that's why I decided to finally invest in the Six-Figure Course Creator.
The course is a step-by-step guide on how to make an incredible income selling digital products and services with your blog, including templates and real-life examples.
Read next >> How to create a media kit as a travel blogger/influencer
Who are Create and Go?
Alex and Lauren, the creators of Create and Go, blog about blogging however that's not how they started, and in my eyes that makes a huge difference. They took their health and wellness blog, Avocadu, to six figures in a year and it's that knowledge they use to teach.
Blogging about blogging is probably one of the easiest niches to make money from, so all the people I truly look up to in the blogging world have made it in other niches first.
After a failed blog, Alex and Lauren started Avocadu and went from earning just a few dollars for months to over $20,000 a month just half a year later. At the time Lauren was working as a CPA doing taxes and Alex was a personal trainer. And they had limiting beliefs just like I used to and you might still have.
Since then, however, they've been able to quit their full-time jobs and travel the world, all while working and earning a full-time income online. In their first full year of blogging at Avocadu, they made $103,457.98 and now, they make over $75,000 a month with two successful blogs.
Six-Figure Course Creator modules
The course is a video course, consisting of 10 modules in total.
Modules 1 – Introduction and Expectations + Resources
Module 2 – Your Business Mindset
Module 3 – The Six-Figure Framework
Module 4 – Affiliate Marketing Strategy
Module 5 – Generating Ideas and Planning Your Course
Module 6 – Creating Your Course From Scratch
Module 7 – How to SELL: High-Converting Sales Pages
Module 8 – Getting Visitors to Your Sales Page
Module 9 – Email Marketing Mastery (Trust Funnels)
Module 10 – Final thoughts + BONUSES
Bonus #1. Fast Cash Flash Sale Email Templates ($297 Value)
Bonus #2. Biz Financials and Spreadsheets ($97 Value)
Bonus #3. Private Facebook Community Support ($47/m Value)
+ Lifetime Access and Updates
What I learned from Six-Figure Course Creator
1. Perfection is not important
My number one problem when it comes to my business is that I'm the biggest procrastinator ever and at the same time I'm a perfectionist. I spent more than a year planning and building my website before launching it. And that means I threw away a whole year I could have spent creating content and growing my audience.
Years later I did the same thing with my email list, I wanted everything I sent out to be perfect which meant I never actually got around to sending anything.
But the good thing is that people don't want perfection. When you aim for perfection, you're setting yourself up for failure. You're also going to be miserable every step of the way. Constantly feeling like you're not good enough and that other people are better than you.
And the thing is, people don't want perfection. They just want something real that can solve problems in their lives. They want imperfection, relatability, connection and honesty. And of course, I knew that in the back of my mind before taking Six-Figure Course Creator yet I still put everything off because I wanted perfection.
So my biggest takeaway is that perfection is just something we hide behind when we don't put ourselves out there. It doesn't need to keep you from growing. Alex and Lauren explain how to create content that's impactful and delivers value without having to be perfect.
2. Six-figure mindset & framework
Over the past few years, I've realized how important it is to adopt a success mindset. And how important mindset work is in general.
In Six-Figure Course Creator, you'll learn how to make some basic mindset shifts that will help you prepare for what's to come as you work on growing your blog and online business. Like adopting a positive problem-solving mindset and becoming an "expert" in what you do without actually having to know everything about the topic.
You will also be given the framework, literally a step-by-step guide on how to take your blog to six figures. And that is invaluable in my eyes.
3. How to plan and create my products
Just thinking about what I wanted to sell used to scare me and stop me from creating anything. I was afraid that people wouldn't think my products were good enough and that I couldn't actually help anyone.
So the good thing is that you will learn how to generate ideas for your new product, gather research and do some proper planning before actually creating any products. To ensure that your product is a success from the start.
You'll get to see exactly how Alex and Lauren created their eBooks and online courses. How they go into "product creation mode" and actually get shit done. Which over the years has been my biggest struggle in business. From the creation of guides and videos to the cover pages and software that they use. Everything is laid out in a step-by-step process from start to finish.
4. How to sell
Do you know the difference between a sales page that converts at 1% vs. 3%? Of course, I see that it means triple the profits, but it was never something I had really thought about before taking the Six-Figure Course Creator.
Alex and Lauren have split-testing hundreds of thousands of visitors on their own sales pages and they are now showing us all the small changes that can have major impacts on our sales. There was especially one super simple thing I learned that I have already seen improve my leads and sales.
I also learned how to communicate in a certain way to attract a more targeted audience to my sales pages. People that are actually super interested and ready to hit the checkout button.
5. Build trust through email
The most valuable lesson I learned from this course was how to set up email sequences that welcome and nurture my subscribers to turn them into customers. I loved this part so much that I had to include a section about it below.
My favorite part of the course
While I learned something from every module in Six-Figure Course Creator, my favorite has to be number 9, Email Marketing Mastery. I had been paying for my email list of almost 5000 people for years without actually sending them anything. Say what!? Yes, that's me, the master procrastinator.
Learning how to communicate with your audience in a way that makes them want to communicate back is a game-changer. So getting real-life examples of nurture sequences and trust funnels that work, was so helpful for me.
Within days of completing the course, I had 3 funnels set up leading to high-earning affiliates and products. Like why hadn't I done that sooner? I feel nauseous thinking about how much money I've left on the table by ignoring my list. I guess seeing how someone else had done it made it so much easier to get it set up myself.
And don't worry, if you haven't already built your email list the course teaches you how to do that as well!
My Six-Figure Course Creator results
Without sounding like a complete cliché, this is one of the few courses I can honestly say have transformed my business. Take it from someone who has completed 79 blogging courses and ebooks(!!!).
Before purchasing the Six-Figure Course Creator, I felt super busy all the time. I was busy focusing on all the wrong things. And that's the definition of insanity, doing the same thing over and over and expecting a different outcome. The course helped me see what I was doing wrong and how to change it.
I now have a six-month game plan based on the Six-Figure strategy that I'm sure will take me over my $10,000 passive income goal. My complete product suite is planned out down to every detail, including the lead magnets and funnels.
Since setting up the sales page for my low ticket product; Blogger Media Kit Bundle (just relaunched as the Travel Creator Toolkit) I have presold 32 bundles before even promoting it to my list. So not only have I validated the product before completing it but the course has already paid for itself.
I have also used what I learned in Module 9 Email Marketing Mastery to sell affiliate products, and these days I literally wake up to these notifications every morning.
It truly is the best feeling to be able to make money while I'm traveling and out having fun, knowing that my customers will receive great value from the products I recommend.
Read next >> 15 tools & resources I use every day as a full-time travel blogger
Who will benefit from Six-Figure Course Creator?
Are you a serial learner like me? Have you tried all the things? The free webinars, the free e-books and all the super cheap courses. Everyone has the answers to all of our problems. In a world of noise, it's not easy to find the right people to listen to. The person who has been where you are now and can show you the path forward.
I recently realized that I had to stop looking for free information, stop learning and actually start doing. I decided to choose one or two "mentors" that I truly resonate with and follow their strategies for success. As you probably guessed, I chose Create and Go and it turned out to be exactly what I needed. And it might be the course you need as well!
So if you're an intermediate blogger who has started your blog and made your first bit of income ($100-$1,000) but is looking to expand and grow into the six figures, this course is for you. If you've just launched your blog or are thinking of creating one, consider their other course Launch Your Blog Biz.
It's also important that you actually want to help other people and create quality content. If you only care about making money and are willing to sell whatever to get there, this ain't for you. The strategies you'll learn are based on creating real and honest products that truly create value for your audience.
Does this sound like you?
You feel busy all the time without actually growing your blog or business.
You're thinking about creating your own products but don't know where to start.
Things like funnels, nurture sequences and conversion rates overwhelm you.
Or are you just waiting for the right time to take the next step?
If you're reading this and wondering whether or not this is the next step for you, the right time was yesterday. But the second-best time is right now. Remember that a month or even a year from now you'll wish you had started today. You have nothing to lose, except your own time, money and happiness if you decide not to go for your dreams.
If you're ready to quit your job and be able to work from wherever you want, I highly recommend investing in Six-Figure Course Creator!
What I didn't love
When writing reviews like this I always want to be 100% honest and not only write about the positives but give my readers the complete picture. I had to think long and hard to find something I didn't love about this course.
But if I had to put my finger on something it would be that the Facebook group isn't as active as I wish it was. It would be really good if there were more professional bloggers in there actively giving actionable advice. And some sort of monthly education or maybe weekly threads for sharing or at least something that would encourage more engagement.
Is Six-Figure Course Creator worth the price?
As I mentioned above, I spent over a year trying to decide whether or not I should spend $297 on another blogging course. For some, the price might sound cheap as many blogging courses run in the thousands, but for others, $297 is a big chunk of money. And I always want to be smart about how I invest money back into my business. Let's just say I've been burned by courses before.
But as you've probably already gathered by now, I absolutely love this course and it has transformed my business. I've finally planned out the entire product suite I want to launch over the next year, down to every detail like price, content, and length. But more importantly, I finally know what to say, how to grow and how to nurture the email list that I've been paying for over the last four years.
So not only do I think Six-Figure Course Creator is worth the price but I think they could charge more for it. There is just so much valuable information, more than I think I've seen in any other course. So if you want to turn your blog or service into a profitable business, be sure to check it out. The only thing I regret is not investing in the course sooner!
Pro Blogger Bundle
If you're ready to go all in and start your online business in record time without having to make all the mistakes Alex, Lauren and I made in the beginning, check out the Pro Blogger Bundle. It includes all four popular Create and Go courses at a discounted price:
I have written my complete review of the Pro Blogger Bundle by Create and Go here.
Are you walking around with a feeling that you're meant for something more? Do you have a fire in your belly to create something of your own that can actually help people? Then it's time to take action today!
Waking up to payment notifications on my phone is the best feeling and I want you to experience it too!
---
Remember to pin this for later 😉