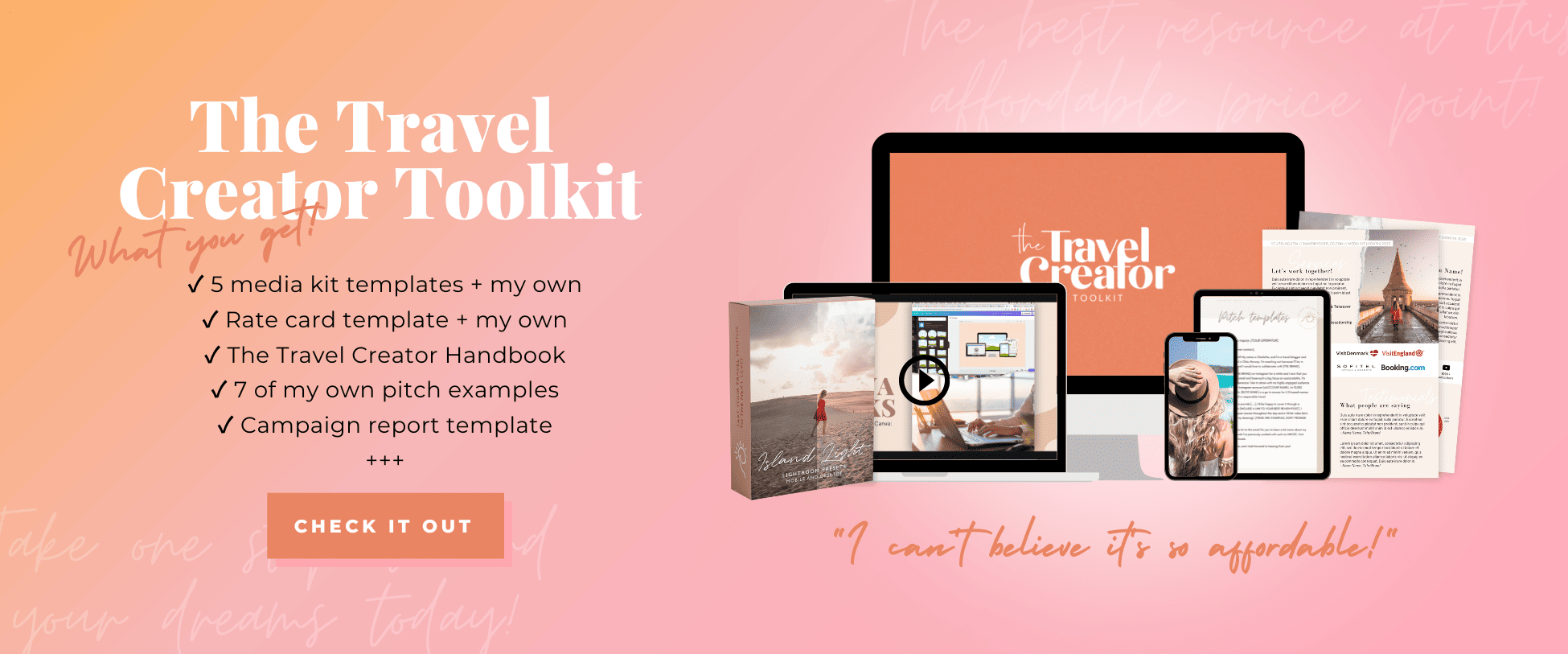 This post contains affiliate links. I will earn a small commission if you purchase through them, at no extra cost to you.
At the moment I'm getting more blogging and social media related questions than about travel. So instead of answering all emails and messages individually, I thought I would put together a series of posts to share everything I have learned about blogging over the past year and a half.
Some of you might think, why the heck would I choose to share what I earn? To be honest I've been thinking of doing an income report for a while now because I found them very inspiring when I first started out. It was super helpful to see how other people made an income online so I could implement some similar strategies myself. So by making my blog income public, I hope to at least inspire one person to follow their blogging dream 🙂
Before we get to the numbers, let's take a quick look at some of the mistakes I made before I started making money.
My holy grail blogging resource: For all new bloggers wanting to monetize their blog and social media as soon as possible, I highly recommend this Pro Blogger Bundle. It could literally have saved me years of struggle, and that's not an exaggeration. Read my review here.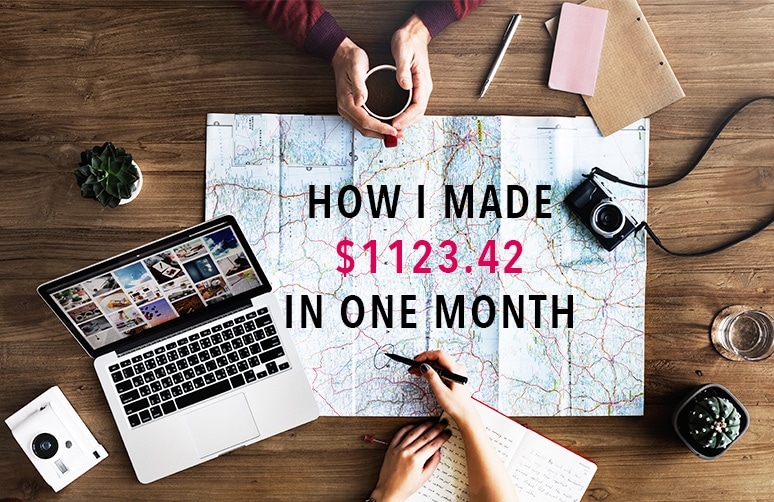 My travel blogging journey
When I first started blogging I made one huge mistake, I wasn't prepared to invest any money in my blog. I'm a graphic designer with knowledge of HTML so why wouldn't I build my website from scratch? I was so determined not to spend money on a theme, not on courses, not on anything. I was going to do this blogging thing all by myself. How I regret that today!
Didn't I ever hear the saying "you have to spend money to make money"? I could have spent those first six months creating quality content and working on different income streams instead of building my blog from a crappy free theme and signing up to dozens of email lists only to get a little bit of free information.
What to invest in as a new blogger
The only thing I paid for those first six months was a great hosting service which actually turned out to be super affordable. After much research, I decided to go with one.com and couldn't be happier with my choice. They are optimized for WordPress and have 24/7 chat support. You can literally start your own blog in less than five minutes with them!
After so many months of not getting my blog to look and function like I wanted, I threw in the towel and decided to buy a theme. I set a budget of $50, sketched down the blog design I was imagining and went on a week-long hunt for the perfect theme called Audrey by 17th Avenue.
After realizing that I could save a lot of time by spending a little bit of money, I took it a bit far and went on an e-course and e-book spending spree. Again not my smartest move! I think I have spent over $1000 on resources that were supposed to skyrocket my traffic and make me tons of money. Unfortunately, most of the courses I purchased were not worth the price. So if I were going to start all over again, these are the only two courses I would spend my hard earned cash on:
As mentioned above, when you're first starting out I would recommend you to get the Pro Blogger Bundle by Create and Go. Lauren and Alex turned their blog into a six-figure-a-month business in less than two years, so they definitely know what they're talking about. Everything from blog hosting to design, email marketing and SEO is explained in detail so you don't have to look anywhere else for information as I did.
When you have your basics figured out you should start to incorporate affiliate links, if you want to monetize your blog of course. The queen of affiliate marketing is Michelle behind the blog Making Sense of Cents. She earns over $100.000 a month from her blog and has put together a course called Making Sense of Affiliate Marketing so that you can step up your affiliate game too. I went from making about $2 from my affiliate links one month to over $600 the next after finishing her course. Definitely, my favorite affiliate course and I have taken several (4 to be exact)!
After I finally got my sh** together, I managed to grow my blog to over 30.000 page views a month. But this summer I focused way too much on my Instagram and only published two new blog posts in three months. I didn't spend much time promoting existing content either, so in September I got only 16943 page views. But I'm back on track now with lots of motivation and things seem to be picking up!
Must read >> Best blogging course 2023: the only one I recommend 79 courses later
How I make money online as a travel blogger
Affiliates – $667.03
I only promote brands and products that I love and use myself. Your readers will see right through you if your blog is full of random affiliate links. I've had so many links and banners on my blog that haven't earned me a single cent. Affiliate marketing is all about finding out what works for your blog and your readers. So don't get discouraged if you don't earn money straight away, just keep on trying different affiliate programs and strategies
Some of the affiliate programs I'm part of:
🌟 2023 update – The only affiliate network you need as a travel blogger and content creator is TravelPayouts. You'll find most of my highest-converting travel affiliates like Agoda, Booking.com, Discover Cars, etc in there. Everything is in one place so you no longer have to sign in to all your affiliates separately.
Agoda – The only hotel booking site I use when traveling in Asia. Agoda is one of my biggest sellers, over the last year people have booked accommodation for over $16.000 through my links. The reason why Agoda does well on my blog is that I spend a lot of time writing about the hotels I love. I don't just slap a link here and there, I write informative texts which offer value to my readers because they don't need to go and do all the research themselves.
Starting out you earn between 30-35% of what the booking site gets in commission from the hotel. I think my average commission per booking is around $7. Payments are made the month following the guest's departure from the hotel. With Agoda, you can move up to higher commission tiers, but just to get to tier 2 you have to get over 49 departed bookings per month.
So as you can see being a hotel affiliate won't make you rich overnight. Some might say it is a waste of time, but I think it is an easy extra income. Especially if you like me are already writing about different hotels in your destination guides anyway.
ShareASale – Through this affiliate network I promote Pura Vida Bracelets which makes some of my favorite travel accessories, One.com my affordable and trusty hosting service and fashionABLE a women's accessory brand which employs women in poverty who have overcome extraordinary circumstances. I have tried to work with other brands through ShareASale as well, but these are the three that work best for my blog and my audience.
Recently I also signed up with Skimlinks where you are automatically enrolled in thousands of affiliate programs like Amazon, eBay, Momodo and many more. After I installed some code on the blog all my links are automatically turned into affiliate links. All I need to know is which stores work with Skimlinks and that's it! Pretty cool huh?
In addition to the large affiliate networks mentioned above, I also work directly with a couple of brands because I love their products. Both of these companies contacted me about a partnership because they loved my photos.
---
Freelance writing – $250
I wrote two short articles in English for other sites this month, one about Oslo and one about Bali. I got both of these opportunities because they really liked my blog and in their words "my quality content". I'm very happy about that as I'm not a native English speaker so I always feel a bit insecure about my writing.
A tip to score some freelance writing gigs is to become a member of several travel groups on Facebook. Being active in Facebook groups has so far landed me three separate writing opportunities and one mention in a magazine. My favorites are Girls vs Globe and Female Travel Bloggers.
---
Ads – $156.39
I'm not a huge fan of display ads as they can make a blog look quite busy, but I think one or two is ok. Like many other bloggers I use Google Adsense, but I'm looking to change to a higher-paying network when my numbers pick back up.
Over the last two months, I also displayed a banner ad for a travel agency under my header. The advertiser contacted me directly and we negotiated a fixed price.
---
Sponsored posts – $50
I did two sponsored posts this month, both on Instagram. One was paid and one was in exchange for a product. I decided to include the paid one in this report because they contacted me through my blog but we then decided that it would be more beneficial for the company if I posted on Instagram.
Inzpire.me – Although I didn't accept any sponsored posts from them this month, I wanted to let you know about my favorite influencer network. I've been offered some pretty cool brand partnerships through Inzpire.me like Oslo Airport Gardermoen, Harper & Brooks watches and free entry to a festival. So be sure to check them out!
Expenses
Keysearch – $13.60
Since I invested in Pinteresting Strategies I no longer have to pay for a scheduler every month. Check out my review and my amazing results here.
As you can see I don't have a lot of expenses yet. I'm still on MailerLite's free plan and I pay for my hosting annually (in January) which is only about $70 including backup and Sitelock.
Goals for November and December
Get my numbers back on track – 40.000 pageviews by the end of the year
Launch my Lightroom presets (finally!)
Send out more pitches instead of waiting for brands to contact me
Implement more of the affiliate strategies I learned from Making Sense of Affiliate Marketing
Join at least two more group boards on Pinterest
---
If you found this travel blog income report helpful!
Remember to pin for later 😉