This post may contain affiliate links. I will earn a small commission if you purchase through them, at no extra cost to you.
What if I told you there is a place where everything sparkles. A place where you can enjoy pastel-colored goodies and sip on glittery beverages amongst huge plush unicorns and My Little Pony figurines. Welcome to Bangkok's Unicorn Café, undoubtedly the most Instagrammed eatery in Thailand. This place is what the dreams of many little girls and boys are made of.

Remember to always get insurance before you travel to Thailand or anywhere else. I recommend Safetywing, an affordable subscription travel insurance that you can purchase even after departure.
How to find the Unicorn Café
Bangkok's Unicorn Café is located in the Silom area, around a 2-minute walk from Chong Nonsi BTS. When you get off the train, look for the 7-Eleven on the corner and walk down the road to the left of it towards the Residence Hotel. Continue until you pass the Holiday Express Inn, then take a right and follow the road until you see the Unicorn Café zone B on your right. Around the corner and 10 meters up the street, you'll find their zone A location.
We opted for a tuk-tuk to take us to the café because I wanted my mum to have the full Bangkok experience but turns out that was not a great idea. The driver did not know about the café nor did the locals living just a couple of blocks over. So I had to turn on my mobile internet and spend quite a few $$ just to find the location. Which could have been avoided had I just planned ahead and downloaded the map. You'll find the exact location on Google Maps, just search for Unicorn Café Bangkok.
Remember that the Unicorn Café is closed on Mondays, which is the case for many establishments in Bangkok. So always check the operational days before you spend a lot of time and energy getting to a place. Tuesday through Sunday the café opens at 12 midday and closes at 8 pm and the tables are "first come first serve", you can't book a table.
Don't make the same mistake as us and visit during lunch-time, it was packed in both locations. And remember, that was during low season. If I were to go back I would get there around 3 pm when it seemed to calm down quite a bit and we could shoot some photos in peace and quiet. Remember that they only accept cash so make sure to swing by an ATM on your way there.
Related post: Top 20 sights & attractions not to miss in Bangkok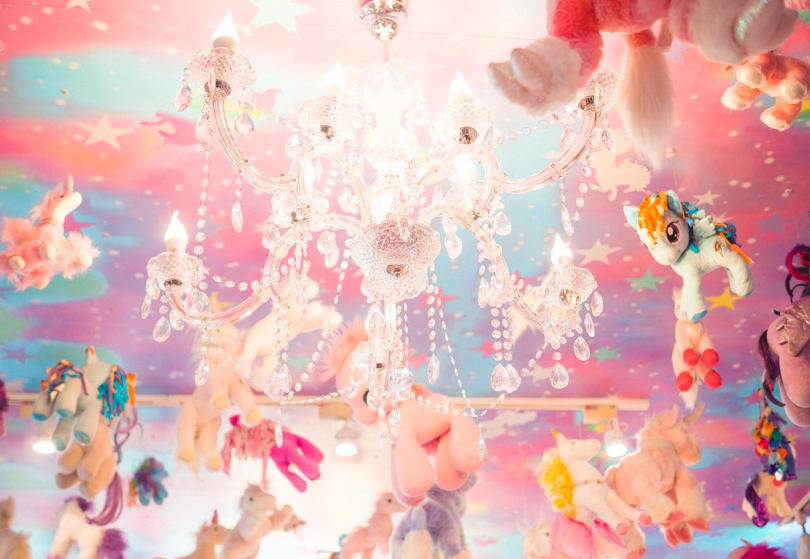 What to expect
As mentioned there are two unicorn cafés just 10 meters apart. Zone A is the original location and Zone B opened sometime in 2017. When we got to zone A there was a long line of people waiting to be seated. We looked inside and quickly got a feeling that the place was a bit tired. The furniture looked worse for wear and it did definitely not have that enchanting atmosphere I had imagined. Luckily, that was not the case at zone B.
The café is decorated with metallic, diamanté-studded sofas, pastel-colored tables and more My Little Ponies than a six-year-old could possibly handle. Plastic chandeliers and plush toys dangle from the ceiling which is painted in a galaxy theme. The walls are covered in the same colors but with a much more busy unicorn graffiti look. To be honest it looks like a unicorn went on an acid trip and puked all over. And weirdly, I kind of liked it.
We and found a table right away and were greeted by a smiling server that gave us two huge menus. To my surprise, there were only two kids in the café the entire time we were there. All the other tables were occupied by groups of grown-ups snapping selfies and loudly laughing at their surroundings.
For those of you who want to step up your Insta game, there is a selection of unicorn onesies for customers to rent for 100 Baht / $3.20. But the best part about this place is that no animals are harmed or distressed, like in some of Asia's controversial fox, owl and cat cafés.
Related post: Koh Samet Island guide – The best beaches close to Bangkok
The food
Even though raving food reviews might not be the thing that draws you to the Unicorn Café in the first place, we found the food to be surprisingly tasty. At least for our not so refined palates.
The menu is an assault on the eyes of sparkly fruit beverages, sketchy potions with names like "Unicorn Blood", rainbow pasta, pastel cakes, cotton candy and so much more. Just like something you would expect to see in Tokyo's Harajuku district.
We started our much-anticipated meal off with a bowl of Rainbow Spaghetti Carbonara. The creamy sauce was full of flavor and the colorful spaghetti perfectly cooked. Just be aware of the large peppercorns in the sauce, I chewed on one and had a peppery taste in my mouth for the rest of the day.
The second dish we tried was the pastel-swirled unicorn waffles (first photo), which came with multicolored ice-cream, fresh strawberries and banana, topped with sprinkles and honey and a cone for the "unicorn horn". It was delish! And since I'm obsessed with cotton candy I, of course, had to finish the meal off with an entire box of it.
To wash all this artificial goodness down, we ordered a pearlescent fruit punch that came in a star-shaped mug and although it looked super pretty it was probably our least favorite of the day. The artificial fruit flavor was overwhelming, so let's just say it was the opposite of refreshing.
We got our food and drink fairly quickly except for the waffle dish which was made behind the counter. The wait for that was about an hour, even though the café was almost empty at that point. We paid a little under 650 Baht / $20 for everything, which makes it the second most expensive meal we had during our four days in Bangkok.
So is the Unicorn Café worth your time?
I would say yes. If you can see the fun in all the plastic, the eager selfie-snappers and the sort of tacky interior you're in for a great time. But I wouldn't skip any of the major attractions like temples, food tours or markets to go there.
Since my mum and I had time to spear it was a fun experience and I'm glad we went. I mean, sometimes you just need to chill out in a pile of plush unicorns on a diamond-studded sofa while munchin' on some pastel colored waffles, right?
---
Have you been to the Unicorn Café in Bangkok? What was your experience like?
Pin me 😀