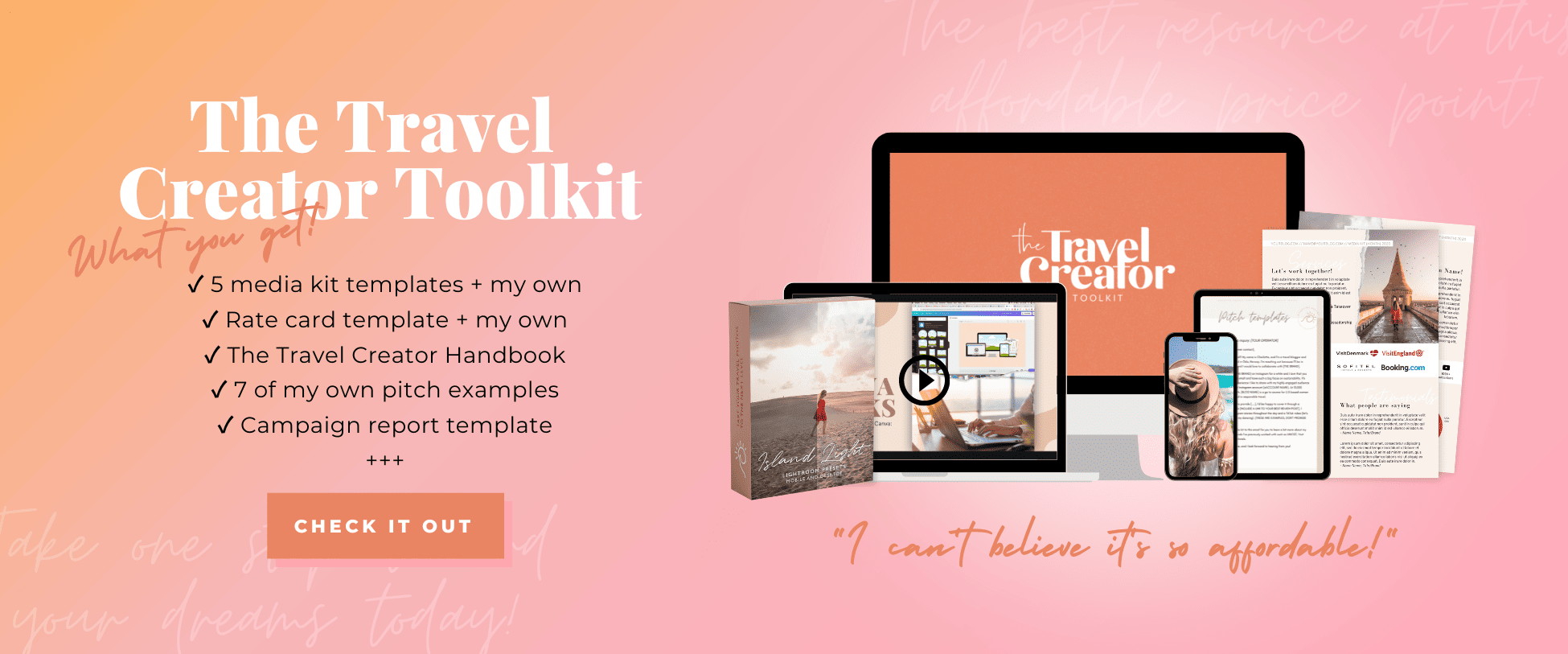 This post may contain affiliate links. I will earn a small commission if you purchase through them, at no extra cost to you.
Are you looking for unusual and unique things to do in Bali? After traveling in Bali for more than 13 years, I feel like I have seen and done it all. Many activities have been hits and some have been misses.
One of the things I love the most about traveling is finding off-the-beaten-path places that aren't part of the usual tourist trail. So, inspired by one of my most popular posts about unique Airbnbs in Bali, I decided to go on a hunt for the most unusual things to do in Bali.
From silversmith classes in Ubud to perfume workshops in Seminyak, here are 11 unusual things to do you should add to your Bali bucket list.
🌴 Is this your first trip to Bali? Be sure to also check out my Bali Island Area Guide and the Ultimate 2-week Bali itinerary. My two most popular Bali resources!
Unusual things to do in Bali
1. Make your own jewelry
Looking for a one-of-a-kind thing to do in Bali? Bali is not only the island of Gods and world-class waves; it's also the land of artisans, skilled in traditional crafts that have been passed down through generations.
Spend 3 hours with a skilled jewelry maker, and turn silver into a piece of jewelry that you will treasure forever as a memory from your time in Bali. Learn all about what silver jewelry making entails and how the craft has evolved over the centuries.
Even my mum who normally does not enjoy working with her hands had a great time. We learned a lot even though I have to admit it was a bit harder than I had anticipated. And it was so fun to be able to bring something home from an activity like this. You can see the rings I made below, I wear them all the time.
At checkout, you have the option to add transport and other activities such as a cooking class and a village tour.
🌟 My top pick for unique things to do in Bali >> 3-hour Ubud silversmith class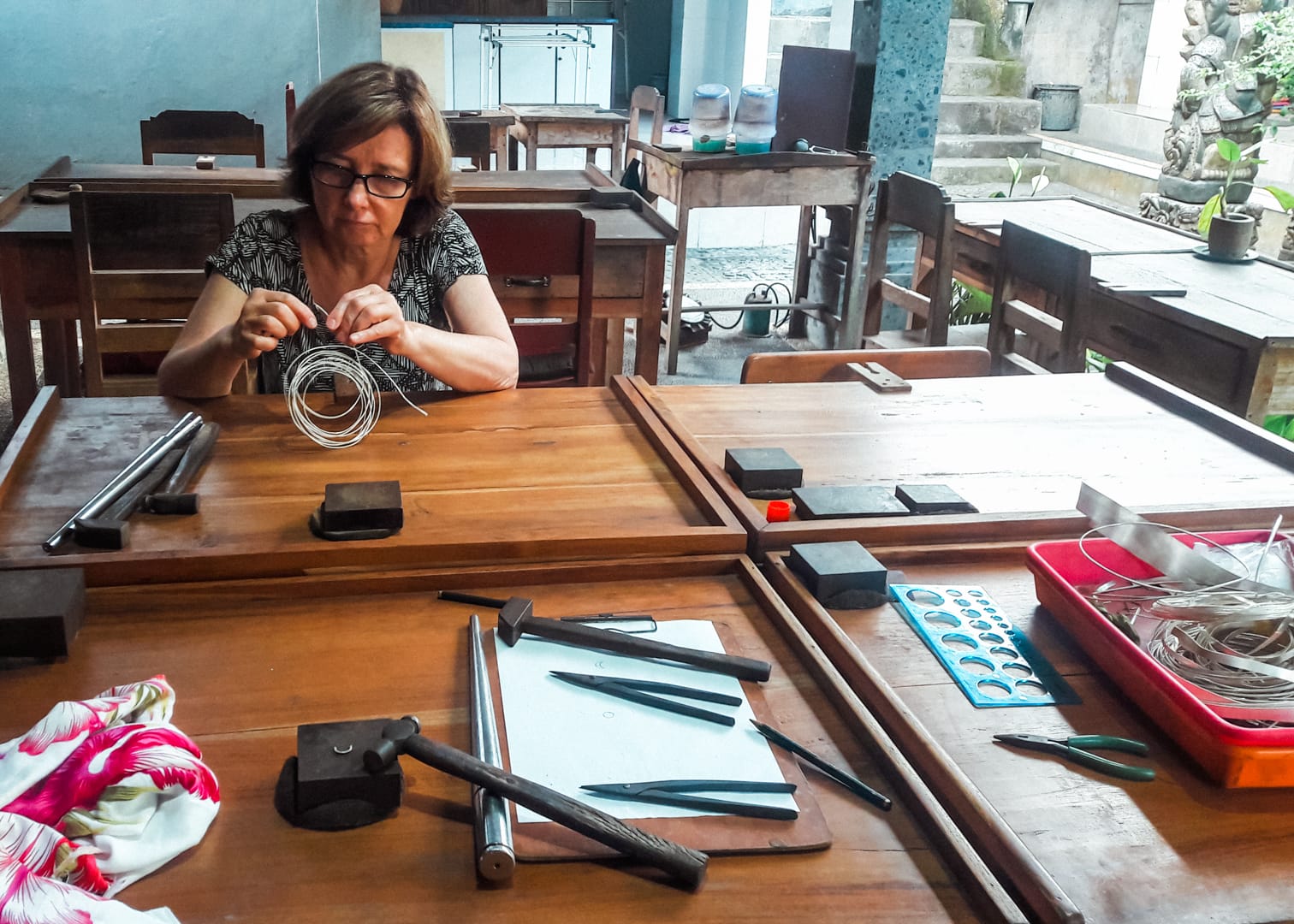 ---
2. Romantic dinner on a boat
Looking for an unusual thing to do in Bali with your partner? Few places are as romantic as Ubud. Start your evening with a convenient pickup from your accommodation and head to Kamandalu Ubud Resort, a spectacular 5-star resort you just have to see.
Here you will enjoy a romantic dining experience on a small boat in a lagoon under lush trees and flickering lights. The dinner features delicious appetizers and some sparkling wine before you continue to the dining table next to the lagoon for the rest of the specially prepared dishes. In total, enjoy 6 gourmet courses perfectly matched with 3 carefully selected wines.
No does that sound amazing or what? Too bad I'm single at the moment!
🌟 You can check price and availability here >> Romantic dinner in a lagoon
---
3. Spiritual Healing experiences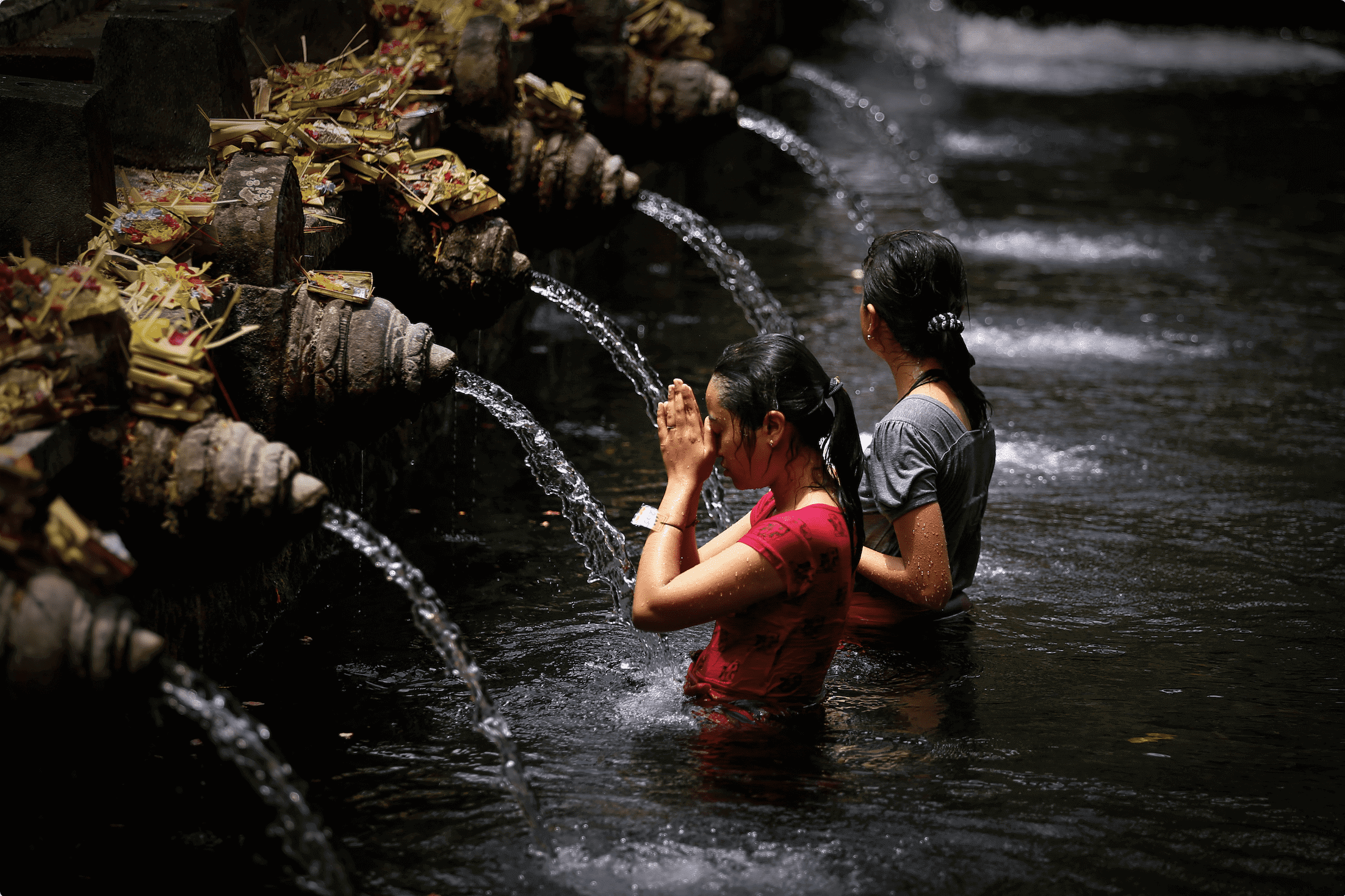 While Bali is known to be a spiritual island, actually meeting with a traditional healer yourself might not be the first thing you would think to do. Here are some spiritual experiences in Bali you don't want to miss:
Eat, Pray, Love
Healers gained popularity among tourists after the late Ketut's appearance in the movie Eat, Pray, Love, but the Balinese people have been counting on traditional healers for centuries. The Ubud area, in particular, is home to many experienced traditional healers known as Balians.
So are you a fan of Elizabeth Gilbert's life-changing memoir? Spend a day retracing her steps through some of Bali's most sacred spots. Bathe in the holy waters at Tirta Empul and visit one of the most famous fortune tellers in Ubud to complete your spiritual experience.
Spiritual Cleansing and Shamanic Healing Tour
Experience a spiritual cleansing on this private tour to the Holy Spring Temple at Tirta Empul in Tampak Siring. Experience the Yagna, Yatra and Mantra healing techniques performed by one of the best Balinese Shamans from Puri Negari.
Soul Retreat and Aura Cleansing Experience
Join an expert guide for an ancient Bali retreat, meditation and a jungle smudging ritual. Learn the traditions of Balinese daily life and trek along the hidden trails of Bukit Penulisan, past old temples, springs and other natural treasures. Your aura will be cleansed for an experience of more peace, to become more present, and feel happier in your life.
---
4. Be a Balinese for a day
Have you ever wondered what daily life in Bali looks like for the locals outside the tourism industry? Now you have the chance to become a member of a Balinese family in Penglipuran Village for a day and experience this unique way of life.
Start this full-day private tour with a visit to a local market before heading to Tegalalang Rice Terrace to learn about the importance of rice growing in Bali. Then continue to Penglipuran Village and meet your local host.
Explore the beautiful village and learn about their day-to-day life, their unique beliefs and rituals and get a chance to make a Balinese offering. If you wish, you can also try on a traditional Balinese dress provided by the family.
Finish the day by making and enjoying a delicious lunch with your host. Definitely one of my favorite experiences in Bali so far!
🌟 Check price and availability here >> Become a Balinese for a day
---
5. Virgin Coconut Oil Making Class and Market Tour
Treat yourself to an authentic, hands-on experience in Ubud. Visit a local market where you will get an introduction to local spices and produce, learn how to make coconut oil from scratch and cook Balinese-style green curry with a professional, English-speaking guide.
At the end of the class, you will be able to sit down and enjoy the delicious green curry you just made. And the best part is that you get to take a piece of Bali back home with you and maybe impress family and friends with your new virgin coconut oil and green curry-making skills.
---
6. Learn to make batik
Batik refers to Indonesia's traditional art of dying whole cloth which produces sophisticated patterns of dots, lines, and other objects. The process starts with applying hot wax to a stenciled design on a fabric canvas, then applying the colors to the patterned fabric. Designs differ from area to area.
Enjoy a fascinating introduction to Balinese batik techniques, tools, and dyes during this 3-hour creative workshop where you get to produce an original design. You will be taught by a Balinese batik guru who will also share the philosophies behind some of the most common batik patterns.
---
7. Learn Wood Carving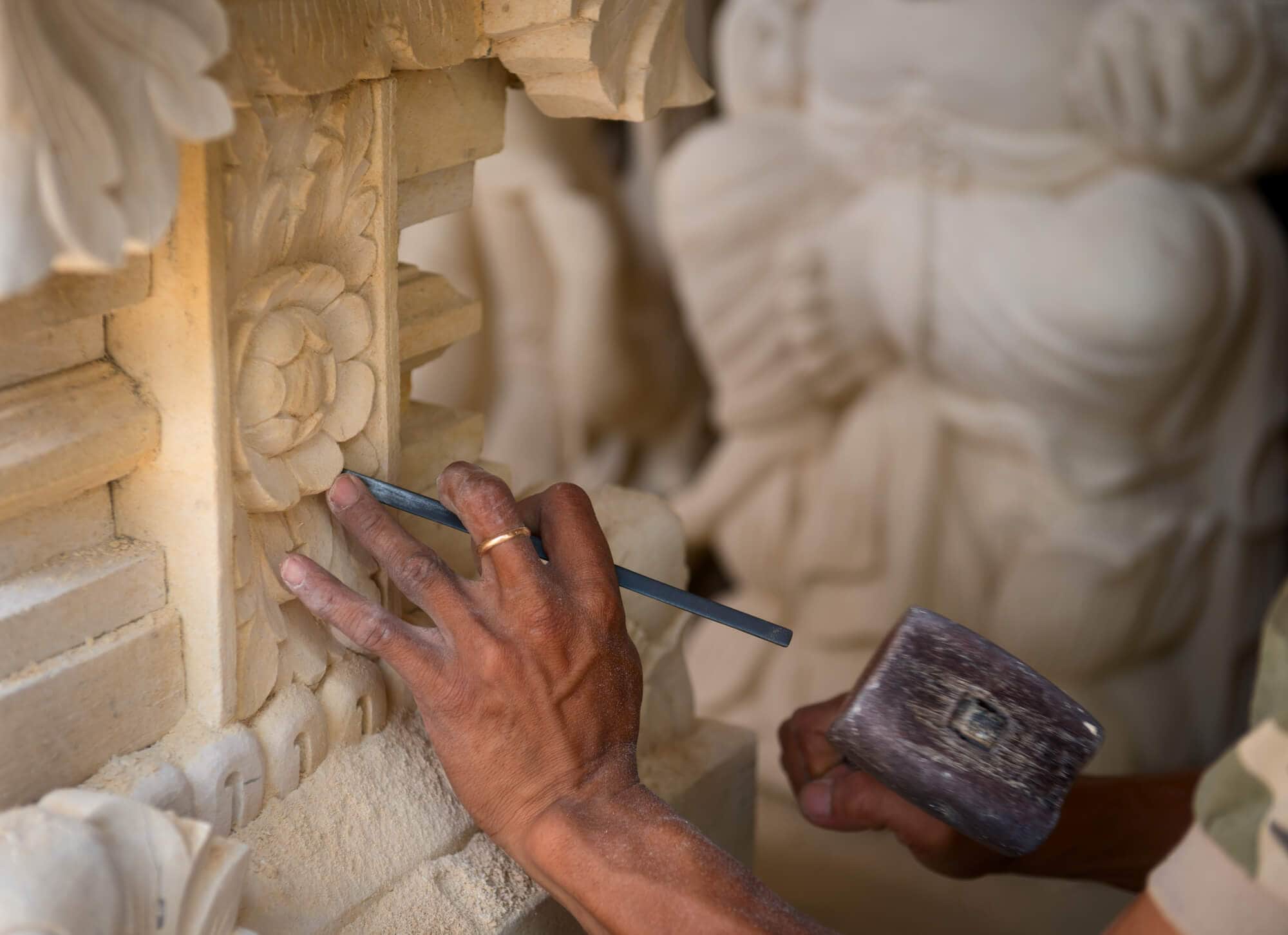 Looking for another way to experience the artisan culture of Bali? What about crafting a personalized souvenir? Bali's wood carvers are known throughout the world for their intricate and nuanced wood creations that adorn nearly every home on the island.
Turn a block of wood into a complex traditional design with the guidance of a local master carver, who will assist you throughout the 3-hour wood carving masterclass, all while ensuring you have lots of fun.
Even if you have never worked with wood before you will learn how to find the mask, the animal or other shape that hides inside each block of wood. So much fun!
---
8. Traditional Basket Weaving Class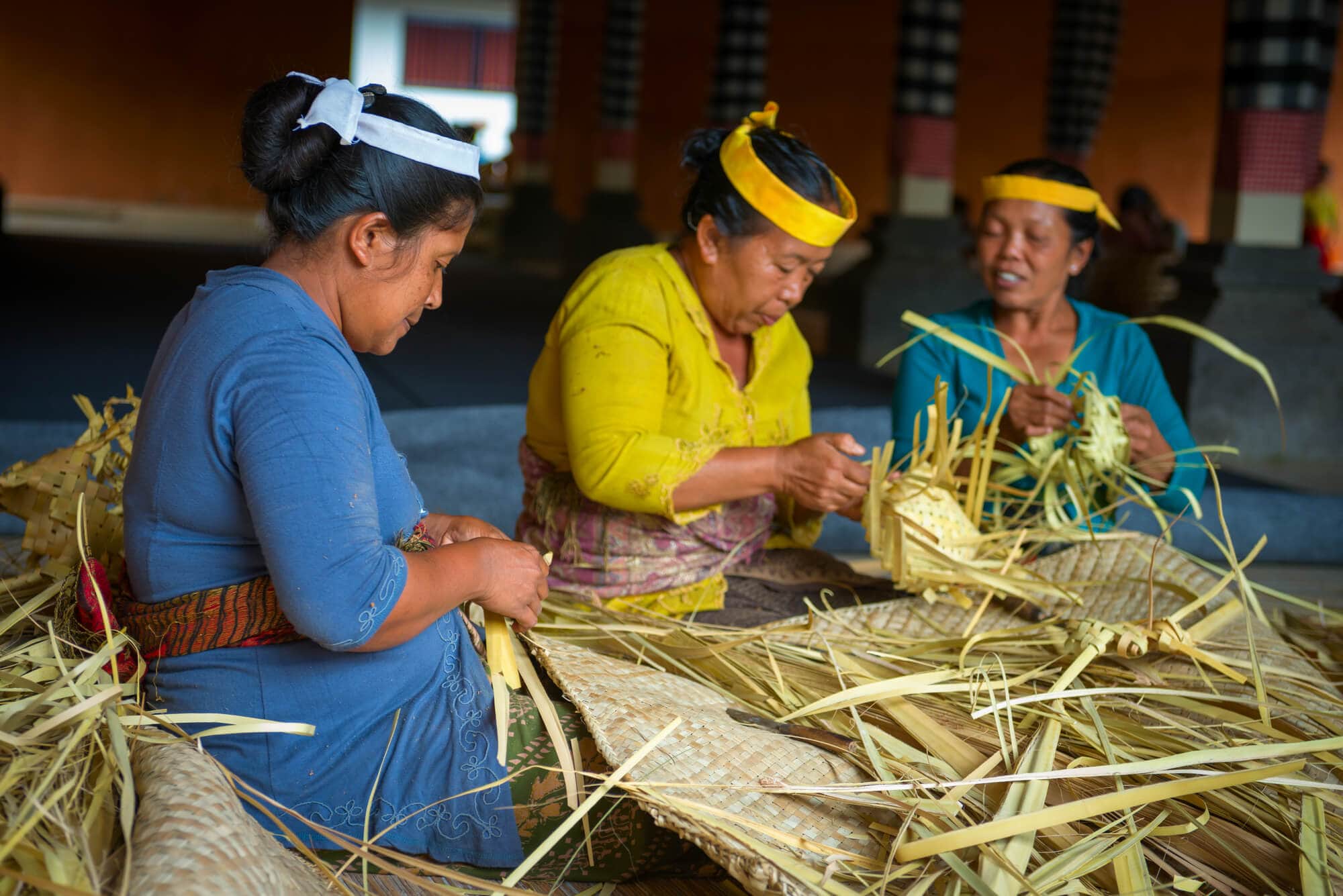 Have you seen the small offerings, called Canang Sari, in Bali? These daily offerings are often rice, flower, candy and even money placed in woven baskets. So naturally, weaving is a big part of daily life for many Balinese women.
And now you have the chance to partake in this tradition yourself and make your own woven baskets. Enjoy a 2-hour basket weaving class with Ibu Nyoman, a Balinese woman who specializes in weaving with the traditional lontar leaf, a plant in the bamboo family.
---
9. Vintage VW Jeep Countryside Safari
Experience a different side of Bali! Explore the incredible and mostly untouched Balinese countryside in a vintage cabriolet Volkswagen Jeep on this exciting tour.
Drive through picturesque villages and rice fields, visit a thousand-year-old temple and enjoy a mouthwatering lunch in a local Balinese house. The lunch was one of the highlights of this trip, I always love and appreciate being welcomed into the homes of local families.
---
10. Go river rafting
While river rafting might not be an unusual activity, Bali is best known for its black sand beaches and café culture, so you probably didn't think you would be floating down its rivers.
Experience the thrills of white water rapids flowing through stunning landscapes on this Ayung River rafting adventure complete with a traditional Bali-style lunch. Navigate class 2 rapids that sometimes rise to class 4 during the rainy season.
---
11. Make your own perfume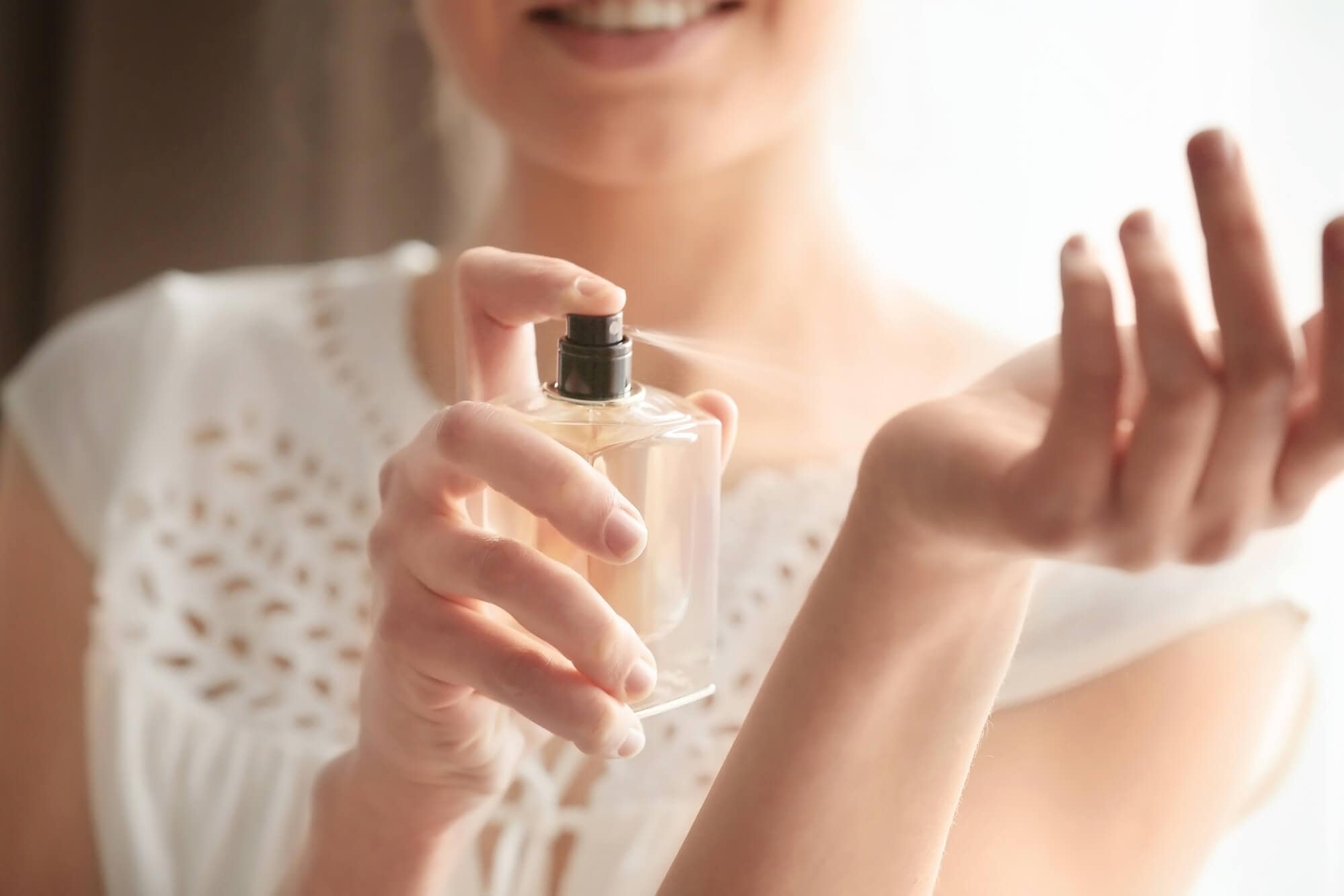 One thing I bet you never thought you would do in Bali is to make your own personalized perfume! At L'Atelier Parfums et Créations you will start by collecting your own basic ingredients, then learn how to develop an aromatic scent and process the ingredients, to eventually go home with a bottle of your own personal fragrance.
If you really like the perfume you create, you can easily order another bottle through their website from home. And what makes it even more special is that some ingredients may not be available in any other countries, making the perfumes truly one-of-a-kind.
Looking for more Bali guides?
---
Remember to pin for later 😉