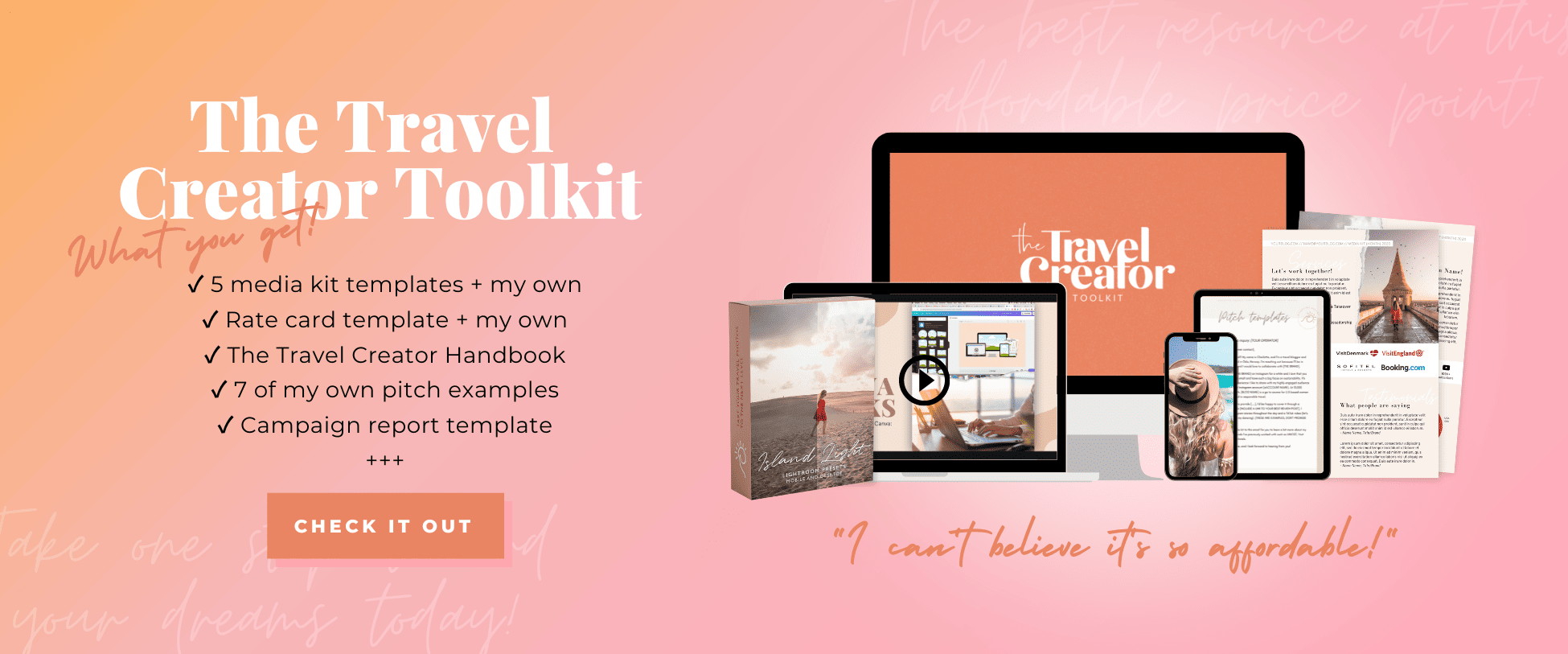 This post may contain affiliate links. I will earn a small commission if you purchase through them, at no extra cost to you.
What was once a small fishing village, has over the last 50 years developed at a rapid speed into a vibrant and modern oasis in the desert. As a playground for the rich and beautiful, Dubai has become synonymous with the bigger and flashier the better.
But never have I experienced a place so full of diversity, which is no surprise as Dubai is home to people from around 200 different nationalities. It's the second largest of the seven United Arab Emirates but has the biggest population with over 2.2 million inhabitants.
So while money can fast track your learning and progress, it is not necessary to
November to April is generally the best time to visit when temperatures are between 24 and 35 degrees C during the day and between 17 and 23 degrees C at night. Flights to Dubai have over the years become quite affordable, accommodation is what will cost you the most in the city.
And just a quick tip, the Dubai traffic can sometimes be quite the test to one's patience, so I would say the best way of getting around the city is by Dubai Metro. It's cheap, accessible and always on time. Get a Silver Nol card which can be topped up and used for five years.
We decided on Dubai as the best choice when we had a week free in February, as we wanted to go to the warmest and cheapest destination possible. With round-trip flights under 3000 nok / $350, temperatures in the high 20's and more than 300 days of sunshine a year, Dubai couldn't be beaten.
We decided to stay up in Bur Dubai removed from all the bling and luxury, which I'm so happy we did. Our room at Gateway Hotel was huge with two double beds and two bathrooms, all for $60 a night. Which believe it or not is quite affordable in Dubai. At night the streets surrounding the hotel were bustling with people talking, laughing and frying up some delicious food at their road-side stalls. I can definitely recommend a stay at Gateway Hotel!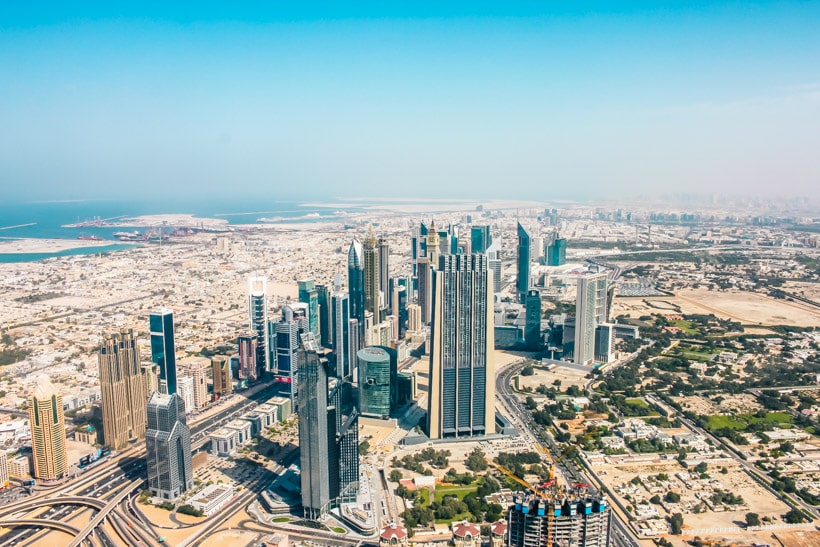 View from the 124th floor of Burj Khalifa
Jumeirah Beach Residence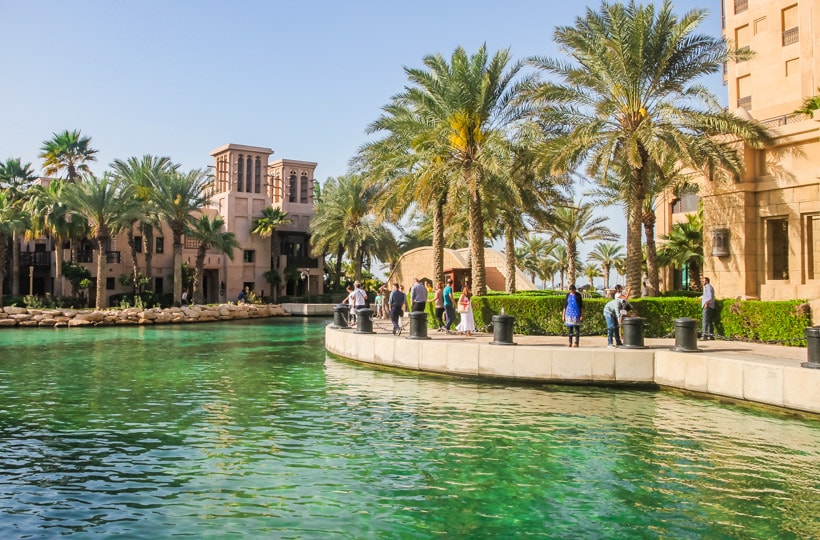 The beautiful Souk Madinat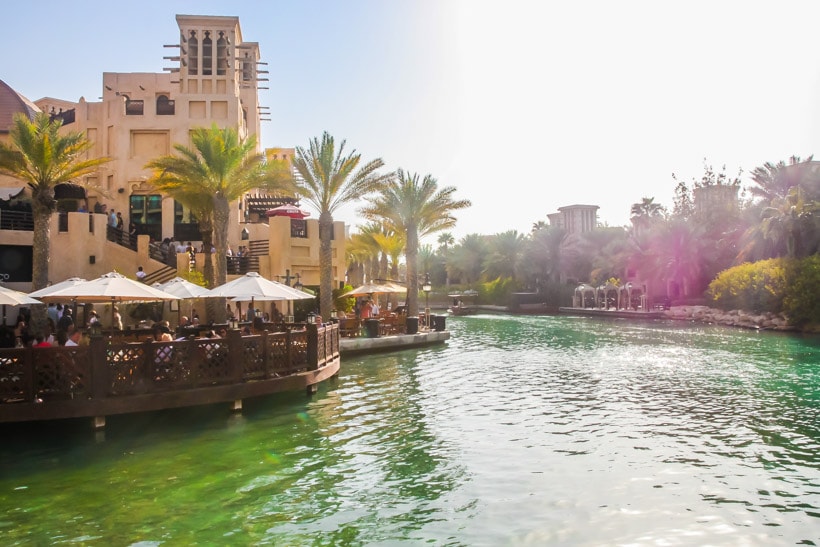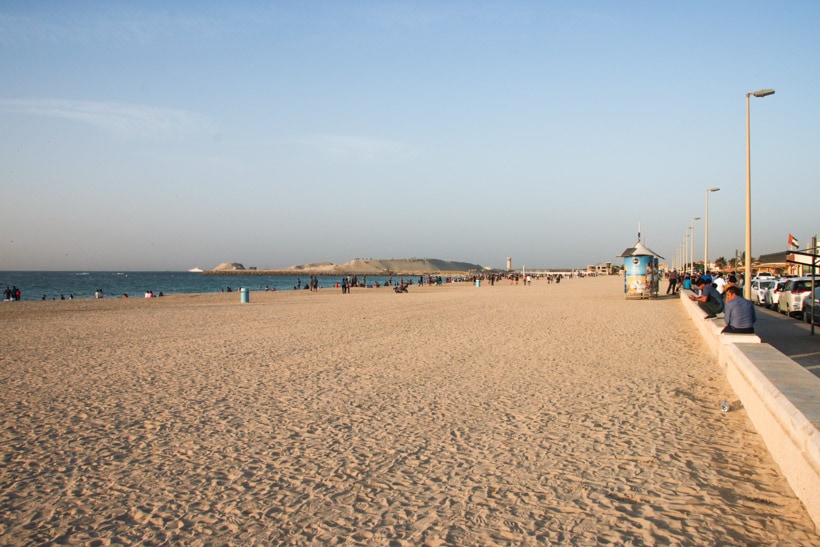 People gathering to see Burj Al Arab at sunset, old Toyota Corollas and spotless Ferraris were parked side by side along the beach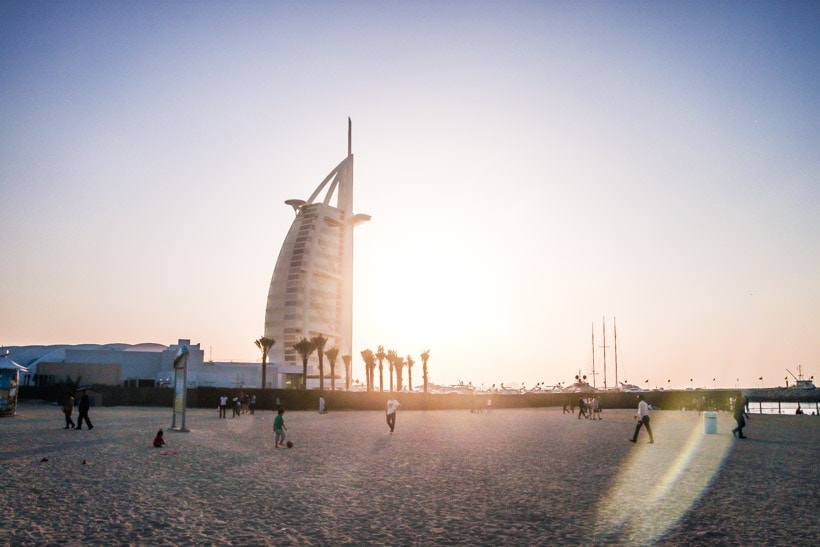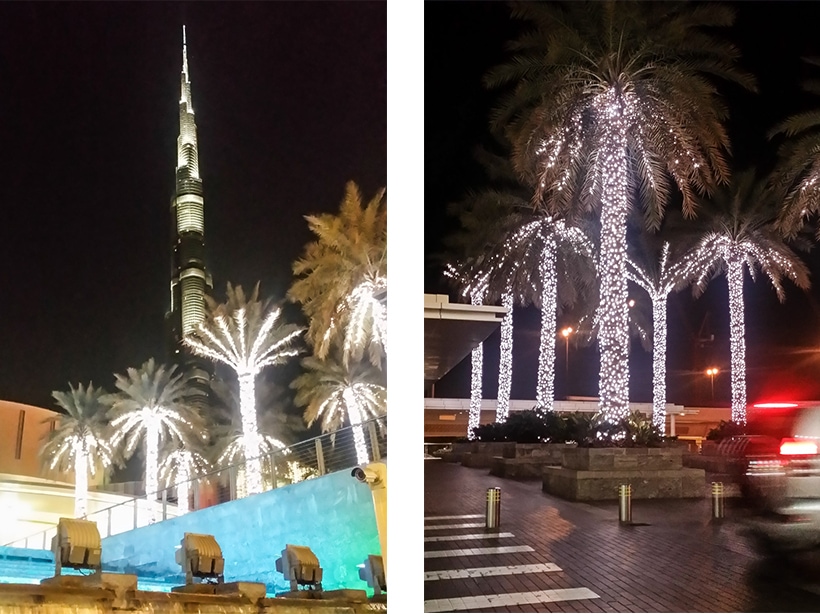 Burj Khalifa and Dubai Mall parking lot by night.
Before we left people said that Dubai couldn't be described, that I had to experience it for yourself, and I have to agree. Where else can you shop up a storm at one of the world's largest shopping malls, then go skiing at an indoor ski resort and then 15 minutes later be on a white sandy beach surrounded by palm trees? Here are some of the things you can experience while in Dubai.
Burj Khalifa is the world's tallest building and has two observation decks on the 124th and 148th floors and a restaurant on the 122nd floor. Admission is 125 AED/ 290 nok / $35 for the 124th floor and 350 AED to go all the way to the top.
Dubai Mall Fountain Show This is a free attraction and I would say almost a mandatory experience while in Dubai. You can also enjoy the show from above, as some of the restaurants at the Dubai Mall have a perfect view of the fountain. We chose to have dinner at Friday's while watching the evening shows which start from 6:00 am and then every 30 minutes until 11:00 am.
Shopping Dubai Mall Get your shopping on at Dubai Mall which is one of the largest malls in the world with over 1200 shops, an aquarium and underwater zoo and an ice rink. I have to admit that I spent most my money this trip at The Cheesecake Factory (I'm not even that into cheesecake) and Forever 21.
Dubai Miracle Garden It's quite ironic that the world's biggest natural flower garden is in the middle of the desert, but that's just how Dubai roll, the bigger the better. The garden features over 45 million flowers arranged into the most amazing shapes and designs. 30 AED / 70 NOK / $10, open daily from November through April from 9 am.
Watch the sun set behind Burj Al Arab from Jumeirah Public Beach. It's free and a definite photo op!
Take a stroll through Jumeirah Beach Residence, have lunch at one of the many restaurants and lounge in the sun at the public beach.
Souk Madinat Even though the handicrafts and food here are quite expensive, the complex itself is worth a visit. Canals of green water, palm trees and old-style buildings, it's simply stunning. You don't have to buy anything, so it's free!
Old Dubai Market (Deira) If you want to see what life was like before the skyscrapers and luxurious hotels, head down to the old markets. The Old Souks sit on either side of the Dubai Creek, textile ones on the south side and you'll find spice and gold on the north side. Take an Abra (taxi boat) across the creek from the one side to other, it costs 1 dirham.
Al Fahidi Historic District, previously known as the Bastakia Quarter, is a heritage site where the first settlements of Dubai were built. The old wind-towered buildings have been transformed into art galleries, small museums and quaint cafés. Guided tours are available if you want to know more about the history of the area. When you're done exploring, head to the small but interesting Dubai Museum to see how oil together with ambition made this urban oasis.
Desert Safari Just outside the city there are nothing but sand dunes for miles and miles. There are tour operators all over town selling different desert packages. Usually they are around 220 AED / 500 nok / $60 per person and include a city tour, dune bashing, henna tattoos, a camp fire dinner with belly dancing as entertainment. There are also other tours available that feature camel riding, sand boarding etc.
Hop on Hop Off Bus Tours Choose between a 24 hour and 48 hour ticket, the latter is around 300 AED / 700 nok / $80.
Aquaventure Waterpark at Atlantis The Palm Hotel is the largest waterpark in Dubai spread across 42 acres. We planned on going, as I had heard from many that it's one of the best waterparks around, but in the end we didn't want to spend the money. Entrance to just the waterpark start from 260 AED / 600 nok / $70 if you buy the tickets online in advance.
Dubai isn't just a desirable hotspot for millions of tourists each year, it's the destination of choice for tens of thousands of migrating birds. In the wetlands, just outside the busy city, you'll find the Ras Al Khor Wildlife Sanctuary. Entrance is free(!), and you can visit from Saturday to Thursday between 9am and 4pm. If you want to catch the birds feeding, the best time to visit is between 9am and 9.30am.
Even if Dubai is a one of a kind place and a dream destination to many, it wasn't for me. I can't believe I'm saying that as it's got all my favorite restaurants right next to white sandy beaches and historic sites. But I just didn't like the overall extravagant vibe and excessive luxury, so I don't think I'll be going back. However it was a nice break from the cold Norwegian weather, and I have to point out two things that I really liked.
Kaleidoscope Buffet Dinner at Atlantis The Palm
I think I have to go as far as saying this was the best food experience of my life. A huge room full of every dish you can think of, heaven for a foodie like me. Just the salad bar was the size of regular buffets. I was a bit hesitant before booking the table as it was 200 AED nok per person, that's usually 5 days worth of dinners on my other travels. But I saw it as an experience more than just a meal, so we went for it and I'm so happy we did.
The total bill for 2 persons including non-alcoholic drinks ended up at around 550 AED / 1270 nok / $150. They have different themes each day of the week like Mexican or Arabian nights, so be sure to plan ahead for which day you prefer. Remember to book a table through their website so you can pass the long line of hungry people outside. Also, be sure to set aside some time before or after dinner, so you can wander around the stunning hotel.
The incredible reception area of Atlantis The Palm Hotel
Some bad quality photos of some extremely delicious food.
A small part of the huge dessert selection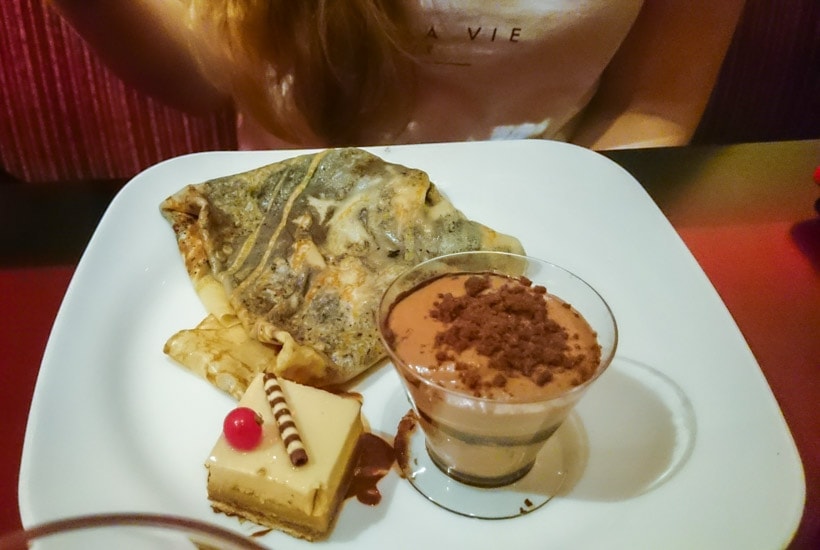 The best chocolate crepe I've ever had, I went back for even one more after this, oops.
Al Mamzar Beach Park
After reading a lot of mixed reviews about this place, we weren't sure if we would be wasting our time by going here. But after seeing the crowded beaches in town, we decided to jump in a cab and check it out. I'm so so so happy we did, as this place made my trip. The coves of white sand and turquoise water lined with palm trees made it feel more like we were in the Caribbean rather than just outside a buzzing cosmopolitan city.
Al Mamzar Beach Park covers an area of 106 hectares and offers barbecue sites, private chalets for hire, a swimming pool, food kiosks and sheltered beaches. Entrance is only 5 AED / 11 NOK /$1.2 per person, in other words it's practically free. Keep in mind that Monday and Wednesday is ladies days, when the only males allowed are those under the age of four. It can be quite hard to find a ride home, sometimes there are taxis waiting outside, but sometimes you have to call for one or walk to the main road.