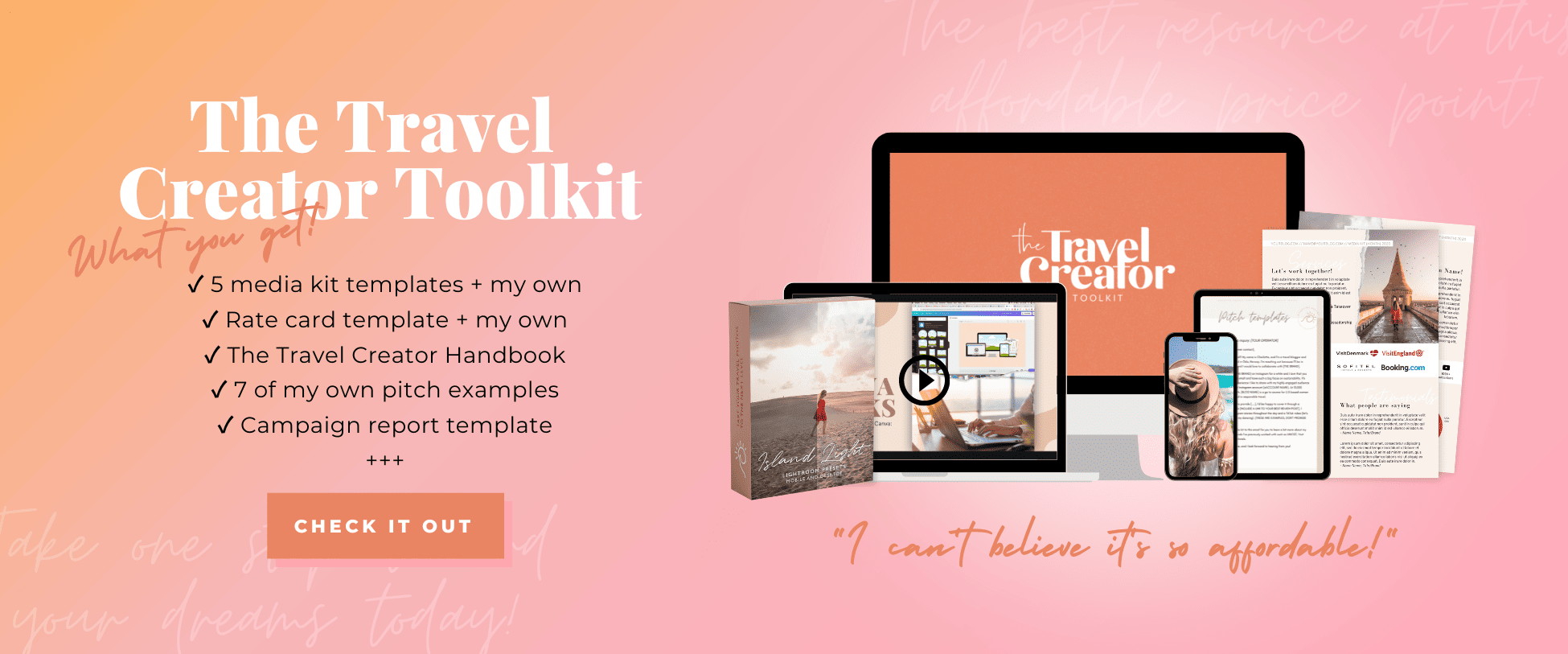 This post may contain affiliate links. I will earn a small commission if you purchase through them, at no extra cost to you.
There are millions and millions of beautiful places in this world. But more often than not it's a combination of the destination, its people and what we do while we are there that truly makes a trip special. So I asked 19 fellow female travel bloggers to write about their most unforgettable travel experience. And I added mine as number 20.
We could all do with a little post lockdown bucket list inspiration, right? Let's dream now and travel later!
20 unforgettable travel experiences for your bucket list: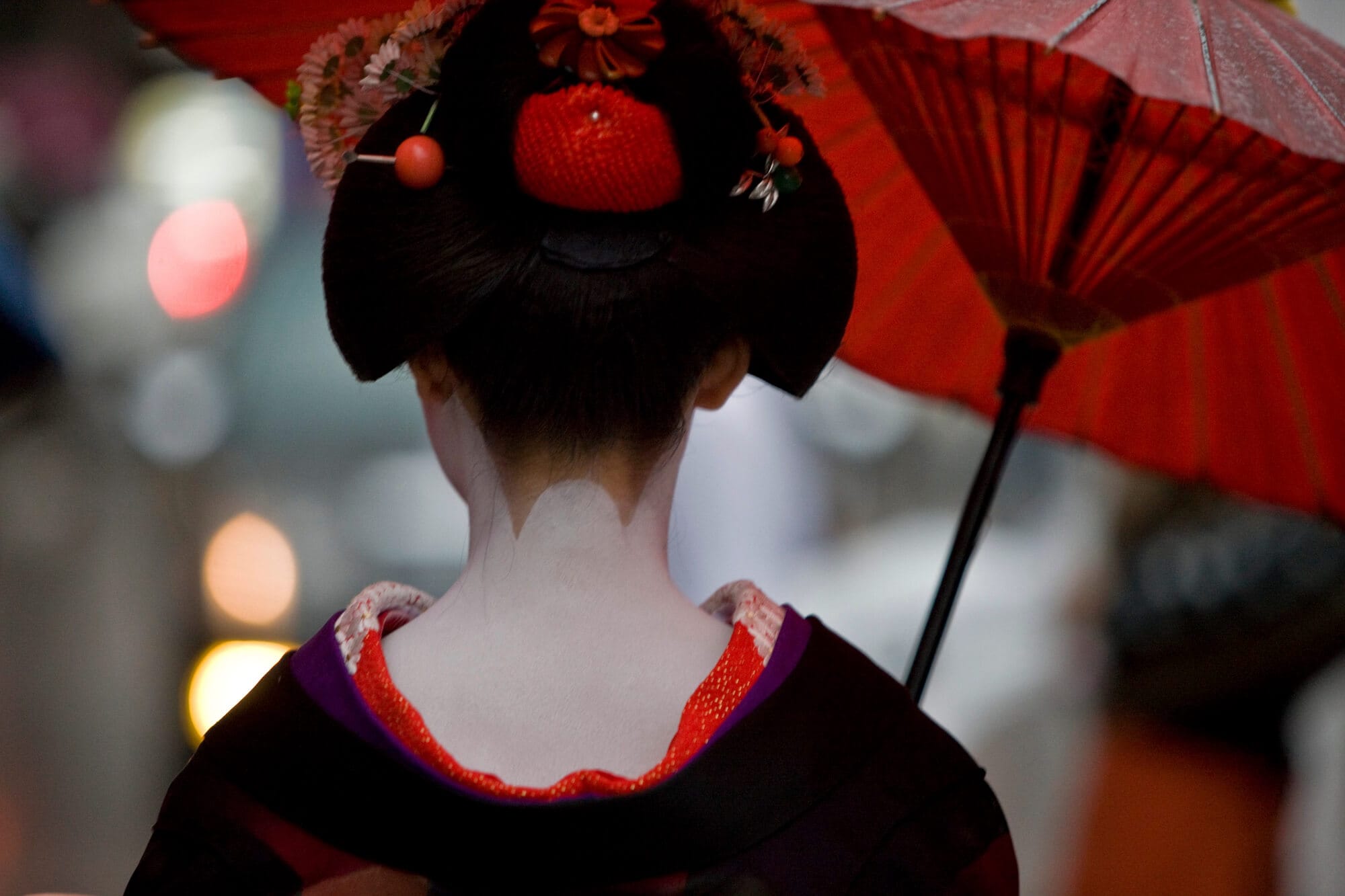 If you close your eyes and think of Japan, what do you see? Come on, try this experiment! Before I went there, I used to see Mount Fuji, cherry tree blossoms, and Sailor Moon (this was my childhood hero, don't laugh!). But now, a few months after the trip, I can only see a geisha or maiko performing and dancing. It's definitely one of the world's most unforgettable travel experiences.
What's so special about this, you ask? Well, this is so traditionally Japanese that you won't believe it's still happening today, in the digital era. They still wear hand-painted kimono, they still have the specific updo hairstyle that makes them easy to recognize, they still perform the same arts as they used to centuries ago.
If you ever get to experience the geisha culture in Japan you'll feel like you have traveled through time. It is definitely unique, you cannot find anything similar anywhere else in the world. And it is memorable, even if you don't speak the language. In the end, art goes beyond words, beyond nations and ethnicity, beyond basic understanding. Art must be felt, and you will feel it once you're there.
The geisha experience that we choose was to go to a geisha theater in Kyoto in November for an annual representation, but there are many other options you can choose. But something is clear: you have to choose one. If you didn't enjoy a geisha experience while in Japan, were you even there?
---
2. Flying over Victoria, BC in a seaplane – by Christin has Fernweh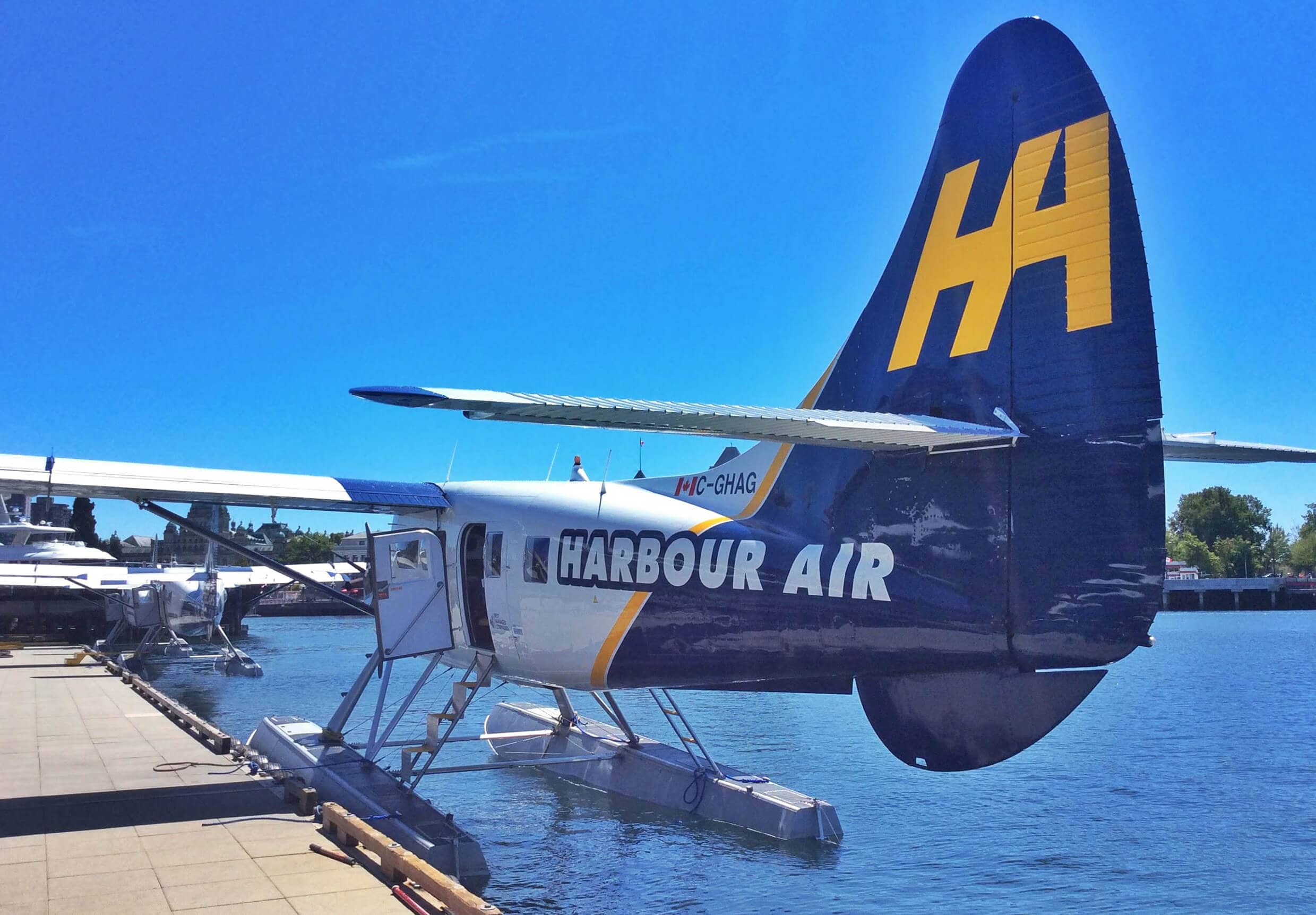 Did you know that Victoria, British Columbia has the only official sea-airport in the world? I found out from the guide on a whale watching tour off Vancouver Island, Canada. There are two "runways" on the water, smack in the middle of the harbor. You can buy tickets to domestic or US destinations, like Seattle just down the Pacific coast. And: you can book sightseeing trips.
Harbour Air is the airline that offers tours over Victoria, to Butchard Gardens and a day trip to Vancouver. I went on the Victoria Classic Panorama Tour and it was a unique experience for me. It was the first time I took off in a plane from the water and landed on water. Admittedly, the landing is somewhat bumpier than on a runway. But the views of BC's capital and the ocean were so worth it!
I only went for the 20min tour, but personally I thought it was plenty of time to get a first impression of water aviation. And I took a ton of pictures and videos from the air. If it is just about the experience, that tour is perfect. The seaplane flies at a lower altitude than a normal plane, so you can see much more of what is happening on the ground.
Even though I went during high season, in June, there were only 5 people on the plane with me. And I was able to book a cheap ticket on the day, as I was flexible with timing.
Related post: 12 underrated cities that aren't on your bucket list (but should be)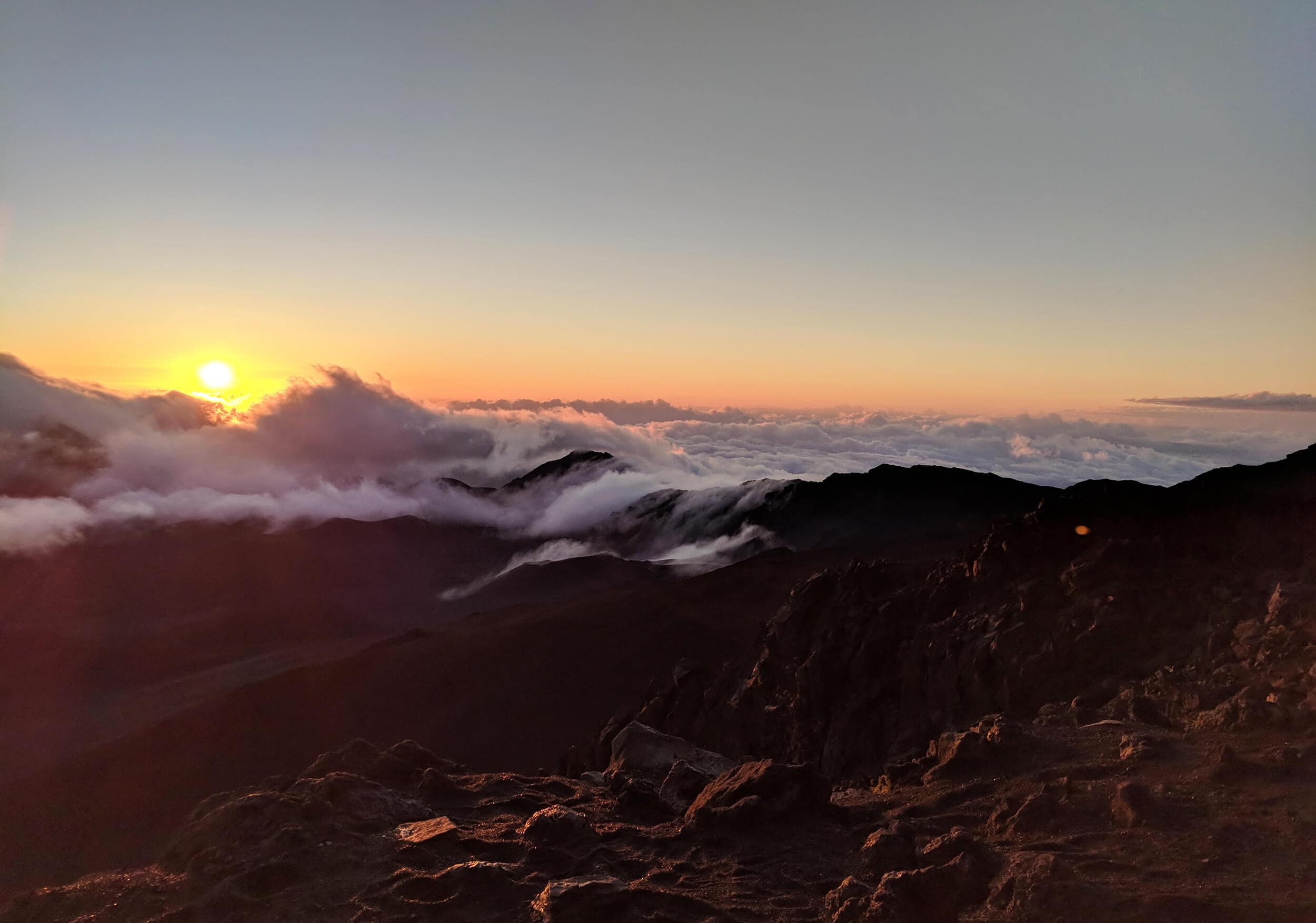 Haleakala volcano may be dormant, but that doesn't make the 10,032 foot colossus any less imposing. Standing up amongst the clouds to watch the sun peak over the crest of a blanket of fluffy clouds takes pride of place on my ultimate travel bucket list.
This bucket list entry takes a bit of planning, dedication, and a very early morning – but I can assure you that it's well worth it. We were awake in the car at 3.30 am for our drive to the summit to see the sunrise at Haleakala. You'll want to bring a couple of warm jackets, and maybe even nab a blanket from your hotel, because the temperatures before sunrise are chilly to say the very least. But once the first slivers of sun begin to appear at the horizon, the gathered crowd hushes and everyone takes in the beauty of the experience.
The arid landscape of the volcano is juxtaposed with beautiful, downy white clouds, as fingers of red, orange, and yellow spread across the horizon. We were lucky enough to have two Maui natives sing the Mele Oli chant – the traditional greeting of the sun. It's an experience that I'd repeat again in a heartbeat, despite spending a good 40 minutes hopping from one foot, to the other, to stay warm.
Haleakala National Park requires reservations in advance for those who want to watch the sunrise. You can learn more about the reservation process and find more tips to watch the sunrise at Haleakala, here.
---
4. Hiking the Stairway to Heaven (the legal way!) – by My Backpacker Life
There's a lot of incredible places to visit around the world, but there's one unforgettabel travel experience I just can't stop thinking about. It's one you should put on your bucket list – hiking the Stairway to Heaven in Oahu, Hawaii!
The Stairway to Heaven hike, also known as Haiku Stairs, is not an easy hike – it could even be quite dangerous, so be sure you're prepared and used to hiking. In addition to that, it's illegal to hike up the actual stairs, you'll risk getting a fine if you do so. Instead, take the magical legal way via the Moanalua Valley Trail.
In the beginning, the hike is mainly flat. However, it will soon get steeper – if it's not a completely clear day, you'll feel like you're on your way up among the clouds! I'd recommend bringing crampons for the steeper part of the hike. Remember to bring plenty of water and sunscreen as well. It's Hawaii, it gets hot!
The view you'll get from the summit is incredible. You honestly don't need another reason to put this hike on your bucket list, but if you're into hiking and adventure you'll enjoy the challenge of the hike itself as well. As you'll be coming up the back way, you'll also get several different views of the valley and the beautiful ridge!
Related post: The best travel insurance for long term travel
The Arctic Archipelago is Canada's best-kept secret. Far off the tourist radar, few travelers make their way north of the arctic circle into the vast and sprawling territory of Nunavut. Canada's largest and least populated region, traveling to Nunavut is worthy of any bucket list. And for those who find themselves under the midnight sun, one of the most incredible experiences you could have is kayaking among icebergs.
I remember gliding through the salty seawater in an inflatable kayak. I was covered head to toe – dry suit, waterproof gloves, and hat – just in case I found myself capsized and in an unintended polar bear dip. Until I was paddling so close to icebergs, I'd never appreciated just how much of the ice is below water. Looking down, I could see the curves of ice run so deep they disappeared from view.
Nor had I appreciated their colossal size; being so close to Greenland, the icebergs had recently calved off ancient glaciers. They would eventually decrease in size as they meandered south to Newfoundland, but at this moment I had to crane my neck upright to see the top. Some were so enormous they had their own waterfalls. Melting ice near the top would run down and spill over the edge, falling into the ocean.
Later a guide chipped off some pieces of an iceberg and we drank our cocktails with glacial ice. As my group sipped our deliciously cold beverages, we all agreed. Kayaking in the Canadian Arctic was a truly memorable experience.
---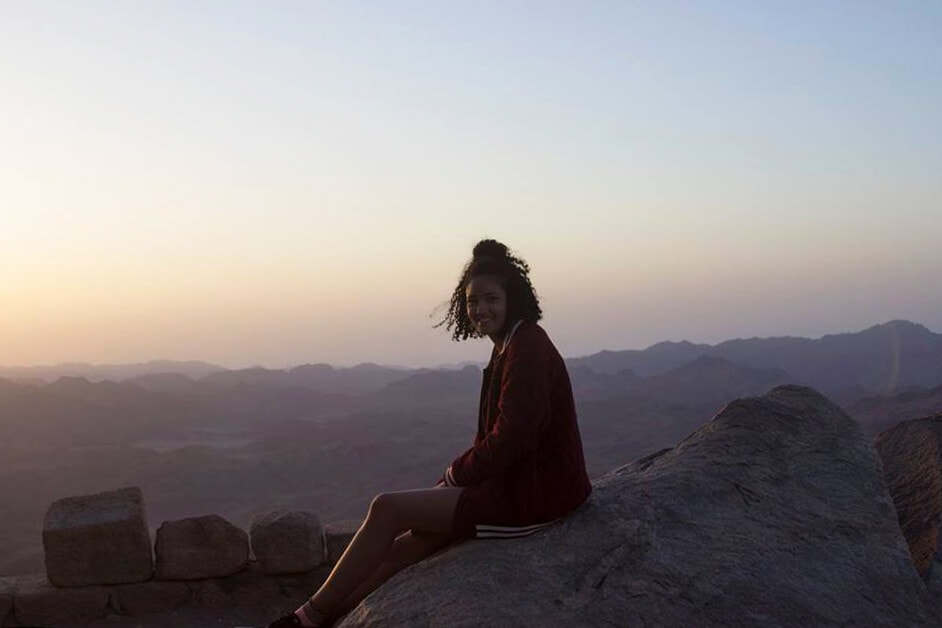 One of the very first travel experiences I checked off my bucket list, and one that really deserves to be on yours as well, is the Mount Sinai hike in Egypt. Also known as "Jebel Moussa" in Arabic, the mountain, located in Saint Catherine in South Sinai, is the second-highest in the country after Mount Catherine.
Apart from the friendly Jebeliya tribe that lives there, the mesmerizing nature of the mountain, and its challenging elevation of 2,285 m, it also has high religious value. You see, this is the mountain where it's believed that Moses spoke to God and received the 10 commandments. And Saint Catherine's Monastery, built at the foot of the mountain, is supposedly where Moses had seen the burning bush.
It's one of the most spiritual and empowering adventures you can ever embark on. Once you reach the summit and marvel at the mountainous, vast desert as you watch the sunrise from within the clouds, you'll reach an indescribable state of euphoria that you'll remember forever. And if you decide to do this in winter, you might be lucky enough to witness snow. Yes, Saint Catherine is the only place in Egypt where it snows!
Related post: 16 incredible islands you probably haven't heard of but need to visit!
7. Hiking the Congo Nile Trail in Rwanda – by Exploring Wild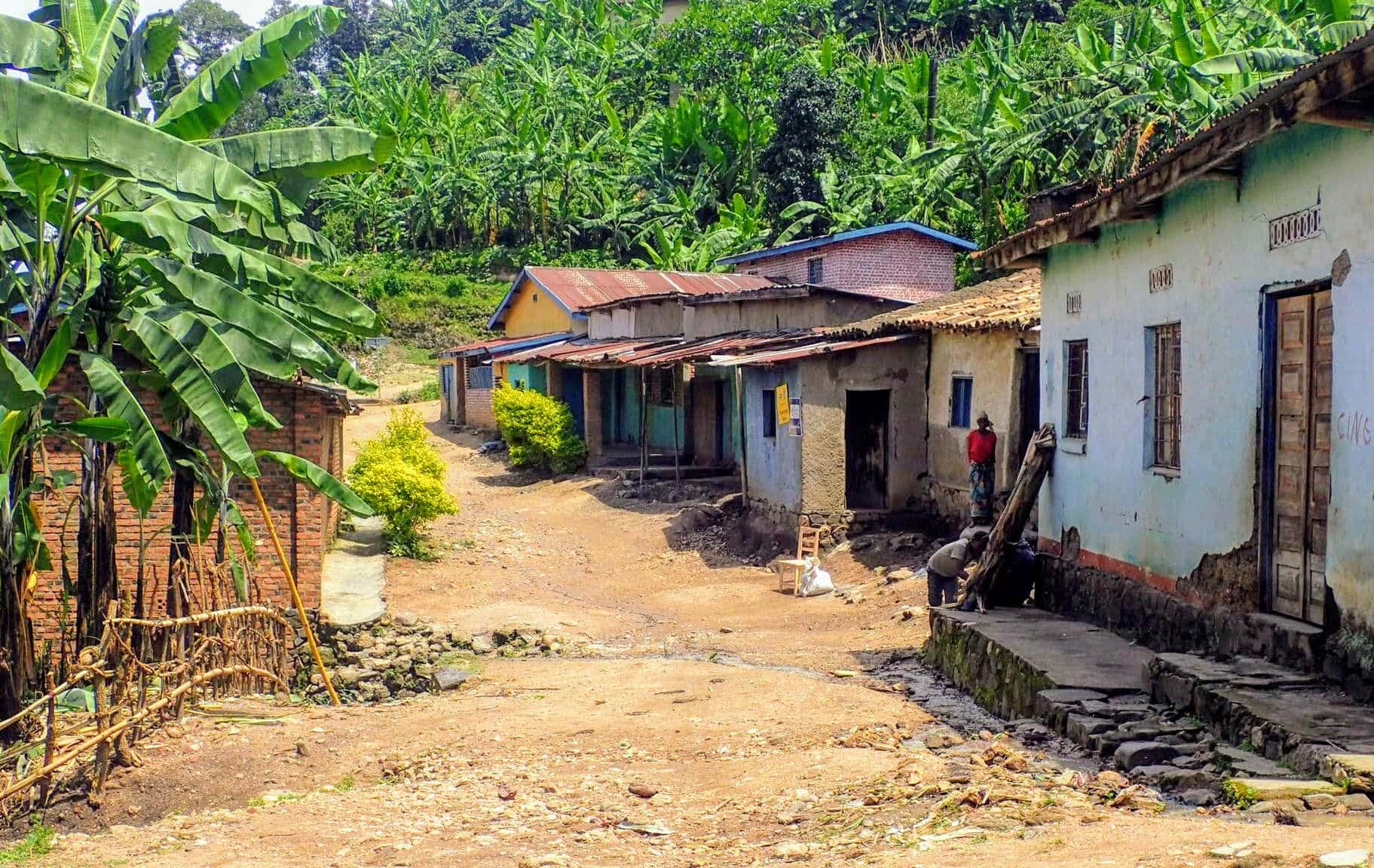 On the far western edge of Rwanda, snaking along the green shore of gorgeous blue Lake Kivu, lies a unique adventure for outdoorsy travelers: the Congo Nile Trail. Stretching roughly 120km from Gisenyi to Kibuye, this patchwork route of local trails and dirt roads can be walked in 4-5 days, with nights spent camping or sleeping in small guesthouses.
Along the way you'll pass through villages and farmland, never far from a curious group of kids or an enthusiastic "helloooo" shouted from a grove of banana trees. The trail is safe and well enough developed for hiking independently (I hiked it solo) but still adventurous enough to be interesting.
You'll piece together directions from the hand gestures of helpful locals and likely pass some miles with Rwandans excited to practice their English or French. At the end of a long hot day, you'll probably manage to find a place where you can kick back with a cold(ish) Turbo King beer and a view of Lake Kivu.
The Congo Nile Trail isn't easy; it can be hot and hilly, and the frequent attention from locals can sometimes feel draining. It's important to travel mindfully and try to minimize impact – both environmental and cultural – on this fragile area. But for travelers with some experience in Africa who are looking for an adventure rich in both scenic beauty and cultural learning opportunities, I highly recommend it.
---
8. Everest Base Camp Trek – by Emma Adventures
The Everest Base Camp trek in Nepal should be on everyone's bucket list. It is certainly one of the most unforgettable travel experiences I have. Situated in the Himalayas in Nepal, Mount Everest is the highest mountain in the world, and trekking to its base camp is one of the most beautiful journeys in the world.
Stay in teahouses in the mountains for 10-14 days and as you journey through beautiful scenery and experience local life in Nepal. Although a tough trek, it's certainly doable with the right training and well worth the effort. It's a great feeling waking up in a lovely teahouse surrounded by mountains every day, to a home-cooked meal and only having to worry about how far you have to hike that day.
Along with reaching Everest Base Camp, which is the ultimate goal, you'll get to take an amazing scenic flight from Kathmandu to Lukla, the starting point of the trek, as well as explore the crazy, bustling capital city of Nepal, Kathmandu. The people in Nepal are extremely welcoming and friendly, which makes the experience even better. I'd truly recommend adding Everest Base Camp to your bucket list, I guarantee it's an experience you will treasure forever!
You might also like: How I created my first viral pin!
9. Visiting a cultural village in South Africa – by EvBeing
Travelling has been a way of life as I love wandering in new destinations and meeting new cultures and people! If you are looking for your next travel destination consider Africa!
What can you do on a vacation in Africa? One of the most memorable travel experiences I had while on the road was to visit a cultural village in South Africa. A day well spent in an African ancient tribe village in Gauteng located one hours drive north of Johanessburg. Have you heard of the Zulu tribe? On my first trip to Africa, I visited a village of five traditional dwellings inhabited by Zulu, Xhosa, Pedi, Basotho and Ndebele tribes. The Zulu is the largest ethnic group of South Africa inhabiting in KwaZulu Natal and Gauteng. The whole experience is fun and informative!
You will be welcomed by the head of the Village. You will watch a short documentary film presenting the history of the village and the tribes. You will join a guided tour in the beautiful community coming across the village's warriors. You will meet the families, enter their homes. You will mingle with the villagers in traditional African dress. You will watch a show of traditional African dance. You will be encouraged to join the dance floor! You will be treated to African local cuisine. Taste ostrich, alligator ribs and crocodile meat. Visiting Africa is a fascinating travel experience!
---
10. Hiking to the Top of Half Dome in Yosemite National Park – by She Dreams of Alpine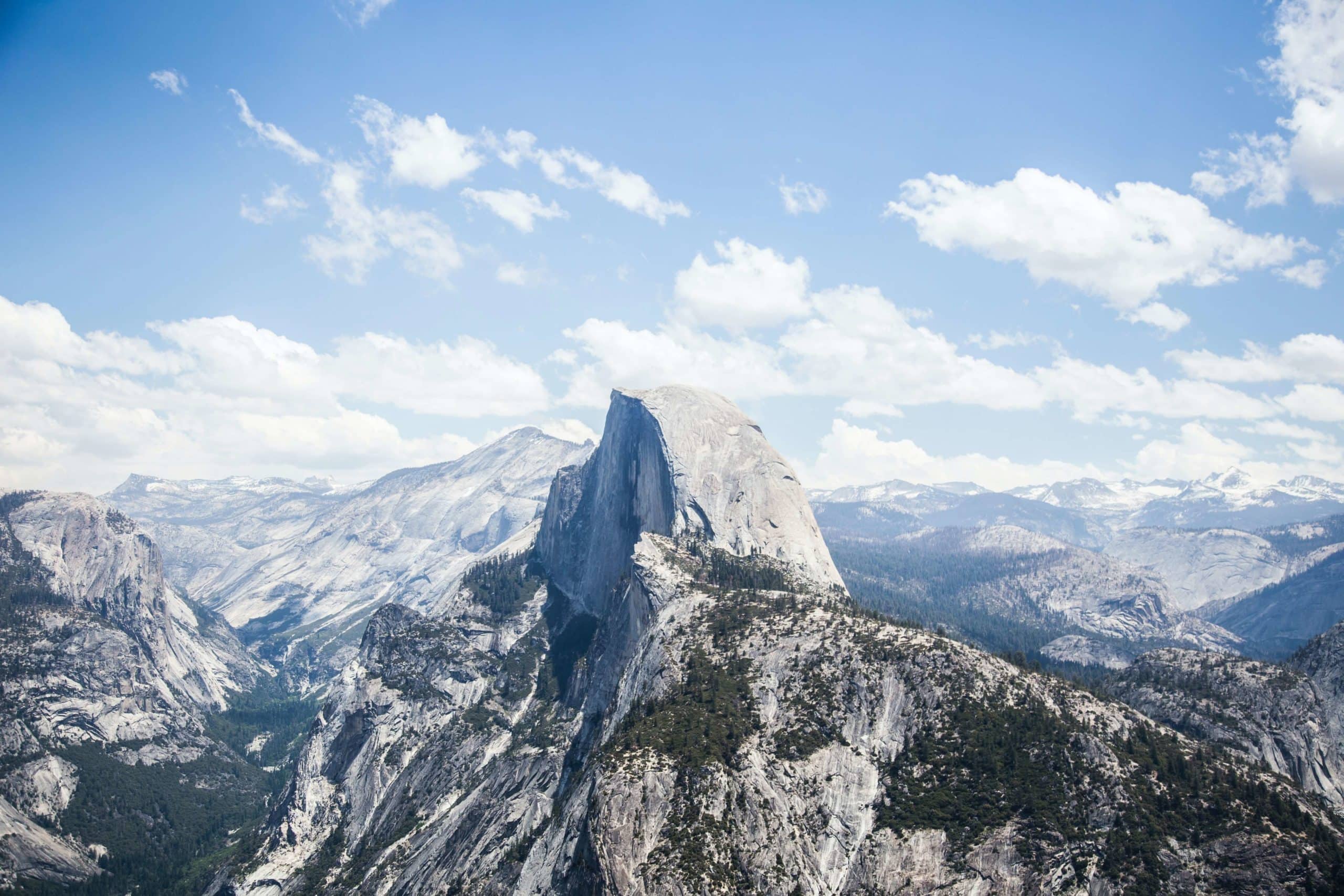 Standing at the top of Half Dome in Yosemite National Park at sunset is a truly epic place to be, and the moments I have spent up there make for one of my favorite travel memories. The awe-inspiring views of the grandeur and granite of Yosemite reach another level when bathed in the fiery glow of the setting sun.
Hiking Half Dome is no easy feat either, and the first time I did it, I felt empowered in the outdoors in a way that truly changed my life. Half Dome proved to me that I am strong, brave, and capable of so much more than I ever thought was possible.
The Half Dome hike requires a long, uphill trek just to get to the base of the dome, a total of about 14 miles round trip with 5,000 feet of elevation gain. Then you have to ascend the steep granite face while clinging tightly to the steel cables – which is definitely not for the faint of heart or scared of heights! Making it to the summit of Half Dome is such a proud accomplishment that adds to the exceptional experience of standing on top.
I have explored the outdoors and hiked all over the world, yet Yosemite's iconic Half Dome continues to hold a special place in my heart.
---
11. An unforgettable visit to Altyn Emel National Park – by Backpack Adventures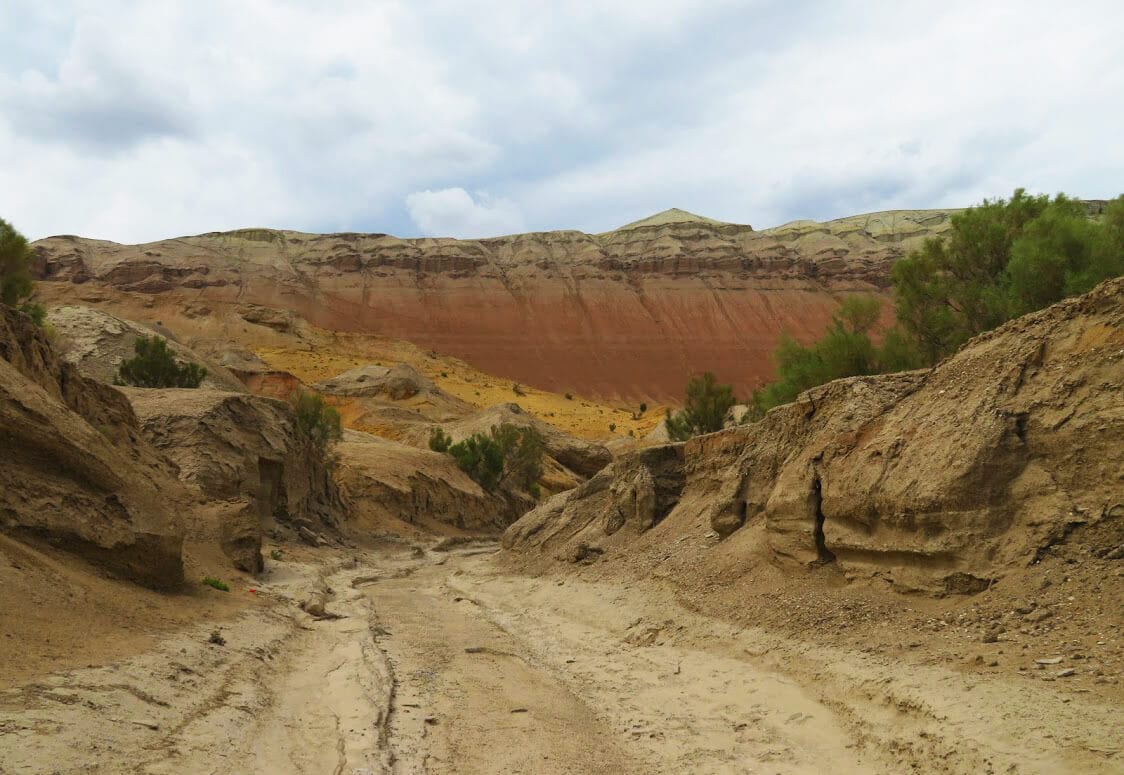 Few people have Kazakhstan on their bucket list and yet, this is where I had my most unforgettable travel experience to date. Most think Kazakhstan is nothing more than steppes, but this is far from the truth. A visit to Altyn Emel National Park is proof of Kazakhstan's spectacular nature that is incredibly diverse.
Altyn Emel National Park has singing sand dunes, volcanic rocks, rainbow mountain ranges and vast steppes. The views are really out of this world with martian and lunar-like landscapes everywhere you go. I kept taking pictures of all the different colours in the hills that ranged from red to yellow to brown to grey and white.
Altyn Emel is also Kazakhstan's prime Safari destination. It is one of the last places in this world to see wild horses and wild donkeys and even though it might be from far away you have a good chance of spotting them as well as the Persian gazelle or Bukhara deer.
The nature and wildlife are more than enough reasons to visit Altyn Emel, but there is history too. Traces of Scythian tribes that lived in the area around the first millennium BC are everywhere. From mysterious stone steles to ancient petroglyphs and burial mounds that fit perfectly in the remote sceneries of Altyn Emel.
You might also like: The ultimate Bali bucket list – 101 awesome things to do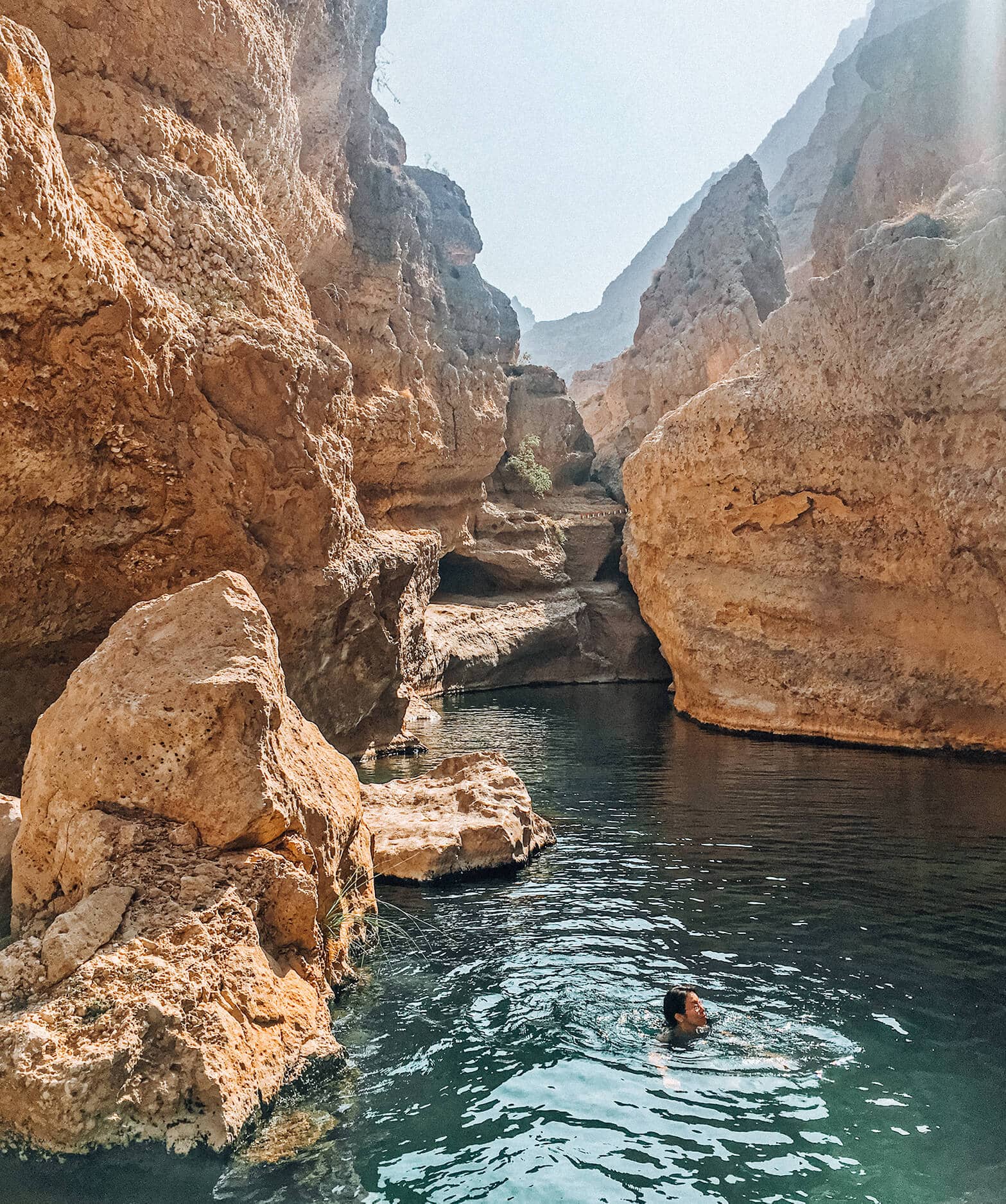 One of the most unforgettable travel experiences I've had was swimming in the beautiful wadis of Oman. Oman is filled with natural wonders; if you spend 10 days in this peninsula, you'll be seeing plenty of gorgeous waterfalls, mountains, valleys, deserts and my favorite of them all ⁠⁠— wadis.
The most famous wadi in the country is Wadi Shab, and it totally lives up to its hype. This attraction consists of 3 natural pools you can swim in, and one of them also leads you to a mystical cave with a waterfall inside it. I've always enjoyed swimming, but swimming inside a wadi with a breathtaking view of canyons all around you and fishes cozying up to your feet was a once-in-a-lifetime experience. It also felt incredibly fun; like being inside a natural waterpark all day!
Wadi Shab is suitable for all travelers. The first of the three pools is very shallow and perfect for non-swimmers, beginners and children. You can simply relax in this pool if you don't feel comfortable in deeper water. The second and third pools are quite deep, so I'd only recommend them for excellent swimmers. If you enjoy adventures and are great at swimming, you'd also love swimming inside the cave at the end of the third pool!
For this experience, I highly recommend bringing a waterproof dry bag and waterproof phone case so that you can keep your belongings with you as you swim. The dry bag can also act as a floatie if you ever feel tired from swimming! You can find more tips for visiting Wadi Shab in my Oman itinerary here.
---
13. An unforgettable journey to Salar de Uyuni – by Travel by Carla Vianna
Traveling to the vast Salar de Uyuni in Bolivia has got to be one of the most epic adventures I've crossed off my bucket list. The Salar de Uyuni, or the Uyuni Salt Flat, is the largest salt desert in the world, composed of 11,000 square kilometers of glistening white salt. It's an otherworldly landscape that allows for surreal, perspective-shifting photos—but the journey there is just as exciting.
The most popular way to visit the Salar de Uyuni is by group tour. I chose to go on a tour starting in San Pedro de Atacama in Chile. The tour involved a three-day road trip through Bolivia's wildest landscapes in a 4×4 truck shared by seven strangers. On this tour, I visited volcanoes towering 5,000 meters above sea level. I ate lunch at local villages so small and quiet it was difficult to imagine that anyone lived there.
I took a dip in a thermal bath overlooking a vast desert scene, followed by a walk through a rocky landscape that mimics the one on mars. I encountered every kind of weather possible, from sunshine to rain to snow flurries while crossing the mountains at dusk. For three days, we were completely off the grid—traveling to remote corners of the country where llamas and alpacas largely outnumbered humans.
This adventurous journey ended at the Salar de Uyuni, where I witnessed the sunrise over the endless sea of salt. It was truly a once-in-a-lifetime experience, and a travel memory I'll never forget!
---
For as long as I can remember, I have wanted to attend one of the Caribbean carnivals. Growing up in Jamaica, Jamaica's carnival has always been on my list – it still is – but with Trinidad's being more established and historic, it was at the top of my list. In February 2020, I was finally able to attend my first Caribbean carnival in Trinidad and Tobago. In Trinidad, the carnival takes place annually on the Monday and Tuesday before Ash Wednesday, intended as a sort of last hoorah before "giving up the ways of the flesh" for Lent.
However, the festivities begin weeks and months before Carnival Monday and Carnival Tuesday. Months before, bands announce their themes for the year and reveal the costumes to match. The excitement of carnival started from deciding which costume I wanted to wear in the parade on Carnival Tuesday. Up next is deciding which fetes and events to attend.
Starting just after Christmas, the Trinidad event calendar is filled with fetes, with the number increasing the closer you get to carnival. It should be noted though, that carnival isn't just about fetes. Events also include culturally significant demonstrations such as the Re-enactment of the Canboulay Riots. There are also various competitions including the Junior and Senior Carnival King and Queen competitions and Panorama, the steelpan competition.
I went to Trinidad for about 10 days and spent most of my time hopping from fete to fete. I also had the pleasure of seeing some of THE cutest kids in costumes during children's carnival. When Carnival Monday and Tuesday finally rolled around, I was tired from all the fetes but still so pumped to participate in the parades through the streets of Port of Spain to the beautiful sounds of soca music. Months of anticipation and planning ended in a week that just flew by but it was all worth it.
---
15. Spelunking in Waitomo Glowworm Caves – by Periodic Adventures
In Waitomo, New Zealand, you'll find a glowworm species that is exclusively found in New Zealand! These glowworms live deep in an underground cave system that is only accessible through a guided tour on the North Island. My most memorable travel experience was spelunking in these caves first on foot, then in a small inflatable raft!
When you first see the glowworms, they don't look like more than the average worm, but as you descend into the caves away from sunlight, your eyes start to adjust and you begin to see a faint turquoise glow all around you. Soon enough your eyes are perfectly adjusted to the dark and you can see millions of speckles of turquoise like stars around you.
The most amazing part of this tour was that the cave we entered had water flowing through it so after a short trek, we boarded an inflatable raft that was on the underground river. My boyfriend and I sat in the front row. The raft was guided by a rope attached to the cave ceiling so no paddling was needed. We floated along. No cameras. No phones. No external lights at all. Just the sound of water flowing and the sparkle of turquoise all around us. It was beautiful and breathtaking. I highly recommend touring the Waitomo Glowworm Caves if you find yourself on the North Island of New Zealand!
You might also like: Literary travel – 7 feel-good romance novels set in Europe
Due to its remoteness, visiting Antarctica is often thought of as a near-impossible dream to many travelers. However, it is worth the long flights, the adventure of crossing the Drake Passage, and even every hard-earned penny saved. Upon arrival at the ice continent, Antarctica welcomes you with open arms and a vastness of beauty rarely seen on Earth.
Only 40,000 people visit Antarctica every year (compared to the 5 million people who visit Rome), making it one of the most special and unforgettable travel experiences in the world.
Walking on land surrounded by penguins and elephant seals was a surreal experience. Since Antarctica isn't a country or claimed by any specific country, there are strict restrictions to protect nature. That doesn't mean you can't fully experience it though. We were able to get up close to humpback whales while they were feeding in a zodiac boat. Kayaking with a leopard seal, doing two polar plunges with penguins, and even camping on land overnight were awesome experiences to really appreciate our Earth.
Spending two weeks on an expedition ship was more than just looking at nature. Onboard, the staff had daily programming which covered the various species we'd see (hopefully), photography tips, and the history of the first explorers of Antarctica. Their knowledge, friendliness, and experience helped to round out the trip to make it the best trip of my life.
I've visited seven continents and over 35 countries, and none of them have impacted me like Antarctica.
---
Reaching the highest peak in Africa had been on my Life List for a while & turning 50 was my motivation for tackling it sooner rather than later. The morning after celebrating my birthday, I set off on my big adventure.
The summit of Mount Kilimanjaro lies at 5895m above sea level & is the tallest free-standing mountain in the world. Where Kilimanjaro is unique among the other highest continental peaks (Seven Summits), is that it's possible to climb without any specialist equipment or expertise. I had chosen to take the 8-day Lemosho route. For me, the priority was to give myself the best chance of reaching the summit. The altitude is the biggest unknown factor. You can train as much as you like but, in the end, you don't know until you are there how it will affect you.
Throughout the climb, I had struggled with the altitude & was full of trepidation for how I would cope when it finally came to Summit Night. As we began our final journey at midnight, I was wearing so many layers to protect myself from the cold that I could barely bend my legs! After 6 hours of walking very slowly uphill, battling the cold & my mental demons, I finally reached the peak. Standing on the roof of Africa as I witnessed the sunrise is a moment I will never forget. It was worth every step, every doubt and every struggle along the way.
Mount Kilimanjaro will test you both mentally & physically, but you will come out with a new understanding of what you are capable of. I can honestly say that it was one of the most rewarding things I have ever done. Surely that's everything you want from a travel experience worthy of any Bucket List?
---
18. Hot air ballooning in Cappadocia – by Tayara Muse
Only a handful of things can give you an adrenaline rush so strong, that you remember it forever. In some ways my most memorable travel experience was cliché; in other ways, it was a sacred, liberating moment. I gifted myself a hot air balloon ride over Cappadocia, Turkey for my birthday a couple of years ago – yes, a very social media-influenced adventure.
There's so much power to doing something unique, completely solo and in a foreign place. The day started off rather early, the tour pick-up was at 4:30 am (yikes) and the ascent into the morning sky was right at 6:00 am. I joined a group of strangers below the balloon and watched it light up. As the warm air filled it, we started boarding.
What a feeling it was to float in the air, overlooking a historical region, and be surrounded by hundreds of colorful balloons – 3000 feet above the ground. The view took the breath right out of me! So, yes, it's cliché, yes it's been overdone, but listen up, nothing has compared to soaring in the sky and feeling invincible for a straight hour!
---
19. Climbing the Great Wall of China – by A World in Reach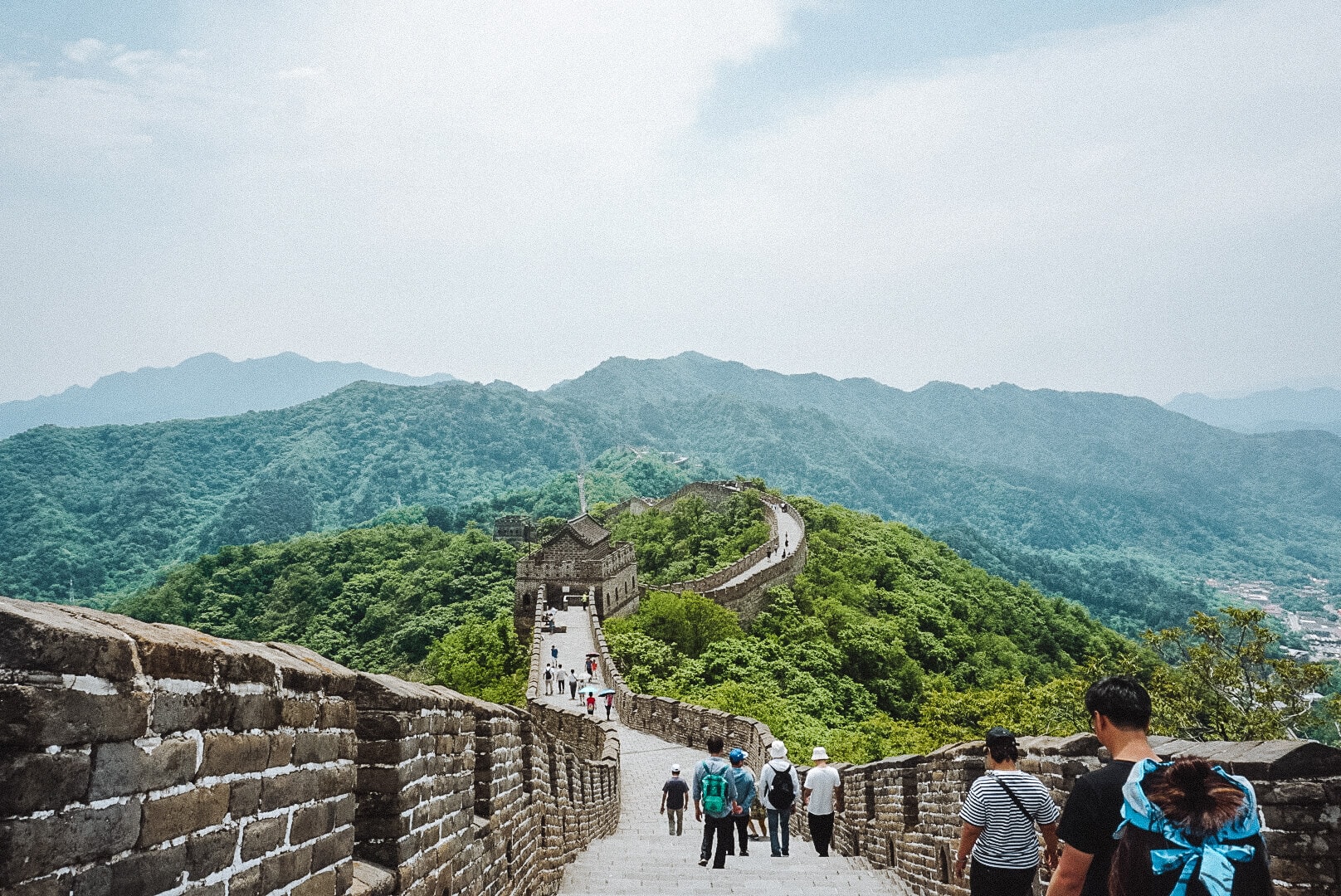 One of the most unforgettable travel experiences I've ticked off my bucket list was climbing the Great Wall of China. When I visited China, I spent 10 days exploring Shanghai, Xi'an, and Beijing before visiting the Great Wall on the last day. I anticipated my visit to the Wall during my entire trip, and when I finally made it, I was even more amazed than I expected.
I visited the Mutianyu section of the wall. This area is one of the most scenic and best-preserved, yet there are fewer tourists here than at the Badaling section. When arriving at the Wall, you can either hike from the base to the Wall for approximately an hour or take a cable car up. I highly recommend the cable car – the journey up is scenic and you'll need all your energy for hiking the actual Wall!
After getting off the cable car, I spent a couple of hours climbing the wall and taking everything in. For a while during my hike, I left my group and went off alone so that I could take everything in at my own pace and have some time to reflect on the trip – this was the perfect way to end an incredible trip to China! Seeing the Great Wall in person was one of the best experiences during my travels and is worth a spot on everyone's bucket list.
The Mutianyu section of the Great Wall is about 1.5 hours from Beijing. You can get to the wall from Beijing by taking public transportation, but I recommend taking one of the many tours offered from Beijing. Several Beijing hotels and hostels offer very affordable tours, so check with your accommodation when making plans for your visit. Make sure to wear sturdy shoes, cool and comfortable clothing, and bring water for your hike. It can get really hot and the steps on the wall are very steep and uneven. At the end of your hike, treat yourself to an ice cream from the vendor at the cable car stop and then take the toboggan down for more fun!
Related post: A complete first timer's guide to Ubud
20. Lunch in a traditional Balinese family compound – by me 😀
There's no secret that I'm obsessed with Indonesia, and I have been for over a decade. So while this might not be the most spectacular experience ever, it is certainly my most unforgettable travel experience. A few years ago Ulrik and I decided to book a bike tour in Ubud to hopefully see a side of Bali we wouldn't be able to on our own. After a lot of research, we ended up with Jegeg Bali Cycling. A family-run business that focuses on small groups and truly puts their guests' experience above everything.
They picked us up early in the morning, and together with only two other people, we started the tour with breakfast overlooking the incredible mount Batur and lake. We then went on a two-hour bike ride on the lush backroads of Ubud. We got to visit a local village hall and a temple that was being decorated for an upcoming ceremony. Because as the Balinese say, every problem can be solved with a ceremony. I thought I was quite knowledgeable about Balinese culture before this tour, but I ended up learning so much.
For lunch, we were brought to Putu's family compound, where four generations live together. His mother and aunts had put together the most amazing feast with all my favorite Indonesian dishes. It was one of the best meals I've ever had, and being able to come inside their family home felt so incredibly special.
We sat around the table for a while, just enjoying the food and listening to Putu talk about everyday life in Bali. And as if that wasn't enough, we also got a shirt made in the neighboring village as a parting gift. Because they earned money from us, they wanted to give back to their community and also back to us. How awesome is that!? You can read more about our amazing bike tour in Ubud here!
---
What's your most unforgettable travel experience?
Remember to pin this for later 😉