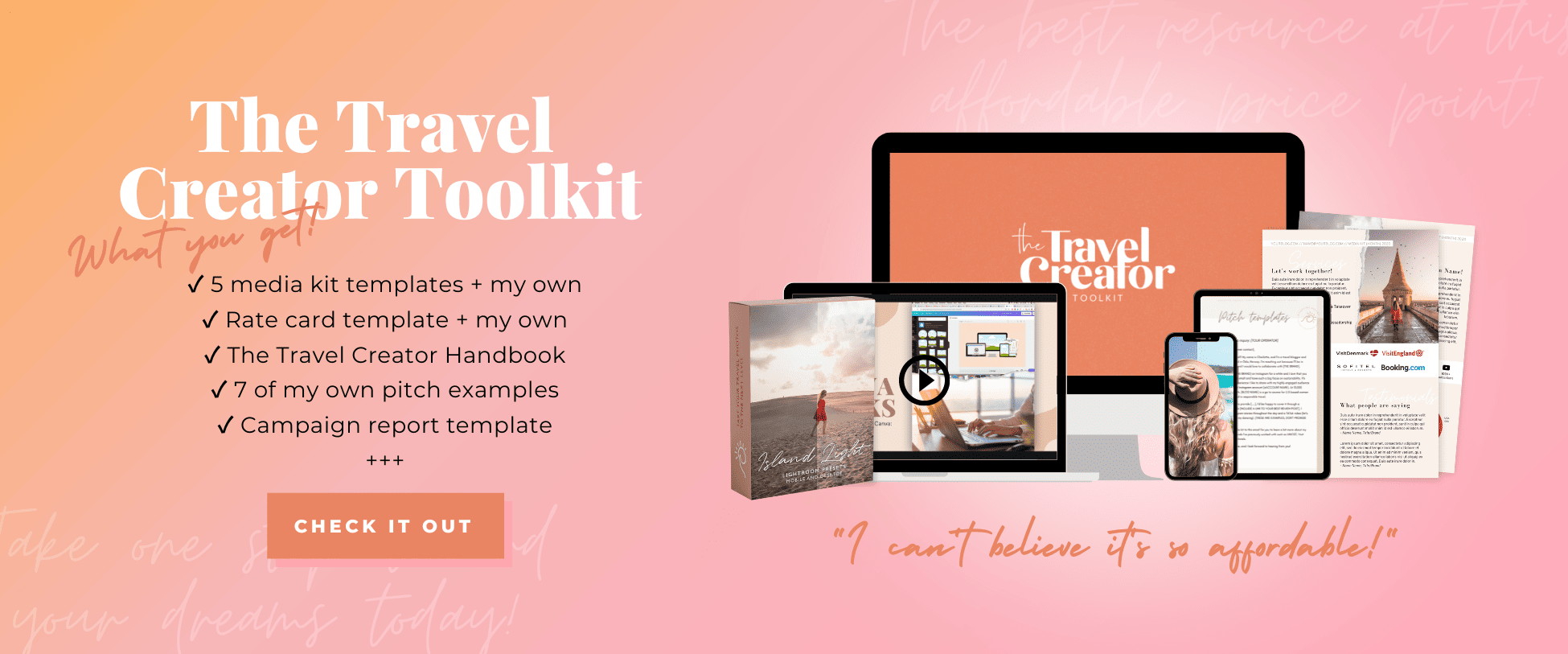 This post may contain affiliate links. I will earn a small commission if you purchase through them, at no extra cost to you.
Are you looking for underrated cities to add to your bucket list?
Overlooked, underrated or whatever you might call them, the world is full of amazing cities that are often skipped in favor of the more trendy destinations plastered all over social media. And those are the places I love the most.
I'm so happy I got to experience Bali many years ago before the island skyrocketed into popularity. And I'm always on the hunt for the next hidden gem, or at least somewhere you can actually walk down the street without having to dodge selfie sticks and huge crowds at all times. And I bet you are too!
So I asked 11 fellow female travel bloggers to write about one of their favorite underrated cities that they think deserves some more recognition. And I have included my fave underrated city as well!
These 12 cities might not be on everyone's travel radar yet, but they're loved by those who have had the pleasure of experiencing their charm. And we think you'll love them too! So without further ado, here are 12 of the most underrated cities in the world that you simply must add to your bucket list now!
🌟 Remember to always get insurance before you travel anywhere. SafetyWing is an affordable subscription travel insurance that you can purchase even after departure. Read my complete SafetyWing review here.
1. Ghent, Belgium
As someone who has traveled extensively throughout Europe, I have experienced the pain of being underwhelmed by a city and the pure joy of being totally awed by a city that frankly, I expected little from.
One city that left me completely gobsmacked because it is so underrated is Ghent, Belgium. Sure, everyone told me to enjoy the cultural delights of Brussels or to appreciate the quaint beauty of Bruges, but no one mentioned the small-town charm and big-city excitement of Ghent, Belgium.
Not only is Ghent insanely picturesque with small cobblestone streets, beautiful medieval architecture, and exquisite canals that come alive when the flowers bloom in summer, but there is a vivacious spirit that makes this small city anything but dull.
Top things to do in Ghent
Walk these historic streets and you will be amazed by the diversity of attractions that Ghent offers visitors. From visiting the Adoration of the Lamb, one of the most prominent paintings in all of Europe, to enjoying scenic views of the city from the top of the Belfort, to strolling through a hidden alley filled with gritty and industrial street art that makes the perfect backdrop for an Instagram photoshoot, Ghent has it all.
You can even travel back in time and visit the 12th-century era, Gravensteen Castle with iconic turrets and fantastic moat. You can also stay in the present and try some of the very modern and very amazing vegetarian restaurants that have proliferated throughout Ghent, like Cucumber Time. I mean, how can you go wrong with a delicious, vegetarian buffet that appeals to vegetarians and non-vegetarians alike?
So if you're looking for a city in Europe that will astound you in all the right ways, then look no further than Ghent, Belgium.
🌟 Explore Ghent beyond the main tourist attractions on this awesome urban mountain bike tour!
---
2. Astrakhan, Russia
Once upon a time, Astrakhan was a trading center along the Silk Road route, now it is a thriving city of about half a million people, noted for the production of the very finest Russian Caviar. The city stands on 11 islands along the banks of the river Volga, about 100 km from the Caspian Sea. People from more than 100 nationalities and of 14 different religions live side by side, in perfect harmony.
Top things to do in Astrakhan
The highlight of the city is the Astrakhan Kremlin, awaiting UNESCO recognition. This all-white fortress, with its thick walls, protective towers, artillery yards and arsenals, is an impressive sight. The Kremlin's Cathedral of the Assumption of the Blessed Virgin (and its lower church) is, according to Peter the Great, "one of the best examples of Russian church architecture of the early 18th century".
The city is very pretty, with elegant palaces everywhere, theatres, museums. and religious buildings of all confessions. It is easy to visit them all, all you need to do is to follow the green line painted on the sidewalks.
Another reason to visit Astrakhan is the possibility of some truly amazing day trips. Elista, the capital city of the Russian Republic of Kalmykia is only a 3-hour drive away. It is the only Buddhist "nation" in Europe, and Buddhist temples are all around the city. It is really a sight to behold.
In July and August, when the lotuses bloom, you can travel by boat to the delta of the Volga and right into colourful lotus fields. If this is not enough, you can visit the set of the Russian movie "the Golden Horde", near the village of Selitenroe.
You will see how life would have been in the city of Saraj Batu in the 13th century. You can also learn how to shoot a traditional bow and arrow, discover ancient shamanic rituals and ride a camel.
---
3. Almaty, Kazakhstan
Almaty is probably one of the most underrated cities in one of the most underrated regions in the world. Few people would consider Kazakhstan as their holiday destination, despite its incredible beauty. Almaty is no longer the capital since it moved to the new and shiny, but soulless, Astana. However, Almaty remains the heart of Kazakhstan. A city that breathes history, nature and Kazakh hospitality.
Almaty was love at first sight for me. With the views on the snow-capped peaks of the Tian Shan mountains, the green parks and old Soviet architecture it is a delight to just wander around. It's a bonus that Almaty is not yet touristic. You will feel like an explorer and the people will welcome you with open arms and curiosity. Almaty is a great place to learn more about Kazakh culture and try out the local cuisine.
Top things to do in Almaty
Almaty is the gateway to Kazakhstan's wild nature. There are countless outdoor opportunities and great day trips that allow you to explore hiking trails well off the beaten path. Big Almaty Lake, for example, is a turquoise blue lake only 15 kilometers from the city.
A bit further ahead you will find the Charyn Canyon. Kazakh's little brother of the Grand Canyon and equally impressive. The red and pink rock formations are a hidden surprise in the green rolling grasslands that surround it. At last, the Kolsai lakes are spectacular alpine lakes high up in the mountains.
The city offers a range of excellent restaurants with a mix of Russian and Central Asian food. I had a wonderful time in Almaty and stayed much longer than I originally planned as there is so much to do in this city that is less known among travellers.
---
4. Omis, Croatia
Most people visit Split, Zadar and Dubrovnik on their holiday in Croatia, but overlook one of my favourite towns in the country: Omis. You can easily spend a whole week in Omis as there is so much to do.
Top things to do in Omis
The town is located in the Dalmatia region, 25 km south of Split. This is where the Cetina river meets the Adriatic Sea. This gives lots of opportunities for water sports, such as kayaking, rafting, canyoning, jetskiing and parasailing. Our rafting guide put lots of fun elements into our trip, like cliff jumping and rope swinging.
However, the highlight for me was discovering a hidden cave behind a waterfall! How cool is that?! There is also lots to do on land and in the air. If you are an adventure lover you should try rock climbing. Another not to miss activity is zip-lining over the Cetina Canyon. There are 8 zip wires, each of them offering fantastic views to the river under you.
But for the best view, you need to hike to Starigrad Fortress. The 4 km round trip hike will take about 2-3 hours. It is quite exhausting, especially in the hot summer months, but it will be well worth it as you will get the most amazing view from the top. After the hike, I suggest heading to the beach and cooling yourself off in the water.
🌟 Explore the gorgeous Blue Cave and 6 islands on this full-day speedboat tour departing from Omis.
---
5. Jaffna, Sri Lanka
By Travel Face
Jaffna is rising once again. Re-opened to tourists several years ago, it is an underrated and culturally diverse city, full of sights to explore despite decades of civil war. How long this will be the case is questionable, thanks to improved train links to the rest of Sri Lanka, drawing Jaffna closer to the beaten path. So visit now!
Hire a bike, moped or tuk-tuk to explore. Despite crumbling remains from years of battle, much survives to attest to the city's resilience. Where recorded history lacks these tracks, to visually represent Jaffna's historical timeline.
Top things to do in Jaffna
For example, the diverse places of worship, a British-built clock tower, and the Portuguese-built/Dutch-expanded Jaffna fort. Once a centre for the Hindu-Tamil kingdom, Jaffna's towering temples such as Nallur Kandaswamy peacefully watch over the city; witnesses to its triumphs and falls.
Also discover the painter's palette of residential streets kissed by salty air, framed by blue skies and bleached by the warm sun, such as Beach Road. However, you will find colourful photo opportunities, glimpses into local life, and roaming cows at every turn.
All of the food was delicious. Wander around the local markets and surrounding streets to meet friendly locals who will point you in the direction of the best eateries; heavily influenced by Southern Indian cuisine. My favourite spots include Mangos restaurant, Malayan cafe and Rio Ice Cream Parlour.
Once you have eaten your way around Jaffna, venture to its interesting surroundings. This includes Keerimalai sacred water spring, and the islands, such as Nainativu. Start the journey here by travelling along the causeway; a journey in itself as you travel past wooden fishing boats and turquoise waters.
This causeway suitably symbolises Jaffna: a city that quietly journeys on, maintaining its majestic mystery, colourful beauty and diverse cultural traditions; to rise again.
---
---
6. Oradea, Romania
In the past few years, Romania has little by little started to appear on the international travel map, especially thanks to its bubbly capital, Bucharest. Many might have also heard about this Eastern European country thanks to Transylvania and Bram Stoker's best-seller "Dracula" (which is not true at all, but still, a cool connection, bringing tourists every year).
Little do people know, but Romania and Transylvania in particular, have so much to offer, with Oradea as the crown jewel. Located almost on the tip of Romania, Oradea has been part of Hungary for hundreds of years, making the city a very cosmopolitan one, that shelters various ethnicities and religions.
Top things to do in Oradea
The western influence is felt not only in the local cuisine but also in the city's architecture, Oradea's Central Square hosting buildings with no more and no less than 7 unique architectural styles.
Climb the Townhall's tower and take in the amazing view over the town and Crisu river. Walk on Republicii Street way up to Oradea's Fortress. Dating more than 1000 years behind, the Fortress has been recently restored and you can even spend your night in the hotel inside.
Visit some of the numerous churches you will find at every step, Oradea hosting some of the most religious cults under "one roof", and when you're done and tired, head to the thermal water park in town or in the nearby Baile Felix resort.
🌟 Explore Oradea Fortress and the city's gorgeous architecture on this 3-hour private tour.
---
7. Sibiu, Romania
By LooknWalk
Located in southern Transylvania, Sibiu is a charming town with a spectacular historical center (renovated in 2006). Sibiu has always been the center of the German minority in the area. Even today, there is a large German minority in spite of the city being distinctly Romanian (95% of the population is Romanian).
Old Town is compact and very walkable, just make sure you are not in heels (cobblestones!). If you visit during the summer, make sure to have a water bottle with you; and during winter, dress accordingly. Sibiu is lovely covered by snow, but that means it's quite cold.
Top things to do in Sibiu
The city is one of Romania's cultural and tourism capitals, attracting tourists due to its medieval charm, excellent views, and the surrounding landscape. Film festivals, tango events, and a host of cultural activities will you busy when you visit.
The main attraction is Sibiu's Old Town. Most of the buildings were built by the German settlers and merchants when they arrived here in the Middle Ages. The Old Town is divided into the Upper Town, which includes most of the sites, and the Lower Town.
The towers, walls, and bastions of the Citadel are still standing and have been renovated. In the area, a charming place is the Stair Passage which connects the lower and part with the upper part of the Citadel. And don't miss the Bridge of Lies either – just don't swear your eternal love under it.
There are quite a few places to see the city from above. I love the tower of the Evangelical Church (albeit the church is currently renovated, and you cannot visit it right now) and the views it offers. If you are looking to do day trips, the fortified churches of Biertan and Cisnadie are close by. Or you can drive on the amazing Transfagarasan Road, all the way to Balea Lac. The road is only open during summer.
🌟 Explore the city's main attractions, the countryside and try some delicious local food on this highly-rated Sibiu tour.
---
8. Oslo, Norway
The capital of Norway, Oslo, is often overlooked as a tourist destination that's too expensive or too boring to visit. But I completely disagree! After a whirlwind visit to the city, it fast became one of my favorites and I can't wait to return again and again. Let me tell you why.
Oslo is not as expensive as you might think. Sure, if you compare it to other European cities, you won't get as much for your budget in Oslo. But that doesn't mean you should avoid it. You can read ore about how much one week in Norway costs here.
On a weekend in the city, you can get a great deal on a hotel, invest in the Oslo Pass for free admission to the best sights and buy food from supermarkets to keep both you and your bank balance happy.
Top things to do in Oslo
The countryside around Oslo is simply beautiful. It's in the enviable position of being right next to the sea and the mountains. In just one day, you could spend the morning exploring Oslo's islands, the afternoon high up in the snow-capped mountains and the evening enjoying the center of the city.
As if admiring this stunning city wasn't enough, there are also plenty of activities and sights to keep you entertained in Oslo. Regular boat trips take visitors out to the fjords or over to the museum peninsula, where the museums are among the best in the world.
They tell the story of the city, its Viking ancestry as well as Norway's proud history of arctic exploration. Thrill-seekers will also love a visit to the Holmenkollen Ski Museum where they have the option to zip-line down a (361m) high ski jump.
🌟 Limited on time? Book this popular 3-hour walking tour, the perfect introduction to Olso!
---
9. Bolsward, The Netherlands
By Visiting The Dutch Countryside
Bolsward is a city in the province of Friesland, The Netherlands, where they speak Frisian. In 2018, the whole province of Friesland was the Cultural Capital of Europe. Visiting Bolsward is a true treat no matter what time of the year you are here.
Bolsward (Boalsert in Frisian) is a city that is located in the middle of the province of Friesland. It is about 2,5-3,5 hours from Amsterdam by public transport.
Top things to do in Bolsward
This city of Bolsward is one that is centuries old. As you walk through this Frisian city you will see picturesque canal houses, calm streets and a lot of beautiful canals. The people are very friendly, and the entire city feels very intimate and serene.
If you're in Bolsward, Friesland during July or August you're in luck. One of the things you shouldn't miss out on during the summer season in Bolsward is the free canal tour. During July and August from Monday-Friday at 14:00, a canal boat leaves in front of the city hall.
Volunteers will give you information about Bolsward, while you can enjoy the most beautiful view. The canal tour through Bolsward lasts around 45 minutes. Keep in mind that only 12 people can fit into a vessel, so be on time.
---
10. Rize, Turkey
By My Stylish Adventure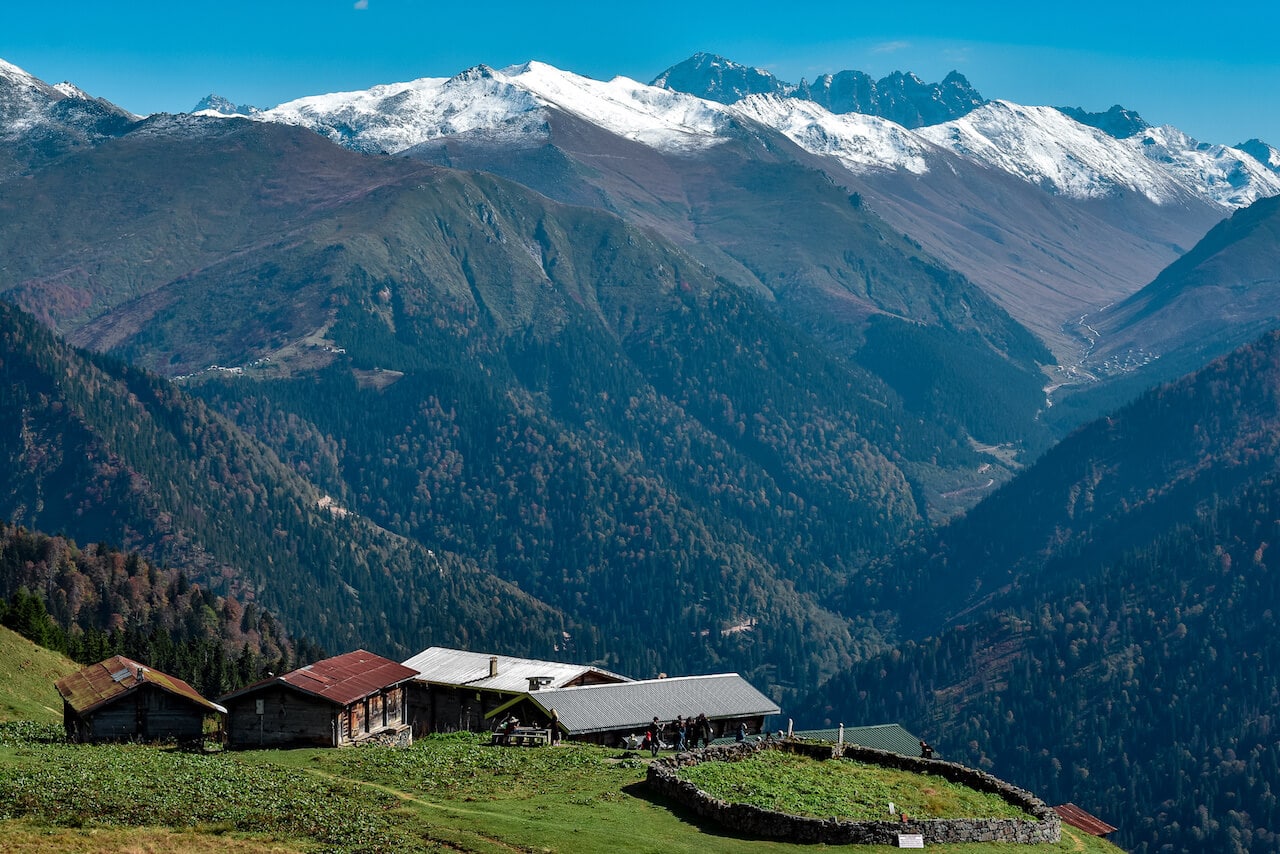 Turkey is probably one of the most underrated countries in the world to travel to. Not only is it mostly surrounded by beautiful coastline spanning from the Black Sea to the Mediterranean Sea; the inland region of Turkey has beautiful ancient ruins still standing from the Byzantine and Ottoman Empires.
Within Turkey, Rize is also one of the most underrated cities to travel to. It is located in the Black Sea region of Turkey on the northeastern coast, just a 2-hour drive from the border of Georgia.
Top things to do in Rize
Rize is home to the famous "yaylalar," or plateaus, which are flat grassy knolls located at the very top of the mountains. The ride up the mountain is very bumpy. It takes anywhere from 1-2 hours to reach the plateau, but the view from the top is worth it.
In case you did not know, Turks consume a lot of black tea! Rize holds a majority of the country's tea leaf fields. These fields span the mountainsides and it is mainly women who harvest the tea leaves.
Aside from the beautiful mountains covered in tea leaves, there are rivers, streams and waterfalls coming from every direction. Rize is for anyone who loves to adventure outdoors, loves the mountains, and loves learning about new cultures.
Rize is not the only awesome city in Turkey's Black Sea region. You can also explore Rize's neighboring city Trabzon, which boasts a lovely monastery and large lake.
---
---
11. Innsbruck, Austria
By Travel Tyrol
Nature and adventure sports combine with culture and history to make Innsbruck, Austria a great destination for all kinds of travellers. Whether summer or winter, there is always something worthwhile going on in the Tyrolean capital.
Innsbruck is not only in the heart of the Alps but of Europe in general. It's one of the major gateways to Italy with trains passing through from Germany and Switzerland all the time. There's also an international airport with regular flights from London, Amsterdam, Vienna, Berlin, and Frankfurt.
Top things to do in Innsbruck
Innsbruck boasts a beautiful historic old town next to the Inn River. The shining heart at the centre is a little balcony with a roof adorned with 2,657 fire-gilded copper tiles. No visit to Innsbruck is complete without a picture in front of the Golden Roof.
Innsbruck's biggest attraction ultimately lies in the Nordkette mountain range towering over the city. A cable car journey taking you to an Alpine peak in under an hour starts around the corner from the Golden Roof. In summer, the mountains are a hikers' paradise and in winter you can ski or snowboard on the city's back door.
More famous tourist attractions in and around Innsbruck include Ambras Castle and the Swarovski Crystal Worlds. The latter is a crystal wonderworld filled with fascinating art in the underground belly of the Swarovski Giant and a park landscape where young and old can get lost for hours.
---
12. Wrocław, Poland
By me 😀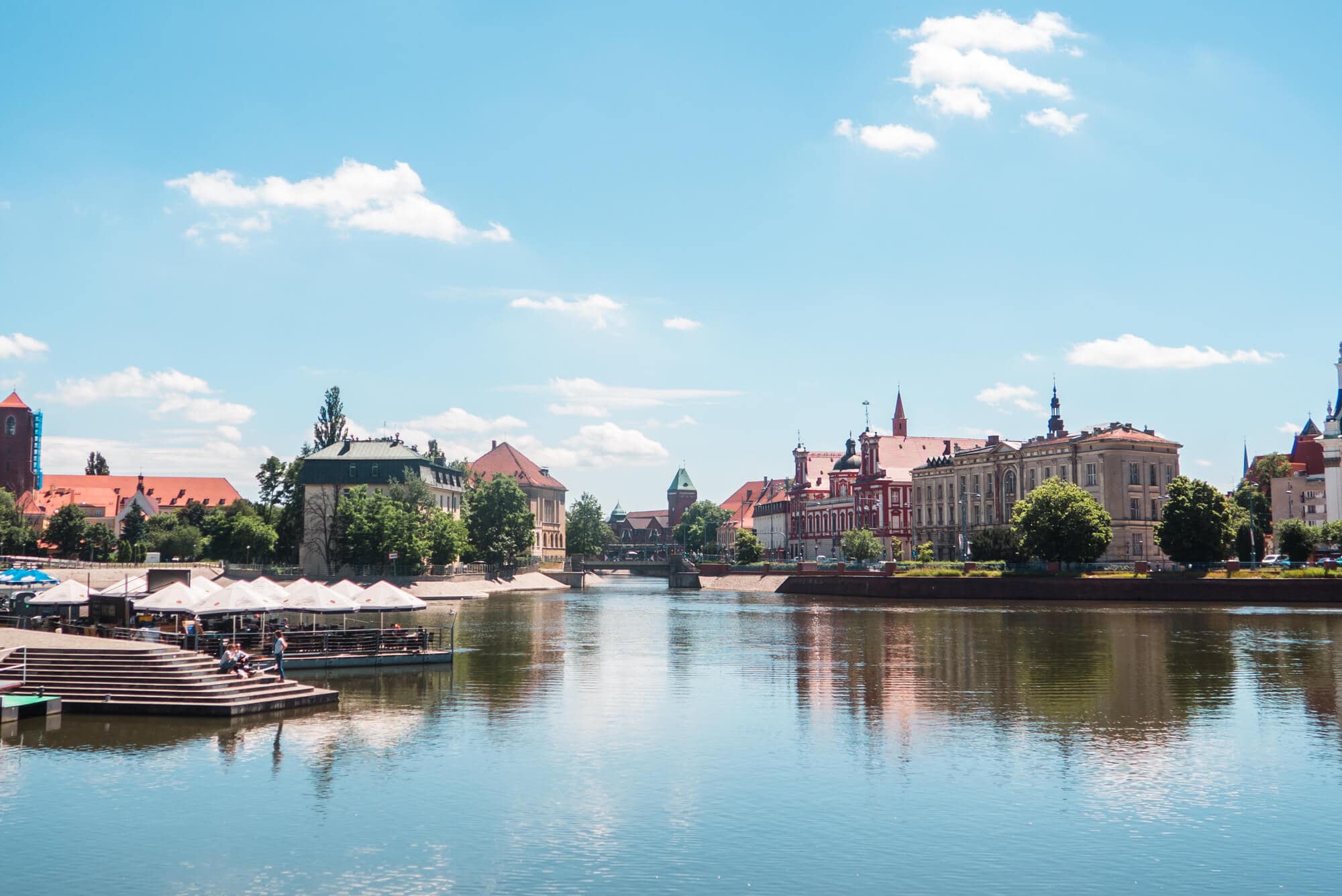 Wrocław, Poland's fourth-largest city, took a big step out of Krakow and Warsaw's shadow when it was chosen as the European Capital of Culture in 2016. After a turbulent history of being passed back and forth between four countries and then being reduced to rubble during World War II, Wroclaw truly has come out on the other side.
However, I still think this gem of a city deserves some more recognition. I feel like I'm cheating on Krakow (where I used to live) when saying this, but Wrocław is without a doubt my favorite city in Poland and up there with the most beautiful in Europe.
Although the pronunciation of the name "vrots-wahf" isn't very appealing, the city boasts bucketloads of old-world charm and idyllic areas. Think grand buildings, a maze of canals, islands, bridges and an abundance of green spaces. The perfect place for a romantic getaway!
Top things to do in Wrocław
Ostrów Tumski, Cathedral Island, one of the most beautiful surviving Gothic architecture sites in Europe, is a reminder of the early Middle Ages. So is Rynek we Wrocławiu, the main square enclosed by colorful houses. It underwent a thorough renovation in 1997 and is today one of the most impressive market squares in Europe.
Art and culture lovers can visit numerous galleries, museums, theatres and even an opera house. While those who want to spend time outside can do so in Juliusz Słowacki Park or one of the many other riverside parks that surround the city.
The Botanical Garden, with its stunning flower garden, waterfalls, orangery, rock garden and cactus greenhouse is also worth a visit. You'll also find some of Poland's most beautiful castles outside Wrocław, such as my favorite Książ Castle.
Popular travel inspo
---
Remember to pin for later 😉