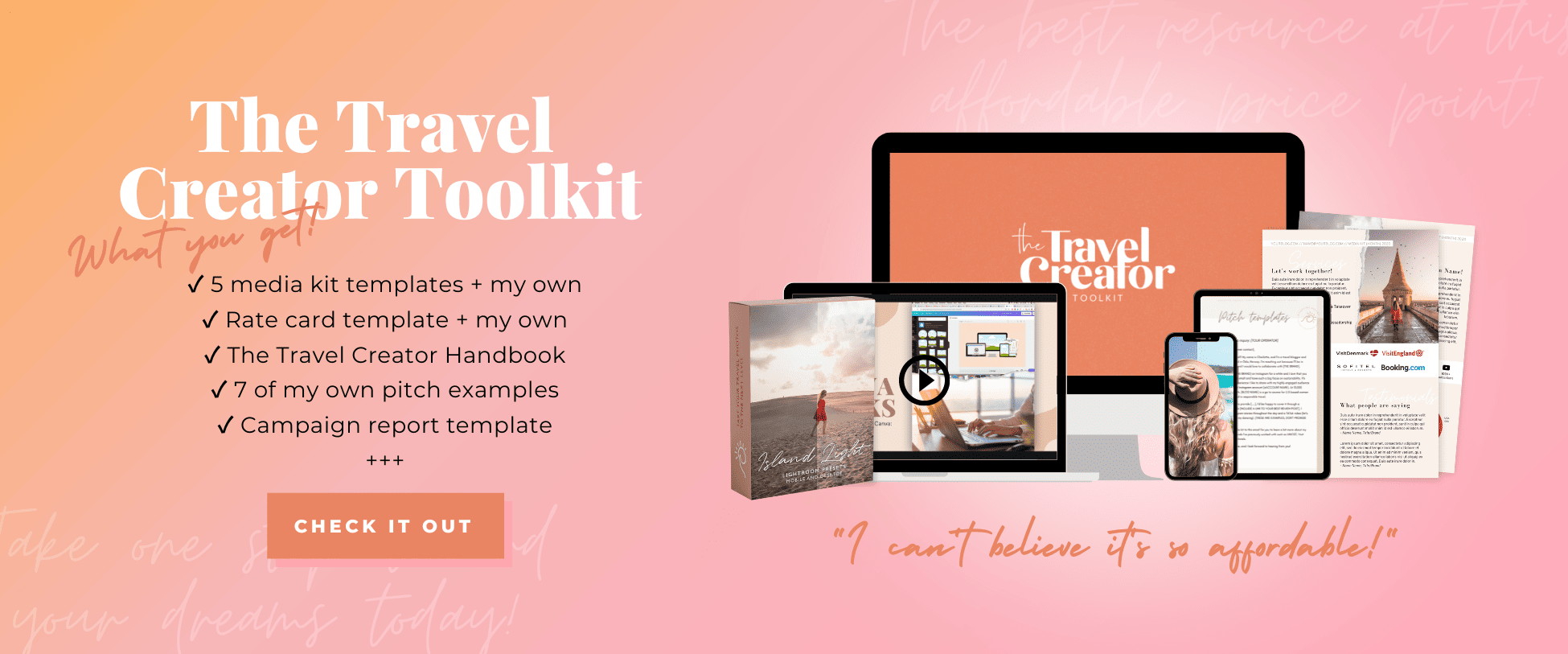 This post may contain affiliate links. I will earn a small commission if you purchase through them, at no extra cost to you.
I fell in love with the paradise that is Bali over twelve years ago now. And even though the island has changed so much since then, it's still one of my favorite places in the world. You just need to know where to look and what to stay away from.
Whether or not you will have a good time in Bali largely depends on where you decide to stay. Not every area is right for everyone. I've had several people tell me they can't understand why I love Bali so much. And when I ask where they went they usually say something like; we stayed in Kuta for two weeks. Well, no wonder you didn't enjoy your time in Bali!
It really all depends on what you want out of your trip. Shopping, beach, surfing, hiking, cultural experiences, maybe you want to learn a new craft or experience a little bit of everything.
After a total of 12 trips to Bali (some several months long) I've picked up a few tips and tricks, I would've liked to have known right from the start. So I thought I'd share them, and write a quick overview of the different areas that make up this beautiful island.
How to get around Bali: If you don't feel comfortable driving a scooter by yourself, you can book this very affordable half-day tour with a driver and ask him to take you anywhere you want to go!
First off some Bali facts & tips
Citizens of 169 countries are eligible for a free visa on arrival in Indonesia. You can check the list of countries here.
Be sure to keep your luggage tags within reach, sometimes you have to hand them in when exiting the airport.
Your passport must be valid at least six months from the day you plan on leaving Indonesia.
For cheap accommodation, I always use Agoda.com or Airbnb when traveling in Southeast Asia. Some of the more remote hotels and homestays are only listed on Agoda and Airbnb.
The currency is Indonesian Rupiah – 10.000 Rp is around 0,7 USD / 6 NOK
Visit in March/April(avoid Easter)/May when it's still green from the rainy season and fewer people so you'll get everything for cheap.
If you have made your hotel or driver booking some time in advance, I would confirm it a couple of days before you arrive. Stuff often gets lost on the island, bookings in particular.
Bring or buy a couple of sarongs straight away, you'll need them. Whether it's covering up for a temple visit, using it as a beach cover-up or as a seat cover. Some places just aren't that clean.
You'll probably experience a case of Bali Belly, so be sure to bring some Imodium. Consider yourself warned 😀
And remember to be patient, everything happens on Bali time!
Related post: 29 things you need to know before visiting Bali
Where to stay in Bali – Which area is right for you?
Seminyak, Legian & Kuta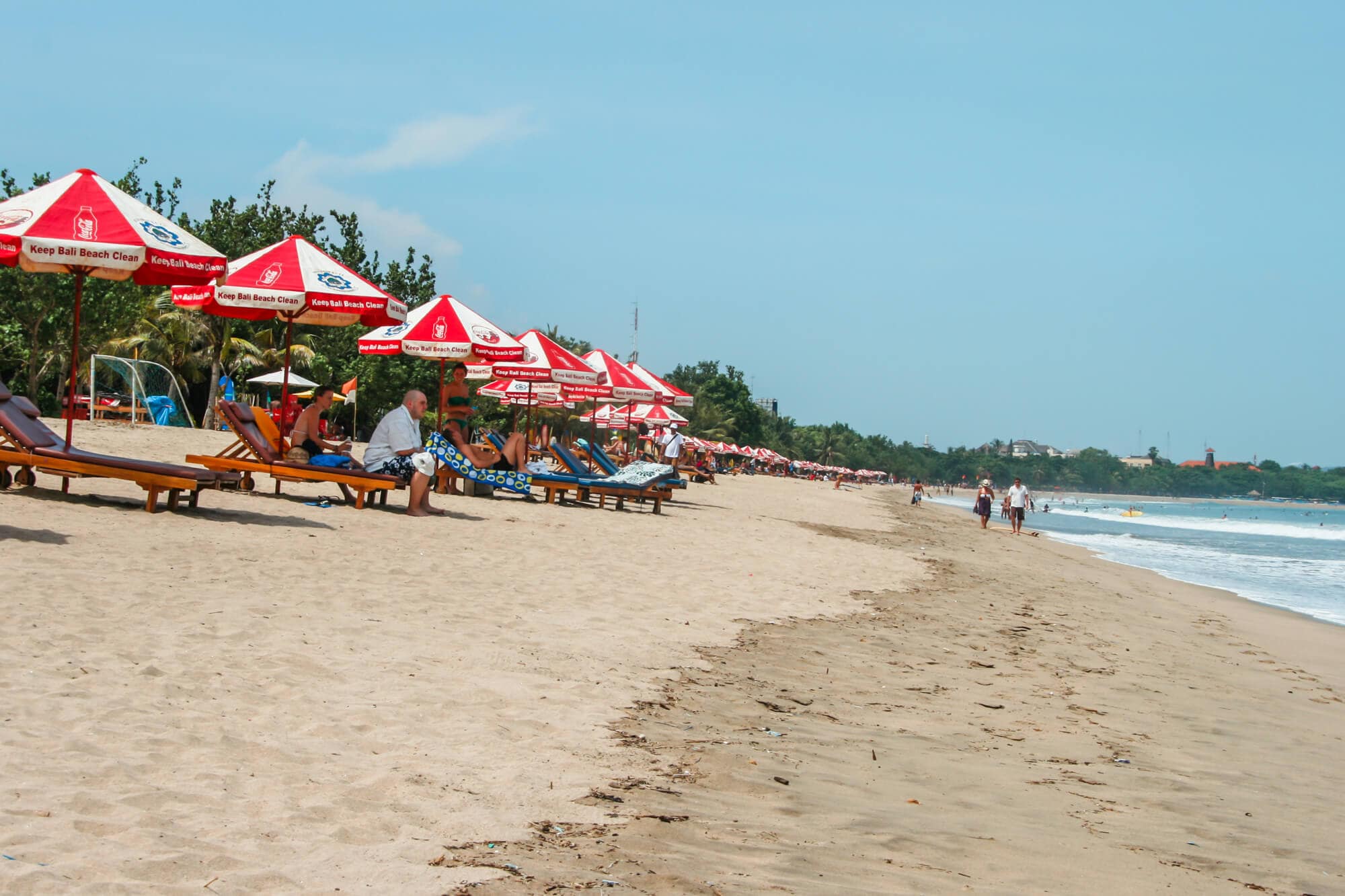 Seminyak, Legian and Kuta is the main tourist drag in Bali and where most people kick off their holiday on the Island of Gods. What was once three separate villages have now blended into one large developed area, with Kuta furthest south and Seminyak to the north. Seminyak, being the more upscale choice of the three, is spilling with high-end boutiques, restaurants, spas and luxury accommodations.
Do some people-watching at Potato Head Beach Club, enjoy lunch at Sea Circus, get a gold facial, sip some sunset cocktails at Ku De Ta and get your Mexican fix at Motel Mexicola. You'll find some of the island's nicest villas in Seminyak, like this crazy cool one! But be aware of the location of the villa or hotel you book. Anything on the east side of Sunset Road isn't worth it in my eyes. It's such a hassle to get around from there.
If raging nights out clubbing wearing Bintang singlets is more your scene, then you can head to Kuta. Well, you really shouldn't but if you're going to anyway, please be aware of the super cheap drinks. A 15k drink is too good to be true even in Bali, it's usually made with arak (you can read more about the most common Bali scams here). Keep yourself and your stuff safe as I've seen a lot of pickpockets and people up no good hang out on this side of town.
If neither of the two tickles your fancy, Legian might be your best bet. Cheaper than Seminyak, but a little calmer than what Kuta has become. I suggest staying in a little oasis in the middle of Legian's best shopping area called Adys Inn.
For only $30 a night, you get a double room in a brand new building set within a tropical garden with a pool. My all-time favorite restaurant in the area is The Balcony on Jl. Benesari, famous for all the pro surfers who visit. And be sure to check out Benih Cafe for breakfast and lunch and some cocktails for sunset at On The Juice!
Don't get stuck in this area though, especially if you want a relaxing beach holiday, Bali has so much more to offer!
You might also like: The Ultimate Bali Bucket List – 101+ Things to do
Canggu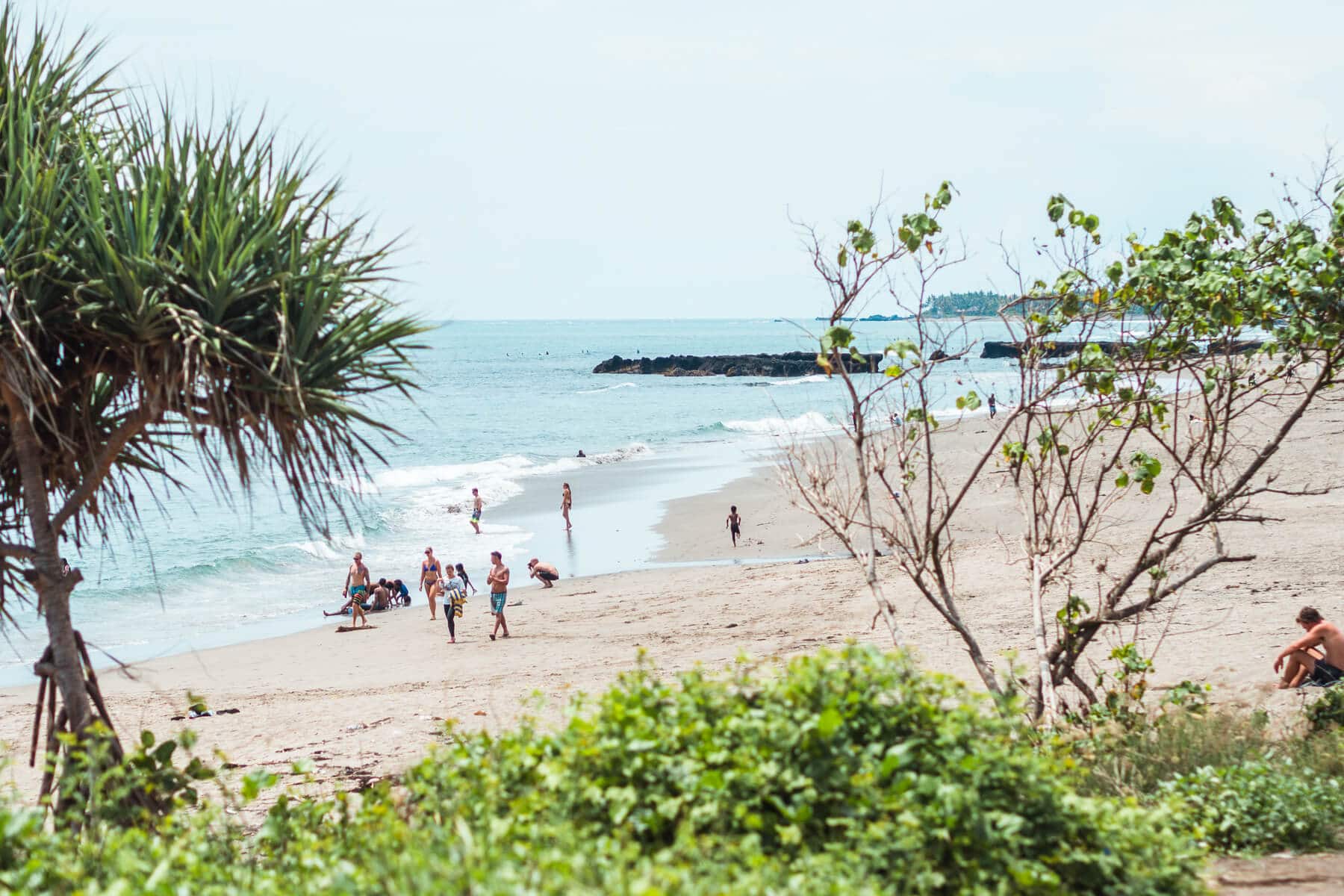 On the west coast, a short drive north from Seminyak, you'll find the laid-back surfer village of Canggu. If you are a surfer, creative person or just like to let's say observe the long-haired, scruffy, tanned surfers, chances are you're going to love it here.
The place where I saw more cows than people on my first visit, has developed at a rapid speed into a trendy area favored by ex-pats. Enjoy breakfast at hotspots like Betelnut or Crate Cafe, Nasi Goreng at one of the local warungs, afternoon drinks at Old Man's and a seaside BBQ dinner at Echo Beach.
Don't forget to check out Deus Ex Machina Temple of Enthusiasm on Tuesdays for tacos and free tattoos and on Sundays for a pumping Sunday Session with live music. To get in touch with the local creative scene, visit the market taking place at Old Man's on the last Saturday of every month. There are also several other markets worth a visit, just take a look here.
Accommodation ranges from basic homestays with no internet presence to high-end luxury villas. I would definitely stay in a villa in Canggu if I were you, as there are so many stunning and affordable options to choose from. Like this one, just a couple of minutes from the beach. Or if you can't fill an entire villa this gorgeously furnished apartment might be just what you need!
Ubud
One hour Northeast of Canggu you'll find Ubud, a town often referred to as the heart of Bali. Not only a paradise for yogis, vegetarians and vegans, Ubud is also the island's cultural and spiritual center. Thanks to the movie Eat, Pray, Love, Ubud has become a lot more touristy in recent years. But don't let that stop you from visiting, as most tourists seem to keep to central Ubud and Monkey Forest Road. Speaking of the Monkey Forest, the monkeys can be aggressive, so be careful and leave everything except your camera outside.
Stay at one of the many homestays to get the most out of your visit, and enjoy mouthwatering meals at restaurants like Melting Wok Warung, Locavore and Watercress Cafe. Go for a morning stroll at the Campuhan Ridge Walk, join one of the many bicycle tours or visit some of the beautiful temples and waterfalls the region has to offer. Ubud is the perfect base from which to explore what I would call the "real" Bali.
You might also like: The Tegalalang Rice Terrace swing & sunrise photo spot
Bukit Peninsula
Jimbaran
Located on Bali's west coast, on the narrow part which connects the mainland with the Bukit Peninsula, Jimbaran offers a secluded beach area dotted with seafood restaurants and colorful fishing boats. What was once a sleepy fishing village has over the last decade turned into a tourist hub with several high-end hotel chains such as the Four Seasons putting down roots close to the main beach.
During the day Jimbaran beach is a haven for lovers of the sun and sea. Come evening the sunbeds are swapped out in favor of tables, chairs and white linens to get ready for the daily sunset seafood feast.
Kedonganan Fish Market and Pasar Desa Adat Jimbaran are the two main sources of fresh produce in Jimbaran, for both chefs and locals alike. In fact, the markets are said to be among the best on the island. A visit to the markets is often included in the itinerary when you book a cooking class such as this one. So if you feel like a little break from the beach, I can highly recommend joining a cooking class. It is so much fun and Indonesian/Balinese food is just so darn tasty!
If you continue along the coast south from Jimbaran Bay you'll find a secluded beach with a cave and natural pools called Tegal Wangi and right next to it the Instafamous Rock Bar at Ayana Resort and Spa.
Balangan
Balangan is a beautiful beach northwest on the Bukit favored by surfers. The break that was saved from a major development in the early 90s, is a left-hand reef break best suited for intermediate to expert surfers. The atmosphere of the beach and the village itself is very relaxed and welcoming. The northern part of the beach is best for swimming and that is also where you find the incredible viewpoint you see above.
You can stay with the locals down in the warungs on the beach (about 50-100k a night) or you can stay on top of the cliff in nicer hotels. Nowadays you'll find something for every wallet and preference, Flowerbud Bungalow and Brothers Bungalows being my personal favorites. Enjoy some Mie Goreng and a Bintang at the beach, accompanied by some reggae tunes and probably one of the most beautiful sunsets you'll ever see.
Related post: The top 5 best beaches in Bali!
Dreamland
This stunning stretch of sand first became popular among surfers in the early 70s. They quickly named it Dreamland because of its soft, powdery sand, turquoise water and good waves. Dreamland was once one of Bali's most beautiful beaches, but sadly because of the Pecatu Graha Indah "New Kuta" development, it's now more of a touristy nightmare. The man behind it all is the youngest son of former Indonesian President, Suharto.
The local warungs and massage ladies who were once the heartbeat of this place were closed down only to be replaced by a humongous concrete building containing shops and overpriced restaurants. There are also several abandoned construction sites and hotels scattered around the area. These days you'll have to pay a fee for both parking and to enter the beach. Although I stay away just as a matter of principle I have to admit that the beach still is good for both swimming and surfing. Especially for intermediate surfers on days when the other breaks further south gets too big.
Bingin
Bingin is another beautiful sandy beach just south of Dreamland. The beach is not easy to access as you have to get down a steep set of stairs, but the ocean views alone make the sweaty descent worthwhile. Splurge on breathtaking accommodation like Sal Secret Spot and BoHo Bingin Beach Boutique Hotel on top of the Cliff. For cheaper but also beautiful options check out Bingin Bienvenue Guest House or Mama Tom Toms on the cliffside. Bingin truly is my favorite spot in Bali when it comes to stunning places to stay, a bohemian paradise.
Enjoy dragon bowls at The Cashew Tree, some fresh juice and smoothies at Kelly's Warung and some yummy pizza at Pizzeria Italia. If in need of some more sophistication check out El Kabron Spanish Restaurant & Cliff Club for delicious food, some people watching and a sick sunset.
Padang Padang
Just north of Uluwatu, you'll find Padang Padang, yet another beautiful white sandy beach with quite a few steep steps. I usually end up here when staying in Uluwatu as it's only a short drive away and mostly no stones/reef in the water. Perfect for a morning swim before the crowds take over.
Be aware of the monkeys, they are sometimes very interested in sunglasses and other shiny things. If you'd rather get your tan on away from the sand, rent a poolside sun lounger at Blue Haven on top of the cliff overlooking the beach. While in the area you have to try the organic restaurant Buddha Soul, for breakfast, lunch or even dinner. The chicken pasta with lemon sauce is one of the best meals I've ever had.
My favorite hotel in the area is Pink Coco which sits about 30 meters up the road from the beach.
Uluwatu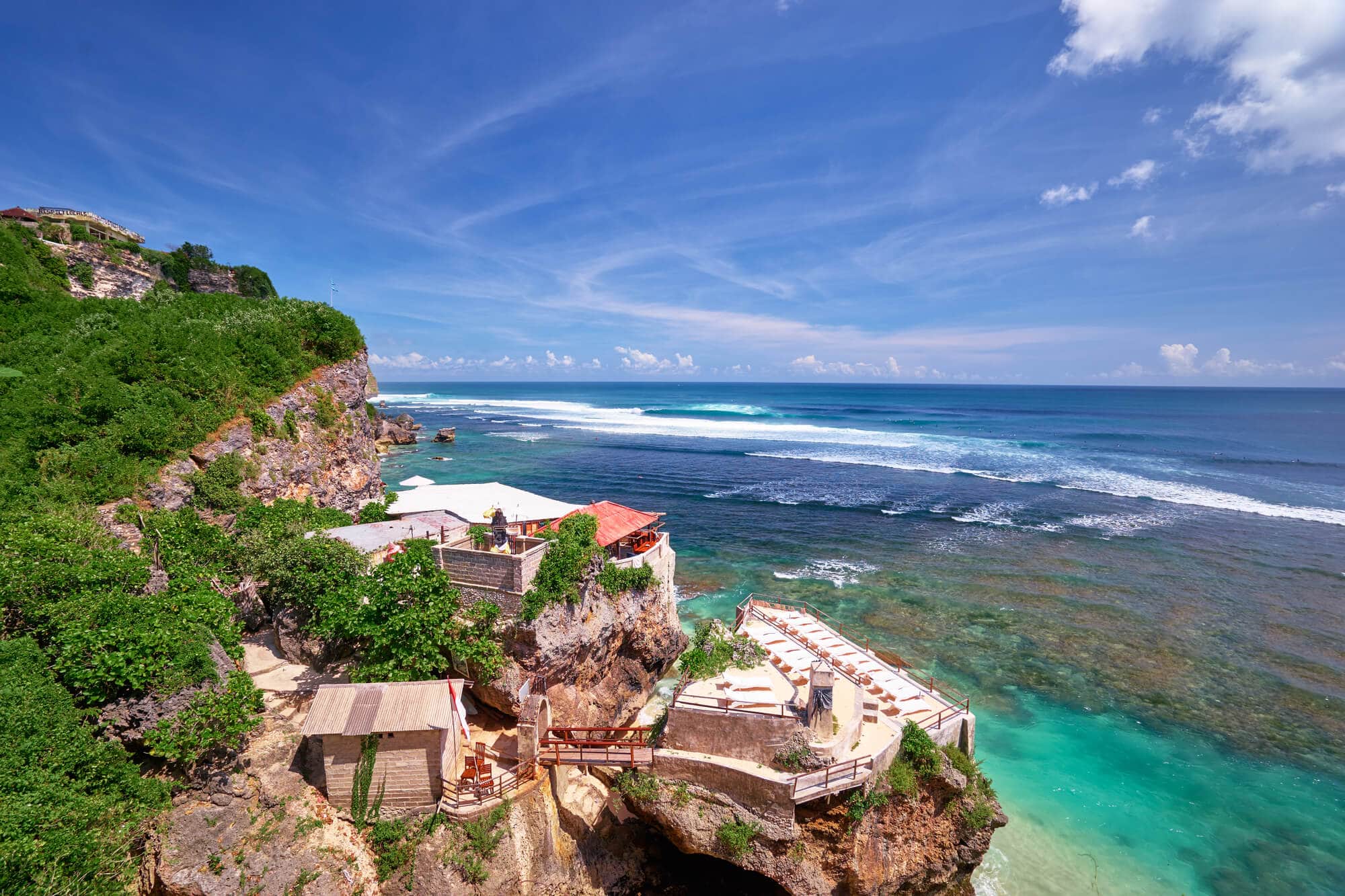 Located at the Southwestern tip of the Bukit is one of my favorite places in the world, Uluwatu. Main attractions in the area include Pura Uluwatu or the "monkey temple", one of the most scenic temples in all of Bali where you can see traditional Kecak dance at sunset. And of course the world-famous surf break "Ulu's", a left-hander best suited for experienced surfers. You can reach Suluban beach through the cave on low tide, it's a really cool place worth a visit.
The big party at Single Fin on Sundays attracts a huge crowd from all over the island. Arrive early, preferably before sunset, or reserve a table if you want a place to sit. A great place to stay is Mamo Hotel or even cheaper is Vicy Homestay a little further down the road, just a minute walk from the cliff. Many of the cheaper accommodation options are not online, so if you're on a tight budget and visiting during the low season you might want to chance it and ask around.
You might also like: 9 of Bali's absolute best budget hotels, villas & Airbnbs
Nusa Dua
Nusa Dua located on the east side of the Bukit Peninsula may have the nicest white sandy beaches in all of Bali, but in my opinion, it can get a bit boring for young travelers. The beaches are lined with large all-inclusive resorts, which is great for honeymooners, older couples or families with small children. So if a lazy beach vacation is primarily what you want, this may be the area for you.
My sister and I once spent millions and millions of Rupiah on a 50m2 hotel room in a huge resort with a private beach. Just two days into our five-day stay we decided to go back to a crappy homestay in Padang Padang because we were so bored. However, in 10 years time, this might be exactly what we want. So as I mentioned earlier, it all depends on what you want out of the stay. Apparently, I'm not comfortable with being waited on hand and foot and just laying around on a beach all day.
For around 250$ a night you can stay in the cheapest room at the world-famous resort The Mulia Nusa Dua Suites.
Sanur
Sanur, the first developed beach resort area in all of Bali, is located on the eastern side of the island just opposite Kuta and south of Denpasar. The former fishing village boasts a calm and relaxing atmosphere with a mix of large resorts, villas and homestays. Sanur is also the gateway for those who want to snorkel and explore the nearby islands of Nusa Lembongan, Ceningan and Penida.
Sanur's entire coast is lined with golden sand beaches dotted with colorful boats and sun loungers. The water is usually calm which makes it perfect for swimming and water sports like jet skiing, stand-up paddleboarding, windsurfing and parasailing. When I return to Bali next month I'm definitely doing a day trip to Sanur to finally experience lazy diving with Seawalker helmets. It looks so cool!
If you need a break from the sand and sea go for a stroll along the paved boardwalk and sit down for a delicious meal at Sala Bistro, Genious Cafe or Soul on the Beach. Another great thing to do in Sanur is to explore Pasar Sindhu Night Market for some mouthwatering and affordable traditional Indonesian dishes. From fresh juices to deep-fried everything, I'm sure you're going to find something that will make your tastebuds tingle. The Sate Ayam is especially good!
East Bali
East Bali, one of my favorite regions to escape to for a couple of days when I need a break from the crowds in the south. Here you can explore scenic mountains, ancient temples and drive around for hours on the backroads without seeing any other tourists. Some of the island's most beautiful landmarks call these parts home, including one of the Bali's most important temples, Pura Lempuyang and stunning water palaces with intricate sculptures, towering fountains and gorgeously green lotus ponds.
Set on a lush hillside south of Mount Agung, Sidemen village is one of the highlights of the Karangasem Regency. Despite the overdevelopment of some parts of the island, this little village is still very much untouched and unknown to most tourists. Daily life here unfolds as it has for hundreds of years. Farmers tend to their land and herd their water buffalos while the children fly their dragons and play in the creek. It is one of my favorite places in Bali and a great alternative to the now famous Jatiluwih Rice Terraces.
I come to East Bali mainly to relax inland amongst lush jungles, impressive rice fields and old palaces. However, there are some pearls scattered along the coast worth visiting as well, like Amed, Candidasa and Keramas.
On the northeast coast, Amed and Tulamben attract divers from all over the world. Both are old fishing villages with traditional Jukung boats lining the black sandy shore. It is, however, the underwater world that makes this area so special. Colorful corals, fishes in all shapes and sizes, turtles and of course the famous USS Liberty shipwreck.
Be sure to also check out Jemeluk Bay viewpoint for sunset. The view is one of the best on the island, especially when the sun sets behind Mount Agung as you can see in the photo above. There is a local restaurant there called Warung Sunset Point where you can sit back and relax with dinner and drinks.
One hour further south you'll find Candidasa, one of the oldest and most popular beach resorts along the east coast. It is the perfect place for you if you're after a relaxing beach escape away from the crowds of the south. There is one main road which runs parallel to the beach and it is lined with everything from five-star hotels to local warungs. Don't forget to check out the Lotus Lagoon when you're there. It is such a beautiful and serene place!
Continue down the coast for another hour and you'll reach Keramas Beach, a beautiful black stretch of sand favored by surfers. In fact, just last month a World Surf League competition was held here. One of the hotspots in the area with a prime location right in front of the surf break is Komune Beach Club at the Komune Resort. Chill out around the oval pool, watch movies on open-air cinema night or go night surfing when the waves are lit up by the permanent floodlights. So cool!
You might also like: Kubu Carik – East Bali's best-kept secret
North Bali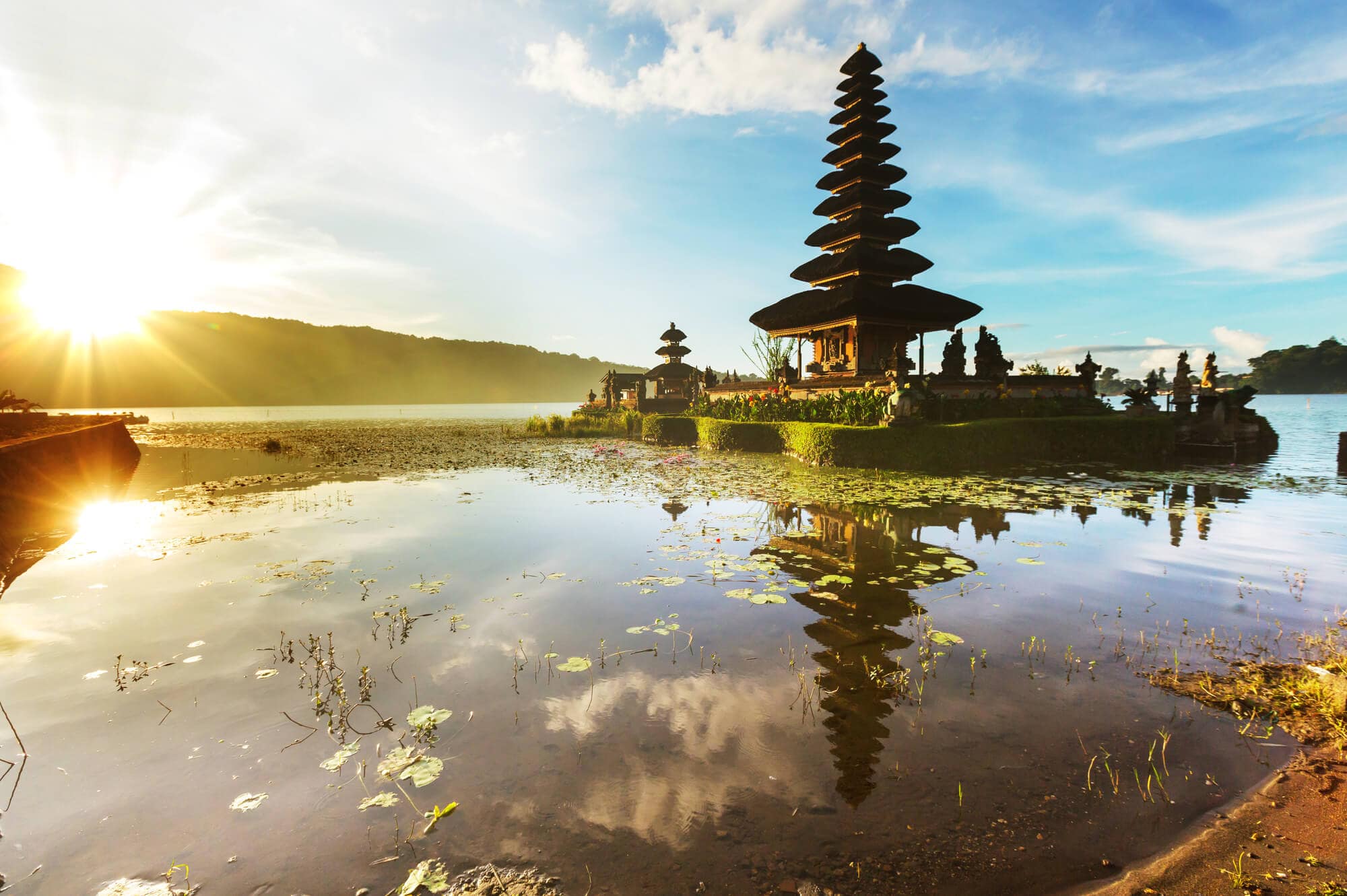 North Bali consists mainly of the district of Buleleng. Singaraja is the largest city and the former colonial capital of Bali, where you can visit the Royal Palace built in 1604. Just 15 minutes west lies Lovina, a string of villages and the main tourist resort area on the north coast. Highlights include wild dolphin-watching tours, lush nature reserves, magnificent temple sites and a collection of fine waterfalls dotting its highlands.
There is a good range of hotels both along the coast and inland. You have probably seen Munduk Moding Plantation all over social media and for good reason. The stunning hotel sits on a hill above the lush jungle so it literally looks like the infinity pool is floating in the clouds. Historically, the Dutch colonists were drawn to Munduk to escape the coastal heat. Traces of their colonial-style architecture can still be found here today. Some have even been turned into boutique hotels and guesthouses.
When you travel down the main road Munduk village itself doesn't look like much. It is the surrounding area that truly makes this one of Bali's undisputed gems. Because the village is located at one of the highest points on the island, you'll find great spots for watching both sunrise and sunset.
Hiking is the big call card here and it's easy to see why with a maze of paths and trails leading through the jungle to hidden villages and spectacular waterfalls. Munduk Waterfall is located on the outskirts of the village and two of Bali's most beautiful waterfalls, Banyumala and Sekumpul, are only a 20 and 50-minute drive away.
Ulun Danu Beratan, one of the most recognizable landmarks in Bali, is another place you shouldn't miss when you visit the northern part of the island. The temple sits on the edge of Lake Beratan with a picturesque mountain range in the background. It's the perfect place to get some stunning photos, especially at sunrise and sunset.
Related post: Air Terjun Sekumpul – One of Bali's most beautiful waterfalls
West Bali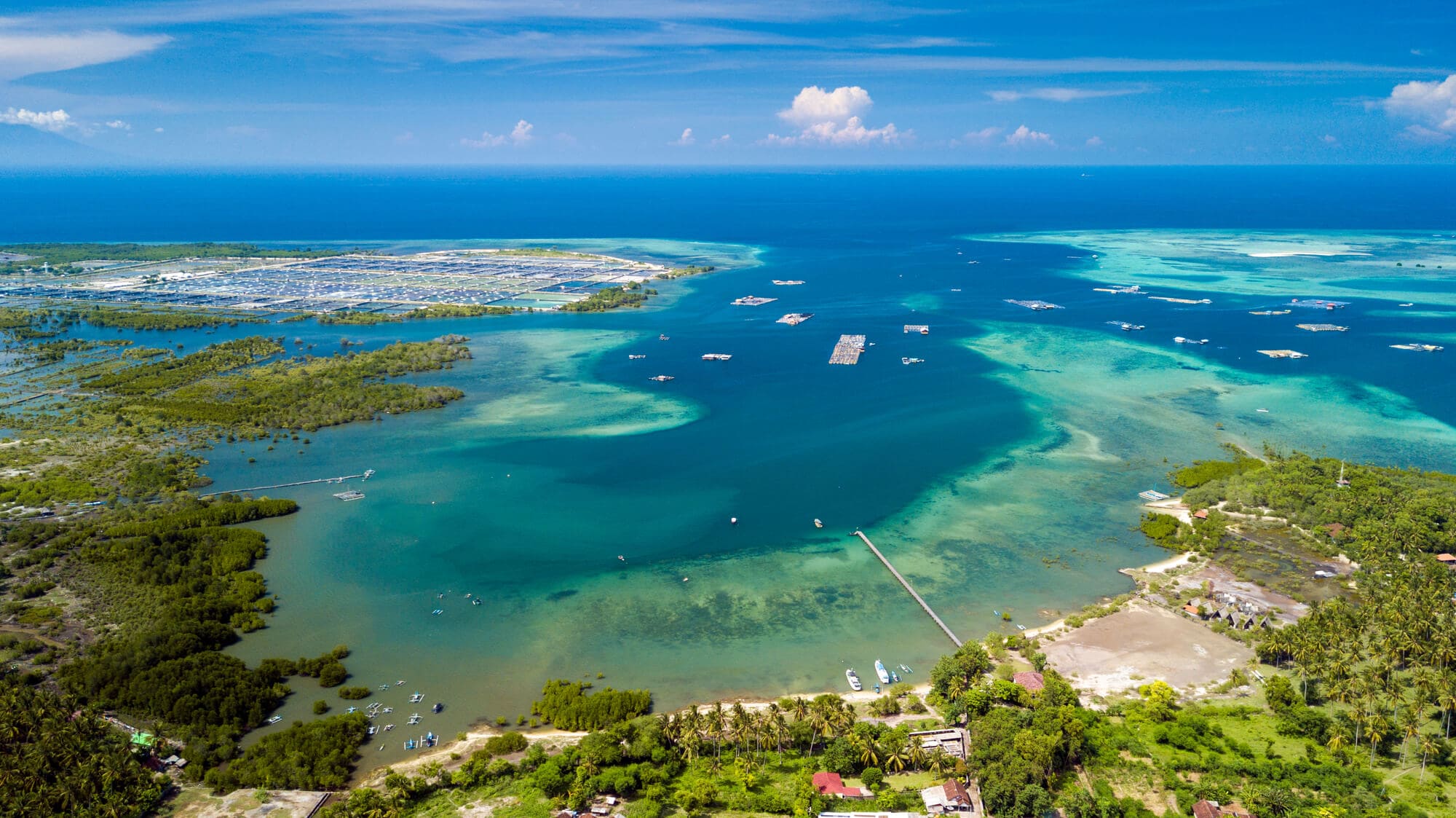 Jembrana Regency with the capital city of Negara covers most of Bali's northwest. If you travel by ferry from Java to Bali, this is where you'll start your journey on the Island of Gods. The distance between the two islands is only 4kms. Although one-sixth of the island's population lives in West Bali, this vast region is often overlooked by tourists who are drawn to the allure of the south.
The northwest coast from Menjangan Island to Pemuteran Bay is probably the best spot for diving and snorkeling in Bali. The calm sea is free of currents and offers a safe opportunity to explore the reefs. If a more active holiday is what you're after you should check out Barat National Park which is mountainous and has rain forest, mangrove forest, savanna and as well as sandy beaches.
This is also where you'll find some of the best glamping resorts on the island. Menjangan Dynasty Resort, Beach Glamping and Dive Centre might be the best of them all. It is just incredibly stunning so if you can afford it, definitely consider spending a few nights in one of their African safari tents.
Continue south along the west coast and you'll soon reach Medewi, home to some of the longest waves in Bali. The little village offers glimpses of a different side of Bali with rice fields, children playing in the streets, warungs where you can still get a meal for a few dollars and long, empty black beaches.
Speaking of black beaches, Balian Beach is another remote stretch of sand and a popular surf spot on the west coast. Its collection of cheap and laidback accommodation options has also attracted backpackers for a while now. IBe sure to check out Soori Bali, a luxury villa complex made famous for hosting the Kardashians on their recent trip to Bali. Haha, just in case you were wondering.
Some of the most unique attractions in West Bali include a majestic Banyan tree in Manggissari with roots forming an arch that you can drive through if you dare. And an impressive church with an intricate design that can only be described as a blend of Balinese and Gothic architecture, located in Palasari village.
---
I decided to leave Denpasar, the capital, out of this guide as I haven't spent much time there nor do I think there is any reason to spend time there during your holiday unless you have business to attend to.
---
I hope this Bali area guide will help you decide on where to stay!
Remember to pin 😉