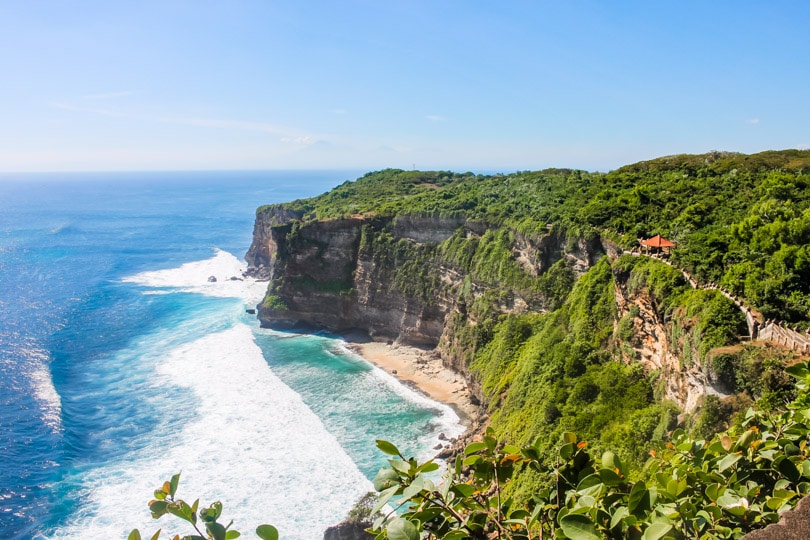 I fell in love with the paradise that is Bali over six years ago. Even though so much has changed on the island since then, it's still one of my favorite places in the world. You just need to know where to look and what to stay away from. After a total of 9 trips to Indonesia I've picked up a few tips and tricks, I would've liked to have known right from the start. So I thought I'd share them, and write a quick overview of the areas I know best.
First off some Bali facts & tips:
As of June 2015, 30 more countries were added to the free entry list, Norway included. Which means we no longer need to pay the 35USD Indonesian visa fee. Yay!
Be sure to keep your luggage tags within reach, as you'll have to hand them in when exiting the airport.
Your passport must be valid at least six months from the day you plan on leaving Indonesia.
For cheap accommodation, I always use Agoda.com when traveling in Southeast Asia. Some of the more remote hotels and homestays in Indonesia are only listed on Agoda.
The currency is Indonesian Rupiah – 14.000 Rp is around 1 USD / 9 NOK
Visit in March/April(avoid Easter)/May when it's still green from the rainy season and the crowds are smaller so you'll get everything for cheap.
If you have made your hotel or driver booking some time in advance, I would confirm it a couple of days before you arrive. Stuff often get lost on the island, bookings in particular.
Bring or buy a couple of sarongs straight away, you'll need them. Whether it's covering up for a temple visit, using it as a beach cover-up or as a seat cover. Some places just aren't that clean.
You'll probably experience a case of Bali Belly, so bring Imodium. Consider yourself warned 😀
And remember to be patient, everything happens on Bali time!
// Contains affiliate links
Bali area guide – What places to visit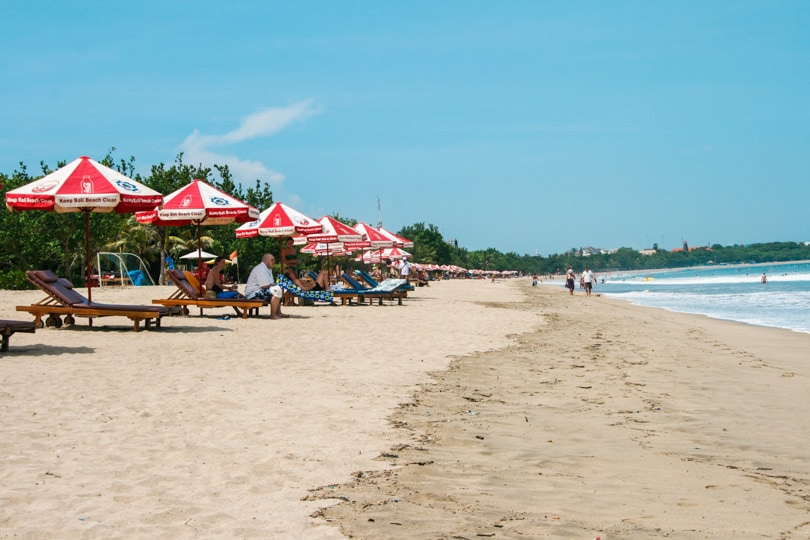 Seminyak, Legian & Kuta(pictured above)
Kuta is the main tourist drag in Bali. Laying side by side along the same stretch of sand Southwest on the island, Kuta furthest to the south and Seminyak to the north. Seminyak, being the more upscale choice of the three, is spilling with high-end boutiques, restaurants, spas and luxury accommodation. Do some people watching at Potato Head Beach Club, enjoy lunch at Sea Circus, get a gold facial, sip some sunset cocktails at Ku De Ta and get your Mexican fix at Motel Mexicola. You'll find some of the island's nicest villas in Seminyak, like this crazy cool one! But be aware of the location of the villa or hotel you book. Anything on the east side of Sunset Road isn't worth it in my eyes. It's such a hassle to get around from there.
If raging nights out clubbing wearing Bintang singlets is more your scene, then you can head to Kuta. You really shouldn't but if you're going to anyway, please be aware of the super cheap drinks. A 15k drink is too good to be true even in Bali, it's usually made with arak. Check out Eikon, one of the clubs in the area where it actually can be fun. Keep yourself and your stuff safe as pocket thieves and people up no good hang out on this side of town.
If neither of the two tickles your fancy, Legian might be your best bet. Cheaper than Seminyak, but a little calmer than what Kuta has become. My old time favorite restaurant in the area is The Balcony on Jl. Benesari, famous for all the pro surfers who visit. Favorite store is the large Surfer Girl on Legian Street and oh in Seminyak Tropicana and Wanderlust. I come to this area for the good food and shopping at the beginning of my trip, before heading somewhere a bit more remote. Don't get stuck here, especially if you want a relaxing beach holiday, Bali has so much more to offer!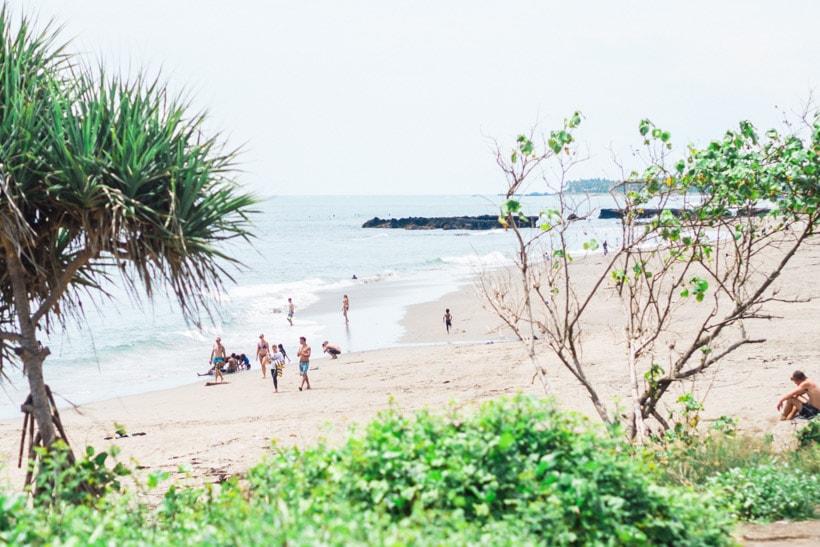 Canggu
On the west coast, a short drive north from Seminyak, you'll find the laid back beach village of Canggu. If you are a surfer, creative person or just like to let's say observe the long-haired, scruffy, tanned surfers, chances are you're going to love it here. The place where I saw more cows than people on my first visit, has developed at a rapid speed into a trendy area favored by expats. Enjoy breakfast at hotspots like Betelnut or Crate Cafe, Nasi Goreng at one of the local warungs, afternoon drinks at Old Man's and a seaside BBQ dinner at Echo Beach.
Don't forget to check out Deus ex Machina Temple of Enthusiasm on Tuesdays for tacos and free tattoos and on Sundays for a pumping Sunday Session with live music. To get in touch with the local creative scene, visit the market taking place at Old Man's on the last Saturday of every month. Accommodation ranges from basic homestays with no internet presence to high-end luxury villas. I would definitely stay in a villa in Canggu if I were you, as there are some many stunning and affordable options to choose from. Like this one, just a couple of minutes from the beach. Or if you can't fill an entire villa this gorgeously furnished apartment might be just what you need!
Be sure to claim your $35 Airbnb credit here!!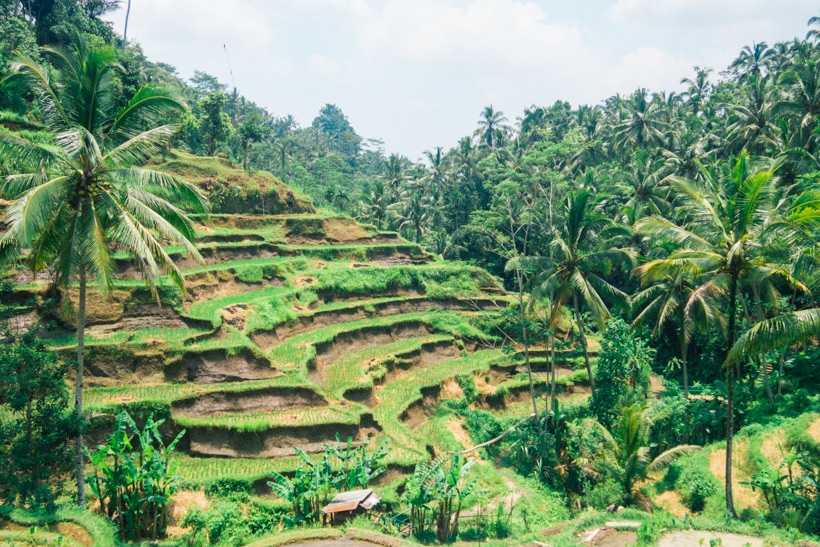 Ubud
One hour Northeast of Canggu you'll find Ubud, a town often referred to as the heart of Bali. Not only a paradise for yogis, vegetarians and vegans, Ubud is also the island's cultural and spiritual center. Thanks to the movie Eat, Pray, Love, Ubud has become a lot more touristy in recent years. But don't let that stop you from visiting, as most tourists seem to keep to central Ubud and Monkey Forest Road. Speaking of the Monkey Forest, the monkeys can be aggressive, so be careful and leave everything except your camera outside.
Stay at one of the many homestays to get the most out of your visit, and enjoy mouthwatering meals at restaurants like Melting Wok Warung, Locavore and Watercress Cafe. Take a stroll through the lush rice fields on the Campuhan Ridge Walk, join one of the many bicycle tours or visit some of the beautiful temples and waterfalls the region has to offer. Ubud is the perfect base from which to explore what I would call the "real" Bali.
Bukit Peninsula: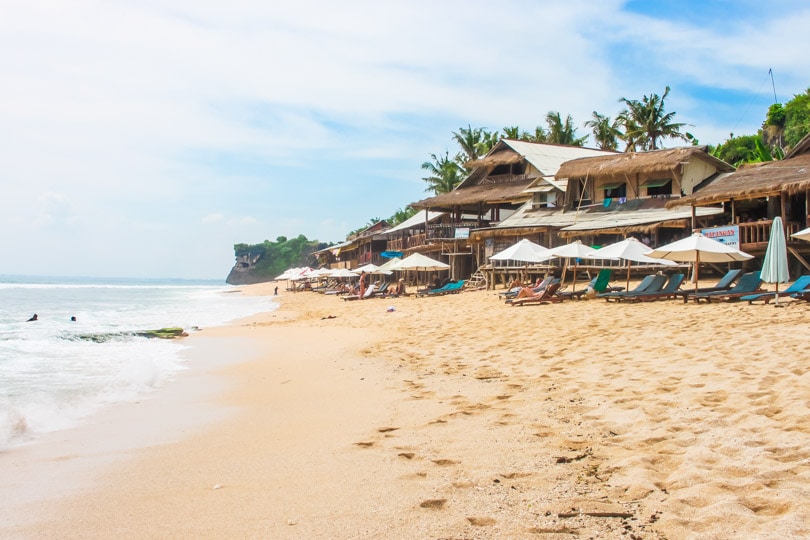 Balangan 
Balangan is a beautiful beach northwest on the Bukit favored by surfers. The break that was saved from a major development in the early 90s, is a left-hand reef break best suited for intermediate to expert surfers. The atmosphere of the beach and village itself is relaxed and welcoming. You can stay with the locals down in the warungs on the beach (about 50-100k a night) or you can stay on top of the cliff in nicer hotels. Nowadays you'll find something for every wallet and preference, Flowerbud Bungalow (pictured below) and Brothers Bungalows being my personal favorites. Enjoy some Mie Goreng and a Bintang at the beach, accompanied by some reggae tunes and probably one of the most beautiful sunsets you'll ever see.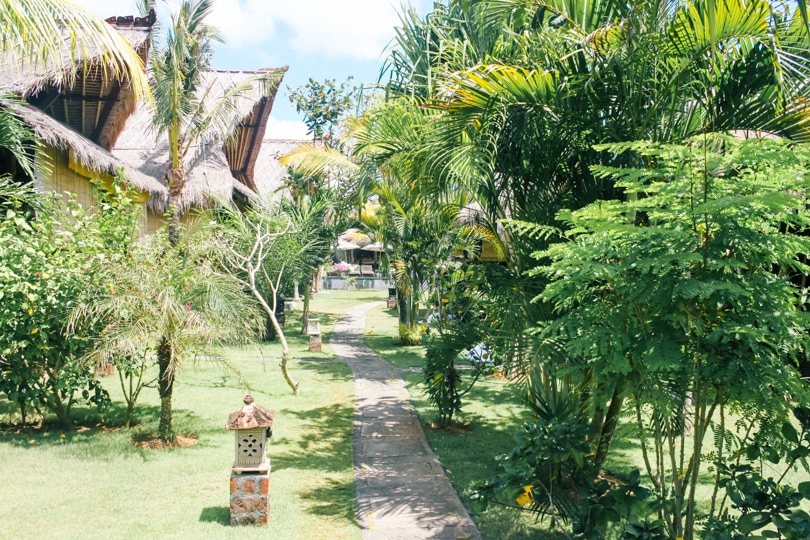 Dreamland
Dreamland was once one of Bali's most beautiful beaches, but sadly because of the Pecatu Graha Indah "New Kuta" development, it's now more of a touristy nightmare. You'll have to pay an entrance fee both to park and to enter the beach. Before the local warungs were replaced by the humongous condotel, you only had to pay to park a car and all the money went to the local community. Still good for surfing though, especially for intermediate surfers on days when the other breaks further south gets too big.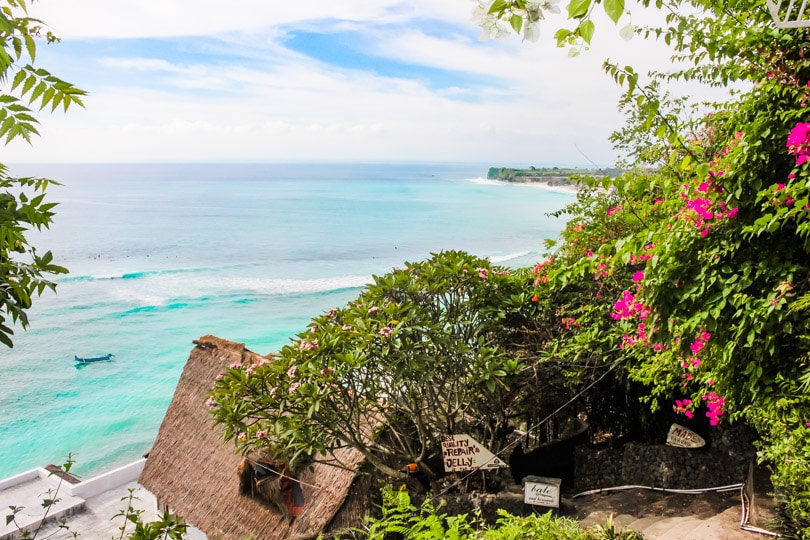 Bingin
Another beautiful sandy beach just south of Dreamland. The beach is not easy to access as you have to get down a steep set of stairs, but the ocean views alone make the sweaty decent worthwhile. Splurge on breathtaking accommodation like Sal Secret Spot and BoHo Bingin Beach Boutique Hotel on top of the Cliff. For cheaper but also beautiful options check out Bingin Bienvenue Guest House or Mama Tom Toms on the cliffside. Bingin truly is my favorite spot in Bali when it comes to stunning places to stay, a bohemian paradise. Enjoy dragon bowls at The Cashew Tree, some fresh juice and smoothies at Kelly's Warung and some yummy pizza at Pizzeria Italia. If in need of some more sophistication check out El Kabron Spanish Restaurant & Cliff Club for delicious food, some people watching and a sick sunset.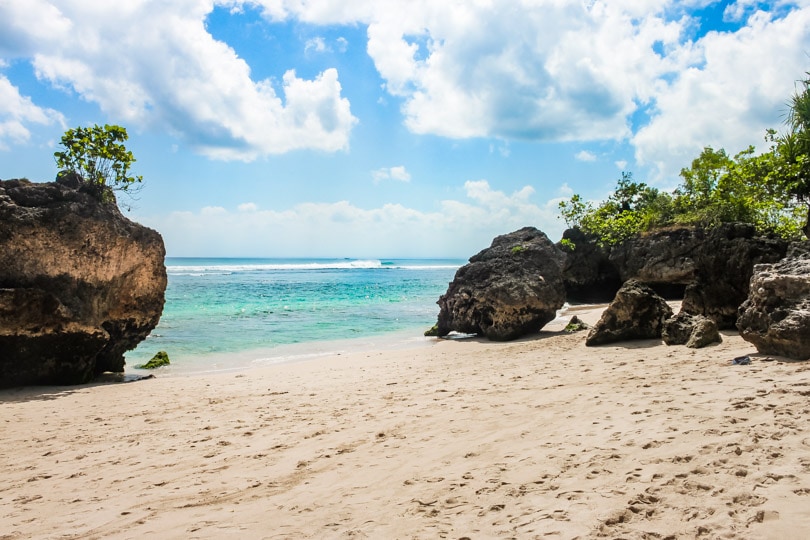 Padang Padang
Just north of Uluwatu, you'll find Padang Padang, yet another beautiful white sandy beach with quite a few steep steps. I usually end up here when staying in Uluwatu as it's only a short drive away and mostly no stones/reef in the water. Perfect for a morning swim before the crowds take over. Be aware of the monkeys, they are sometimes very interested in sunglasses and other shiny things. If you'd rather get your tan on away from the sand, rent a poolside sun lounger at Blue Haven on top of the Cliff overlooking the beach. While in the area you have to try the organic restaurant Buddha Soul, for breakfast, lunch or even dinner. The chicken pasta with lemon sauce is one of the best meals I've ever had.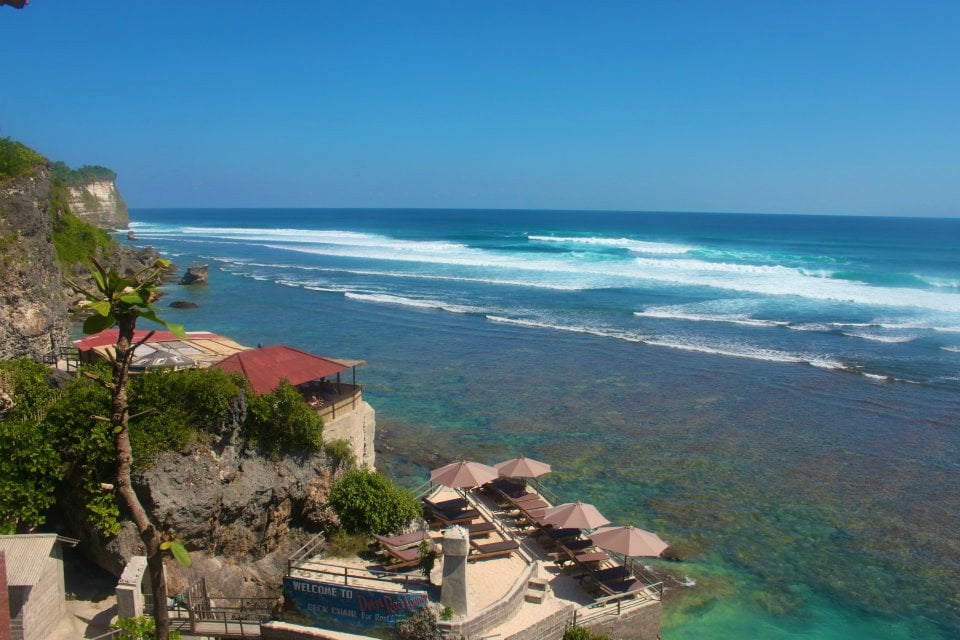 Uluwatu
Located at the Southwestern tip of the Bukit is one of my favorite places in the world, Uluwatu. Main attractions in the area are Pura Uluwatu or the "monkey temple", one of the most scenic temples in all of Bali where you can see traditional Kecak dance at sunset. And of course the world famous surf break "Ulu's", a left-hander best suited for experienced surfers. You can reach Suluban beach through the cave on low tide, it's a really cool place worth a visit. The big party at Single Fin on Sundays attracts a huge crowd from all over the island. Arrive early, preferably before sunset, or reserve a table if you want a place to sit. A great place to stay is Mamo Hotel or even cheaper is Vicy Homestay a little further down the road, just a minute walk from the cliff. Many of the cheaper accommodation options are not online, so if you're on a tight budget and visiting in the low season you might want to chance it and ask around.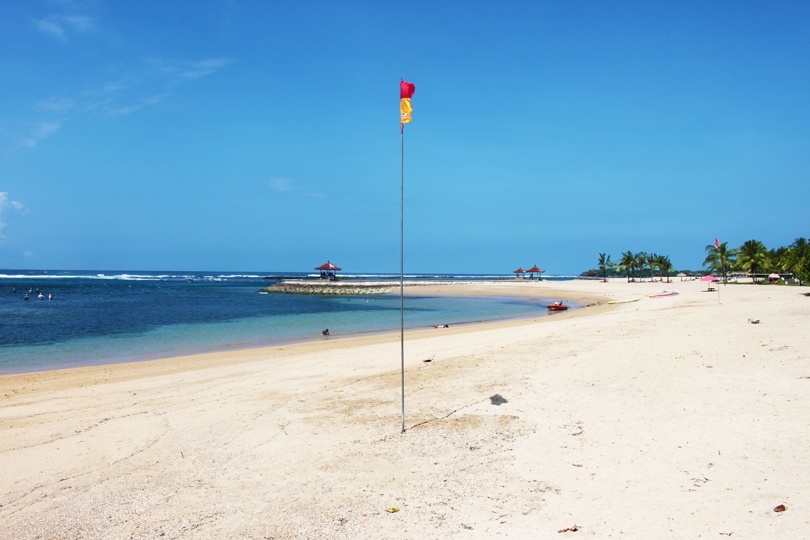 Nusa Dua
May have the nicest white sandy beaches in all of Bali, but in my opinion, it can get a bit boring for young travelers. The beaches are lined with large all-inclusive resorts, which is great for honeymooners, older couples or families with small children. For around 250$ a night you can stay in the cheapest room at the world-famous resort The Mulia Nusa Dua Suites.
I hope this Bali area guide will help you choose which places to visit! Remeber to pin it for later 😉
Some of the links above are affiliate links and I will earn a small percentage of the sale if you purchase through them, at no extra cost to you. This helps me cover the costs of running my site – so thank you in advance! I only ever link to products and services I use and love myself!