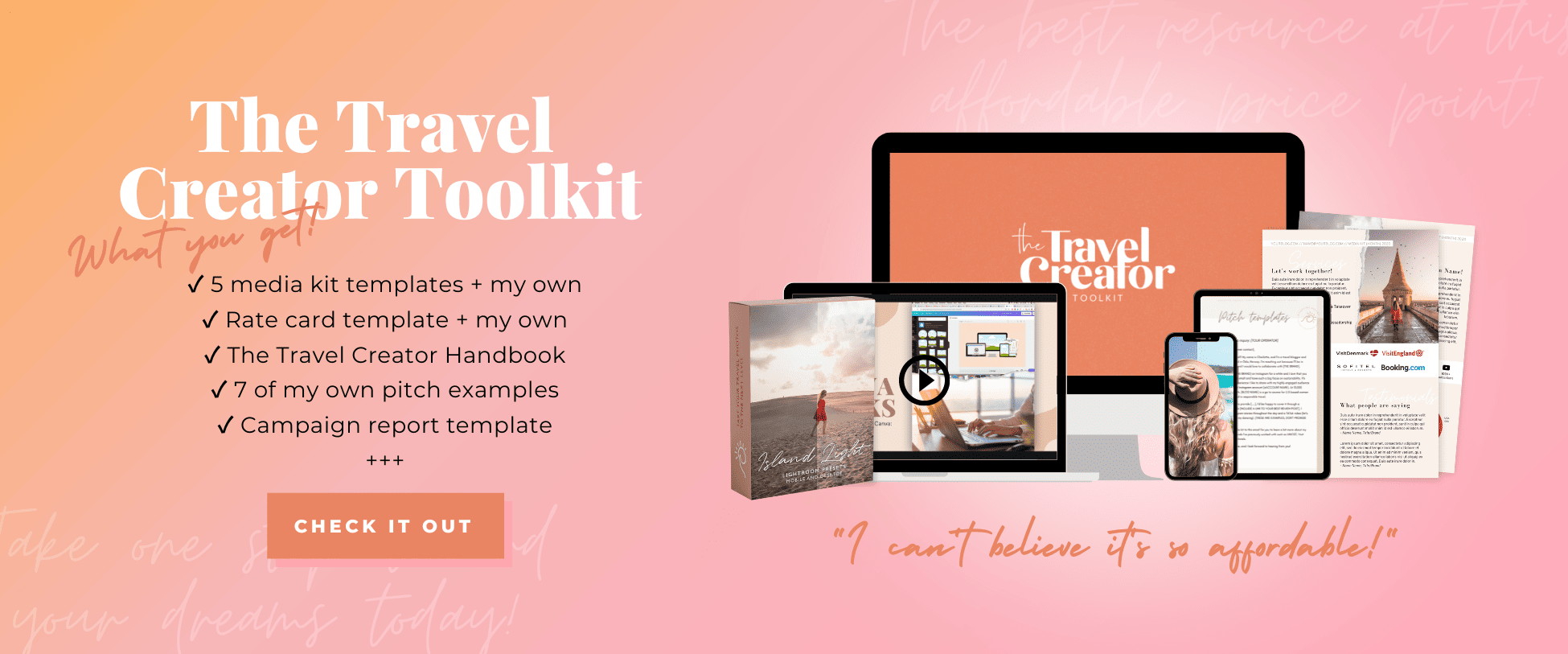 This post may contain affiliate links. I will earn a small commission if you purchase through them, at no extra cost to you.
Are you wondering how to spend your 2 days in New Delhi? As the second largest city in India, forming the perfect 2-day itinerary for New Delhi can be daunting. But don't worry, I've got you covered with this list of 10+ of the most amazing things to do and see in the city in two days.
This is what I consider to be the ultimate 2 day New Delhi itinerary for first-timers. And exactly how I wish I had spent my first time there. Keep in mind that I have packed a lot into this itinerary, so if you know you can't keep going from dusk until dawn, consider skipping one of the stops on both days.
Be sure to also check out my New Delhi survival guide for your first time in the city. I talk all about what to expect, how to get around, which area to stay in and where to eat + scams to be aware of!
🌟 Remember to always get insurance before you travel to India or anywhere else. SafetyWing is an affordable subscription travel insurance that you can purchase even after departure. Read my complete SafetyWing review here.
New Delhi 2-day itinerary
If it's your first time in New Delhi and you only have 2 days, I highly recommend you join a guided tour to get to know the city. I'm so happy we decided to book this popular private Old and New Delhi tour for our first day.
We got to explore places we wouldn't have seen on our own and we learned so much from our knowledge guide, Junaid. He also gave us survival tips for the city and told us where we should explore on our own. So much value for such an affordable price!
Day 1: South Delhi
Get ready for an incredible day of historic architectural gems, focused around the southern part of New Delhi.
1. Humayun's Tomb Complex
Start your day at the tomb of Mughal Emperor Humayun, a mesmerizing UNESCO world heritage site. As the first garden tomb in India and the first large-scale building to use red sandstone, it represents a leap in Mughal architecture.
Humayun's tomb garden also includes smaller monuments like the beautiful tomb of Isa Khan Niyazi, an Afghan noble. So take time to enjoy and go for a stroll through the paradise garden, designed according to Persian tradition.
We walked from our hotel in southeast New Delhi, around 7:00 am, and were the first ones there. Humayun's Tomb was one of the highlights for me in India, it was so nice to just wander around and enjoy the beautiful surroundings almost all by ourselves.
Entrance fee: Indian nationals Rs. 30 – Foreigners Rs. 500
Opening hours: 6 am to 6 pm daily
---
2. Tomb of Safdarjung
The Safdarjung Tomb, made of marble and sandstone, is the last magnificent tomb garden of the Mughal era. The tomb was constructed in 1754 for Mirza Muqim Abul Mansur Khan, better known as Safdarjung. It is conveniently located close to both Lodhi Gardens and Humayun's tomb.
Safdarjung Tomb is not on the itinerary of most people doing Delhi in less than 3 days, so it's usually very peaceful and you won't have to navigate around large crowds of people to get that perfect shot.
Entrance fee: Indian nationals Rs. 15 – Foreigners Rs. 200
Opening hours: 7 am to 7 pm
🌟 My top pick >> Be sure to check out this highly-rated photography tour that includes both The Safdarjung Tomb and Lodi Gardens!
---
3. Lodhi Garden
What do you least expect to find in a busy, overpopulated metropolis like Delhi? An oasis. But it does exist. Your next stop is Lodhi Gardens, one of the incredible, green spaces of Delhi, sprawling across 90 acres of land. Here, you get to discover the stunning North Indian Islamic architecture and history.
You can easily walk here from the Tomb of Safdarjung. I recommend picking up some street food and enjoying a nice picnic in beautiful gardens.
The impressive tombs, beautiful bridges and watchtowers were built in the 15th century by the Lodhi and the Sayyid dynasties before the Mughal Empire took over. The gardens are also a favorite amongst Delhi's high society – so you might be able to spot a high-profile politician or celebrity.
We went to Lodhi Garden on a Saturday which meant it was very crowded with locals walking their dogs, working out and just spending the day in the park with their families. I can imagine a weekday would be a much better time to visit to fully be able to enjoy the peaceful atmosphere.
Entrance fee: FREE
Opening hours: 6 am – 7.30 pm daily (it might be open later)
---
4. Mehrauli Archaeological Park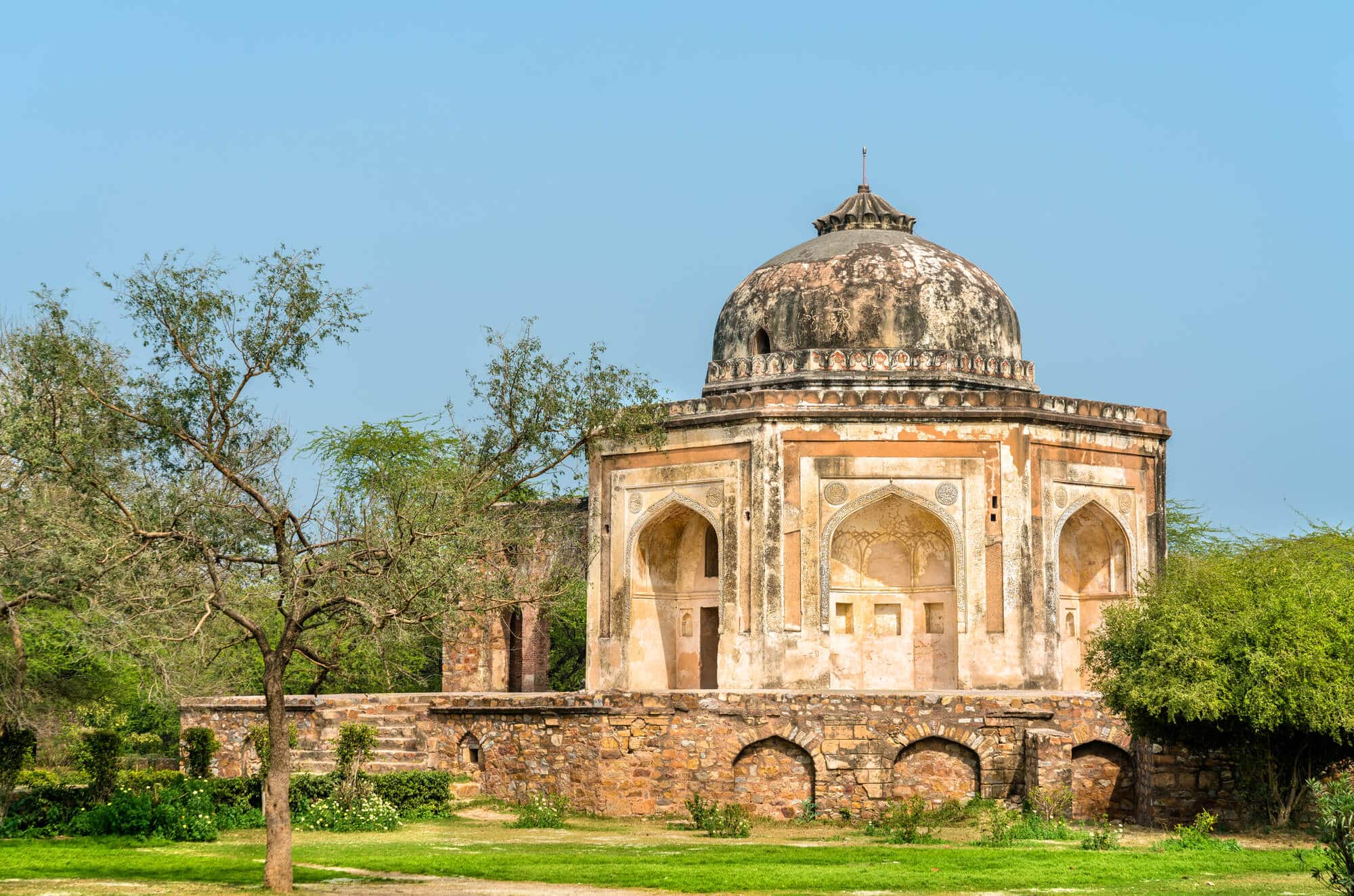 If you have one last stop in you for the day, jump in a rickshaw and make your way down to Mehrauli Archaeological Park, an incredible area consisting of over 100 historically significant monuments spread over 200 acres in Mehrauli. Close by you'll also find the Qutub Minar World Heritage Site and the Qutb complex.
If you're a history buff like me, you're going to love this place. It is the only area in Delhi known for 1,000 years of continuous occupation and includes the ruins of a fort built in 1060 AD(!!!).
To be honest, you could probably spend an entire day down here. So if you have more time in the city, consider saving this for the next day.
Opening hours: 5 am – 6.30 pm daily.
---
5. Flavors and Food Stories of New Delhi
Instead of just another dinner in a restaurant, book this exciting Flavors and Food stories tour. Indulge in Delhi's signature butter chicken curry or a shahi paneer, taste Chaat from Delhi's most famous chaat stall and visit and volunteer at Gurudwara temple to experience the "art of gratitude" ++. I'm getting hungry from just typing this. Yum!
---
🌟 If you would rather skip one of the architectural heritage sites, I highly recommend that you participate in an educational and ethical walking tour through the Sanjay Colony slum area instead. Here you will discover a rich sense of community and entrepreneurship and gain new insights into the lives of locals. And the best part is that all proceeds are re-invested into the development of community projects such as education and healthcare for the residents.
---
Day 2: central & north Delhi
Day two of this New Delhi itinerary continues with central and north Delhi.
6. Shopping & Markets
Who needs standard supermarkets, air-conditioned shopping malls or fancy boutiques when you can have the Delhi markets? Start your day and dive right into the action by exploring the amazing, large-scale markets in Delhi, like Chandni Chowk, Dilli Haat, Khari Baoli or Chor Bazaar. They are an absolute paradise for shoppers, buzzing with customers as early as 6 am.
You can buy pretty much everything you can imagine: Tons of fresh vegetables and fruit, wonderful home decorations and fabrics, handicrafts, vintage goods, tea, spices, jewelry, clothes and much more. Just make sure to bring patience, bargaining skills and endurance.
You will return with bags of wonderful goods, a belly full of delicious Indian food and a lot of new friends. Spending one day here will save you months of lessons in Indian culture and etiquette, language, history, delicacies, art and fashion.
DILLI HAAT
Dilli Haat is a paid-entrance open-air market located in South Delhi, run by Delhi Tourism and Transportation Development Corporation. They also operate two other locations but I do think the original one opposite INA Metro Station is the best.
What is so great about Dilli Haat is that it gives the feel of a traditional weekly village market (called a haat) but it is open every day. We opted to do most of our shopping here so we could escape the crowds for a little while.
Get there just as they open at 10.30 am for the best prices and a more comfortable temperature. I bought several straw bags here for only $7 apiece so I couldn't be happier.
Entrance fee: Indian nationals Rs. 30 for adults, Rs.10 for children and foreigners Rs. 100.
Opening hours: 10 (or 10.30) am to 10 pm daily
🌟 My top pick >> Private Custom Shopping Tour of Delhi's Bustling Markets
---
7. Swaminarayan Akshardham Temple
The Akshardham Hindu Temple is another must-see in Delhi. It is a stunning spiritual-cultural site regarded by Swaminarayan Hindus as a temporal home of God on earth. 'Akshardham' means the abode of almighty Lord Swaminarayan, a yogi and ascetic, who revived central Hindu practices.
His life and work are portrayed in the various exhibition halls. The Akshardham temple reveals thousands of years of fascinating Hindu spirituality, Indian culture and architecture.
This is one of the most intricately beautiful buildings in India and is definitely worth a visit. But remember that you're not allowed to bring a camera, phones, umbrellas, toys, food or drinks inside the complex.
Entrance fee: Entry to the complex is free but there are different exhibitions and shows that require a ticket
Opening Hours: Tuesday to Sunday – First Entry: 9.30 am – Last Entry: 6.30 pm
---
8. Red Fort
The Red Fort, also known as the Lal Qila, was constructed by one of the most famous Mughal emperors, Shah Jahan. He also commissioned Taj Mahal, Agra Fort and several other majestic buildings around northern India. Not surprisingly, the period of his reign is considered to be the golden era of Mughal architecture.
Built on the banks of Yamuna River, it took over 8 years to finish the construction of the magnificent fort. When Shah Jahan decided to shift his capital from Agra to Delhi, the Red Fort took over as the main royal residence of the Mughal emperors. And it stayed that way for over 200 years.
Today the fort has become an icon of the city and is a must on any Delhi itinerary. With its towering red sandstone walls measuring 33 meters high and almost 2.5 kilometers long, you can't really miss this place. Inside you'll find a large complex of entertainment halls, palaces, indoor canals, a stunning white marble mosque and perfectly manicured gardens.
Entrance fee: Indian nationals Rs. 35 – Foreigners Rs. 500. You can book your tickets in advance so you don't have to wait in line. You also have the option to add a tour guide and hotel transfers.
Opening Hours: 7 am to 5.30 pm daily
---
🌟 Learn about the Mughals and their influence on the city's culture and architecture on this early morning bicycle tour. Travel in a small group with experienced guides to absorb Delhi's culture before ending the experience with a hearty local breakfast. The perfect way to start the day before you explore the Red Fort!
---
9. Agrasen ki Baoli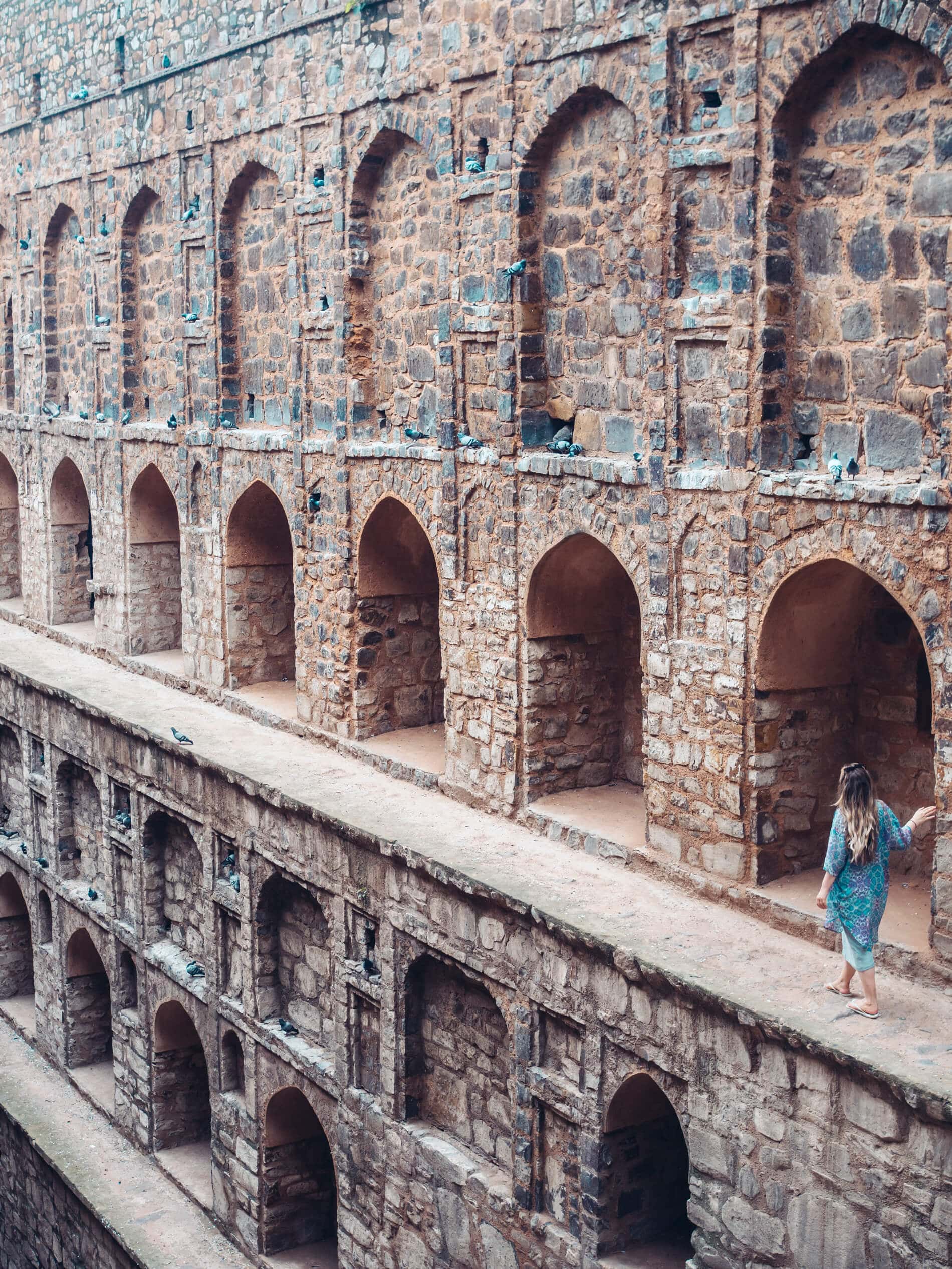 Just a short walk away from Connaught Place, down a peaceful residential street, you'll find Agrasen ki Baoli, a centuries-old, subterranean stepwell hidden behind a seemingly uninteresting stone wall.
Stepwells, otherwise known as "baoli" or "bawli", depending on the region, were built centuries ago in the arid zones of Rajasthan to provide water all year around. These days the wells are no longer used for storing water, instead, the aesthetically pleasing geometric features attract local and international visitors alike.
We visited Agrasen ki Baoli in the middle of the day and to our surprise, we were the only tourists there. The guard told us that "modeling" was not allowed but photos were, so we had to be a bit sneaky to get a couple of good shots here.
Entrance fee: Free
Opening hours: 9 am to 5.30 pm
---
10. Old Delhi Spice Market (Khari Baoli)
Finish your two days in Delhi with a still down Khari Baoli Road, home to Asia's largest wholesale spice market. The market has been in operation since the 17th century and is today a vibrant and fun attraction for both locals and tourists.
Although I'm not usually a fan of guided tours I would suggest touring the market with a good guide so he can take you up to one of the rooftops for an incredible view of the bustling streets below. If you go by yourself there's a good chance you'll struggle to find the entrance as it is quite hard to spot.
Just like most parts of Delhi, the Old Spice Market is crazy and chaotic. So if you have the opportunity to visit early in the morning you'll see a totally different side to the area and maybe even witness a beautiful sunrise.
Entrance fee: Free
Opening hours: 10 am to 9 pm Monday – Saturday. The roof is open 24/7 but be aware of the people sleeping up there.
---
🌟 Don't miss out! Experience the streets and bazaars of Old Delhi and learn about traditional Indian life during this 3-Hour Old Delhi Heritage Walking Tour. Visit the Jama Masjid mosque, Red Fort and the Chandni Chowk market. Taste some of the famous local snacks and enjoy a short ride by rickshaw to the spice market.
---
New Delhi guided tours
As I mentioned above, I highly recommend you join a guided tour if you only have 2 days in New Delhi. For someone who doesn't really love organized tours, I have to admit that it is often a good idea in a place like India. Especially for the first day, until you get used to the beautiful mayhem that is New Delhi.
I actually loved all the guided tours we attended during this trip. Especially the photography walking tour and the private Old and New Delhi tour. It really is the best way to get the lay of the land and hopefully snag a few tips from locals.
Popular New Delhi tours
Safety tips for travelers
There's no secret that New Delhi can be an overwhelming place to visit. It's basically an assault on all your senses. But I don't want that to keep you from visiting, because New Delhi is unlike any place other place in the world.
Just prepare yourself to be overwhelmed before you go, and keep your wits about you just like you would in any other big city. And you will be totally fine!
Here are some quick safety tips for New Delhi:
Be aware of your surroundings: New Delhi is a crowded and chaotic city, so it's important to stay aware of your surroundings at all times. Keep an eye out for any suspicious activity or people who may be following you. I experienced a man following me for several hours, so I just sat down at a restaurant in a crowded place with my bag on my lap and stared at him. After a few minutes, he finally went away.
Use reliable transportation: When traveling around the city, it's best to use reliable transportation such as taxis, rickshaws and the metro. Always ask the driver for the price before you get in, and bargain if you feel it's too much. The metro in Delhi is also surprisingly efficient and easy to use. If you're only in Delhi for a few days, I highly recommend you join a guided tour or hire a private driver to get the most out of your time.
Avoid displaying valuables: To avoid becoming a target for theft, avoid displaying expensive jewelry or electronics. I brought my camera everywhere but kept it in my bag or around my neck at all times.
Dress appropriately: New Delhi is a conservative city, so it's important to dress appropriately. Avoid wearing revealing clothing or anything that may be considered disrespectful to the local culture.
Be cautious with food and drink: Have you heard about Delhi belly? Well, you will probably experience it in New Delhi. Be cautious when trying new foods or drinks, as some may not agree with your stomach. To be safe, stick to bottled water (or even better, bring a filtered water bottle) and avoid ice or food from street vendors. I ate everything I could get my hands on and definitely experiences Delhi belly but never got sick.
Stay in well-lit areas: When walking around at night, stay in well-lit areas and avoid walking alone if possible. Stick to busy streets with plenty of foot traffic.
You can read more about safety during your 2 days in the city in my first time in New Delhi guide.
FAQs: 2 days in New Delhi
Is New Delhi worth visiting?
Yes, New Delhi is definitely worth visiting for its rich history, vibrant culture, and delicious food. It is the capital city of India and has plenty to offer for tourists. If you're a history buff like me you're going to love it!
Are 2 days in New Delhi enough?
You can cover most of the major attractions in New Delhi in two days, but you may not have enough time to fully experience the city. I would say that the ideal time in Delhi for tourists is 3 or 4 days. After that, you're probably tired of all the craziness and ready to move on.
What is the best time to visit New Delhi?
The best time to visit New Delhi is from October to March when the weather is pleasant and comfortable. The temperature during these months ranges from 10°C to 25°C, making it the perfect time to explore the city. I visited New Delhi in August, it was HOT and humid, but totally doable.
Is New Delhi expensive?
New Delhi can be expensive, but it depends on your budget and the type of activities you plan to do. Accommodation, food, and transportation are generally affordable, but entrance fees to some of the major attractions can be expensive.
Can I drink tap water in Delhi?
No, it is not recommended to drink tap water in Delhi. It is advisable to drink bottled water or use a water purifier to avoid any health issues.
Is Delhi a walkable city?
Delhi is not a very walkable city due to its vast size and heavy traffic. However, some areas like Connaught Place and Old Delhi are pedestrian-friendly and great for exploring on foot.
What is the best way to get around New Delhi during a 2-day trip?
The best way to get around New Delhi during a 2-day trip is by using the metro, rickshaws, or taxis. The metro is the most convenient and affordable way to travel around the city.
If you are limited on time I recommend booking a private tour of the city to get the most out of your time.
Looking for more India guides?
---
I hope you found this 2-day New Delhi itinerary helpful!
Remember to pin it for later 😉