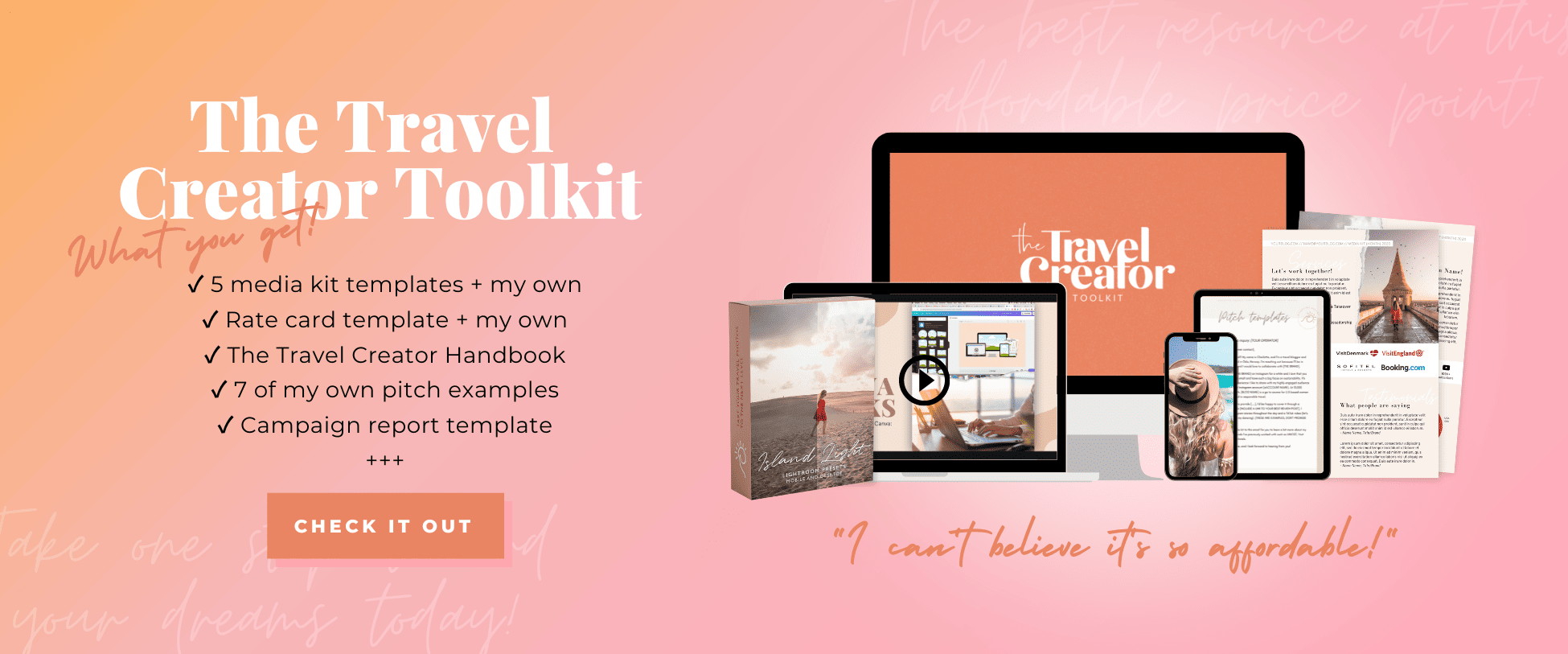 This post may contain affiliate links. I will earn a small commission if you purchase through them, at no extra cost to you.
Are you struggling with your self-confidence? Are you constantly comparing yourself to others and wondering how they excel in life while you never seem to get where you want? Do you want to take that idea you've been dreaming about for years and turn it into something bigger? Do you wish you had the confidence to go after your dreams? I have been there!
To be able to travel the world I knew I had to create a business that would support it. I'm an introvert and I hate putting myself out there, so creating a business around my social media and travel blog was always going to be super hard for me. You know, pitching brands for collaborations, constantly posting on social media, being in front of the camera. But I knew it was what I wanted to do and what I was supposed to do at that time.
At the beginning or even the first few years, I felt like an imposter. Who am I to give advice and tell people where they should travel? What if people follow my advice and have an awful time?
Mindset work for creators
Having challenges with self-confidence can be intimidating. But it doesn't have to keep you from going after great opportunities and follow your dreams in life. In fact, by tailoring your life to your personality and strengths, you can develop the self-belief you're lacking and that will help you create a life you love.
Introverted and reserved people can be confident, even those who are naturally quiet like me. It all comes down to a state of mind. It's something that can be learned and turned on at any moment in time.
So you might be wondering why I'm suddenly talking about mindset and confidence. Yes, I'm a travel blogger and content creator, but I believe that the right mindset is the foundation for creating or doing anything successfully in life. My mindset was what held me back for over four years in this business.
It's one of the big differences between the people who make it and the people who give it a go but then give up. Whether you want to start your own online business or go on your first solo trip. I made the conscient decision to focus on my strengths to pursue my travel passion and create a life I love.
With this series of posts I'm now writing on mindset, I want to help and inspire you to do the same.
Always remember: Insecurity kills more dreams than failure ever will!
1. Highlight your positives
Regardless of your challenge with self-confidence, I bet you can find at least one thing you like about yourself. We all have strengths. What are people asking for your advice about? Take the time to make note of those things, big or small. Highlighting your greatness, every day, is a wonderful way to help boost confidence!
Your positives could be physical things, skills or character traits you possess. Whatever they are, highlight them. Embrace them and remind yourself that you're a capable and beautiful person!
Set aside time each day to celebrate yourself. Treat yourself to something nice just because you're happy with the person you are. Maybe it's taking the time to sit down with a cup of tea and your favorite magazine or
Take note when others compliment you. You're probably inclined to brush the compliment aside. But take it for face value. It means that others are seeing positive qualities that you might be overlooking!
Remember that if you fight for your limitations, you get to keep them. Instead of constantly talking about and focusing on what you can't do, tell yourself all the things you're good at. And do it every day.
Must read >> How I manifested my dream job by mistake!
2. Turn challenges into a celebration
Use your strengths to help turn challenges around. You can lean on your existing skillset to reinforce during difficult times. Self-confidence grows when we achieve something important to us. However, we often fail to recognize and celebrate all the great little wins we achieve every day.
For example, let's say you need to make a presentation to an audience. You're a nervous wreck because you feel inadequate. Why not lean on your sense of humor to break the ice? Or maybe you're a great designer, focus on making your presentation slides super impressive. A challenge doesn't have to be hard, see it as an opportunity to showcase your personal strength.
At the end of each day, write down 3 things you've achieved. This simple habit of celebrating achievements is one of the best practices for boosting self-confidence daily.
Fake it! You've probably heard the saying "Fake it until you make it". Now I'm not saying to over-promise on what you can deliver. Never ever do that. But even if you don't feel particularly confident, act as you do. Walk and talk like you are exactly where you want to be in life. You'll be surprised how much more confident you'll feel!
Try to make the things you dread as fun as possible. Trick or retrain your brain to enjoy it.
I used to hate paying my bills and looking at my bank account. Until one day I decided enough is enough and I became obsessed with working on my money blocks. I started listening to my favorite music and rewarded myself with good food every time I had to pay bills. I did a happy dance every time I sent money to someone. I decided to feel happy and proud about the money that flowed through me. It might sound silly, but it works. Now I love being able to pay other people.
"Just believe in yourself. Even if you don't, pretend that you do and, at some point, you will."

Venus Williams
3. Sharpen your strengths & skills
There's always room for you to grow! Growing also involves improving on existing skills and strengths. As you work towards sharpening the strengths you already have, you'll find that your self-confidence increases naturally. If you want to pursue your dreams, continue to learn everything you can about the field or topic that you're interested in. You never know where it might take you.
If it's working with brands, research how to start pitching. If you want to change jobs, learn everything you can about your dream career. Talk to and learn from people who are already where you want to be. The key here is to keep learning while taking aligned action.
Invest in courses. I made a commitment to myself to complete one course every month, this is my favorite so far.
Watch YouTube videos on topics you're interested in. YouTube isn't only for entertainment, there's so much great and free knowledge for you to learn from at any time.
Read or listen to mindset books. My favorites are Get Rich Lucky Bit*h and Secrets of the Millionaire Mind.
If you have a computer or phone with internet, you have access to a world of knowledge. Use it!
Must read >> Best blogging course 2023: the only one I recommend 79 courses later
4. Set goals that utilize your strengths
Take a break from setting goals that require self-confidence. Instead, set goals where you can utilize your strengths. As you experience success regularly, it will bring out a new confidence in you and create momentum.
Setting goals that are "easier" to accomplish isn't cheating your way to self-confidence. Instead, it's a stepping stone toward achieving that goal. It's a way to continually prove to yourself that you're awesome. Once you gain momentum everything will seem so much easier.
You deserve to enjoy the feeling of achieving a goal. It really does a lot for your pride and self-esteem. It helps you believe that tougher goals, though intimidating, are achievable. And that everything you want in life is within your reach.
I'm the slowest writer in history and I set a goal of writing three blog posts a week. I constantly felt like I let myself down when I didn't reach that goal. Sometimes I can barely finish one. So I changed my goal to write one substantial blog post a week and once I did that it felt easy to move up to two.
5. Step out of your comfort zone
Step out of your comfort zone at least once in a while. It doesn't have to be something big. Pick something you think you'll be good at but have yet to try. Remember that you do not get more freedom in life by continuing to do what you're doing now. You only get more of the same.
The definition of insanity is doing the same thing over and over again and expecting a different result. Those wise words are often credited to Albert Einstein and it's exactly what I did for over four years with my blog. Doing the same thing and constantly waiting for things to change. Afraid to put myself out there and talk about the things I truly felt passionate about.
Challenge yourself. Push yourself to feel uncomfortable if that's what it takes to prove your strength. In time, you'll start to feel your confidence building. And soon, there won't be a door you feel intimidated to open.
Next time you feel like shying away from a tough challenge, dive in headfirst. Test yourself to see just how quick on your feet you are. The less time you have to talk yourself out of something the more likely you are to actually just do it.
Take that solo trip you've always dreamed of. Start with a short stay, maybe just in the next town for a night or two. Then work your way up from there.
Are you dreaming of traveling the world and working with brands, but you are too afraid to send your first pitch? Start pitching now. If you haven't already, sign up for the Travel Creator club to download one of my go-to pitch templates and remember to check out my Travel Creator Toolkit.
If you want to start an online business or blog but are afraid to put yourself out there, just do it. Take the first few steps today, don't wait another day. Do one small task every day. A week, a month or even a year from now, you're going to wish you had started today!
"The only thing that's keeping you from getting what you want is the story you keep telling yourself."

Tony Robbins
6. Take care of yourself
People often fail to realize the importance of taking care of themselves. Often they put it off and think that when I lose a few kilos I'll do it, when I earn more money I'll do it or when I have more time, then I'll definitely start taking care of myself.
But it is quite simple really, when you feel good you do good. When you are happy you will attract the things you dream about. Start now, not tomorrow.
Start the day right with a positive morning routine. It could be as simple as a short walk or making your bed so whatever you do or don't do that day, at least you accomplished something. Try different things to see what puts you in the best possible mood for the day ahead.
Take care of your health and appearance. Not because of what others think, but when you know you look great and feel good about yourself, you will automatically feel more confident.
It's okay to relax, you don't have to keep going all the time. You won't get a gold star on your tombstone even if you run yourself into the ground.
Practice positive self-talk (affirmations) and try to nip negative thoughts in the bud. I know, it's a challenge but definitely doable. It can feel a bit weird to talk to yourself at first, but I promise it's worth it. The more you practice the easier it gets. These days I'm waking up with my affirmations already in my mind.
Make time for the things that make you happy. I strongly believe that if more people do things that make them happy, the world would be a better place. I try to set aside an hour or two in the evening every day to solely focus on one of my hobbies. Some days I make a recipe I've been thinking about for a while, and some days I browse travel blogs and Instagram planning my dream trips.
Surround yourself with things you love. I love crystals, green plants, travel photos, patterns and colors. When I get up in the morning and walk around my house I can't help but smile because I'm surrounded by all my favorite things.
7. Be kind and accept kindness
Kindness does not equal weakness. You can be strong, confident and kind all at the same time!
Give genuine compliments to others and truly accept compliments given to you.
Smile and look people in the eye. Sometimes I force myself to smile and it automatically makes me feel better. A simple smile can also brighten up the day of people around you. A win-win!
Try to do one act of kindness every day. It doesn't always have to be something big. Hold the door open for the person coming behind you, leave a genuinely nice comment on someone's blog or Instagram or check in on a friend you haven't talked to in a while. Just think how much the world could change if everyone focused on doing one act of kindness every day.
Express gratitude: Take some time every day to think about what you're grateful for. Even if it's only for a few minutes, sit down, take some deep breaths and think about everything you already have in your life. Or even better, write it down. No matter how low you might feel at times, there's always something to be grateful for.
You might also like: How to create a media kit as a travel blogger/content creator
8. Done is better than perfect
We're so convinced that everything has to be perfect the first time we do something when it truly doesn't. What is even perfection? When you're just getting started, there's no need to put too much pressure on yourself. Instead, take one little step that will move you closer to your goal. Done is always better than perfect.
Perfectionism is the enemy of action and procrastination is a mask we put on to protect ourselves from the unknown. Ask yourself; Is this fear a valid enough reason to not go after my dreams?
Have you always had one thing that you really wanted to do but haven't because you don't think you're good enough? Set a short deadline for yourself and get it done.
Publish that Instagram post, start your blog, schedule that doctor's appointment and make that call.
Even if you can afford to redo the kitchen right now, fix that broken drawer or tighten that loose handle. Once you gain momentum in upgrading your life, you'll be surprised by how fast things are going to change.
Remember that taking imperfect action is better than taking no action at all. As long as you give it your all and do the best that you can at that moment, you will succeed!
---
As you work towards developing self-confidence, remember that you are your only hindrance. There isn't an external factor that can prevent you from becoming the person you want to be.
I hope this post has given you some actionable steps to build self-confidence and pursue your passions in life. I'd love to know what you do to build your confidence. Let me know in the comments below!
---
Remember to save this for later 😉