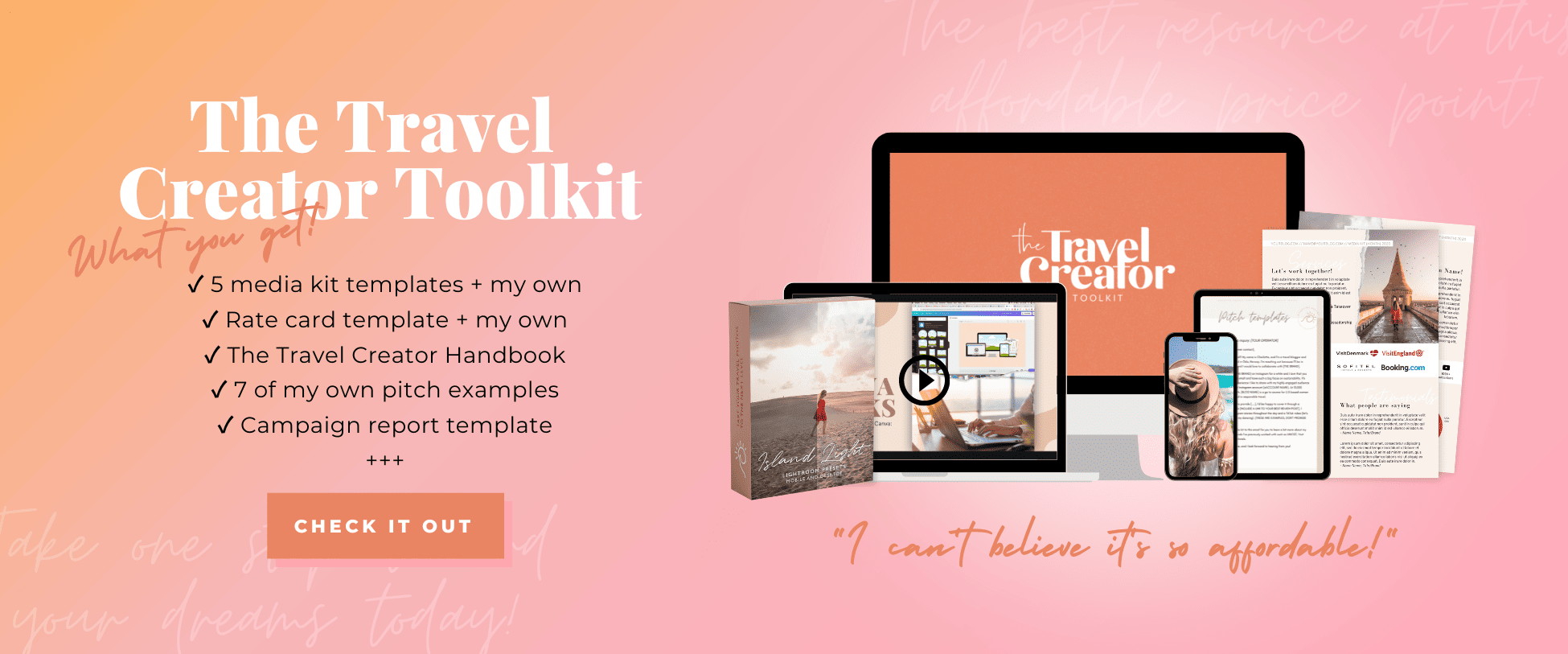 This post may contain affiliate links. I will earn a small commission if you purchase through them, at no extra cost to you.
Are you dreaming of traveling the world while landing paid partnerships with exciting brands and destinations? Then you have come to the right place.
After working as a content creator for 7+ years I decided to compile a lot of what I've learned into this article all about how to pitch hotels and brands as a micro-influencer or new travel blogger.
Over the past decade, the influencer industry has skyrocketed into a multi-billion dollar business with hundreds of thousands of people making content creation their full-time careers. Micro-influencers are becoming increasingly popular as brands see the value in working with them for many reasons.
I actually manifested a paid partnership with my dream tourism board, however, you can't just sit back and wait for people to come to you, at least not in the beginning. So let's get you ready to send out that first pitch today!
🌟 Be sure to check out my Travel Creator Toolkit to get your hands on all the templates and pitches I've used over the last 7 years as a content creator. You even get my own media kit and rate card to use as a reference!
What is a Micro-influencer?
An influencer is someone who has the power to affect the consuming decisions of their followers on social media. They partner with brands and create unique content that will help these businesses achieve their marketing goals, while also being of interest to their own social media audiences. This content could be in the form of photography, videography, or writing – all of which are among the most popular forms.
Unlike influencers who are celebrities or have hundreds of thousands of followers, micro-influencers typically have a following of between 1,000 to 100,000 thousand followers and are often easier to relate to. Working with micro-influencers makes so much sense for a brand because they can hit a niche, and their feeds aren't completely saturated with ad content.
Therefore, a brand that hosts yoga retreats around the world is more likely to choose a travel micro-influencer that focuses on yoga, even if she only has 10,000 followers, over a travel influencer with 150,000 followers that posts about all kinds of travel because they are unsure of how many of her followers are actually interested in yoga.
Most people dreaming of becoming a travel content creator stop themselves because they think their value as a micro-influencer is based on their number of followers, but that is not true at all. You can also pitch ideas for content that the brand will post on its own social media, UGC is huge these days. If you can create beautiful or unique content that people will engage with, you have something to bring to the table!
>> Must read: The course that helped me turn my travel blog into a business
How to Choose the Right Brands to Work With?
When researching brands to pitch, you need to make sure their target audience/customer and values align with your audience. Think of it as matchmaking – you want to find the perfect brand match that won't be able to resist working with you. Your aesthetic, voice, and audience should match theirs, making a partnership a no-brainer.
Write down a list of brands and destinations you feel would be a good match, then do a bit of research on them. Take note of any campaigns or new product launches happening within the brand, as this could be useful information to add to your pitch and shows that you are up to date with recent events.
It's also a good idea to take a look at your fellow creators to see what brands they have worked with, as you will know immediately that the brand has a history of participating in paid partnerships with micro-influencers.
Know your niche & audience
Ultimately, the brand you pitch to should revolve around something you have a passion for and already post content about. If you post about budget travel, don't go pitching a five-star resort that none of your followers can afford to stay at.
Being aware of who your audience is, what kind of content they like, and how they prefer to engage, will be helpful when you choose which brands to pitch. This can reflect how you have your social media accounts set up. When someone first visits your Instagram, within seconds they should have a good understanding of your niche.
Also, I recommend reaching out to brands you are already familiar with. This is not completely necessary, but it does increase the likelihood of you scoring a collaboration, as brands will appreciate that you are already familiar with their content and perhaps even a consumer of their products or services.
Think from the Brand's Perspective
Always make sure to think in terms of value when deciding which brands to pitch. Ask yourself the question, "How can I offer value to this brand". Your answer will not only help you with your pitch but will also give you a better understanding of your strengths, and how to position yourself as a micro-influencer.
From a business perspective, the brand you collaborate with must benefit from your content and therefore see a return on investment (ROI). This means that the company ends up selling more products/services because of your collaboration, gains new followers, receives more visibility on their accounts or gets new content they can post on their own social media.
🌟 Brand pitch example: Sign up for the Travel Creator Club at the bottom of this page and receive one of the pitches I've had most success with for free.
How to Write the Pitch
No matter if you consider yourself a professional wordsmith or a novice writer – you can write a great pitch! However, there are a few things you should think about.
First, you need to make the pitch about the brand and not about you. How will you help them reach their goals? What are some unique and creative ways you will go about doing this? How can your skills benefit the brand?
Start with a short introduction and why you can be of any use to them. Include your best numbers or something you have achieved, this can also be a high engagement rate or the rate at which your account is growing.
Be honest, but never openly doubt yourself even if this is your first collaboration. Throw in a little flattery, not in a fan or overdone way but to show them that you have done your research and know what the brand stands for and has coming up. Keep it short and remember to proofread.
Also, creating a media kit and a creative portfolio(case study) of past work is important to showcase previous brands you have worked with and your content. This is valuable for a brand to see, so they know you are reputable and that by working with you, they will see ROI.
Do the work for the brand
The clearer you are about your ideas for a partnership, the more likely you are to receive a yes. By doing all the work for the brand, you will show that you are eager and committed to working with them. Including a few sentences about how they will benefit from a collaboration will also demonstrate that you have put a lot of thought into a potential partnership.
Research the brands before every pitch to see what they have going on. Any new products or experiences? What are they currently promoting themselves? Tailor your pitch and ideas around what you find.
Also, make sure to be specific about what you are going to provide them so there is no chance of miscommunication. Specifics like how many photos or videos you will provide when the posts will go live, which hashtags and tags to use etc. The deliverables are most likely agreed upon in later negotiation emails, but if you have a clear idea of what you want to create, include it in the pitch.
Pitch subject lines
Think of your email's subject line as your chance to grab their attention. Your subject title should ideally be:
Personalized: Include their business name – "Media feature opportunity for (Brand Name)".
Time-sensitive: Adding a time frame can trigger urgency – "October media feature opportunity for (Brand Name)".
Reference: A good idea can also be to reference something the brand is currently doing, a campaign or new release. "Exciting promotional ideas for (Product Name)".
As with everything I teach, it's important you find your own style and add your own flair. You'll most likely send a lot of pitches in the beginning so try out different subject lines to see which one will get you the best results.
Brand pitch example
You can sign up for the Travel Creator Club at the bottom of this page and you'll get one of my pitch templates and favorite Lightroom presets for free.
You can also get all my media kit and pitch templates in the Travel Creator Toolkit!
How to reach out to brands
When the time comes to reach out to the brand, it can be a little scary! However, there's no need to worry and with time, pitching brands becomes second nature. The first thing you need to do is find the right contacts to send your pitch to. This likely means you will have to do some investigating using platforms such as LinkedIn and Instagram.
Some people are going to say not to use the email in the Instagram bio (often info@brandname.com) because you won't get a response. I have personally had success doing this. However, I like to DM the brand first as this makes it easy for them to view my accounts and get a feel for my content. And remember, first impressions are everything.
Don't pitch in the DMs, just say something like:
"Hey there, I love your (product name) and wanted to discuss a few collaboration ideas I have. What is the best email to reach you at?"
It's short and sweet and almost always gets a response. Then once you receive an email, send along your pitch, media kit and case study.
Also, make sure you are following the brand on social media! It will look strange and inauthentic if the brand sees you aren't already following them prior to inquiring about a collaboration. I mostly pitch brands I already follow and love, but at least try to follow the brand a week or two before you pitch.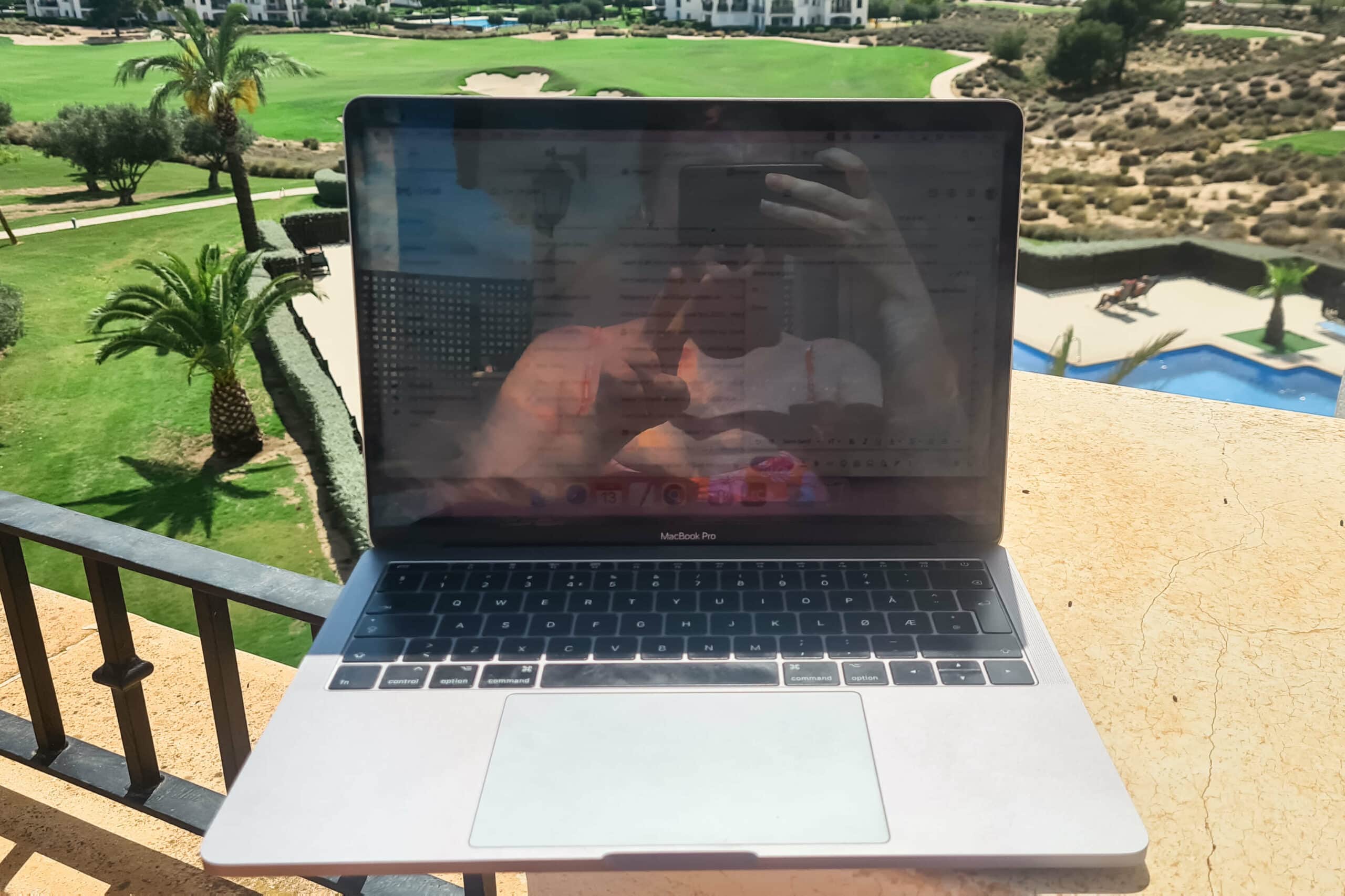 How much to charge
A big question many micro-influencers find themselves asking is, should I be getting paid? While yes, you absolutely should be getting paid, everyone must start somewhere. It can be easy to sell yourself short of what you deserve when first starting as a micro-influencer, but don't fall victim to this mindset!
Paid or unpaid?
Realistically, you may have to do a few gifted collaborations when starting out. This doesn't mean you won't receive any compensation at all, but it may not be in the form of money.
However, receiving free products, discounts, or even just the opportunity to be featured on a brand's account (hello visibility!) isn't a bad trade-off in the very beginning. Especially if it's a brand that you love and truly offers value to your audience. This will allow you to build your case study which in the future can be used for leverage during negotiations and will show brands what you can do and why you should be paid.
When I started, I think I did three gifted collaborations before I felt I was ready to ask for payment. However, I would never agree to a $10 pair of socks in exchange for two Instagram feed posts or anything ridiculous. Make sure the gifted item is something you actually will use and of some monetary value.
After that, I started charging the standard $100 per 10,000 followers. And when I gained even more confidence I began to ask the brand for their budget which was actually often higher than what I would charge. If you need some help in this area, my own rate card and a rate card template are included in my popular Travel Creator Toolkit.
Showcasing the work you have done for reputable brands within your media kit or separate case study will be an incentive for brands to want to work with you, which means you can start to increase your rates as you gain more experience.
Don't Be Afraid to Say No
Collaborations are a lot of work and can be very time-consuming, so make sure that what you get in return is worth your efforts! And remember, don't accept ridiculous demands from a brand like paying for shipping. If you find yourself being taken advantage of, simply walk away and move on to the next one- there will be plenty once you get the hang of pitching.
The exchange of money can be a bit intimidating at first, however, you should never be afraid to ask for what you're worth. And you're often worth more than what you might think. You are doing work for the brand that they previously needed to hire expensive photographers and models to do.
I explain it all in the Travel Creator Toolkit where you'll also get my rate card and my pricing packages template.
Want to make money online?
Create more freedom in your life by working online. Earning passive income while you sleep or are out having fun is the best feeling and I want you to experience it too. Here are my best resources for getting started as a travel content creator and blogger:
---
Remember to pin for later 😉