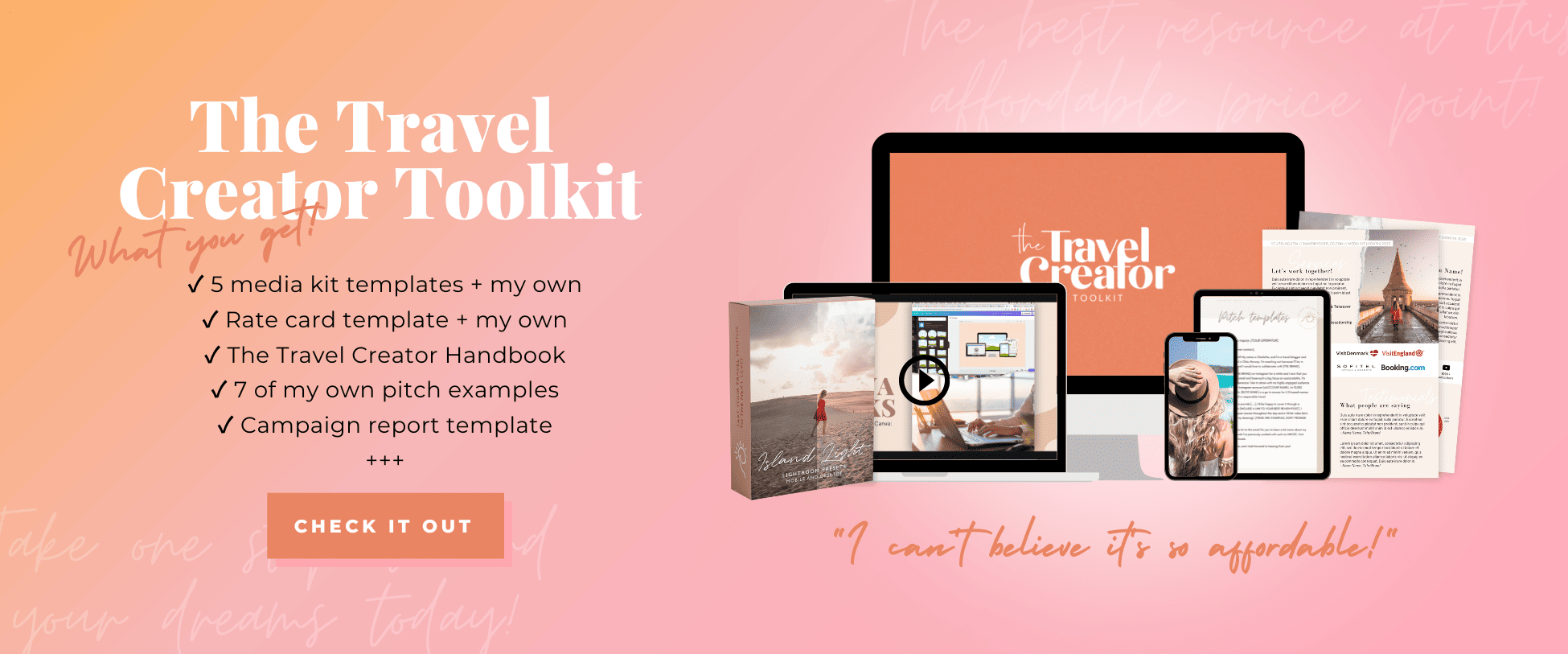 This post contains affiliate links. I will earn a small commission if you purchase through them, at no extra cost to you.
Are you looking for the best beaches on Nusa Lembongan? I always say that Lembongan is like a vacation from your Bali vacation. And it really is!
Nusa Lembongan, one of my absolute favorite places to visit in Indonesia, rests just a 30-minute boat ride off the coast of Sanur. Many visiting Bali lately have been taken aback by how crowded the Bali beaches are, like everywhere on the island. So why not cross the Badung Strait for an escape to a true tranquil paradise?
While Nusa Lembongan is plenty quiet, there is also an array of activities to partake in like surfing, yoga, snorkeling and enjoying sunset cocktails in one of the charming beach bars. Because at the end of the day, it is all about the beaches here.
After coming to the island for 14 years now, and even living in Bali and Lombok, I thought it was about time I did a guide to the best beaches on Nusa Lembongan.
🌟 Remember to book your fast boat from Bali to Nusa Lembongan in advance. It includes pick up from many places in Bali and drop off on Nusa Lembongan. Read more about this and how to get around on the island further down.
Nusa Lembongan Beach Map
1. Jungut Batu Beach
Jungut Batu is my favorite place to stay on Nusa Lembongan, where you find everything you can possibly need, from upscale beach clubs to local warungs. It's one of two typical landing points for visitors from Bali. However, it still feels more laid back than the more touristy places like Mushroom Bay.
Feast your eyes on turquoise water with local boats peppering the shore and restaurants right on the beach. Visit a warung nestled along the beach for a cocktail and get ready to take in some of the best sunsets you have ever seen!
Kayaking, paddle boarding, and snorkeling are popular water sports enjoyed all along the beach. Jungut Batu is also the hub of surfing on Nusa Lembongan, with four surf breaks and plenty of independent locals and surf schools that offer lessons. Jungut Batu Beach is known by many as the place that "is what Bali used to be like." And I couldn't agree more, it feels like the good old days in Bali.
Where to stay
Recently I've been loving Lembongan summer where you get your own villa/room with a private plunge pool for an incredibly affordable price.
For the yogis, I recommend Isla Indah Retreat which runs daily yoga classes at different levels and boasts beautiful bohemian rooms. They also have a great restaurant called Pisang Pisang that you should visit even if you're not staying there.
🌟 You can book their popular surf and yoga retreat here. I couldn't recommend it enough, it's so much fun and a great way to meet other like-minded people.
---
2. Mahagiri Beach (Pasir Putih)
Just north of Jungut Batu, technically along the same stretch of sand, lies Pantai Pasir Putih also known as Mahagiri Beach. This sandy stretch is far less busy than Jungut Batu and is perfect for a relaxing day in the sun being waited on by the lovely beach club staff.
The lack of boats moored to the shore allows more freedom to swim and explore the clear waters. However, you may want to pack water shoes, as the coral and pervasive shells can be sharp.
If you love curling up on a towel with a book while listening to the soft sounds of a quiet beach, Pantai Pasir Putih is a fantastic spot to visit.
Where to stay
These days Mahagiri Beach is maintained by the beautiful Mahagiri Resort Nusa Lembongan. While I usually prefer a simple bungalow on the beach, I have to admit that this is one of the nicest places to stay on the island. They've done an incredible job by developing the area with a sea of palm trees and an indoor-outdoor feel throughout.
---
3. Mangrove Beach
The wildlife and nature-lover will be easily drawn to Mangrove Beach and the adjacent mangrove forest area.
Go for a boat ride through the Mangroves in the morning and find yourself a beach warung where you can enjoy the rest of the day with good food and drinks. A personal favorite is the Agung Beach Club where it feels like you are away from every single stress on the planet.
For those who want to get out and do, Mangrove Beach is a great launch point for kayak tours of the mangrove forests, snorkeling dives at the nearby marine nursery, and boat tours for a relaxed view of the beauty of the mangroves.
The fish and coral in this area are worth the trip to the northern tip of Nusa Lembongan. Just keep in mind the tide, up here in the north low tide is very noticeable and makes it hard to go for a swim.
Where to stay
If you're on a budget, the best place to stay close to the Mangrove Forest and beaches is Nusa Indah Onai Hotel. With bright and spacious rooms, a pool and breakfast included, the value is insane.
If you feel like splurging a little bit you have to check out the stunning Lembo Lagoon Bungalows where you lay in bed and feel like you're in the ocean.
---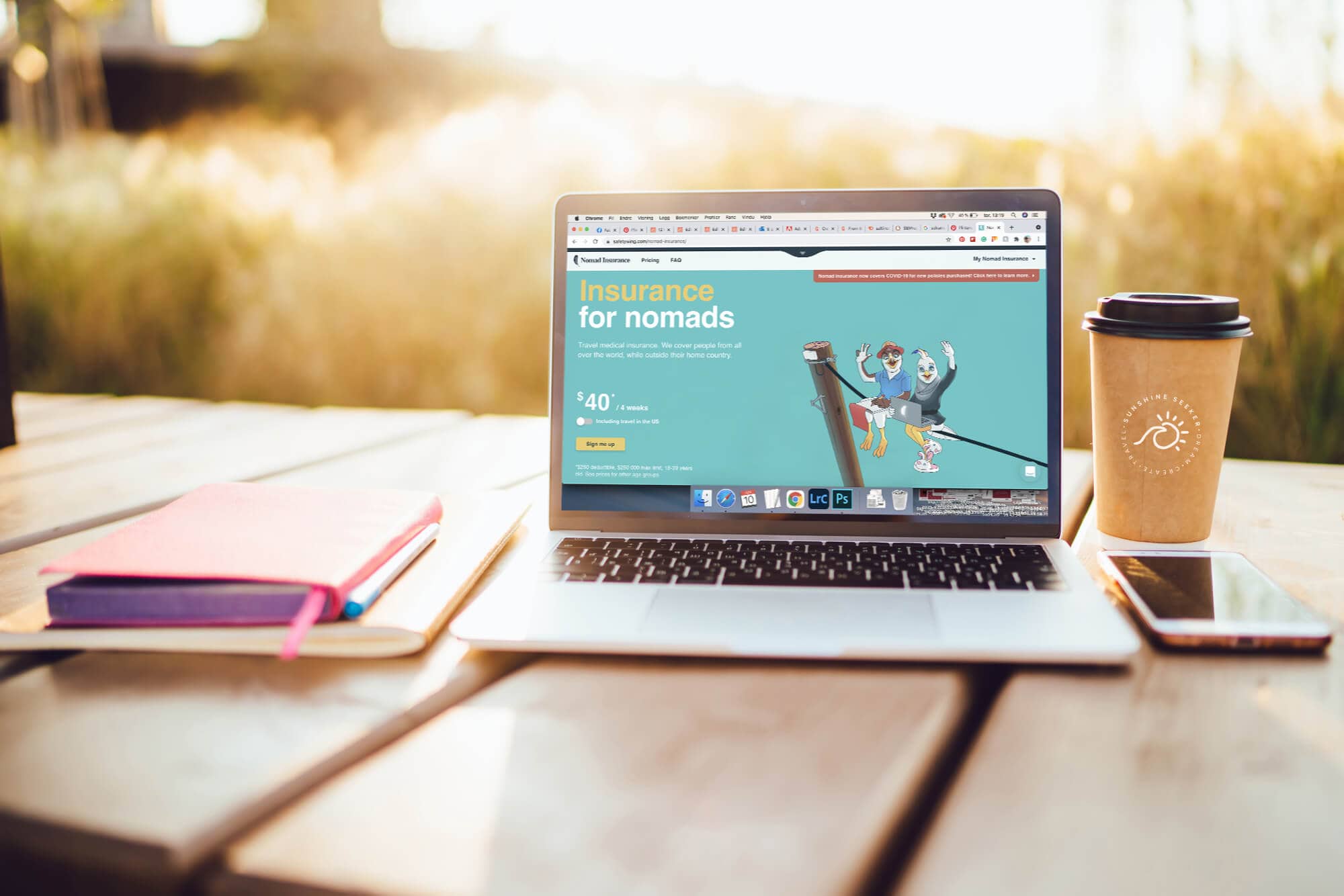 ✅ DON'T FORGET TRAVEL INSURANCE!
SafetyWing is an affordable subscription travel insurance that you can purchase even after departure, and pause when you're home.
---
4. Song Lambung Beach (Coconut Beach)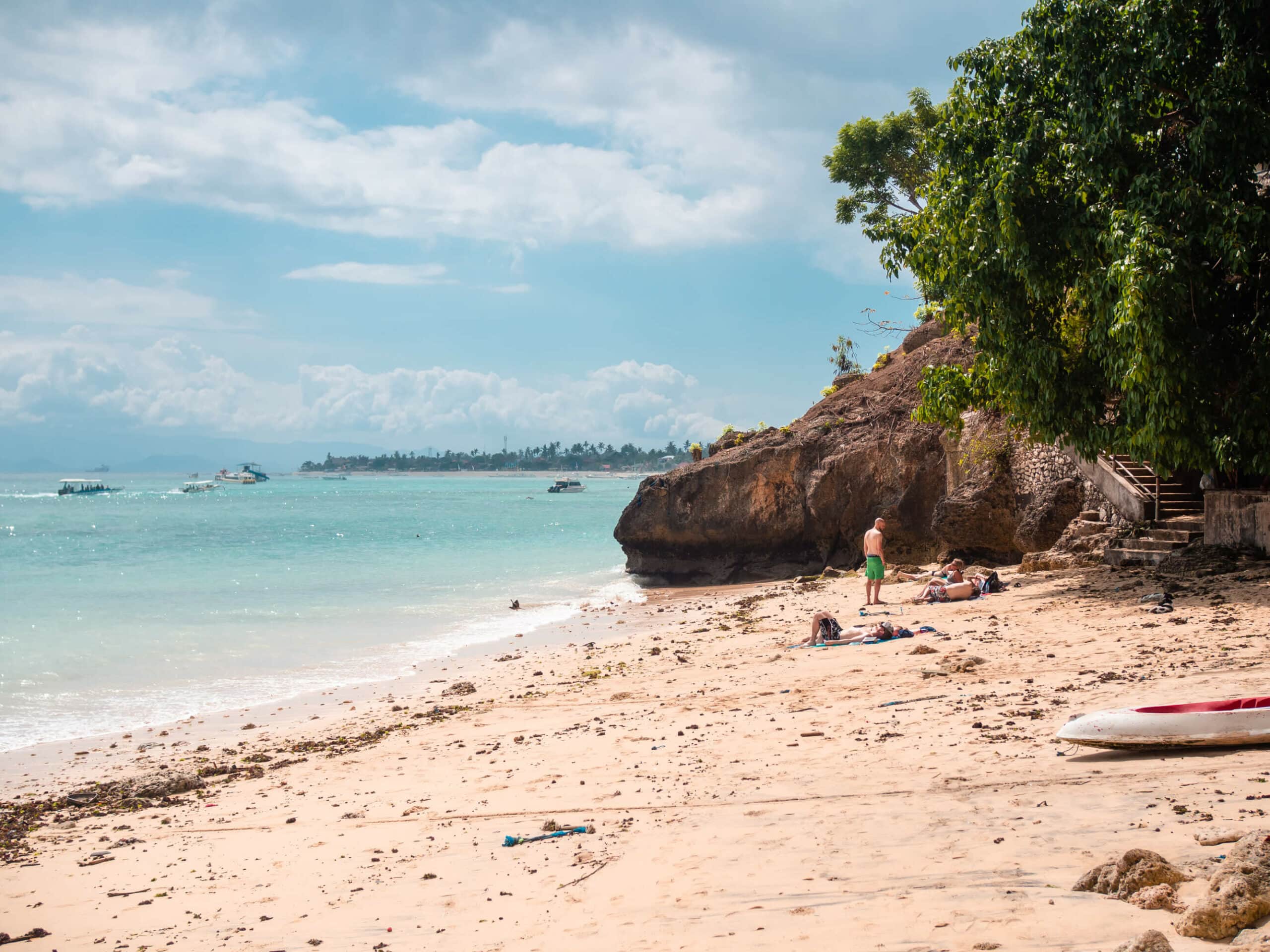 Head south on the boardwalk from Jungut Batu and you will arrive at Song Lambung Beach, also called Coconut Beach by many because of Coconut Beach Resort that's now sadly closed.
Visit Nilas Warung, nestled to one corner of the beach, for a cold Bintang and an indescribably beautiful view. The beach itself is quiet, as not many people know about it and keep to Jungut Batu. The calm waters are ideal for stand-up paddleboards, which you can rent right on the beach.
Where to stay
These days Song Lambung Beach Huts is the best place to stay, right next to the beach. You can rent surfboards, standup paddle boards, canoes and snorkeling gear from the hotel for a very good price.
It's perfect for surfers as you can literally walk out of your villa, down some stairs and paddle out to Playgrounds, one of four popular breaks on the island.
---
5. Sandy Bay Beach (Sunset Beach)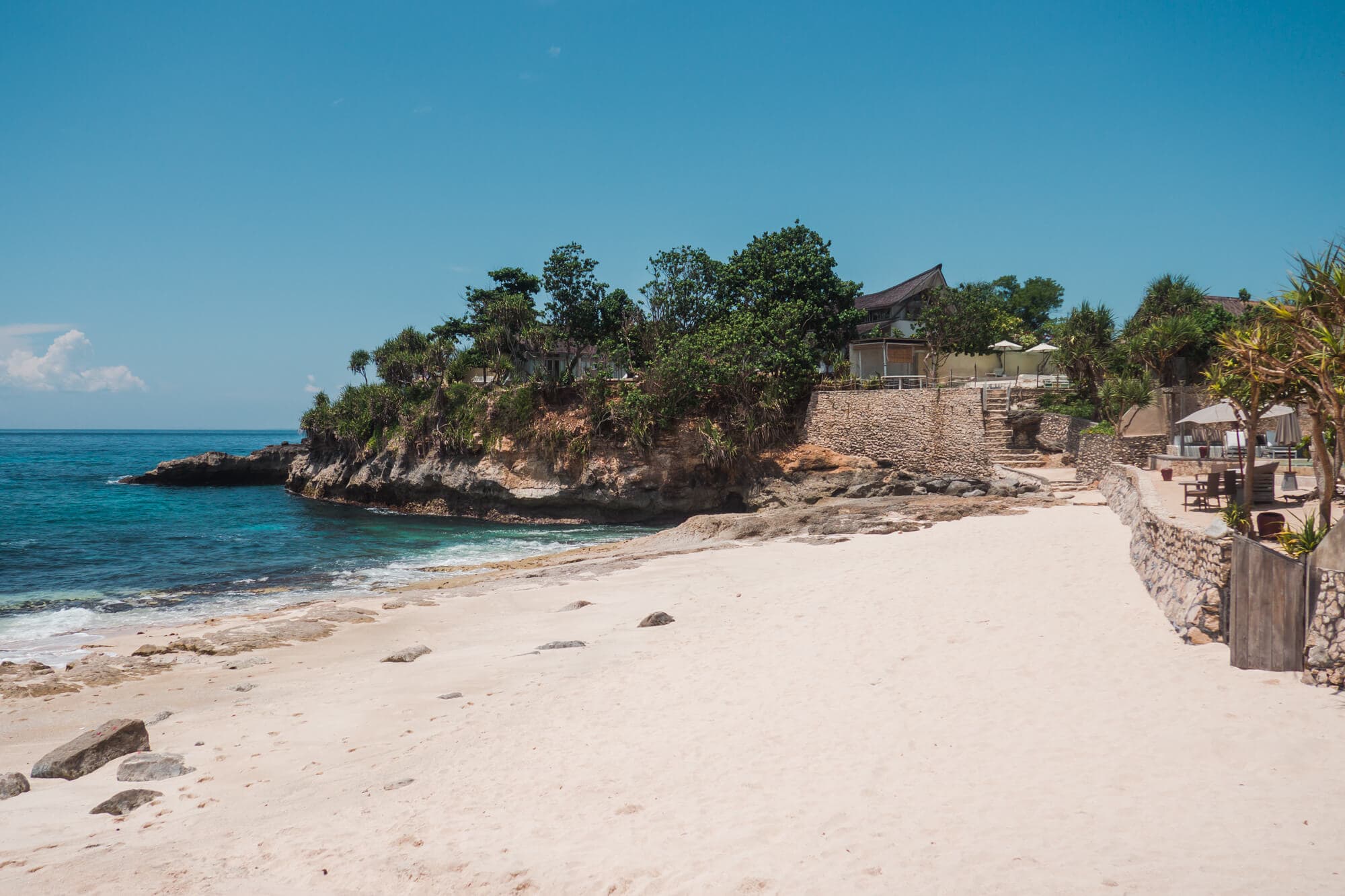 Sandy Bay Beach, also called Sunset Beach, lives up to its nickname. Relax on the shore and watch the sun drop or enjoy the pool at the Sandy Bay Beach Club. In fact, I would recommend doing both!
The beach is more of a tanning and relaxation spot as the water here can be very rough and the waves overpowering at times. Just around the corner from this beach is Devil's Tear, a scenic overlook where waves crash into the high cliff walls, shooting spray high into the air.
Where to stay
In this area, there's in my opinion no better place to stay than Mamamia Island Villa. This resort feels so much more luxurious than the price tag lets on. The big and beautifully outfitted freestanding rooms boast a large comfortable bed, an indoor-outdoor bathroom and a private veranda.
---
6. Dream Beach
If you're looking for the most Instagrammable beach, you should certainly put Dream Beach on top of your list. Its beauty is unmatched.
The only downside to Dream Beach is that the secret is certainly out. Tourists abound during the day but there are accommodations literally on the beach here, making it possible to get out early and stay up late. It can also be a bit risky to go swimming here due to the big waves and strong currents.
Low tide offers an opportunity to explore hidden beaches in the adjacent cave, while the cliffs towering above the beach provide areas to explore and even dive from.
Where to stay
Dream Beach Huts is one of the most popular hotels on the island and for good reason. With a pool protruding above Dream Beach overlooking the ocean and freestanding bungalows right on the sand, it doesn't get much better!
🌟 If you don't have a lot of time, consider taking a day trip from Bali to Nusa Lembongan and Penida. This tour covers highlights such as Kelingking Beach, Angel's Billabong, Devil's Tear, Yellow Bridge and Dream Beach. These islands are my favorite and a must on any Bali itinerary.
---
7. Mushroom Bay Beach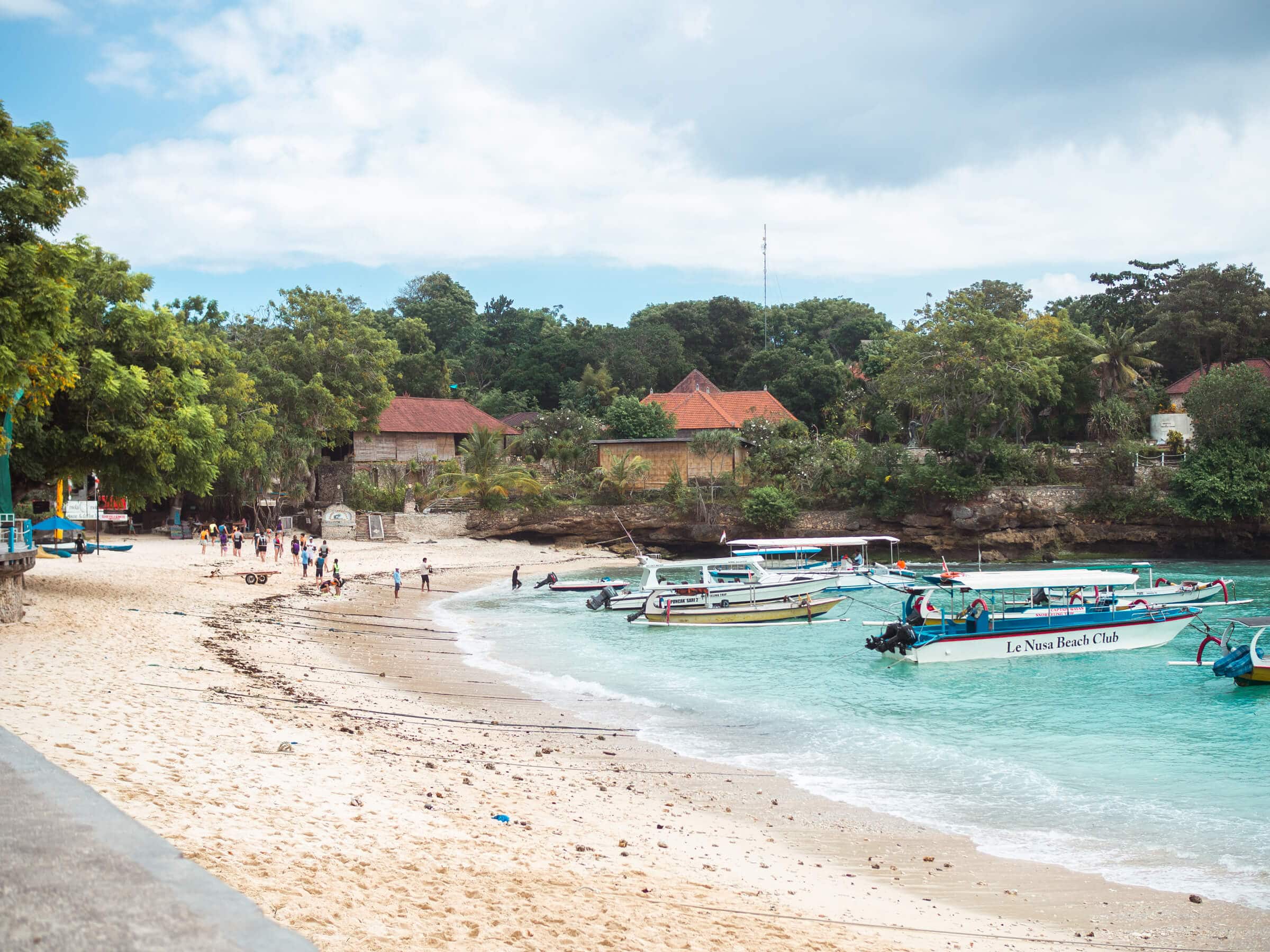 Mushroom Bay is a popular landing spot for visitors coming from Bali. The beach combines with a port area to create a mecca of activity. While not for the "quiet seeker" in the group, Mushroom Bay offers so much in the way of food, drink, and activity.
This area is a reasonable alternative for the similarly bustling (by island standards) Jungut Batu. There are plenty of quaint, quiet places to stay within a short walk of Mushroom Bay Beach.
Mushroom Bay Beach presents rental opportunities for virtually anything you would like to do including water sports or motorbikes for a short island tour. Mt Agung can be seen in the distance, providing a beautiful backdrop to the incoming boats dropping or picking up visitors from Bali.
The beach and water are beautiful but be prepared for lots of boats, tourists, and bustle during the morning and afternoon rush.
Where to stay
To be honest, the Mushroom Bay area is not my favorite place to stay on Lembongan. I have, however, spent a few nights at this place on the quieter north side of the bay, right next to Hidden Beach, and loved it.
---
8. Hidden/Secret Beach
What's in a name? When it comes to Hidden Beach – everything. This small cove near Mushroom Bay offers secluded, tranquil beach enjoyment and beautiful views from the cliff that separates it from Mushroom Bay.
There is a small hole under the rock as a shortcut to go to this beach, but be careful on high tide. You can also reach it from the top, there's a path next to the restaurant.
Hidden Beach is a true gem on Nusa Lembongan and is a must-visit on your journey around the island. You will truly feel like you have rented a deserted island for yourself. The water is as clear as you will ever see and the "hidden" nature of the beach means no vendors selling their wares. The only downside is that there's often a lot of trash along the treeline in the past.
---
9. Tamarind Bay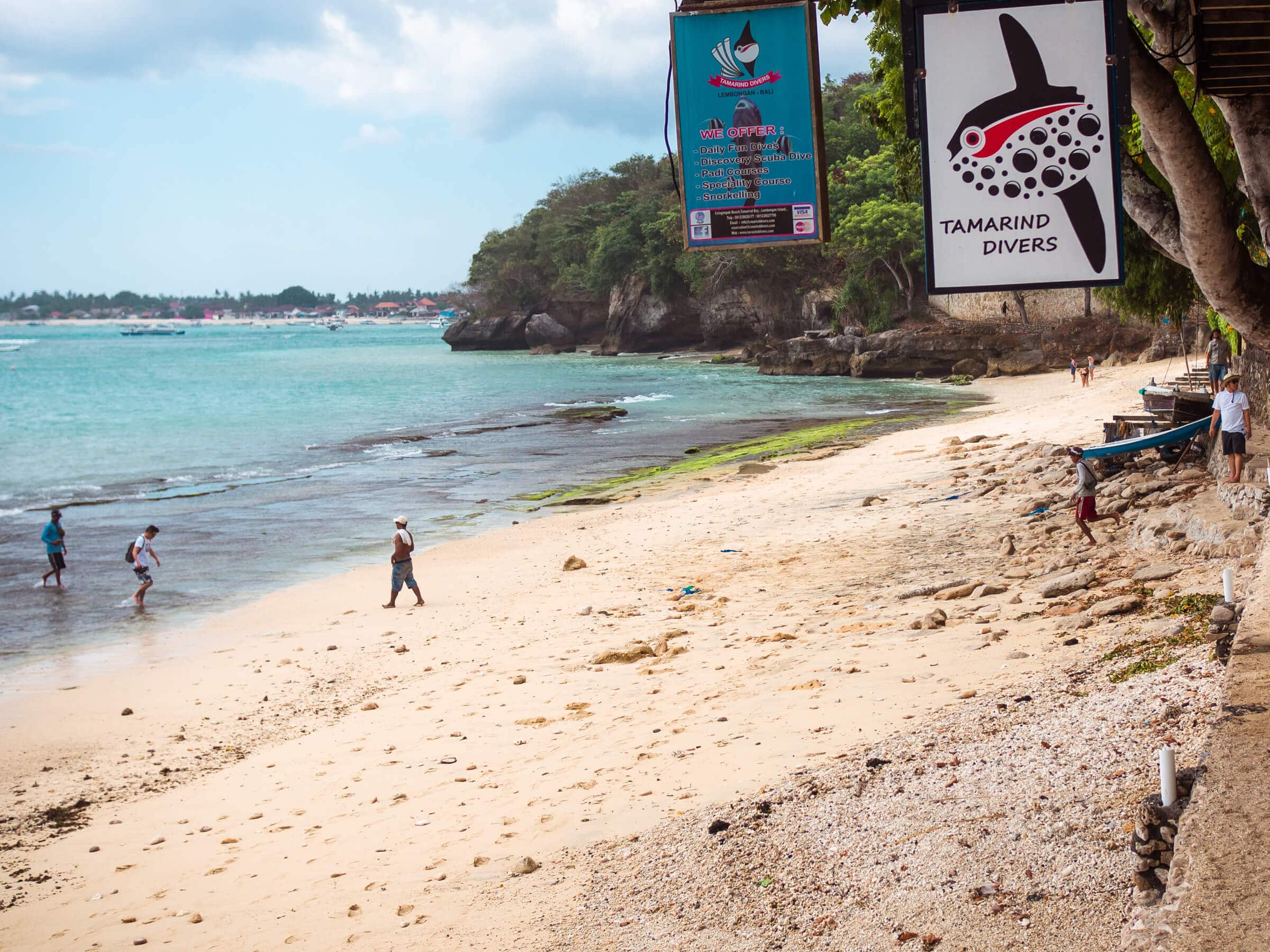 Formerly a private beach owned by a resort, Tamarind Bay Beach is now open to the public. While the bay is indeed small, its private, quiet atmosphere is worth the trip. There is a lot of reef in the water so it's not the best spot for swimming.
Snorkeling, however in the Tamarind Bay Beach area is highly sought after. Enjoy a post-swim cocktail and snack at one of the quaint nearby warungs like Warung Babi Guling.
Where to stay
This isn't necessarily the first place I recommend staying, though it can be nice if you're looking for somewhere calm and relaxing. Especially on clear days when you get an impressive view of Mount Agung in Bali. In this place, you can enjoy the view from a sun lounger or the pool.
How to get to Nusa Lembongan
You can easily explore the highlights on Nusa Lembongan in one day, however, if you have the time, I highly recommend you stay for at least two nights.
The fast boat ride from Sanur in Bali to Nusa Lembongan only takes 30-45 minutes and is super affordable for what you get. You can book your tickets in advance here.
Hotel pick-up and drop-off in certain areas in Bali (Kuta, Seminyak, Legian, Nusa Dua, Jimbaran, Ubud Center, Denpasar, Sanur) and on Nusa Lembongan are included in your return ticket. So all you have to do is be packed and ready to go in front of your hotel at the agreed-upon time.
🛥️ Check price and availability here >> Fast boat from Bali to Nusa Lembongan
Nusa Lembongan Instagram tour
Limited on time? Get to see all the highlights on Lembongan in one day as part of this highly-rated all-inclusive tour departing from Bali.
A private driver will take you to Sanur, from there you take a fast boat (only 30 minutes), and when you arrive your driver will wait for you. The two most beautiful beaches on Nusa Lembongan, Dream Beach and Mahagiri Beach, are both included in the tour, in addition to the Devil's Tear, the Mangrove Forest, the Yellow Bridge and a nice lunch.
Spend the day exploring one of my favorite islands in Indonesia without having to worry about a thing. Everything is taken care of for you!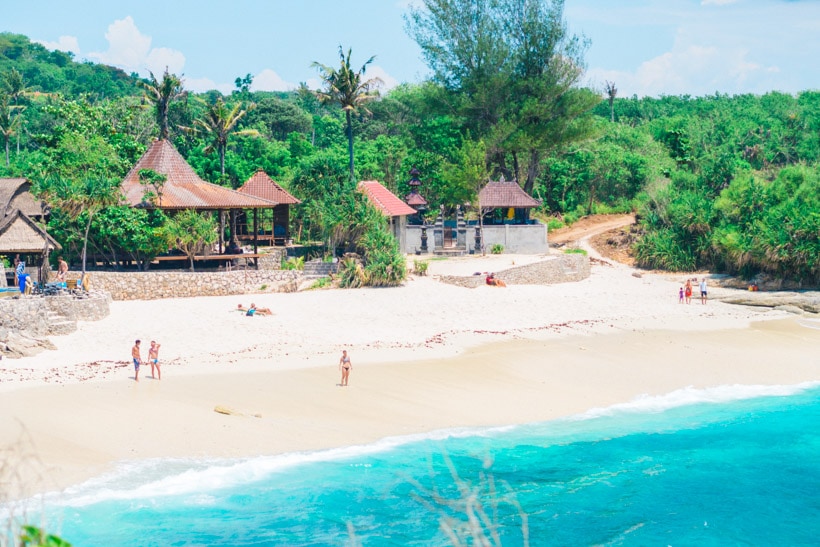 🌟🌟🌟🌟🌟
"Great day!! A must do when in Bali ❤️"
How to get around
Nusa Lembongan is a relatively small island, however, it is too big to walk everywhere. Especially if you're only there for a few days. The main mode of transportation is scooter (or motorbike as the locals call them) and traffic is very chilled compared to Bali. Driving around and exploring on your own is the best feeling.
Scooter rental is usually 75.000 IDR a day, just ask your accommodation to arrange it for you when you get there. You can also rent buggies if you're traveling with your family. Read more in my Nusa Lembongan transportation guide.
More Nusa Lembongan travel guides
---
Remember to pin for later 😉