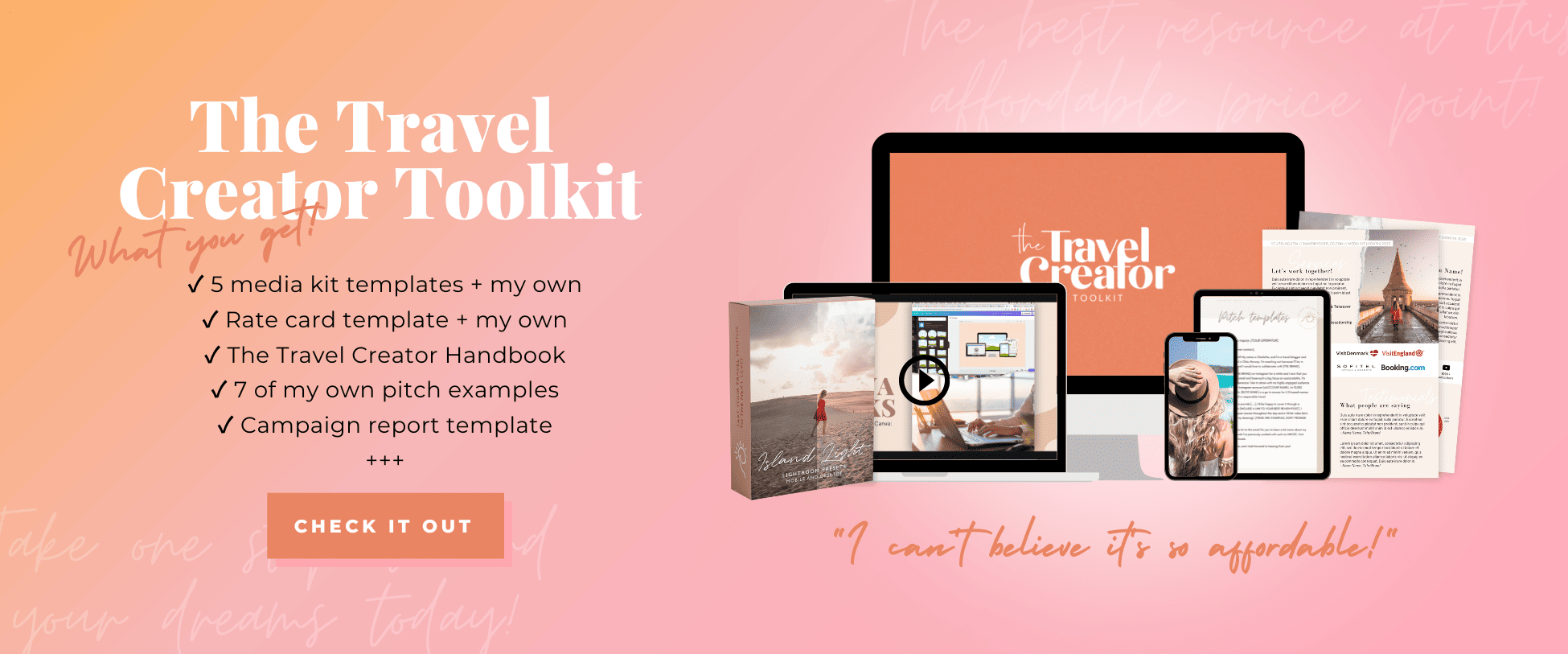 This post contains affiliate links. I will earn a small commission if you purchase through them, at no extra cost to you.
A couple of years ago I hit an income plateau in my business right around the same time as I discovered the world of mindset and the power of thought. So after months of struggle, I made it my mission to learn everything I could about manifestation and use it to grow my income.
And it worked, just not in the way that I thought it would.
Long story short, I manifested what I had always thought to be my dream job by mistake. I asked the universe for a salary of $4000 a month (after taxes). In my mind I wanted it to come from my own business but I forgot to specify, so the universe gave me exactly what I needed at that time.
After 7 years of working for myself, I always had it in the back of my mind that I'd never applied for a job nor been to a job interview. Something I guess my subconscience thought I should experience at least once.
I followed the process below for about three months, thinking the money would come from my own business before I randomly saw a listing for a travel content creator/digital marketer position. I applied, got the job, and lo and behold, my first paycheck was almost exactly $4000.
Let's take a look at how I manifested my dream job!
Do you dream of starting a money-making blog? >> The one resource all new bloggers need
My step-by-step manifestation process
I put together this process after taking several mindset courses, watching YouTube videos and reading books like Get Rich Lucky Bit*h and Secrets of the Millionaire Mind. It's an adaption of everything I've learned over the last two years combined with my own experiences and intuition.
This guide can be used for anything you want to manifest like money, a relationship, your dream house, car, etc.
Overview
Decide exactly what you want
Visualize & affirm
Live like it's already done
Show gratitude
Get rid of something
Take aligned action
Surrender
1. Decide exactly what you want
Dig deep and decide exactly what you want in life, be specific without dictating every little detail. Give the universe the opportunity to surprise you and exceed your expectations. Write down the things that are important to you and leave the rest up to the universe.
A great way to kickstart your manifestation is to write it down as it has already happened, a practice called scripting. This is what I should have written: "As the woman who now earns $10000 every month in my soul-led business, I feel proud, excited and secure. I'm so grateful that I get to pay myself at least $4000 a month with ease and flow."
2. Visualize & affirm
How will you know when your manifestation is here? Is it when you receive your first paycheck or is it when you sign the contract? Where does it happen? Are you alone or with someone? Close your eyes and visualize the moment. Focus on what you feel when it happens. The feeling is always more important than the material things you might be able to buy with your newfound money.
In addition to visualizing the moment several times, I changed my computer password to 4000 and wrote a few post-its that I put around the house so I would be reminded of the manifestation at least a couple of times a day. I wrote: I earn $4000 every month. What I should have written: I pay myself a minimum of $4000 from my own business every month.
I also created a list of affirmations I repeated most days:
I attract money and abundance into my life with ease and flow.
The more fun I have, the more money I make.
I'm comfortable with receiving, keeping and investing large amounts of money.
I love my job and the incredible clients I get to work with on a daily basis.
Unexpected money shows up in my life easily and effortlessly.
And the most important: I'm only available for my expectations to be exceeded. It's always this or something even better.
Must read >> Best blogging course 2023: the only one I recommend 79 courses later
3. Live like it's already done
We humans like to make plans because they make us feel safe and like we're in control. So while we desperately want to manifest our desires, deep down we have an underlying fear that we might not get what we want. And when your underlying energy is fear and worry, you're out of alignment with your manifestation.
On the other hand, when you decide to have faith that you will receive what you want or something better, your energy shifts to love and joy. So as mentioned above you have to focus on the feeling you want to feel. For example, instead of believing that when you manifest your dream job, you will feel happy and secure. Change the narrative to when you feel happy and secure, you will manifest that job.
And now you might think, how can I live like I earn $10.000 or even $4000 a month when I don't have the money yet? Don't go take out a loan or max out your credit cards. It's all about incremental upgrades. When you focus on upgrading your life little by little your energy and vibration will automatically rise.
Incremental upgrades
Ask yourself; what would the version of you who is already earning your dream salary do? How does she act? How does she treat others? How does she treat herself?
Do some of the things in your current life irritate you or lower your energy on a daily basis? Maybe there's a screw that should have been tightened or a door handle that should be fixed?
When I wanted to manifest my dream salary I started by upgrading my underwear. Yes, it sounds silly but it's true. Every day I was annoyed when looking at my old, grey underwear full of holes. So I treated myself to a few new underwear sets that looked and felt much more expensive than they were. It makes me feel so good whenever I wear one of them.
I then painted over a scratch on my white staircase and removed a year-old stain from one of my favorite dresses so I could wear it again. I donated to charity, much less than I would like to, but it's a start. I worked on my mindset, one limiting belief at the time.
Start with one small thing a week, then slowly work your way up to upgrading something every day. As you gain momentum it will become easier and easier to do bigger and bigger upgrades. The more you get the feeling of achievement the more you will want to do.
Don't wait for your manifestation to show up before you make changes, make changes now to make it show up!
4. Show gratitude
To receive more in your life you have to be grateful for what you already have. I made it a habit to write down 1-3 things I am grateful for every morning. In the beginning, I was struggling with even coming up with one thing. I was not happy in my life and focused a lot on the negatives.
However, I truly believe that we all have something to be grateful for, no matter what situation we are in. So the more I wrote things down the easier it became to think of new things. After a couple of weeks, I woke up automatically thinking of the things I'm grateful for every day.
Mindset work and retraining your mind takes practice just like everything else. Don't give up!
5. Get rid of something
All your unfinished projects and old things that you no longer use are holding you back. Start with cleaning out that "catch-all" drawer or something as easy as shaving your legs. Give your old clothes to charity and finish or get rid of that project that has been hanging over you for years.
I used to be too lazy to shave my legs but I always feel so good when I do. So I decided to shave my legs twice a week without exception. I then went on to clean up my creams and lotions. I had 7 half-used hand creams laying around so I made sure to finish them one by one. I then organized all the photos on my mac by destination and year.
I promise you, this is such a powerful step. Releasing all your old crap feels so good. And when you feel good, good things happen.
Mest read >> How I built the confidence to create my dream life: 8 strategies
6. Take aligned action
To speed up any manifestation process I believe that we have to take aligned action. And by that, I mean following our intuition, our gut feeling and nudges from the universe. If something keeps popping into your head or you feel this nudge to do something, do it. There's a reason why you suddenly come up with these thoughts and ideas.
Make sure that you do not take action from fear, meaning that you do the things you should do. Whenever you're manifesting something be sure to do what feels right to you.
The first thing I did was create a LinkedIn account. Not because I thought I needed one but because it felt like the right next step and I felt the nudge. And maybe new clients could find me there. Then I invested in a course creation/email marketing course I had been eyeing for over a year. I completed the course in just two days and after that, I decided to set aside five hours every week just to learn new skills.
Then one day I went on Norway's version of craigslist to look at puppies (because that's what felt aligned for me in the moment haha) and I randomly saw an ad for what I had always considered to be my dream job. A marketing and content creation position in the travel industry. The thought of applying for a "real job" had been on my mind for a while but I never acted on it.
After a couple of weeks, I decided to apply for the job and as you know, I got it. It was exactly what I needed at the time, the job gave me the chance to take a break from my business and reevaluate what I wanted to do next. And as it turns out, a lot of the skills I brushed up on in the course were what I was asked in my interview. And not surprisingly, my boss used LinkedIn to check out all potential candidates.
It's all about showing yourself and the universe that you are willing to do whatever it takes to make your dreams happen. Even if it means looking at cute puppies online.
7. Surrender
Be open to exploring new ways of doing things and all creative possibilities. Don't sweat it if you're thrown a curveball, keep faith that you're exactly where you need to be. Rejection just means redirection, most likely to something even better.
Decide that it's done and believe that your manifestation is already yours. Try not to stress or obsess, trust that whatever you want and need is on its way.
Want to make money online?
Just in case you are manifesting an online income to create a life of more freedom, here are a few of my best resources:
---
Remember to pin this for later 😉