This post may contain affiliate links. I will earn a small commission if you purchase through them, at no extra cost to you.
I've already talked about how much I loved Arugam Bay and the top 10 things to do in town, so now let's take a look at where you should stay and eat. We had 5 days in the bay so we only tested one hotel ourselves, but I tried to sneak a peak wherever I could to get you some great options. When it comes to restaurants, however, I of course tried as many as possible. I have chosen my favorites in terms of price, taste and atmosphere, which you can read about further down.
// Contains affiliate links
The best Arugam Bay hotels

There are so many great accommodation options to choose from in Arugam Bay, which made it hard to settle on one. After a lot of back and forth, we finally decided on Stay Golden. Much thanks to the treehouse look of the cabana and the location right on the beach. The large cabana comes with a double bed, a two-story porch with a hammock, a generously sized ensuite bathroom and pretty good wifi. We paid about $60 a night, which is a bit more than we normally would spend, but we just liked the look of the place so much that we couldn't help ourselves.
Stay golden is definitely picture perfect, but it got pretty hot and humid inside with no AC. So if you're a wandering sauna-like me, you might want to think twice about staying here during the hottest months.
Get $35 off your first stay with Airbnb here!
We stayed in Cabana 9, which I can't find the link to at the moment, but here's the link to cabana 8. As you can see we could literally walk off the porch into the sand. The swimmable part of the beach, however, is about a five-minute walk south. If you get hungry just order from the great selection of the onsite restaurant or walk across the road To Food Nest (more on that further down).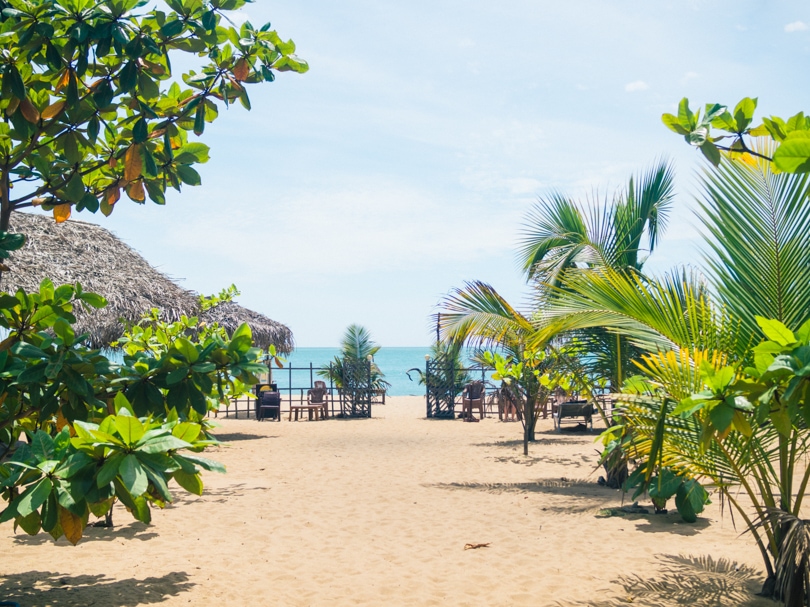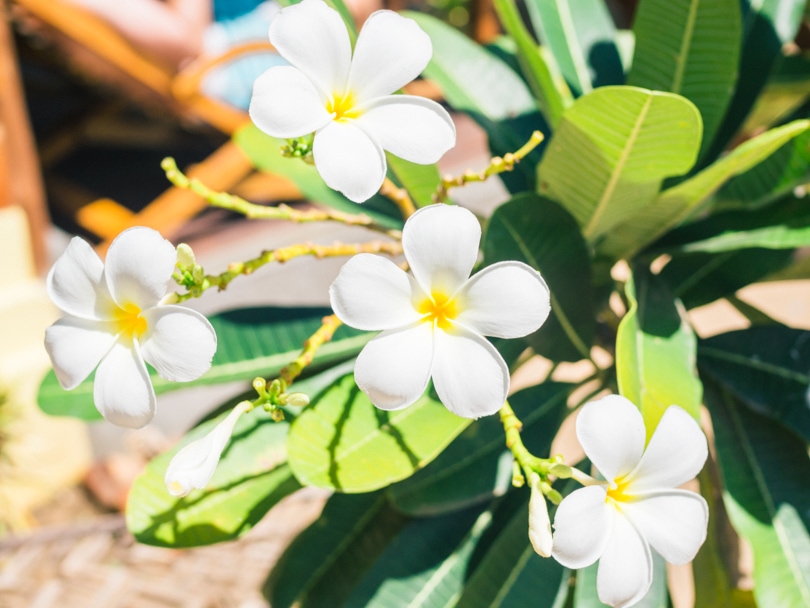 We had breakfast on the porch every morning, though it was not included in the room price.
If you think Stay Golden is too expensive, check out Beach View Hotel, close to the swimmable part of the beach and Main Point surf spot. Their wooden cabanas start at only $30 a night.
If you are on an even tighter budget, The Long Hostel might be for you. I heard people rave about this place, and after doing some research online I found even more glowing recommendations. It's not often you see a hostel score a 9.6 out of 10 overall and a 10 on cleanliness! For only $23 a night you get a double room with fan and bathroom.
Upali Beach Surf Resort was one of the other places we considered. It's an eco-resort located right in front of Main Point surf break, so you can roll out of bed, walk 20 steps and jump in the water. Or watch the surf from the shade while enjoying some delicious treats from the bar. The rooms are actually tents ranging from very basic to a super cool cabana/tent hybrid with lots of space. Price was the main reason why we didn't choose to stay at Upali, as the basic tent with shared bathroom is $35 a night and the junior suite cabana is $160 a night. If money wasn't an issue I would have loved to stay in the suite for a couple of nights, the basic tent didn't really speak to me.
Hideaway Resort is a green oasis right in the middle of town. I talked a bit about their restaurant in this post, so I thought I should also touch on their accommodations options. Hideaway comprises 14 gorgeously decorated rooms in total, ranging in price from $53 to $155. Inside the compound, you'll also find a bar, a cafe and on Sundays a market where local artisans showcase their products. Somehow they've managed to create such a calming, spiritual and health conscious atmosphere within those yellow walls. I like it!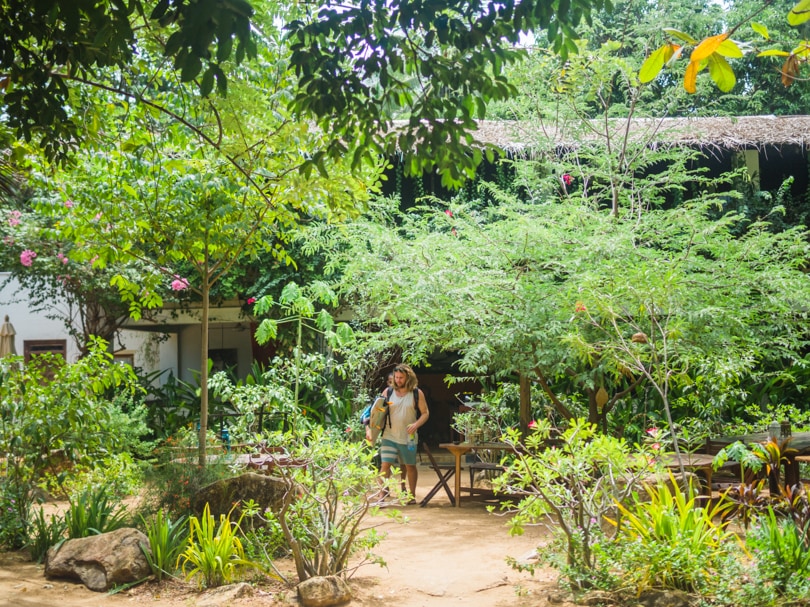 The first photo you saw in this post is of a place called Paradise Sand Beach Hotel. I can't find a link to any booking sites, but it looked so good and well maintained from the road that I had to include it. They also get great reviews on Tripadvisor.
My favorite Arugam Bay restaurants
Visit Pizza Hub (previously Food Nest) for the best wood fired pizza in the area! The crust is just how I like it, crispy on the outside and soft on the inside and the super fresh mozzarella they use makes it even better. They have moved from the main road because the owner of the land decided to increase their rent, so now you'll find them on 146 Tri Star Road. Call +94 75 272 9729 for free delivery or stop by the new location, the owner and the people that work there are super friendly. Definitely our go-to restaurant in Arugam Bay.
WARNING: this post contains some crappy mobile photos, I didn't bother bringing my camera to dinner most nights. I know…. bad blogger!
We spotted the beachside restaurant (don't remember the name) that is part of the Arugam Bay Surf Resort as we walked home along the beach. I saw the colorful Mexican sign and suddenly felt quite hungry. Some parts of the restaurant could do with a little sprucing up, but the new small tiki bar was cool and looked like something out of the Caribbean. We didn't like the beef taco, as there were a bit too much fat and chewy bits in it. But the hard shell chicken taco you see below tasted really good, and so did the chips and guacamole. A perfect afternoon snack after a long and hot day at the beach.
There are so many great local places to choose from in A-Bay, just don't get discouraged by a shabby exterior. In my experience, the shabbier the restaurant the more authentic and tasty food. With some exceptions of course. I'm so bad at remembering names of the local spots we try, and quite often they don't have an internet presence so they're hard to track down. But the one I do remember is Blue Ocean, where we had a mixed plate of vegetable curries. One plate was more than enough for two and only set us back 400Rs / $3. For me, that was the best local dish I had during our whole trip.
Zephyr is one of the top restaurants on Tripadvisor, and for good reason. The beachside location makes it the perfect place to bring your partner for a romantic candlelight dinner overlooking the rolling waves. We shared vegetable tempura as a starter, then I had the pesto pasta and for dessert, we shared a brownie with ice cream. Yum, is all I have to say. The main course was quite small though, so keep that in mind when ordering. After Hideaway Resort, this was the most expensive place we had dinner in Arugam Bay. But both the food and the atmosphere made it worth it. And of course the cocktails, this was one of the only places we found in Sri Lanka that offered a good selection of cocktails.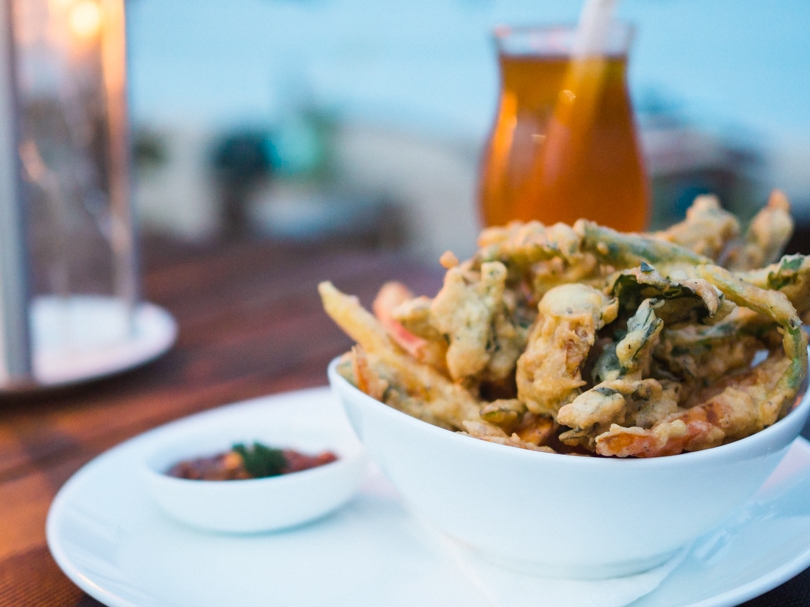 Breakpoint is another one of the top eateries in the area on Tripadvisor. We had a hard time finding this small, narrow restaurant, as it is squeezed in between two other stalls. And when my boyfriend finally spotted it, it was packed full of people. So we had to come back the next day, and I'm so happy we did. The breaded chicken sandwich, hummus and falafel were all super yummy. Their fresh food, cakes and delicious iced tea, make Breakpoint a must while in A-Bay.
Love beach bar is the perfect spot to cool down in the shade or get your tan on at one of the huge sun loungers, with a cold drink in hand. As you can see below the little establishment is quite easy on the eyes and what I would call Instagram friendly. But the best part is that they serve cocktails, smoothies, lemonade and ICED TEA! If you have read my blog for a while, you probably know that I'm an iced tea addict, so any place with the words homemade iced tea on the sign is a winner in my book. Anyway, Love Beach Bar is a great place to relax away from the crowds.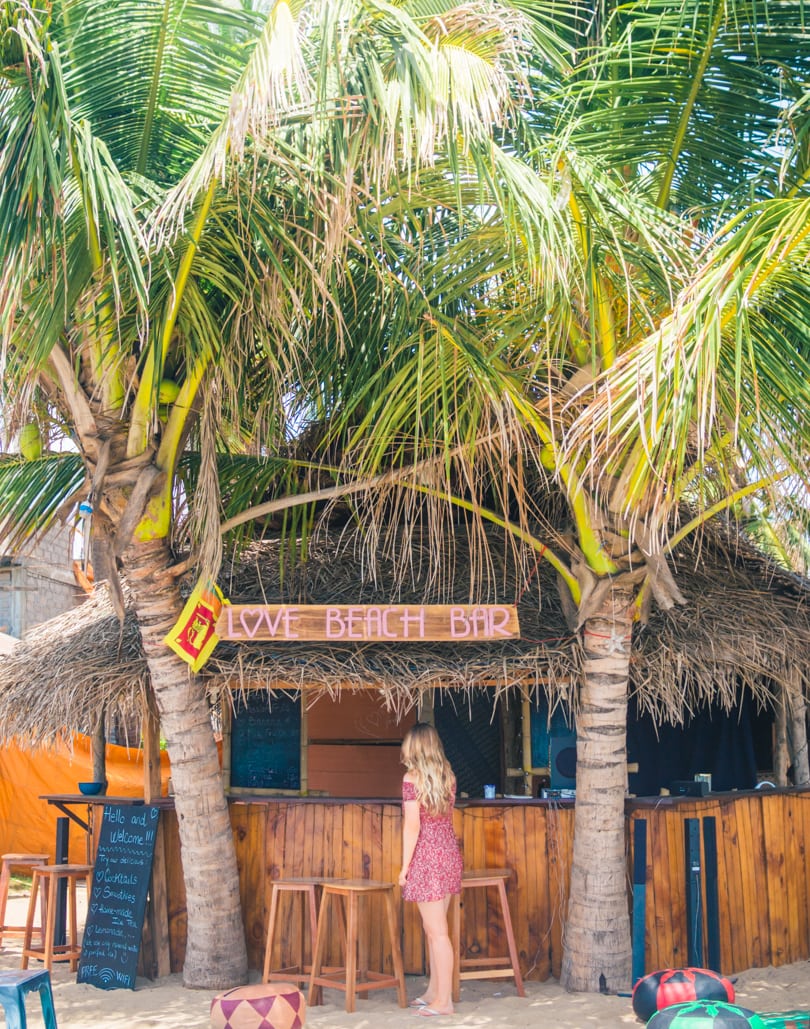 Some of the links above are affiliate links and I will earn a small percentage of the sale if you purchase through them, at no extra cost to you. This helps me cover the costs of running my site – so thank you in advance! I only ever link to products and services I use and love myself!