This post may contain affiliate links. I will earn a small commission if you purchase through them, at no extra cost to you.
About 3 hours inland from Colombo at 465 meters above sea level, you'll find Kandy, the last royal capital of Sri Lanka. The island's second-largest city is surrounded by a lush mountain chain, rugged peaks, manicured tea plantations and Sri Lanka's largest river, the Mahaweli Ganga.
Because of this dramatic location, Kandy enjoys a tropical salubrious climate, with temperatures ranging between 19-28C all year round. A cool and comforting contrast to the sizzling hot coastal lowlands.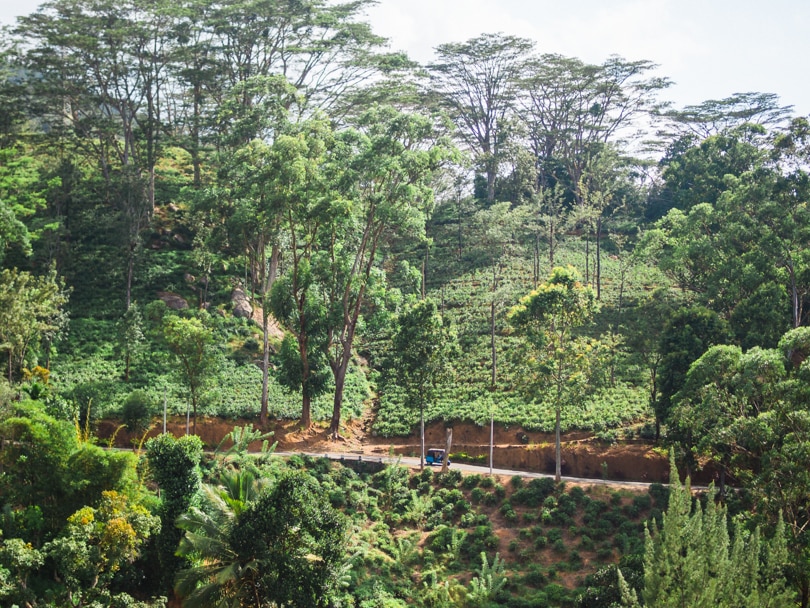 As we didn't get much sunny weather in Norway this summer, we wanted this trip to be focused beaches and the ocean. Because of that we only set aside two nights for Kandy, and the one full day we were planning to spend in the ancient city of Polonnaruwa. I'm kind of a history nerd, so that was something I'd been looking forward to for quite some time. I'll tell you more about it in the next post! That meant we had to cram a whole lot of sights into one, short day.
After what felt like forever on steep, windy roads coming from Pinnawala (but in reality, was probably more like one hour), we arrived at Sevana City. A fairly new hotel on the west side of town, squeezed between a pharmacy and a "little bit of everything" shop. Don't get discouraged by the modest entrance, it opens up into clean and modern facilities.
We paid about $50 for the two nights, which got us a fan room with breakfast and wifi included. I wish we'd paid up for an ac room though, as it got pretty hot and humid at night. But other than that I feel like Sevana City Hotel offered great value for money. They even organized a driver to take us to Polonnaruwa for only 12000 Rs, much less than we got quoted other places.
Experience the highlights of Kandy on this full-day guided tour. Visit the Temple of the Tooth, the Botanical Gardens, enjoy panoramic views of the city and performance of traditional Kandyan dances.
Royal Botanical Gardens Peradeniya
After a quick stop at the hotel, we hit the town to soak up as much of Kandy as we could in the little time that we had. I was quite surprised by how busy it was, not at all the calm green oasis I'd made it out to be in my head.
People yelling, construction going on, crazy traffic, yes just like any other large Asian city. So we hailed a tuk-tuk and headed for the Royal Botanical Garden. By the way, a tuk-tuk is the main mode of transportation over here. It's a small moped cart thingy with three wheels(first picture), super cute and handy for shorter distances. Keep in mind that you should always agree on a price upfront, to eliminate any surprises.
At one time the entire 60 hectares of gorgeous gardens were only available to Kandyan royalty. Today, however, everyone is welcome into what are the largest and most impressive botanical gardens in all of Sri Lanka. Located about 5.5km to the west of central Kandy, it's easily reached by tuk-tuk. We agreed on a price of 500 Rs, which included the driver waiting for us outside. You might think the entrance fee of 1500 Rs is a little steep, but I say it's worth it. Wandering around the calm and beautiful gardens was a welcoming change from the noisy city center.
Altogether the gardens include more than 4000 species of plants and attract around 2 million visitors annually. It's renowned for its huge collection of orchids but the highlight for me was definitely the royal avenue of palms. As the palm tree enthusiast that I am, this was something I had been looking forward to for a while. And it didn't disappoint! Another fun thing to see is the giant Javan fig tree on the great lawn. Covering 2500 sq meters, it's a majestic sight.
I would set aside at least two hours here to really get to explore and enjoy the sights without having to rush.
Entrance Fee: Non-resident adult 1500 Rs / Child (younger than 12 years old) 750 Rs / Student 1000 Rs
---
The next stop on our Kandy adventure was an old tea factory from 1872, now turned museum. The drive up the steep hill was an interesting experience in itself. About halfway up I started doubting that we would make it to the factory at all. The squeaky sound coming from the engine and a couple of close calls on the edge of the road didn't seem too promising. But I have to give those tuk-tuk drivers some credit, they know what they're doing. Anyways, we made it to the top and was greeted by some incredible views of the lush green hill country.
We learned that coffee actually was the island's main crop up until the 1860s when a fungus killed most of the coffee plants. So the farmers had to diversify in order to survive. James Taylor, a Scottish man recently arrived from India, was put in charge of the new tea experiment. By 1872 he had his own fully equipped factory and in 1873, his first teas were sold at a London auction. Taylor is today regarded as the reason Ceylon(now Sri Lanka) tea industry was a success so early on. He's got his very own museum inside the factory.
The tour of the factory was short but quite interesting. I had no idea that many different processes went into making tea. It thought it was merely a case of pluck and dry, but then again I'm not a tea drinker. At the end of the visit, you'll get a complimentary cup of tea (no surprise there) and be encouraged to visit the different tea shops.
Entrance fee: Non-resident adult 750 Rs / children 400 Rs
---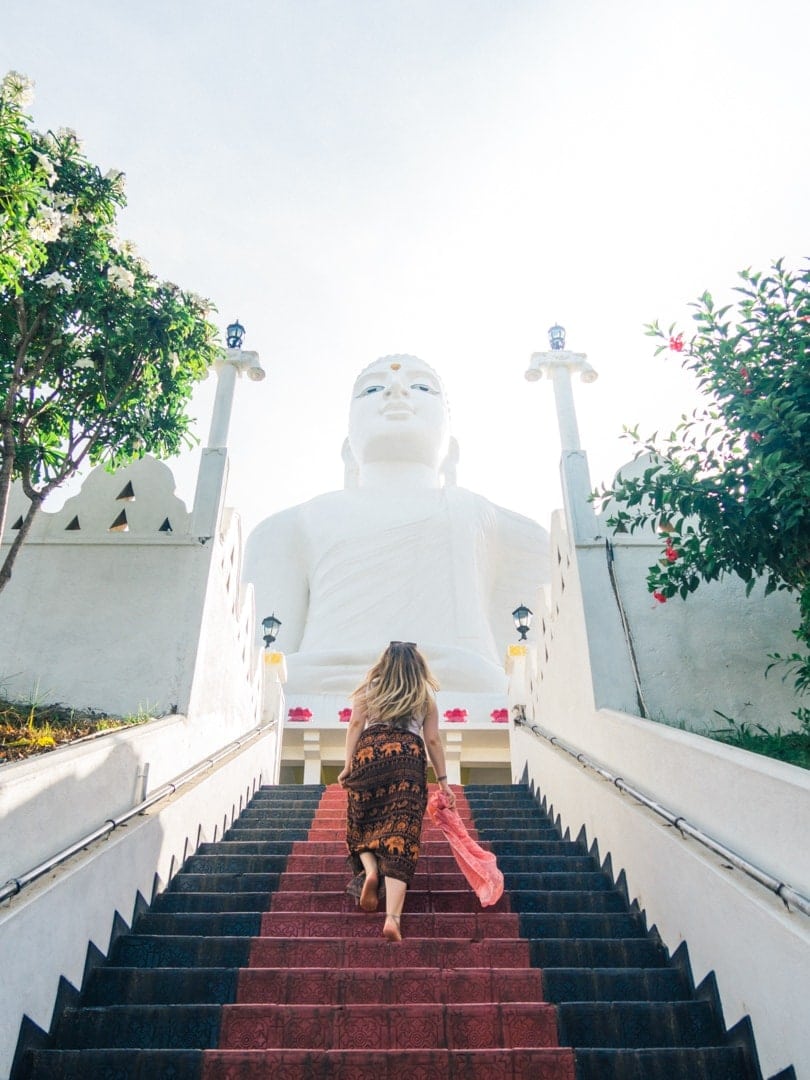 After about one hour of tea history and tasting, our driver convinced us that we should finish the day with sunset at the huge Buddha statue overlooking central Kandy. I'm so glad he did! The panoramic view from the top is just incredible. Keep in mind that you ladies will have to cover your knees and shoulders, the entrance fee includes a sarong if you need it.
It's a great little physical workout to climb to the top of the hill. I have to say I felt a little lazy when we whizzed by all the hikers in our tuk-tuk. But then again we got to enjoy the views sweat free, as it still was quite hot out even at sunset. Once inside you'll be encouraged by an older man to make a donation. By encouraged I mean he'll yell "miss, miss" until you give in, while smiling of course. Don't worry, a small amount will do just fine.
One of the coolest things about this spot is that you can actually climb the stairs going up the back of the statue for an even better view of the city.
This was probably my favorite part of the day or… no, my second favorite after the palm trees. It was also the cheapest of all the attractions we visited, which doesn't hurt. So this is definitely a must while in Kandy.
Entrance fee: 200 Rs per person.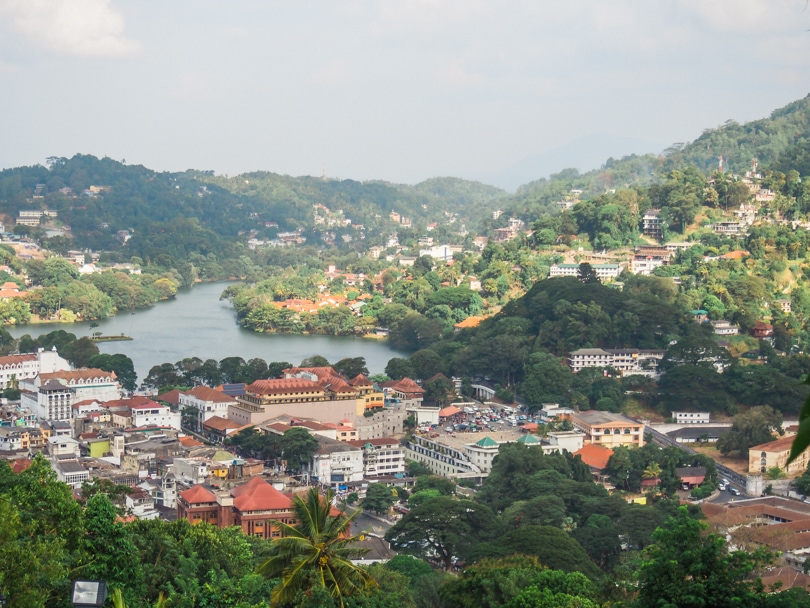 ---
The tuk-tuk driver dropped us off by the lake in town, a man-made lake dating back to 1807. Next to it is the Temple of the Tooth or Sri Dalada Maligawa, famous for being the home of one of Buddha's teeth. The temple is housed within the royal palace complex along with numerous other museums and temples.
Unfortunately, the temple was closed to the public due to some kind of ceremony, so we didn't get to look inside. Apparently, it gets super crowded in there, and you'll need some serious moves to actually get to see the casket. Yes, that's right you won't be able to see the actual tooth. It's kept in a gold casket shaped like a dagoba (stupa), which contains a series of six dagoba caskets of diminishing size.
The tooth relic plays an important role in local politics because it is believed that whoever holds the relic will rule the country. It brings millions of Buddhist pilgrims every year from all over the world, as it is regarded as the most sacred place in the Buddhist faith. Much thanks to the temple, Kandy was declared a World Heritage Site by UNESCO in 1988.
Entrance fee: 1000 Rs / additional 300 Rs if you bring a camera
Kandy tours & transport
---
Have you been to Kandy? What was your favorite part of the city?
Remember to pin for later 😉