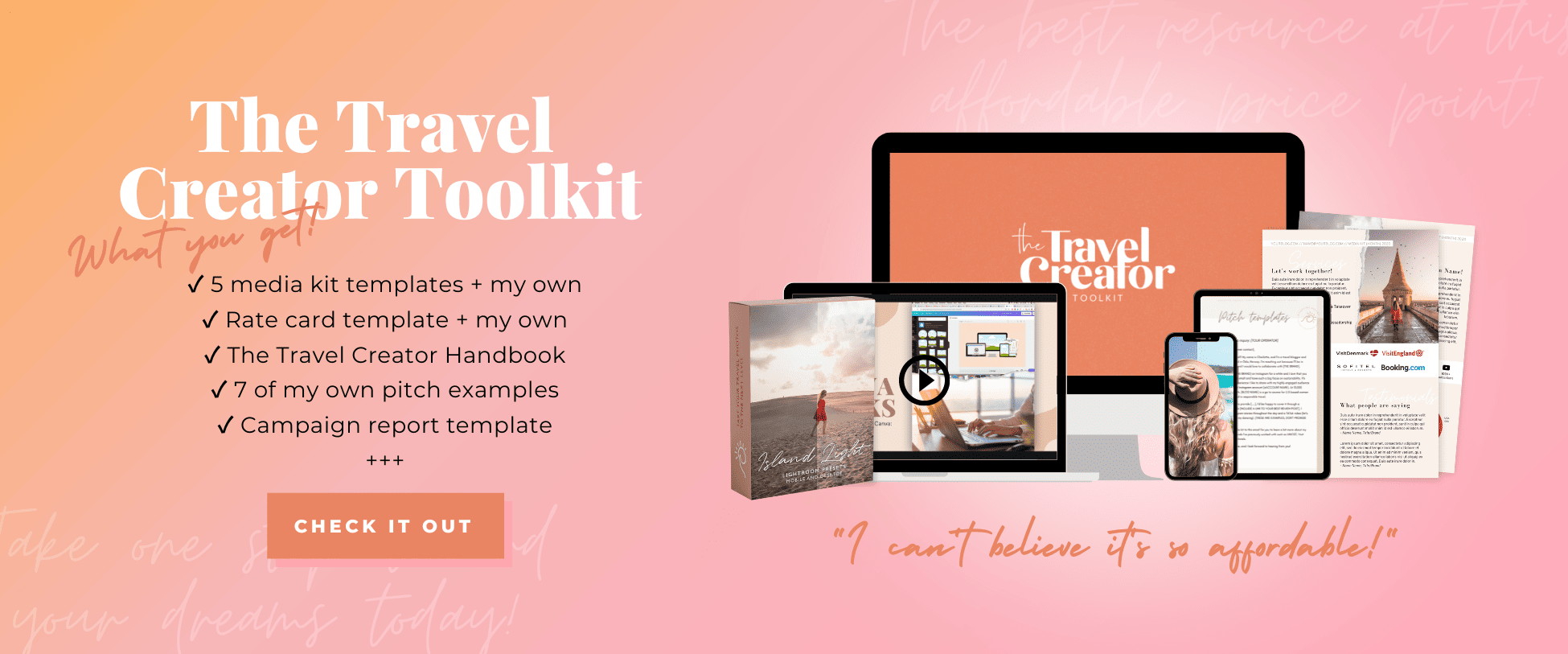 This post may contain affiliate links. I will earn a small commission if you purchase through them, at no extra cost to you.
Are you looking for the best places to visit in Kandy? Then you've come to the right place. I've compiled a list of all my favorite things to do in Kandy, plus a few extra ones.
You'll find Kandy, the last royal capital of Sri Lanka, about 3 hours inland from Colombo, at 465 meters above sea level. The island's second-largest city is steeped in history and surrounded by a lush mountain chain, rugged peaks, manicured tea plantations and Sri Lanka's largest river, the Mahaweli Ganga.
So whether you're interested in history, nature, or culture, you'll find something to do in Kandy.
🌟 Remember to always get insurance before you travel to Sri Lanka or anywhere else. SafetyWing is an affordable subscription travel insurance that you can purchase even after departure. Read my complete SafetyWing review here.
We only set aside two and a half for Kandy and one of the days we spent in the ancient city of Polonnaruwa. I'm kind of a history nerd, so that was something I'd been looking forward to for quite some time. So that meant we had to cram a whole lot of sights into one and a half days in Kandy.
After what felt like forever on steep, windy roads coming from Pinnawala (but in reality, was probably more like one hour), we arrived In Kandy. After a quick stop at the hotel, we hit the town to soak up as much of Kandy as we could in the little time that we had.
I was quite surprised by how busy it was, not at all the calm green oasis I'd made it out to be in my head. People yelling, construction going on, crazy traffic, yes just like any other large Asian city. So we hailed a tuk-tuk and headed for the Royal Botanical Garden. But before I list the best places to visit in Kandy, let's take a look at how to get there and how to get around.
Kandy quick overview
Don't have time to read the whole article? Here's a list of my favorite places to visit, experiences and resources.
How to get to Kandy
Most of you will probably fly into Bandaranaike International Airport in Colombo. From there, you can take a taxi, bus, train or hire a private driver to Kandy. The journey takes around 3-4 hours by road.
Private Driver
I booked transportation with Praboda throughout our entire time in Sri Lanka, and he made my trip! From the moment he picked me up at the airport to the moment he dropped me off, nothing was too much. He helped me plan, gave me locals-only tips and showed me so many places we would never have seen on my own.
🌟 Check price and availability here >> Private driver in Sri Lanka
By Train
Kandy is well-connected by train to other parts of Sri Lanka. The nearest train station to Colombo Airport is Katunayaka South Station, which can be reached by either bus, taxi or tuk-tuk.
The train journey from Colombo to Kandy is one of the most scenic routes in the country. It takes around 2-3 hours, depending on the train you take. There are several trains that run daily between Colombo and Kandy, so you can choose the one that suits your schedule.
When I caught the train in Sri Lanka I just showed up to the train station and asked someone to point me in the right direction. There were never any difficulties finding the right train.
By Bus
Buses are the most common mode of transport in Sri Lanka, and there are several buses that run between Colombo and Kandy. The journey takes around 3-4 hours, depending on the traffic. Buses are a cheap and convenient way to travel, but they can be crowded and uncomfortable during peak hours.
How to Get Around Kandy
Kandy is a small city, and many of the tourist attractions are located within walking distance of each other. If you get tired of walking just hail a tuk-tuk, the main mode of transportation in Sri Lanka. It's a small moped cart thingy with three wheels(first picture), super cute and handy for shorter distances. Keep in mind that you should always agree on a price upfront, to eliminate any surprises.
Another option is to rent a bicycle or a motorbike. This is a great way to explore the city and the surrounding areas. There are several rental shops in Kandy that offer bicycles and motorbikes for rent at reasonable prices. I do think you need an international driver's license, and some have said they had to leave their passport at the rental place, so I never looked into this option.
Finally, if you want to experience the local way of life, you can take a bus. Buses are cheap and frequent, but they can be crowded and uncomfortable. Make sure you know the bus number and the route before getting on the bus.
Kandy guided tours
Since I had limited time in Kandy I opted for two guided tours, and I'm so happy I did. I'm becoming more of a fan of organized tours every time I travel, you learn so much valuable information from the guides and get to experience hidden gems you might otherwise have missed.
🌟 Experience the highlights of Kandy on this full-day guided tour. Visit the Temple of the Tooth, the Botanical Gardens, enjoy panoramic views of the city and performance of traditional Kandyan dances. This tour was one of the highlights of my time in Kandy.
Best places to visit in Kandy
1. Royal Botanical Gardens Peradeniya
The Royal Botanical Garden is without a doubt the best place to visit in Kandy. At one time the entire 60 hectares of gorgeous gardens were only available to Kandyan royalty. Today, however, everyone is welcome into what are the largest and most impressive botanical gardens in all of Sri Lanka. Located about 5.5km to the west of central Kandy, it's easily reached by tuk-tuk or as part of a guided tour.
You might think the entrance fee of 1500 Rs is a little steep, but I say it's worth it. Wandering around the calm and beautiful gardens was a welcoming change from the noisy city center.
Altogether the gardens include more than 4000 species of plants and attract around 2 million visitors annually. It's renowned for its huge collection of orchids, but the highlight for me was definitely the royal avenue of palms.
As the palm tree enthusiast that I am, this was something I had been looking forward to for a while. And it didn't disappoint! Another fun thing to see is the giant Javan fig tree on the great lawn. Covering 2500 sq meters, it's a majestic sight.
I would set aside at least two hours here to really get to explore and enjoy the sights without having to rush.
Opening hours: Daily from 07:30 am to 17:00 pm.
Entrance Fee: Non-resident adult 1500 Rs. / Child (younger than 12 years old) 750 Rs. / Student 1000 Rs.
---
2. Ceylon Tea Museum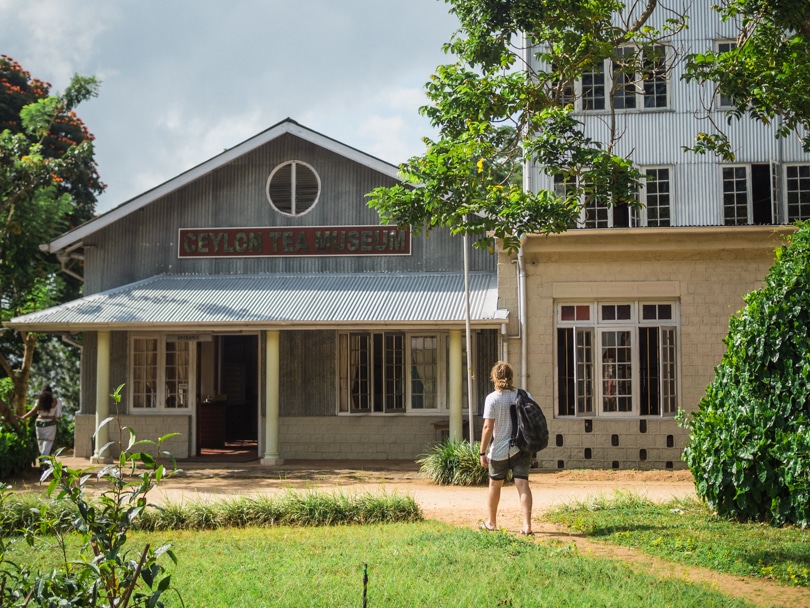 The next stop on our Kandy adventure was an old tea factory from 1872, now turned museum. The drive up the steep hill was an interesting experience in itself. About halfway up I started doubting that we would make it to the factory at all.
The squeaky sound coming from the engine and a couple of close calls on the edge of the road didn't seem too promising. But I have to give those tuk-tuk drivers some credit, they know what they're doing. Anyways, we made it to the top and were greeted by some incredible views of the lush green hill country.
We learned that coffee actually was the island's main crop up until the 1860s when a fungus killed most of the coffee plants. So the farmers had to diversify in order to survive. James Taylor, a Scottish man recently arrived from India, was put in charge of the new tea experiment.
By 1872 he had his own fully equipped factory and in 1873, his first teas were sold at a London auction. Taylor is today regarded as the reason Ceylon(now Sri Lanka) tea industry was a success so early on. He's got his very own museum inside the factory.
The tour of the factory was short but quite interesting. I had no idea that many different processes went into making tea. I thought it was merely a case of pluck and dry, but then again I'm not a tea drinker. At the end of the visit, you'll get a complimentary cup of tea (no surprise there) and be encouraged to visit the different tea shops.
Opening hours: 08:30 am to 04:00 pm, closed on Mondays.
Entrance fee: Non-resident adult 800 Rs. / children 400 Rs.
---
3. Bahiravokanda Vihara Buddha Statue
After about one hour of tea history and tasting, our driver convinced us that we should finish the day with sunset at the huge Buddha statue overlooking central Kandy. I'm so glad he did! The panoramic view from the top is just incredible, definitely one of the best places to visit in Kandy.
It's a great little physical workout to climb to the top of the hill. I have to say I felt a little lazy when we whizzed by all the hikers in our tuk-tuk. But then again we got to enjoy the views sweat-free, as it still was quite hot out even at sunset.
One of the coolest things about this spot is that you can actually climb the stairs going up the back of the statue for an even better view of the city.
This was probably my favorite part of the day or… no, my second favorite after the palm trees. It was also the cheapest of all the attractions we visited, which doesn't hurt. So this is definitely a must while in Kandy. Keep in mind that you ladies will have to cover your knees and shoulders, the entrance fee includes a sarong if you need it.
Opening hours: 24/7
Entrance fee: Foreign Nationals 250 Rs.
---
4. Temple of the Sacred Tooth Relic
The Temple of the Sacred Tooth Relic, or Sri Dalada Maligawa, is famous for being the home of one of Buddha's teeth. The temple is housed within the royal palace complex along with numerous other museums and temples.
Unfortunately, the temple was closed to the public due to some kind of ceremony, so we didn't get to look inside. Apparently, it gets super crowded in there, and you'll need some serious moves to actually get to see the casket. Yes, that's right you won't be able to see the actual tooth. It's kept in a gold casket shaped like a dagoba (stupa), which contains a series of six dagoba caskets of diminishing size.
The tooth relic plays an important role in local politics because it is believed that whoever holds the relic will rule the country. It brings millions of Buddhist pilgrims every year from all over the world, as it is regarded as the most sacred place in the Buddhist faith. Much thanks to the temple, Kandy was declared a World Heritage Site by UNESCO in 1988.
Entrance fee: 2000 Rs. for adults / Children visit for free.
Opening hours: 5:30 am to 8:00 pm.
🌟 Temple of the Sacred Tooth Relic is in this full-day guided tour, the Royal Botanical Gardens and a traditional Kandyan dance performance. This tour was one of the highlights of my time in Kandy.
---
5. The Royal Palace of Kandy
The Royal Palace of Kandy was the residence of the Kandyan monarchs and is now a UNESCO World Heritage site.
Upon entering the palace complex, I was immediately struck by the intricate architecture and design. The palace is a beautiful blend of Sri Lankan, Indian, and European influences, with intricate wood carvings, colorful murals, and ornate pillars.
One of the highlights of my visit was the Audience Hall, where the Kandyan kings held their court. The hall is adorned with beautiful frescoes depicting scenes from Sri Lankan folklore and history. I also enjoyed exploring the palace's various chambers, each with its unique style and purpose.
The palace complex is surrounded by a beautiful garden, which is home to several ancient trees and a small lake. I found it to be a peaceful and relaxing place to stroll around and take in the beauty of the palace and its surroundings.
---
6. Wales Park (Royal Palace Park)
Another one of the best places to visit in Kandy is Wales Park, a beautiful and peaceful park located in the heart of the city. It's a perfect place to take a break from the hustle and bustle of the city and enjoy some fresh air.
The park is well-maintained and has a variety of trees, flowers, and shrubs. There are also several benches and picnic tables scattered throughout the park, making it a great spot for a picnic or a relaxing afternoon reading a book.
One of the highlights of Wales Park is the stunning view of the city and the surrounding hills. I always make sure to take a few minutes to admire the view and take some photos.
If you're feeling more active, there's a walking path that circles the park. It's a great way to get some exercise and take in the beauty of the park at the same time.
---
7. Kandy Lake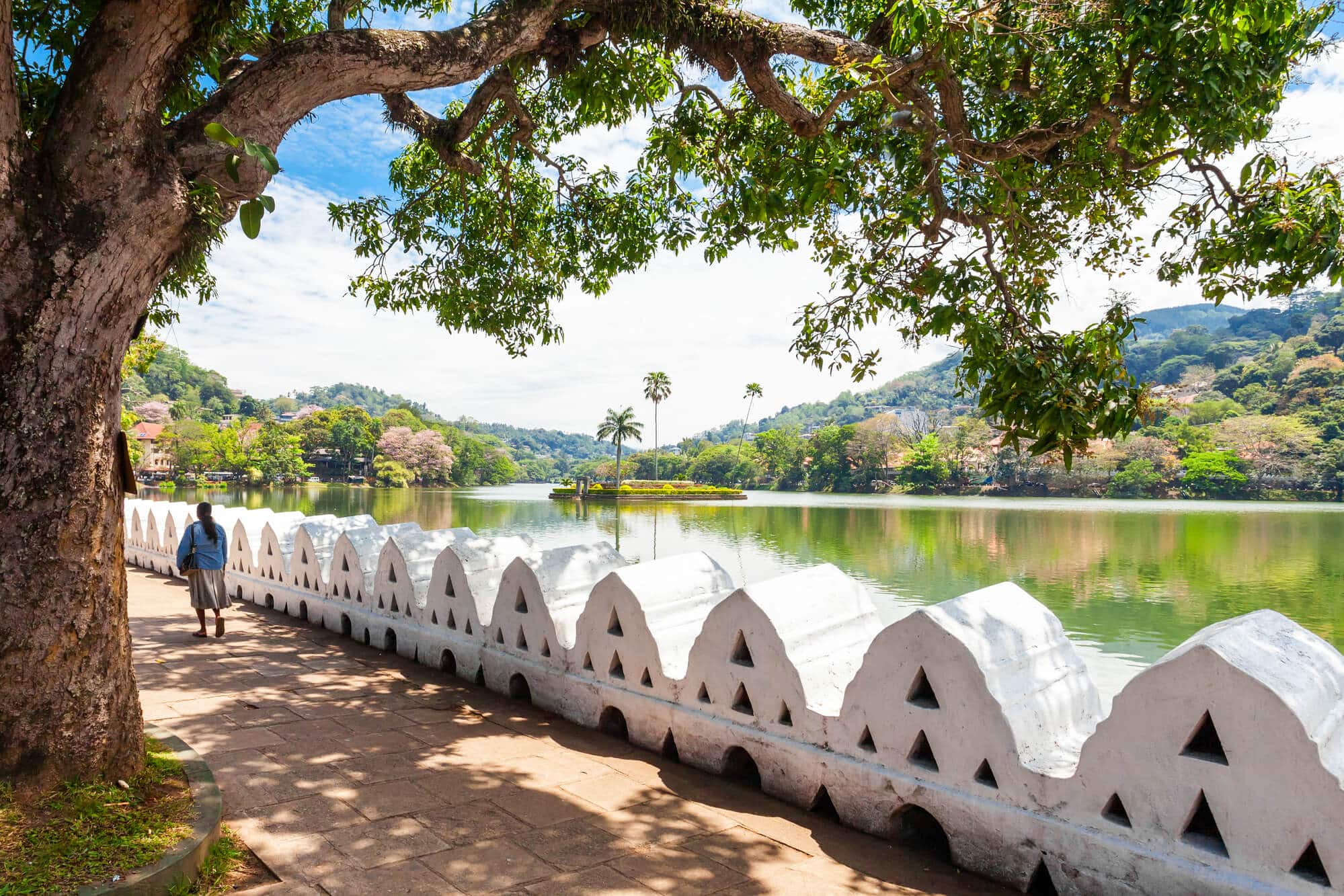 One of my favorite things to do in Kandy is to take a leisurely stroll around Kandy Lake. This man-made lake, located in the heart of the city, was built in 1807 by King Sri Wickrama Rajasinghe. It's a beautiful and peaceful spot that offers a nice break from the hustle and bustle of the city.
The lake is surrounded by a well-maintained walking path that's about 3.5 kilometers long. As you walk, you'll be treated to stunning views of the lake and the surrounding hills. There are plenty of benches along the way where you can sit and relax, and there are also a few small pavilions where you can take shelter from the sun or rain.
You'll also pass by a number of interesting landmarks, including the Temple of the Tooth, the Royal Palace of Kandy, and the Kandy Garrison Cemetery. You can take your time and explore these sites at your own pace, or simply admire them from a distance.
---
8. Traditional Kandyan Dance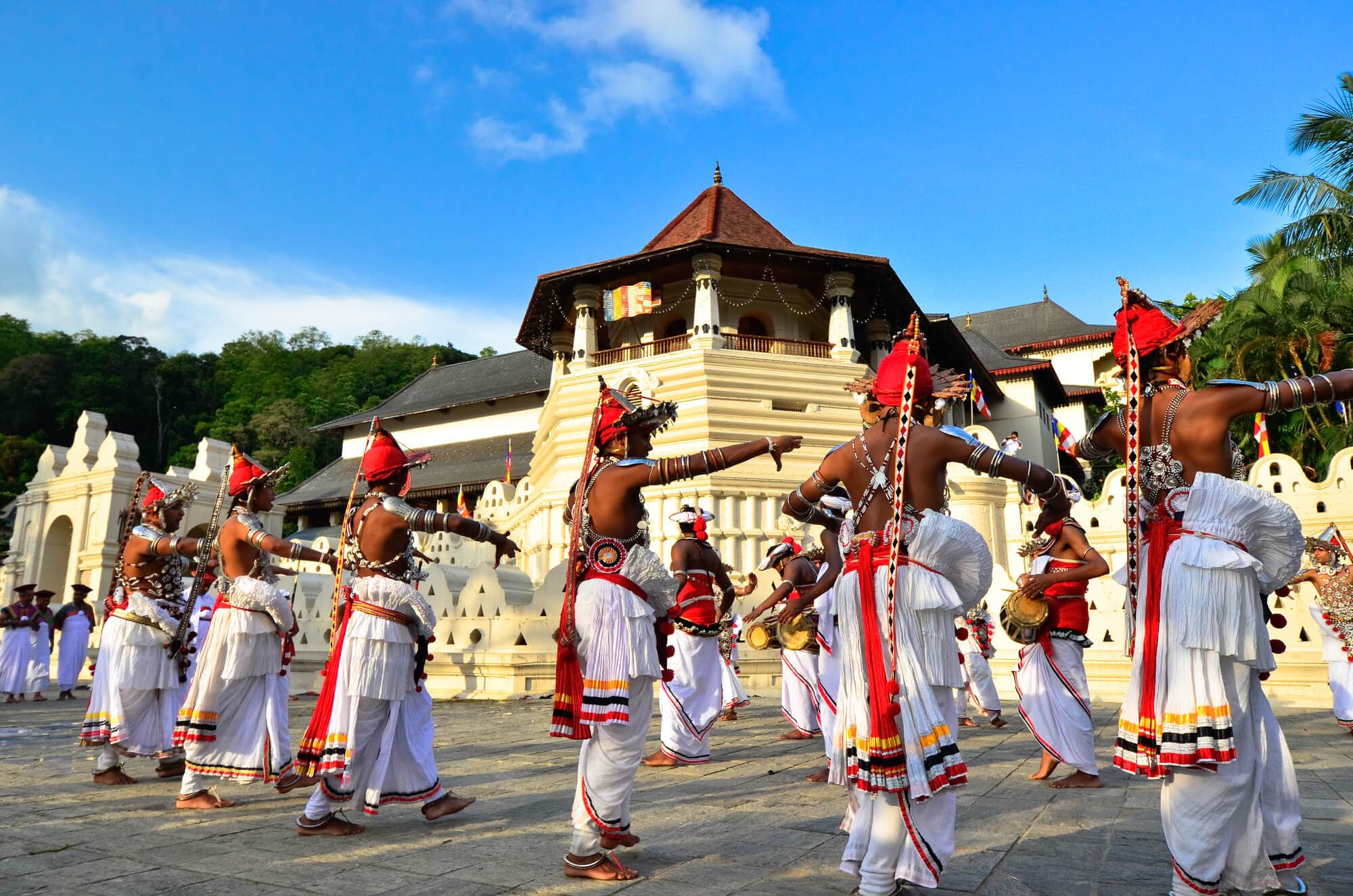 The Kandyan dance is a captivating art form that has been passed down from generation to generation. It is a beautiful blend of rhythm, movement, and colorful costumes that tell stories of Sri Lanka's rich cultural heritage.
I was lucky enough to witness a dance performance at the Kandyan Cultural Centre. The dancers were dressed in stunning traditional costumes, and their movements were perfectly synchronized with the beat of the music.
The performance also included a display of traditional drumming, which added to the overall energy and excitement of the show. The drummers were skilled and passionate, and their rhythms perfectly complemented the dancers' movements.
---
9. Udawattakele Forest Reserve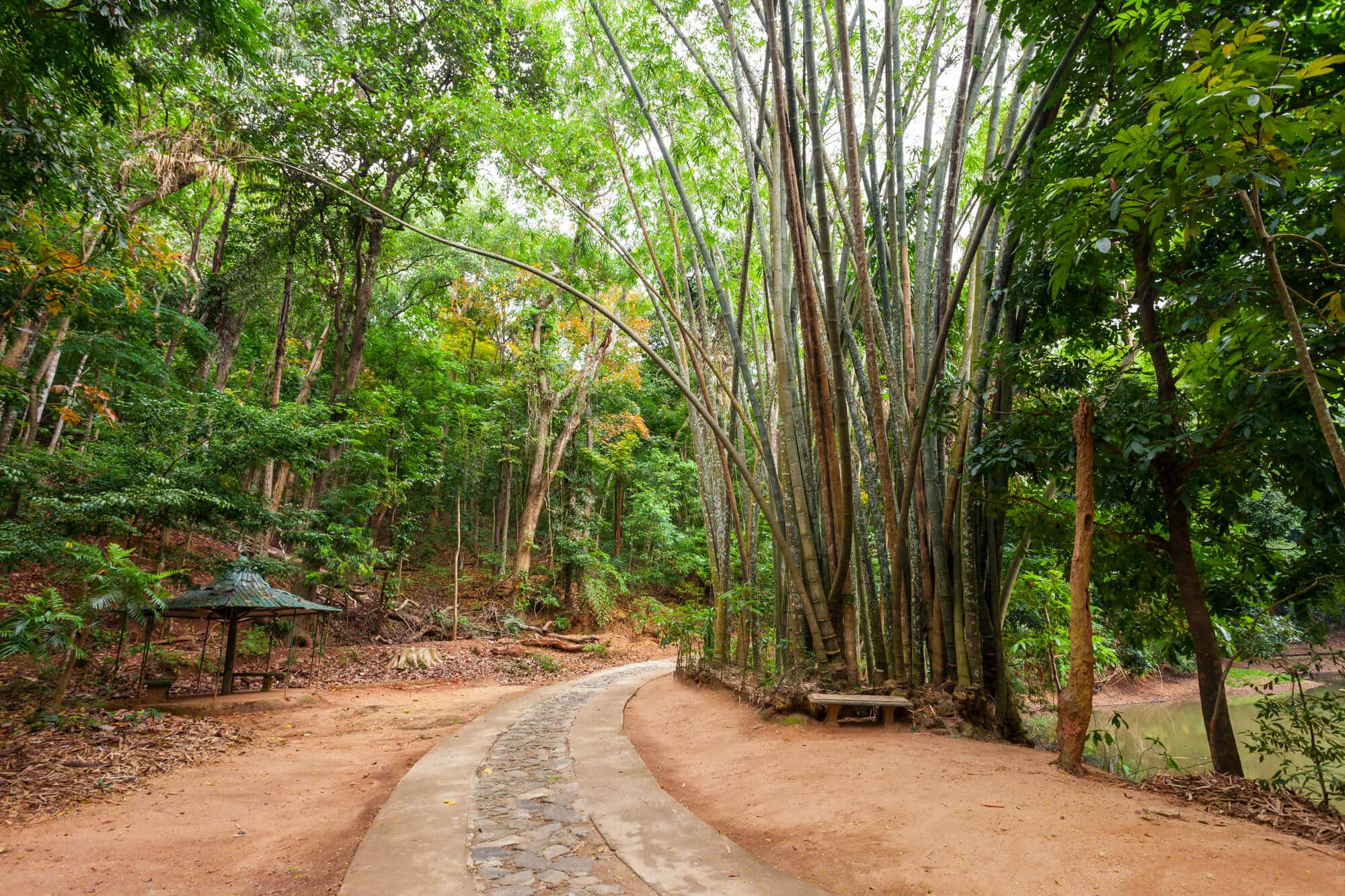 Udawattakele Forest Reserve is located just a short distance from the city center, but it feels like a world away. The reserve is home to an incredible variety of flora and fauna, including over 400 species of plants and dozens of bird species.
The trail winds through the trees, over streams, and up steep hills. Along the way, I saw monkeys swinging through the branches, colorful butterflies fluttering by, and even a few elusive lizards.
One of the highlights of the hike was the stunning view from the summit of the hill. From the top, you can see the sprawling city of Kandy, with the lake shimmering in the distance. If you have the time to venture outside central Kandy, Udawattakele Forest Reserve is definitely one of the best places to visit.
I wore my flip-flops like I always do while traveling, it wasn't the ideal footwear for hiking in Udawattakele haha, so be sure to also add a pair of trainers to your Sri Lanka packing list.
---
10. Kandy National Museum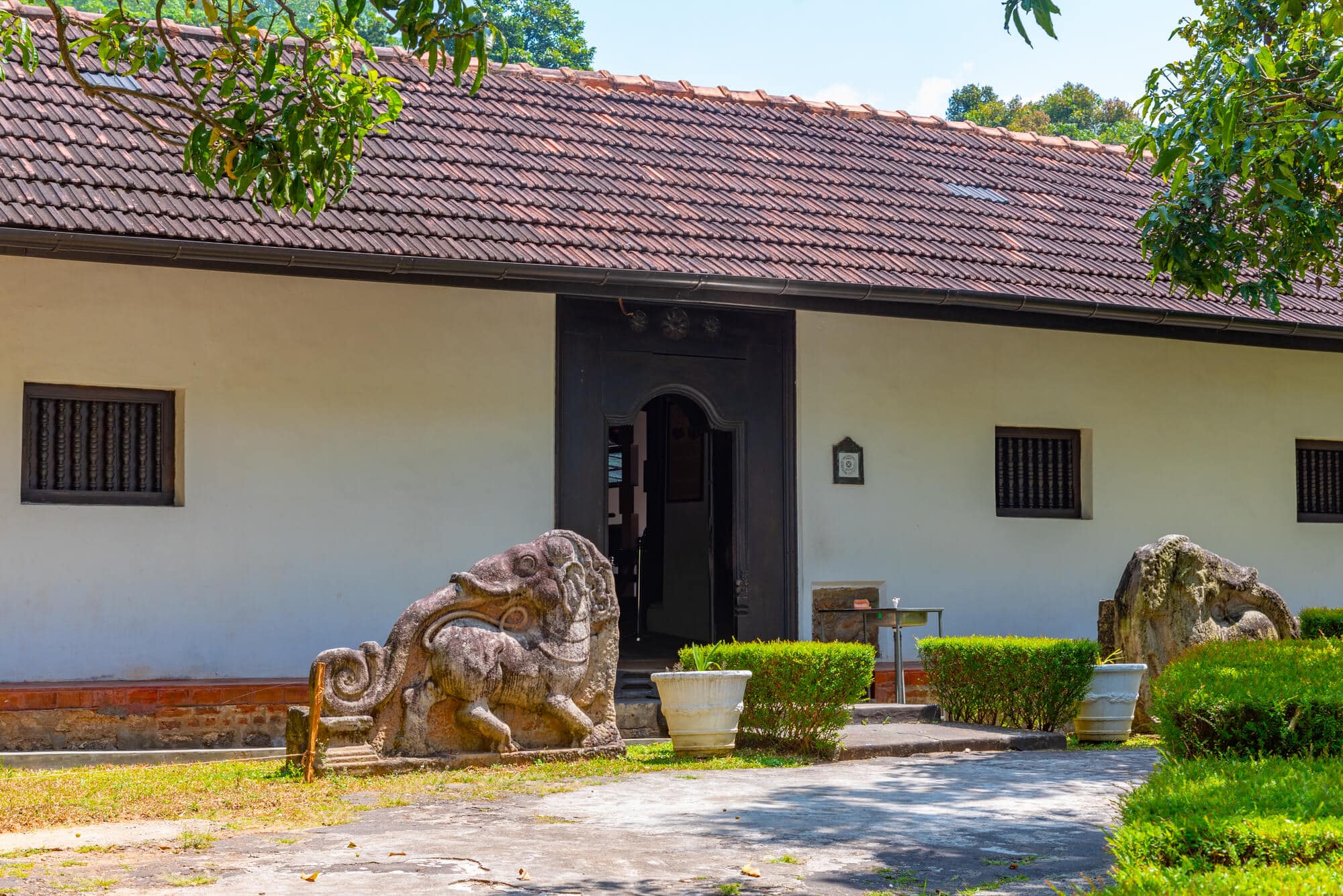 Make your way to Kandy National Museum to learn more about the city's rich history. Housed in the former palace of the Kandyan kings, the museum showcases a fascinating collection of artifacts and exhibits that span centuries.
The exhibits were arranged in chronological order, starting from prehistoric times and moving on to the colonial era. The museum's collection includes ancient weapons, traditional costumes, intricate jewelry, and religious artifacts, among others.
One of the highlights of my visit was the display of the throne of the last king of Kandy, Sri Vikrama Rajasinha. The throne was made of ebony and ivory and was intricately carved with scenes from the Ramayana.
Another interesting exhibit was the collection of traditional masks used in Kandyan dance performances. The masks were beautifully crafted and depicted various characters from Sri Lankan folklore.
The museum also had a section dedicated to the colonial period, showcasing the influence of the Portuguese, Dutch, and British on Sri Lanka. I was particularly intrigued by the display of colonial-era furniture and household items, which gave me a glimpse into the lives of the European colonizers.
---
11. Commonwealth War Cemetery
Commonwealth War Cemetery, which is a somber reminder of the sacrifices made by soldiers during World War II. The cemetery is located about 4 km from the city center and is maintained by the Commonwealth War Graves Commission.
The cemetery is home to the graves of soldiers from the British Empire who died during the war. The graves are beautifully maintained, and the cemetery is a peaceful and serene place to pay your respects to the fallen soldiers.
In addition to the graves, the cemetery has a memorial that lists the names of soldiers who have no known graves. The memorial is inscribed with the words "Their Name Liveth For Evermore" and serves as a poignant reminder of the human cost of war.
Visiting the Commonwealth War Cemetery is a humbling experience that reminds us of the sacrifices made by soldiers during World War II. It is one of the best places to visit in Kandy for anyone interested in history or who wants to pay their respects to those who gave their lives for their country.
---
12. World Buddhist Museum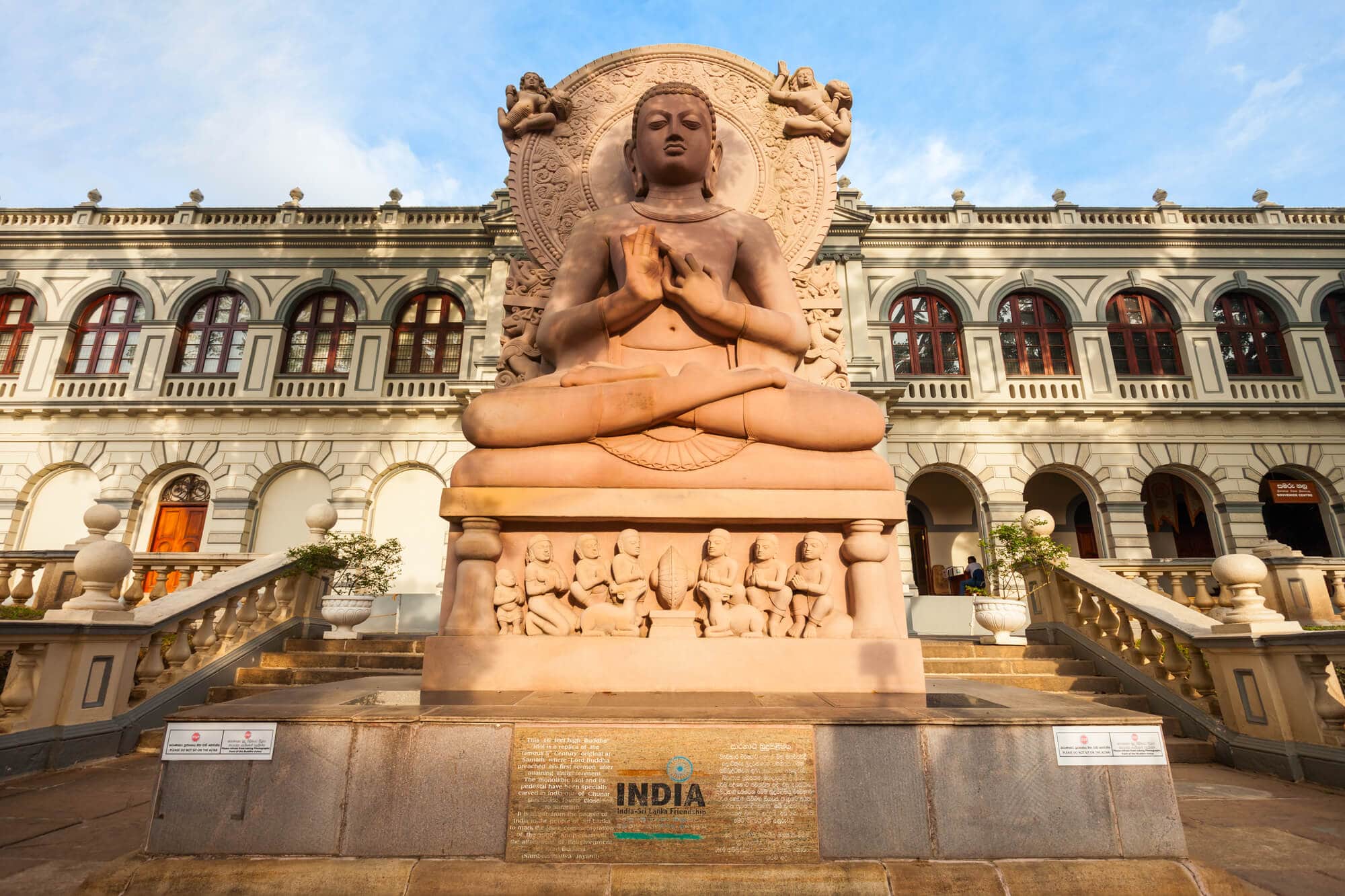 The World Buddhist Museum is dedicated to showcasing the history and teachings of Buddhism, and it is home to a vast collection of artifacts, sculptures, and paintings related to the religion.
The museum is spread over four floors, and each floor is dedicated to a different aspect of Buddhism. Visitors can learn about the life of Buddha, the spread of Buddhism across the world, and the different schools of Buddhism.
The museum has a collection of rare manuscripts and ancient texts related to Buddhism, which provide valuable insights into the religion's history and teachings. Overall, the World Buddhist Museum is a must-visit destination for anyone interested in learning about Buddhism and its rich history.
---
13. Kandy Viewpoint (Arthur's Seat)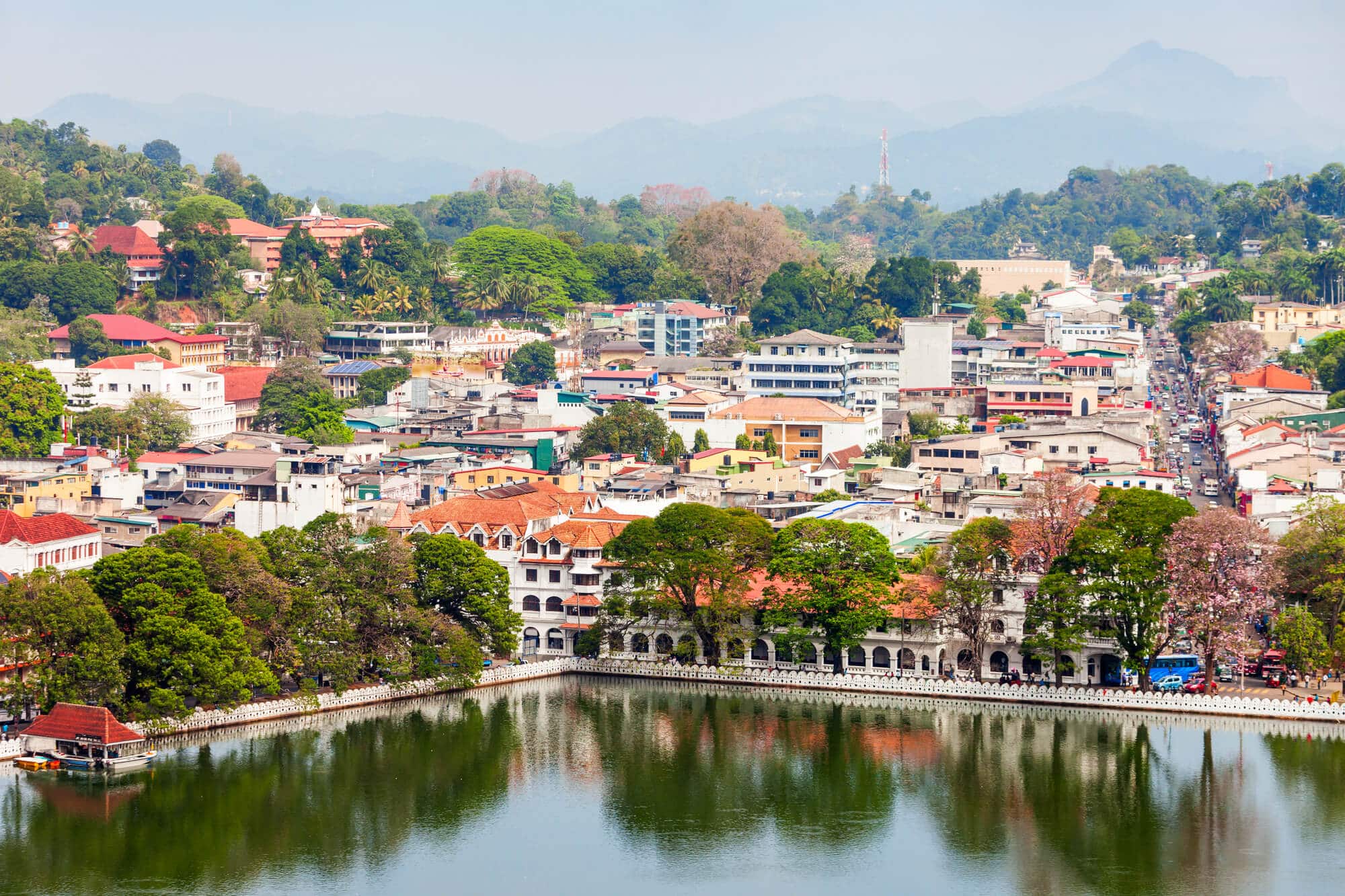 Arthur's Seat is a popular viewpoint at 550 meters above sea level, located southwest of Kandy Lake, just a 10-minute walk from the Royal Palace Park. It is the highest point in Kandy where you can enjoy breathtaking panoramic views of the lake, the Temple of the Tooth, the Royal Palace of Kandy and the city center.
There's a viewing platform from which you can marvel at the spectacular view. If you don't feel like walking you can take a tuk-tuk all the way up to the platform.
---
14. Hulu River Waterfall
Hulu River Waterfall, known amongst locals as the Huluganga Falls, is located about 25 km away from Kandy, and it's a great place to spend a few hours enjoying the natural beauty of Sri Lanka. The drive is scenic, and I enjoyed seeing the lush greenery and tea plantations along the way.
The hike down was relatively easy, and it took me about 20 minutes to reach the waterfall. There were a few other people there, but it wasn't too crowded, and I had plenty of space to relax and enjoy the scenery.
Hulu River Waterfall is included in this exciting Kandy Waterfalls Hunters tour. We had so much fun visiting a local village, a tea plantation, seeing rice paddies and 5 different waterfalls. We even got to enjoy a homemade Sri Lankan lunch and hotel pick-up/drop-off is included.
🌊 Check price & availability here >> Full-day private waterfalls tour
---
15. Pallekele International Cricket Stadium
If you're a cricket fan, you should visit the Pallekele International Cricket Stadium while in Kandy. It is a modern stadium with a seating capacity of 35,000 and is located about 7 km from the city center.
The stadium is known for its picturesque setting, surrounded by hills and lush greenery. It has hosted several international cricket matches since its inauguration in 2009, including the 2012 ICC World Twenty20.
If you're lucky enough to catch a match at the stadium, you'll be able to witness the passion and excitement of Sri Lankan cricket fans. The atmosphere is electric, with fans waving flags and cheering on their team.
Even if there isn't a match scheduled during your visit, you can still take a tour of the stadium and learn about its history and architecture. The tour includes a visit to the players' dressing rooms, the media center, and the VIP boxes.
---
16. Kandy to Ella train journey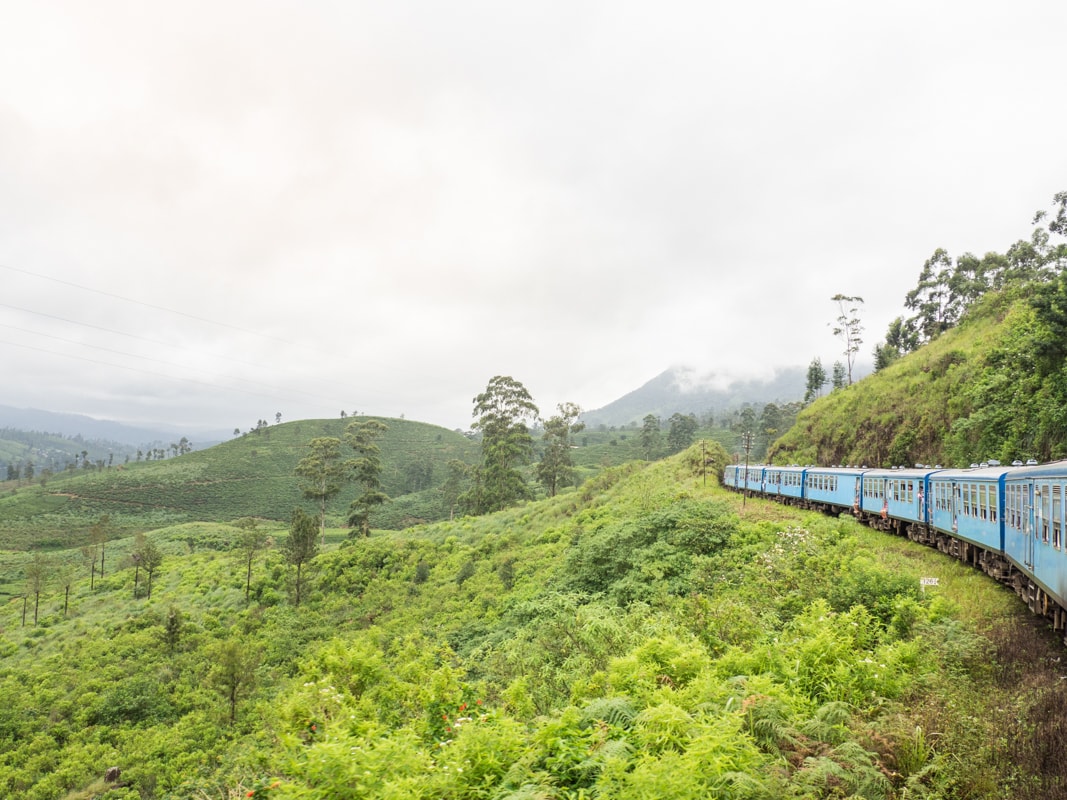 If you're looking for a scenic train ride in Sri Lanka, the Kandy to Ella train journey is a must. The train ride takes approximately 6 hours and covers a distance of 116 kilometers. It's a slow and leisurely journey that takes you through some of the most beautiful landscapes in Sri Lanka.
The train passes through lush green tea plantations, misty mountains, and cascading waterfalls. The scenery is breathtaking and it's no wonder that this train ride is considered one of the most scenic train journeys in the world.
The train journey is divided into three classes – first, second, and third. I opted for the first class which was very comfortable and still affordable compared to Western prices. The seats are cushioned and there's enough legroom to stretch your legs. The windows are large and can be opened to let in the fresh mountain air.
Throughout the journey, vendors come aboard selling snacks, drinks, and souvenirs. It's a great opportunity to try some of the local delicacies such as samosas and vadai.
---
17. Knuckles Mountain Range
The Knuckles Mountain Range is a stunning natural wonder located just one and a half hours from Kandy. It is named after its unique shape, which resembles a set of knuckles on a hand.
The Knuckles Mountain Range, as part of the Central Highlands of Sri Lanka, has been declared a UNESCO World Heritage Site, and it is easy to see why. The mountain range is home to 9 peaks over 1200 meters, with the highest peak being "Gombaniya" at 1906 meters.
The Knuckles Mountain Range is a popular destination for nature lovers and adventure seekers, as it offers a range of exciting activities such as hiking, trekking, camping, and bird-watching. The area is also home to a diverse range of flora and fauna, including several endemic species and several waterfalls, rivers, and streams.
If you want to do a multi-day hike, you can spend the night at several campsites and lodges, such as the incredibly stunning Madulkelle Tea and Eco Lodge.
If you want to explore the Knuckles Mountains with a guide, I highly recommend this 2-day hiking experience. It is super affordable for everything that's included:
Private transportation
2 night half board accommodation Breakfast, Dinner (Heavens holiday resort)
Lunch
Entrance tickets
Guiding fee
Mineral water (Tracking day)
🌟 Check price & availability here >> All Inclusive Knuckles Trek With Accommodation
---
Where to Stay in Kandy
There are many incredible accommodation options in Kandy at every price range. Some are right in the city center and some are immersed in the beautiful nature surrounding the city.
One option that I highly recommend is the Cinnamon Citadel Kandy. The hotel is situated on the outskirts of town, on the banks of the Mahaweli River, offering stunning views of the surrounding mountains. It also features a beautiful pool, a spa, and several restaurants, making it an ideal choice for those who want to relax and unwind after a day of sightseeing. One of my favorite hotel experiences in a long time!
If you would rather stay in the city center, and feel like royalty while you're at it, you can't go wrong with Queen's Hotel. This stunning heritage hotel boasts a rich history and charming colonial architecture that will transport you back in time. The rooms are spacious and elegantly decorated, providing guests with a comfortable and relaxing stay. Overall, if you're looking for a luxurious and memorable stay in Kandy, Queen's Hotel is the perfect choice.
Frequently Asked Questions: Kandy
Is Kandy Sri Lanka worth visiting?
Absolutely! Kandy is a must-visit destination in Sri Lanka, especially if you're an outdoor enthusiast. It's a beautiful city that has a lot to offer, including rich culture, history, and stunning natural beauty. However, if I was limited on time, I would have chosen Arugam Bay over Kandy, the beach town on the east coast was the highlight of my trip. Probably because it reminds me of Bali.
Best time to visit Kandy
Because of its dramatic location, Kandy enjoys a tropical salubrious climate, with temperatures ranging between 19-28C all year round. A cool and comforting contrast to the sizzling hot coastal lowlands. The best time to visit Kandy is from December to April when the weather is dry and sunny. However, Kandy can be visited throughout the year, but you may experience some rain during the other months.
What is Kandy famous for?
Kandy is famous for its cultural heritage, including the Temple of the Tooth, which is one of the most sacred Buddhist temples in the world. The city is also known for its beautiful botanical gardens, tea plantations, and scenic views.
What is the historical significance of Kandy?
Kandy is a city steeped in history, with a rich cultural heritage that spans over 2,500 years. As the last capital of the ancient kings' era of Sri Lanka, Kandy was the stronghold of the Sinhalese kingdom against foreign invaders. The city is home to many historical landmarks, including the Temple of the Tooth Relic, which is one of the most sacred Buddhist sites in the world.
Is Kandy or Ella better?
Both Kandy and Ella are beautiful destinations in Sri Lanka, and it depends on what you're looking for. Kandy is a cultural hub with a rich history, while Ella is known for its stunning natural beauty and hiking trails. If you're interested in culture and history, Kandy is the place to go. If you're looking for a smaller town with outdoor activities and scenic views, then Ella is the better choice.
Does Kandy have beaches?
Kandy is a landlocked city, and there are no beaches in the immediate vicinity. However, there are several beautiful beaches within a few hours' drive, such as Bentota, Dalawella Beach in Unawatuna, Weligama and Mirissa.
More Sri Lanka travel guides
---
Remember to pin for later 😉