This post may contain affiliate links. I will earn a small commission if you purchase through them, at no extra cost to you.
After a couple of hot and humid days in Kandy, arriving in Arugam Bay felt like finding paradise. I think I ended up liking it so much because it reminds me of what Bali used to be. A calmer version of Canggu if you will, but with a much nicer beach. Think sand for miles, palm trees, colorful boats and laid back restaurants. The atmosphere is young and fun, so it's an ideal place for backpackers and solo travelers to meet like-minded people.
May to September is the best time to visit, in other words, we arrived just in time to soak up the last rays of summer. The locals told us that starting in October it would be pouring down for months. A-Bay was definitely one of the places I liked the most in Sri Lanka, so I decided to do a roundup of all the different activities the bay has to offer.
Related Post: My favorite Arugam Bay restaurants & hotels
10 things to do in Arugam Bay
Learn to surf Arugam Bay is a surf town for sure. During our visit, there were more people in the water than on the actual beach. On smaller days Main Point is a great place to learn to surf, though it gets super crowded. Peanut Farm, about 15 minutes south, also has a great beginner wave in addition to a more advanced one. It seemed to be the spot of choice for the surf schools, at least there were a lot of soft boards in the water. If you are a more seasoned surfer you should also check out Pottuvil Point, Whiskey Point and Light House, all north of the bay. Further south you'll find Elephant Rock and Okanda. If you haven't booked a school in advance I would walk down the main street and ask around for prices. Safa Surf Camp is supposed to be awesome!
Go beach hopping The main beach is loooong and super nice, but only a small part is really swimmable due to big waves crashing onto land. That spot is close to Main Pont surf break, so it gets super crowded up that end of the beach. Of course, you can go in the water wherever you want, but please be careful and time your exit or else you will probably end up face down in the sand. All the surf spots mentioned above also have some great beaches worth checking out even if you don't surf. My favorite is Peanut Farm beach, pictured below, where you'll also find a quaint cafe serving some basic food and drinks.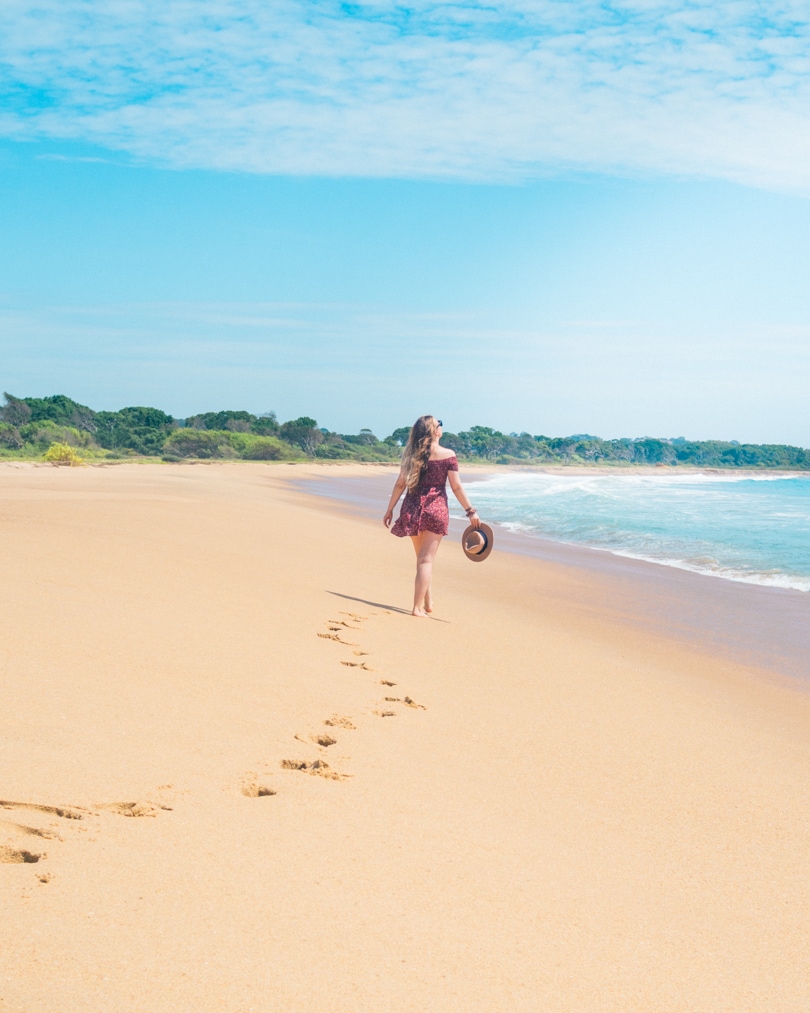 Buy a tailor-made bikini Walking down main street on our first night in the Bay, I was quickly drawn to this window full of bikinis. Inside there was an older guy making swimwear to order. It turned out I was lucky, the guy was closing shop for the rainy season the next day, so of course, I had to put in an order straight away. He has a lot of fun fabrics and styles to choose from, I went with a retro, purple pineapple pattern. For only 4500Rs / $30 I got both a souvenir and something I will wear a lot.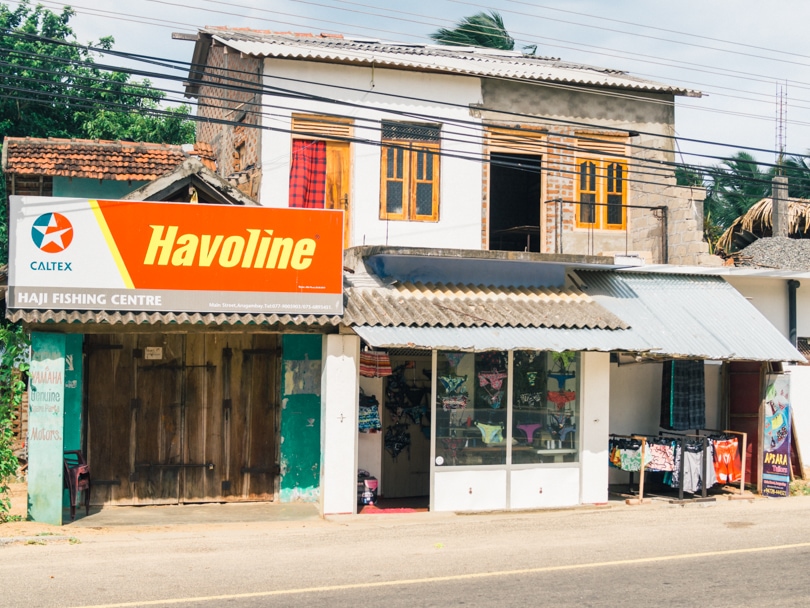 Go on a safari to Kumana National Park, about 50 minutes south of A-Bay. There are many different companies offering different kinds of packages, some short and some whole day adventures. Our hotel manager set the whole thing up for us and arranged for the car to pick us up at the hotel. I think we ended up paying 12.500Rs, which included entry to the park, a guide and the car all to ourselves. We saw elephants, crocodiles, deer, lots of different birds, water buffalos and different small furry creatures, but sadly not the shy leopard. Remember to eat a big meal before you go, as you'll be gone for at least six hours. And bring water, lots of water!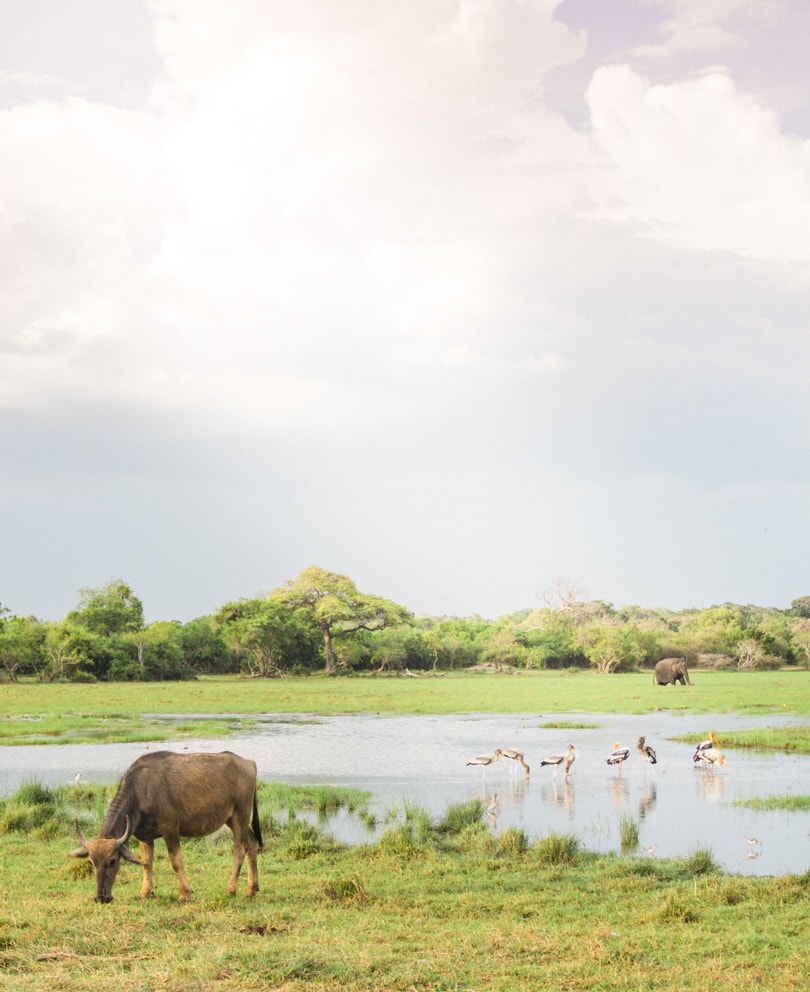 Eat Arugam has the perfect mix of local and trendy restaurants and cafés. As I mentioned in the Unawatuna restaurant guide, the local cuisine is both delicious and cheap. We tried to eat Sri Lankan food at least twice a day and then splurge on dinner at one of the fancier restaurants at night. Below you can see the chicken tacos we enjoyed at Hideaway Resort Restaurant. Delicious though quite expensive for the area at 700Rs/$5 for just the one dish. That's twice what we paid for an entire meal, including noodles, roti and drinks, at one of the local spots along the main road. So as you can see you'll find places to eat that fits every budget in Arugam Bay. Another restaurant we really liked is Food Nest. Their pizzas made in a wood-fired oven are super tasty and they make a killer pineapple mojito. Yum! More about this here.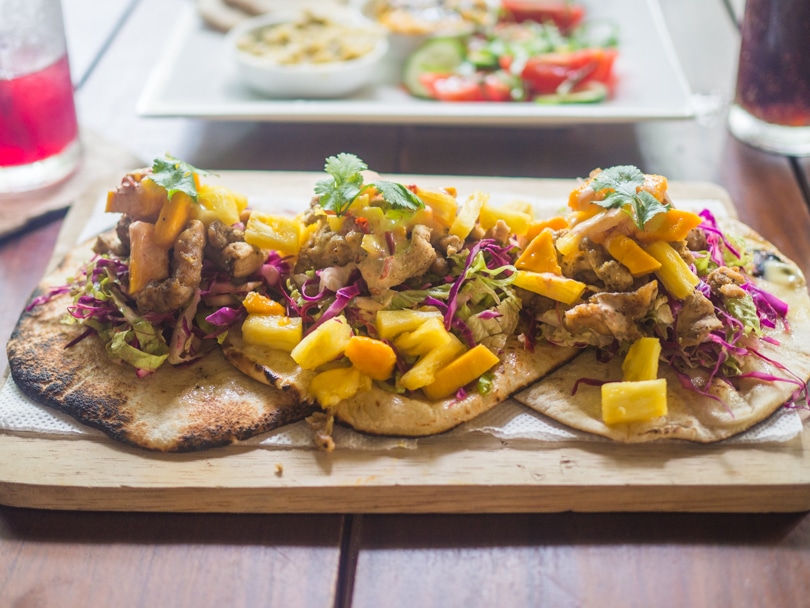 Lagoon boat trip The afternoon is the perfect time to go for a relaxing and scenic boat ride in Pottuvil lagoon just north of Arugam Bay. It's not the most exciting activity in the world, but it's a great way to support the locals. If you're lucky you'll see some wildlife coming down to the water's edge.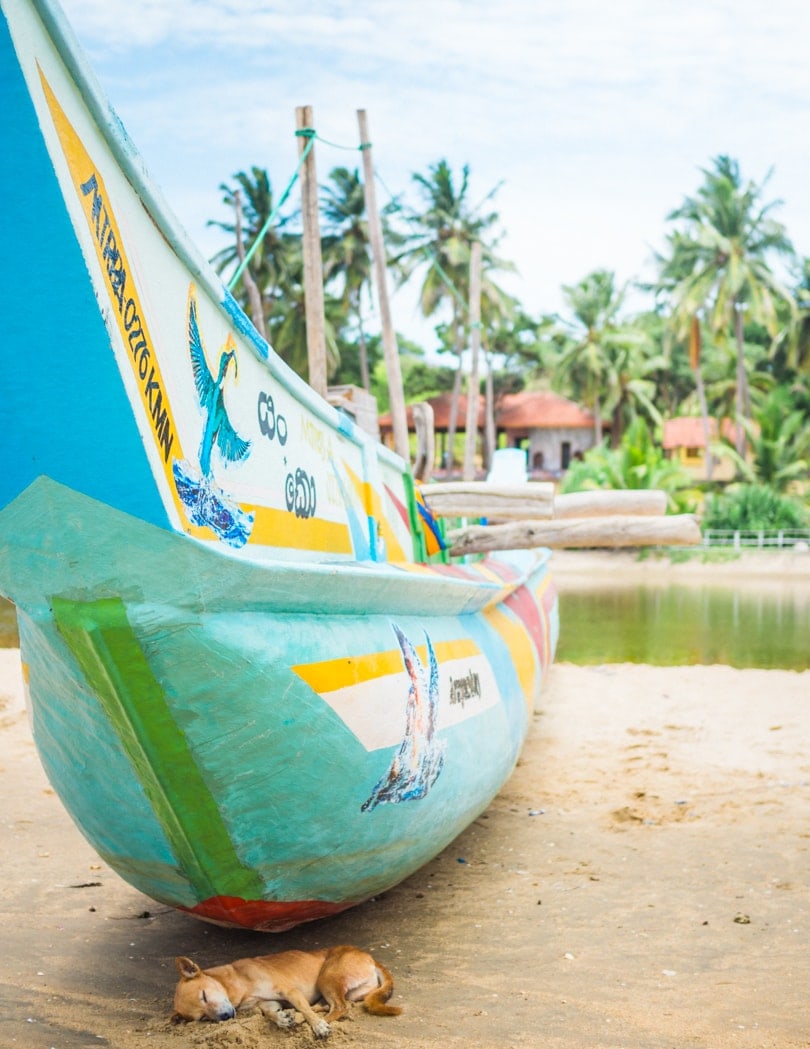 Do yoga Start your mornings with yoga, nothing will make you feel more energized and ready to take on the day. Driving through town I saw many signs and posters for different yoga classes, so you should be able to find something for every level. I've heard especially great things about Wave Flow yoga at the Stardust Beach Hotel. They offer lots of different therapies and classes, even one especially for surfers where you work on your balance and breathing.
Party As I mentioned there is a lot of young travelers in Arugam Bay, so there is usually a party going on somewhere. When we were in town, Hideaway Resort threw a super fun bash that kept going into the early hours. Look for posters scattered around town announcing parties or just follow the music, A-bay isn't that big of a place.
Rent a scooter Arugam is one of the places we visited I would feel totally safe to drive by myself. The roads are good and the traffic isn't too crazy. Driving by yourself you'll notice so much more of your surroundings and have the opportunity to stop and explore whenever you feel like it. It's also nice not to have to explain and arrange with a driver that often misunderstand what you're saying. Just remember that surfboard racks are not allowed in A-Bay, probably so the tuk-tuks will get more work. So if you're going back and forth to the surf breaks every day, it can get expensive. It might be beneficial to rent your own tuk-tuk, especially if you can share the cost with someone.
Kudumbigala Monastery is located on the outskirts of Kumana National Park, about 30km south of A-Bay. It was built all the way back in 246 BC as a refuge for Buddhist monks that wanted to get away from the hustle and bustle of the cities. The view from the top alone is worth the hike, just be aware of the wild animals. You could encounter elephants, monkeys, crocodiles and even bears. The best time to visit is early in the morning, as the heat in the middle of the jungle gets unbearable later in the day.