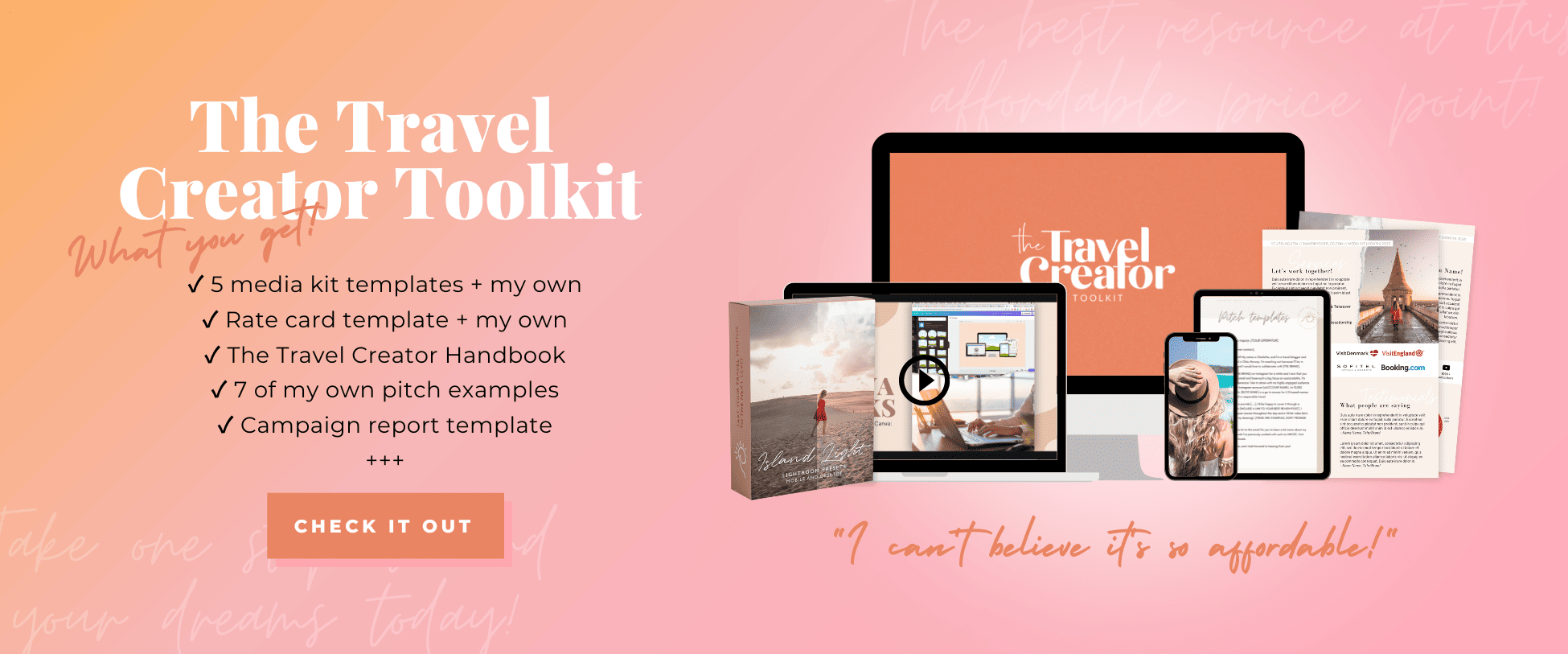 This post contains affiliate links. I will earn a small commission if you purchase through them, at no extra cost to you.
Hadeland Glassverk, located in Jevnaker, just one hour's drive from Oslo, has a special place in my heart. I used to come here with my grandparents every summer as a child on our way to my grandma's childhood homestead in Snertingdalen. I could barely get through the four-hour drive even with my favorite, Elton John's Yellow Brick Road, on my mom's old Walkman. Of course, asking my grandparents every ten minutes if we were there already.
I remember we used to sit in the parking lot at Hadeland Glassverk and eat sandwiches that my grandma had prepared because my grandpa thought it was too expensive to eat in the restaurant. However, I always got to choose one bag of candy from Kramboden, which literally was the highlight of the whole trip. And my grandma bought one glass animal figurine every time. I've included a photo of her whole collection further down.
When Hadeland Glassverk invited me to the premiere of their new immersive exhibition, Monet and Friends, I got super excited. All those beautiful memories started flooding back and I couldn't believe it had been 15 years since I was last there. I had the best time exploring, eating delicious food and staying one night at Thorbjørnrud Hotel, so I knew I had to create a guide to Hadeland Glassverk for you guys.
Let's take a look at what makes Hadeland Glassverk the best day trip from Oslo!
Although this was a sponsored trip, all thoughts and opinions are my own as always.
Related post: Norway Budget Breakdown: How much does one week in Norway cost?
History of Hadeland Glassverk
Hadeland Glassverk was founded in 1762 and is Norway's oldest industrial company with continuous operation to this day. In 1765 production started and consisted mainly of bottles, pharmacist glasses, medicine glasses and other glass for household use.
In 1852, under new management, Hadeland Glassverk experienced rapid growth. By then, bottle production had been transferred to Biri Glassverk and production was changed to small glasses, including wine glasses, bowls, barrels, flower glasses and vases. During the 19th century, the glasses they produced were based on designs from other European countries. In the 1920s however, they began designing their own signature glasses.
How to get to Hadeland Glassverk
Hadeland Glassverk is located in Jevnaker, in scenic surroundings at the southern end of Randsfjorden. The easiest way to get to Hadeland from Oslo is to rent a car, the drive takes only a little over one hour.
During the summer months and this fall, there's a bus service running between Oslo, Hadeland Glassverk and Kistefos where you'll find the incredible Twist Gallery.
Related post: The ultimate Norway bucket list: top 200 awesome things to do!
Hadeland Glassverk experiences
While Hadeland Glassverk is the perfect day trip from Oslo, you can literally spend several days there. There's just so much to see, do and taste. Glassblowing, shopping, exhibitions, concerts, inspirational speeches and even a little farm where the children can pet sheep, donkeys, rabbits, chickens or take a ride on horseback. Below I've written in more detail about what I consider to be the best things to do at Hadeland Glassverk.
Glassblowing
One of the highlights for us was seeing the very skilled glassblowers in action and of course, that we got to try glassblowing ourselves. It's free to enter Glasshytta (the glass workshop) to watch the professionals and browse the showroom. Prices for blowing glass start at 185 kroner / $21 and everyone from about 4 years can blow their own glass. You get good help and guidance from a professional glassblower throughout the process.
It was such a fun experience and not as hard as I had imagined. At least not when the professionals did most of the heavy lifting for us haha. Seeing how a glowing lump of glass mass turns into a vase or a drinking glass was incredibly fascinating.
The cooling of the glass is important so that it does not crack. That's why you have to wait an hour and a half from the time the glass is blown until you can pick it up. So if you want to try your hand at glassblowing it's a good idea to do it as one of the first activities.
You can see the result of our glassblowing below. Mine is the one on the left and it turned out more or less like it was supposed to. Ulrik, however, blew a little too hard so his glass got this bubble shape and is super thin. It looks so much cooler than mine, but I think we have to be careful so we don't break it.
Showroom
At the back of the workshop, there's a huge showroom where you can feast your eyes on some of Hadeland Glassverk's best and most impressive pieces. I fell in love with the warm-colored chandelier on the left below.
Monet & Friends – May 22 to September 23 2021
Monet & Friends – Life, Light & Color is an immersive digital exhibition that engages everyone whether you're an art lover or not. You get to experience the 19th century through the eyes of Monet and other great Impressionist painters.
The works of the Impressionists have been shown and admired all over the world for almost two hundred years, but never before have they been seen in this way. This is no ordinary art exhibition. The paintings come alive around you as soon as you enter the gallery – an experience that is both entertaining and educational.
I have to admit that I don't often visit galleries when I travel, archaeological museums are much more my thing. That said, the Monet & Friends exhibition was so much better than I could have ever imagined. It's a complete experience instead of just wandering around a gallery. So if you're in Norway or plan on visiting Norway over the next month, this is a must!
The exhibition includes:
Large format images displayed using modern Sensory4 technology.
Art by Claude Monet, Camille Pissarro, Pierre-Auguste Renoir, Paul Cézanne, Edgar Degas and other Impressionist painters.
Accompaniong classical music.
Digital drawing course – Learn to draw like Claude Monet.
Tickets:
Adult 190 NOK.
Children 155 NOK.
Family (2+3) 600 NOK.
You can buy tickets at Hadeland Glassverk or at Ticketmaster.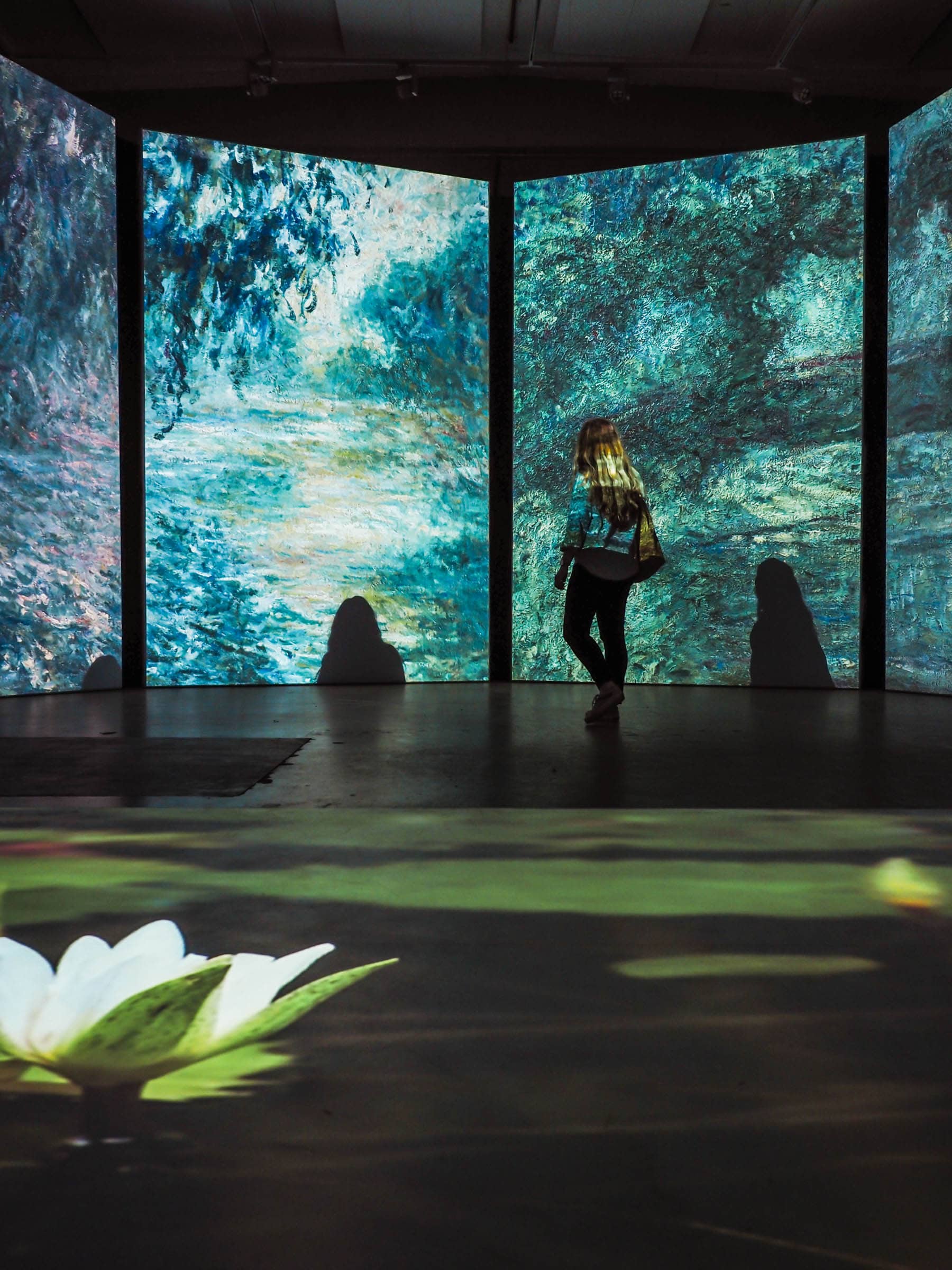 As I mentioned above, you can also attend a digital drawing class where you learn to draw like Monet. I love to paint and draw but for some reason, I haven't touched a brush or pencil for years. This definitely inspired me to get back into painting and carve out some time for what was one of my favorite hobbies.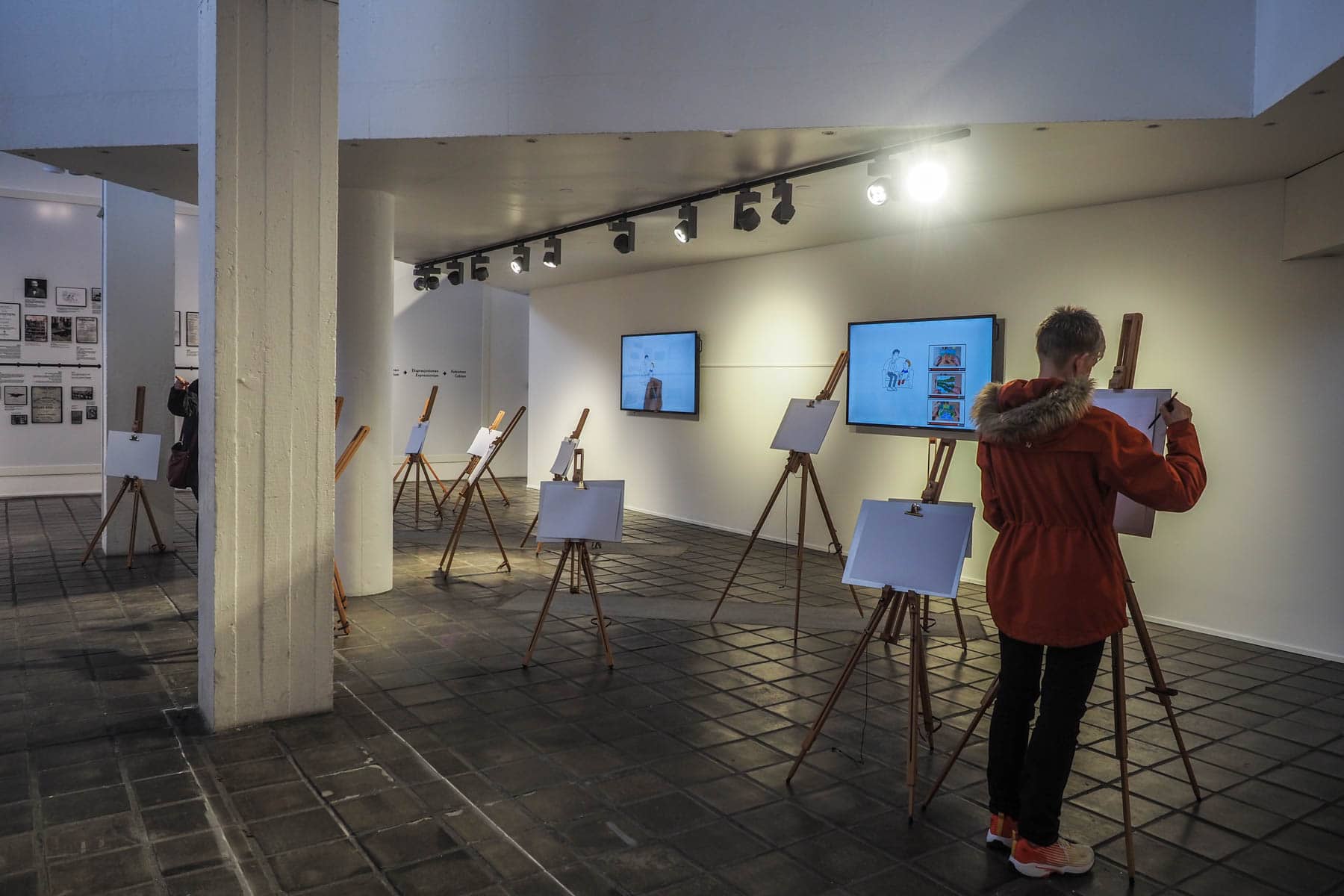 Wineglasses through three centuries
Calling all wine and design lovers! The second exhibition at Hadeland Glassverk at the moment is called "Vinglass gjennom tre århundrer" which in English translates to "Wineglasses through three centuries". The exhibition shows wine glasses from 1856 up until today.
I love design and aesthetics so I found it really interesting to wander around the exhibition and see how trends have evolved over the years. I also learned that the shape of today's wine glasses originally comes from early Christian altar chalices which were originally made of precious metal and used for communion.
At Hadeland Glassverk, wine glass production began in 1852. Large quantities of wine glasses, both single and in series, are still blown in the glass cabin today.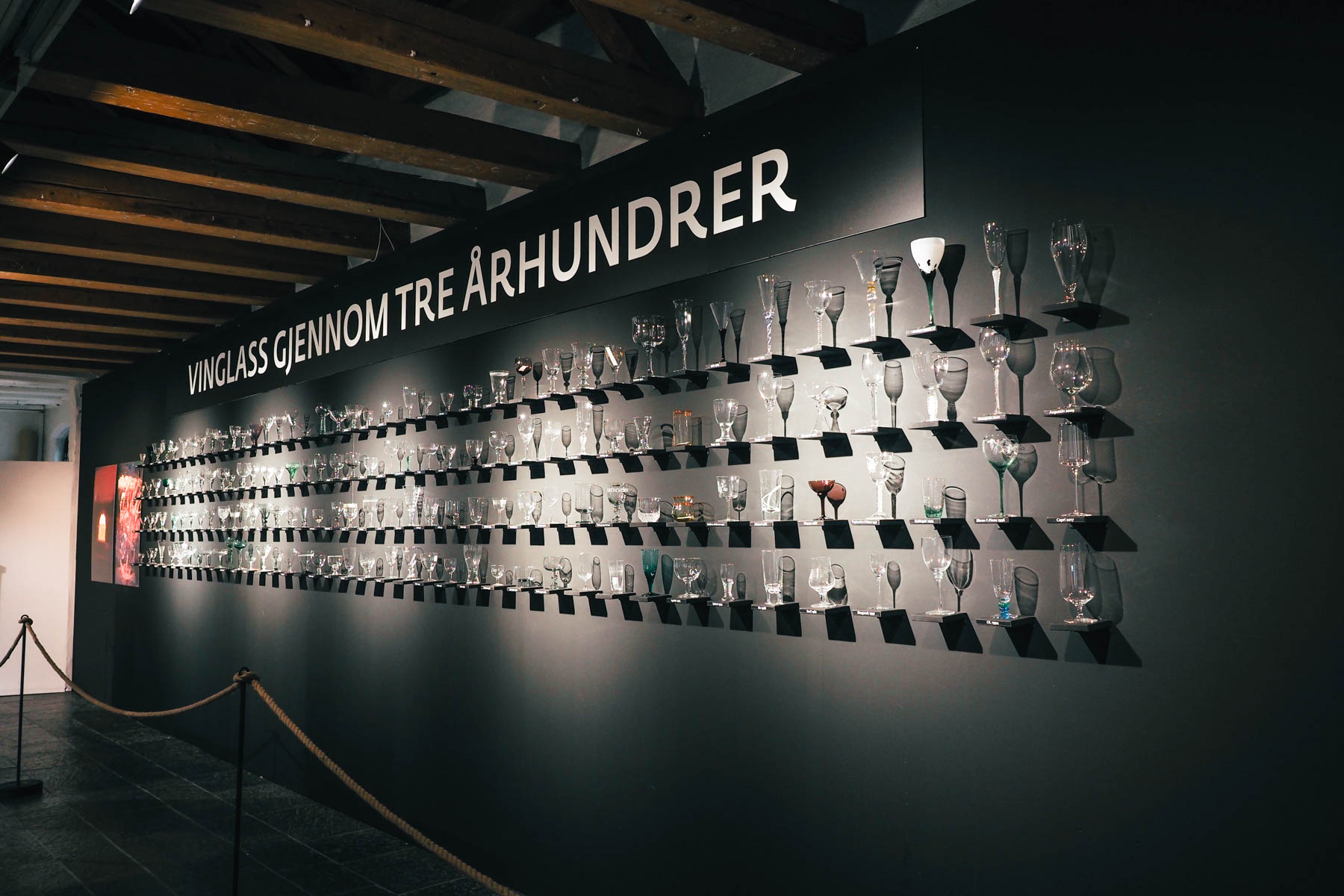 Related post: 10 incredibly beautiful beaches you won't believe exist in Norway!
Shopping at Hadeland Glassverk
Hadeland Glassverk has 10 stores with an exciting selection of glass, porcelain, kitchen, food, sweets, interior decor and clothing. You can see a map of all the stores here.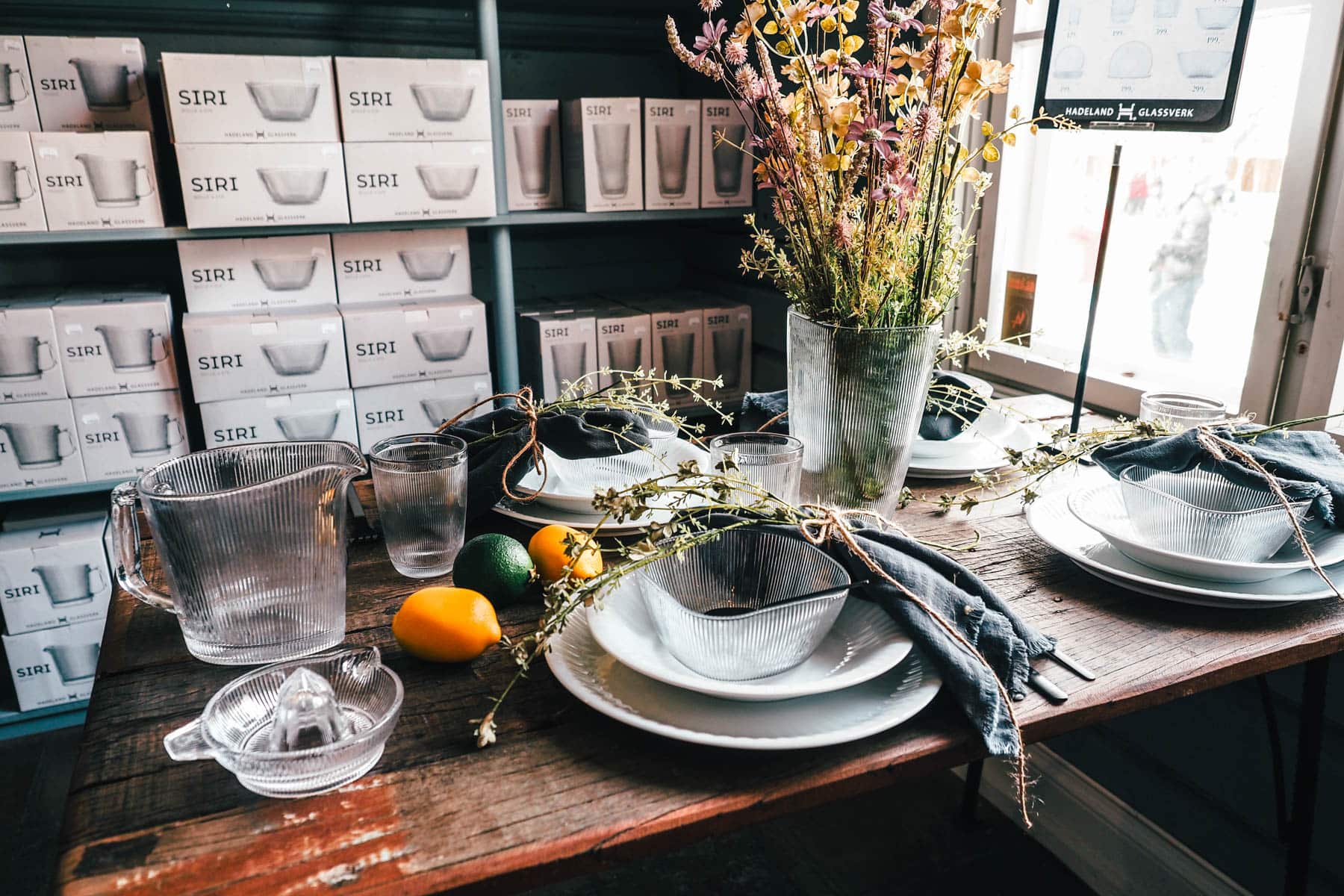 Kramboden
As a child, Kramboden or the "candy shop" was my favorite part of visiting Hadeland Glassverk. When I got to choose one bag of candy I always picked the "Håndstøpte Anisklumper", which is still my favorite to this day. It's the ones in the middle on the bottom row below. If you visit Hadeland, promise me that you'll taste them!
In Kramboden you'll find exciting spices, freshly ground coffee, tea, chocolates and even bacon sausages from Hadeland Viltslakteri. In addition to the tasty treats, Kramboden also boasts a range of beautiful interior decor pieces. It's the perfect place to get a gift for yourself or a loved one.
Fabrikkutsalget (the Factory Outlet)
The Factory Outlet is the place for those of you who are always on the hunt for a great deal! Here you'll find glassware produced in Glasshytta with minor imperfections at big discounts! Much of what is sold in the Factory Outlet is only available at Hadeland Glassverk!
Glassbutikken
If you appreciate the finer things in life you're going to love the Glass Shop. Here the best glass products are on display and most of them aren't available anywhere else. The Glass Shop boasts everything from glass art to design gems from the past. They have collectibles, special productions, specially made art glass and other unique objects.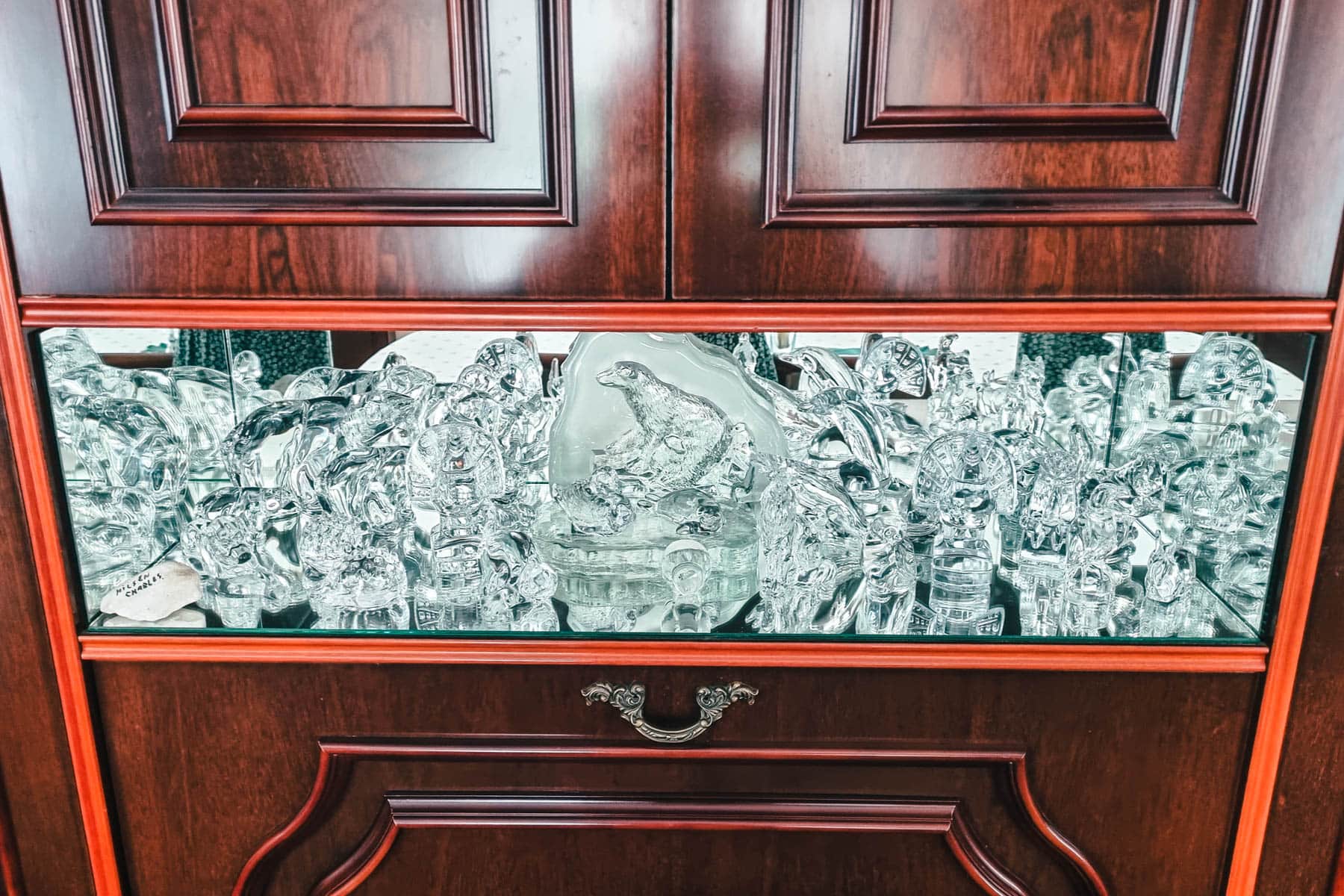 Hadeland Glassverk Cafés & Restaurants
During the summer months, there are 5 restaurants and cafés open at Hadeland Glassverk. They serve everything from Italian pizza and exciting vegan dishes to gluten-free baked goods and sweet treats such as waffles and donuts. Something for everyone!
Norgesglasshuset
In Norgesglasshuset everything is gluten-free. You have to try their "svele", a traditional thick pancake that is to die for, especially with some homemade strawberry jam on top. They also have a small factory in Norgesglasshuset where jam, tomato salsa and mustard are produced.
Vaffelhuset (the Wafflehouse)
The Waffle house doesn't need much of a description, they specialize in super tasty waffles along with other sweet treats such as donuts with ice cream and bubble waffles.
Related post: 47 fun & interesting facts about Norway: I bet you didn't know that…
Bakeriet (the Bakery)
Ever since the 19th century, Glassverket's own bakery has been known to produce fresh baked goods. Today it's the perfect place to sit down and enjoy some breakfast or lunch. You have the choice of delicious baked goods along with sandwiches, wraps and salads. My favorite is called "Skolebrød" or school bread in English, a sweet roll made from yeasted dough filled with vanilla custard and topped with icing dipped in grated coconut.
Kokkestua
For lunch, we sat down for a healthy chicken salad in Kokkestua. They serve everything from the most delicious sandwiches to dinner dishes and a rich selection of cakes and desserts. All their dishes are made from fresh ingredients bought daily and first-class bread directly from their bakery. Kokkestua also launched a brand new burger menu this summer. Yum!
Mester Pizzeria
The highlight for us was definitely the Italian pizza at Mester Pizzeria which can be found on the ground floor of Kokkestua. The pizza can be enjoyed in the beautifully decorated restaurant, on the outdoor terrace overlooking Randsfjorden or taken home.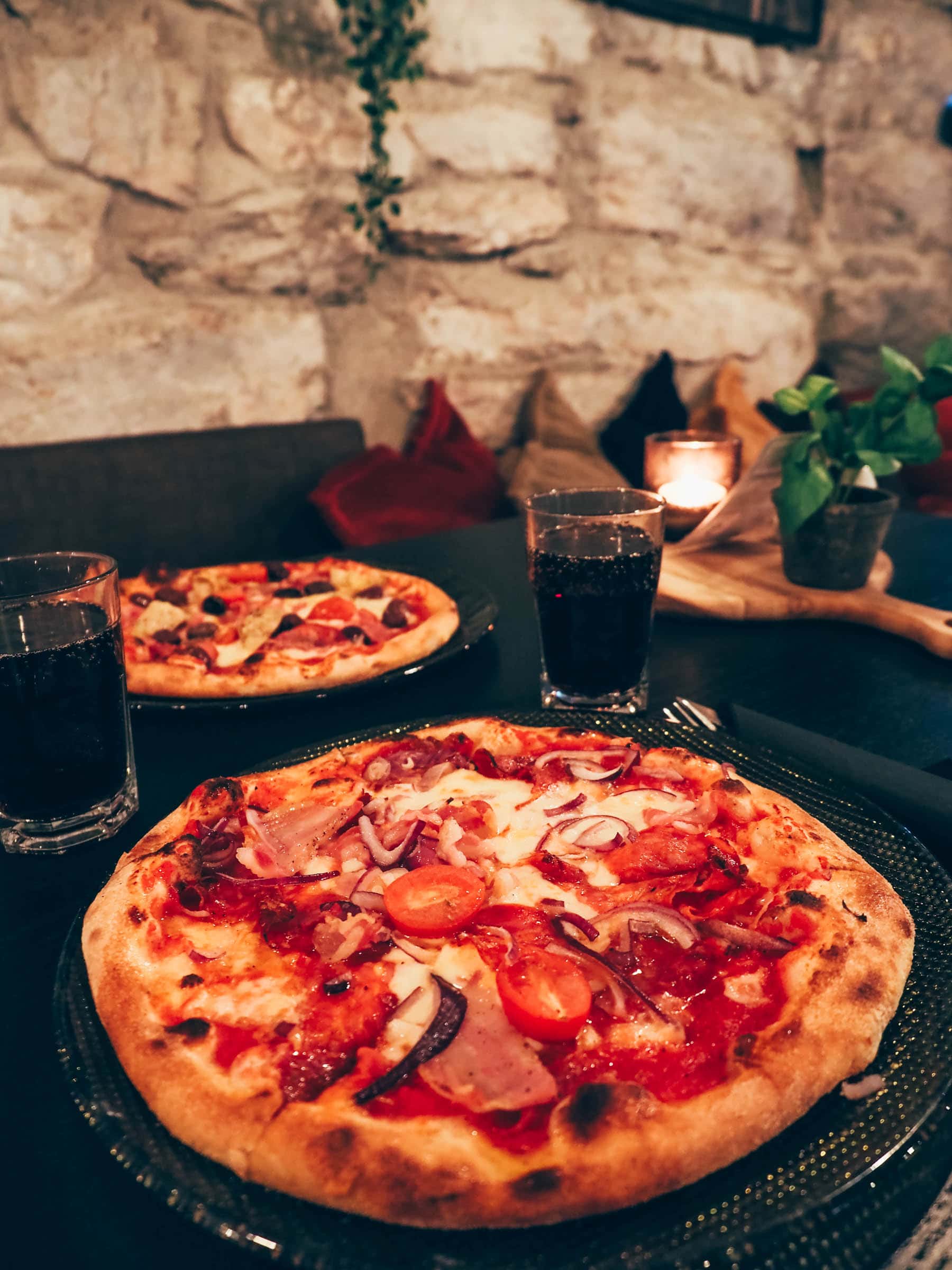 Thorbjørnrud Hotel
Thorbjørnrud is idyllically located on the edge of Randsfjorden within walking distance to Hadeland Glassverk. The farmland where Thorbjørnrud hotel sits today can be traced back to the 14th century. The majestic main house you can see below has, among other things, been the director's residence of Hadeland Glassverk. The wing that houses all the hotel rooms were built in the 1980s.
We had a great time staying at Thorbjørnrud Hotel and it was so convenient that is it located literally across the street from Hadeland Glassverk. I especially loved going for a stroll in the beautiful garden and down to the water. The location is just stunning!
The people behind Thorbjørnrud are food enthusiasts on another level, great news for all my fellow foodies. They take the term "cooking" slightly further than other hotels and use local food suppliers, have their own microbrewery and more than 3 acres of kitchen garden right outside the hotel. Their lunch buffet is widely known and they often fire up the Italian pizza oven.
In addition to serving up some delicious dishes, Thorbjørnrud also offer a number of food courses, tastings and lectures related to food and Norwegian food culture. You can learn how to make pizza, sausages, beer, bread baking or traditional Christmas food. So this is a great place to stop by even if you don't spend the night.
Glamping
I'm not much of a camper, glamping on the other hand is something I very much enjoy. At Thorbjørnrun they have several glamping tents down by the water where you can get close to nature without sacrificing comfort. We didn't stay in the tents this time but I would love to go back and try it out as it looked super cozy.
The large 2 or 4-person canvas tents are romantically decorated with beds, furniture, carpets and fairy lights. They have electricity and a fan oven so it is warm and dry in all kinds of weather. Each tent also comes with its own hotel room including a toilet and shower. There is outdoor furniture in front of the tent and you also have access to a nice and large communal tent with a fire pit.
The Twist
Combine your day trip from Oslo to Hadeland Glassverk with a stop at Kistefos sculpture park and the award-winning The Twist Gallery. I will write more about the Twist soon!
---
I hope I have inspired you to visit Hadeland Glassverk on a day trip from Oslo!
Remember to pin for later 😉