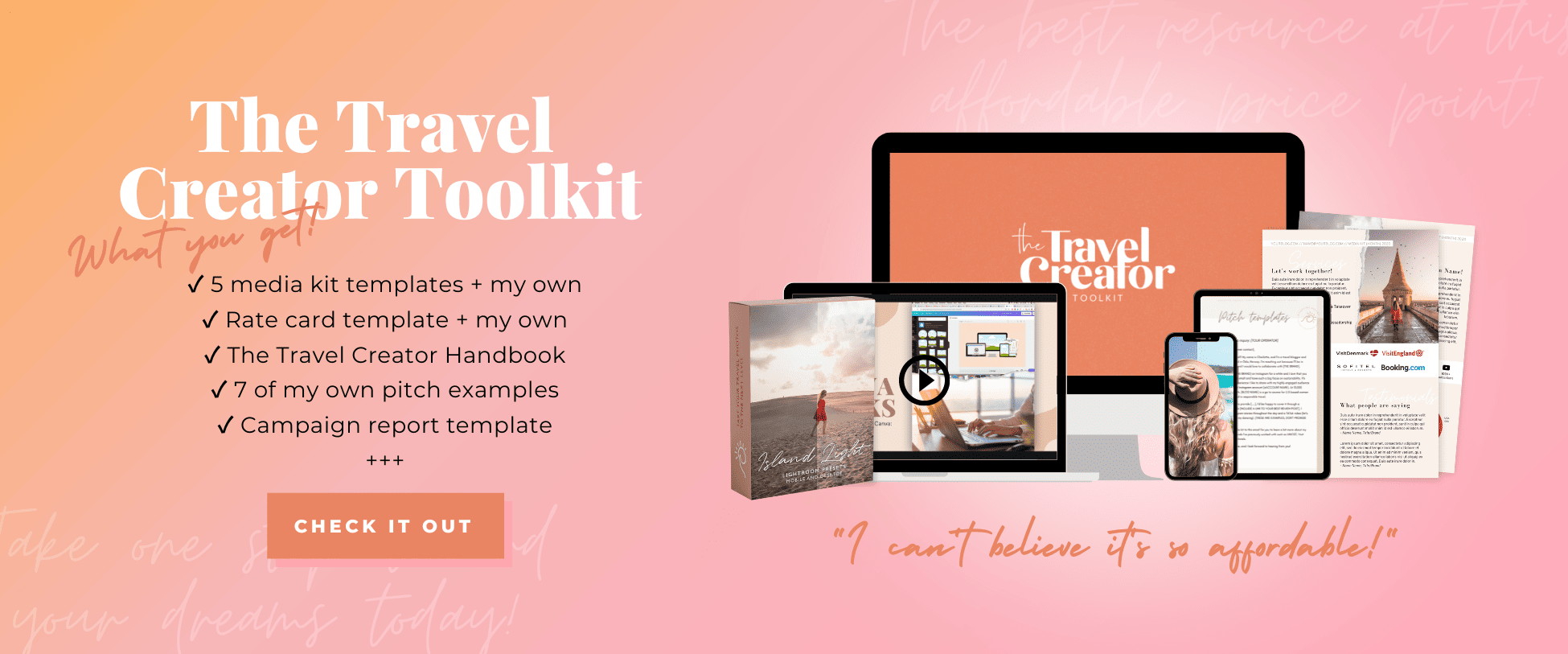 This post may contain affiliate links. I will earn a small commission if you purchase through them, at no extra cost to you.
Are you looking for the best waterfalls in Ubud, Bali? That's exactly what I have done over the last 10 years. Chasing waterfalls is one of my favorite things to do while traveling and Ubud is definitely the best place in Bali to do so.
After exploring all the waterfalls I could find in the area, I decided to compile a list of what I consider to be the best waterfalls in Ubud, some you might not even have heard about yet. Three of my fellow female travel bloggers have also written about their favorites as numbers 1, 2 and 3.
All of the 14 waterfalls on this list are located in Ubud or near Ubud, a maximum of one hour and ten minutes away. I've also included the best time to visit waterfalls in Ubud, how to get around Ubud and what to wear. So basically, here's everything you need to know before you head out on the Ubud waterfall trail!
🌟 Pro tip >> Ubud Spectacular Waterfalls Tour is THE ultimate tour for you if you're limited on time and want to experience three of the most beautiful waterfalls near Ubud in one day!
Best time to visit waterfalls in Ubud
The best time to visit the waterfalls near Ubud and in Bali, in general, is between March and May, right after the wet season.
After months of rain, the waterfalls are at their most powerful, and you are more likely to experience blue skies and sunny weather during the day. The water will also be clearer, as it can get brown and muddy during heavy rain.
You can, of course, visit the waterfalls all year round, but they will not be as impressive towards the end of the dry season.
How to get around in Ubud
Hire a private driver
Getting around to all the best waterfalls in Ubud with a private driver is, of course, the most expensive option. But it's also very easy and comfortable as you can just sit back and relax between each stop.
Literally, everyone in Bali has a driver they can recommend, often a close family member. And you'll more than likely be approached on the street every day by drivers looking for customers.
So if you don't book in advance, remember to bargain and don't accept ridiculous prices, there's always another option. The last time we hired a driver in Ubud, we paid 700k Rp. for the day, 6.30 am to 4 pm.
🌟 Check price & availability >> When I want to have everything organized before I go, I usually book this driver. This is really a full-day customizable tour, which means you have the driver for 10 hours and you can go wherever you want.
Ubud waterfall tours
If you prefer to have someone else organize the day for you, I highly recommend these guided tours that include some of the best waterfalls in Ubud and close to Ubud.
Ubud Spectacular Waterfalls Tour: This is THE ultimate tour for you if you want to experience three of the most beautiful waterfalls near Ubud in one day. Tibumana Waterfall where you can enjoy a refreshing morning swim in the natural pool below. Tukad Cepung Waterfall that located inside a cave and Tegenungan Waterfall. You also have the option to upgrade the tour with a visit to Tegalalang Rice Terrace and a jungle swing.
Bali full-day Instagram highlights tour: This very affordable and customizable tour will take you to some of the most popular Bali attractions. The first stop in the morning is Pura Lempuyang followed by Tirta Gangga Water Palace, the stunning Tukad Cepung Waterfall, a jungle swing and Tegalalang Rice Terrace. This is a Get Your Guide Original Tour so you can add on services like hotel pick-up, private guide, lunch, a photographer and even a drone pilot that will film your experience. Pretty cool right?
Best of Ubud Tour: This highly recommended tour will take you to Tegenungan, probably the most popular waterfall in Ubud, along with a wood carving village, Tegalalang Rice Terrace, Ubud Monkey Forest and a few temples and markets. If you only have a limited time in Bali, this is a great way to see all the best sights Ubud has to offer in one day.
Rent a motorbike
One of the best ways to explore Bali is to rent a motorbike/scooter and drive around at your own pace. That way, you can stop and take as many photos as you want along the way. Believe me, there will be a lot of stops. Ubud is one of my favorite places in Bali to drive by myself, the surroundings are just stunning and the traffic isn't too bad.
Usually, you can rent a motorbike straight from your hotel or homestay for around 75.000 IDR per day. From Ubud, you should be able to reach the waterfalls I mentioned above in no more than an hour and ten minutes.
While I highly recommend driving by yourself in Bali, only do so if you're comfortable on a motorbike. And remember to always wear a proper helmet with an SNI sticker, which means it's certified according to Indonesian standards. If you get pulled over (I still haven't after 13 years in Bali) the police will also often ask for an international driver's license. You can read more about this in my Bali scams article under points 4 and 5.
Book in advance
Get a scooter delivered to your hotel or homestay. That way you don't run the risk of being told that there are no more scooters available. It doesn't get more convenient. All of this is included in the rental:
Helmet for maximum 2 persons
full tank of gas (petrol) upon delivery
24/7 road-side assistance
Mobile phone holder
First-aid kit and rain poncho (for maximum 2 people)
🌟 Check price and availability here >> Scooter rental with delivery
Map of the best waterfalls in Ubud Bali
---
14 best waterfalls in Ubud
1. Suwat Waterfall – 15 km from Ubud
Suwat Waterfall is a hidden gem in central Bali. Located about 30 minutes east of the yogi and culture capital of Ubud, Suwat Waterfall can be found on the Ubud waterfall trail that also includes Tibumana and Kanto Lampo. But, what makes Suwat special is the enchantment that comes from the carved stones surrounding the waterfall and the shallow cave behind the falls.
Head east from central Ubud, through small charming villages and lush rainforest. Arrive at Suwat Waterfall Bali using Google Maps and park in the dirt lot. Pay the 15,000 Rp. entrance fee at the small bamboo hut before reaching the trailhead. Enter through the large wicker gate and make your way through the jungle. The path to Suwat is short, with a couple of steep stair sections, only about 10 minutes.
Once you reach the falls, you will have to scramble over some ancient rocks. Take a closer look at these rocks, as they are intricately carved with fish and wildlife that are native to Bali. Once over the rocks, you will see the natural pool and 50-foot waterfall surrounded by nature. The great thing about Suwat Waterfall is you can swim in the pool and visit the hidden cave behind. Take a cruise on the bamboo raft for something special.
Recommended by Haley from HaleyBlackall.com
Suwat Waterfall entrance fee: 15,000 IDR
Opening hours: 8 am – 6 pm
---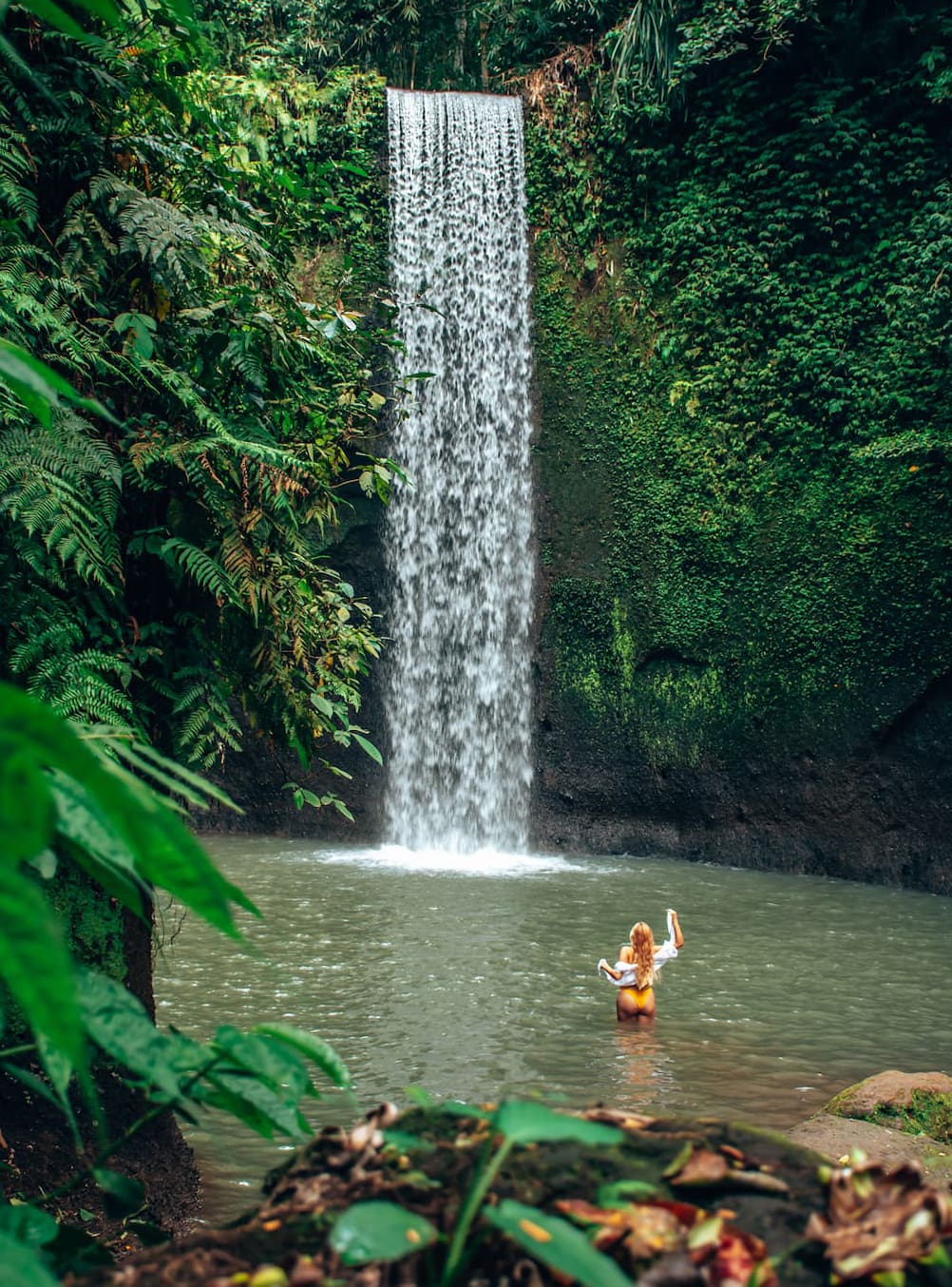 2. Tibumana Waterfall – 15 km from Ubud
Hidden deep in the Bali jungle, Tibumana is one of the best waterfalls to explore on the island. Situated just outside of Ubud, Bali's cultural hub, Tibumana is a must-visit for all nature lovers.
There is a 15,000 Rp. entrance fee that includes a parking fee. The hike down is actually relatively easy and enjoyable and no longer than 10 minutes. The path will take you through a lush jungle, over wooden bridges and past other small waterfalls. Tibumana waterfall is surrounded by dense jungle, tropical flowers, and there is a large stony area in front of it where you can leave your belongings, sit down and enjoy the site.
Tibumana falls into a large pool where you can take a refreshing dip on a hot day, one of the best feelings ever. There is a local man on-site to ensure visitors enjoy the waterfall safely and don't come too close to the powerful stream of water hitting the pool.
On your way back, you can stop at a local warung to grab lunch or a cold drink and use the restrooms.
Tibumana waterfall is located 30 minutes drive East of Ubud and about 90 minutes from Seminyak and Kuta. The most convenient way to get there is to ride a scooter or hire a private driver for the day.
Recommended by Mal from Raw Mal Roams
Tibumana Waterfall entrance fee: 15,000 IDR
Opening hours: 6 am – 6 pm
---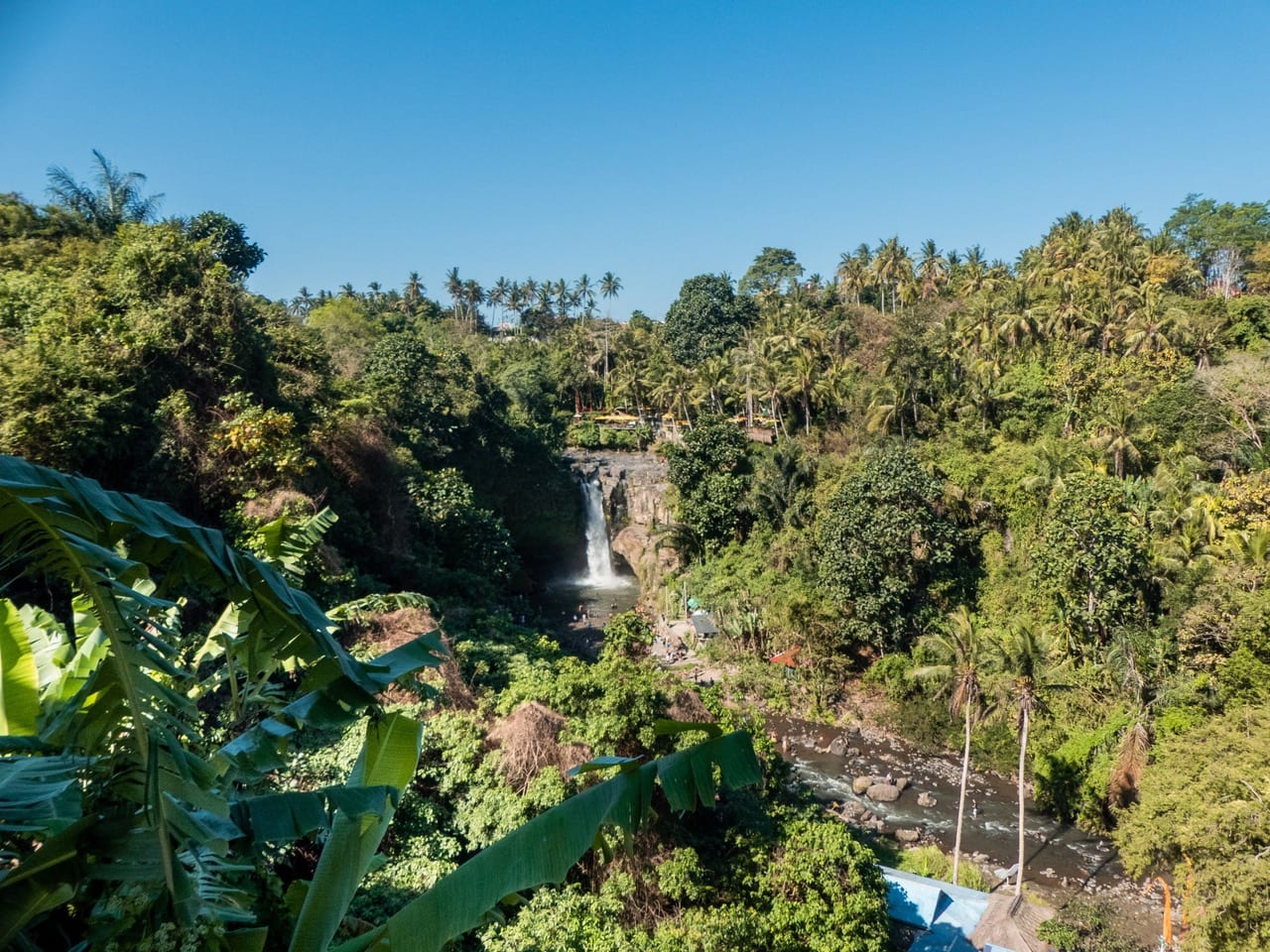 3. Tegenungan Waterfall – 10 km from Ubud
Tegenungan Waterfall is located around 15 minutes away from the center of Ubud. It's one of Bali's largest waterfalls and more than an impressive sight.
Of course, a beautiful waterfall like this is very popular among tourists. Tegenungan is usually quite crowded during the day, especially during the high season, so coming in the early mornings is highly recommended if you want a more quiet experience. Entry to the waterfall costs 20k Rp. and parking is free. The waterfall is actually really easy to access and you can easily walk to it in around 10 minutes. The walk is easily manageable and consists mostly of concrete stairs. There are several small restaurants close to the waterfall as well as changing rooms and bathrooms.
The waterfall has a shallow area dedicated to swimming and there's a second separate pool close by. You'll also find several photo spots with swings or other Instagram-worthy setups next to the waterfall. Definitely add Tegenungan Waterfall to your list of must-see waterfalls in Bali.
Recommended by Victoria from Guide your Travel
Tegenungan Waterfall entrance fee: 20,000 IDR
Opening hours: 6.30 am – 6.30 pm
---
4. Tukad Cepung Waterfall – 28 km from Ubud
Tukad Cepung is definitely the most Instagram-worthy waterfall near Ubud. I couldn't believe my eyes when we got there, it almost didn't look real. This waterfall is actually located inside a cave and you have to walk down a few hundred stairs to reach it. But I promise you, it is worth the effort. And there are several small warungs where you can sit down and enjoy a cold drink on your way back up.
While I would usually recommend visiting waterfalls early in the morning to beat the crowds, Tukad Cepung is different. You actually have to get there a little later for the sun to shine into the cave, as you see in the photos above. We arrived around 11 am in late March and it was perfect timing!
To get a shot inside the cave with no one else around, you have to be patient. I almost gave up several times and wanted to leave, but luckily my boyfriend convinced me to stay and wait for the perfect opportunity. After about 15 minutes everyone suddenly cleared out and I literally ran in the water to get a few photos.
Pro tip: When you reach the bottom of the stairs, you can go left for Tukad Cepung and if you go right you'll find several small cascades that few people even bother to see. About 30 meters to the right there's even another small cave with a waterfall inside and chances are you can have it all to yourself.
Tukad Cepung entrance fee: 15,000 IDR
Opening hours: 7 or 8 am – 6 pm
Guided tour: Tukad Cepung, Tibumana and Tegenungan are all included in this highly-rated Spectacular Ubud Waterfalls Tour. If you don't want to do any planning or driving by yourself, joining a guided tour is the perfect option for you.
---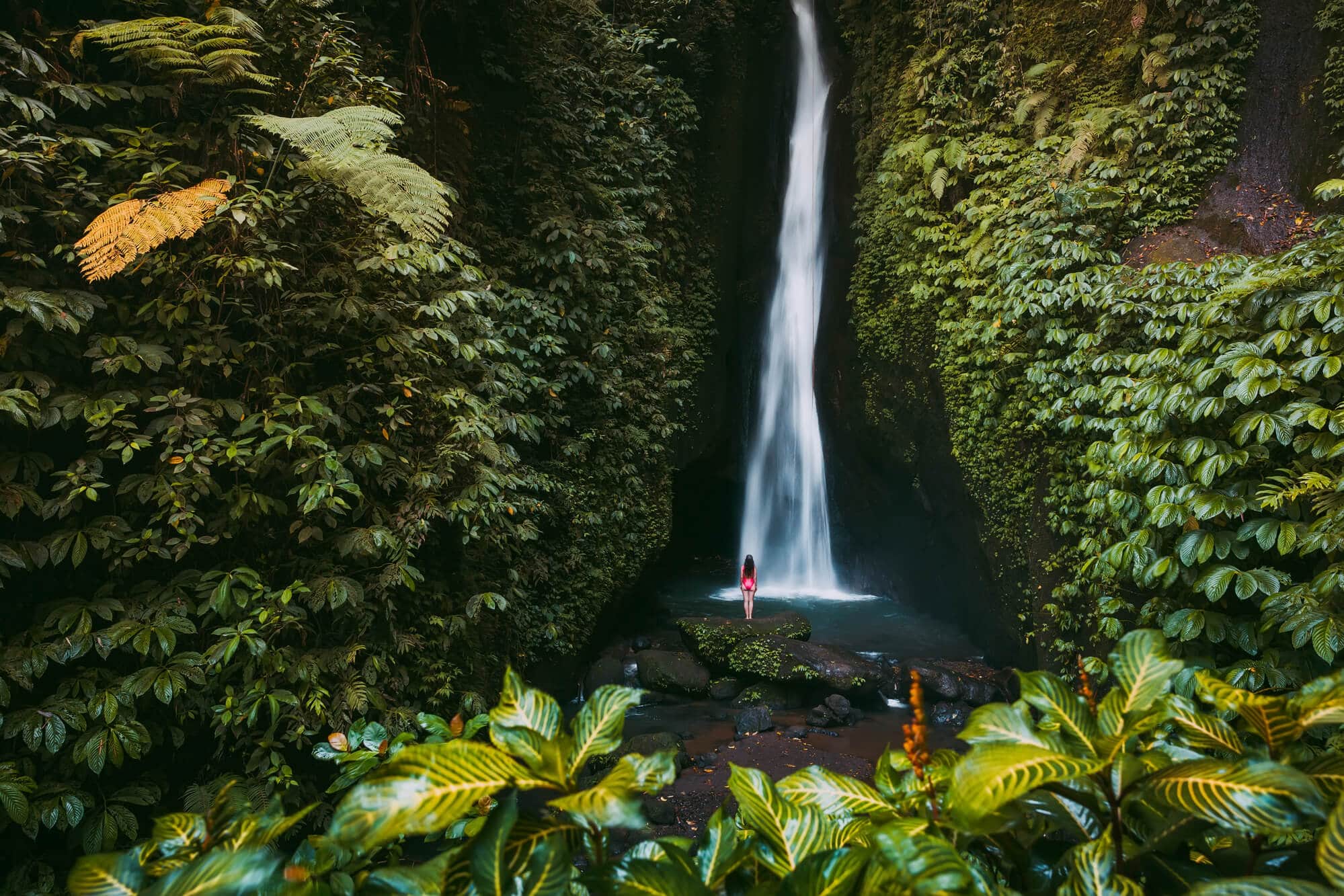 5. Leke Leke Waterfall – 32 km form Ubud
When you first arrive at the Leke Leke Waterfall parking area, located about 45 minutes from Ubud, it does feel a bit touristy. There is a shop, a warung, toilets, a swing and a few bamboo structures where you can shoot some photos with the jungle in the background. However, once you get to the bottom of the waterfall, Leke Leke truly feels like a hidden gem. The lush jungle setting almost gives Jurassic Park vibes and you might expect a dinosaur to appear at any time.
The hike down to the waterfall is easy to moderate and takes only around 15 minutes. The path is well maintained and is a combination of steps, dirt paths and a bamboo bridge you have to cross. As with all the waterfalls, be careful, especially if it's raining, as parts of the path can get very slippery.
The waterfall itself consists of one cascade flowing gently down into a shallow pool of water. And there's even a cave to explore behind the waterfall. Because of the small pool, it's not possible to swim here, but the beauty of the place makes it worth a visit.
Get there early to have the waterfall all to yourself and to get some beautiful shots before the sun gets too high. Only 30 minutes away from Leke Leke you'll find Nungnung Waterfall, so be sure to stop by both while you are in the area.
Leke Leke Waterfall entrance fee: 50,000 IDR
Opening hours: 7 am – 5 pm
---
6. Nungnung Waterfall – 35 km from Ubud
Nungnung, one of the most powerful waterfalls in Bali, is the furthest from Ubud on this list. It takes about one hour and ten minutes to get there from the center of town. Like so many other places in Bali these days, there are two swings and a few lookout points at the entrance. Again, I find those things a bit touristy but I have to admit that the views are amazing.
To reach the fall you have to walk down over 500 steps and cross two bamboo bridges. The hike isn't too strenuous and takes only around 20 minutes. The return trip, however, takes about 45 minutes and is a bit more challenging. But it is so worth it!
Nungnug Waterfall itself is a majestic 50-meter tall cascade set in lush jungle. At its base is a rock pool where you are allowed to swim, just be careful not to get too close to the fall as it's even more powerful than it looks. And remember to bring a change of clothes as you will get wet. Even if you don't jump in the water, the mist will get you!
Nungnung Waterfall entrance fee: 20,000 IDR
Opening hours: 9 am – 4 pm
---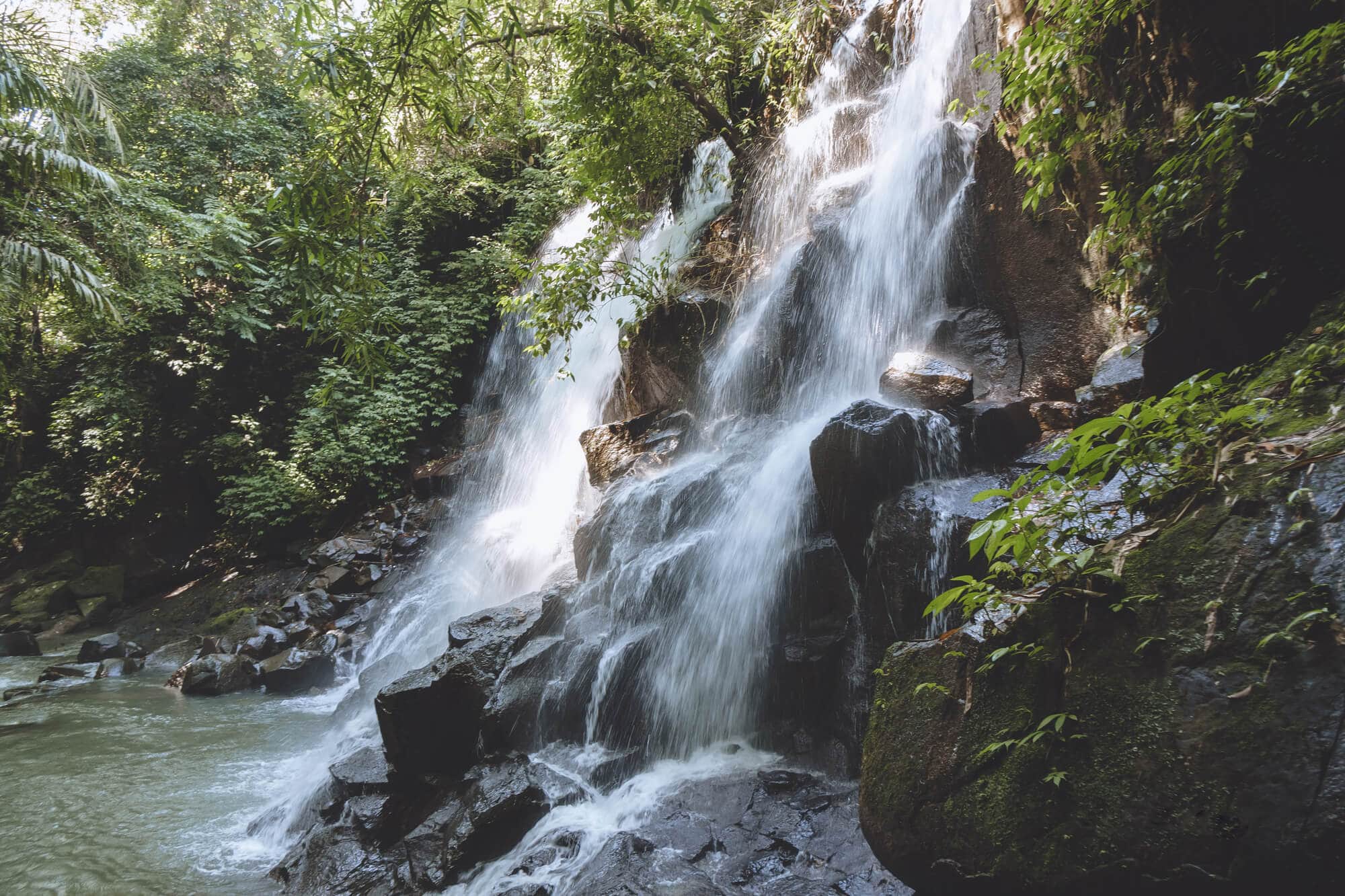 7. Kanto Lampo Waterfall – 11 km from Ubud
Just a 25-minute drive from Ubud you'll find Kanto Lampo waterfall. It is one of the most popular waterfalls in Ubud, amongst locals and tourists alike. So to be able to fully enjoy this place, get here as soon as they open in the morning.
Getting down to the waterfall is relatively easy and only takes 10 minutes. The fall itself is wide and gently flows down a wall of rocks. Many families with children love visiting because of the easy access and stunning scenery. It is also a great place to go for a swim in the pool below and climb the rocks (carefully) to snap some photos. Remember to bring your swimsuit as you have to get wet to get in front of the fall.
The last time I was there, a local guy offered to take photos for us for only 20k. He showed me some of his previous work and they were actually really good. A great option if you, like us, never get any photos together as a couple.
Kanto Lampo Waterfall entrance fee: 20,000 IDR
Opening hours: 8 am – 5 pm
---
8. Sumampan Waterfall – 10 km from Ubud
If you're staying in Ubud and looking for an easily accessible waterfall, you should visit is Sumampan. It only takes about five minutes to get there from the center of town.
Reaching the falls from the parking lot is relatively easy and requires you to descend just 50 steps. When you get down to the bottom, you'll find crystal clear waters and a hanging jungle canopy. It's not the best place to swim or cross the river because of its sometimes rough waters. However, you will find unique stone carvings along the river banks depicting Balinese Gods.
There's no official entrance fee at Sumampan but rather a "good karma" donation box where most visitors donate about 5-10k IDR.
Sumampan Waterfall entrance fee: donation
Opening hours: 9 am – 5 pm
---
9. Goa Rang Reng Waterfall – 12 km from Ubud
Goa Rang Reng, located just 20 minutes from central Ubud, is unique because it doesn't fall straight down like the other waterfalls on this list. It is a long, gentle slope where water slowly cascades down its many rocky layers. It's an ideal spot for exploring, wading and swimming in the pool at the top. There's also a small bamboo platform from which you enjoy the view if you don't want to get wet.
The walk down to the waterfall is relatively easy, just remember that the dirt path can get slippery. If you're interested in the area's history and would like a more active adventure, consider hiring a local guide and go hiking in the hills above the waterfall. They will take you through the jungle, along the river canyon to an ancient temple and the holy cave.
As the grounds are considered to be holy by the Balinese, be mindful, respectful and ask permission before you wander into the temple or cave.
Goa Rang Reng Waterfall entrance fee: 15,000 IDR
Opening hours: 7.30 am – 5 pm
---
10. Dusun Kuning Waterfall – 20 km from Ubud
Those looking for a waterfall that also has a beautiful hike leading down to it will enjoy Dusun Kuning. Even better is that the waterfall isn't too crowded. You won't encounter hoards of tourists here, at least not yet. It takes about 45 minutes to reach Dusun Kuning from central Ubud.
The hike down to the fall takes only 15 minutes and is suitable for all levels of hikers. Keep in mind is that the path is a little slippery, so make sure you take your time. You'll be surrounded by lush greenery, a flowing creek and smaller waterfalls on your way down.
When the fall is at its most powerful it consists of two cascades that flow into a natural pool and then into the river below. It's such a beautiful sight. You can walk and climb on the rocks to get in front of it for photos, just be careful!
Air Terjun Kuning entrance fee: 20,000 IDR
Opening hours: 8 am – 6 pm
Related post: 17 things you should know before going to Bali!
11. Manuaba Waterfall – 10 km from Ubud
Manuaba Waterfall is located roughly 20 minutes out of central Ubud. And from the parking area, it's just a 10-minute walk down a well-maintained path and stairs to reach the waterfall. Manuaba isn't as tall as some of the other falls mentioned on this list, but the idyllic rice fields and forests surrounding it make it really special.
When I last visited, the locals were super happy we were there and eager for us to take photos to share online to attract more people. You can easily combine your visit to Manuaba Waterfall with a stop at Tegallalang Rice Terrace and my favorite temple in Bali, Gunung Kawi.
Manuaba Waterfall entrance fee: 10,000 IDR
Opening hours: 7 am – 6 pm
---
12. Goa Giri Campuhan Waterfall – 26 km from Ubud
Goa Giri Campuhan, also known as GGC, is a stunning set of three waterfalls, a bat cave and a natural pool. Although located only 40 minutes from central Ubud, the area is off the beaten path, so it won't be overly crowded. At least not yet.
The journey to the waterfalls is very scenic. It's a short 500-meter walk through rice fields with Mount Agung in the background. Then you have to go down about 150 steps and through a cave tunnel built during the Dutch colonial era. If you want to learn more about Goa Giri Campuhan and the local area, you have the option to hire a local guide. However you don't have to, despite what some might say, and you should not feel pressured to pay a ridiculous amount. In my mind, 100k Rp. should be enough.
If you're looking for a place where you can swim and enjoy the water, you'll love this place.
Goa Giri Campuhan Waterfall entrance fee: donation? 20,000 IDR?
Opening hours: 8 am – 6 pm
---
13. Bangkiang Djaran Waterfall – 18 km from Ubud
If you're looking for a waterfall near Ubud that you can have all to yourself, stop by Bangkiang Djaran, just 30 minutes out of town. It isn't as tall or powerful as some of the other waterfalls but it has its own charm. The water gently slides down the side of a greenery-lined wall into a small pool.
The walk down is easy and if you follow the path past the waterfall, you will get to a small temple and another fall across the river.
Bangkiang Djaran Waterfall entrance fee: 5,000 IDR
Opening hours: 8 am – 6 pm
---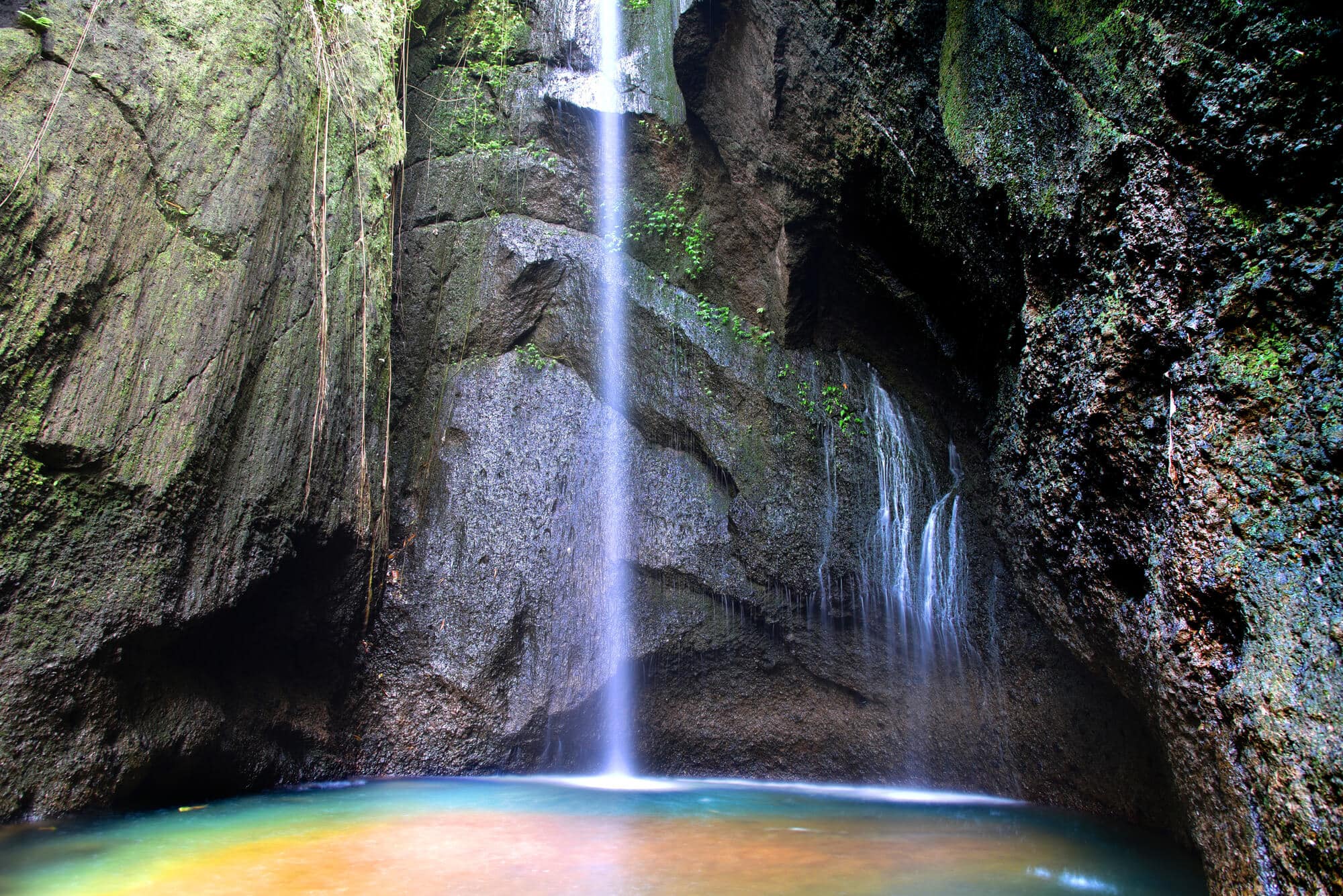 14. Pengempu Waterfall – 18 km from Ubud
Pengempu, one of the lesser-known waterfalls in Ubud, is located just 30 minutes away from the center of town. It's not the largest nor most powerful waterfall in the area, but the setting inside half a cave makes it incredibly beautiful.
To reach the waterfall you only have to walk for 5 or 10 minutes down a set of stairs, through the lush jungle and then across a wooden bridge. The waterfall itself is very gentle and there's a shallow pool surrounding it. Not a great place for swimming but you can dip your toes in to cool off.
While Pengempu is one of the least visited waterfalls on this list I still recommend getting there early to have it all to yourself.
Pengempu Waterfall waterfall entrance fee: donation + parking
Opening hours: 6 am – 6 pm
---
Pro tip: Taman Sari Waterfall & Natural Pool is another option for those of you who are looking for a great place to swim and play in the water close to Ubud.
You might also like >> Bali Budget Breakdown – How much do two weeks in Bali cost?
What to wear at the waterfalls in Ubud
If I know the hike down to the waterfall is fairly easy, I will just wear what I normally do in Bali; a sundress or shorts and a t-shirt with my trusty white Havaianas flip-flops. However, as mentioned above, some of the waterfalls are much harder to reach, which means comfortable shoes or hiking sandals are a must.
It's a good idea to wear your swimsuit under your clothes as it can get very crowded at some of the waterfalls and it can also be hard to change while you try to keep your balance on slippery rocks.
At some of the waterfalls, you can't escape the water and you might even have to hike through rivers, so it's a good idea to also bring a waterproof backpack. And don't forget your camera. I've shot some of my all-time favorite Bali photos at the waterfalls in and near Ubud. You can read more about my camera gear here.
Remember to bring bug spray if you're visiting the waterfalls early in the morning. When my mom and I went to Sekumpul Waterfall at 8 am, we got eaten alive by mosquitos. Well not quite, but let's just say that my very white legs did not look great afterward.
Ubud waterfall packing list
---
Where to stay in Ubud
Below you'll find a few of my favorite places to stay in Ubud in different price ranges. And check out this article for more budget accommodation options in Bali.
Budget
Ubud Tropical Garden: A very affordable homestay with light and bright rooms complete with balconies and spacious bathrooms. The property also has a beautiful pool overlooking a rice field. Such great value!
Mid-range
Adiwana Monkey Forest: I absolutely love this place. The rooms are spacious and super cute and the whole property is full of lush greenery. And it's in the perfect location for exploring central Ubud on foot.
Luxury
Goya Boutique Resort: A cozy yet luxurious resort where you can enjoy beautifully decorated rooms, a gorgeous infinity pool and unparalleled service, right in the heart of Ubud. It's the perfect option for those of you who would like to be pampered without staying in one of the big chain hotels.
Recap: Popular Ubud Waterfall Tours
---
Disclaimer: I have bought some of the photos in this article from Depositphotos, my favorite stock photo site.
---
Remember to pin for later 😉