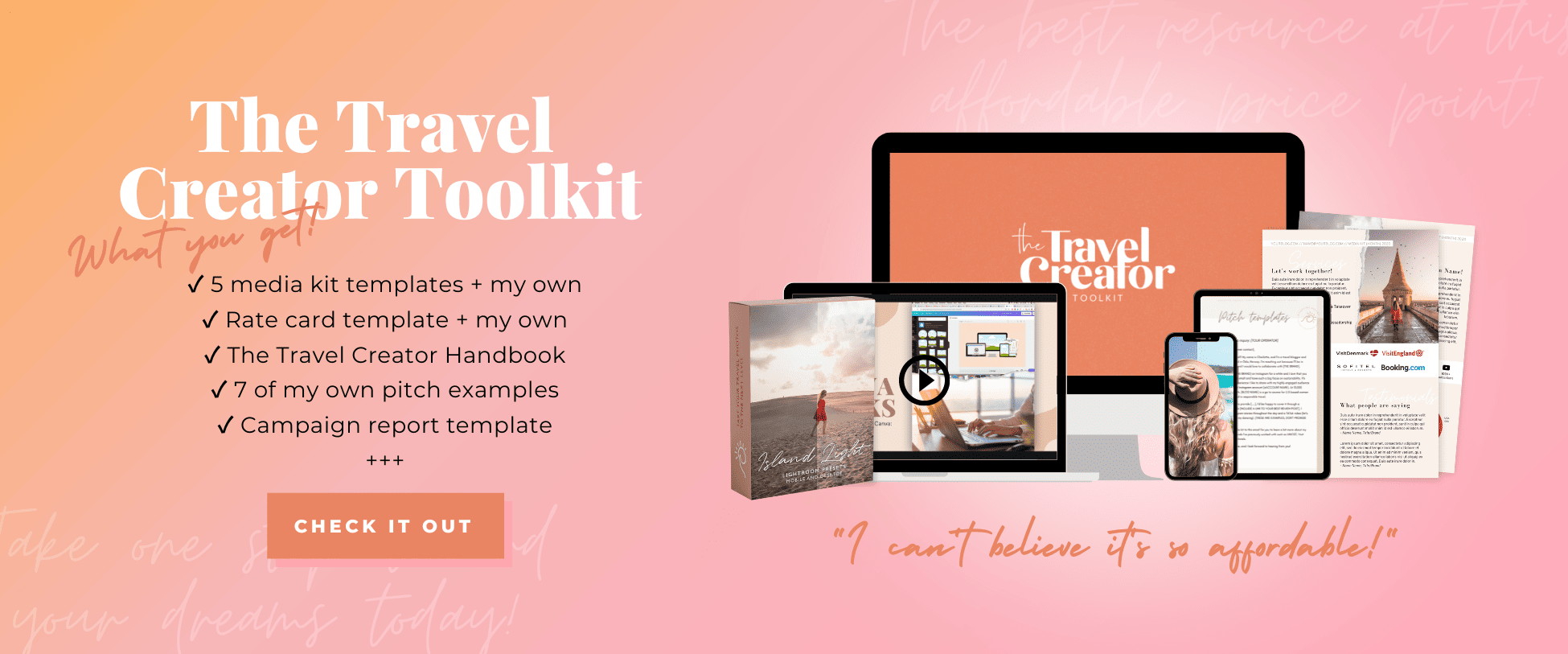 This post may contain affiliate links. I will earn a small commission if you purchase through them, at no extra cost to you.
Are you looking for the best Taj Mahal photography tips? The Taj Mahal is one of the most iconic and photogenic monuments in the world. With its stunning white marble facade and intricate carvings, it is a photographer's dream come true.
However, capturing the perfect shot of the Taj Mahal can be a challenge, especially with the crowds of tourists that flock to the site every day. And that's why I'm sharing everything I know about photographing the Taj Mahal!
So whether you are a professional photographer or a casual traveler with a smartphone, these tips will help you make the most of your visit to the Taj Mahal and capture stunning images that you will cherish for years to come. I display mine in my living room.
But before we get to the Taj Mahal photography tips, let's take a look at some important information you should know before you go.
🌟 Remember to always get insurance before you travel to India or anywhere else. SafetyWing is an affordable subscription travel insurance that you can purchase even after departure. Read my complete SafetyWing review here.
History of the Taj Mahal
Taj Mahal, one of the new 7 wonders of the world, sits on the right bank of the Yamuna River in the North Indian city of Agra.
The magnificent marble structure tells the love story of Emperor Shah Jahan and his much-beloved wife Mumtaz Mahal, who died during the birth of their 14th child. In 1632 he commissioned the construction of the Taj Mahal to house her tomb and 11 years later the main mausoleum was completed.
But it took more than 20,000 artisans and workers 22 years to complete the entire complex which also includes a mosque, a guest house, and a beautiful garden with reflecting pools. Another Taj Mahal fun fact is that it changes color throughout the day. It appears pinkish in the morning, milky white in the evening, and golden at night when illuminated by the moon.
In 1983 Taj Mahal was recognized as a UNESCO World Heritage Site for being the jewel of Muslim art in India. Every year, between 7 and 8 million visitors pass through the gates to marvel at the structure that is by many considered to be the most beautiful building in the world.
How to get to the Taj Mahal
The Taj Mahal, Agra Fort and Mehtab Bagh Garden, the most exciting attractions, can easily be done in a day.
You can even do a day trip from New Delhi to the Taj Mahal with a guide or just book a driver and explore on your own. You can also do an independent day trip from New Delhi to the Taj Mahal by train.
We visited Agra and Taj Mahal as part of a private Golden Triangle tour that also included Jaipur. If you're limited on time I highly recommend booking a private tour so you don't waste any time on transportation. India can be overwhelming at the best of times so a local guide was invaluable.
Where to stay close to the Taj Mahal
🌟 My top pick for hotels in Agra >> Radisson Blu Agra
We spent two nights at Radisson Blu Agra, located within a 15-minute walking distance of the East gate.
I wouldn't normally choose to stay in a large hotel chain like that, but I just couldn't resist their rooftop pool with a view of the Taj Mahal (which I for some strange reason forgot to photograph?)!
If you prefer something a bit more affordable and homier I recommend The Coral Court Homestay.
The best time to visit the Taj Mahal
The best time of the year to visit the Taj Mahal for most people is during winter, from October to December and before summer, from February to March. The weather conditions are gentler and clearer then, but there will, of course, be a lot more visitors during these months.
The best time of the day to visit the Taj Mahal is definitely in the early morning when the light is great for photography and the crowds are smaller.
According to Wikipedia, Agra features a semi-arid bordering on a humid subtropical climate with extremely hot and dry weather during summer. In fact, Agra has a reputation for being one of the hottest cities in India. Typically, the temperature from April to June can reach up to 50°c. Travelers may be more prone to dehydration and heatstroke during this period, so remember to stay hydrated.
From July to September, Agra experiences monsoon season and receives a lot of rain (though not as much as South India). We were there in the middle of August and got one cloudy day and one sunny day, most of the rain came at night.
When we got to Taj Mahal at 5.30 am it was already 30°c out and extremely humid. Let's just say my light grey maxi dress turned dark grey and my hair was WET. Basically, I looked like a drowned rat.
But as an avid amateur photographer, I'm happy I went when I did because I would rather drown in my own sweat than have to compete with hordes of people for the photos and views I want.
Related post >> First time in New Delhi – How to survive (and have a good time)
Taj Mahal opening hours
The East and West gate opens 30 minutes before sunrise and closes 30 minutes before sunset. And the ticket window opens one hour before sunrise and closes 45 minutes before sunset.
We left our hotel at 5:00 am and walked down to the East gate ticket office. 30 minutes later we were inside the complex and it was still dark out. However, as mentioned above, this was during monsoon season so there will most likely be a lot more people queuing up for tickets from October to March.
Remember that the Taj Mahal is closed every Friday for prayers as the mosque next to the main mausoleum is still active.
Taj Mahal entrance fee
There are 3 entrances – the East, West and South Gate. The West Gate is the main entrance and is mostly used by locals and Indian visitors. It generally has the longest lines throughout the day.
The East Gate is the one most foreigners use because it's close to well-known hotels and guesthouses. The South gate is closed for entry at the moment because of security risks.
There is a ticket office by each gate where you have to buy a ticket before you get in line. Foreigners are charged 1100 Rs for entry and children under the age of 15 can enter for free. You can save time by booking tickets online at http://asimustsee.nic.in which is the only official site.
We were told that we would get a bottle of water, shoe covers and a map with our tickets, but that did not happen. Instead, they were giving out shoe covers inside the complex on both sides of the Taj.
Related post >> How to spend 2 days in Jaipur: Top 12 attractions
What NOT to bring to the Taj Mahal
There are many items that are prohibited inside the Taj Mahal complex. Here are some of the main things that you should not bring with you:
Tripods and Gorillapods
Drones
Batteries
Portable chargers
Cigarettes and lighters
Books
Eatables of any kind
Tools
If you brought one of these items by accident, there are lockers at the ticket office where you can store them.
What you should bring to the Taj Mahal
Your Camera
Different lenses
Maybe a Polaroid camera
Bottle of water (we did not get one with the ticket)
Accessories for your shoot?
If you are a woman traveling with a man it might be wise to let him carry the bag through security as the men's line was moving much quicker than the women's line.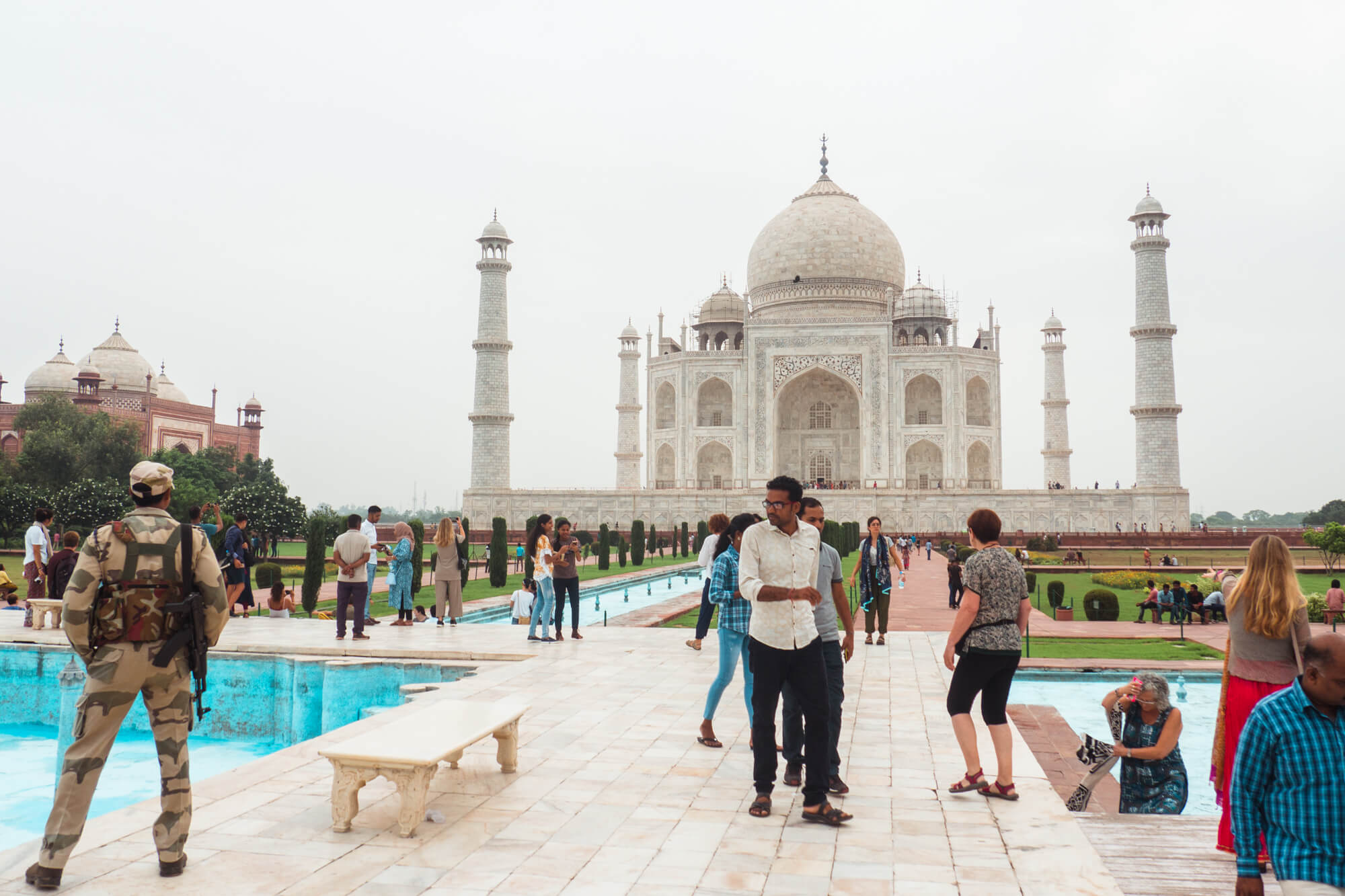 Top Taj Mahal photography tips
If you're headed to the Taj Mahal soon you probably have one or two photos in your mind that you really want to get. I know I did. And chances are everybody else wants those shots too.
You probably know what I'm talking about; a reflection of the Taj Mahal in the turquoise fountain and the majestic white marble structure standing tall in the background. And maybe one of yourself casually posing in front of it.
1. Move around
But my number one tip is to get creative and move around! Do not stop at the entrance gate or directly in front of the Taj like everyone else. You can go back there and stand in line after you get all your shots with no one in them.
Related post >> Nahargarh Fort – The best sunset point in Jaipur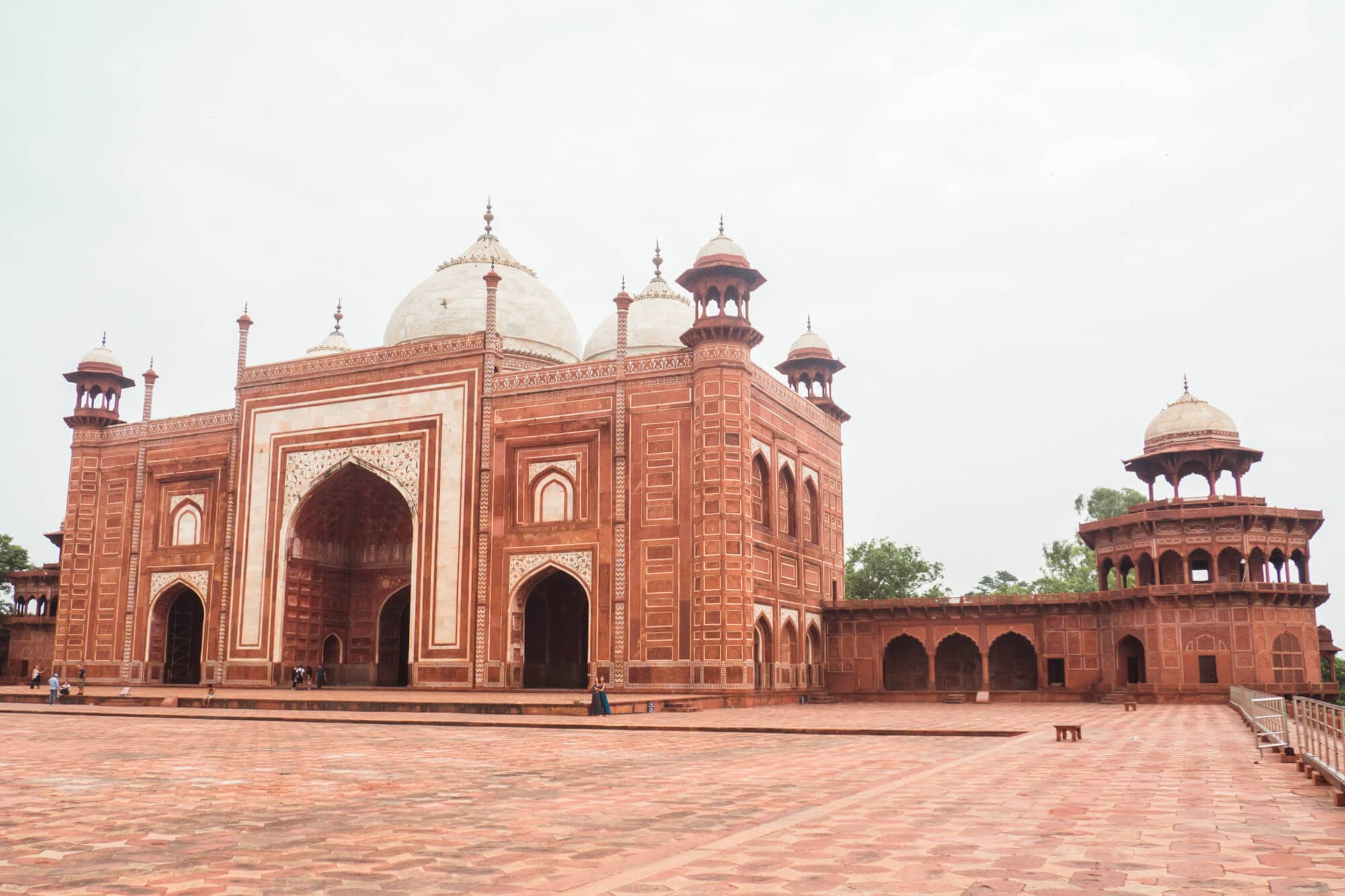 2. Start at the Mosque
Head straight for the Mosque (on the left when facing the Taj) or the Jawab, also known as the Guest House, on the right for a side angle with fewer people in it. With the right angle, you can frame the Taj within the entryway but you will have to be patient and wait for the people in the background to move out of the way. You can also use other archways to frame the Taj like the wall along the main gate.
I like to get the light to come from behind my subject so I went straight to the mosque. If you want the sun to light up the Taj Mahal and give it a warm glow, head to the Guest House. Remember to remove your shoes before entering the mosque and prepare yourself to step in a lot of old and fresh pigeon poop.
And if you get there when it's still dark, look out for the humongous monkeys hanging around. We got chased away from the mosque twice before they finally went away.
As you can see the weather was not great when I was there. So it was quite hard shooting non-blurry photos with the very limited light we had. We ended up having to lean the camera against the stairs inside the mosque, on the walls and anything we could find to stabilize it a bit.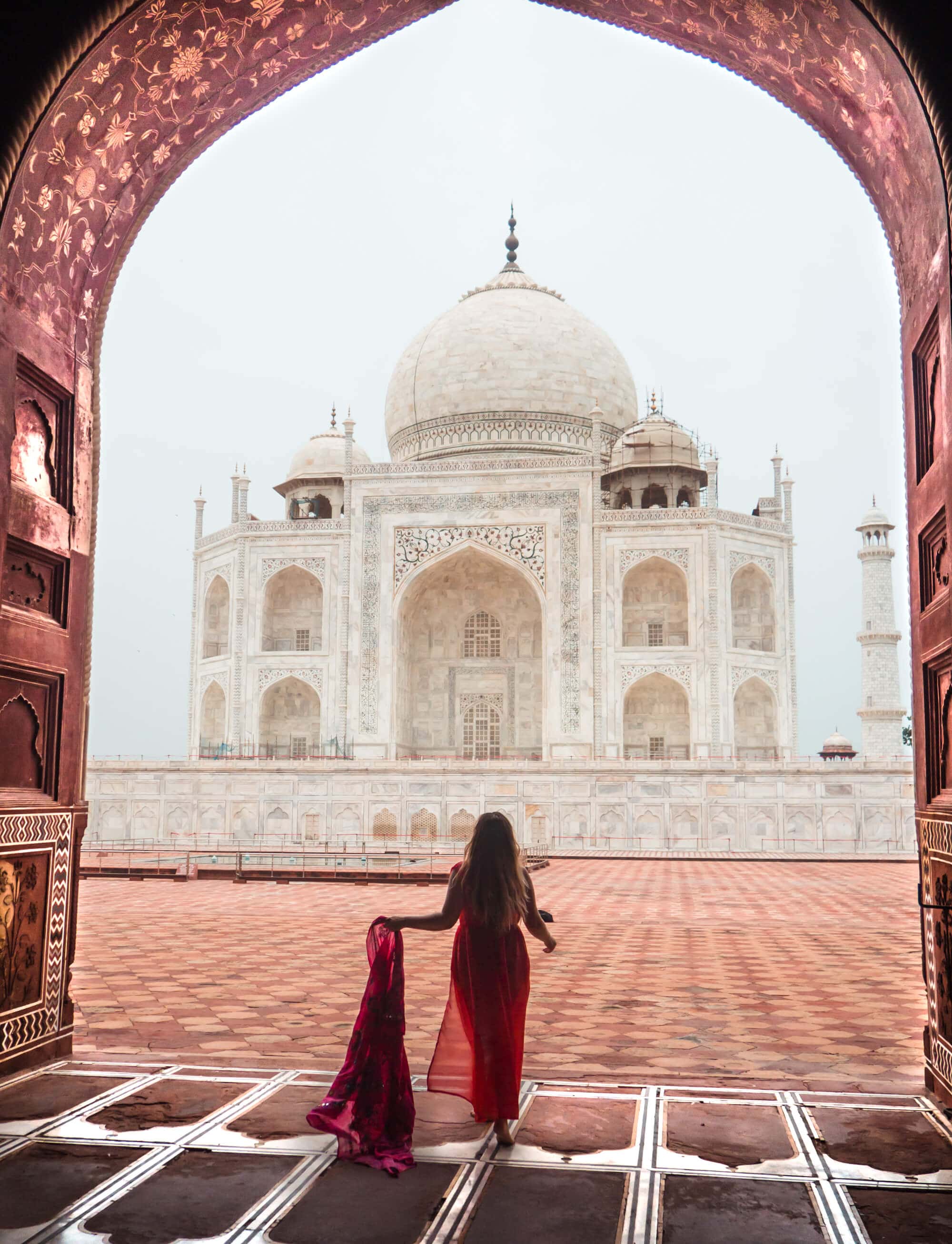 3. Plan your outfit
Wear something colorful or bring a brightly colored shawl to stand out against the bright white marble. A pop of color in your photos will make all the difference. I bought my coral-colored, flowy kimono on eBay just for the occasion and I also got a shawl at a market in New Delhi.
I normally wouldn't go to that extent but I'm very happy I did here since visiting the Taj Mahal is a once-in-a-lifetime experience.
4. Don't miss the details
Remember that photography is not allowed inside the main mausoleum, but you should definitely get some shots of the beautiful details on the facade. I was under the impression that the Taj Mahal was all white and did not expect it to be decorated with colored flowers and vines. So pretty!
5. Photography guides
If you're visiting the Taj Mahal by yourself or for couples/families wanting a photo together, there are photo guides eager to snap a shot for you.
One of the guides grabbed my camera out of nowhere because he wanted to show me how cool it would look to get a Taj reflection in one of the puddles. And although I wasn't really up for a lesson in photography at that moment, I have to admit it turned out pretty cool.
So the photo guides might be a bit pushy they do know some great spots and angles you might not have thought of yourself. I don't know how big of a tip they expect to get in return so it's probably wise to agree on that before you acquire their services.
6. Yamuna River view
One of the angles I had really been looking forward to shooting, was from the Yamuna river. We walked down the road to the right of the East gate until we reached the river. I had been told there would be people there with old wooden boats ready to take you out on the water for a pretty little sum. But that was not the case on this particular day.
We might have been too early because everyone was washing and getting ready for the day. And no one spoke a word of English or they just didn't bother to answer. So no boating for us!
I wish I had done some research prior to our trip because it turns out there are several tours that include a boat trip on the Yamuna. Actually not booking this Taj Mahal Sunrise or Sunset Boat Ride is my biggest regret from this trip to India.
7. Mehtab Moonlight Garden
What might come as a surprise to many is that the best place to view the Taj Mahal in my mind not actually inside the complex but across the river in Mehtab Garden. There you have so many opportunities to get some unique shots of the Taj Mahal that differs from the mainstream photos you see everywhere.
In fact, I think this place is so awesome that it deserves its own post. So stay tuned next week for a guide to Mehtab Bagh Moonlight Garden.
Taj Mahal Frequently Asked Questions
What is the Taj Mahal?
The Taj Mahal is a white marble mausoleum located in Agra, India. It was built by the Mughal emperor Shah Jahan in memory of his beloved wife Mumtaz Mahal.
Is there a dress code for visiting the Taj Mahal?
No, there isn't an enforced dress code at the Taj Mahal, but like anywhere in India, you should dress modestly. Wear clothing that covers your shoulders, chest, and knees. Shoes are not allowed inside the monument, so it is recommended to wear comfortable slip-on shoes that can be easily removed before entering.
How long did it take to build the Taj Mahal?
It took approximately 22 years to build the Taj Mahal. Work on the mausoleum began in 1632 under the direction of the Mughal emperor Shah Jahan, who commissioned the structure as a final resting place for his beloved wife Mumtaz Mahal.
The construction involved thousands of skilled workers and artisans who painstakingly carved intricate designs into the white marble surfaces of the building. Despite the challenges of working with such a delicate material, the craftsmen were able to create a masterpiece that has stood the test of time and continues to inspire visitors from all over the world.
What is the architectural style of the Taj Mahal?
The Taj Mahal is a prime example of Mughal architecture, which is a blend of Indian, Persian, and Islamic styles. The intricate floral and geometric patterns that adorn the exterior and interior of the Taj Mahal are typical of Mughal architecture, as is the use of arches, vaulted ceilings, and decorative calligraphy.
The monument is a testament to the skill and creativity of the Mughal architects and craftsmen who built it, and it continues to inspire awe and admiration in visitors from all over the world.
---
Remember to pin for later 😀