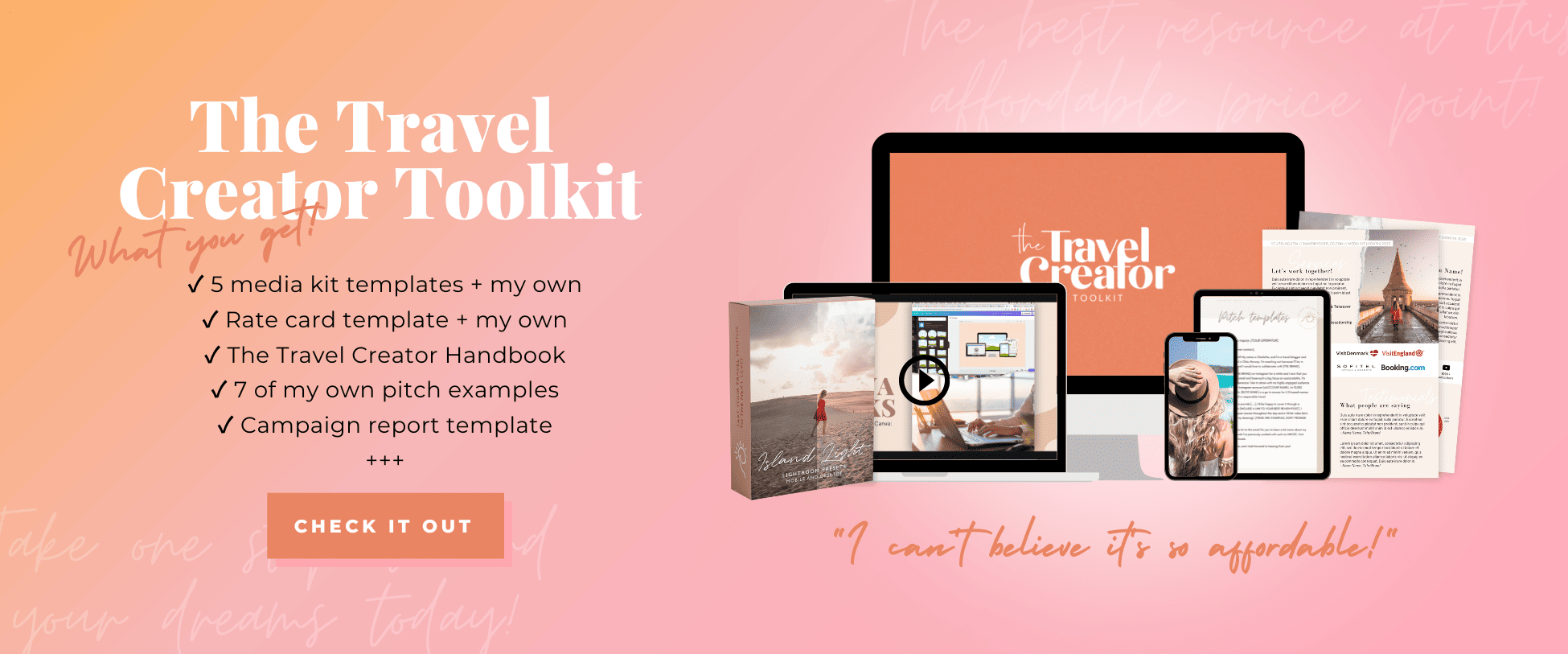 This post contains affiliate links. I will earn a small commission if you purchase through them, at no extra cost to you.
The views from Nahargarh Fort are not only the best in Jaipur but also some of the best I've ever seen. Watching the sunset from Nahargarh Fort's Padao Restaurant is popular amongst locals and tourists alike. You can literally see the entire city from up there!
I already mentioned the fort in my last post as one of the top 12 attractions in Jaipur, but I wanted to write in more detail about it as well because Nahargarh Fort is by far the best place to watch the sunset in Jaipur.
Nowadays, in addition to the fort itself, the complex houses a couple of restaurants and to my surprise, a wax museum. Yes, I know, we didn't really get it either. But wax museum aside, Nahargarh Fort is definitely one of the most Instagrammable places in Jaipur.
🌟 Pro tip >> If you want to get the most out of your stay in Jaipur, consider booking this 8 Jaipur attractions skip-the-line ticket. The attractions include Amber Palace, Jantar Mantar, Hawa Mahal, Nahargarh Fort, Albert Hall, Isarlat, and Sisodia Rani Garden. You won't have to stand in line and you'll save money. It's a win-win!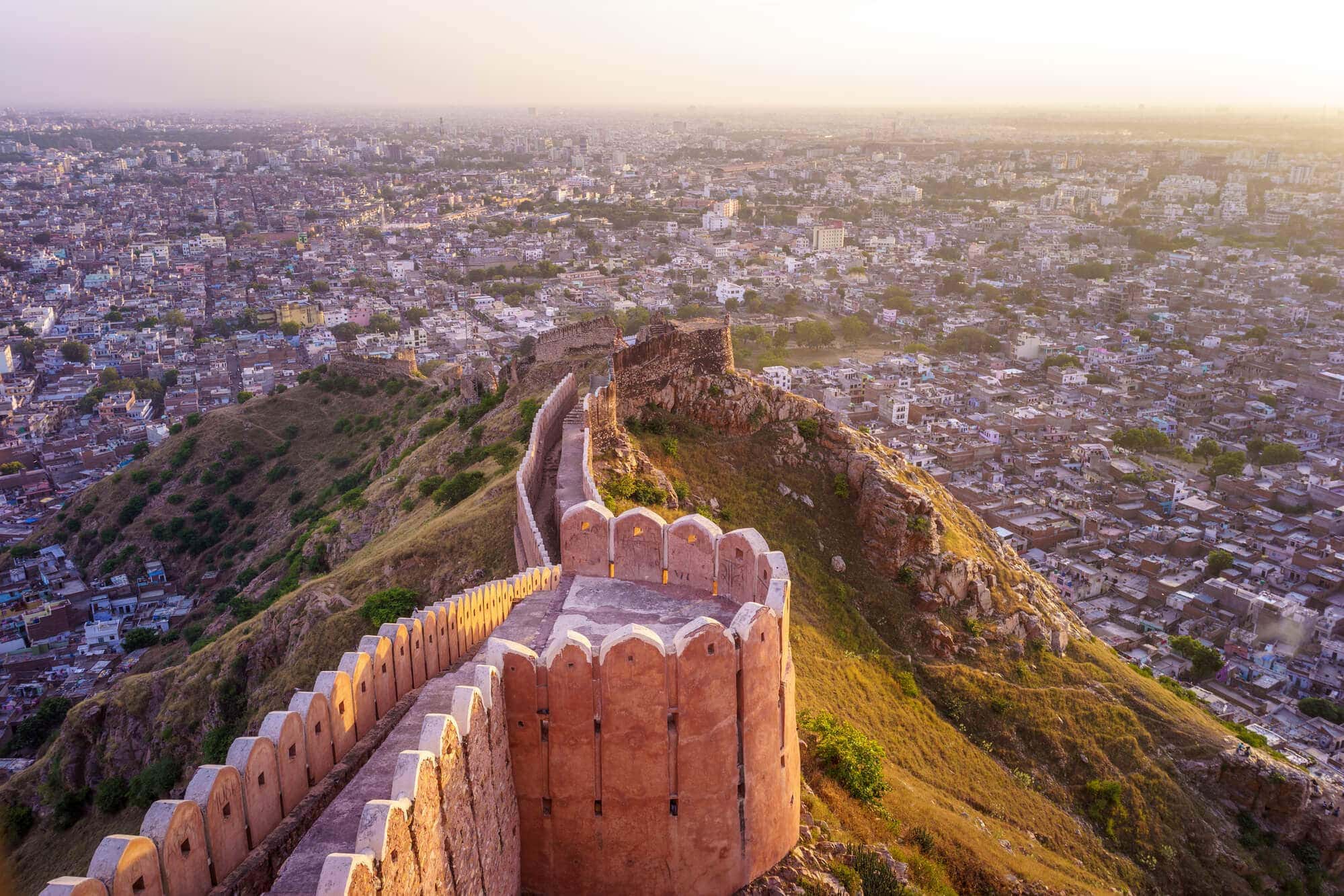 How to get to Nahargarh Fort
We visited Jaipur as part of this 5-day Luxury Golden Triangle Tour that I highly recommend. Nahargarh Fort stands on the edge of the Aravalli Hills high above Jaipur city. It doesn't look too far on the map but we found that it took about 30-40 minutes to get there by car for sunset.
Partly because of the crazy traffic, but also because the only way up is a steep, windy road that seems to go on forever. Especially if you get easily carsick like me!
There is one other cobbled road up to the fort that makes for a cool shot, as you can see further down. So if you are feeling up to it, you can also walk which takes around 30 minutes. You'll find the base of the stairs close to Nahargarh Palace Hotel.
With a driver
Tuk-tuks are always an option but I saw they struggled up the steep windy road to the fort, so a car is the best option. Your hotel will most likely be more than happy to arrange a driver for you or you can find one on the street.
We met our driver on the street right outside our hotel in central Jaipur and agreed on a price of 800 INR / $10 which included him waiting for us at the fort for 1.5 hours. (By the way, definitely check out Pearl Palace Heritage Boutique Hotel. It's stunning!)
If you do not book a return trip (the Ola Taxi is not available from the fort), you will be at the mercy of the tuk-tuk/rickshaw drivers who can then quote you a ridiculous price as you don't have many other options up there.
I can also recommend this day tour of Jaipur with a driver. It is a customizable 8-hour tour so you can go wherever you want or get suggestions from the driver if you don't want to plan anything yourself.
🚘 Check price and availability here >> 8-hour customizable tour of Jaipur
Nahargarh Water Walking Tour
Interested in history and engineering? Then I highly recommend this guided sunset storytelling walk. Escape the hustle and bustle of downtown Jaipur and explore the countryside surrounding Nahargarh Fort.
You will learn about the importance of water to local communities throughout the region's history and see ancient aqueducts, stepwells, storage reservoirs, and other water-related landmarks.
And best of all, the tour ends with sunset views across Jaipur from Nahargarh Fort.
🎫 Check price and availability here >> Nahargarh Water Heritage Walking tour
Most popular Jaipur tours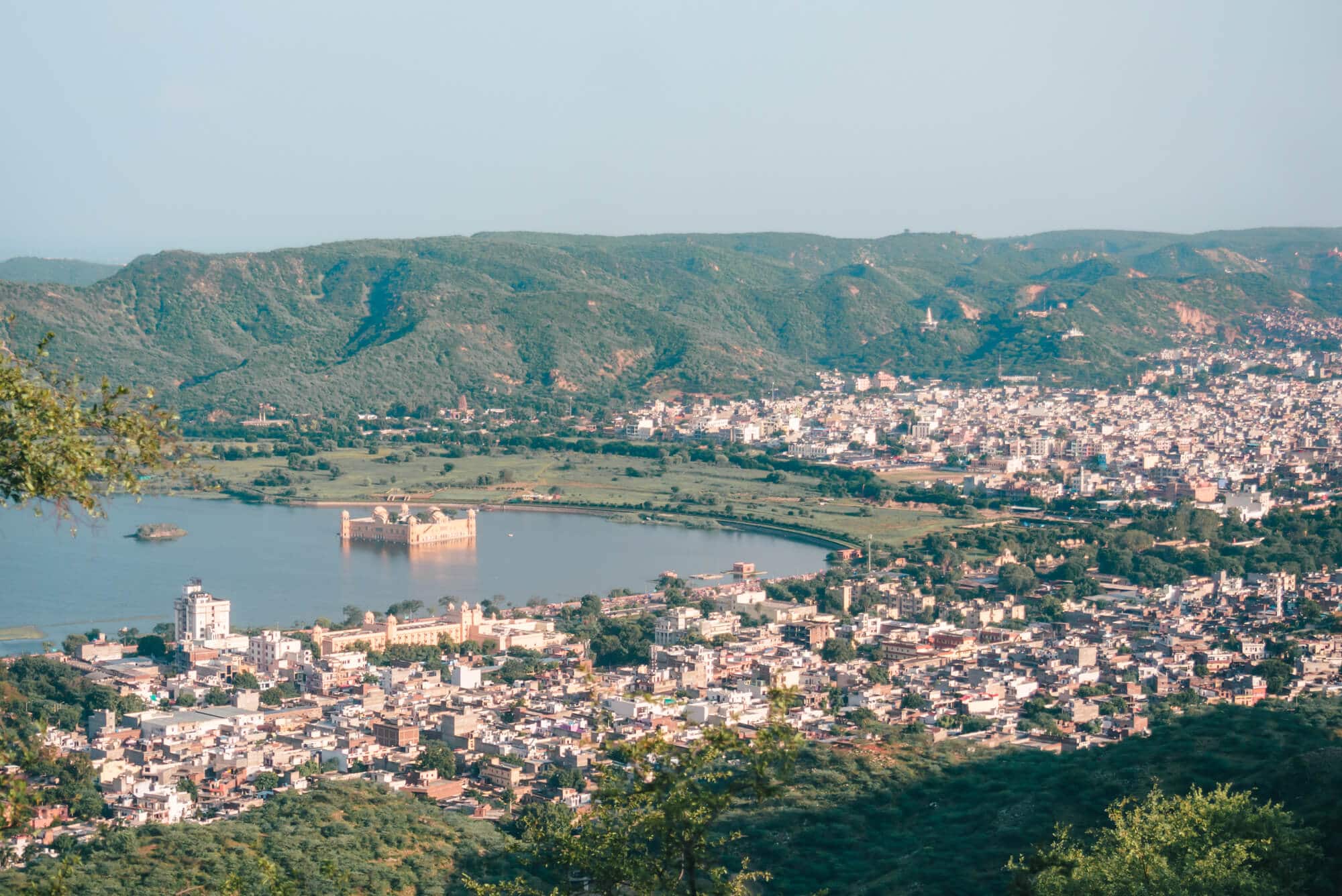 Nahargarh Fort visitor's information
Entrance Fee
No matter where you want to go inside the wall, there's a small fee for the rickshaw or car to drop you off or park at the entrance to the fort. I think it's between 30-80 Rupees depending on the vehicle.
Remember that you don't have to pay any more if you just want to explore the Bawadi of Nahargarh part of the fort or the walls surrounding the parking area at the west side.
If you want to enter the main fort complex, however, you'll need to pay an additional fee of 200 INR / $3 per person (for foreigners) which includes one drink of water, soda or tea each. We got a large bottle of water and a Coke, so the 200 Rupees was definitely worth it.
Entrance to the wax museum will set you back 700 INR but when we said we didn't bring enough money they quickly reduced it to 500 INR. But we didn't end up going in as we were there for the incredible sunset views.
Remember that Nahargarh Fort is included in this affordable 8 Jaipur attractions skip-the-line ticket.
Opening hours
Nahargarh Fort is open from 10:00 AM to 5:30 PM (Jaipur Wax Museum 6:30 PM) every day of the week. The surrounding walls and restaurant is open until 22:00 AM.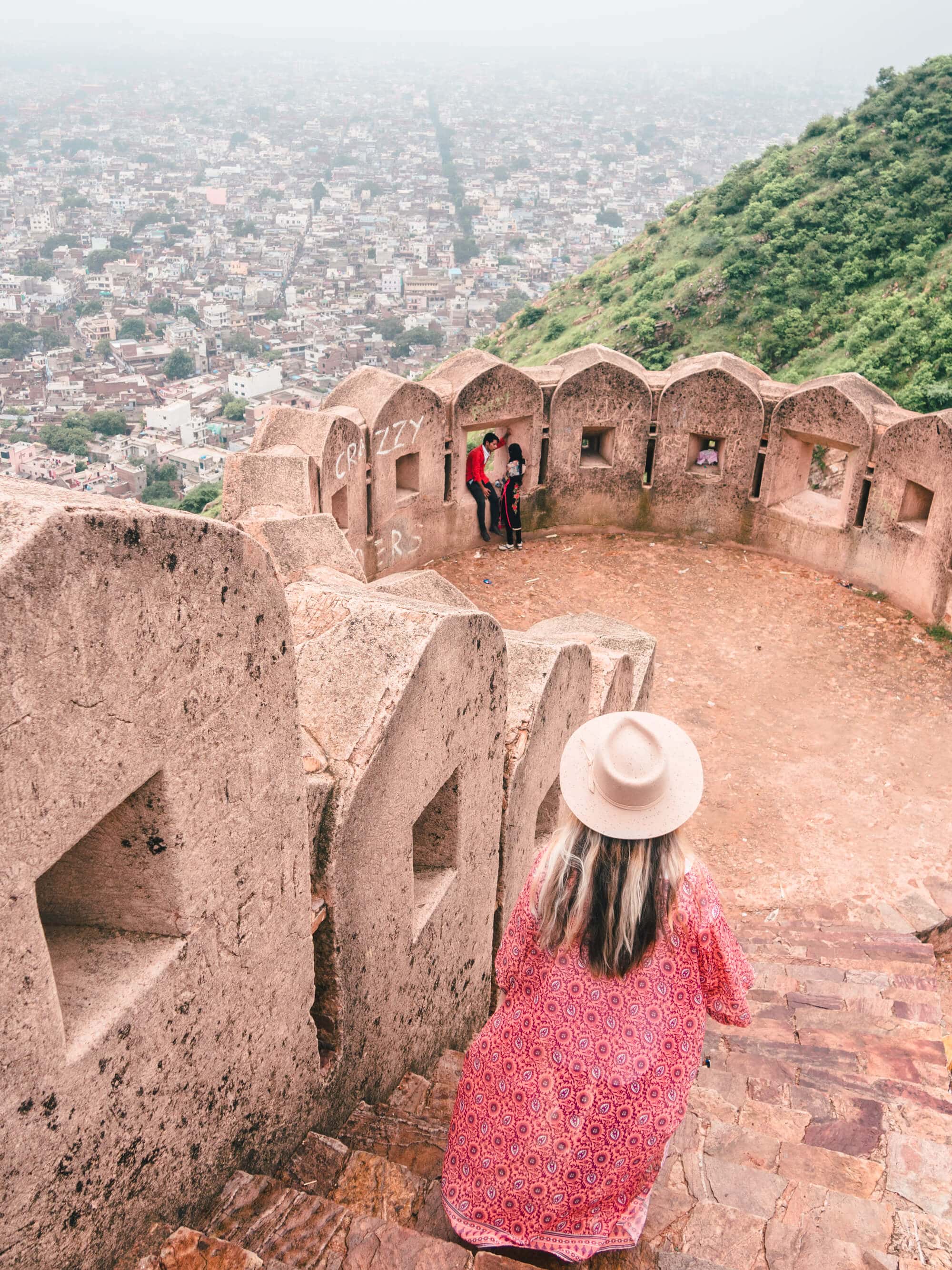 Best time to visit Nahargarh Fort
The best time to visit Nahargarh Fort is right when they open in the morning or for sunset during the winter months, from October to February when the weather is pleasant and cool. During this time, the temperature ranges from 10 to 25 degrees C, making it comfortable to explore the fort. Just keep in mind that this is also the busiest time.
The monsoon season, from July to September, can also be a good time to visit, as the surrounding hills and landscapes turn lush green. I visited in August and it was HUMID, but totally doable.
It is best to avoid visiting during the summer months, from April to June, as the temperatures can soar up to 45 degrees C, making it uncomfortable to explore the fort and enjoy the views.
Get there right when they open in the morning or if you want to experience the sunset get there by 5:00 pm to secure a good spot.
What to expect at Nahargarh Fort
Already on the way up to the fort, there are several viewpoints worth stopping at. Here you can see the gorgeous Jal Mahal, also known as the Water Palace.
So if you're going for sunset, remember to schedule enough time so you don't have to rush. We left Jaipur at 4:30 pm which gave us the perfect amount of time to fully enjoy everything.
About a minute after you enter the main gate the road splits and you can either go left or right. Keep left if you're there for sunrise or want to explore the stepwell and walls facing east or keep right for the main fort complex and the best sunset views.
The walls by the "Bawadi of Nahargarh", which I think is the name of the large stepwell, is the best place to watch the sunrise. However, the walls are quite steep there so you might have to peek through the small windows or somehow get up on the walls.
The fort doesn't officially open until 10:00 am, so this is the only accessible area early in the morning.
Read next >> First time in New Delhi: How to survive (and have a good time)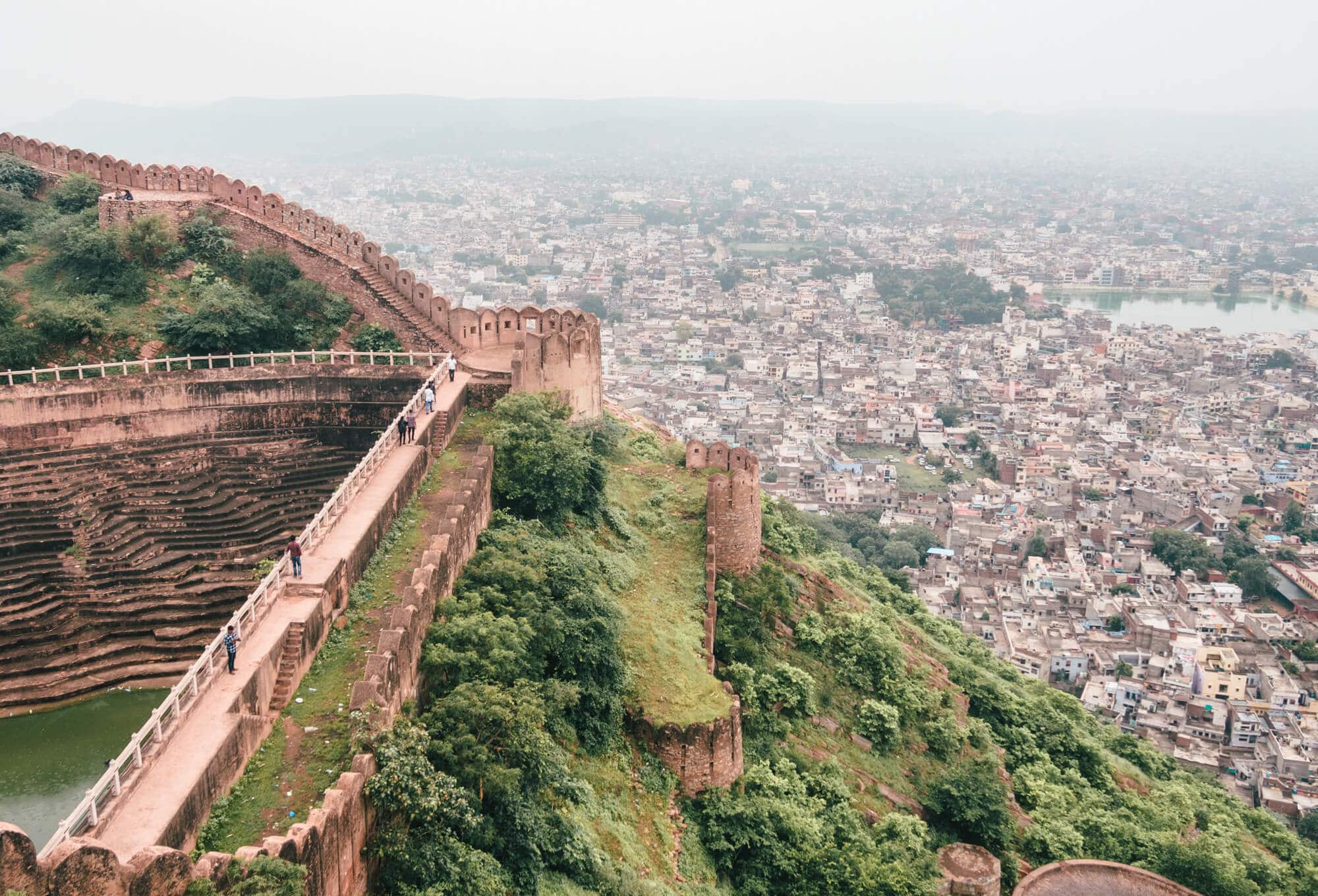 Architecture
Nahargarh Fort is a stunning example of Rajput architecture, built in 1734 by Maharaja Sawai Jai Singh II. It was originally designed to protect the city from invaders, hence the imposing walls and bastions, which rise up to a height of 20 feet.
The interior of Nahargarh Fort is equally impressive, with a number of beautiful buildings and structures to explore such as Madhavendra Bhawan.
The two-story palace was built in the 19th century by Maharaja Sawai Madho Singh II as a retreat for him and his wives during the hot summer months. It is a stunning example of Rajasthani architecture and is known for its beautiful frescoes and intricate carvings.
One of the unique features of Madhavendra Bhawan is its ingenious design, which allowed the palace to be naturally cooled during the hot summer months. The palace has a series of interconnected corridors and windows that allow for cross-ventilation, keeping the interiors cool and comfortable.
Madhavendra Bhawan is a must-visit for anyone interested in history, architecture, and the arts. Its unique design, stunning frescoes, and beautiful surroundings make it a true gem of Jaipur's cultural heritage.
The fort also houses a sculpture park that showcases the works of various artists from across India and around the world.
Jaipur Wax Museum
The wax museum, located inside Nahargarh Fort, yes I said wax museum, showcases a collection of life-size wax statues of famous personalities from India and around the world.
It is a popular tourist attraction and a must-visit for those interested in history, art, and culture. The museum features over 30 wax statues, including those of Mahatma Gandhi, Amitabh Bachchan, Mother Teresa, Michael Jackson, and Queen Elizabeth II.
The museum is well-maintained and the wax statues are incredibly lifelike, making it a unique and immersive experience for visitors. The museum also provides an audio guide that provides information about each of the wax statues, their significance, and their contribution to society.
Read next >> Taj Mahal photography tips + important information
Sunset at Nahargarh Fort restaurant
Watching the sunset from Nahargarh Fort is definitely one of the most memorable things to do in Jaipur. The official closing time for the fort is 5:30 pm. However, this doesn't apply to the walls and Padao Restaurant, only the Nahargarh Fort museum, so don't be put off coming for sunset.
The west-facing walls, also known as Nahargarh Fort sunset point, offer in my mind the best views. You can either choose to enjoy the view from the terrace of Padao Restaurant while having some drinks and dinner, or you can just collect your free drinks and find a spot on the walls.
Don't make the same mistake we did and spend all your time at the restaurant! It's definitely worth shooting some photos from up there as well, but you will have a huge audience. Explore the wall closer to the entrance and I'm sure you'll find an area you can have all to yourself. But please be careful! It's a long way down.
You'll find Kali Burj, also known as Sunset Point, on the edge of the fort near Padao Restaurant. There's a small building and wall that you can climb up on, that is the perfect sunset photo op. Just be prepared for many others doing the same and guards that will ask you to come down.
Unfortunately, we didn't realize there were other places to shoot photos until some large black clouds rolled in and we lost all the light. This was also our last night in Jaipur so we did not get another chance to get the photos I had been dreaming of.
But that didn't take away from the incredible beauty of Nahargarh Fort. It is worth a visit whether you're after those perfect sunset photos or not!
🌟 And remember >> If you want to get the most out of your stay in Jaipur, consider getting this 8 Jaipur attractions skip-the-line ticket. The attractions include Amber Palace, Jantar Mantar, Hawa Mahal, Nahargarh Fort, Albert Hall, Isarlat, and Sisodia Rani Garden. You won't have to stand in line and you'll save money. A win-win!
FAQs: Nahargarh Fort
Where is the best view of Nahargarh Fort?
The best view of Nahargarh Fort can be seen from the Nahargarh Biological Park, which is located nearby. Visitors can enjoy a panoramic view of Jaipur city from this point.
Is Nahargarh Fort haunted?
There are many stories and legends surrounding Nahargarh Fort in Jaipur, India, that suggest it may be haunted. According to some local beliefs, the fort is haunted by the spirit of a prince named Nahar Singh Bhomia, who was believed to have been responsible for protecting the fort in the 18th century.
It is said that he was angered by the construction of the fort and cursed it, leading to a number of strange occurrences and paranormal activity at the site.
How much time do I need at Nahargarh Fort?
The amount of time you need to spend at Nahargarh Fort in Jaipur, India, depends on what you plan to do there. If you are interested in exploring the fort's history and architecture, you may need around 1-2 hours to visit all the sections of the fort, including the palace, the museum, and the various galleries.
If you want to enjoy the panoramic views of Jaipur city from the fort, you may need an additional hour to relax and take in the beautiful scenery. In general, plan to spend at least 3 hours at Nahargarh Fort to fully appreciate its beauty and history.
Which is better, Nahargarh Fort or Amber Fort?
Both Nahargarh Fort and Amber Fort have their own unique features and historical significance. It ultimately depends on the visitor's personal preference and interests. Nahargarh Fort is located in Jaipur while Amber Fort is located in Amer, about 11 kilometers away.
More India travel guides
---
Remember to pin for later 😀