This post may contain affiliate links. I will earn a small commission if you purchase through them, at no extra cost to you.
Are you wondering if you should visit Poland or not? Whether or not the country is worth your money and precious vacation time? Don't worry, I've got you.
I used to think Poland was a grey and rundown post-communist country that didn't have much to offer other than cheap drinks and spas. And unfortunately, I don't think I'm the only one with that perception. With so many incredible destinations on our doorstep in Europe, Poland is probably not the first one that comes to mind.
But let me tell you, I was wrong! And that's not something I will admit easily. Little did I know I would soon be spending most of my time there myself and that I was in for some of the best and most exciting years of my life in an up-and-coming country bursting with history, culture and creativity! So let me give you 7 reasons why I think you should visit Poland as soon as possible:
Remember to always get insurance before you travel to Poland or anywhere else. I recommend Safetywing, an affordable subscription travel insurance that you can purchase even after departure. Read my full review here.
1. Long & rich history
Poland's roots go back over one thousand years. The country has a long history of invasions and wars, mostly because of its positioning between Russia and the old Kingdom of Prussia. Also in modern times, Poland has had to come through a lot with World War II and the invasions of the Nazis, followed by a 40-year Soviet occupation.
Although at times painful, I think it's worth taking the time to learn about Poland's past to get a greater understanding of the country and its people. This rich history is in my mind what makes Poland so interesting and it has resulted in 14 cultural UNESCO World Heritage Sites.
One of these World Heritage Sites, and maybe the most important reminder of Poland's painful past, is Auschwitz-Birkenau, the largest of the German Nazi concentration camps located one hour outside of Kraków. Auschwitz Memorial and Museum is definitely not a fun tourist destination, but I feel it's a very important place to visit so we can learn and make sure something like this never happens again. You can learn more about Auschwitz-Birkenau and other great things to do in Kraków here.
Another great and a little less daunting representation of this long history is Kraków's Wawel Cathedral & Royal Castle (below) which was built over the course of two centuries. It represents nearly all European architectural styles of the medieval, renaissance and baroque periods all within one large wall. And while on the subject of castles, let's take a closer look at some of my favorites…
Related post: 2 days in Gdansk, Poland: A first timer's guide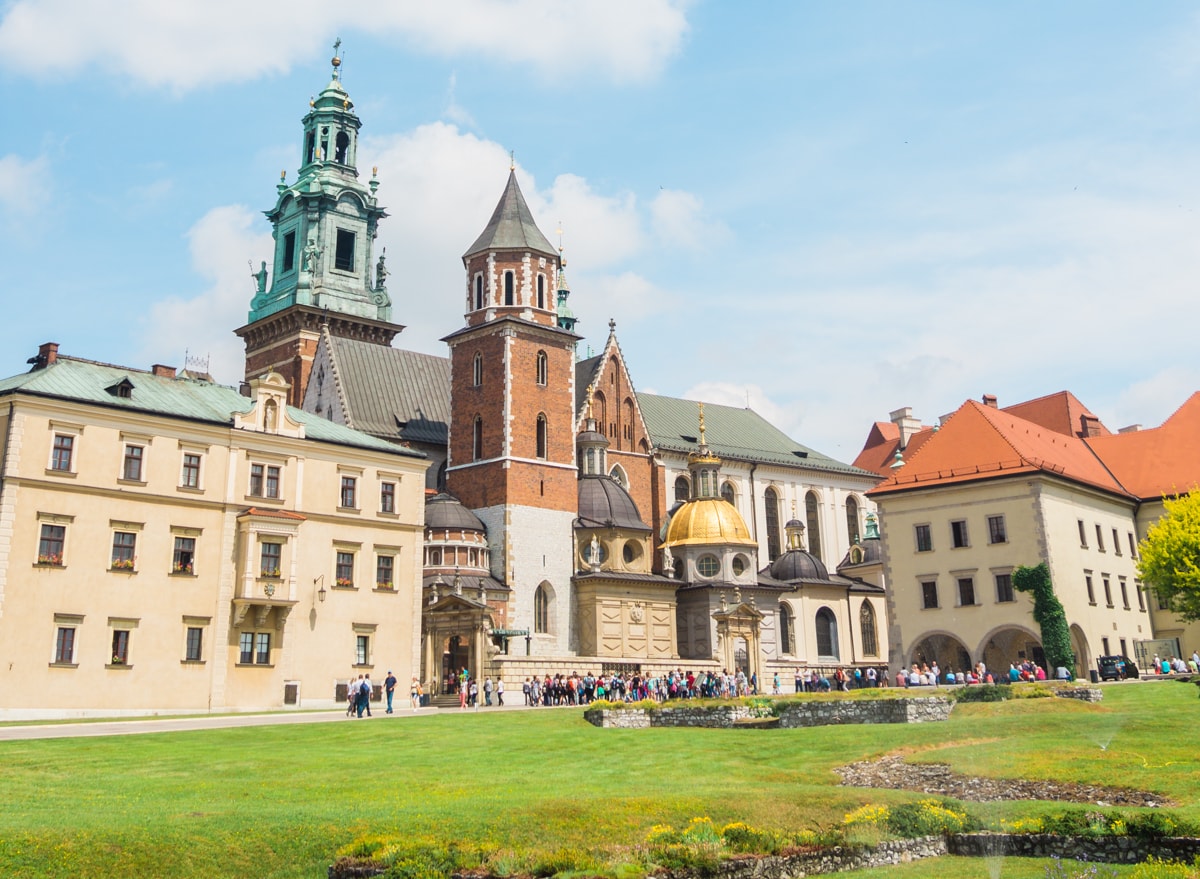 2. Over 300 castles!
When thinking of great places to go castle hunting, the UK and Germany are usually the front-runners. But who knew Poland is home to over 300 castles? In fact, old castles, majestic palaces, mansions and churches are scattered all over the country. The Royal Castle in Warsaw and Wawel Castle are two of the most visited, but in my mind, the most interesting castles can be found outside of the main tourist trail.
As the castle enthusiast that I am, I convinced my boyfriend to head out on the "Trail of the Eagles Nests", which is a trail along a chain of 25 medieval castles between Częstochowa and Kraków in south-west Poland. The trail got its name the "Eagles Nest" because most of the castles are built on top of limestone cliffs. Many of the castles have only survived in the form of picturesque ruins, like Ogrodzieniec Castle you can see above, but they were still equally exciting to explore. I highly recommend spending a couple of days in the area, as it was one of my favorite experiences to date.
But my favorite castle of them all is the mysterious Gothic and Baroque style Zamek Książ located in the city of Wałbrzych about an hour south-west of Wrocław. It's pink and looks like it belongs in a fairytale, need I say more? I also have to mention, the Medieval Malbork Castle, which looks like a giant brick fortress but actually is one of the largest castles in the world and should not be missed if you're in Gdańsk.
Popular castle tours
3. Incredible nature
While it is the man-made sights and cosmopolitan cities that get most of the visitors' attention, Poland is actually an ideal destination for outdoor enthusiasts. The country boasts thousands of lakes where you can partake in exciting water sports and large areas of lush forests where visitors are spoilt with endless hiking, mountain biking and animal watching opportunities. Up north, you'll find miles and miles of dreamy beaches lining the Baltic coast and to the south rugged, snow-clad mountains dotted with traditional wooden houses.
One of the main natural attractions in the country is the High Tatras, a mountain range running along the border of northern Slovakia and southern Poland. With 29 peaks over 2,500 meters, the range is often referred to as the Polish Alps. Locals and tourists alike flock to Zakopane in winter for some affordable skiing and snowboarding in picturesque surroundings. Below you can see me having a rest on our way to the beautiful, emerald green Morskie Oko Lake. The largest lake in the High Tatras.
Meanwhile, if you want to partake in some aquatic activities, the Great Masurian Lake District, a maze of rivers and lakes in Poland's northeast, is a must. One of the prettiest areas the country has to offer if you ask me! Further west lies Słowiński National Park, the largest area of wandering sand dunes in Europe.
Bialowieza Forest, the country's only natural UNESCO World Heritage listing, is home to about 800 European bison and massive 500-year-old Oak trees. It is also one of the last remaining parts of the primeval forest that once covered a large part of Europe. Definitely, a place every nature lover visiting Poland should take time to explore.
Popular nature tours
4. Food & drinks
Obviously, the best food to eat in Poland is Polish food. If you're a fan of pork, duck, sauerkraut dumplings, vodka and beer, then you might have found your paradise. Just make sure not to be on a diet while you're there! Filled pierogi dumplings topped with bacon and a side of kapusta (braised cabbage) is a popular delicacy that you have to try.
Oscypek, another Polish favorite, is a smoked cheese made from salted sheep and cow's milk that is only made in Poland's Tatra Mountain region (pictured below). No trip to the country is complete without a piece of Makowiec, a traditional poppy seed cake and sękacz, a Polish-Lithuanian cake cooked on a rotating spit in an oven or over an open fire. I'm embarrassed to think about how many of those "tree" cakes I ate during my time in Poland.
But beyond the hearty Polish fare, the culinary scene is flourishing with many young chefs experimenting with interesting flavors and opening hip restaurants and bars. Our absolute favorite restaurant in Kraków is a Mexican restaurant called Manzana. Be sure to check it out if you're ever in the city and remember to treat it as a tapas place. The appetizers are definitely the best. I mean, homemade chips and salsa, taquitos with chipotle mayo and gorditas with ridiculously tender and juicy meat… Yuuuuuum!
Whatever you end up eating, it will generally be very well-priced. You can eat at fancy restaurants for a quarter of the price compared to similar establishments elsewhere in Europe. And that brings me to my next point…
Popular food tours
5. It's affordable
Poland is definitely one of your best options if you're looking for an affordable getaway in Europe. The currency is called Złoty and chances are your money will go a long way there.
Poland is one of the most affordable destinations in Europe, meaning you can really enjoy yourself even if you're on a tight budget. For example, one of my favorite things to do is to go out and have a few cocktails in the evening. In Norway, I can only justify buying about three drinks whenever I'm out because those three will probably cost me over $50. But in Poland, I can actually go out and enjoy myself without constantly looking at prices. At my favorite neighborhood bar in Kraków, a Cosmopolitan will set you back 19zł / 5.7 USD and you'll usually be able to get a 0,5 draft beer for only 10zł / 3 USD.
The same goes for food. When we were living there I have to admit we got takeaway several times a week because it didn't cost anything more than it would if we bought the ingredients and made it ourselves. A large chopped salad with bacon from our go-to restaurant across the street only cost 20zł / 6 USD and that includes freshly baked bread and garlic dressing. Haha, I'm getting hungry just thinking about it.
Accommodation is also quite affordable, I have friends that paid $600 a month for an apartment smack bang in the middle of Kazimierz, my favorite neighborhood in Kraków.
You might also like: 12 cities that aren't on your bucket list but should be
6. Sights & attractions – Something to do for everyone!
Poland is massive. In fact, it is the 9th largest country in Europe, and with size comes variety. As you can probably tell by now, Poland has all bases covered when it comes to historical landmarks, mouthwatering food and the great outdoors. But just to make sure I convince you, here are some other great things to see and do:
Wieliczka Salt Mine is another one of Poland's most famous attractions, visited by more than one million tourists from all over the world every year. There are nine levels of tunnels and rooms with chapels, statues and other decorations carved into the rock salt. Such a spectacular sight! The mine was one of 12 natural and cultural sites included in the original UNESCO World Heritage List back in 1978 and is referred to by many as the 8th wonder of the world.
With a long and rich history comes a thriving museum scene across the country. One of the newest museums in Warsaw is POLIN Museum of the History of Polish Jews, which does not only focus on the Holocaust but also the over 1,000-year history of Jews in Poland. Another one you should explore is the Warsaw Uprising Museum which many have described as one of the most moving and exciting interactive museums you can visit in the country. In Kaków, Oskar Schindler's factory has been turned into a modern museum devoted to the city's wartime experiences. It's an absolute must!
If you want to pamper yourself with some relaxing time at a spa, then you should definitely visit Poland! Treatments are known to be of high quality and are very reasonably priced.
Popular tours & activities
You might also like: The best travel insurance for long-term travel
7. It's easy to get there and easy to get around
Airports in the large Polish cities are well serviced by budget airlines such as Ryanair and Wizz Air, covering routes all across Europe. Poland is also part of the Eurail network and can be included on a European rail pass. I have taken the train from Kraków to Wrocław once and it was a great experience with large comfortable seats in a spacious compartment. The bus network is extensive (though I have never taken a bus myself), and highways are mostly of great quality.
We have rented a car several times and even though some Poles can get a bit crazy in the traffic we have always been totally fine and enjoyed our road trips through the country. In larger cities, public transport is reliable and very cheap. The last time I was in Kraków I paid 4 zł / 1.2 USD for a one-way tram ticket which would have cost me 4 times as much in Norway.
Get around Poland
---
So what do you think? Have I convinced you to visit Poland yet?
Remember to pin for later 😉