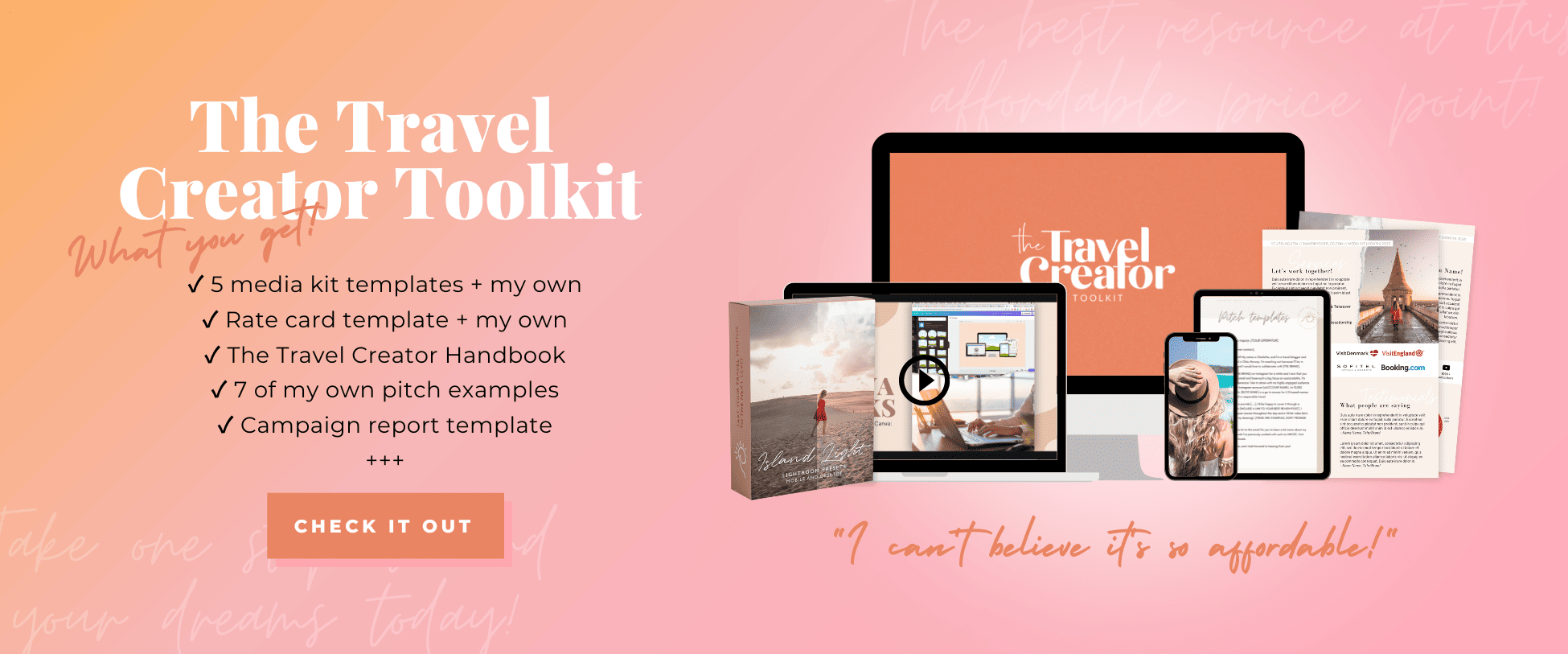 This post contains affiliate links. I will earn a small commission if you purchase through them, at no extra cost to you.
ARE YOU LOOKING FOR THE BEST SPAIN EXPERIENCES FOR YOUR BUCKET LIST?
It's no secret that I love Spain. I've been to the country of siestas and sangria more than 20 times, and every time I return, I discover new Instagrammable places and exciting experiences. Yet, I'm never able to cover them all, so I created my own personal Spain bucket list, and it's growing by the day.
Since Spain is a bucket list destination for many of you as well, I decided to combine my own list of experiences with all the amazing places I've already been to and create the Ultimate Spain Bucket List.
So go ahead and pack your bags because I'm about to take you around the country, one experience at a time. From getting lost in the winding streets of Mojacár Pueblo to marveling at Spain's very own pink lake – Here are 101+ Spain experiences that you should add to your bucket list.
🌟 Remember to always get insurance before you travel to Spain or anywhere else. Safetywing is an affordable subscription travel insurance that you can purchase even after departure. Read my full review here.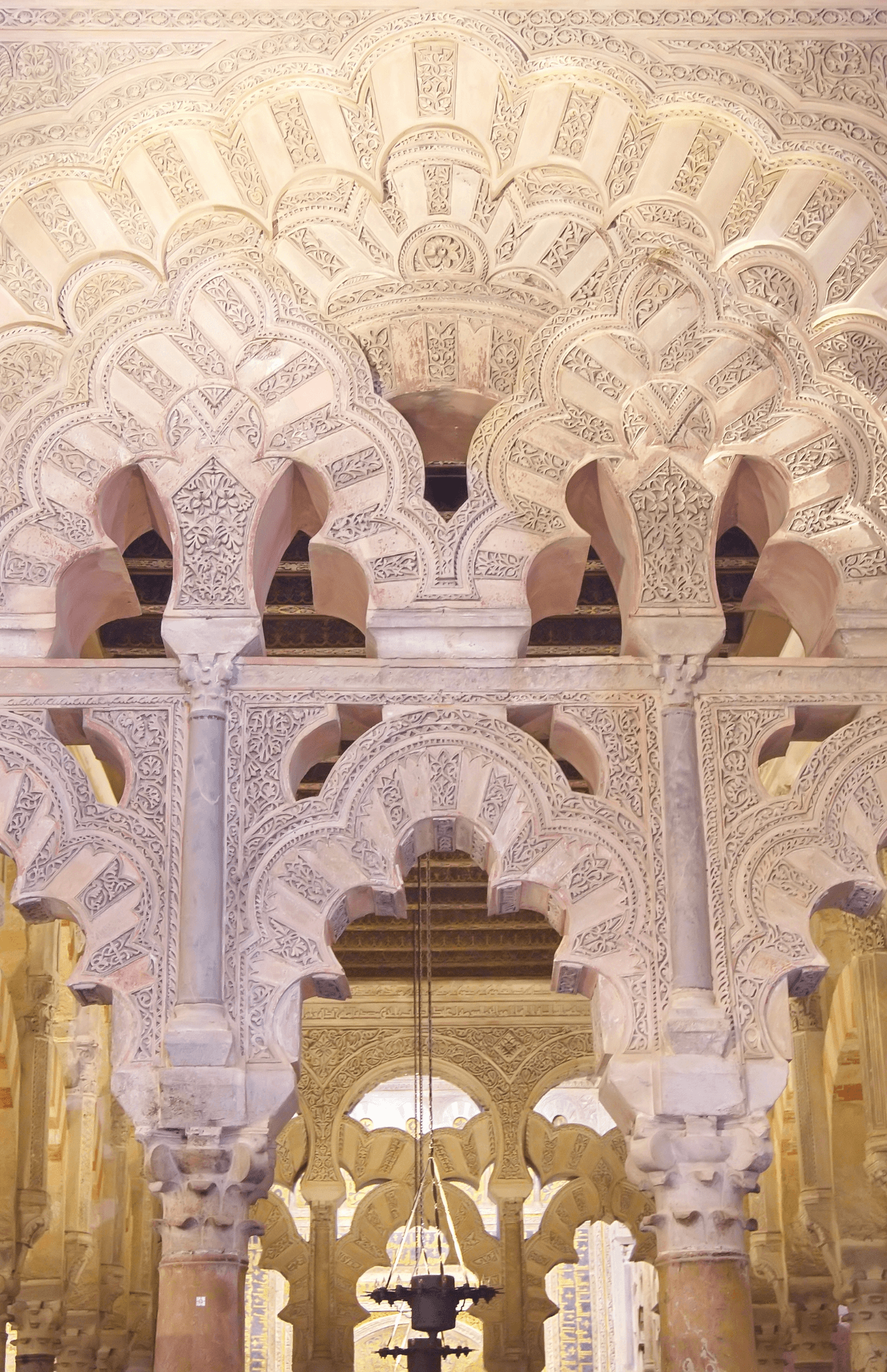 To make this bucket list as organized as possible I have divided it up by regions and focused on mainland Spain + a few tiny islets right off the coast.
Andalucía Bucket List experiences
1. Mosque-Cathedral of Córdoba
Marvel at the incredibly ornate ceiling of the Mesquita, also known as the Mosque-Cathedral of Córdoba. The Islamic mosque turned Catholic cathedral was declared a UNESCO World Heritage Site in 1984 together with the beautiful historic center of Córdoba. Needless to say, it's a must on any Spain bucket list.
Tips for your mosque-cathedral visit
To avoid long lines, it is best to buy your skip-the-line tickets online in advance. However, tickets are also sold onsite if necessary. Secondly, the best time to visit is early morning when it is less crowded, and sometimes even free. Thirdly, be sure to dress appropriately as it is a religious site.
"Absolutely exceptional tour from start to finish!" (see more reviews here)
2. Explore Granada beyond the Alhambra
While the stunning palace and fortress complex, is definitely worth a visit, Granada has so much more to offer. Go for a stroll through narrow cobbled streets and whitewashed houses in Albaicin, the old Arabic quarter, and enjoy the street art in Realjo, the former Jewish quarter.
Tips for visiting Granada
Make sure to book your tickets to the Alhambra in advance, as it is the most popular attraction in the city and can sell out quickly. This is one of the most popular tours in Granada, including both the Alhambra and Nasrid Palaces.
Be prepared to do a lot of walking as the city is built on hills and has many narrow streets. Comfortable shoes are a must. Take advantage of the free walking tours to get a feel for the city's history and culture. Also, be sure to visit the Mirador de San Nicolas for a stunning view of the Alhambra and the city.
3. The Real Alcázar of Seville
Spend a few hours taking in the incredible Arabic-influenced architecture of the Real Alcázar of Seville. It's a UNESCO World Heritage Site and the oldest royal palace still in use in Europe today.
It was originally built in the High Middle Ages and has been expanded and renovated over the centuries, resulting in a unique blend of architectural styles. The palace is known for its stunning gardens, intricate tilework, and ornate architecture, which reflects the influence of Islamic, Mudejar, Gothic, Renaissance, and Baroque styles.
It is one of the most visited monuments in Spain, attracting millions of visitors each year. The Real Alcázar has also been a filming location for popular TV shows and movies, including Game of Thrones.
🌟 Skip the line tickets >> Experience Seville Cathedral, Giralda & the Alcazar
4. Plaza de España
Wake up early to experience the majestic Plaza de España in Seville without anyone else around. It is one of the most spectacular landmarks you'll ever see and the perfect location for an early morning photoshoot. A definite must while in Seville.
5. Vejer de la Frontera
Get lost in the old streets of Vejer de la Frontera, a quintessential Andalucían whitewashed village and one of the most beautiful places to visit in Spain. A bit closer to the coast you'll also find Conil De La Frontera, a former traditional fishing village turned bustling resort town. Both villages are included in this highly-rated half-day tour.
6. Marbella's white villages
Discover the beauty of the authentic white villages around Marbella on this guided e-mountain bike tour, before finishing the day with a good glass of wine and tapas.
7. Walk the Caminito Del Rey
Walk The Caminito Del Rey In Málaga, an 8-kilometer-long walkway hanging over 100 meters up on a cliff wall. Once considered one of the most dangerous paths in the world, it was reopened in 2015 with a new, safe walkway pinned along the 100-meter-tall vertical cliffside.
The route is 7.7 km (4.8 miles) in total and takes around 3-4 hours to complete. Visitors can enjoy stunning views of the surrounding landscape and the gorge below. Tickets must be booked in advance, and be sure to wear appropriate footwear like trainers.
"I would highly recommend booking this tour. I was a bit skeptical, but I am really happy that I booked it."
8. Frigiliana
Take part in the Three Cultures Festival at the end of August, one of the top things to do in Frigiliana. It's an annual celebration of the historic coexistence of Christian, Jewish and Muslim traditions set in what is considered by many to be the most beautiful white village in Andalucía.
9. Puente Nuevo in Ronda
Make your way down the El Tajo gorge and marvel at the 98-meter-tall Puente Nuevo in Ronda, one of the most breathtaking bridges I've ever seen. Spending one day in Ronda has been one of my favorite experiences in Spain so far. It's the perfect day trip from Malaga.
10. See Spain's most beautiful street in Mojácar Pueblo
Take some photos in front of white-washed buildings, covered in Hibiscus flowers and bougainvillea, at Spain's most beautiful street corner in Mojácar Pueblo. Be prepared to walk up and down steep hills most of the day, as the village is set on a hilltop. Don't forget to take in the stunning views of the surrounding countryside from Plaza del Parterre.
11. Cádiz
Wander along the lovely seaside promenade in Cádiz and discover beaches, parks, tapas bars and stunning architecture. It is considered the oldest inhabited city in Europe, founded by the Phoenicians in 1104 BC.
If you visit Cádiz at the end of February, you can also take part in one of Europe's largest carnivals, a 10-day celebration of music and humor.
12. Mount Mulhacén
Climb Mt. Mulhacén, at 3479 meters above sea level, the highest peak in Western Europe outside the Alps.
Tips for hiking Mount Mulhacén
The hike to the summit can be challenging and requires a good level of fitness, but can be accomplished in one or two days. July and September are the best months when there's less chance of snow, but you can hike without a guide from late spring to early autumn.
Remember to check the weather conditions and bring appropriate gear and supplies, including plenty of water and warm layers.
---
Popular Andalucía tours
---
Aragón Bucket List experiences
13. Lake Mediano
Marvel at the crystal clear water and the visible church tower of the submerged village of Mediano on this guided kayaking tour on Lake Mediano. The village, which used to have a population of 150 people, was submerged in 1971 as a result of the construction of the Mediano Dam on the Cinca River.
14. Pyrénées National Park
Go climbing, hiking, paragliding, skiing or canyoning in the Pyrénées National Park. Both a UNESCO World Heritage site and a biosphere reserve, the Pyrenees boasts glacial lakes, river ravines, cascading waterfalls and an exceptional variety of flora and fauna.
Tips for visiting Pyrénées National Park
Plan ahead: The Pyrénées National Park is a large and diverse area, so it's important to plan ahead to make the most of your visit. Decide which areas you want to explore, and research the best hiking trails, viewpoints, and activities.
Dress appropriately: The park is located at a high altitude, so even in the summer months, temperatures can be cool. Make sure to bring warm clothing, rain gear, and sturdy hiking shoes.
Respect the environment: The Pyrénées National Park is home to a variety of wildlife and plant species, so it's important to respect the environment and avoid disturbing the natural habitats. Stay on designated trails, pack out all trash, and avoid feeding or approaching wildlife.
Take advantage of the visitor centers: The park has several visitor centers where you can learn about the history, culture, and ecology of the area.
15. Zaragoza
Spend a day in Zaragoza, the fifth-largest city and one of the most underrated capitals in the country. The city's most striking landmark is Basílica de Nuestra Señora del Pilar, a Roman Catholic church best viewed from across the River Ebro.
Zaragoza is also home to some of the finest Moorish architecture outside of Andalusía, such as the Aljafería Palace. No Spain bucket list would be complete without a visit to Zaragoza.
16. Fiestas del Pilar
Join in on the week-long festivities of Fiestas del Pilar in Zaragoza which include parades, live music and fireworks. The festival takes place in mid-October and lasts for nine days, in honor of the city's patron saint, the Virgin of the Pillar. It is one of the most important cultural events in Spain and attracts thousands of visitors from all over the world.
17. Albarracín
Go for a stroll through the windy, narrow streets of the peachy-colored medieval town of Albarracín. It has been voted the prettiest small town in Spain many times, and I have to agree. Definitely a must-do experience on any Spain Bucket List.
18. Roda de Isábena
Visit Roda de Isábena, once a Roman defensive fortress and today the smallest town in Spain to have its own cathedral. Roda de Isábena is also surrounded by beautiful natural scenery, making it a popular destination for hiking and outdoor activities.
19. Castle of Loarre
Step back in time at the Castle of Loarre, one of Spain's best-preserved Romanesque castles, built in the late 11th century. The castle has been used as a filming location for several movies, including "Kingdom of Heaven" and "The Last Legion".
---
Popular Aragón tours
---
Asturias Bucket List experiences
20. Cider Taverns
Mingle with the locals at a sideria or cider tavern, an integral part of the Asturian culture.
21. Covadonga Sanctuary & Lakes
Have a sip of water from the fountain at the Sanctuary of Covadonga and you'll be married within a year (according to locals). Then stop by the Covadonga Lakes, one of the most beautiful places in the region.
22. Gijón
Spend a day in Gijón, known for its ancient Roman sites, beautiful city beaches and its large port. Be sure to stop by the impressive Laboral Cultural Centre, an architectural gem on the outskirts of the city.
Another must-see attraction close to Gijón is the Atlantic Botanic Garden. It is home to a staggering 2000 varieties of plants, many of which are native to northern Spain.
23. Lastres & Llanes
Soak up some sun on the beaches around Lastres and enjoy the view of pastel-colored houses that cascade down the hillside. Walk along the harbor in the little fishing town of Llanes, another colorful town about 40 minutes east of Lastres. This is also a great place to learn to surf.
24. Centro Niemeyer
Enjoy the futuristic design of the Centro Niemeyer, a new cultural complex in Avilés, built as part of an ambitious project to redevelop the town's riverfront.
25. Caves of Tito Bustillo
Go spelunking in the Tito Bustillo Caves just outside Ribadesella, one of the most important places in Spain for ancient rock art. Inhabited between 22,000 and 10,000 BC, the caves feature paintings of horses, reindeer, whales and dolphins.
26. Jurassic Museum of Asturias
Learn about the massive reptiles that once roamed the Asturian coast at the Jurassic Museum of Asturias. The impressive museum, built in the shape of a dinosaur footprint, houses bones and fossils as well as complete skeletons and interactive exhibits.
---
---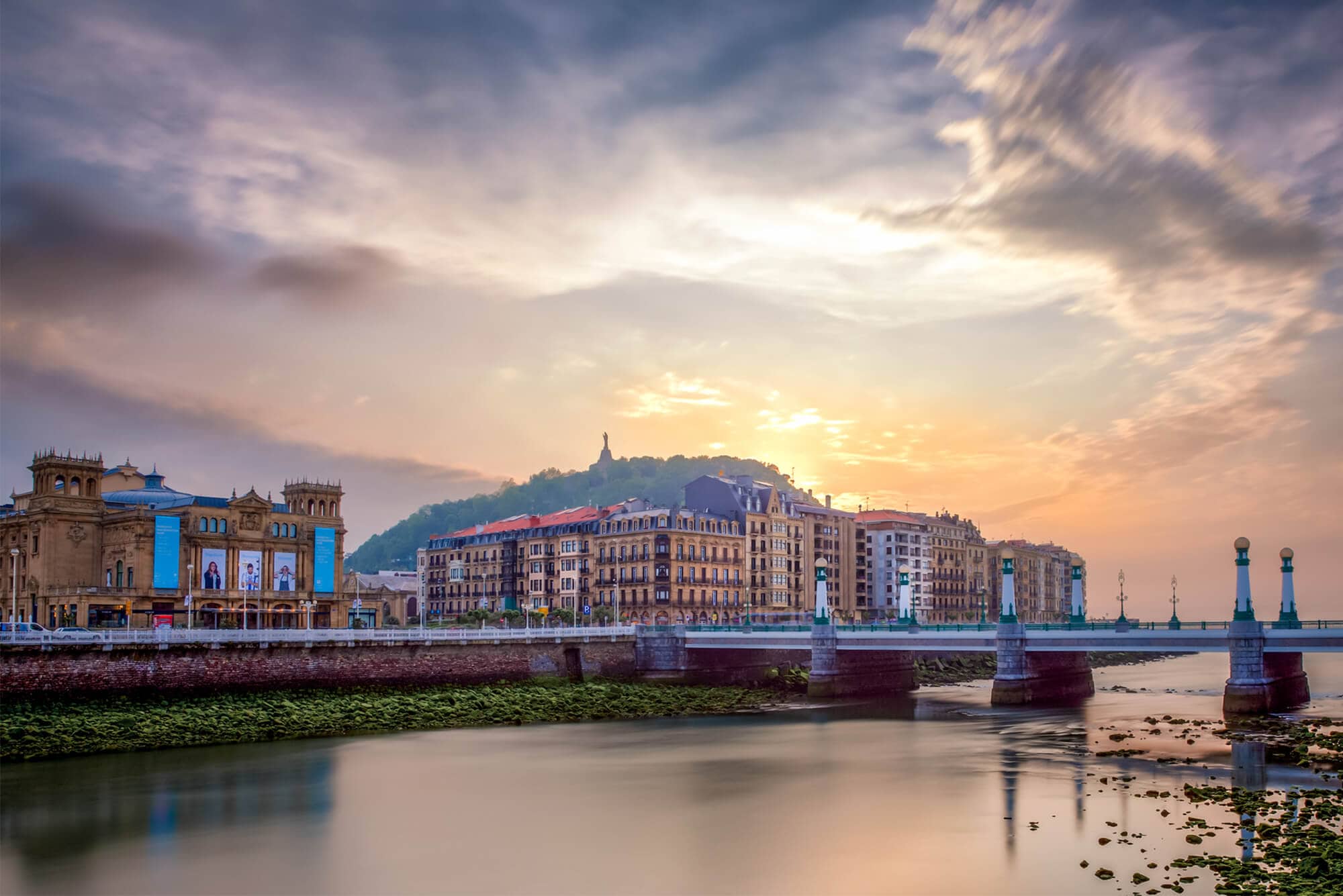 Basque Country Bucket List Experiences
27. San Sebastián Food Tour
Join a food tour in Spain's foodie capital, San Sebastian, home to several Michelin-starred restaurants and the pintxo – a meal in miniature usually placed on bread, basically Basques' answer to tapas. One of my favorite Spain experiences!
28. Surfing in San Sebastián
Learn to surf at San Sebastián's Zurriola Beach or watch one of the many national and international championships held here from spring to autumn.
29. Guggenheim Museum Bilbao
Get lost in the impressive art exhibitions of the Guggenheim Museum in Bilbao, one of Spain's most impressive architectural landmarks. Another place worth visiting is Plaza Nueva in Bilbao's historic center, an excellent example of neo-classical architecture.
30. Oñati
Visit Oñati, also known as the "Basque Toledo" because of its many Gothic, Renaissance and Baroque buildings throughout the old quarter. The most prominent building is the University of Oñati, one of the most important buildings in Basque Renaissance architecture.
31. Gaztelugatxe
Walk up the 231 zigzagging steps to the top of San Juan de Gaztelugatxe, an islet that you might recognize as the island fortress of "Dragonstone" from season 7 of Game of Thrones. You can book a guided tour of Gaztelugatxe and other Game of Thrones filming locations here.
---
Popular Basque Country tours
---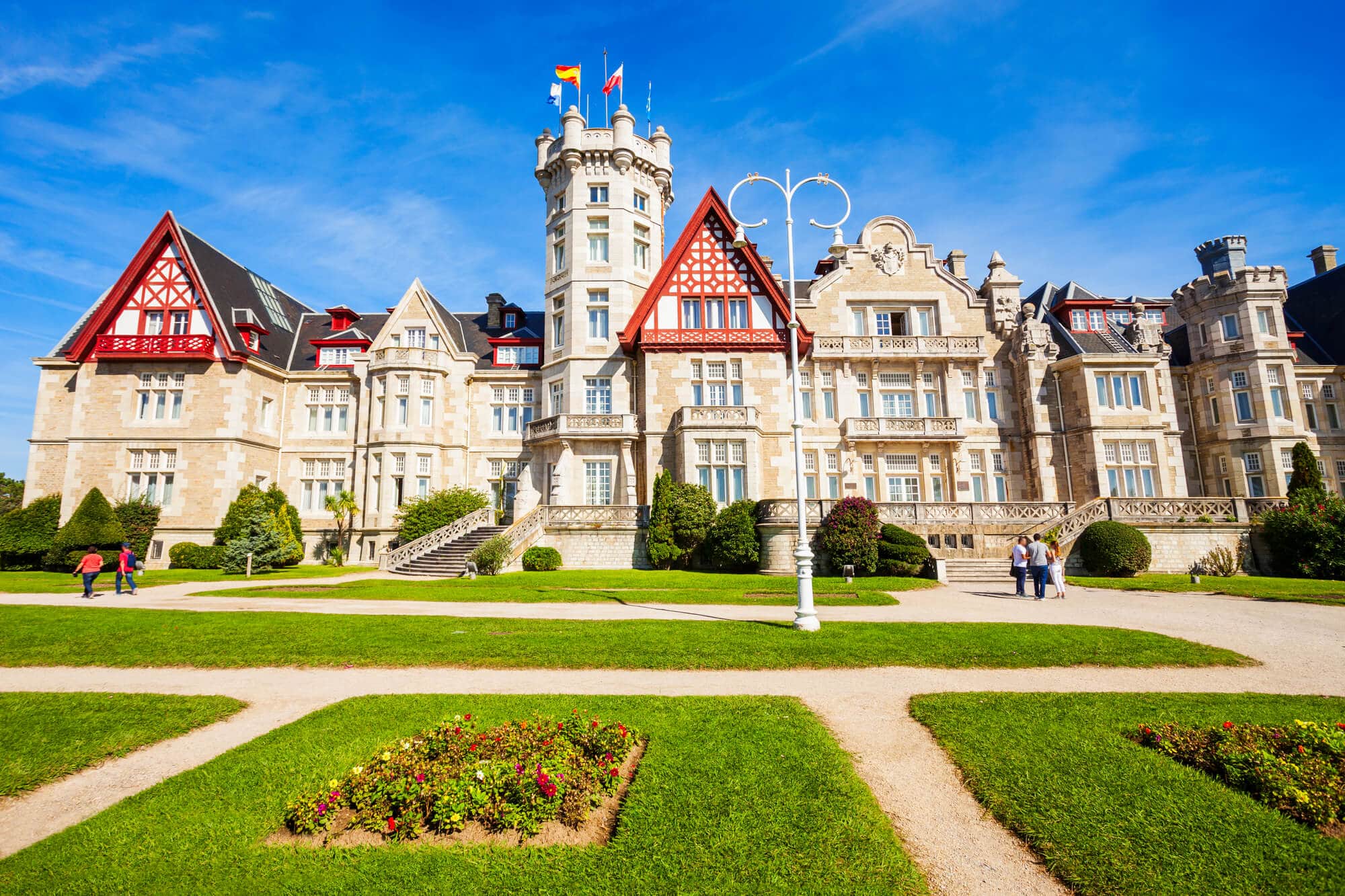 Cantabria Bucket List Experiences
32. El Soplao Cave
Explore El Soplao Cave, one of the most spectacular geological formations in the world.
33. Cantabria food & wine tour
Spend a relaxing day tasting and learning about the best food and wine Cantabria has to offer.
34. Palacio de la Magdalena
Visit Palacio de la Magdalena in Santander. Have you seen Gran Hotel on Netflix? If so, you'll recognize this stunning palace as the backdrop for the external scenes in the Spanish TV series. And by the way, how gorgeous are Alicia and Julio!?
35. Playa de Somo
Learn to surf with an experienced instructor on the shores of Playa de Somo, just outside Santander.
36. Santoña
Do you like anchovies? I don't, but I'm all about visiting quaint fishing villages like Santoña, best known for its anchovy factory.
37. Comillas
Discover the stunning modernist architecture of Comillas, such as Capricho de Gaudí (one of Gaudí's earliest works) and Palacio de Sobrellano, on this guided tour.
38. Monastery of Santo Toribio
Pay a visit to the Monastery of Santo Toribio which is supposed to house the largest preserved piece of wood from the cross of Jesus, making it an important pilgrimage destination. The majority of the compound, including the main Gothic cathedral, dates from the 13th century, and the cloister even later.
Continue past the monastery to the tiny 13th-century Ermita de San Miguel, a chapel boasting beautiful views across the valley and Picos.
39. Potes
Go for a stroll through the maze-like streets and alleys of Potes, a fairytale-esque town in Picos de Europa. In my mind, this is one of the most charming villages in Spain and a must on any Spain bucket list.
40. Mirador del Cable
Take the cable car from Fuente Dé up to Mirador del Cable and enjoy the spectacular views.
🌟 This full-day trip from Santander includes the Monastery of Santo Toribio, Fuente Dé and Potes. Enjoy the best of Picos de Europa without having to do any planning or driving by yourself!
---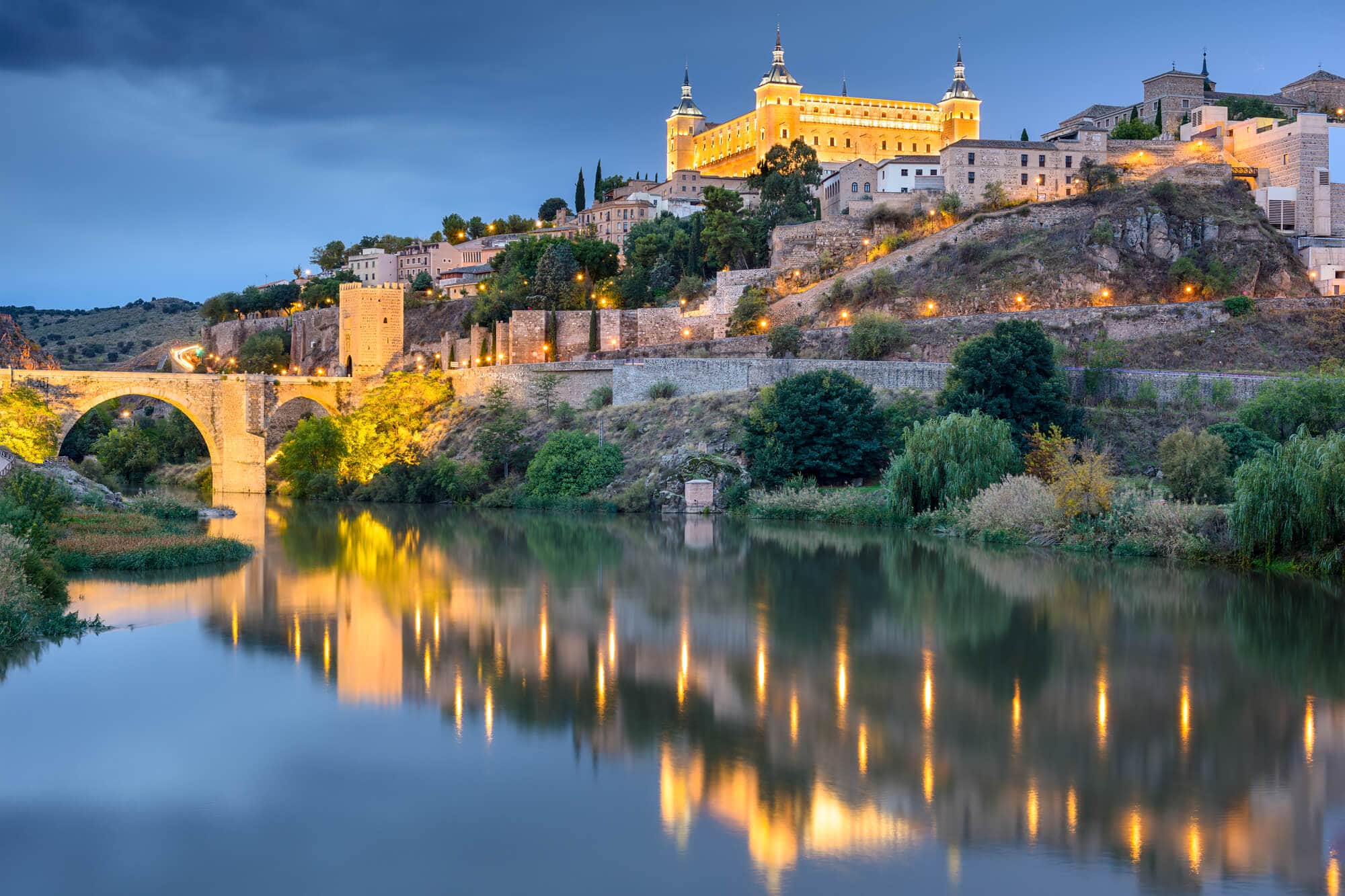 Castilla-La Mancha Bucket List Experiences
41. Calderico Ridge
Walk along Calderico Ridge in Consuegra, past twelve beautiful windmills with Castle of La Muela in the background.
42. Serranía de Cuenca Natural Park
Explore the stunning Serranía de Cuenca Natural Park. The top places to see are the beautiful waterfall that is the source of the Cuervo River and the Enchanted City, an area with limestone rock formations formed over thousands of years.
43. Cuenca
See the hanging houses clinging to the edge of a vertical cliff over the Cuenca Gorge. Cuenca is a historic walled city first built by the Moors in the 8th century and today a UNESCO World Heritage Site, home to one of Spain's first Gothic cathedrals.
44. Almagro
Get your dose of performing arts in Almagro, famous as the town of theatres with its Open Air Theatre, the National Theatre Museum and the International Festival of Classical Theatre held every year.
45. Toledo
Admire the magnificent architecture of Toledo, another UNESCO World Heritage town in Castilla-La Mancha. Take in panoramic views atop the Alcázar and make sure to visit the 13th-century Toledo Cathedral, one of the most important Gothic structures in Europe.
46. Mirador del Valle
See Toledo from the Mirador del Valle, a viewpoint boasting spectacular views across the entire city.
---
Popular Castilla-La Mancha tours
---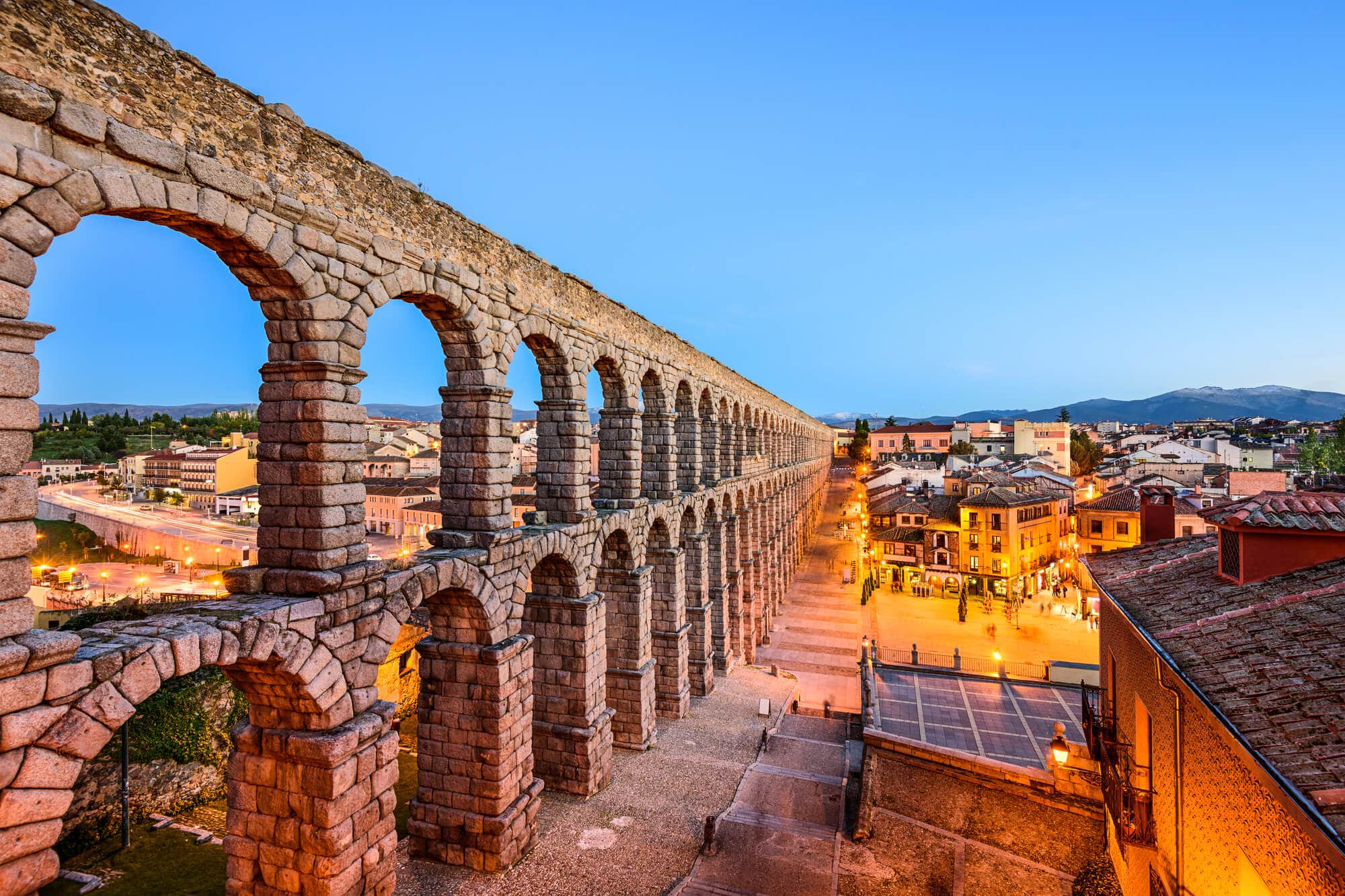 Castilla y León Bucket List Experiences
47. Segovia
Spend a day in maybe the prettiest place in all of Spain, the UNESCO World Heritage-listed city of Segovia. It is situated on the plains of Old Castile, near the Spanish capital Madrid.
Segovia is known for its two well-differentiated areas: an upper town encircled by ancient walls on a narrow limestone ridge between two small rivers. And a lower part outside the walls.
The city's most striking landmarks are the Roman aqueduct, which is also a UNESCO World Heritage Site, and its Alcazar castle. Definitely a must on any Spain itinerary.
48. Hot air balloon ride over Segovia
Take a hot air balloon ride, including a champagne breakfast, over Segovia. A once-in-a-lifetime experience!
49. Ávila
Wander along the impressive Medieval walls of Ávila, a historic town situated between Madrid and Salamanca. The walls are considered to be one of the best-preserved examples of medieval fortifications in Europe and have been designated as a UNESCO World Heritage Site.
Another one of the top things to do in Ávila is a visit to the Cathedral of Ávila which was built in the 12th century and features a unique blend of Romanesque and Gothic architecture.
50. Cathedral of León & Basílica de San Isidoro
Explore the lavishly decorated Cathedral of León and notice its beautiful stained glass windows. The impressive building, constructed in the 13th and 14th centuries, is in my mind the finest example of early Gothic architecture in Spain.
Marvel at the beautiful frescoes of the Royal Collegiate of St Isidoro, also known as the Sistine Chapel of Romanesque art. It is considered among the most important Romanesque monuments in Spain.
51. Casa de Botines
Learn about Antonio Gaudí and another one of his earliest works at Casa Botines Museum – A Neo-Gothic Palace and one of only three works completed by Gaudí outside of Catalonia. Its angular towers give it the appearance of a medieval fairytale castle with a few surprising modernist twists.
52. Castilla y León Museum of Contemporary Art
Immerse yourself in art and culture at Castilla y León Museum of Contemporary Art (MUSAC) which features five galleries. The colorful "cuboid" building itself is maybe the most impressive piece.
53. Salamanca
Experience Salamanca like a local on this private guided tour. And don't forget to find the "frog on a skull" carving at Salamanca University, considered to be one of the most beautiful universities in the world.
---
Popular Castilla y León tours
---
Catalonia Bucket List Experiences
54. Bunkers del Carmel
Enjoy incredible views across the city, all the way to Barcelona Cruise Port, from Bunkers del Carmel, an abandoned anti-aircraft defense site, in Barcelona.
Plan your visit for either sunrise or sunset for the most beautiful experience. You can read more about Bunkers del Carmen and other places to see in this 3-day Barcelona itinerary.
55. Gaudí Trail & Parc Güell
Take the Gaudí Trail in Barcelona which starts at Placa Real just off Las Ramblas and ends at Park Guell, a beautiful public park, composed of gardens and architectural elements. It's the perfect spot to watch the sunset. Read more in this 5-day Barcelona itinerary.
56. Mataró
Hike or bike through the Montnegre i el Corredor Natural Park and spend some time in Mataró, an underrated gem just north of Barcelona. Find more inspiration in this Barcelona Bucket List.
57. Ferris Wheel of Tibidabo
See the spectacular views from the Giradabo big wheel in Tibidabo amusement park, the oldest functioning amusement park in Spain and one of the oldest in the world.
58. Cadaqués
Wander through the narrow streets of Cadaqués, a whitewashed seaside retreat once frequented by artists such as Salvador Dalí and Coco Chanel.
59. Montserrat
Ride the funicular up to Montserrat, a monastery situated atop a multi-peaked mountain range near Barcelona.
60. Roman ruins of Tarragona
Step back in time in Tarragona, the earliest Roman stronghold in Spain and today home to some of the best preserved Roman ruins in the country.
61. Sitges Carnival
Dress up and join the fun during Sitges Carnival, one of the most colorful and famous festivals in Spain. It takes place in February in the coastal town of Sitges, near Barcelona, and attracts thousands of visitors every year.
---
Popular Catalonia tours
---
Extremadura Bucket List Experiences
62. Mérida
Travel back to Roman times in Mérida, an underrated town also known as Mini-Rome in Spain. It was an important city under the Roman Empire almost 2000 years ago and is today home to impressive Roman ruins, such as the incredibly well-preserved Roman Theater.
63. Royal Monastery Of Guadalupe
Spend the night in the beautiful Parador de Guadalupe close to the town's most impressive landmark, the Royal Monastery Of Guadalupe. The spectacular Gothic-Mudéjar style building is a UNESCO World Heritage Site and supposedly stands on the site where the Virgin Mary appeared to a shepherd.
64. Trujillo
Explore the charming town of Trujillo, one of the best-preserved medieval towns in Spain. With its grand stone fortress, well-preserved town walls and quaint plazas, it feels like time has stood still.
65. Monfragüe National Park
Go birdwatching in Monfragüe National Park, home to the largest and best-preserved Mediterranean forest in the world.
66. Ruta del Queso
Follow the Extremaduran cheese trail, Ruta del Queso. The region is famous for its cheese production, such as Torta del Casar, a creamy cheese made from sheep's milk and El Redoble made from 100% whole goat's milk.
Learn about the history, culture, architecture and legends of one of the most beautiful villages in Spain on this 2-hour guided tour. The castle, which was built between the 9th and 12th centuries, was used as a backdrop for Game of Thrones Season 7.
---
Galicia Bucket List Experiences
67. Cíes Islands
Sail to the Cíes Islands, three of the most beautiful and untouched islands in Europe. You can enjoy hiking along the islands' many trails, snorkeling in the crystal-clear waters or simply relaxing on the sandy beaches. A Spanish bucket list experience still unknown to many.
Tips for visiting Cíes Islands
It is important to note that access to the islands is limited and you must obtain a permit in advance. You should also be prepared for a bit of a hike to reach the beaches, as there are no cars or other vehicles allowed on the islands.
68. Santiago
Go for a stroll down the cobbled streets of Santiago's Old Town, a UNESCO heritage site since 1985. The striking Cathedral of Santiago de Compostela marks the end of the 790 kilometers long Camino de Santiago pilgrimage route and is one of the most important religious structures in Spain.
69. Fragas Do Eume
Hike to the monastery of Saint John of Caaveiro in Fragas Do Eume Natural Park, a dense Atlantic forest on the banks of river Eume.
70. Lugo
Walk the impressive walls that enclose the Old Town of Lugo. You can only enter the town through one of the eleven gates.
71. Cathedrals Bach
Visit Cathedrals Bach, also known as Holy Waters Beach and Praia das Catedrais in Spanish, which features a collection of unique rock arches and caves.
Tips for visiting Cathedrals Beach
Book in advance: Access to the beach is limited, and during peak season, you must obtain a free permit to enter. These permits are often booked out well in advance, so be sure to plan ahead.
Check the tides: The beach is only accessible during low tide, so be sure to check the tide schedule before visiting. It is best to arrive a few hours before low tide to ensure enough time to explore the beach.
Wear appropriate footwear: The beach is rocky and uneven, so it is recommended to wear sturdy shoes or sandals with good grip.
Respect the environment: Catedrais Beach is a protected area, so please respect the environment and not leave any trash behind. It is also forbidden to remove any rocks or shells from the beach.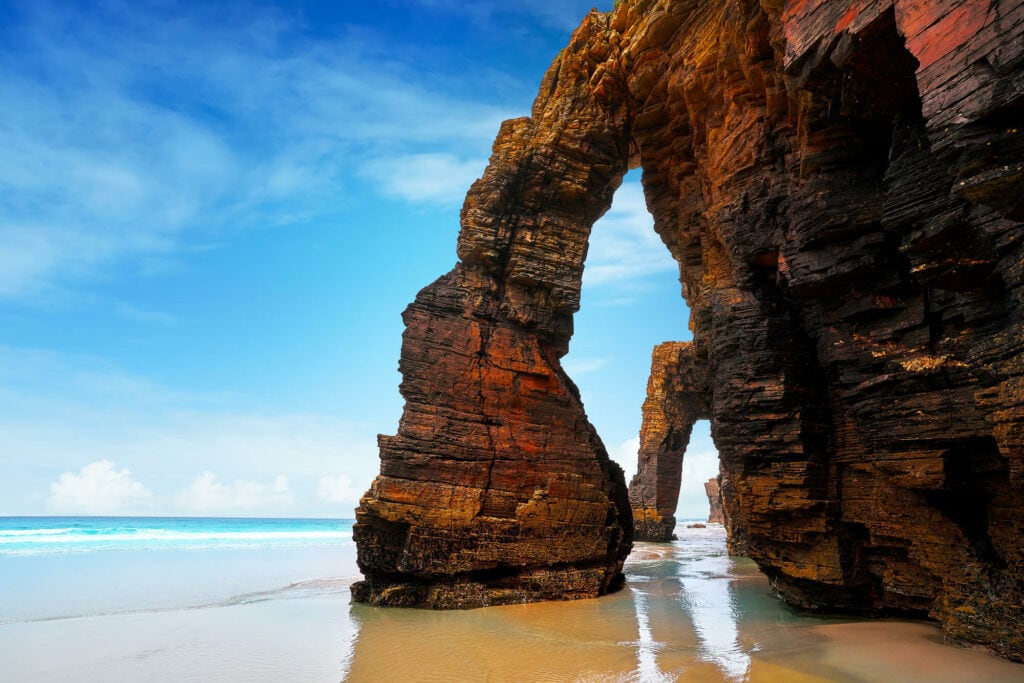 Experience the historical landmarks of Lugo and the impressive arches of Cathedrals Beach all in one day on this private tour!
72. Tower of Hercules
Stop by the Tower of Hercules in La Coruña, the oldest working lighthouse in the world and a UNESCO World Heritage Site. It was built in the 2nd century by the Romans and renovated in 1791.
73. Ézaro lookout and waterfall
Climb to Ézaro Lookout and stop by Ézaro Waterfall, one of the most beautiful waterfalls in Spain.
74. Cape Finisterre
Go to the "end of the world" at Cape Finisterre, considered by the Romans to be the westernmost point of Continental Europe and thus the end of the world.
---
Popular Galicia tours
---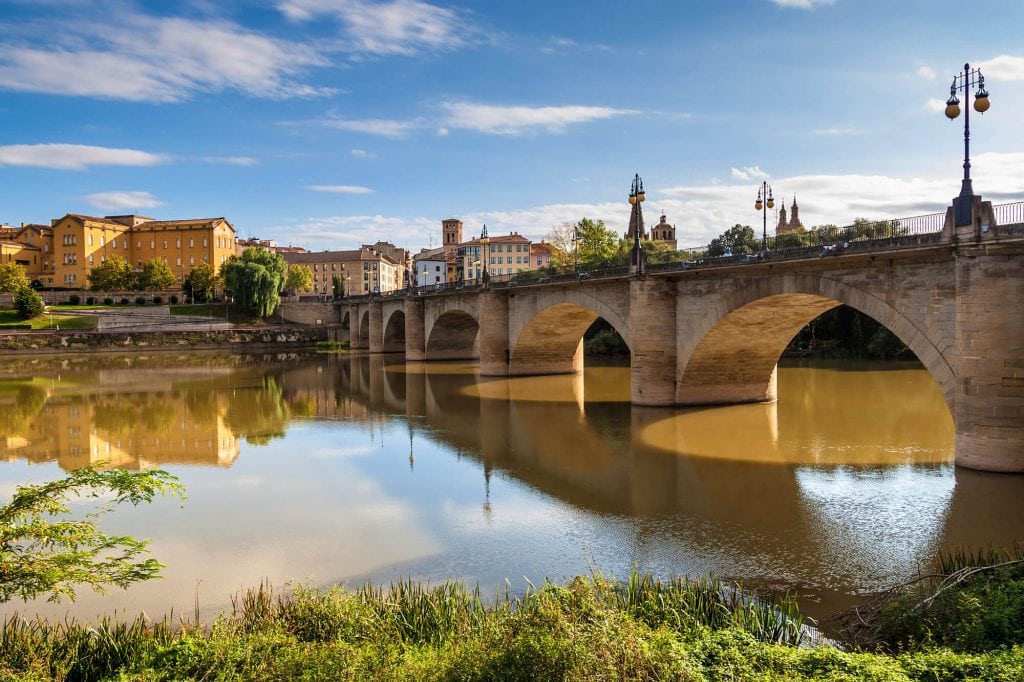 La Rioja Bucket List Experiences
75. Vivanco
Learn all about Rioja wines at the spectacular Vivanco Winery and Museum of Wine Culture. Rioja is one of Spain's most famous wine regions, internationally renowned for the consistent quality of its wines.
76. Battala del Vino
Get drenched in wine at the world's largest wine fight, Battala del Vino, held in Halo every year on June 29.
77. Logroño
Attend the Rioja Wine Harvest Festival or Fiestas de San Mateo, held every year in mid-September in the beautiful town of Logroño. Celebrate the Rioja grapes with grape foot-crushing, festival floats, food stalls and much more.
78. San Millán Yuso and Suso Monasteries
Hike to the twin Monasteries of San Millán Yuso and Suso, both declared UNESCO World Heritage Sites because of their historical importance.
---
Popular La Rioja tours
---
Madrid Bucket List Experiences
79. Tablao Flamenco Torres Bermejas
Feel the passion of flamenco dance and music at the historical Torres Bermejas tablao in the heart of Madrid.
80. The Prado
Immerse yourself in one of the largest art collections in the world at the Prado, an institution often described as a museum of painters not of paintings.
81. Royal Palace
Get lost in the Royal Palace of Madrid, a beautiful baroque building with over 3000 rooms and the largest royal palace in Western Europe. Another vast and impressive landmark in Madrid worth a visit is Plaza Mayor.
82. Browse the markets
Hunt for treasures at El Rastro, Madrid's largest flea market happening every Sunday on Ribera de Coritodores and Plaza de Cascorro. And don't miss Market de Los Motores, located in an old train station in Delicias, a true hidden gem in Madrid.
83. Alcalá de Henares
Walk in the footsteps of Christopher Columbus in Alcalá de Henares where he met Queen Isabella to propose his voyage across the Atlantic. The city center is together with the university today a UNESCO World Heritage Site.
---
Popular Madrid tours
---
Murcia Bucket List Experiences
84. Murcia City
Spend a few hours exploring Murcia City boasting impressive landmarks such as the Gothic Baroque-style Santa María Cathedral and Plaza del Cardenal Belluga.
85. Enchanted City of Bolnuevo
Check out the otherworldly sandstone formations known as Ciudad Encantada de Bolnuevo in Mazarrón.
86. Ricote Valley
Go for a drive or bike ride through Ricote Valley, a string of quaint villages set on the banks of the Segura River. See if you can find the distinctive yellow and purple house with two palm trees in front and a mountain in the background.
87. Salto del Usero
Cool down in Salto del Usero, a hidden natural oasis and waterfall on the outskirts of Bullas.
88. Batería de Castillitos
Enjoy the breathtaking views from Batería de Castillitos, a coastal artillery support fortification constructed by the British to defend Cartagena Bay.
89. Cartagena & Playas de Calblanque
Soak up some sun at Playas de Calblanque, a series of golden beaches within Parque Regional de Calblanque. And don't miss the historic port city of Cartagena, such an underrated gem!
90. Caravaca de la Cruz
Visit the quaint mountain town of Caravaca de la Cruz and its Basílica Santuario de la Vera Cruz, a magnificent baroque facade.
91. Floración de Cieza
Experience the spectacular Floración de Cieza (peach tree blossom season) every spring, in Cieza.
---
Popular Murcia tours
---
92. Camino de Santiago
Hike the Camino de Santiago, a month-long ancient pilgrimage route to Santiago de Compostela. The pilgrimage traditionally starts in St. Jean Pied de Port, France, however, if you prefer to stay in Spain and an easier hike, the route starts in Roncesvalles.
93. Bardenas Reales
Marvel at the otherworldly landscape of Bardenas Reales Natural Park, a vast semi-desert and protected UNESCO Biosphere Reserve that covers over 40,000 hectares.
94. Royal Palace of Olite
Step into a fairytale at the Royal Palace of Olite which was once one of the most luxurious castles in Europe.
95. Pamplona
Skip the Running of the Bulls and explore the Pamplona city walls and citadel instead. It dates all the way back to the Renaissance period and is today one of the best-preserved military structures in Spain.
---
---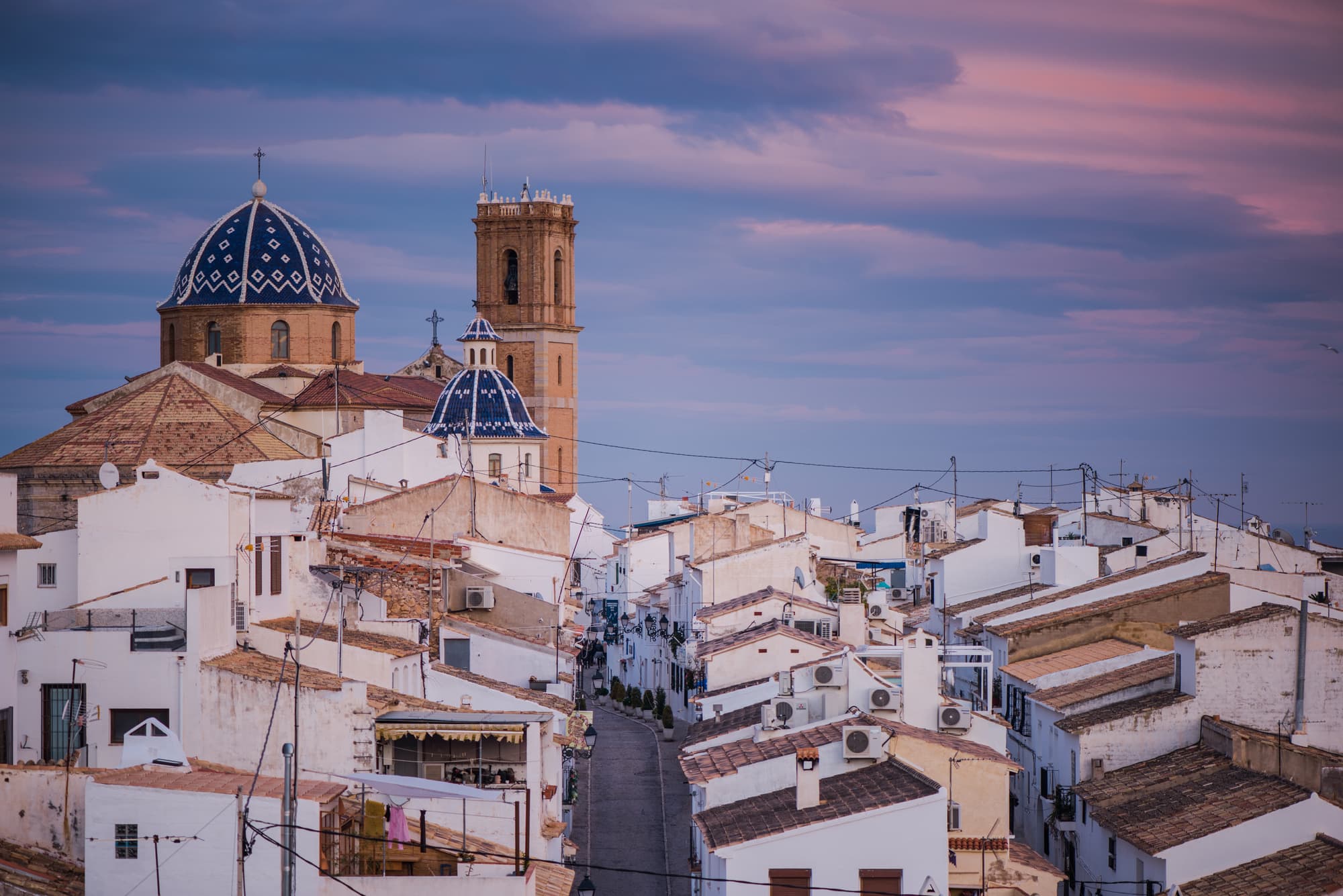 Valencia Bucket List Experiences
96. Laguna Salada de Torrevieja
Marvel at Spain's very own pink lake, Laguna Salada, in Torrevieja. A must-do experience on any Spain bucket list!
97. City of Arts and Sciences
Explore Valencia's famous City of Arts and Sciences, then dine with locals during a unique gastronomic and wine-tasting experience with panoramic views of the entire city.
98. Fuente de los Baños
Take a dip in the crystal clear water of Fuente de los Baños, set in a gorge between limestone cliffs in Montanejos. The water is supposed to stay at a pleasant temperature of 25°C all year.
99. Caves of San José
Go on a boat ride in the Caves of San Jose on the longest navigable underground river in Europe. The caves were discovered in 1929 and are known for their and UNESCO-listed cave paintings and stunning stalactite and stalagmite formations.
You can join a guided tour of the caves, which includes a light and sound show that highlights the beauty and history of the caves.
"OMG, the caves of San José were AWESOME and beautiful!! So stunning! And it was such a peaceful, serene sail through the caverns to get to the walking trail." Read more reviews here.
100. Port Saplaya
Rent a place to stay with a balcony in Port Saplaya, a picturesque area of canals and colorful houses that's often referred to as "Little Venice"
101. Peníscola
Hike to the top of Peníscola Castle and enjoy the beautiful view of the fortified seaport, known locally as "The City in the Sea". The current castle/fortress was built by the Knights Templar on the remains of an old Moorish citadel.
102. Sagunto Castle
Get lost in Sagunto Castle, a historically important fortress that covers an area of almost one kilometer in length.
103. Morella
Visit Morella, a walled hill-top city with prehistoric remains including cave paintings and Bronze Age burial sites. Due to the fortress that towers above the town, it is one of the most unique-looking places in Spain.
104. Jávea
Swim in the crystal clear turquoise water of one of Jávea's many world-class beaches, such as La Granadella. The beautiful historic town center, free of highrises, is also worth a visit.
105. Guadalest Valley & Castle
Take in the incredible view of the lush Guadalest Valley and turquoise water of Guadalest Reservoir from the medieval castle towering above the white town.
106. Altea
Enjoy the beauty of Altea, one of Spain's most picturesque white villages, often referred to as the "Santorini of Spain".
107. Villajoyosa
See the houses painted in all colors of the rainbow in Villajoyosa, the name literally means joyful town.
---
Popular Valencia tours
---
More Spain travel guides
Have I convinced you to visit Spain yet? Be sure to also check out my other Spain articles for more inspiration, detailed guides and travel advice:
---
Remember to pin for later 😉