This post may contain affiliate links. I will earn a small commission if you purchase through them, at no extra cost to you.
Charming cobblestone streets, 1000 years of history, contemporary art galleries, 5-star restaurants, lush green countryside, idyllic lakes and ridiculously delicious Danish pastries. Does it sound good? Then the Aarhus region on Denmark's Jutland Peninsula may be the perfect destination for your weekend getaway!
As mentioned in my last post, "two unforgettable days in Aarhus", mainland Denmark is the perfect place for a road trip. The landscape is flat and distances short, so driving from the north to south of Jutland will only take about 4-5 hours. Arhus' great flight and train connections and the central position on the peninsula, make it a great base from which to explore the rest.
I was lucky enough to tour the Aarhus region with Visit Aarhus. We had three days and managed to cover a lot of cool places. But I will definitely be coming back as Aarhus, Viborg, Skanderborg and Silkeborg all have so much to offer!
I explored the Aarhus region as part of a press trip, however, all thoughts and opinions are my own as always.
Remember to always get insurance before you travel to Denmark or anywhere else. I recommend Safetywing, an affordable subscription travel insurance that you can purchase even after departure. Read my full review here.
3-day trips from Aarhus
Viborg is one of Denmark's oldest cities, with traces all the way back to ancient times. In fact, they celebrated 1000 years in 2018. In honor of this anniversary, the city put on an art exhibition showing Viborg's long history through collage art by the amazing artist Sergei Sviatchenko.
We had the pleasure of getting invited inside his personal workshop to look around and even got some prints to take home. What a cool experience! Definitely check out the "Tribute to Viborg Contemporary Collage Art Exhibition" if you find yourself in Viborg during October this year.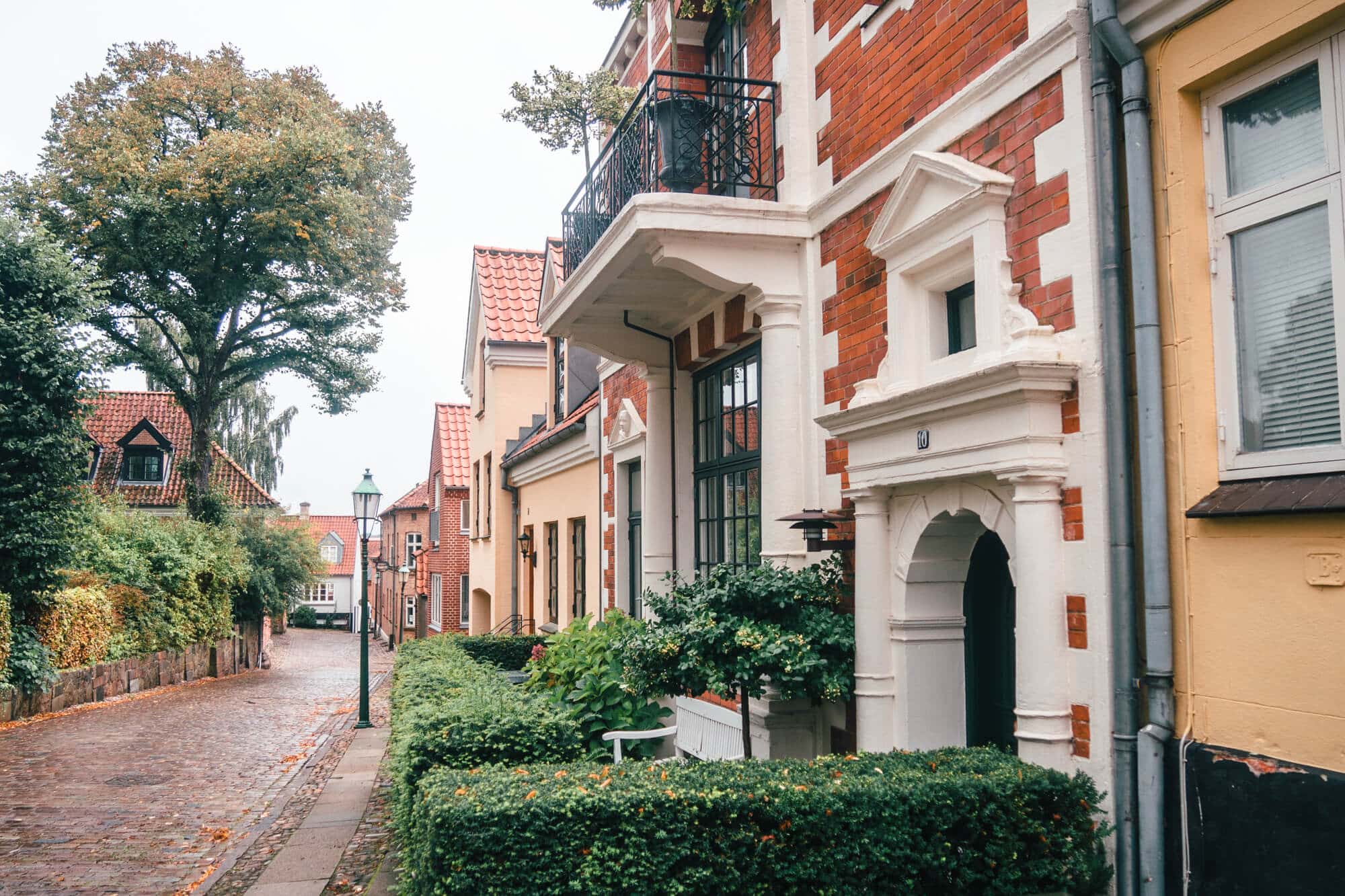 The best thing to do in Viborg is to explore on foot to fully appreciate all the historic landmarks and quaint little shops that line the cobblestone streets. Here are some of the main attractions I think you should include in your walking tour:
1. Nytorv
Nytorv is Viborg's geographical center, indicated by the "Zero stone" in the middle of the square. It actually used to be a cemetery up until 1584 when King Frederick II ordered it to be paved over. There are still remnants of human bones below the pavement, but don't let that creepy thought stop you from sitting down and enjoying some snacks and drinks at 11 Gastro & Bar.
2. Viborg Domkirke
With its two striking towers, Viborg Cathedral is without a doubt the city's most recognizable landmark. Parts of the church date back to the 1100s, but due to several fires, it has been rebuilt many times over the years. The construction as you see it today was finished around 1876. The interior is even more beautiful than the exterior so it's well worth it to take the time to see the impressive frescoes, bronze angels and gold altar inside.
Must read >> 7 stunning castles & manors in Denmark you can actually stay in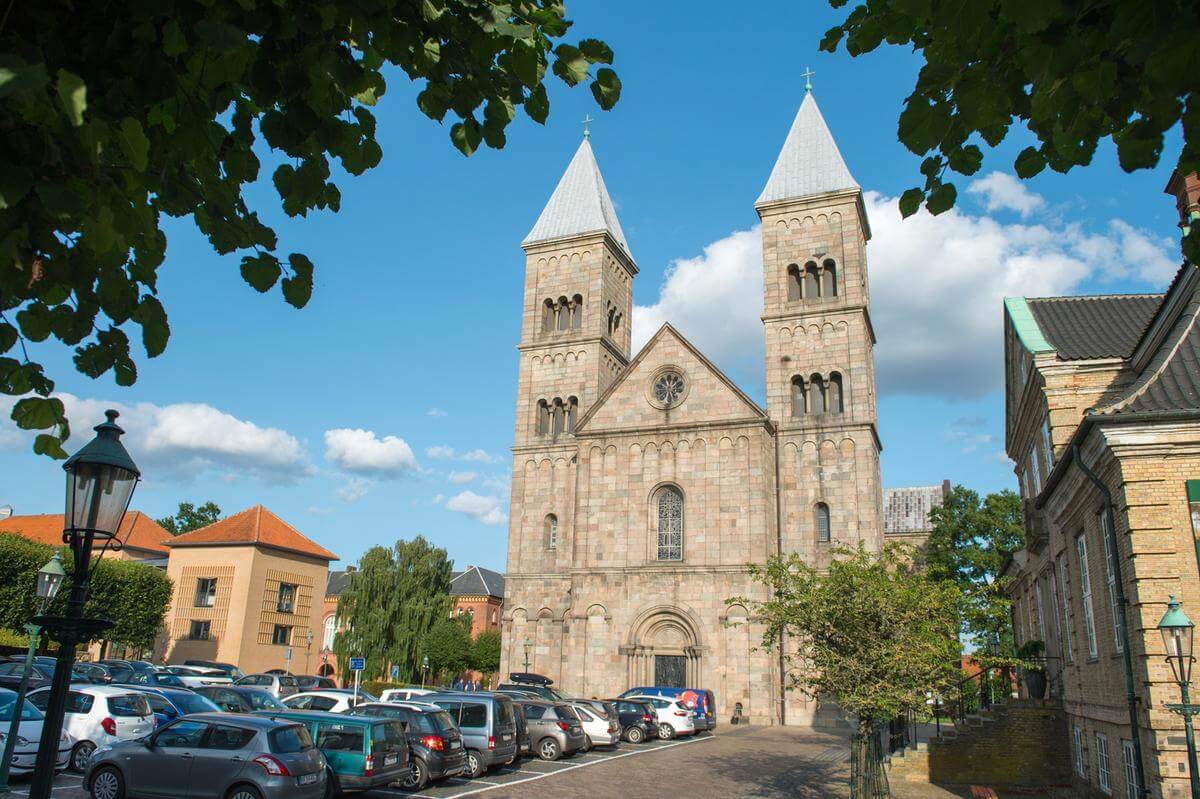 3. Latinerhaven
The great fire of 1726 destroyed most of Viborg's old town, leaving only what we call fire plots. While most of the city was later rebuilt, some traces of the fire still remain today. One of these is Latinerhaven, a lush garden brimming with perennials, Rhododendrons and herbs.
At Søster Lagkage, a bakery run by two sisters, they put quality and passion before everything else. All their mouthwatering cakes and pastries are made from scratch using only the best ingredients, organic whenever possible. Not only are the baked goods to die for, but the vintage decor and personal nick-nacks make the café feel warm and welcoming. You literally feel like you're in the sister's living room, which I think is so special.
We were lucky enough to get to taste an array of their specialties. My favorite was the glazed Danish pastry with pistachios (if I remember correctly), it literally melted in my mouth. Yum!
5. Sct. Mogens Gade
Sct. Mogens Gade (street) is a long line of colorful brick houses in the oldest and best-preserved part of Viborg. This is where the nobility and artisans used to live way back in the Middle Ages. Below you can see the old bakery which has been adorned by a gold and black sign with a rather strange poem reading something like this; "The baker is, unfortunately, dead, so he is no longer baking bread". If you're an avid photographer like me, you'll love this place!
6. Hans Tausens Minde
Though it might not be the most exciting place for everyone, I think it's well worth it to stop by Hans Tausens Minde, the oldest garden in Viborg. This is yet another cemetery turned garden and today it holds two monuments honoring the 300th and the 475th anniversary of the Reformation. The latter, a rather interesting-looking sculpture by Bjørn Nørgaard, will get your wheels turning.
7. Borgvold Park
Sitting on the bank of Nørresø Lake, Borgvold is not only Viborg's oldest Park but in my mind also the most picturesque part of the city. Winding pathways, colorful flowers, bridges and lush greenery as far as the eye can see. Go for a relaxing stroll in the morning, settle down on the grass for a romantic picnic or rent a canoe and head out on the water. But whatever you do, don't miss this place!
8. Dahl's Vinhandel
In the Latin Quarter just down the street from Viborg Cathedral you'll find Dahl's Vinhandel, a wine specialty shop with a history stretching back as far as the early 1800s. Not only is their selection of wine and spirits extremely impressive but the whole shop oozes with history and charm, which makes visiting the store an experience in itself. If you're into unique wine, exotic coffee and decadent chocolate in all shapes and sizes, Dahl's Vinhandel is the place for you!
Just outside their door, there's a small art installation with tiny stars in the pavement. I don't think I would even have noticed if it wasn't pointed out, but wow how cool!
9. Brygger Bauers Grotter
Dinner in Brygger Bauers Caves was one of the highlights of the trip for me. This unique restaurant has its own beer and wine cellar and serves up some delicious and innovative tapas dishes. I couldn't stop eating!
10. Viborg Bryghus
Finish the day off with a beer tasting and history lesson at Viborg Bryghus, a microbrewery in the heart of the city. Every Friday and Saturday you have the opportunity to participate in "Bryg & Brosten" (Brew & Cobblestone), a two-hour tour where you learn the history behind many of the places I mention above and the people that have given names to some of Viborg Bryghus' beers.
The tour ends with a beer tasting in the brewery room at Viborg Bryghus and costs 150kr per person. If you want to skip straight to the beer, the tasting trey you see below is only 89kr. And to my surprise, I actually really enjoyed some of the dark ones.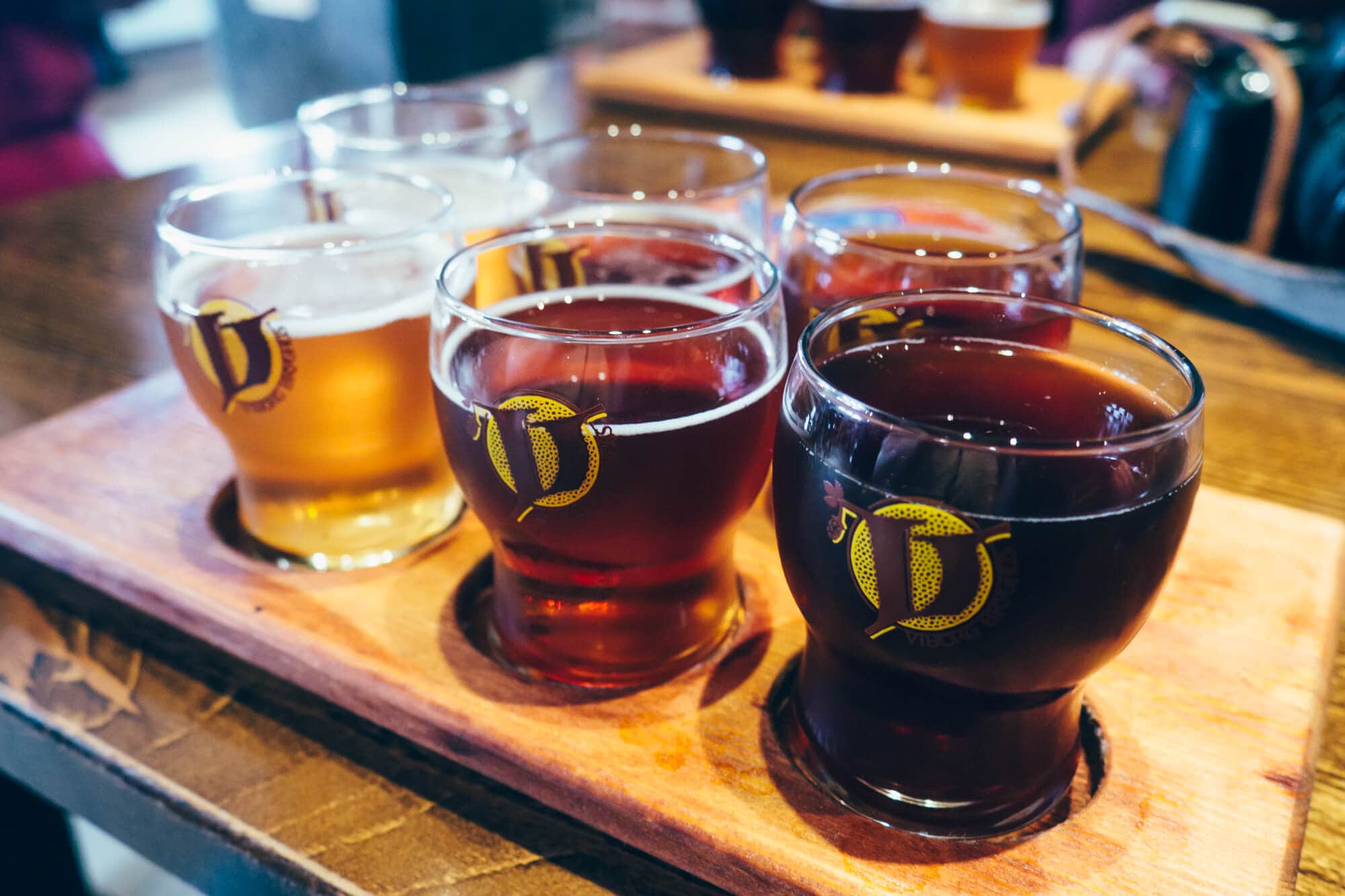 ---
Skanderborg and Silkeborg are located about 30-40 minutes away from Aarhus in the Lakelands, an area known for its outstanding natural beauty. The varied landscape of hilltops and lakes around Ry and Skanderborg are especially great for outdoor activities like hiking, biking and sailing.
However, if you're interested in history rather than an adrenalin rush you also have many options. Visit Øm Abbey and experience the life of a monk in the Middle Ages. Go for a train ride on the vintage Bryrup-Vrads Railway which runs on a 5 km long section of the Horsens-Bryrup-Silkeborg Railway that closed in 1968. It is said to be "The most beautiful Railway in Denmark". Or visit Skanderborg Bunker Museum, Luftwaffe's headquarters on the banks of Skanderborg Lake.
Our day in the Lakelands started at Ry Harbor where we boarded "Solbaaden", a fully solar-powered and CO2-neutral boat. It was such a nice and relaxing way to explore the area. We could even hear the birds chirp and the bees buzz as there was no noise coming from the motor.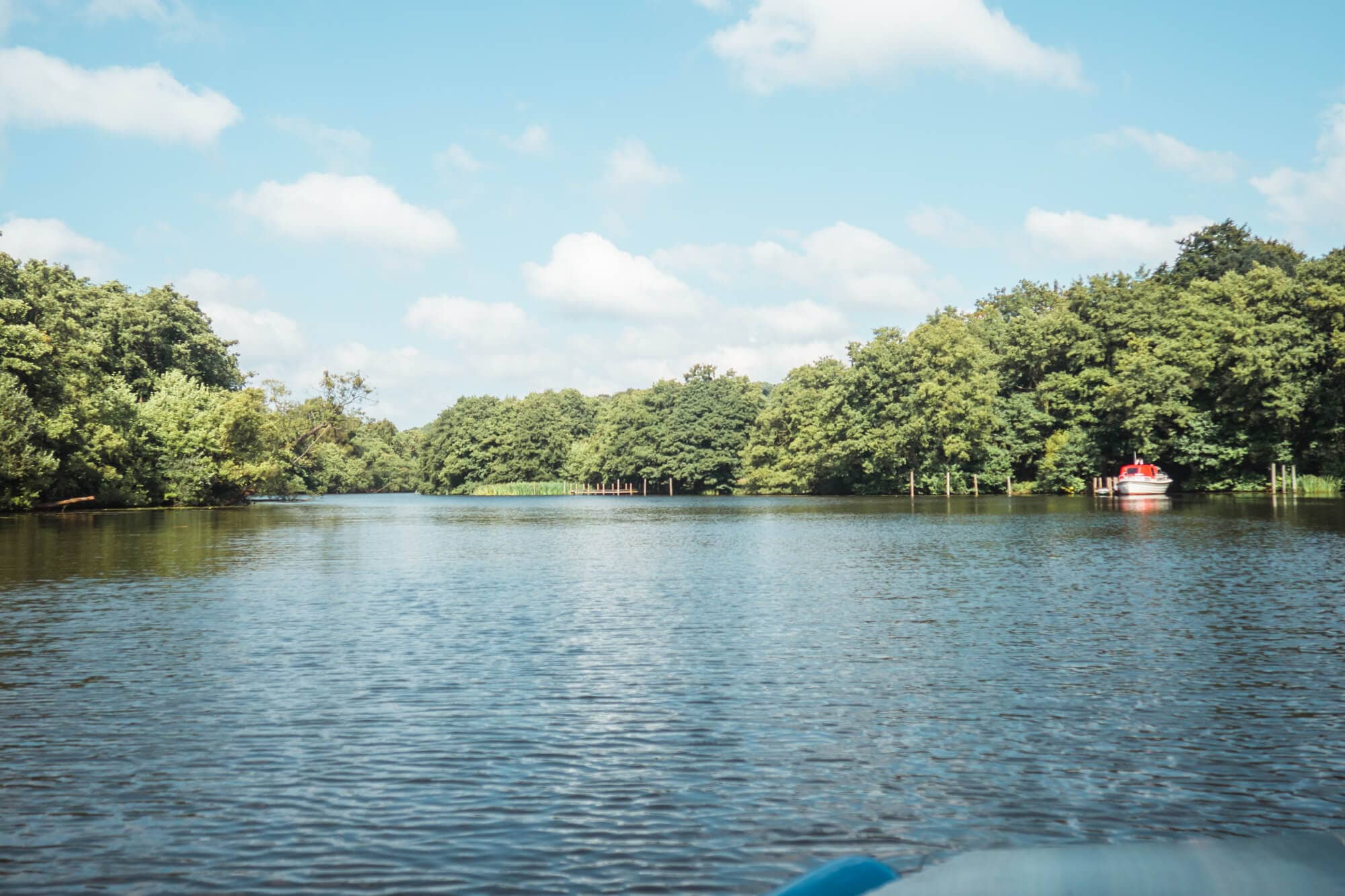 After the boat trip, we were greeted by the staff at Hotel Julsø, an impressive building standing right on the water's edge at the foot of Himmelbjerget. Hotel Julsø's history goes back more than 150 years and it's just that nostalgia that makes this place so special. The interior is painted white and green and gives the feeling of stepping into a fancy 1920s restaurant.
Update
Unfortunately, the beautiful Hotel Julsø burned down in 2020. A new hotel is on its way and you can still enjoy the peaceful surroundings.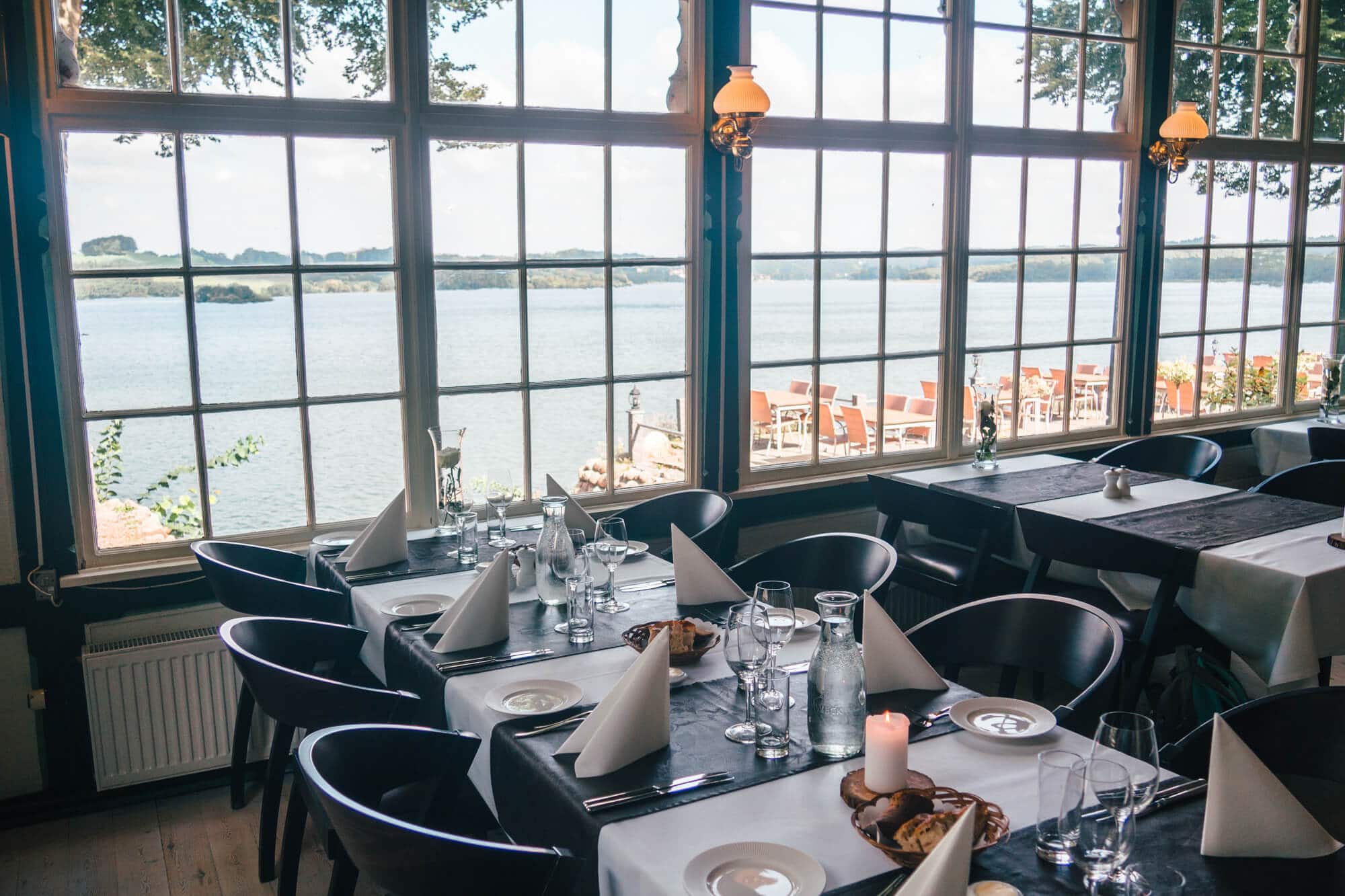 Himmelbjerget "The Sky Mountain"
All of us Norwegians on the trip were absolutely sure that Himmelbjerget is the highest "mountain" in Denmark. But apparently, that's not the case. In fact, it's only the 7th highest hill at 147 meters above sea level.
But what it lacks in height it makes up for in scenic surroundings, making it one of Denmark's finest and most visited natural landmarks. And that's how it's been ever since 1861 when the old steamboat Hjejlen made its first journey from Ry. Hjejlen and other tour boats sail from Ry and Silkeborg to Himmelbjerget in the summer months.
You also have the option to drive, bike or walk. From Ry, there's only about 7 km to Himmelbjerget through the forest and along the lakes. It's flat all the way to the foot of the mountain and the hike to the top takes about 30-minutes and is doable even if you're not in the greatest shape.
Once you reach the top you can climb the tower for an even more spectacular view, enjoy some refreshments at Hotel Himmelbjerget, play in the playground or browse the souvenir shops. There's also a parking lot on the top for those who would like to drive.
---
Since the 1800s, Silkeborg has been famous for its bath and health resorts, attracting thousands of Danes every year. This part of the country has always been where you go when you need to regain energy and unplug from the stresses of everyday life. To get in touch with nature go canoeing on Gudenå, Denmark's longest river or hike Hærvejen, an ancient road in a stunning rural setting. Whether you want a romantic getaway or an active holiday, Silkeborg is the place to be!
Best place to stay in Silkeborg >> Gl. Skovridergaard; BW Premier Collection
Gl. Skovridergaard Hotel
We got to spend a night at Gl. Skovridergaard, a charming, old hotel set in a perfectly manicured garden on the outskirts of town. The oldest building on the property dates back to 1798 and has been used as both a royal residence, spa and sanatorium over the years.
Come evening we were treated to an impressive five-course meal in their restaurant, Orangeriet. I don't know if it was due to all the wine I consumed or the big, comfortable bed, but I slept like a baby that night. So nice!
Art Centre Silkeborg Bad
Silkeborg Bad opened as a health resort in 1883 and people would come from all over the country to receive treatment for all sorts of diseases and ailments. The mineral-rich water from the spring "Arnakkekilden" was instrumental to most of their treatments. During the war, the property was seized by the Germans and used as military headquarters before later being renovated and reopened as a spa in the 50s.
These days I recommend visiting Art Centre Silkeborg Bad, which lies on the outskirts of Silkeborg right next to Lake Ørnsø, for a different kind of art experience. All year round they host exhibitions of contemporary art, usually three or four at a time.
One of the current exhibitions, "Beyond the Body", brings up all the thoughts and questions we humans have around death. Like "what happens next?" and "is there a soul?". I have to admit, I found it weirdly captivating and a little bit creepy. Just take a look below!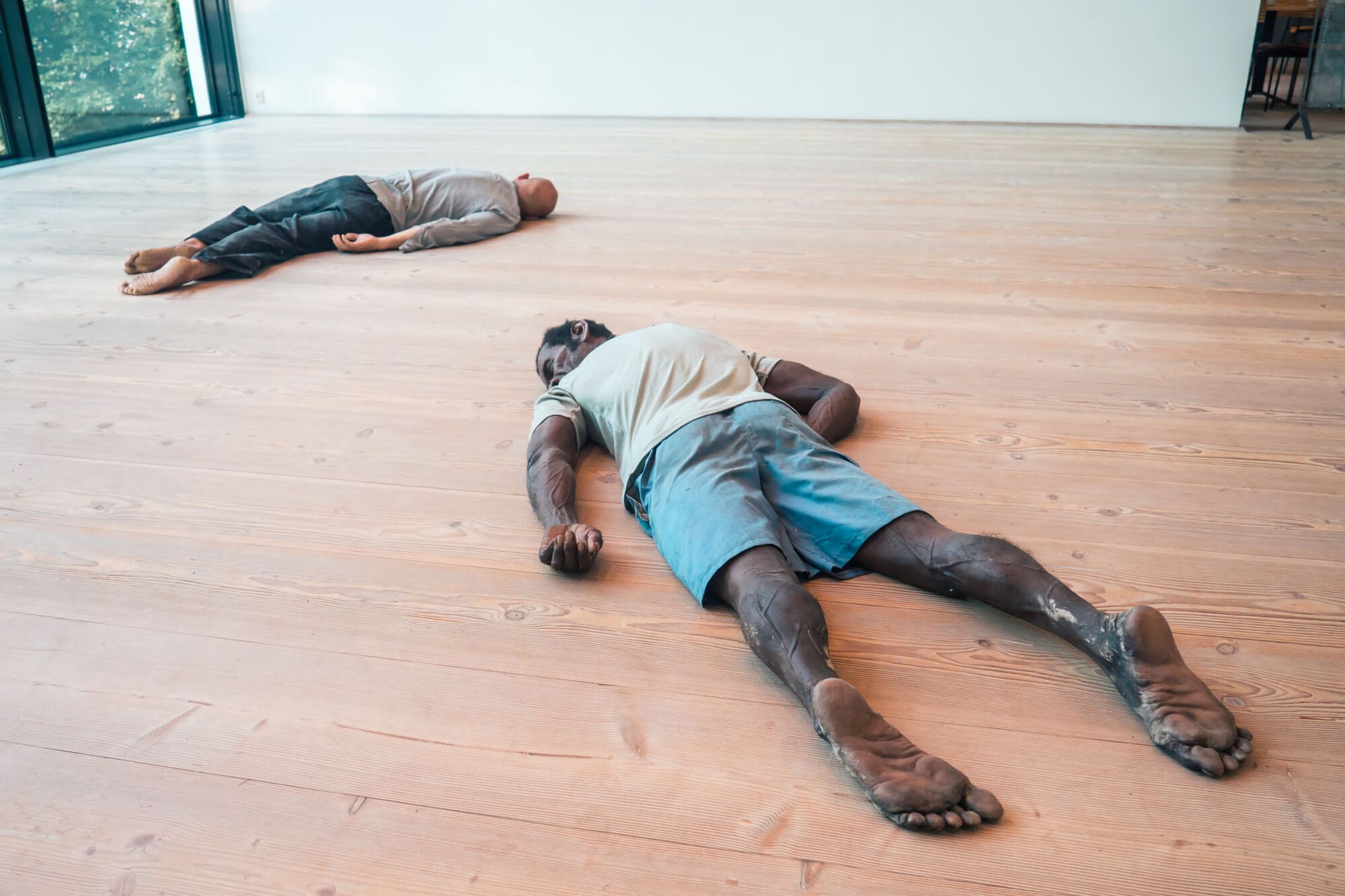 The surrounding park, which boasts more than 40 interesting sculptures, is open to visitors all year, free of charge. Some of the sculptures have a home in the park on a permanent basis (a few since 1929!!), while others have been placed there temporarily. The Art Centre also includes a historical section which tells the story in words and photos of when the property housed the health resort.
Although Silkeborg is known for its peace and serenity today, few are aware that the German General Staff in Denmark had its headquarters in Silkeborg from 1943 to 1945. These days, you can enter the main bunkers at Silkeborg Bad with a guide or go explore the few which are open all day by yourself.
---
Have I convinced you to visit the Aarhus Region yet?
Remember to pin for later 😉