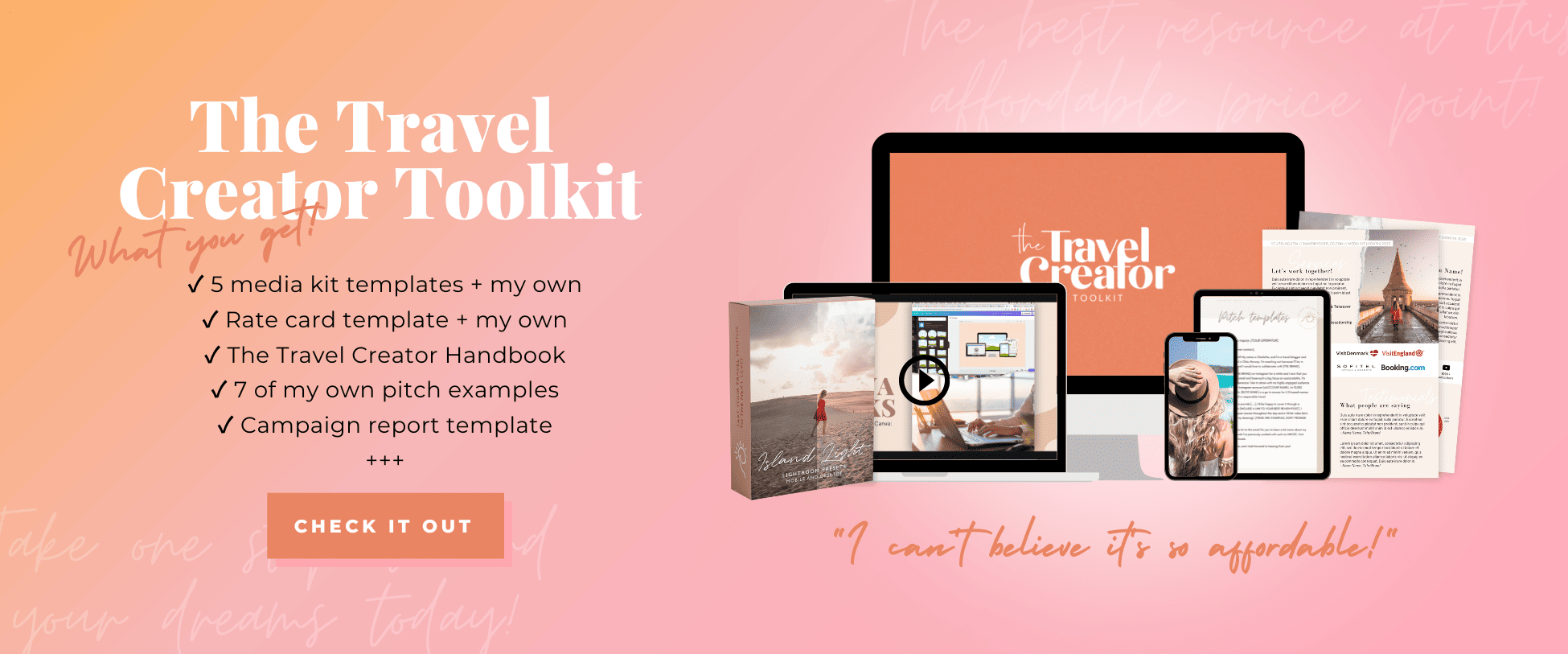 This post contains affiliate links. I will earn a small commission if you purchase through them, at no extra cost to you.
Are you looking for the best place to see monkeys in Bali? I get a lot of questions about whether or not I think it is safe and worth it to visit the monkey forests and temples in Bali. And after more than 15 visits to different places to see monkeys in Bali, my answer is yes.
I would normally never recommend an animal attraction, however, the monkeys in Bali are such a big part of the culture, and there are places where you can ethically experience the monkeys in their own habitat.
And of course, I wanted a chance to share some of the hundreds of photos I've shot of these cheeky creatures over the last 13 years traveling and living in Bali. In my mind, experiencing the island's monkeys is a must on any Bali Bucket List.
So let's take a look at the best places to see monkeys in Bali and everything you need to know.
🌟 Remember to always get insurance before you travel to Bali or anywhere else. SafetyWing is an affordable subscription travel insurance that you can purchase even after departure. Read my complete SafetyWing review here.
Monkeys in Bali
Monkeys are an integral part of the Balinese culture because it is believed that they are descendants of the Hindu god Hanuman. Monkeys are considered sacred animals and are often featured in art and architecture throughout the island. This is why they are often treated as royalty and fed very well.
There are two different species of monkeys in Bali, the Balinese long-tailed Macaque (Crab-Eating Macaque) and the Javan Langur. The Balinese Macaque is the most common of the two.
Best time to see monkeys in Bali
The best time of the day to see monkeys in Bali is in the afternoon when they have had their main meal and are a little slower from the heat. Then they won't climb all over you to try to find food, and you can quietly observe them chilling and enjoying life.
Best Monkey tours in Bali
If you don't feel comfortable going to the monkey temples and forests in Bali by yourself, I recommend hiring a guide or joining a tour.
🐒 This popular Ubud highlights tour includes the Sacred Monkey Forest, in addition to a visit to a traditional Balinese family compound, Ubud Royal Palace and sunset at Tanah Lot Temple.
🐵 I also love this Uluwatu sunset tour, including a visit to the beautiful Uluwatu Monkey Temple and a Kecak Fire Dance performance, before finishing the day with a seafood dinner at Jimbaran Beach.
🌟 When I just want a driver, I always book this full-day customizable tour. It is the perfect option because you can tailor the itinerary to your liking so you can see more than one of these destinations in one day. In my experience, you won't find a more affordable driver in Bali.
Quick tips for seeing monkeys in Bali
If you're planning on seeing monkeys in Bali, there are a few things to keep in mind to stay safe:
Please be respectful of the animals and their habitat. Avoid feeding them or getting too close, as this can be dangerous for both you and the monkeys. I have not been able to calmly feed the monkeys with peanuts in recent years like I used to.
Leave all your valuables outside in the car or scooter. Keep any loose items you need with you out of sight and avoid wearing anything that may attract their attention. More on this further down.
Pay attention to which monkeys are aggressive and which are not. If you want to get a little closer to shoot some photos, try to spot a calm monkey chilling on its own.
Don't bring any drinks or snacks if you don't want the monkeys climbing all over you.
Please follow the rules of the temple you are visiting. Some temples may have restrictions on photography or require visitors to wear certain clothing.
5 best places to see monkeys in Bali
1. Ubud Sacred Monkey Forest Sanctuary
The most famous place to see monkeys in Bali is the Sacred Monkey Forest Sanctuary in Ubud. The temple is home to over 1000 long-tailed macaques that you can observe up close in their natural habitat. It's important to note that while the monkeys are generally friendly, they are still wild animals and should be treated with respect.
As I've had my share of monkey encounters at the monkey temple down in Uluwatu, I didn't expect that much when we headed to the Sacred Monkey Forest Sanctuary in Ubud.
I already had countless photos of me feeding the monkeys, me next to the monkeys and I've had monkeys try to undress me to find food. More on that further down. But wow was I in for a surprise, this place is so much more than just the monkeys. It really felt like we stepped into a magical forest, as the low sun made the leaves of the huge trees sparkle.
Even though there were crowds of people (over 10,000 visitors a month), the atmosphere was calm and quiet. With 115 different species of trees and three temples dating back to the 14th century, the complex is huge, so be sure to explore every nook and cranny to get the most out of your visit.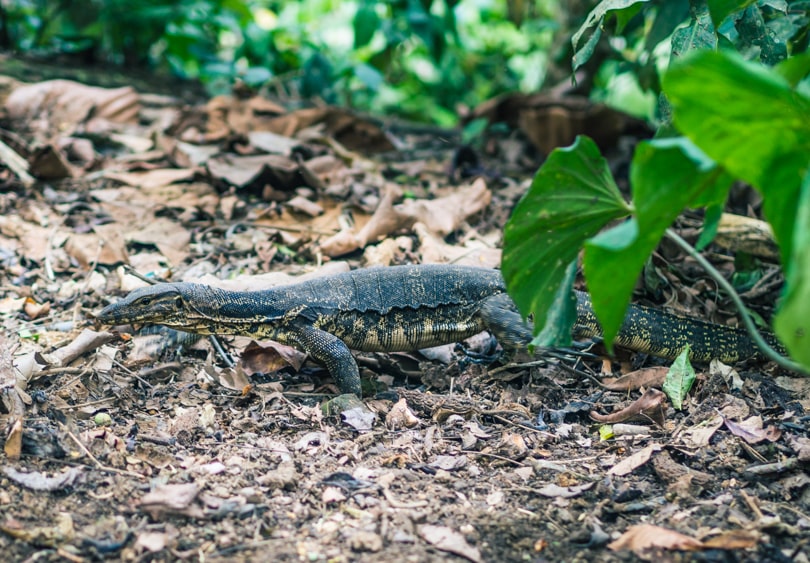 The forest isn't only home to monkeys, we saw many beautiful butterflies and different kinds of lizards. Some small cute ones and some pretty large and intimidating ones like you see above.
Opening hours
The Sacred Monkey Forest in Ubud is open daily from 9:00 am – 6:00 pm. The ticket office closes at 5:00 pm.
Entrance fee
The entrance fee to the Monkey Forest in Ubud is 80.000 IDR for adults and 60.000 IDR for children.
This popular tour includes the Sacred Monkey Forest, in addition to a visit to a traditional Balinese family compound, Ubud Royal Palace and sunset at Tanah Lot Temple.
2. Pura Luhur Uluwatu (The Monkey Temple)
Perched on top of a 70-meter-high cliff protruding above the great Indian Ocean, Pura Luhur Uluwatu is a spectacular sight. It is one of the nine "directional temples" of Bali, thought to protect the island from evil spirits.
The name Luhur means "something of divine origin" and ulu the "land's end" and watu means "rock" if I remember correctly. Just like Ubud Monkey Forest, this temple is worth a visit even if it wasn't for the monkeys.
Visitors must wear a sarong and a sash, which is included in the entrance fee. There are guides that will try to convince you that you need protection from the monkeys but don't feel obligated to go with them. As long as you use common sense, you'll be fine.
I have seen people get bitten and attacked by the monkeys, but only when they tried to grab or hold one of them. Keep your distance and if a monkey jumps you, just stand still and it will soon lose interest.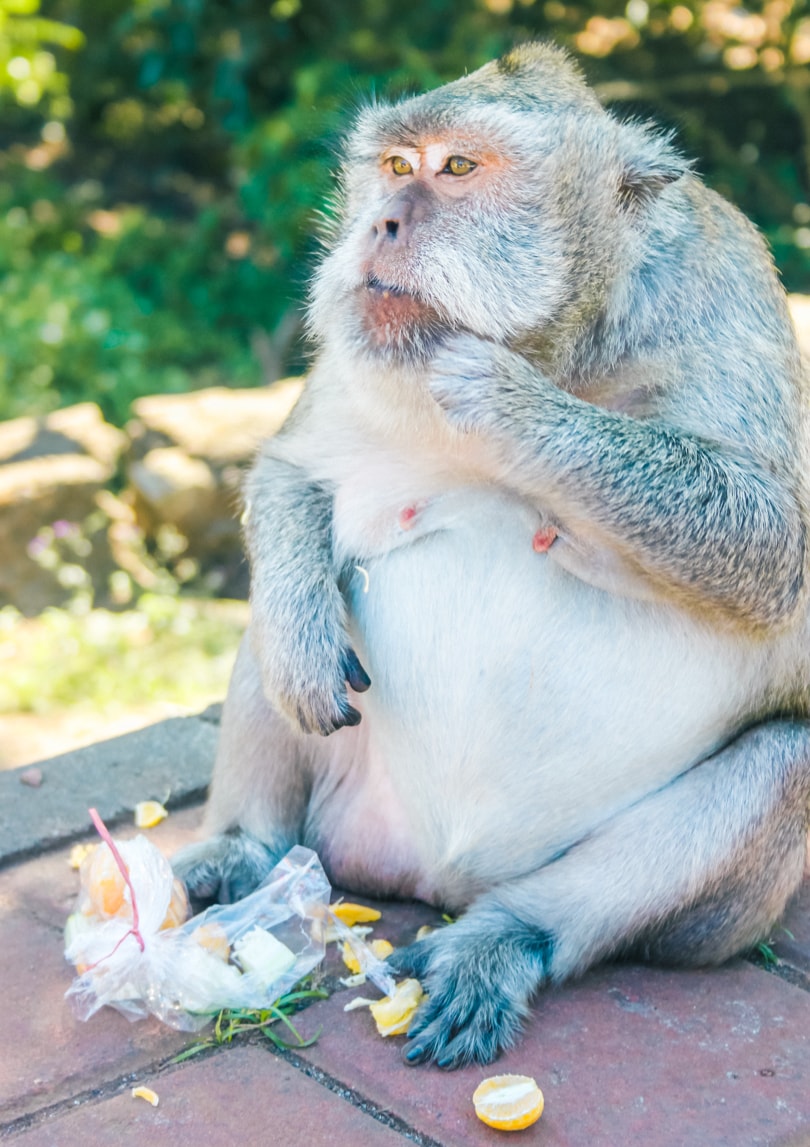 This girl was not as patient as I would have liked. She smelled the fruit I had hidden underneath my sarong and grabbed it before I understood what was happening.
Read next >> 29 things you need to know before you go to Bali
Best time to visit Uluwatu Monkey Temple
The best time to visit is right when they open in the morning to avoid crowds or just before sunset. Uluwatu sunsets are breathtaking. Just keep in mind that the monkeys might not have woken up yet if you get there at 7 am.
Kecak Dance is performed every day at the adjacent cliff-top stage from 6 PM to 7 PM (the gate opens at 5 PM). Visitors are charged a fee of 100.000 IDR per person. This popular Uluwatu tour includes both the Monkey Temple, the dance performance and a seafood dinner at Jimbaran Beach.
Opening hours
Uluwatu Monkey Temple is open daily from 7:00 am – 7:00 pm. For people who want to pray, it's open 24 hours.
Entrance fee
50.000 IDR for adults (approximately $3.50) and 30.000 IDR for children.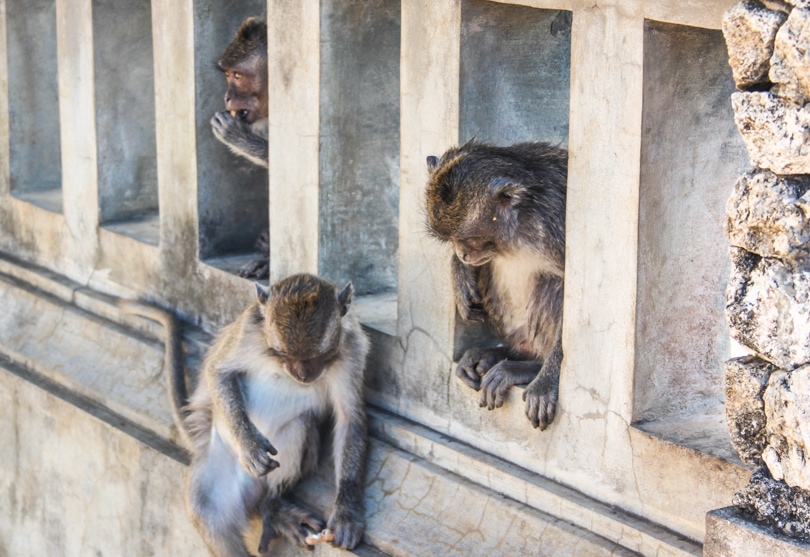 Note to self: don't wear a strapless dress without a bra when going to see monkeys! And no I don't know why I wore a strapless dress to the temple in the first place, I guess I didn't know better at the time. This was way back in 2010.
Isn't she just the cutest? She was totally relaxed and waited patiently for us to hand her peanuts. One of my favorite animal encounters ever!
Though I haven't experienced this since 2010, as the numbers of tourists increase so does the aggressive behavior of the monkeys. At least that's my impression after my most recent visits.
3. Alas Kedaton Monkey Forest
Alas Kedaton Monkey Forest is one of my favorite places to visit in Bali. Located in the village of Kukuh in Tabanan Regency, this forest is home to hundreds of long-tailed macaques.
What sets Alas Kedaton apart from other monkey forests in Bali is the stunning temple complex located within the forest. The Pura Dalem Kahyangan Kedaton temple is a beautiful example of Balinese architecture, and the monkeys are free to roam around the temple grounds. Visitors can observe the monkeys as they play, groom each other, and interact with the temple structures.
Another unique feature of Alas Kedaton is the presence of flying foxes. These large fruit bats can be seen hanging from trees throughout the forest. While they may seem intimidating at first, they are harmless and add to the unique atmosphere of the forest.
Opening hours
Alas Kedaton Monkey Forest is open daily from 9:00 am to 5:00 pm.
Entrance fee
The entrance fee at Alas Kedaton Monkey Forest is 40.000 IDR for adults, in addition to 5.000 IDR per car or 2.000 IDR per scooter.
4. Sangeh Monkey Forest
If you're looking for a place to see monkeys in Bali away from the tourist hubs, Sangeh Monkey Forest is definitely worth checking out. As the name suggests, it's a forest filled with monkeys, and it's located in the village of Sangeh, just 30 minutes west of Ubud.
One of the main attractions of Sangeh Monkey Forest is the opportunity to get up close and personal with the monkeys. You can watch them play, groom each other, and swing from the trees. It's a great place to take photos and videos, but be careful not to get too close or provoke them, as they can be unpredictable.
In addition to the monkeys, Sangeh Monkey Forest is also home to a beautiful temple called Pura Bukit Sari. The temple is surrounded by lush greenery and towering trees, and it's a peaceful place to take a break from the hustle and bustle of Bali.
Opening hours
Sangeh Monkey Forest is open daily from 8:00 am to 6:00 pm.
Entrance fee
The entrance fee to Sangeh Monkey Forest is 30.000 IDR and 15.000 IDR for children.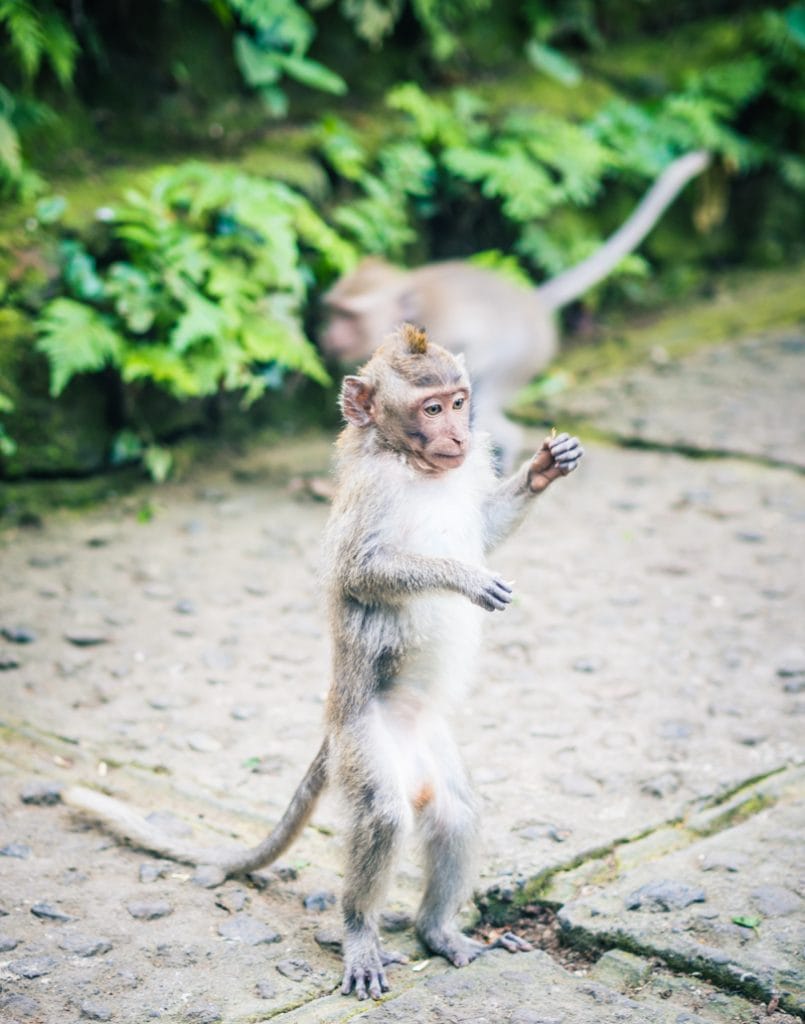 Don't want to do any planning? Join this full-day tour to experience the monkeys in Sangeh and Bedugul, in addition to the beautiful Ulun Danu Temple, Bedugul Botanical Garden and Tanah Lot Temple for sunset.
5. Bedugul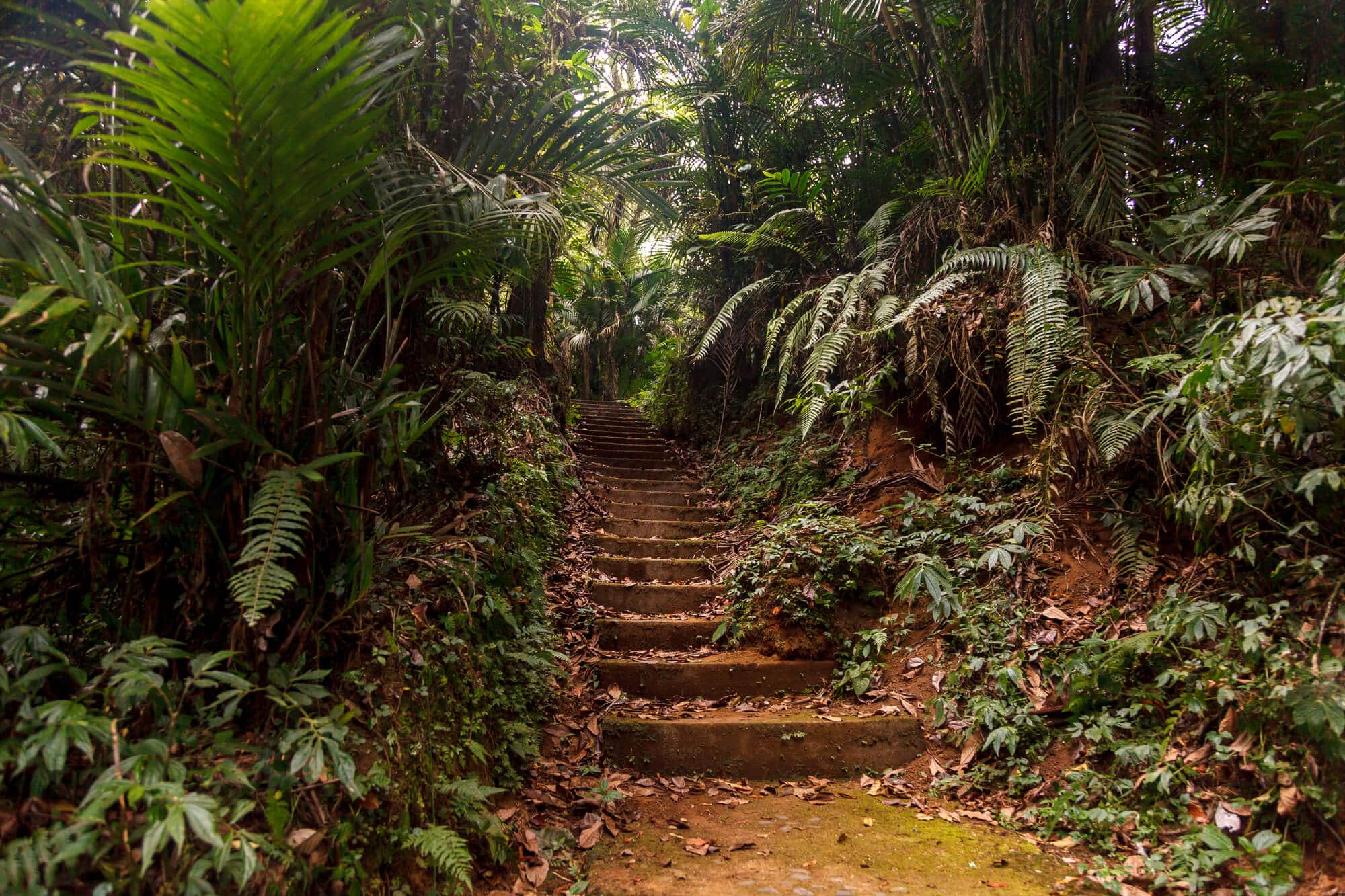 Bedugul is a stunning mountain resort located in the central highlands of Bali. It is known for its beautiful scenery, cool climate and lush vegetation. One of the main attractions in Bedugul is the Bali Botanic Garden, which is home to a wide variety of plants and flowers from all over the world.
Another popular attraction in the area is Pura Ulun Danu Bratan, a 17th-century temple situated on the shores of Lake Bratan. You can take a boat ride on Lake Bratan to get a different perspective of the temple and its surroundings. One of the most iconic landmarks in Bali.
Bedugul is also famous for its monkey population, which can be seen roaming around the area. Visitors can interact with these playful creatures, but it is important to exercise caution and not feed them as they can become aggressive. It is best to just observe them from afar.
Another area you will see a lot of monkeys roaming the streets are in North Bali around Pulaki.
Opening hours
There are no official opening hours or entrance fees to see the monkeys in Bedugul because they are all over the place. Just drive around and stop by the side of the road when you spot them.
Safety around monkeys in Bali
These monkeys in Bali are very clever and quick on their feet. I always see them playing with items they've stolen, like the sunnies above, jewelry, hats and even shoes.
During my first-ever visit to Pura Uluwatu in 2010, I saw one large monkey steal a sandal off a man's foot. You know, one of those velcro sandals that one would think is pretty secure. The monkey was so quick I don't think the man realized what was happening before the monkey ran into the forest with his sandal.
Having witnessed these clever thieves in action you'd think I would be smarter than to bring my sunglasses into the temple.
A couple of years later I wanted to introduce my friend to the monkeys. About 30 minutes into our visit I was surprised by a large monkey that jumped onto my leg and climbed up my back. Before I was able to react I saw a small, hairy hand grab my sunglasses and take off into the bushes. One of the guards ran in after it and you could hear screams and noises from the jungle like you would in a movie.
This all went on for like 10 minutes and just when I was starting to lose hope, the guard appeared from the jungle all sweaty and out of breath. But, to my surprise, with my sunnies in his hand. He had successfully traded them for a whole lot of bananas. I gave the guard a tip and could happily continue on with my day. All the chew marks are now a funny reminder.
So I guess the moral of the story is, DO NOT bring anything other than your clothes and camera(with a strap) into the temple. Hide your motorbike/hotel keys in deep pockets or under a lot of stuff in your backpack, because the monkey will try to open them!
And again, do not try to hold on to the monkeys or approach them using sudden movements. Especially if it is a mother with a child. Stay calm and you should be fine!
Read next >> Gunung Kawi – My favorite temple in Bali
This is my favorite animal photo I've shot so far. He got a little shy as I disturbed him during bath time. It was so fun to see the monkeys swim just like we do. Some floated on their backs with their hands behind their head and some were practicing their diving skills.
Frequently Asked Questions
Are the monkeys in Bali friendly?
While the monkeys in Bali are used to human interaction, they are still wild animals and can be unpredictable. It's best to keep a safe distance and avoid direct eye contact or sudden movements that may provoke them. Feeding them is also not recommended, as it can lead to aggressive behavior.
How many monkey forests are there in Bali?
There are three main monkey forests in Bali: the Sacred Monkey Forest in Ubud, Sangeh Monkey Forest and Alas Kedaton Monkey Forest.
You will also find monkeys in many other places in Bali, most forested areas will have at least one group of monkeys.
Is Ubud Monkey Forest worth it?
Yes, the Sacred Monkey Forest in Ubud is definitely worth it, even without the monkeys. The whole place has a magical atmosphere with imposing trees and majestic temples dating as far back as the 14th century. It is a must on any Bali Bucket List.
Can you touch the monkeys in Bali?
No, I do not recommend touching the monkeys in Bali. They are wild animals and can carry diseases. Sometimes they will climb on you to look for food or to steal something, try to stand still at not make any sudden movements.
Do the monkeys in Bali have rabies?
No, the monkeys in Bali do not have rabies. After the big rabies outbreak in 2008-2009, when an infected dog came over from another island, there have been no recorded cases. I read somewhere that 98% of rabies cases in Indonesia are found in dogs.
But keep in mind that the monkeys have been known to bite and scratch if they feel threatened or get scared. I got scratched once when a monkey climbed up my arms onto my head and had to disinfect the wound with lime since we didn't have any other disinfectant. Let's just say I don't recommend it.
How to avoid monkeys in Bali?
If you want to avoid monkeys in Bali, it's of course best to stay away from areas where they are known to congregate, such as monkey forests and temples. The only other places I have encountered monkeys are on Padang Padang Beach, at the Uluwatu Cliff and in Bedugul. Just stay calm and let them take your food if they try.
When hiking or exploring, it's best to travel in groups and make noise to avoid surprising the animals.
More Bali travel guides
---
Remember to pin for later 😉