This post may contain affiliate links. I will earn a small commission if you purchase through them, at no extra cost to you.
Jaipur has been the capital of Rajasthan since the early 1700s and is today known for its beautiful gemstone jewelry, leather goods and block-printed textiles.
Jaipur's old town, also known as the Pink City, was the first planned city of medieval India. It is divided into a neat grid made up of nine blocks with the stunning City Palace situated in the center. The city was actually yellow originally and didn't become pink until Maharaja Jai Singh decided to paint it for a visit by the then Prince of Wales.
Jaipur was without a doubt the highlight of our Golden Triangle tour in India. The Old City is a photographer's (Instagrammer's) dream! It has so much to offer, so I would recommend spending at least 2 full days to get the most out of your visit.
Remember to always get insurance before you travel to India or anywhere else. I recommend Safetywing, an affordable subscription travel insurance that you can purchase even after departure. Read my full review here.
Where to stay in Jaipur
Jaipur has a long history of glamorous Maharajas, extravagant palaces and townhouses. One such example is the insanely gorgeous but very pricey Rambagh Palace. It used to be a hunting lodge but was later turned into a 5-star hotel.
An old Haveli is in my mind the best accommodation option in Jaipur. These royal townhouses are usually set in lush gardens around large courtyards while still being close to the center of town.
Samode Haveli is maybe the most famous Haveli of them all and for good reason. It features large romantically decorated bedrooms as well as a courtyard with a huge swimming pool and sun loungers. So stunning!
For a more affordable option check out the colorful Hotel Diggi Palace which offers simple yet elegant rooms and a beautiful pool. This is definitely where I'm staying during my next visit to Jaipur.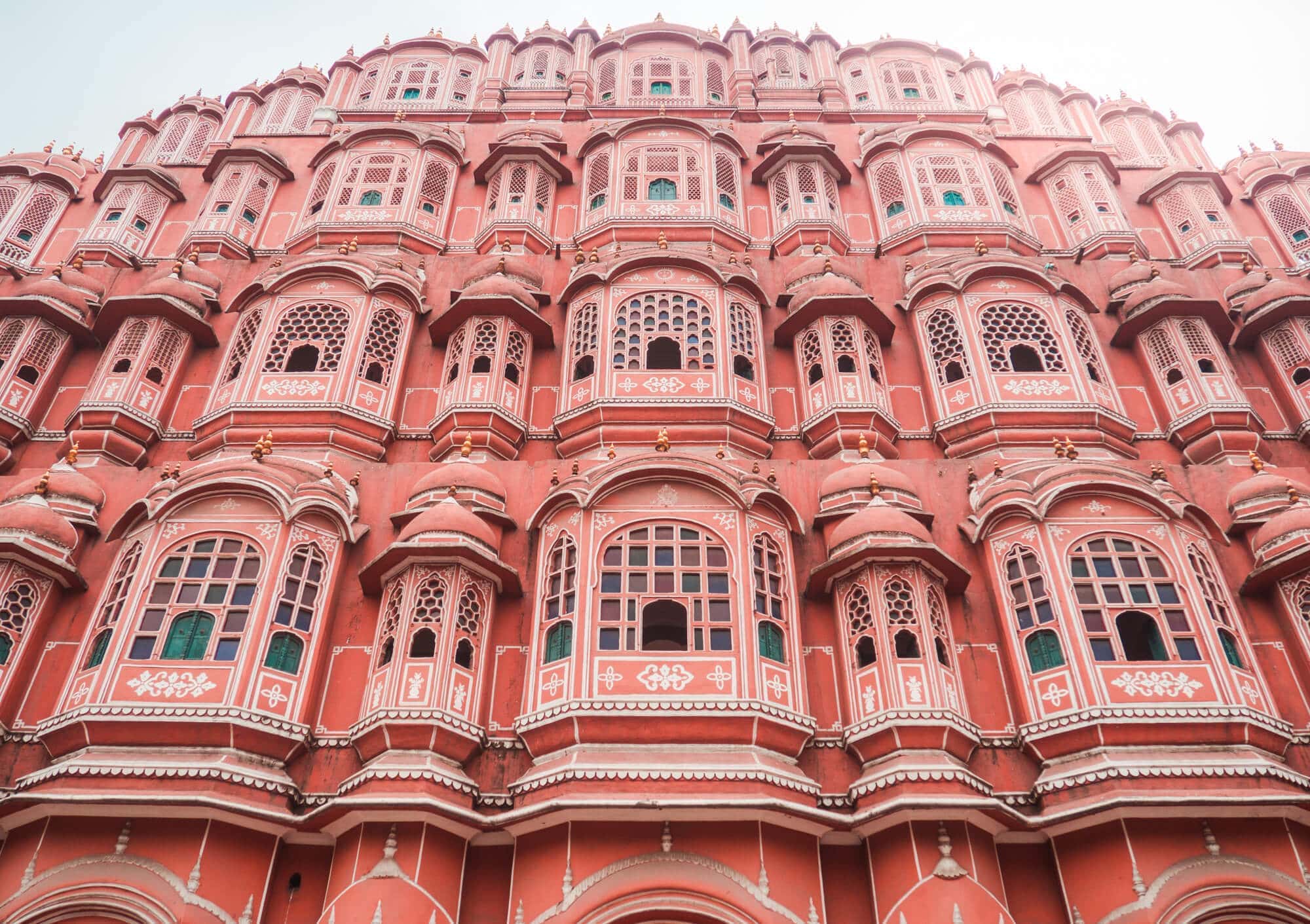 How to get to Jaipur
Golden Triangle Tour
We spent a lot of time researching transportation for our Golden Triangle route, from Delhi to Agra to Jaipur and back to Delhi. The train is one option but I knew it wouldn't be a fun experience to schlep around a huge suitcase on a train station in 40-degree C heat. And since we only had 10 days to explore all three cities, I wanted the most time-efficient mode of transportation possible. So we ended up booking a driver and I'm super happy we did!
After contacting quite a few different companies, "Private car in India" quoted us the best price of around $350. What we didn't know is that the driver stays in the city with you and drives you around all day. This seems to be the way it's done here.
Our driver, which is also the owner of the company, even organized a full-day guide for us in Jaipur free of charge. But the one thing you have to be aware of is that the car is an older sedan model, so nothing fancy but it gets the job done.
>> Don't feel like doing any planning? Check out this highly-rated four-day private luxury golden triangle tour!
Jaipur day tour from Delhi
If you have limited time, you can visit Jaipur on a 16-hour day trip from Delhi. The day begins at 5 am when your driver picks you up at your hotel in Delhi. Upon arrival in Jaipur, your English-speaking guide will meet you and explain the itinerary for the day. Then spend 6 hours exploring Jaipur's most iconic landmarks and buildings, including Amer Fort, the City Palace, the Jal Mahal, Hawa Mahal and more.
Transportation to and from Jaipur airport
Book a private transfer to or from Jaipur airport, available for groups of up to 5 people. When traveling from the airport, your driver will be waiting for you at the arrivals gate, holding a sign with your name on it. If you need transport from the city to the airport, your driver will pick you up at your accommodation and ensure you arrive in time to catch your flight.
How to get around Jaipur
If you're already in Jaipur, you can book this private 8-hour tour with a guide. Explore Pink City highlights such as the Amber Fort, Jal Mahal, Hawa Mahal, Jantar Mantar, the City Palace and Monkey Temple.
You can often book a driver for the day through your hotel, which usually costs around 1500-2000 INR. For shorter rides just step out on the street and hail a tuk-tuk/rickshaw.
Remember to agree on a price before you get in and that it's okay to haggle though they aren't expensive. If the driver doesn't speak English, show him the location on a map and then a 100 rupee bill. 100 INR will get you to most places in and around the Pink City.
Popular Jaipur tours
Related post: Taj Mahal photography guide + insider tips for first-time visitors
My 2-day Jaipur itinerary
Day 1
1. Panna Meena ka Kund
I love the stepwells that you find all over northern India. The symmetrical stairs are so cool to look at! The majority of surviving stepwells originally served a leisure purpose as well as water storage. This was because the base of the well-provided relief from the midday heat and even more so if the well was covered. Stepwells also served as a place for social gatherings and religious ceremonies.
All the wells have their own beauty and charm, but Panna Meena ka Kund is the only one we saw which were not made out of grey stone. You'll find it in the middle of Amer village close to Amber Fort, about a 20-minute drive from central Jaipur if you go early in the morning.
You should get to Panna Meena ka Kund around 7 am when they open, no need to get there earlier. Sometimes the guard does not show up on time. You're able to go in through a small gate on the side before it officially opens. But locals were keeping an eye on us to make sure we did not go down the stairs. If there's no one else around you might be able to persuade the guard to let you walk down into the stepwell in exchange for a small tip.
We were not that lucky. So the cool photos I had imagined of me gracefully running down the stairs did not become a reality. But it was a cool place to experience nonetheless.
Panna Meena ka Kund and Amer Fort are both included in this highly-rated Jaipur half-day tour.
2. Amber Fort
Amber Fort, also known as Amer Fort and Amber Palace, was constructed back in 1592 on the remains of an 11th-century fort to house Jaipur's rulers. In 2013 the fort was declared a UNESCO World Heritage Site, together with five other hill forts in Rajasthan. Its architecture is a fusion of Rajput (Hindu) and Mughal (Islamic) styles, so gorgeous!
This impressive fort, built from pale yellow/pink sandstone and white marble, is a perfect representation of Hindu and Islamic fusion architecture. Inside, the fort is divided into four main sections, each with its own courtyard. The maharaja's apartments are located around the third one. You enter through the regal Ganesh Pol gateway, which is one of the best photo ops in the entire fort. You've probably seen it all over Instagram!
Amber Fort and the neighboring Jaigarh Fort are actually considered to be one large complex because they are connected by an underground tunnel. This tunnel was built to enable the royal family to escape into the more defendable Jaigarh Fort in case of an attack.
We got here in the middle of the day while it was raining and super crowded, so we did not explore the inside of the fort, just the huge courtyard. If I were to go back I would get there a few minutes before they open at 8 am to make sure I get in early.
Entrance fee: 550 INR for foreigners (students 100 INR) Opening Hours: 08:00–17:30
A light show, which focuses on the history of Jaipur and the fort, takes place every evening. The show runs for about 50 minutes in both Hindi and English. We didn't make it, but it might be worth checking out if you have the time.
Tip: If you're a history nerd like me and enjoy exploring old forts like this, you should also head to Jodhpur where you'll find one of the largest fortifications in India called Mehrangarh Fort.
---
3. Jal Mahal – The Water Palace
Set amid the beautiful Man-Sarovar Lake, Jal Mahal is a magnificent sight! The five-storied building, which dates back to the 1750s, was actually never built with the intention of it being used as a palace. The ruler at the time, Madho Singh, just wanted it as a hunting lodge for himself and as a place for his duck hunting parties. Of the five stories, four(!!) floors remain underwater when the lake is full. The palace is not open to the public so one can only marvel at its beauty from afar.
You'll drive by Jal Mahal on your way from town to the forts so it's a great place to relax for a little while. Have a coconut and enjoy the scenic view of the palace and all the beautiful birds.
As you can see in the photo below there's a lot of trash in the grass. Jaipur and India, in general, have a huge waste management issue. Trash and different kinds of waste are literally scattered everywhere. I will talk more about this and the poverty situation in a separate post. I just have so many thoughts and impressions to work through after this trip.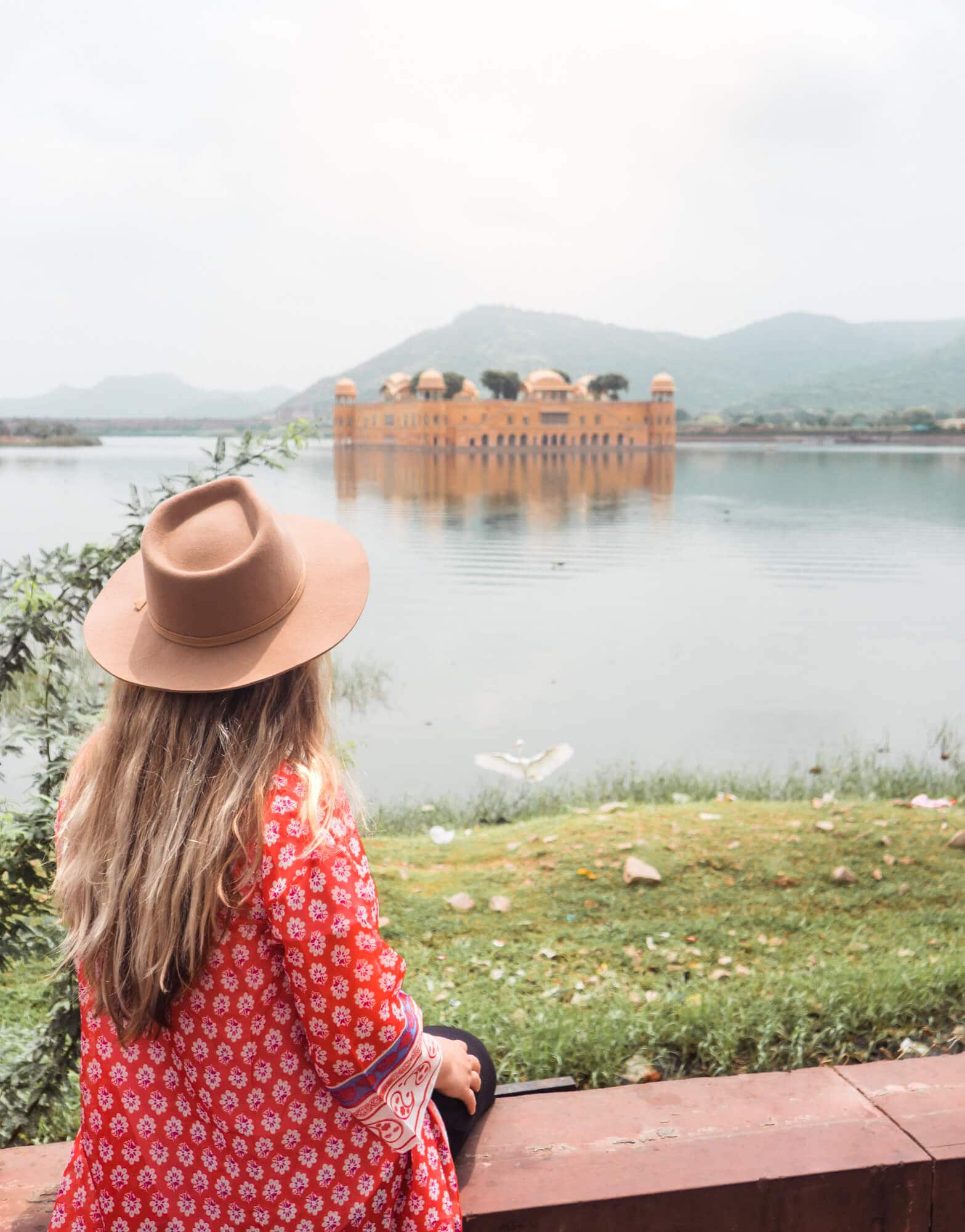 ---
Related post: Mehtab Bagh (Moonlight Garden) – The best view of Taj Mahal
It's really worth spending the extra money just to see the inside of these old jewels. But if you're already staying in a palace or Haveli or you don't want to splurge on lunch, check out Handi restaurant. It has one of the best rooftops in Jaipur and serves up some of the most delicious Indian food I've ever tasted.
---
5. Gatore Ki Chatriyan
Surrounded by lush greenery in the foothills of the Nahargarh Fort lies Gatore Ki Chhatriyan, the final resting place for the Maharajas of Jaipur. Every Maharaja has one cenotaph constructed in his honor, so there's so much to look at. The name Gaitore comes from the Hindi phrase "Gaye ka Thor" which means "resting place of the departed souls".
Even though this is kind of a graveyard, it was one of my favorite places in Jaipur. First of all, because of the beautifully designed tombs but also because it was so calm and quiet with almost no people around.
Entrance fee: only 30 INR
---
Nahargarh Fort stands proudly on the edge of the Aravalli Hills, overlooking the entire city of Jaipur. The view from up there is breathtaking! Along with Amber and Jaigarh Fort, Nahargarh once formed a strong defense ring for the city. Today, however, it attracts more Instagrammers on the hunt for a good sunset pic than anyone else. And I totally get why! The fort and its surrounding wall is one of the most picturesque places I've ever seen.
It's best to go by car because the road up to the fort is very long, windy and steep. The actual fort is open until 5.30 pm but there is a restaurant where you can enjoy dinner and drinks for sunset. You have to pay 200 INR to get in and that includes a soft drink. Be sure to get there about one hour before the sun sets to have enough time to find a great spot.
I'll talk more about Nahargarh Fort and how to get the best possible sunset photos in my next post. You shouldn't miss it because I don't want you to make the same mistakes we did!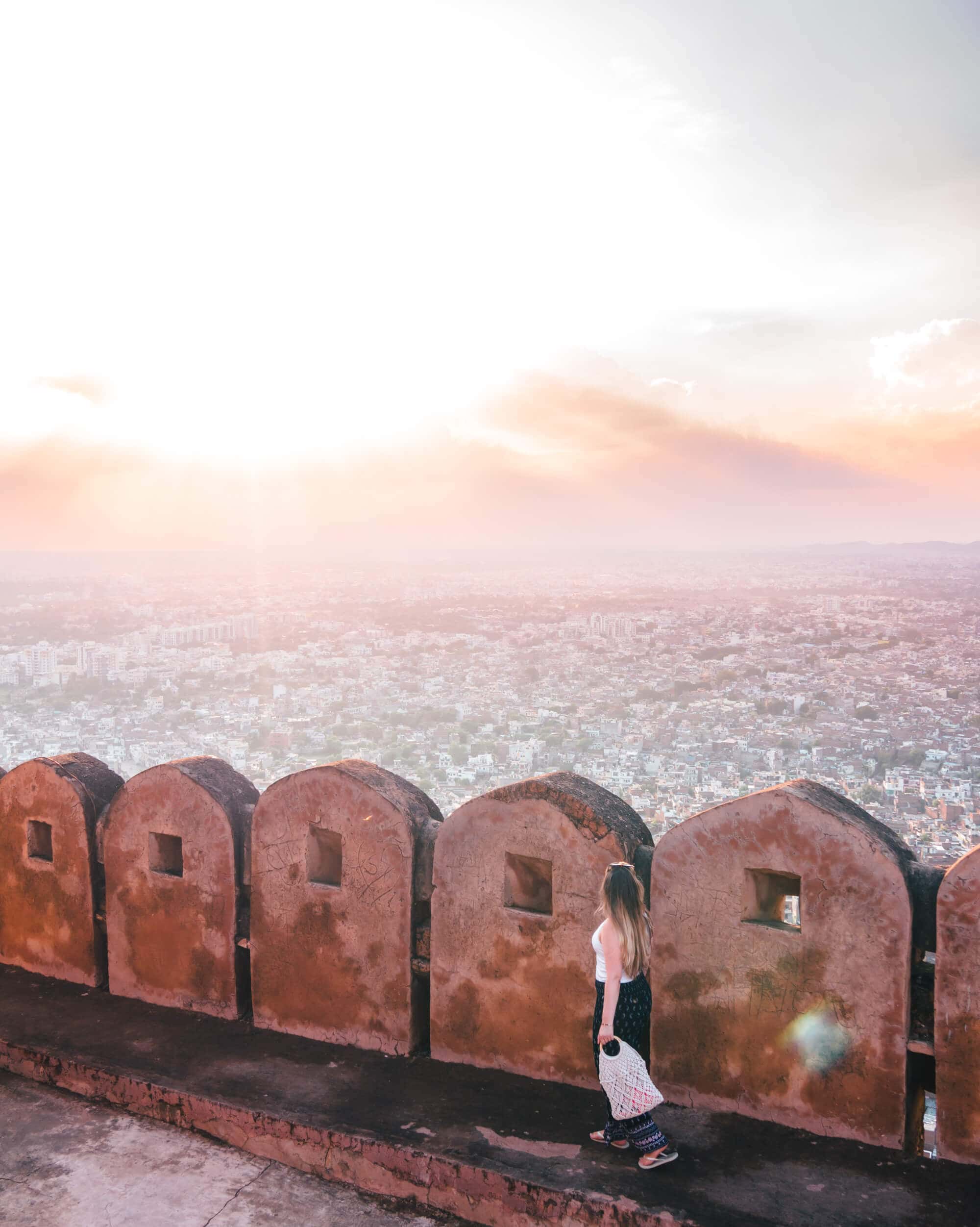 ---
Day 2
7. Hawa Mahal
Hawa Mahal, also known as the "Palace of Breeze", was built in 1799 as an extension to the City Palace. The five-story backside of the exterior kind of looks like a honeycomb with its 953 detailed jharokhas windows. The intent behind this unique design was to allow the royal ladies to observe life on the street below without being seen.
Hawa Mahal is open from 9:00 am – 4:30 pm and the entrance fee is 200 INR. But this is one of the few buildings in India which is actually prettier from the outside. So if you don't have a lot of time to spend, seeing it from the back is more than enough. There are a few restaurants across the street that offer amazing views of this pink jewel. The most popular one is Wind View Café but you get equally as great views from the much less crowded Tattoo Café & Lounge just next door.
Must read >> The ultimate 2-day New Delhi itinerary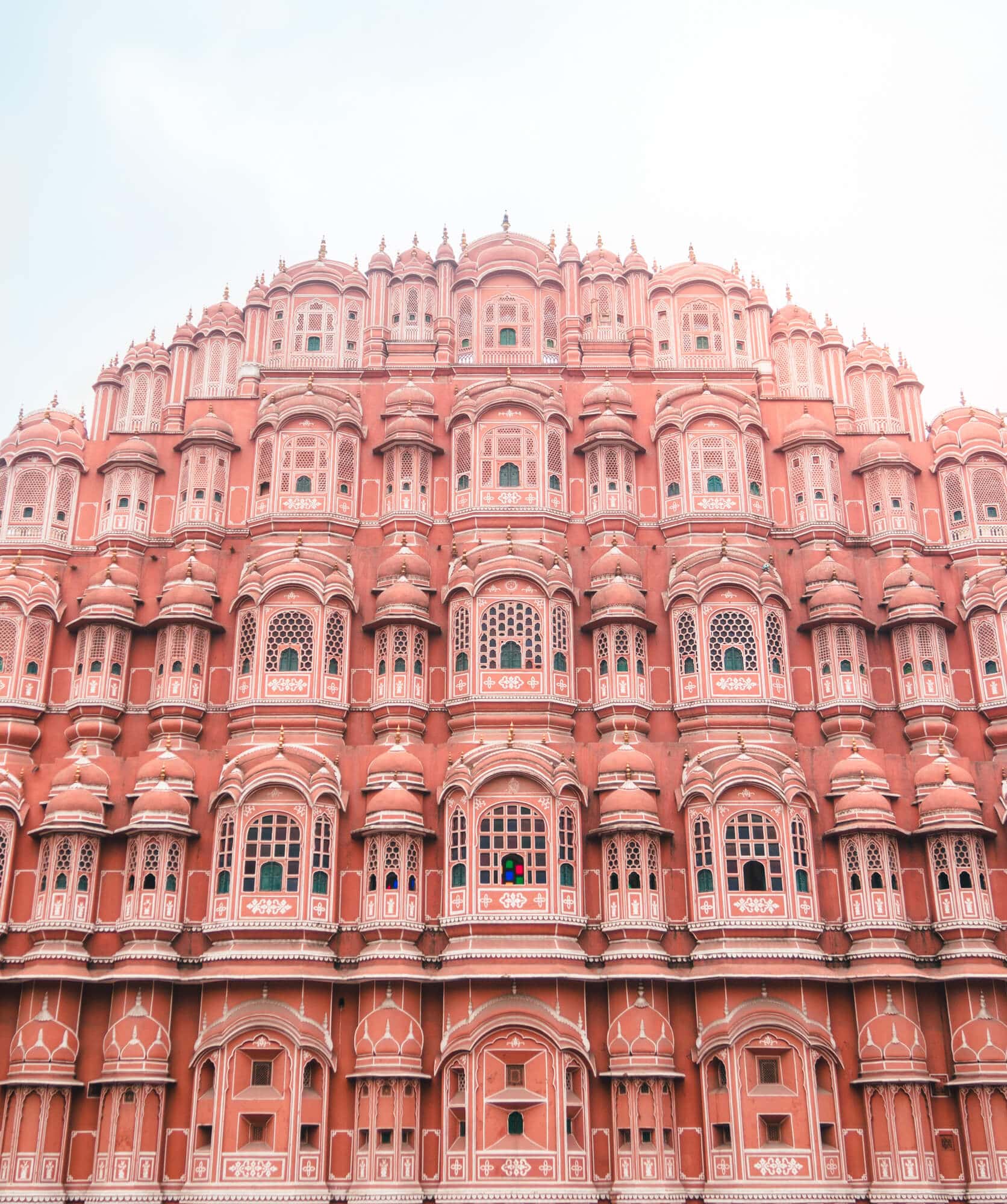 ---
8. City Palace
The City Palace opens at 9.30 in the morning but if you want photos no one in them get there around 9.15 to be first in line. If that's what you're after of course! It will take about two hours to walk around because there are so many stunning design details to take in. There are two different ticket types to choose from, one basic and one that includes the whole complex. Audio tours are also available.
The Chandra Mahal is a seven-story building behind the area accessible to the general public where the royal family still resides! Visitors are only allowed on the ground floor which contains a museum displaying carpets, manuscripts and other items that belonged to the royal family. The entrance fee to this area is INR 2500 / $35, but it's definitely worth it!
Diwan-I-Khas or the "Hall of Private Audience" (pictured below), was one of the highlights of my trip to India. The color and the patterns are so incredibly pretty! I want a room in my house to look like this! This orange marble-floored masterpiece, located between the armory and the art gallery, is included in the basic ticket price of 500 INR / $7.
Right next to the City Palace, you'll find the city's second UNESCO World Heritage Site, Jantar Mantar (right photo below). The complex comprises 13 architectural astronomy instruments and was built by Maharaja Jai Singh II of Jaipur in 1723.
---
9. Albert Hall Museum
Considered to be one of the finest galleries in Jaipur, Albert Hall is famous for both its outstanding architecture as well as exciting museum exhibitions. The construction of Albert Hall started during the visit of the Prince of Wales to Jaipur back in 1876.
We only wanted to look at this beautiful building from the outside because we knew hundreds of pigeons hang out here and thought it would be a cool photo op. After only three minutes here we got an audience of about eight Indian boys and men standing around just pointing and staring at me. So if my boyfriend hadn't been there I would not have felt comfortable.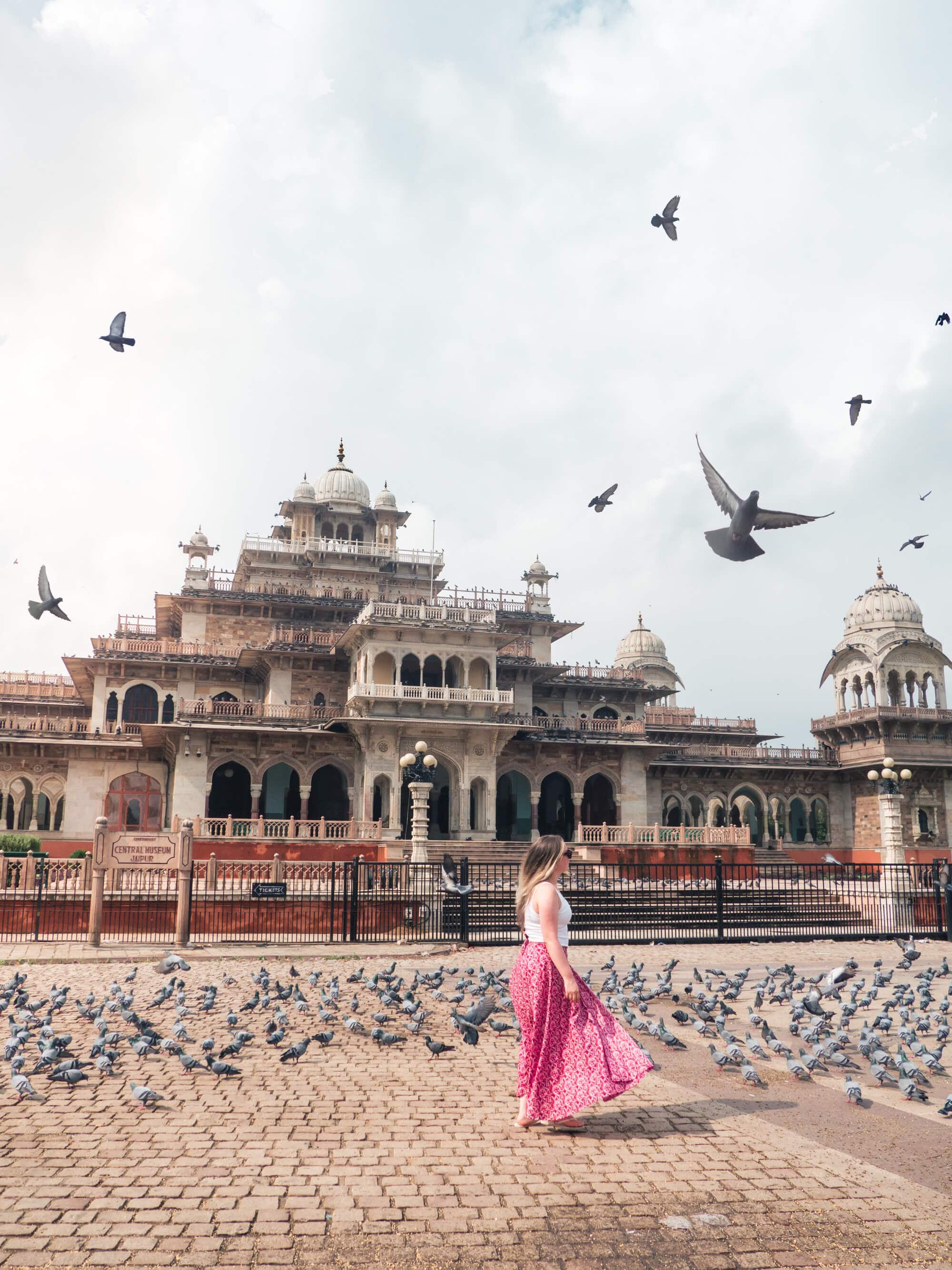 ---
Have lunch at the stunning Caffé Palladio
Inspired by Sicily, an island influenced by both Italian and Arab culture, Caffé Palladio Jaipur recreates dishes like mezze platters, falafel, tagine, pizza, pasta and classic Italian sandwiches. The interior is a perfect mix of Italy and colonial India. Different hues of yellow and blue blend seamlessly with geometrical patterns and large murals. A feast to the eyes!
---
For my fellow foodies – I highly recommend this Pink City street food tour. Taste authentic delicacies, witness the preparation of some of Jaipur's most celebrated dishes and sip a cup of masala chai tea in a clay pot with unrivaled views of the city.
---
10. Johari Bazaar
As mentioned earlier, Jaipur is regarded as a shopper's paradise. From jewelry and exotic pottery to textiles and leather sandals, Jaipur has got it all. The oldest market in Jaipur is called Johari Bazaar and consists of stalls, narrow alleyways and small shops painted pink. This is one of the best places in the city to get some amazing traditional items like "lehengas" (sarees) and "juttis" (ballet flats).
Be prepared for a lot of yelling and people trying to convince you to take a look at their shop. We lasted about 30 minutes here. 38°C, honking, yelling, crowds and a lot of sweat was just not a great combination for me. I felt like punching someone at one point there. But looking back it was a fun experience and I managed to pick up some gold rings and a super cute pouf decorated with seashells and Ulrik got two backpacks.
---
11. Galtaji Temple (monkey temple)
Galtaji is an ancient Hindu pilgrimage set in the Aravalli Hills about 10 km east of Jaipur. The complex consists of a series of temples but is mostly known for the beautifully green sacred kunds (tanks) in which the pilgrims bathe. The tanks or pools are filled up by natural springs high up in the mountains. We were told that no one can be there after dusk because then the big cats come down to drink (I can't exactly remember which ones, pumas and tigers? hmm…).
The pool area with a towering mountain on each side was so beautiful but on the other hand, it was sad to see that the monkeys were playing with plastic and other trash we humans are responsible for.
There's no official entrance fee here but you have to pay 100 INR per camera. You're also encouraged to make a donation if you enter one of the temples.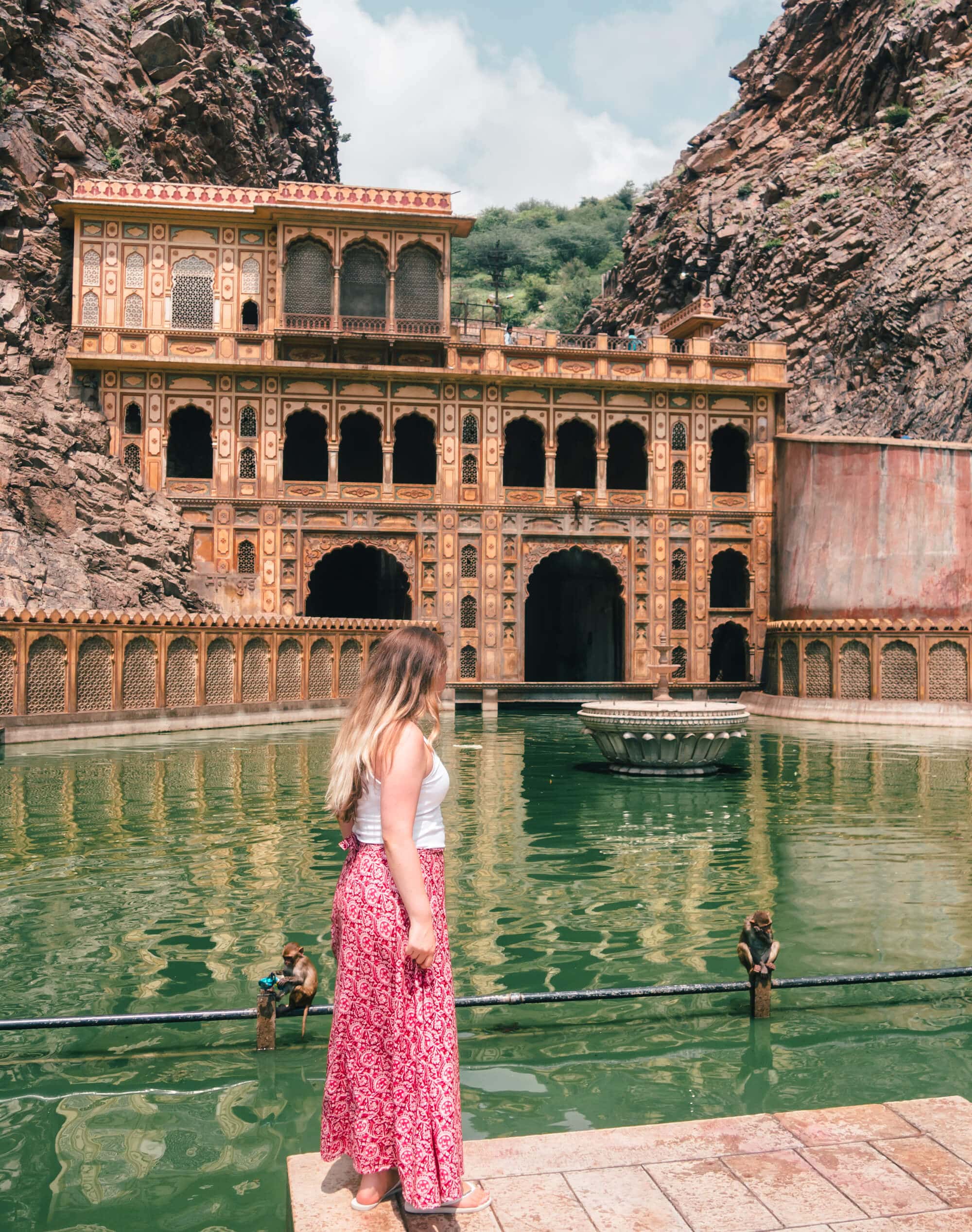 ---
12. Jawahar Circle Garden
You'll find Jawahar Circle Garden, which is actually a highway traffic Circle, about 20 minutes by car south of the Pink City. The entrance of Jawahar Circle and also kind of the main attraction is the beautifully designed and very colorful Patrika gate. It gives you a taste of the vibrant culture of Rajasthan as each pillar is dedicated to different eras and parts of the state.
Set in the middle of this huge circular garden is a fountain that puts on a musical light show every Sunday from 7 pm. In addition to the fountain, the park also comprises a playground, jogging tracks, food vendors and a Hindu temple. This is a public park so there's no entrance fee.
We got here around 14 pm and there were quite a few local guys hanging out both in and around the gate. So we ended up having an audience during our little photoshoot. You can see the back of one sneaking into the photo below. If you're an avid amateur photographer like myself, Jawarhar Circle will most likely be one of the highlights of your stay in Jaipur.
---
So, have I convinced you to spend 2 days in Jaipur?
Remember to Pin for later 😀