This post may contain affiliate links. I will earn a small commission if you purchase through them, at no extra cost to you.
Noosa Heads on Queensland's Sunshine Coast, two hours drive north of Brisbane, is one of the world's most sought-after holiday destinations. Its subtropical climate, squeaky sand beaches and the vast National Park are just some of the area's top draws. Noosa combines all the creature comforts of a large city with dreamy tropical nature, all in one compact area easily explored by foot.
Then you have the rest of Noosa Shire which includes quaint hinterland towns like Cooran, Cooroy and Doonan. Here you can explore some of the most spectacular landscapes in the world, incredible views and markets where local artisans sell their handicrafts. Does one need anything else? I think not!
Where to stay in Noosa
There are so many gorgeous places to stay in Noosa Heads, like the insane La Mer Apartments or the somewhat more affordable Tingirana Noosa Hotel. There's a reason why Noosa is hailed as one of the premier resort towns in Australia. They really have this luxury hotel on the beach thing figured out.
However, if you like me want to spend your money on poké bowls and sunset cocktails instead of accommodation, you should head a bit further out of town. Check out this apartment with a pool view set in a beautiful 4* Resort in Noosaville, just 10 minutes by car from Noosa's Main Beach.
I also really loved the Sunrise/Sunshine Beach area just south of Noosa National Park. In this beachy studio, just 8-minutes by car away from Main Beach, you get your own space and even a private patio surrounded by tropical greenery.
Remember to always get insurance before you travel to Australia or anywhere else. I recommend Safetywing, an affordable subscription travel insurance that you can purchase even after departure.
Top 17 things to do in Noosa
1. Go hiking in Australia's most popular National Park
Stretching from Noosa Heads south to Coolum, Noosa National Park is one of the Sunshine Coast's top natural treasures. In fact, it's Australia's most popular National Park with over 1 million visitors every year. Apart from its natural beauty and teeming animal life, two of the park's best features are its accessibility and several clean toilets.
You can walk up the hill to the headland section from Noosa Main Beach and Hastings Street where 15 kilometers of winding trails await you. The main track offers access for strollers and wheelchairs right up to Dolphin Point. And if you're there for a leisurely stroll you can actually walk in flip-flops which I really appreciated as I hate wearing shoes.
There's a large parking area at the park entrance but it fills up quickly, even during winter in the low season. So get there early or be prepared to wait for a spot to open up. Parking is free for up to 4 hours. Before you enter the park, stop by the information center near the entrance to ask about recent animal sightings and pick up a free map. Remember to keep your eyes peeled for koalas chilling in the treetops (we saw one), dolphins, turtles and migrating humpback whales between July and November.
2. Escape the crowds in Tea Tree Bay
While Tea Tree Bay is located inside the Noosa National Park I thought it deserved its own spot on the list. There were way fewer people here than on the main beach so it felt like a little peaceful haven.
Follow the path from the car park through the national park for about 15 minutes until the foliage opens up to reveal this stunning turquoise bay. There are many shaded areas to chill under and also some waves perfect for a fun day in the water. Keep in mind that Tea Tree Bay is unpatrolled so stay in the shallows if you're not a confident swimmer.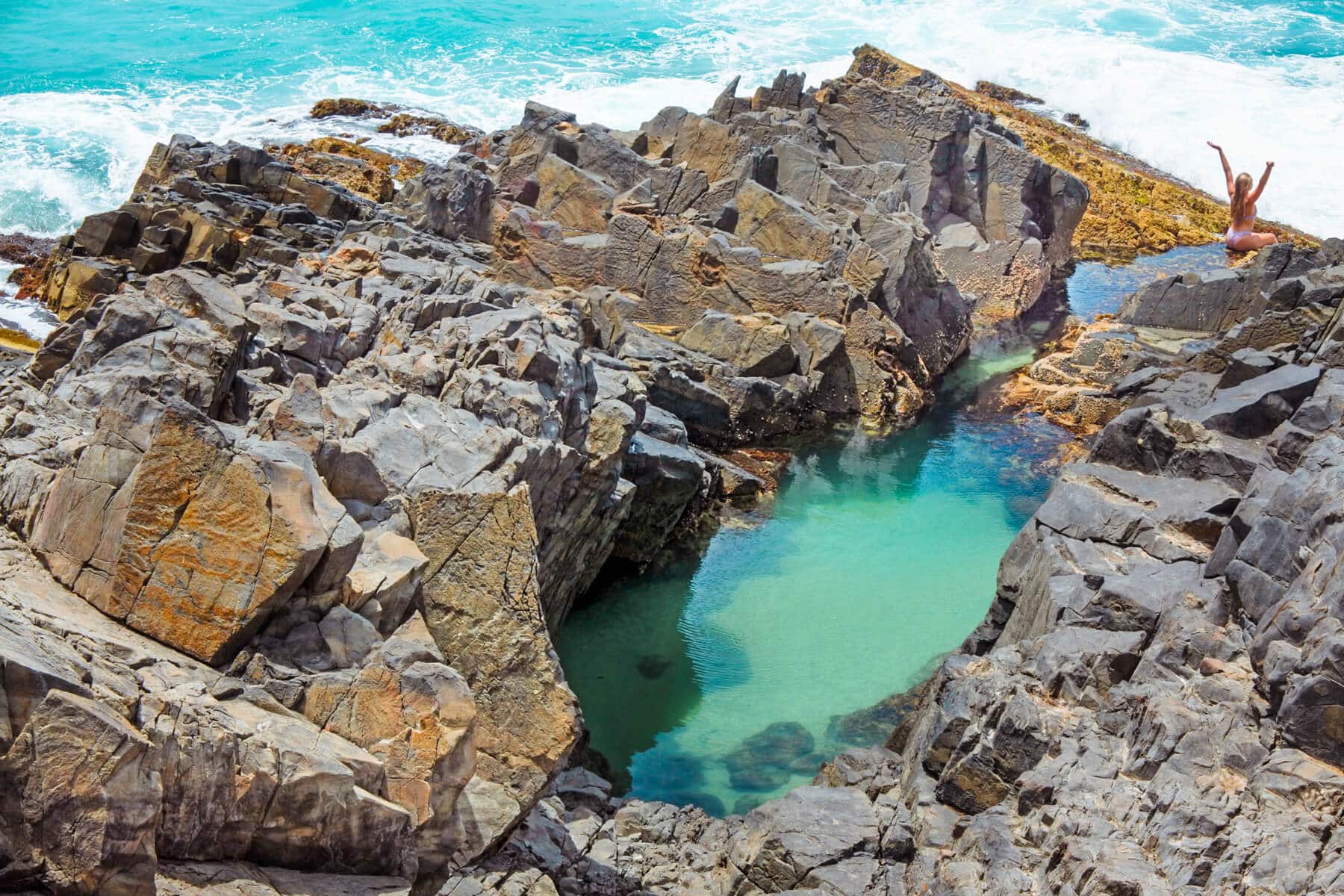 3. Swim in the Fairy Pools
If you're tired of the beach (is that even possible!?) or just want a cool photo op, head to the Fairy Pools also located in the National Park. Here you can swim in your own private rock pool with crystal clear waters and ocean views. You will have to walk for about 30 minutes to get there but I promise it's totally worth it!
The easiest way to get to the fairy pools is to park your car at the Noosa National Park car park and follow the coastal walk past Tea Tree Bay and Granite Bay. At the far end of Granite Bay, just as it bends around the corner you'll see a bench and a small dirt pathway leading down to the rocks.
The area can get quite crowded with Instagrammers and other tourists during the day, especially on the weekend. So again, if you're looking to have the whole place to yourself, be sure to get there early in the morning on a weekday.
---
Recommended experience: Discover Noosa's hidden gems and enjoy a ferry ride with a drink along the Noosa River on this private day trip. Get your taste buds going at a chocolate factory, brewery, and gin distillery, before indulging in lunch on Sunshine Beach with scenic ocean views.
---
4. Explore the Eumundi Markets
Half an hour's drive inland from Noosa Head lies the little, down-to-earth town of Eumundi. Every Wednesday and Saturday morning the place transforms into a busy and colorful food and art market filled with locally made treasures. It's known as Australia's premier artisan market and has been held twice a week, rain, hail or shine ever since 1979.
As opposed to the Farmers Market, at Eumundi, you'll also find second-hand clothing and handmade knick-knacks in addition to the fresh produce. There are also local artists and street performers playing some funky tunes amongst the stalls to keep you entertained as you shop. If you like me don't do well with crowds you have to prepare yourself as the market gets extremely busy.
Although the market is the reason why you head out to Eumundi, don't forget to explore the historic little town itself as well. You can book a return transfer from Noosa to Eumundi here!
5. Eat & drink
Even though there are so many amazing restaurants in Noosa, we like to keep it low key so, of course, we went straight for the poké bowl at Coconut Head. The poké bowl was absolutely delicious and all the ingredients felt super fresh. They also serve an array of raw treats, smoothies, pressed juices, ramen bowls and burritos. I can't recommend it enough!
The burgers we had at Betty's Burgers were up there with the best I've ever had. Juicy and crispy fried chicken in a lightly toasted brioche bun with bacon, cheddar and a homemade sauce. Yuuuum! My mouth is watering just thinking about it. There were bush turkeys wandering around in the restaurant which I thought was so funny. In Norway, I'm used to seagulls and sparrows everywhere but not huge turkeys.
Related post: Discover the incredible Crystal Castle outside Byron Bay Australia
6. Visit Noosa's first brewery & gin distillery
Out in Noosaville, about a 10-minute drive from Noosa Heads, you'll find the Sunshine Coast's first brewery, Land & Sea Brewery. Only opened in March 2019 the modern industrial-style brewery, restaurant and bar is already getting great reviews.
The best part is that they offer a free shuttle back to Noosa so you don't have to worry about driving after enjoying their specialty beers. It's open every day and if beer isn't your thing, you can head over to Fortune, their gin distillery.
Or you can book this awesome half-day craft brewery tour which will take you to three of the best breweries on the Sunshine Coast!
7. Go beach hopping
Noosa Main Beach
Noosa's main beach runs parallel to Hastings Street and is one of the only north-facing beaches on the east coast. The sparkling clean stretch of sand is the pride and joy of Noosa and the water is usually calm which makes it perfect for swimming. The tropical feel is completed by the Pandanus and palm trees that fringe the boardwalk, where locals and visitors alike love to go for a stroll, especially at sunset.
Little Cove
Walk along the Noosa boardwalk towards the National Park and you'll stumble upon Little Cove. Locals love this little bay for sunbathing, surfing and rock fishing. The cove is only accessible by stairs and there isn't a huge amount of sand at high tide so it can get crowded.
Dog Beach
Dog or Doggy Beach has to be one of the most picturesque off-leash beaches in the world. Fine white sand and crystal clear blue water lined by the bush of Noosa Woods. Park your car at the second major car park along Claude Batten Dr. The entrance to the beach is on the right side of the parking area.
River mouth
I don't know if the little beach at the River Mouth behind the lifeguard tower is technically a part of Main Beach but I decided to include it here anyway. It's where we spent most of our days in Noosa as it was so calm and relaxing and there were lots of benches and tables to enjoy some food. The left photo above was shot with our drone here.
Sunshine Beach
If you think Noosa Heads gets a little too crowded drive the 5 minutes down to Sunshine Beach, a classic Aussie seaside suburb. I recommend taking a stroll along the beautiful long stretch of quiet beach, which is patrolled 365 days a year, and then stopping by Sunshine Beach Surf Club afterward for some drinks in their beer garden.
Peregian Beach
The shire of Noosa extends all the way south to beautiful Peregian Beach. Noosa locals and Brisbanites have been coming here for years because of its gorgeous village appeal and less crowded beach.
8. Watch the sunset
One of our favorite things we did in Noosa was watching the sunset from Noosa Spit Recreation Reserve. Walk towards the water from the first parking area on Claude Batten Dr. You'll soon see a small wooden pier where you can sit down and enjoy the colorful show. And of course, the insanely gorgeous seafront houses Noosa is known for. What I would do to live in one of those!
The Main Beach boardwalk is also a great place to be for sunset.
9. Go for a picnic in Noosa Botanic Garden
The Noosa Botanic Garden is located close to Cooroy on the shores of Lake Macdonald and about a 30-minute drive from Noosa Heads. The more than eight hectares of land are teeming with wildlife and there are both native and exotic plants to discover in addition to a bush chapel, fern house and a lily pond. The garden is the perfect place to go for a stroll, have a picnic on the lawn or go fishing, birdwatching and kayaking.
10. Go surfing
Between Sunshine Beach and Noosa's North Shore, there are more than nine beach and point breaks. If you're new to surfing you can learn on the main beach and Noosa Spit, while more experienced surfers can tackle the bigger breaks around the headland and at Sunshine Beach.
There are many great surf schools based out of Noosa Heads that offer everything from one-off lessons to multi-day courses. Or if you just want to watch, visit in March during the annual Noosa Festival of Surfing, the world's biggest surfing festival.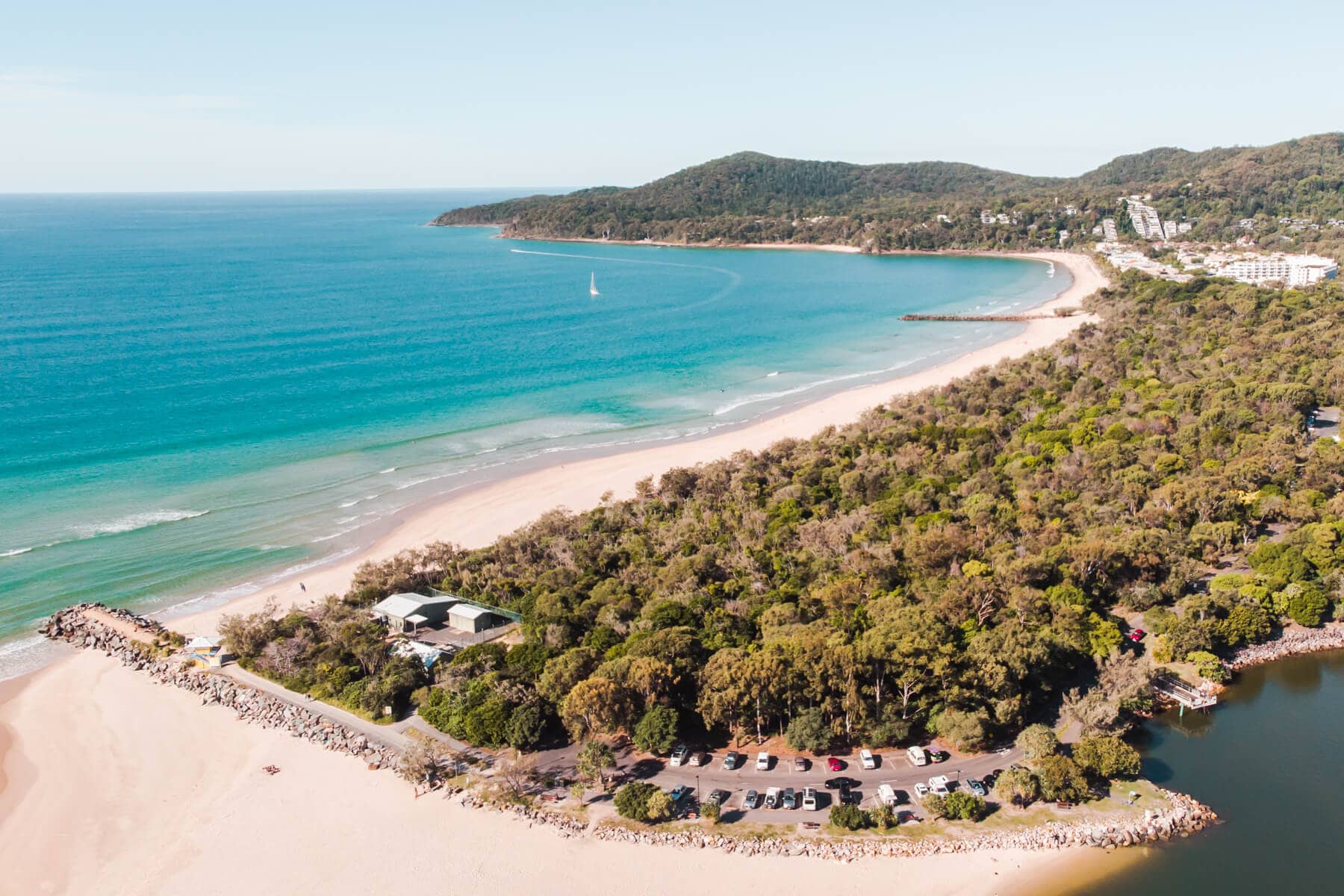 11. Join a yoga class
Have you ever wanted to do yoga on the beach? Join one of Noosa Beach Yoga's daily classes at 9.30 am at Main Beach which costs only $15 per person. It's the perfect way to start your day!
Related post: 5 reasons why you should visit the beautiful Fitzroy Island outside Cairns
12. Go kayaking on the Noosa Everglades
Set deep within the Cooloola section of the Great Sandy National Park, the Noosa Everglades are one of only two everglade systems in the world. It's also one of Australia's most diverse ecosystems, boasting 44% of the country's bird species.
A guided Canoe tour into the Noosa Everglades, through one of the world's most spectacular landscapes, has to be one of the most unique things to do in Noosa.
13. Enjoy the river
Main Beach and the coves of the National Park often get most of the attention when it comes to aquatic activities in Noosa. But in my mind, you haven't fully experienced Noosa without heading out on the river. Whether it's catching the ferry, renting a boat for the day, walking along the Spit and watching the sunset or booking a gondola ride with Gondolas of Noosa, I'm sure you're going to love this different side of Noosa.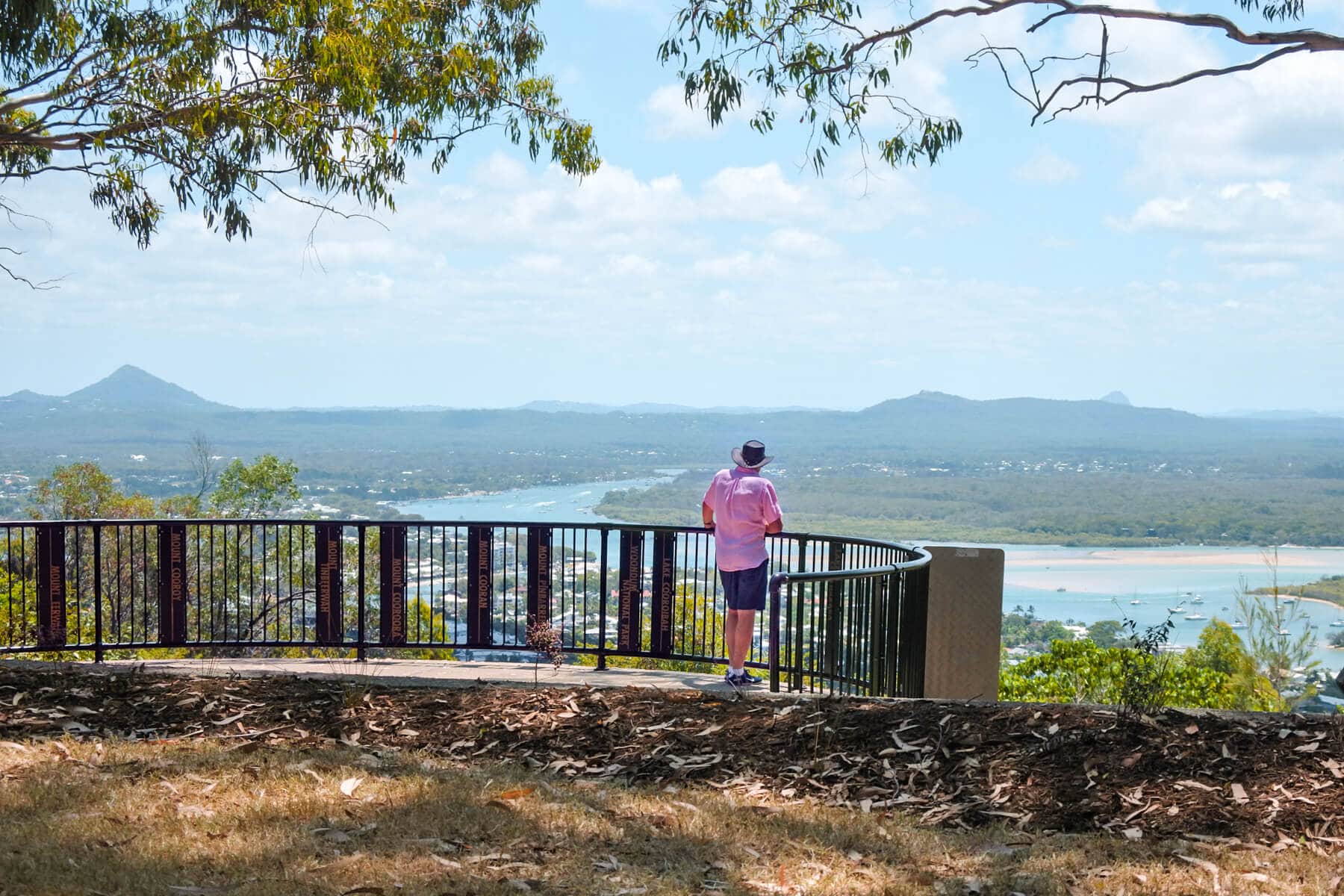 14. Marvel at the view from Laguna Lookout
One of the best things about Noosa is that you won't see any highrises like everywhere else on the Gold Coast. No building is allowed to rise higher than the tallest pine tree. But luckily there are many beautiful viewpoints hidden within Noosa National Park.
Laguna Lookout up on Noosa Hill might be the best of them all. From here, you can enjoy panoramic views across Noosa National Park, Noosa Heads, the beautiful blue/green bay and the Glass House Mountains in the distance. Laguna Lookout is also a great place to watch the sunset.
15. Mt. Tinbeerwah
When on the topic of spectacular views, I also have to mention Mt. Tinbeerwah in Tewantin National Park. It's located about 25 minutes away from Noosa Heads by car but it's definitely worth it, I promise. You can drive almost to the top so don't worry even if you're not in the best shape. The walk from the parking area to the first viewpoint is only about 130 meters and then there are an additional 300 meters to get to the top.
The fire tower come viewing platform provides incredible 360-degree views of Noosa Shire and the Pacific Ocean. There are also picnic tables and toilet facilities, however, there's no drinking water available at the site so remember to bring your own.
16. Go shopping
Hastings Street, running parallel to Noosa Main Beach, is the hub of activity in Noosa year-round. You'll find the Noosa Heads Surf Life Saving Club at one end close to the National Park and on the other side, Noosa Spit Recreation Reserve with its beautiful picnic spots and beach access.
This hip and happening strip lined with tropical greenery is home to chic designer boutiques, art galleries, gourmet restaurants and cool cafés. It's the best place to be for shopping in Noosa Heads or to relax with a healthy juice while doing some people-watching. At night the street lights up with thousands of fairy lights and becomes even busier than during the day.
Related post: Is SafetyWing the best travel insurance for long-term travel?
16. Visit the Noosa Farmers Market
Every Sunday morning from 7 am to 12 pm, locals and visitors alike flock to Noosa Farmers Market to browse stalls brimming with fresh local produce and artisan food. Jams, dips, marinades, tropical fruits, fresh-caught seafood and home-baked goods like bread and cakes. In other words, foodie heaven.
This is not the kind of market where you find second-hand clothes and other random knick-knacks, it's purely a foodies market with freshly cut flowers and some natural products like organic skincare. Live music adds to the fun and positive atmosphere, I could have walked around there for hours. Why can't there be markets like this in Norway!?
Other popular Noosa tours
---
So what do you think? Do you want to visit Noosa?
Remember to pin for later 😉