This post may contain affiliate links. I will earn a small commission if you purchase through them, at no extra cost to you.
// Contains affiliate links
From the 11th century up until 1310, kings ruled the island of Sri Lanka from Polonnaruwa. The medieval capital grew to be a thriving commercial and religious center, replacing the previous Kingdom of Anuradhapura. After holding the power for almost three centuries, the seat of government was moved yet again and Polonnaruwa was abandoned for good.
In 1982 the Ancient City of Polonnaruwa in Sri Lanka was declared a World Heritage Site.
As mentioned in the last post, we drove up here while staying in Kandy, which worked out great for us. Because of the extremely hot weather we only ended up spending about three hours inside the actual city, so we had more than enough time to do the three-hour drive each way. We left Kandy at 7 in the morning and were back at the hotel around 17, just in time for dinner. You also have the option to stay in a hotel right outside the city, if you want better time and to explore the area.
A great choice would be to stay at the super cheap Seyara Holiday Resort, for only about $17 a night. The ancient city is only a short, 2km, tuk-tuk ride away. I've heard great things about their staff, the breakfast and the large pool.
Another cheap option is Tishan Holiday Resort, which actually has got even better reviews. People rave about their pool area, the food and the very friendly staff. At $24 a night and also only 2km away, they offer great value for money.
I had been looking forward to renting bicycles to be able to explore the city at our own pace. But when we arrived it was clear that biking would be more of a challenge than I first thought. It was so hot out! After a lot of discussing back and forth, our driver convinced us to go by car. I'm so glad he did, it turned out he had so much knowledge about the place. And of course, in addition to that, we got to cool off in the air-conditioned car between each stop. We drove past quite a few bikers almost passed out at the side of the road from the unbearable heat. So please take the weather into consideration when deciding on your mode of transportation.
Before entering the actual city you have to go to the museum to purchase the tickets. All together with the driver, this was the most expensive attraction we visited in our three weeks in Sri Lanka. The tickets were 3550 Rs / $25 and as mentioned in the Kandy post the driver charged 12000 Rs / $80.
You should really take your time in the museum and read up on everything, I think you'll get more out of your visit that way. I wish we spent more time there, looking at what the ruins might have looked like once upon a time. But I was so stressed about beating the crowds to the site, so we just skimmed through.
Anyways, I'm not going to bore you guys with all the details about each structure. I get that not everyone finds it too interesting, so I'll let the photos do most of the talking this time.
The royal palace complex of King Parakaramabahu is the first stop after you enter the city. His majestic palace is said to have been seven stories tall and the whole complex supposedly consisted of 1000 chambers. Be sure to look at the miniature model in the museum to get an impression of what it might have looked like 800 years ago.
King Parakaramabahu's Council Chamber, was the meeting place of all his ministers. The structure is 23m long and 10m wide and the walls are decorated with lions and elephants. It was fun to stand up there thinking of all the ideas and plans that might have been discussed within those pillar walls.
The Royal Bath, also known as the pond of the Prince.
The Sacred Quadrangle is the most concentrated collection of structures in all of Polonnaruwa. In the middle, you'll find the Vatadage, a circular relic house with four entrances and four Buddhas. It is thought to have been built to hold the relic of Buddha's tooth or the alms bowl used by Buddha.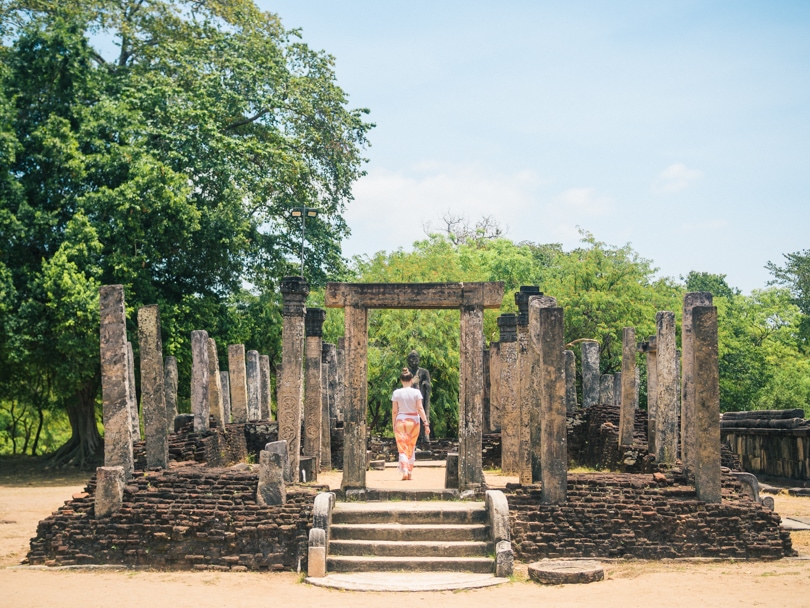 Rankot Vihara is a huge dagoba in excellent condition, one of the most impressive structures in the city. At 55m tall, it's the largest dagoba in Polonnaruwa and the fourth largest in Sri Lanka. This is a photo from the side, as there were quite a lot of selfie-stick action going on at the front entrance.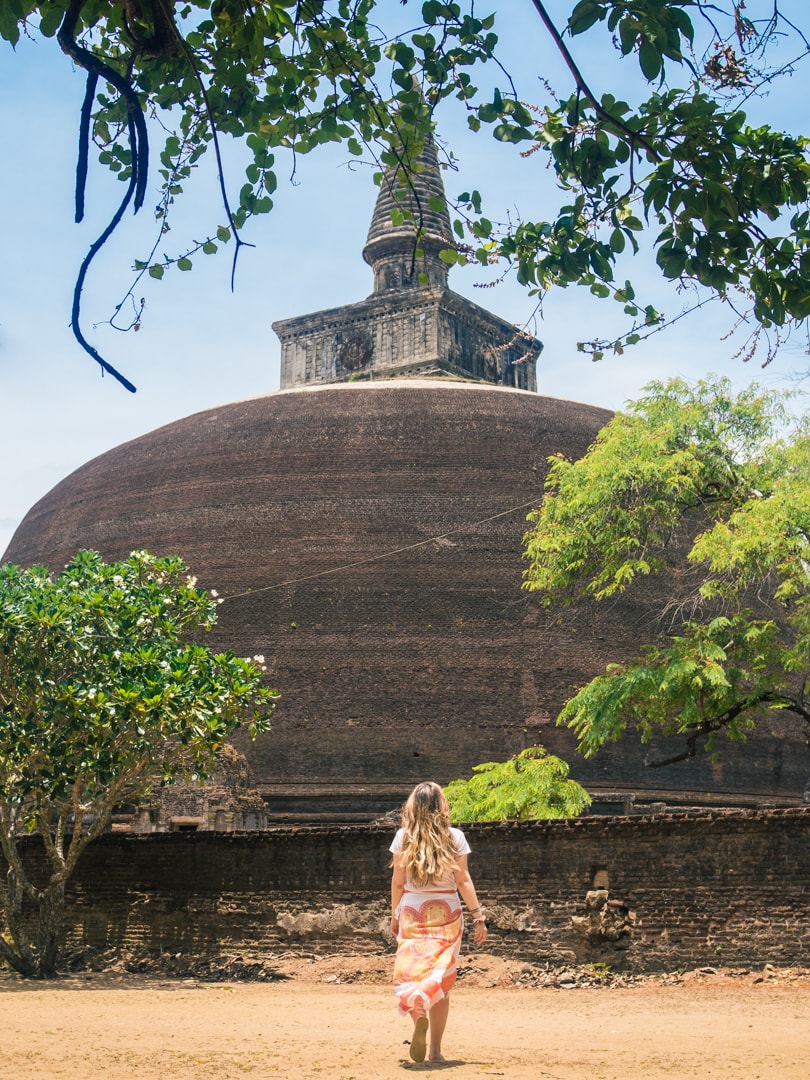 The construction of the incredible Kiri Vehera, meaning milk-white, is thought to have been initiated by King Parakramabahus Queen. At 24m tall, it's the second largest dagoba in Polonnaruwa after Rankot Vihara. It was so white it almost looked like an optical illusion in the bright sunlight like it was moving from side to side. Remember to remove your shoes when going inside the small brick fence, I got yelled at.
Lankatilaka is a cathedral-like Buddhist shrine with impressive 17m high and 4m thick walls. Even though the roof is long gone, the structure is still a majestic sight. It's not allowed to take pictures of someone with their back facing the Buddha statue, and remember to remove your shoes. Be careful though, the sand was so hot I got blisters under my feet.
Gal Vihara is a group of four Buddha statues, carved from one large granite rock face. According to our driver, this is the most special place in all of Polonnaruwa. And because of the pristine condition of the statues, it's also the most visited.
There's not a lot of food options in the city. My number one tip would be to have a big breakfast before you go, especially if you're driving up from Kandy. And pack some water and snack bars, see my favorite ones below. Once inside the city, we had an ice cream at the King's swimming pool and then at the parking lot in front of Gal Vihara there were finally some food stalls. Pretty hungry at this point we filled up on vegetable roti and freshly squeezed lime juice. Yum! And we actually managed to track down one diet Coke! For some reason, light sodas are not common on the island. Just in case you were curious about that!
Because of the extreme heat, you should bring a kimono and a hat. I wish I did. I got so sunburned despite applying high spf several times. So a light flowing kimono and a straw hat would have been perfect.
Have you ever visited Polonnaruwa, Sri Lanka? What was your experience like?
Some of the links above are affiliate links and I will earn a small percentage of the sale if you purchase through them, at no extra cost to you. This helps me cover the costs of running my site – so thank you in advance! I only ever link to products and services I use and love myself!